We came to Montserat from Berga, from the Pyrenees side and the big strange mountain with sticking fingers from it opened in front of us still enveloped in clouds. Following the signs of parking we found ourselves at the bottom parking lot by a train (in Spanish that train is called Cremallera – to me it sounds more like some desert than a train ) station: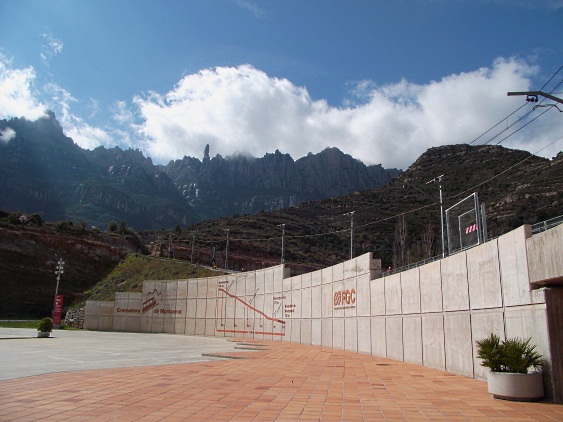 – the train was taking tourists and pilgrims up to the outstanding monastery, the most sacred place for Catalonians. The Black Mary (Mare De Deu) with her Baby Jesus in the main altar of the church are considered to have magical powers. Those trains leave every hour, not so convenient for us who like freedom, also the price is not very cheap. There are options – you can buy an excursion in the monastery and a meal together with the ticket, or just a ticket. But we chose to find a route up to the mountain ourselves. It was not hard, we drove steeply up over another nicely built town of Montserrat, tucked at the bottom of the mountain and then past some other picture perfect monastery: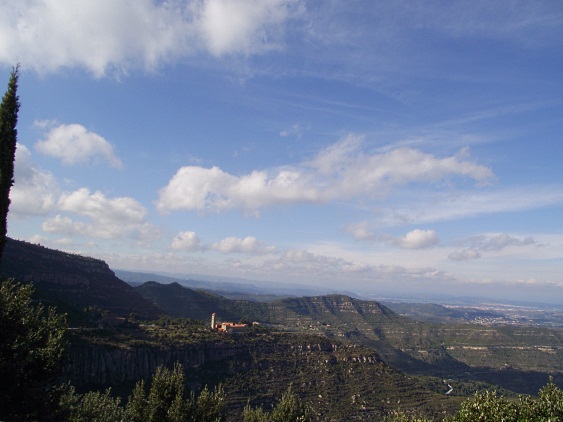 And here we easily found parking but had to walk a little to reach the main square of the complex: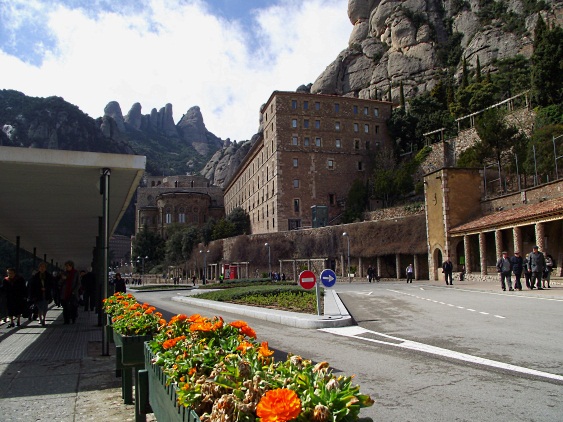 Crowds of God loving people were leaving the monastery, evidently the Mass just ended. So we came in time. The Basilica is tucked in the complex of buildings on the right. One has to walk to the end of this street than turn sharply
right and walk up towards another square in front of the monastery: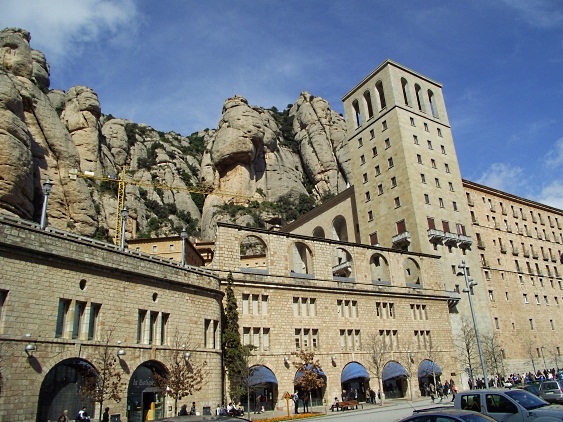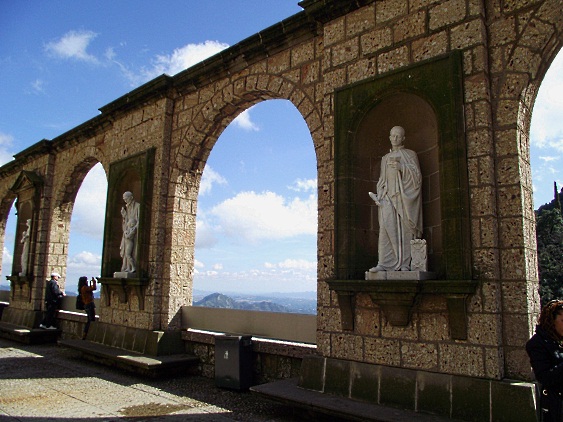 And then again you enter another gate and get into the third cluster or inner garden with the Basilica in front: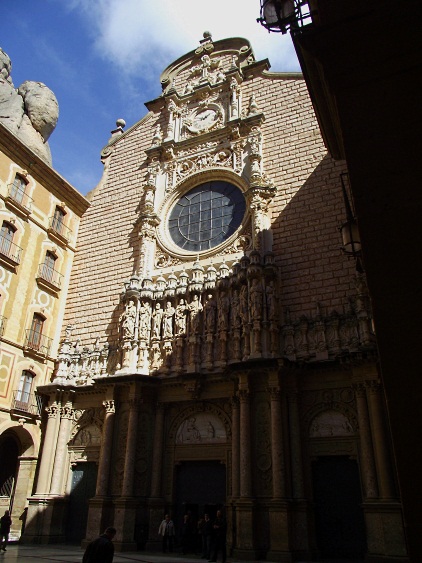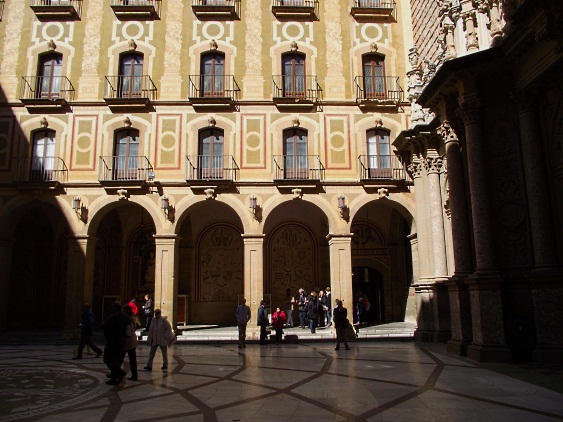 The front of the Basilica is not as impressive as the whole cluster with its floors: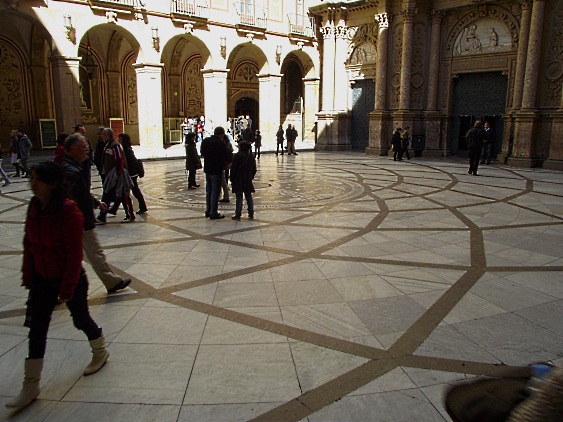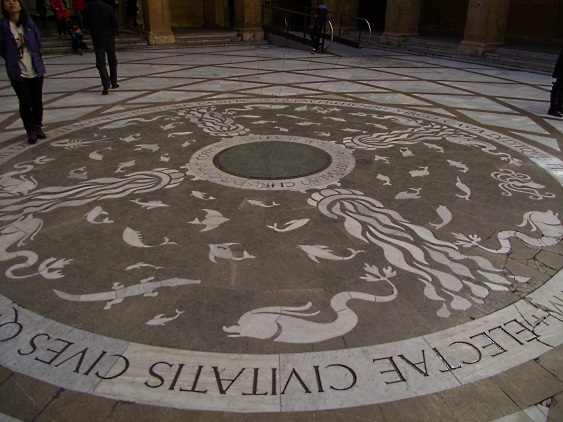 and lots of sculptures and frescoes (themed with the same Virgin of Montserrat) all around there: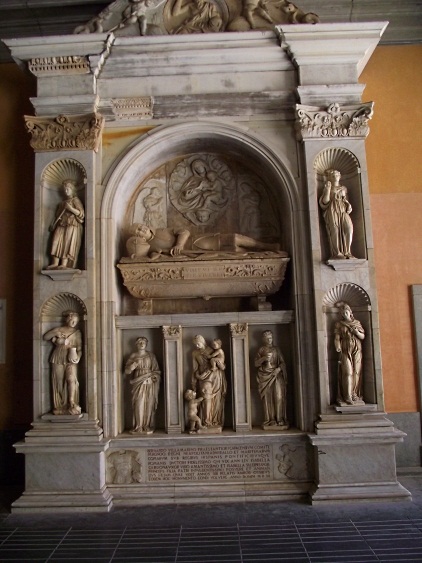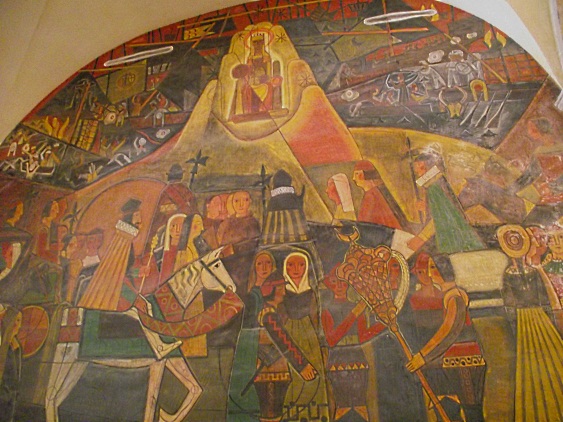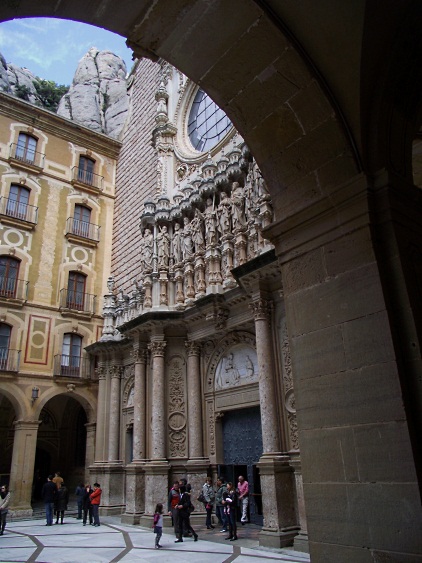 On the right side of this cluster by special doors we saw a line of people standing and joined them. We figured out that that was a line waiting to see and touch the Virgin: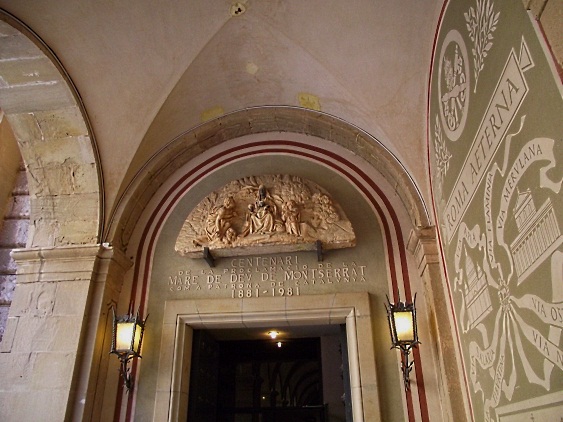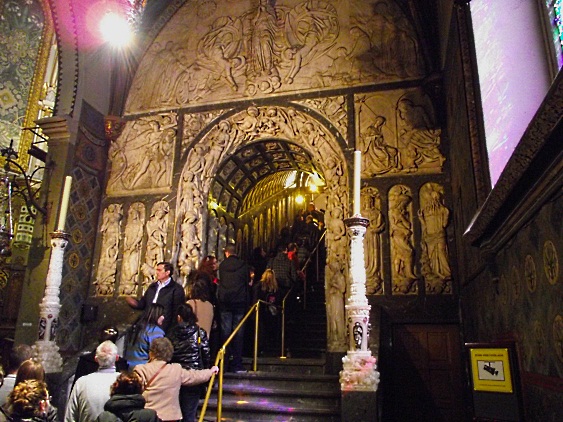 It was not boring to stand in the line while admiring the decors of the Basilica: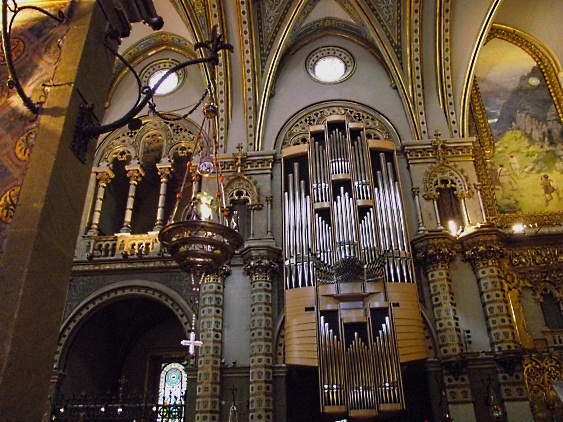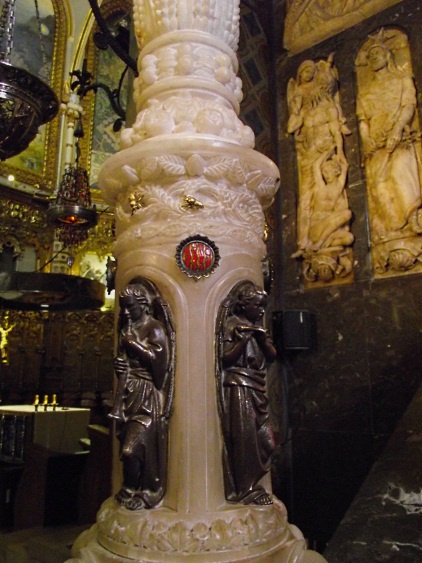 There are little bronze bugs on this alabaster pole over there – kind of cute and funny for a Basilica decor – those Spaniards, they have their humor!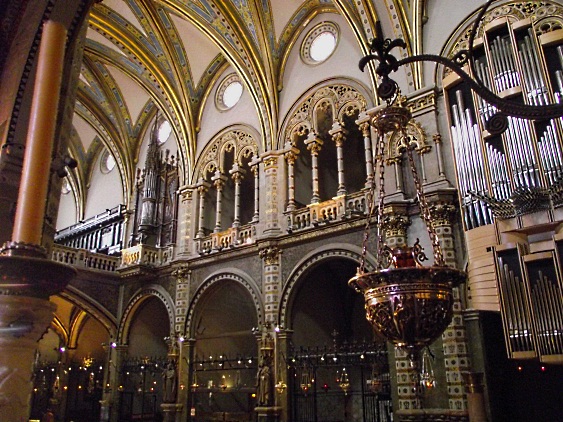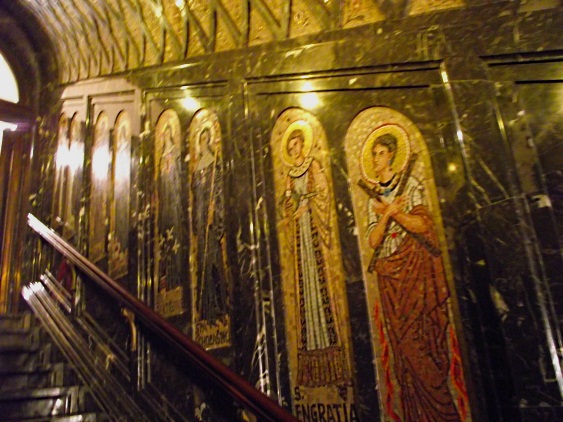 She was there, once we went up those steps decorated with different Virgins on the left and saint women on the right. We didn't take her picture, I think it is not appropriate to do it, she is too sacred/ but we touched her globe she has in her right hand. Her and her baby Jesus are covered in plastic cover, only the globe sticking from it, where everyone is touching to get some sacred energy. It was exciting! So many people come with their wishes, so many energies mingling in one spot. here is one of modern detail in this not very modern building (as I have mentioned they like mixing old and new and do it with success, I think):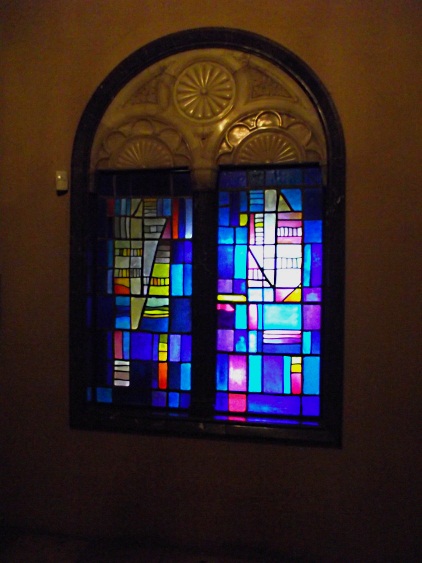 The views from the monastery square and from its road: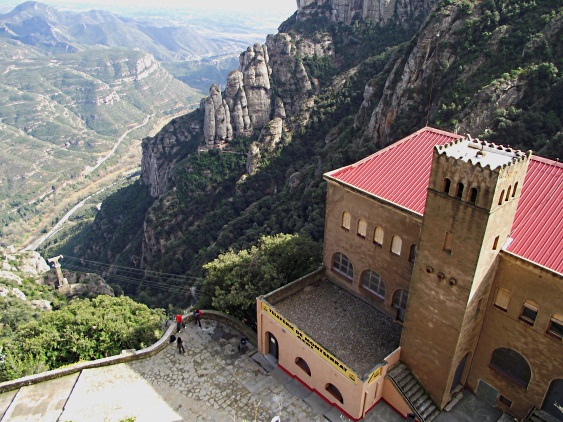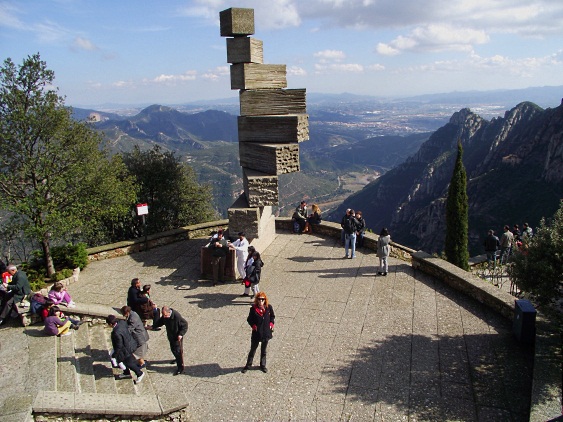 And that was it. We ate in their cafeteria, the food was not tasty, and it was cold – try not to eat there. Paid as if 4 euros for the parking and left for the Barcelona airport. In its area we already had a reservation to this 4 star hotel: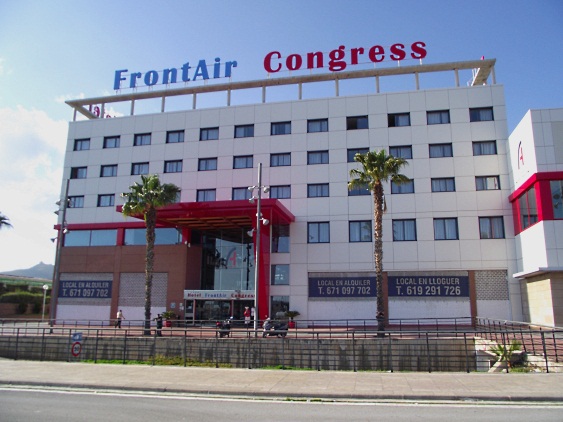 The hotel was very good, it had a spa with lots of different underwater currencies in the pool, different massaging showers and saunas, a good place to relax before a long flight. There were only 2 problems waiting for us – to find a way to the Sixt – the car renting place…it was somewhere close, but so many wide one way roads so many highways going here and there, so many closed office buildings (it was Sunday) that we drove around for a while till managed to see Sixt…Another problem was in the terminal. From the car rental their shuttle took us to the terminal, where we had to wait for more than an hour for our shuttle to the hotel… But their shuttle early in the morning left in time and we were in the gate area in time, though the plane left later because of the fog. And therefore we had to run like crazy in Paris to catch our plane. This was it. This is how we saw Spain.