Last weekend we went to see Universal Studios in LA. For those who decide to go there, too, there are coupons floating around, so try to get and use them. I guess the crisis has touched the theme park, too. We were there on Sunday and there were almost no lines, the crowds were thin, and we were able to get into our favorite rides twice. So here it is – entrance to Universal Studios: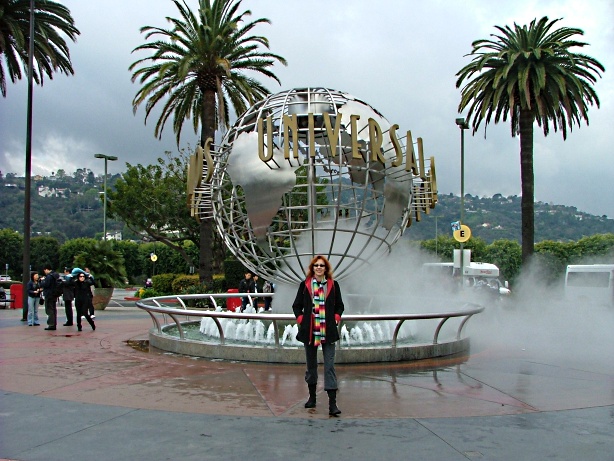 It was a cold and cloudy day, so my two sweaters and a jacket were very helpful.
Parking by Universal City is $12 for a day. It was a pleasant walk from the parking lot to the entrance of the park – via an open fun-mall, as I would call it. The cashiers at the gate tried to take this pleasure away from us by offering more expensive parking tickets.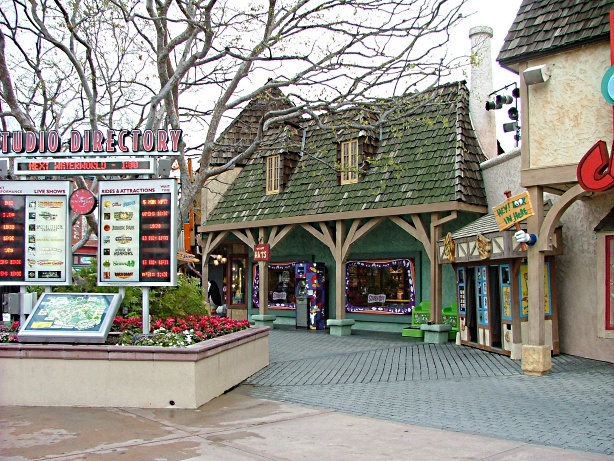 Once we entered – we were engulfed by everything about current movies or TV shows. This is the first scene we are used seeing in the Tonight Show where Jay Leno asks his famous "very hard" questions.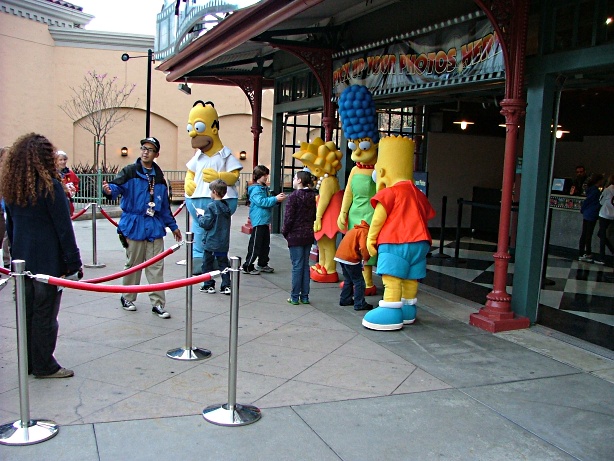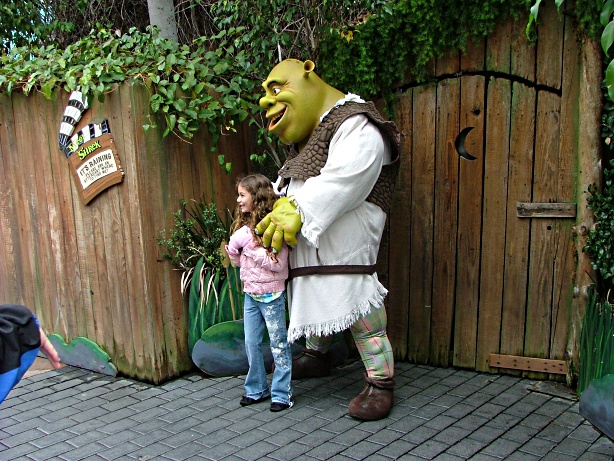 Then you meet the well known characters who are very enthusiastic in getting a picture with you :-)…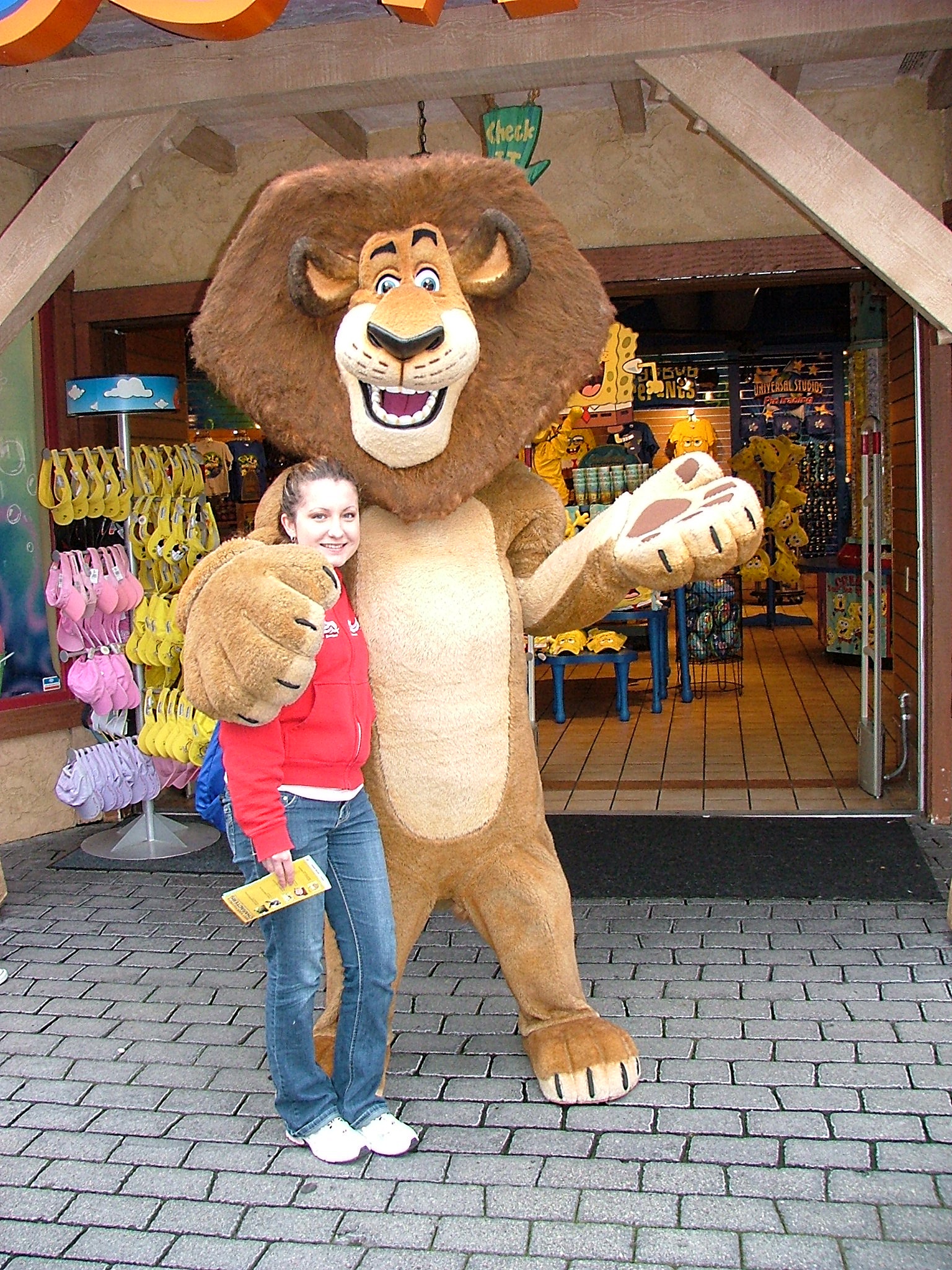 Then there are shows. Different kinds. First we saw the Shrek. After standing in a preparation hall for long minutes and watching something very boring on several TVs decorated with some funny bodies, you enter a movie theater where the seats during the show move. And they also spay water onto your face when Shrek or his donkey sneezes to make it more real. You watch it through those special glasses which creates 3D views. I guess for Shrek fans it is really fun. Me – I never got it. Maybe because I haven't spent my childhood in the Us, so I can't catch some jokes.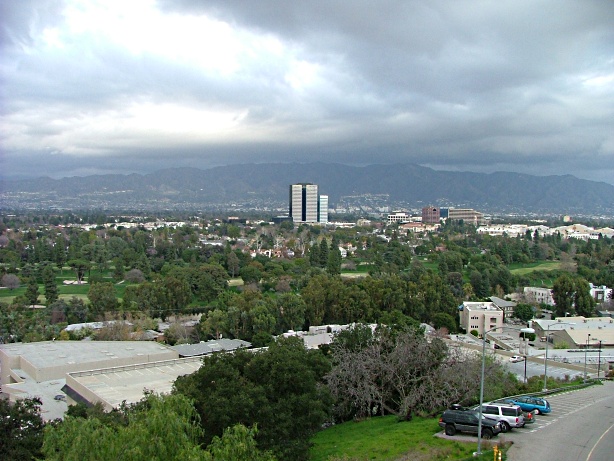 We took the excursion around Universal Studios next and here is what we saw from the hill – instead of sunny California – a cloudy LA! The excursion was very good, we were driving around the real movie sets, pavilions, even the producer offices where, as the driver said, they are making several million dollars a day! We got the feeling of how the movie scenes are created. How fake they are but they look so real in movies: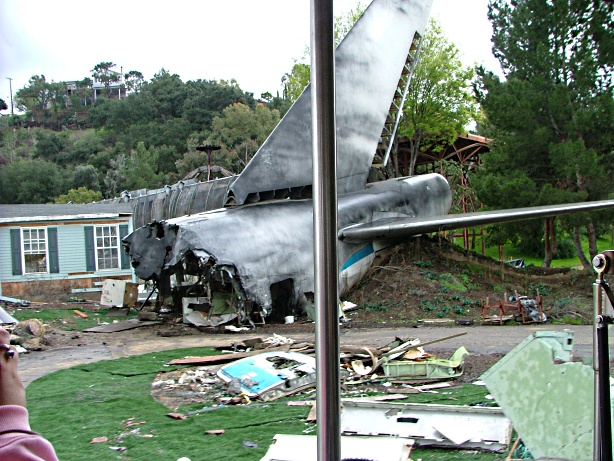 Like this plane wreck scene, it looked so devastated. The houses around damaged, the plane parts scattered. The train took us to a Mexican town with a flash flood, to several deadly empty European towns, to some braking bridge, a shark jumping from a lake, to a metro station where the earthquake happened and everything started falling apart, waters flowing onto us, fires exploding…We were even taken to Wisteria lane where Desperate Housewives live! With lots of fake wisterias and very beautiful real flowers planted in front of houses. It was fun and worth visiting.
The Simpsons Ride was the closest after we finished excursion, so we waited for some half hour to get into it. Of all the rides the line was the longest to Simpsons. And it definitely was the best ride – it was the simulator. We were as if in a roller coaster, then swam, then flew, then turned over and over and even got sprayed by little Marge's sneeze. Lots of exciting physical sensations.
Then we ran to see the Water World show: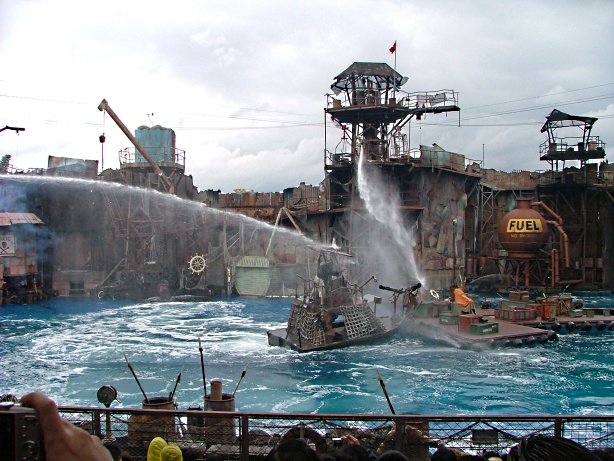 It is described on the program as a tidal wave of explosive action and it was!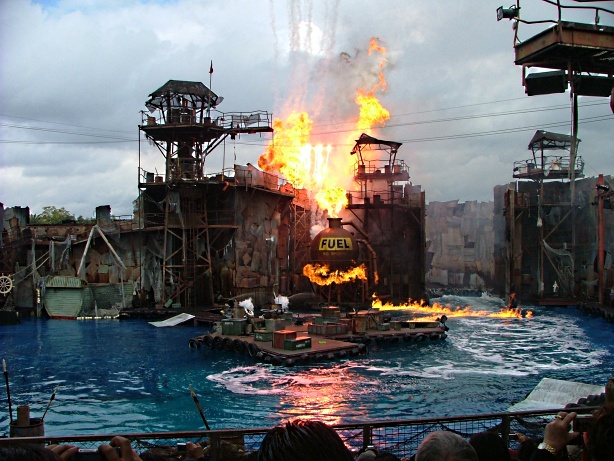 People on the front rows got wet! Lucky those who didn't because the weather was exactly not for that kind of fun. The waters in that pool were very blue, the actors played with great energy and enthusiasm and courage, lots of splashing around, riding water motorcycles and jumping, running, etc. As one of my friends used to call such things – they are meant for those who understand…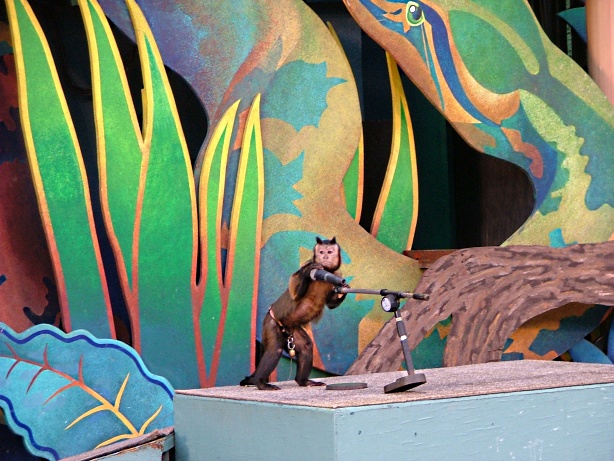 So this next show was exactly for me -Universal's Animal Actors. Here is one of them. The others were cute also. They did things their trainers wanted and they were wonderful! We watched this show twice :-)…
Getting to the lower part of the park for more attractions looked like this: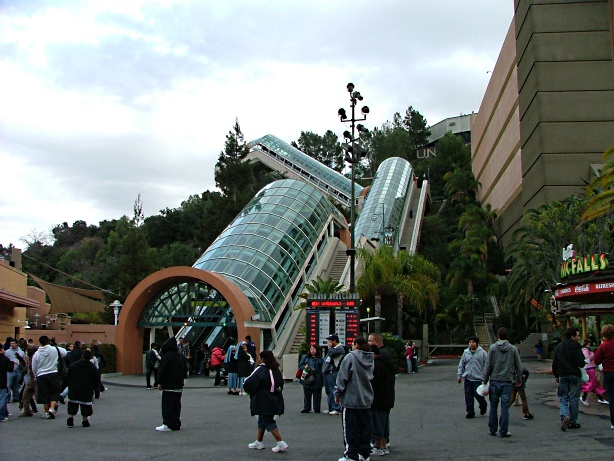 Strange very tall Egyptians were wondering there: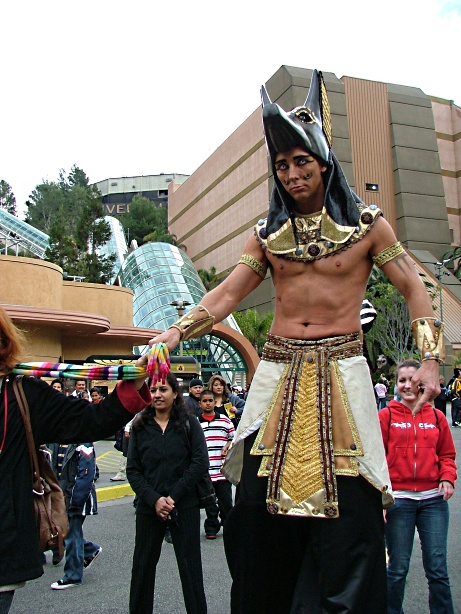 So we did the Mummy forwards and backwards thrill ride, it was thrilling, in the dark. Then watched how special effects and pyrotechnic effects in the movies are created. It was amusing. There was also a museum of movie memorabilia. And a water ride Jurassic Park: among some grazing peaceful dinos and falling down cars…the thrill part was at the end when the boat started approaching a waterfall as if we were to dive under it. Luckily it ran out of water in time and we could pass it peacefully before the boat ran down a pretty steep hill and splashed into the pond down there -it was exciting but not as bad wet wise as the employees of the Park were scaring us.
We ended our visit with a visit to the House of Horrors – oh boy, it was scary! Especially passing by those three hanging bodies which you had to push to get through, yak… I lost my voice from screaming… Without the voice I went to the Terminator 3D and that was a slight mistake – it was also for those, who understand…Lots of shooting, noise, flashlights.
And then it got dark and cold and we ended our day watching TV with those little bundles of love: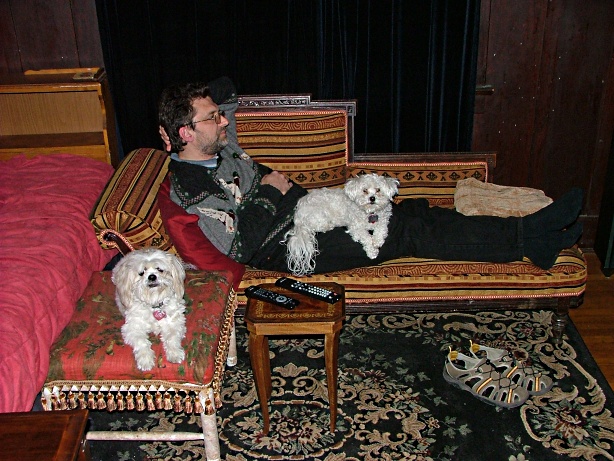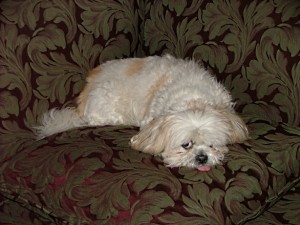 The end.
We are soon leaving for New Zealand, so follow us and see NZ through our eyes if you please.