We found a pretty good guest house on the road to Pamplona from the south. The evening was very rainy so we just rested and saved energy for tomorrows adventures. So on March 9th we visited Pamplona – which I knew about as a city of San Fermin festival in July and a bull race they have in the middle of the old town every day during that festival. I would never go there in July :-). But now in March it was interesting to see one more Spanish capital with lots of history. They have good maps, but it is still very hard to figure out the best way in and out of the city. We parked in an underground parking in the center, and walked to the very center. Some nice houses onthe way: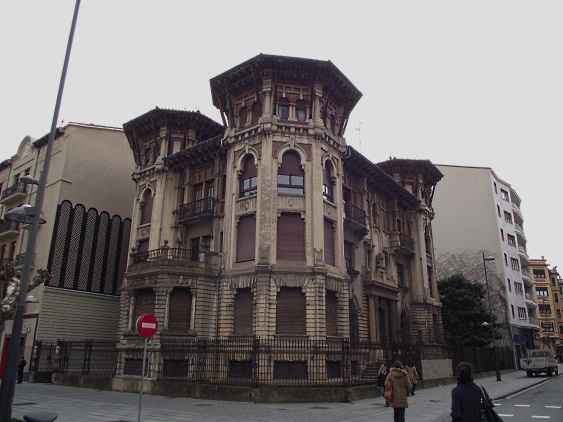 Some squares with their hero figures: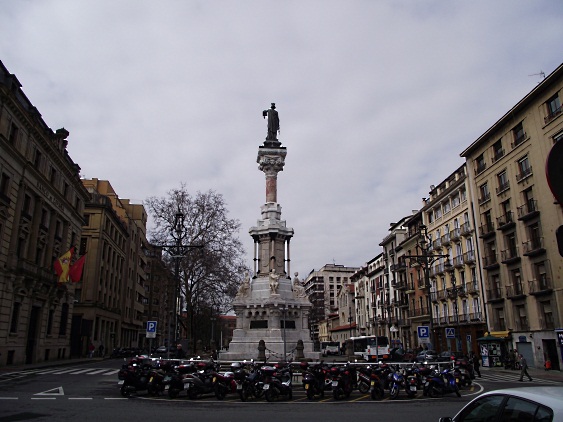 But I was mostly impressed by Plaza del Castillo: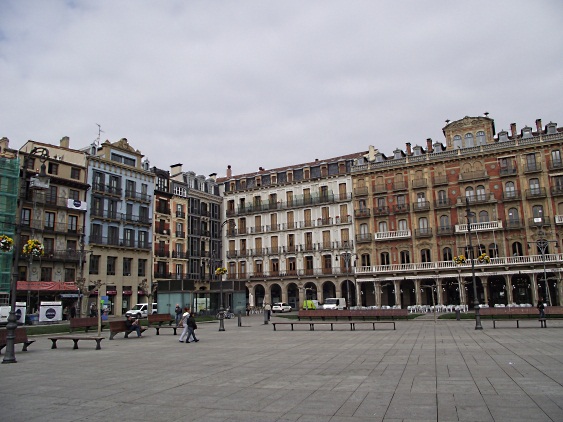 Then we went along Estafeta – the street where bulls run during St. Fermin festival: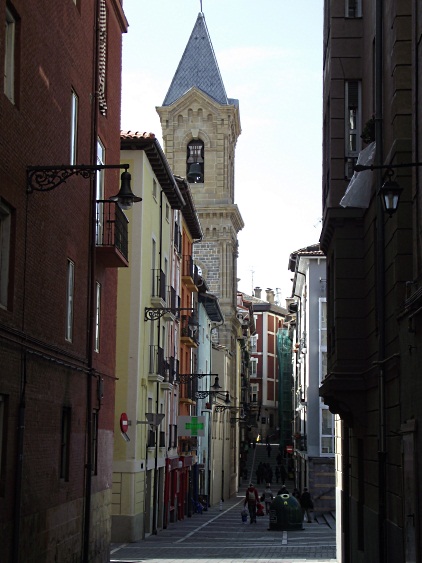 They even run by the City Hall which is considered one of the most beautiful buildings in Pamplona: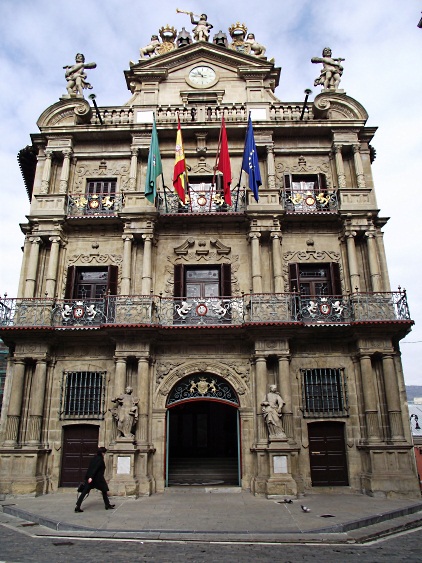 And then we visited a museum, right on top of the corral where they keep the bulls before they let them loose: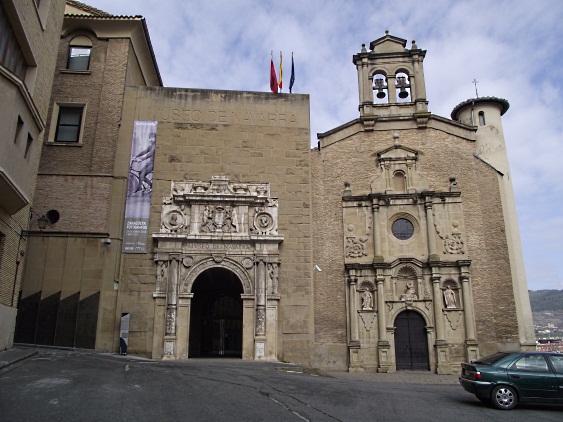 The museum had lots of paintings, sculptures and the church on the right: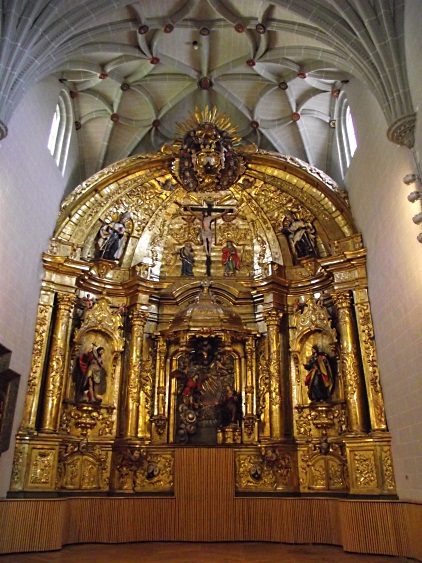 Here is one of the ancient mosaics exposed there: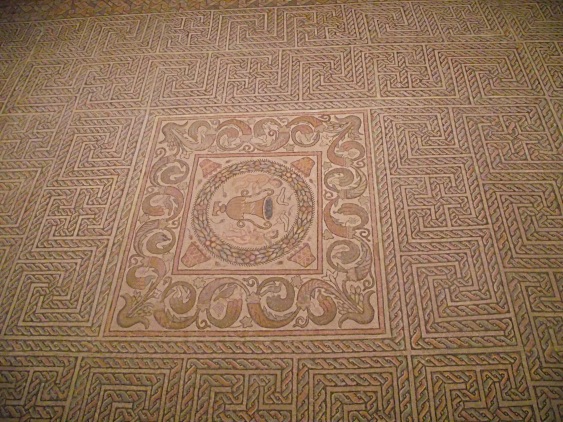 And that is all from Pamplona. there are lots of other churches and buildings worth visiting, but we started feeling already too overchurched. Plus, everything in Pamplona is not for a fee – the parking, the churches. etc. Unlike other towns we visited. And when you have seen so much – so why bother. They also have a big 5 angled Ciudadela – the Citadel – but the books wrote that the gardens on it are especially beautiful when flowers are in bloom. This time it was too early in spring. So we went back to our car and had a rather hard time finding our way out of the city onto a highway towards the Basque country, towards the Atlantic.
The green slopes and white houses by the highway looked very cozy: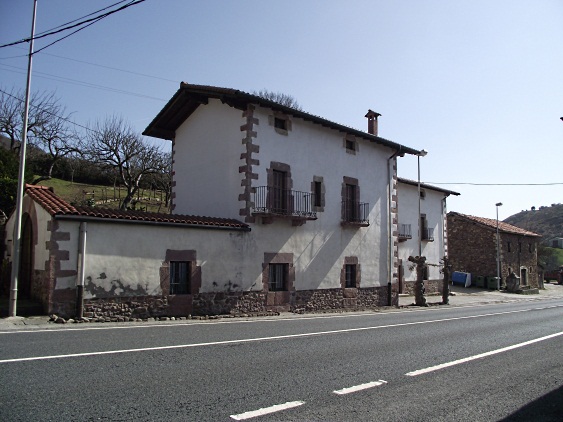 The first stop on the Atlantic shore, more precisely – on the Golf of Biscay, was Hondarribia, pretty close to San Sebastian: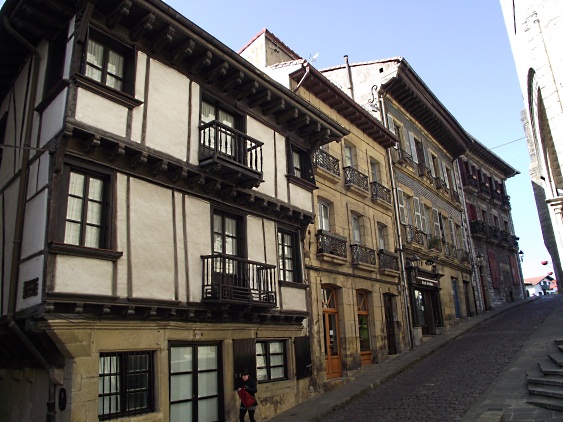 There was no problem to park by its well lifter center, as always, but we had to climb up, again…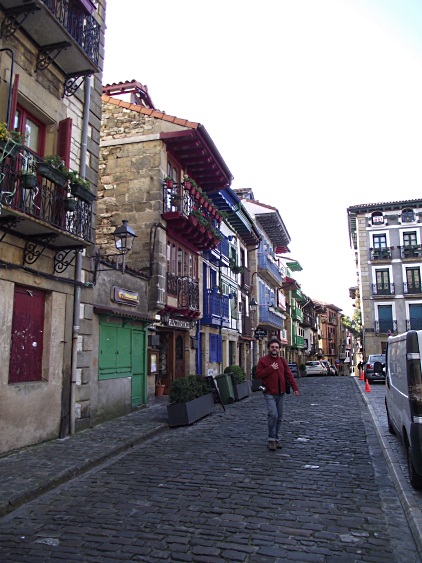 Till we reached a square, a fortress with parador in it: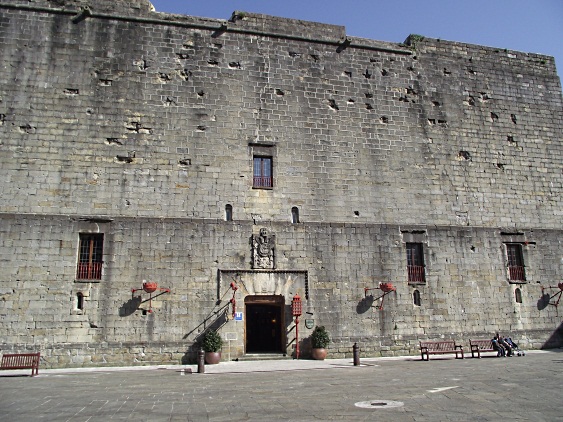 and some beautiful viewpoints: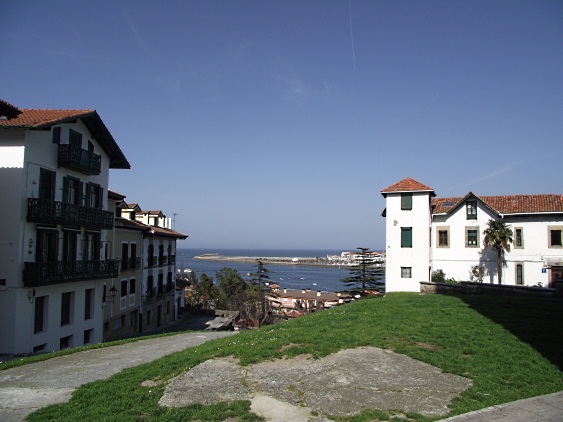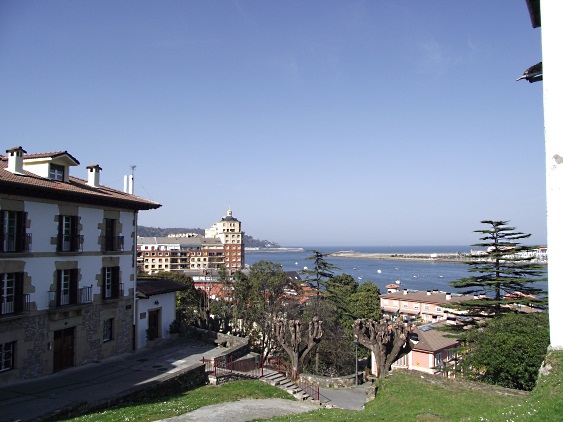 From there we tried to get to San Sebastian, we got there, drove through the center hectically looking for a place to park – not on the streets, which were over packed with cars and people – but some parking garage or something like that.We couldn't…the whole city left me an impression of a grandeur and somehow reminded Moscow or St. Petersburg in Russia, too big to enjoy, too busy. With a bridge of that Russian type, decorated with sculptures. I didn't even manage to take a picture- we couldn't stop even for a moment…So what was left for us – to drive away and seek some beautiful views elswhere on the coast, up a little North: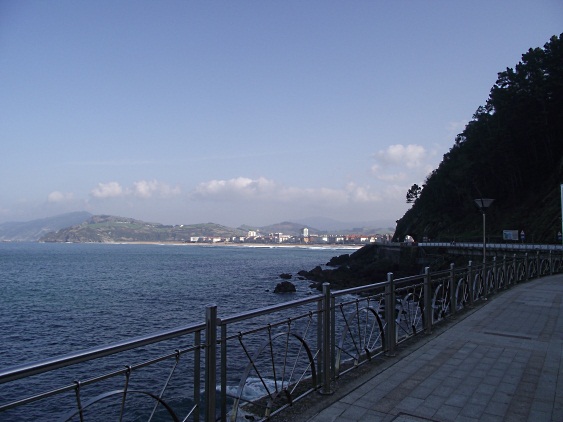 Here is a view from far away towards San Sebastian. The coastal road is good, it was very pleasant to drive there and feel the sea so close. We passed a couple of towns on the way until we came to Getaria, there we found where to park and went for a walk towards the old town – and guess what – there was a hotel right on the corner, facing the sea, and the price wasn't killing and everything was so right, the name of it Itxas Gain: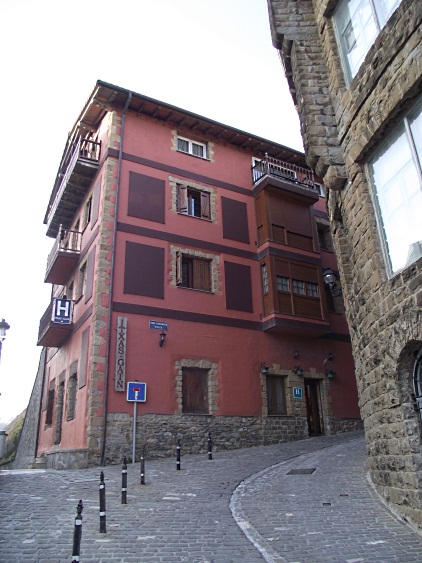 So we got a room there: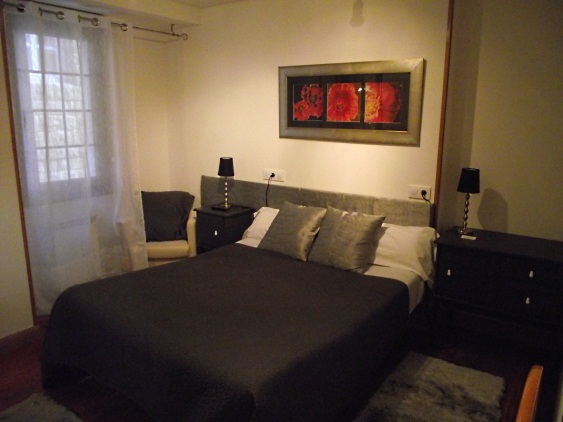 brought our stuff and had a nice walk in the 3 medieval parallel streets of Getaria: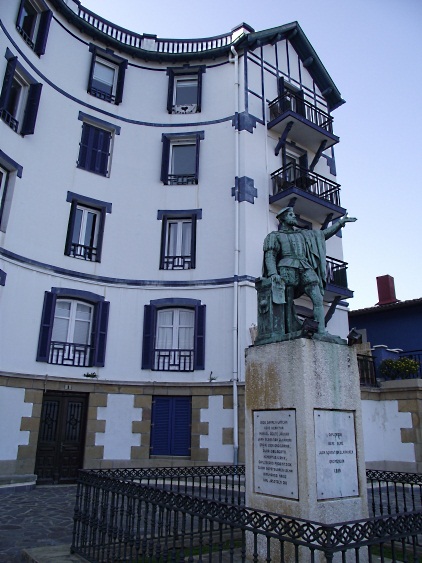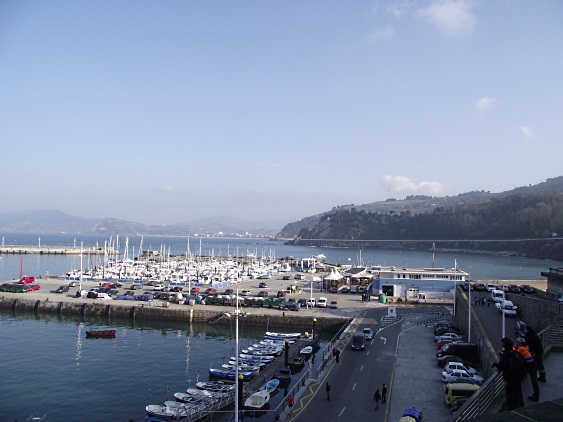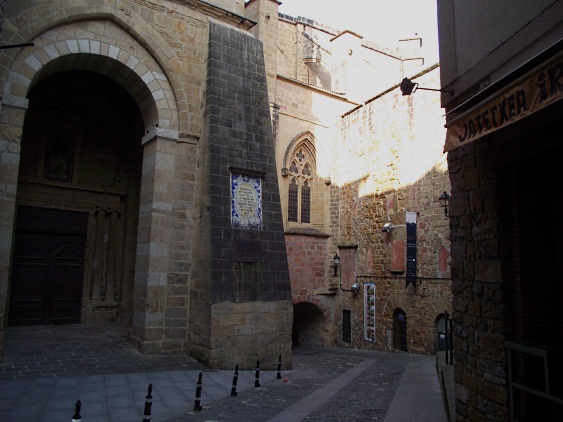 It was very strange with their geology – our room in the hotel was on the 2nd floor, not high from that street level. But very high from the other street level and from the sea level on th eother side of it: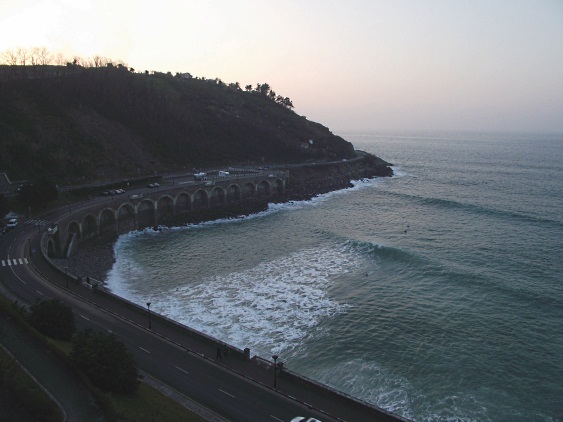 This is the view we could see not directly from the room – because there was an inner garden going form our room to the edge of the cliff where the owners arranged a safe observation deck with tables, chairs, pants, palms and even a little lawn to lay in the sun: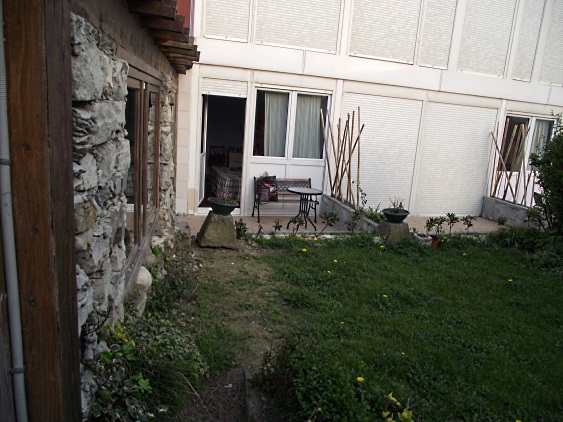 This path leads to the observation deck from our room…It was wonderful. I can't say more…