It was a gloomy 4th of March…Not a good day for driving towards the Mediterranean and sightseeing, but no choice/ Once you are on a trip – you have to travel and try to get as much as possible. The alternative – to see less, but that is not my choice, almost never. So we drove off Figueres on Rt 260 to Llanca which looked like a resort town with many white good villas their window shutters closed for the winter. In other words – the town looked almost dead. So we drove on the coast road towards El Port de la Selva – a fishing village as they call it. Here is how it opened to our eyes: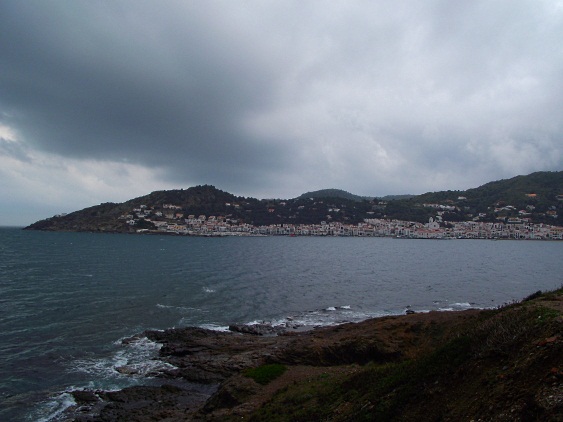 THere was no problem to park the car and even in that cloudy, windy and rainy day we felt a pleasure walking by the port on boardwalk and then climbing towards its church: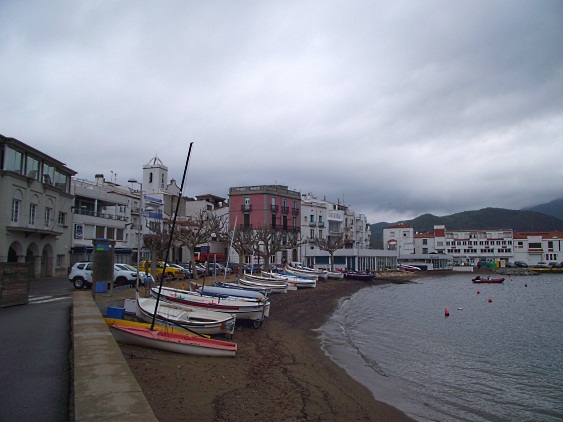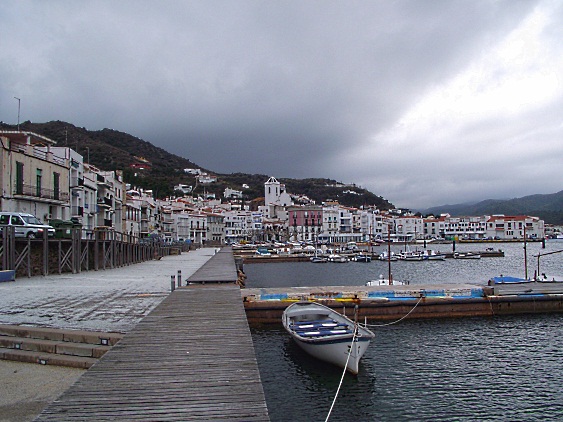 When you look towards sea from there – there is no open sea to be seen, which is a good idea to have a fishing port in such an enclosed bay. It looked very cozy in the gloomy weather, I imagine how it looks on a sunny and warm day.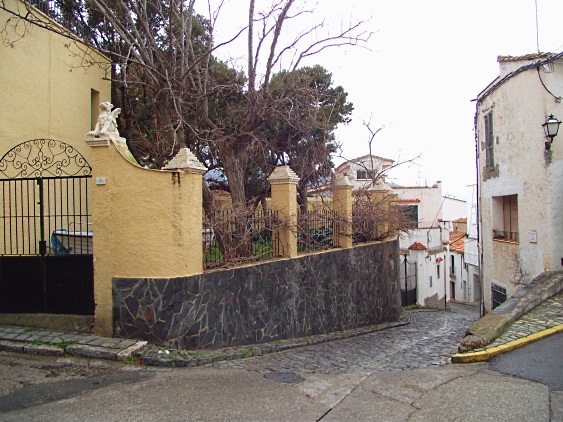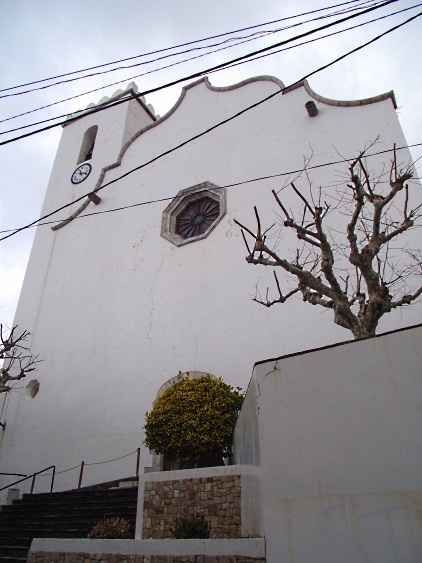 On the main square by the sea there was a farmers' market, so we bought some olives, boy, they are tasty, but it is very hard to choose from such a variety: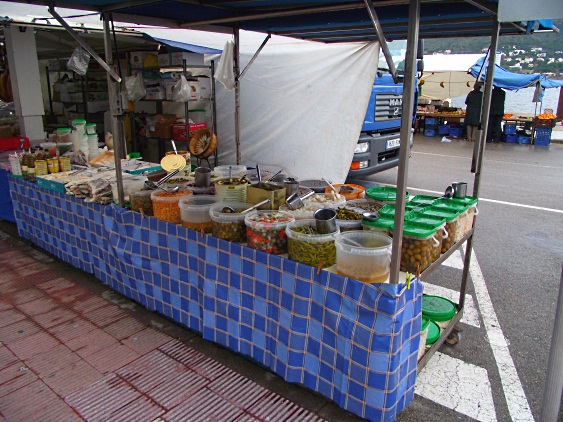 Then on a windy mountain road we drove back towards Figueres, didn't turn towards Cadaques, where Dali spent his summers, left for another time, and drove to Empuriabrava. As Everything in thet area is called "Empuris", we misunderstood it for a place with ancient Greek ruins, which is Sant Marti d'Empuries. But whatever, we had a chance to see a kind of new Venice of Spain -as it is built on marshes, there are canals all over designed like combs, very even, very straight -and every house, evidently, owns a boat: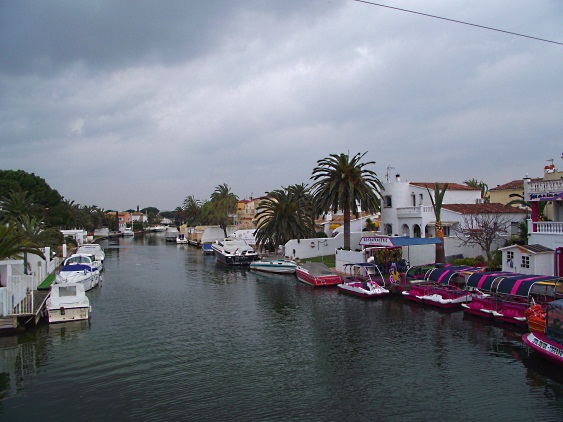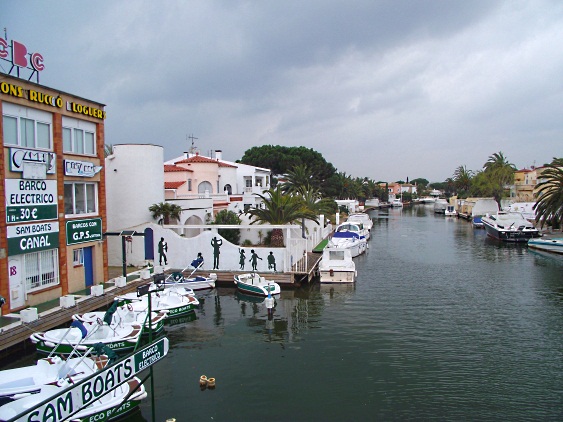 In search for those Greek ruins we stopped at a town Castello d'Empuries – where we got to a series of nice little squares connected by narrow streets: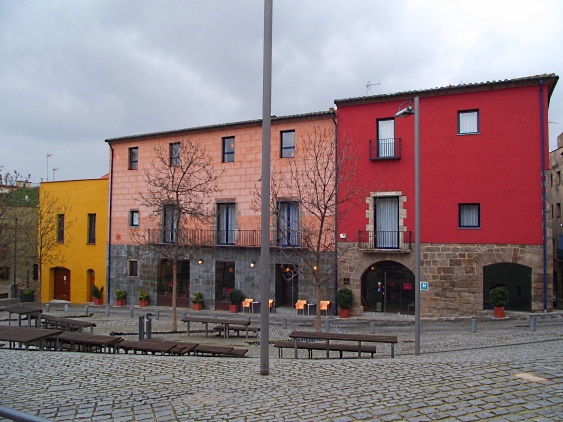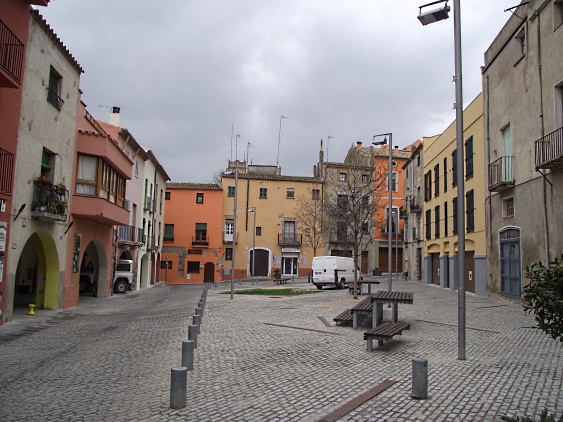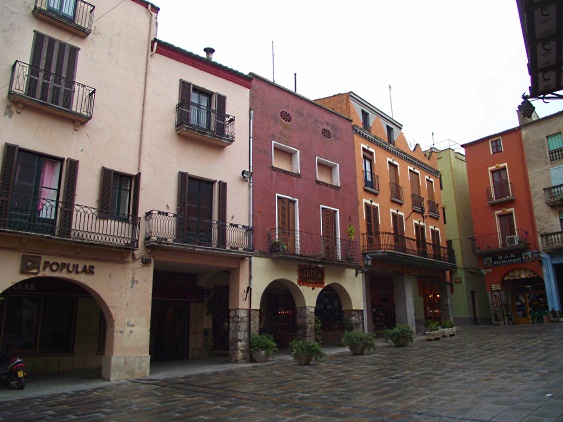 Over there we asked at the information center and figured out where the Greek ruins are. And also I am always very interested to see cemeteries – here we traveled already for more than a week -not a single cemetery…Not like in Paris- they are in the middle of the city. So I was told that usually their cemeteries are outside of the cities, and with the help of a map we found Castello's: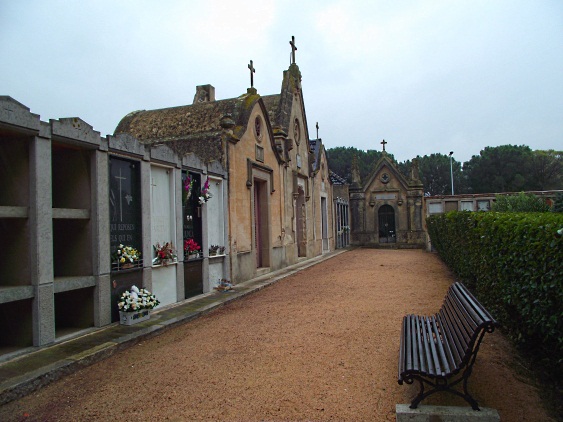 They differ a lot from the cemeteries I have seen – they usually look like a fort or a prison from the outside – just straight walls and you can't see what is inside/ then you have to enter through the gate and see those walls have shelves for coffins…Some rich families have their chaplets. In that way they take less space, maybe there is a good reason to design them like that. A little bit like the fancy cemetery in Hollywood.
Here is the church of Castello (those cars – they are always in the way of a good pic…):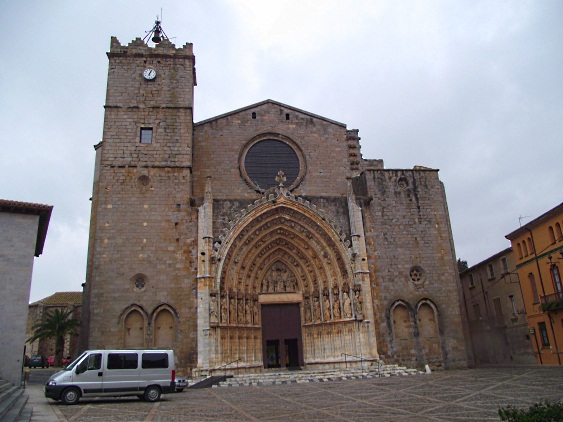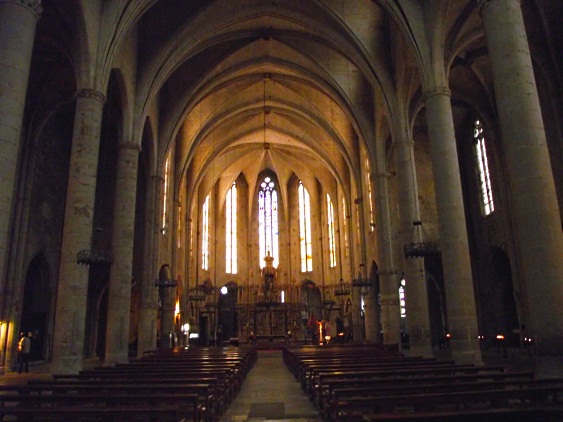 By the church square: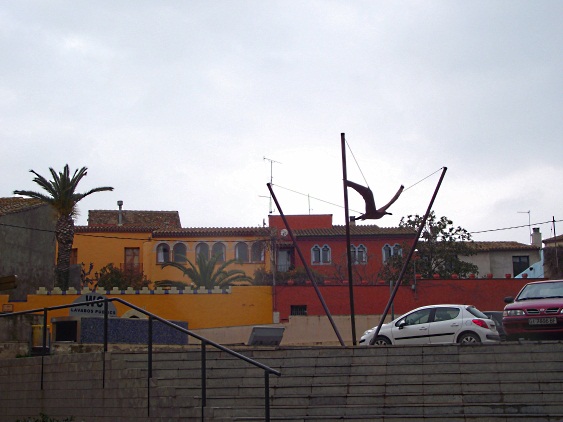 After leaving Castello we had a hard time finding the right road. Some main circles didn't mention the town we were heading to: San Pere Pescador. So after driving back and forth on the highway in between the circles – we at last figured it out and found a very good restaurant by the road where they served menu dia – in L'Armentera, heading towards L'Escola. The women servers were very nice with us – they showed us the choices so we didn't need to worry about not knowing the language…And the choices were very good , the lunch was very big and very tasty. Especially the desert – Crema Catalunya. Did i earlier mention that they serve vine with each lunch…So I got drunk. for I don't need much, and the rest of the day wasn't so depressing, though it rained really hard. By the time the three of us, all with our bellies full reached that town with Greek ruins – San Marti d'Empuries -the rain, the ticket you have to buy to get there, the wind and the cloudy skies – didn't go well together and we decided to drive and and then investigate La Brisbal d'Empordia instead. The town didn't look very impressive, but still not bad: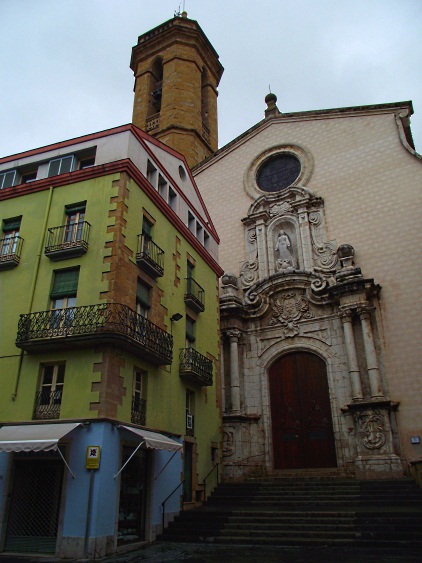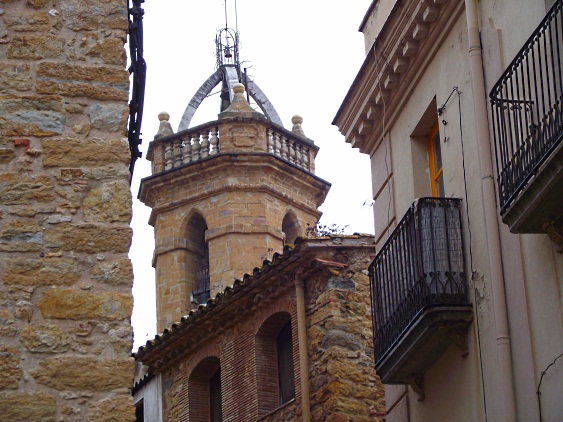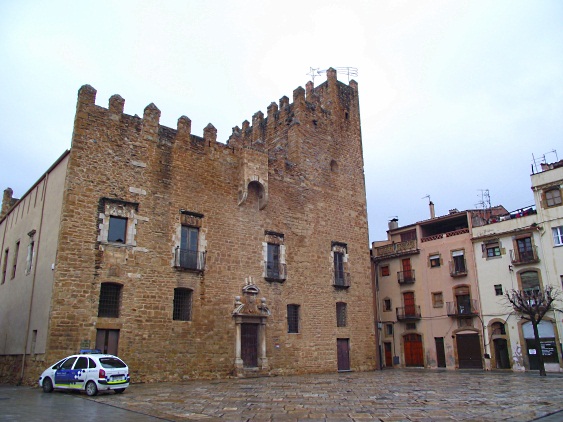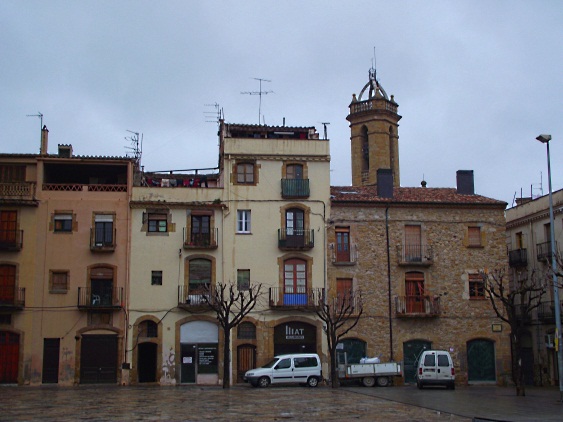 I wish my garden was this size and I could keep as neat as this one is: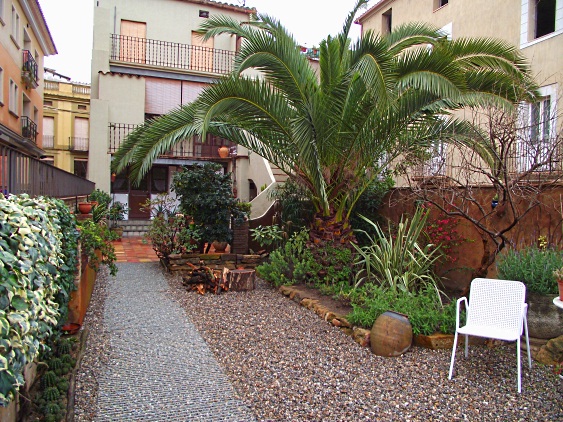 Only while leaving Brisbal we realized that it is mentioned in tourist books not for its own beauty but for a medieval village on its side. We didn't have tome to visit it, the day was going towards the close. And we still wanted to see the surroundings of Begur -where we again couldn't find a road towards some mountain on the coast. but instead we found a tiny resort town Sa Tuna: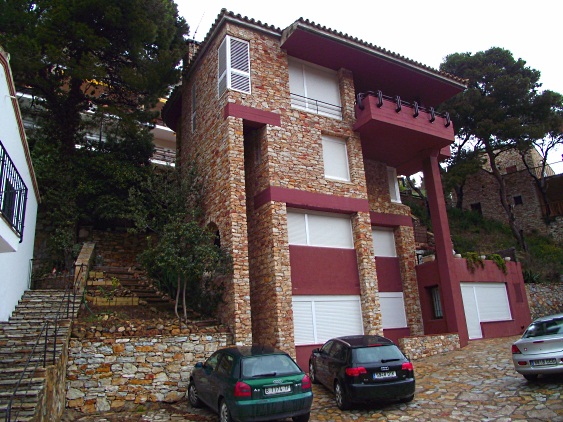 Yes, all the windows are still closed everywhere on the coast…Evidently very few people live there year round. You would wonder – oranges grow there like in California -and they use the towns only in summers?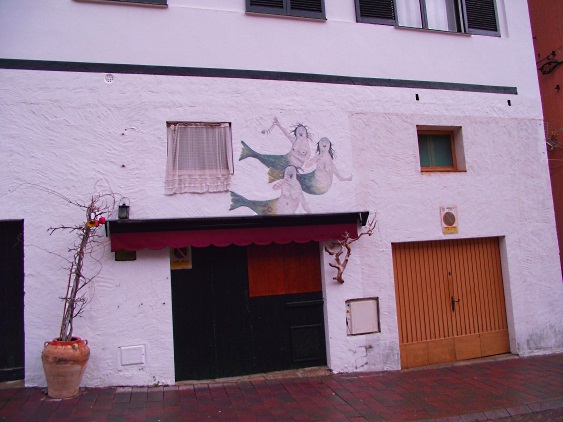 I just have to show you those three mermaids! Spanish seem to have some good humor reflected on their buildings, but not on their faces, which carry very serious expressions. But here are the mermaids from closer so that you can see their teeth: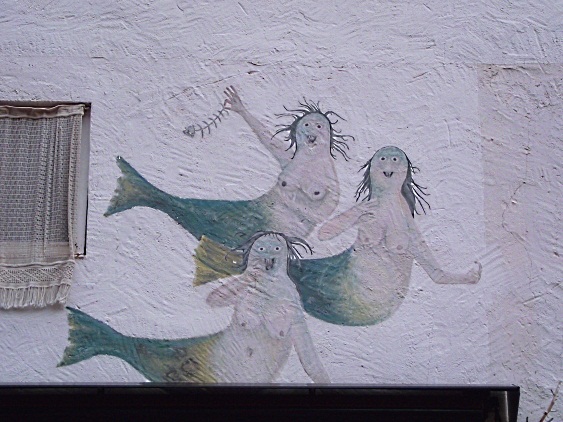 Some houses have their emblems: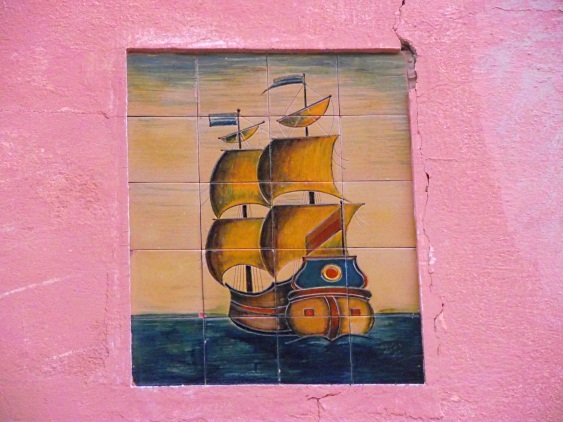 or plants: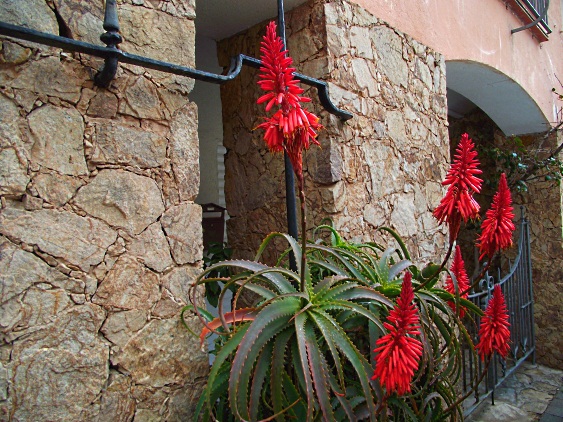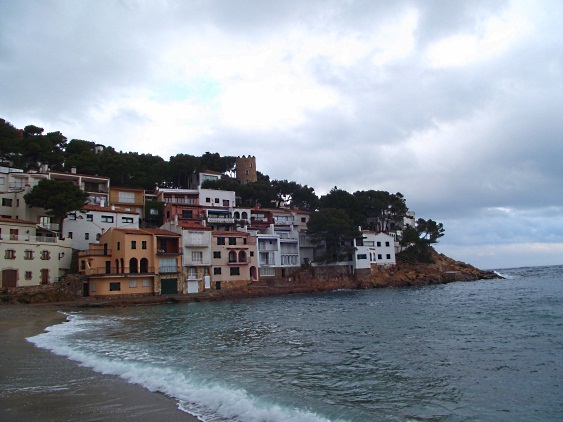 After saying good bye to Mediterranean, we drove back to Girona and on the way noticed a town very nicely located on a hill with its church towar sticking in the middle – it was Pals (a very short name in comparison with other visited towns) and we couldn't resist visting it: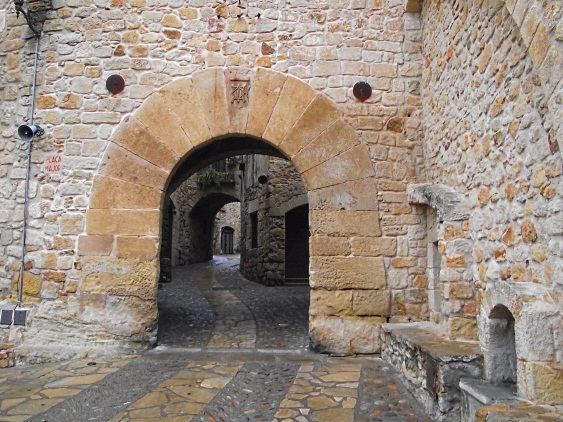 Be prepared, there will be many pictures of this town because we loved it so much! Most of all the towns we visited so far on this trip. Why? Sometimes love cannot be reasonably explained :-):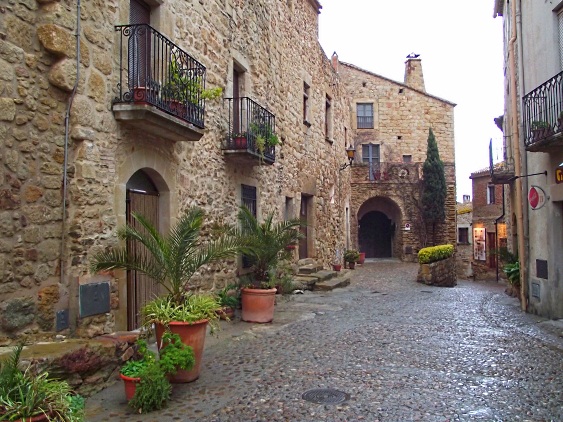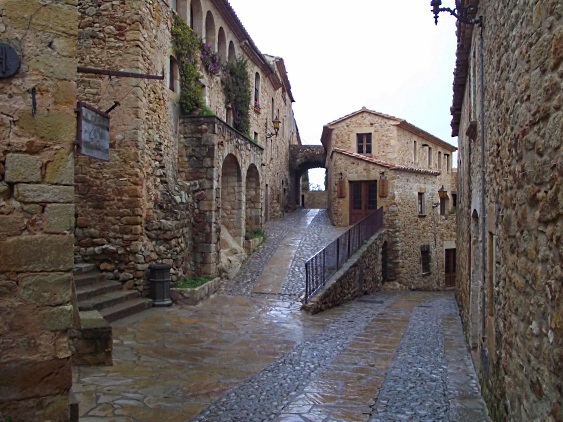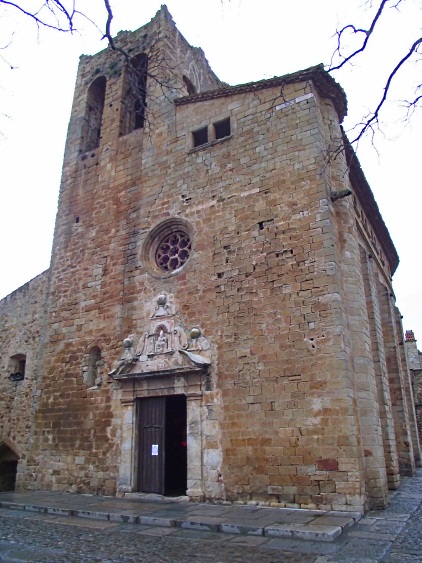 And here how cold it was – I was wearing Andrei's winter jacket on my spring jacket and my mom said she has never felt so cold through the whole cold winter of Lithuania this year…: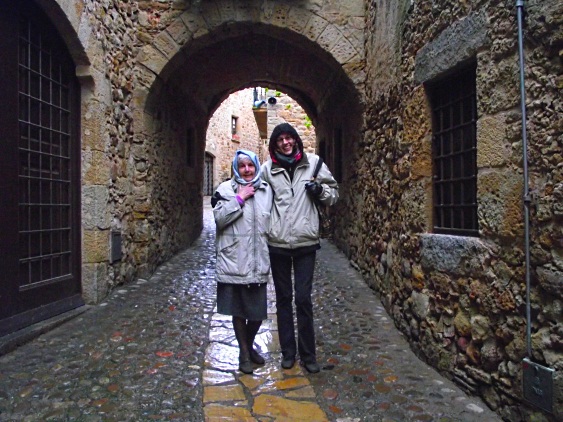 You can see modern balconies and windows built in those very medieval walls of stone – and everybody seems to be happy, no "Monument preservation" wars… like it would happen if they did it in Vilnius', Lithuanian capital, old town, I guess…Or maybe not – they built a crazy palace behind Vilnius Cathedral in Lithuania, spoiling the whole view of the Cathedral and the sacred mountain behind it – well, there were some protests…with no results. But here they do it with such a taste, that no one could argue that those big windows enhance the look of the streets.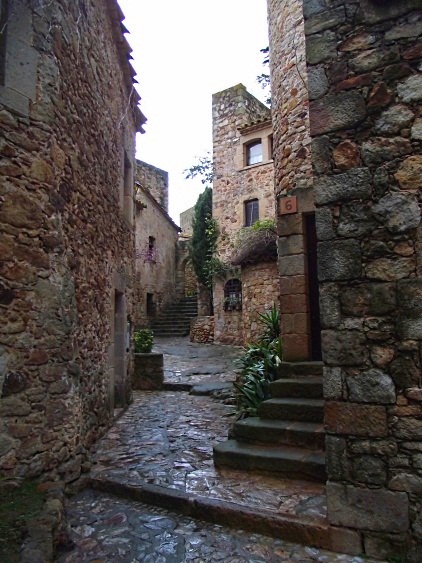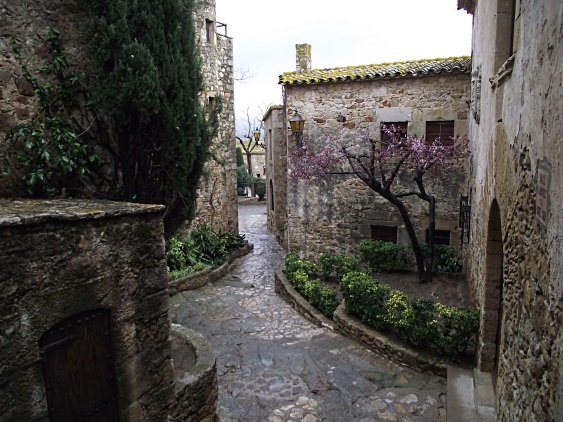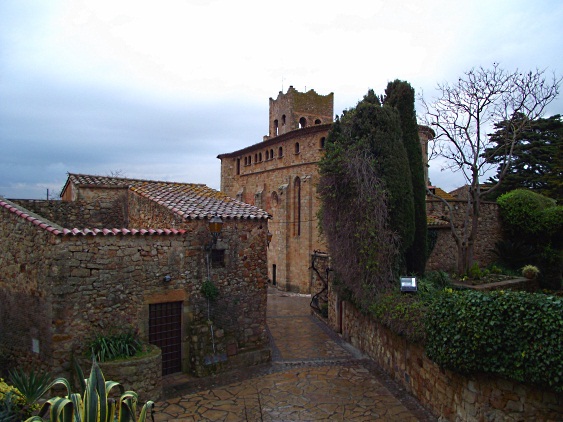 Evidently this castle on top of the town is owned as a private home, a romantic one!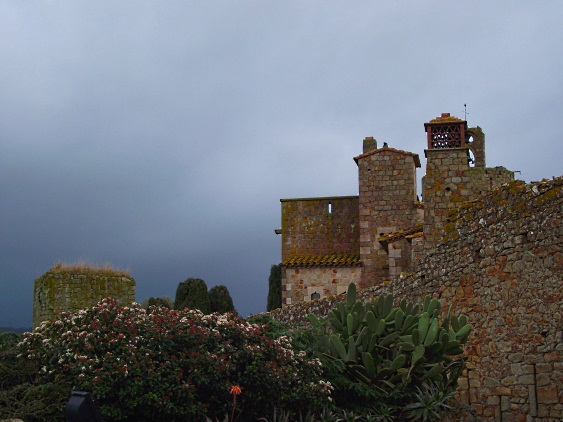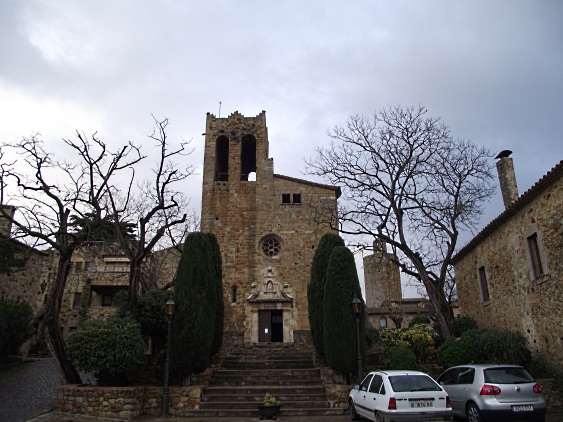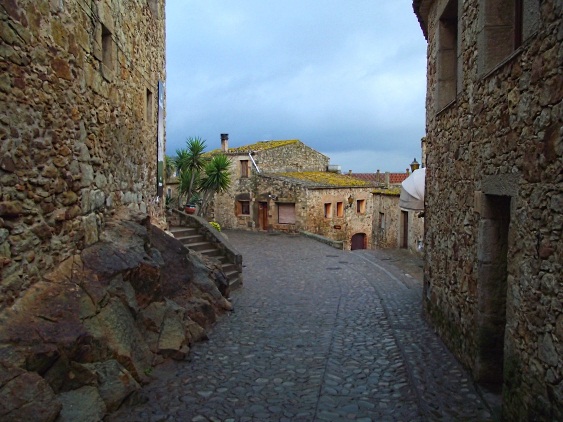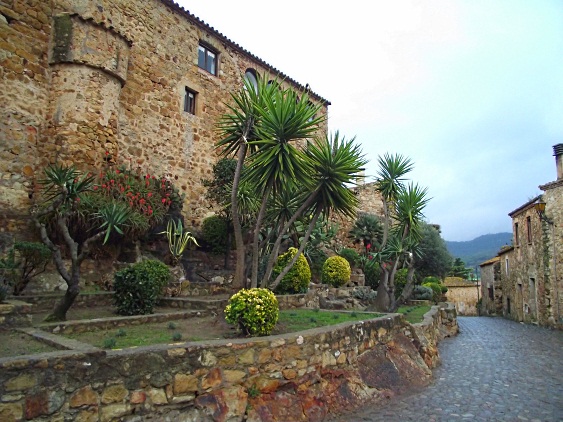 We seemed to be the only ones in the town that day, except for a girl in a souvenir shop. But it is sometimes nice to be the only ones! especially in a town you fell in love with!
That was a big day! especially having in mind that we with my mom literally ran in the dark to the center of Girona once we got to the hotel – to hear the concert by the Armenian pianist. But it was worth listening and running, except that we were tired…