After our stay in Ouray we drove back to Ridgeway which is not in the mountains. but by the mountains. Then turned towards Telluride. Our B&B hosts told us to park by the edge of Telluride on the right. There is a free parking lot. Then you just walk into downtown, which seemed a little bigger that the towns we saw before. Restaurants, shops, as usual in a tourist and skiing town. But the biggest attraction is its free gondola! Nowhere else there is a free gondola as far as I have heard. Not one-ᅡᅠ even two of them.ᅡᅠ The first lift is very steep and a little scary. Then the gondola stops on the top of the mountain ridge: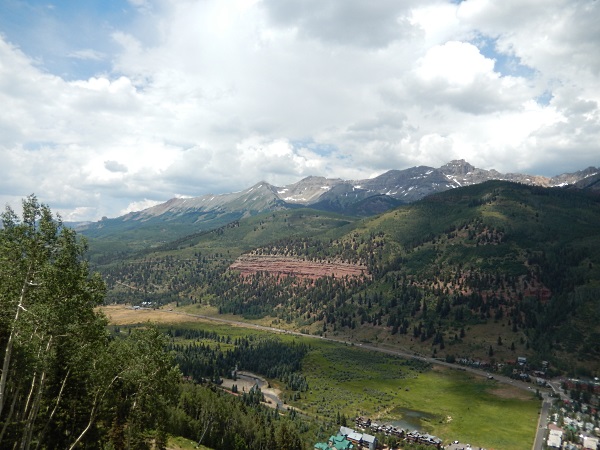 From there the mountain bikers are riding down. There is a restaurant there with good views. Then the gondola goes down to the other side of the ridge, to the Mountain Village, which is not a village in its classical sense, but a concoction of rich condos. On the way you see the ski tracks for the winter and the surrounding mountains: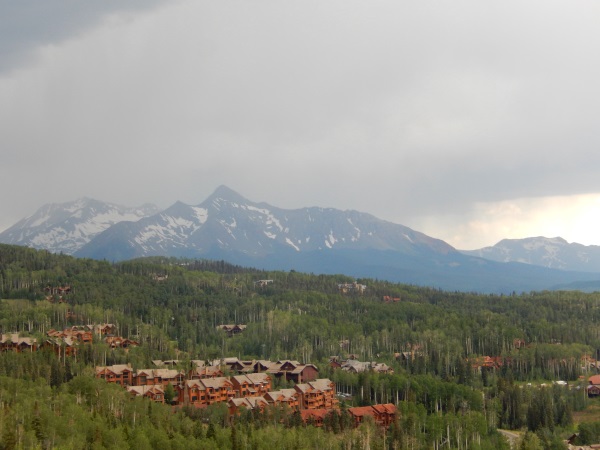 And once you get out of that gondola and you are not the one who stays in one of the condosᅡᅠ you do not have much to do there. So you go to another gondola, which takes people just over the tops of the condos to a food store-ᅡᅠ what a way to go shopping! 🙂 You see the lavish life style in full swing under you and that is the attraction. I guess. Also – you can hike down from the food store-ᅡᅠ the hike is not steep. So here you go – taking gondolas was our fun in Telluride. Once there -we drove to the very deep end of it and saw a peculiar thing-ᅡᅠ a big house built very close to a waterfall on a steep cliff, with no roads leading to it-ᅡᅠ I wonder?!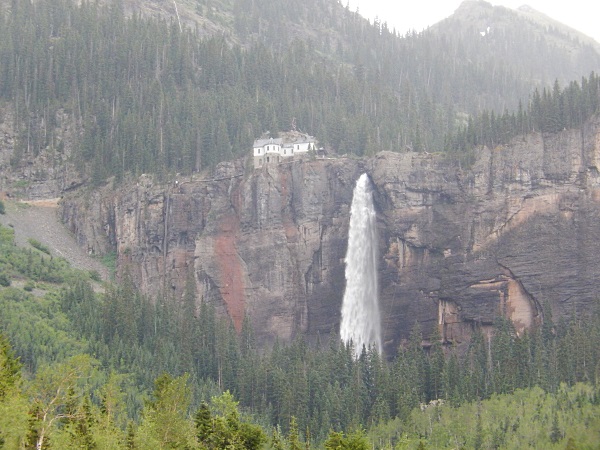 I guess you have to stay in a town to fall in love with it.ᅡᅠ But it would be hard to love so many towns :-).ᅡᅠ So we drove out of Telluride and towards Cortez. Rt. 145 on the map is shown as a scenic road and it was. Very very scenic. But there we heavy clouds and we were tired, so we didn't stop for every good view. However, we stopped in Rico – it has an authentic house turned into a hostel or a hotel – it was pleasant to walk in its empty corridors and hear the ghosts. It has a wild hot spring close by: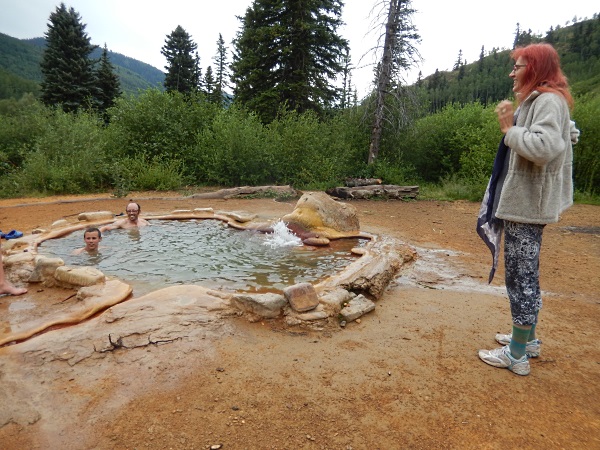 But once we came – there was a company of 5 soaking in it. so the math didn't work for us…So we drove to Cortez where hotels on its North side are much more expensive than the ones on the South side :-). We picked American Holiday Mesa Verde Inn – it was in front of the restaurant Mi Mexico – that we remembered from long ago – and it was a good choice! The hotel was very quiet and the restaurant served very good Mexican food! We wanted to go to Mesa Verde – but after some analysis figured out that we had no time for it-ᅡᅠ it takes at least a day or two to see it well, the drives are long there and you have to take excursions if you want to see at least one of the ancient houses or towns, whatever they were. So we chose to visit Howenweep NM instead. Therefore the next morning we drove on a small road through the Canyons of the Ancientsᅡᅠ NM and stopped and walked in one stop. Didn't walk much -ᅡᅠ had no time. But walking on this sandstone was pleasant and it would be a good idea to stay somewhere close by there and hike and hike: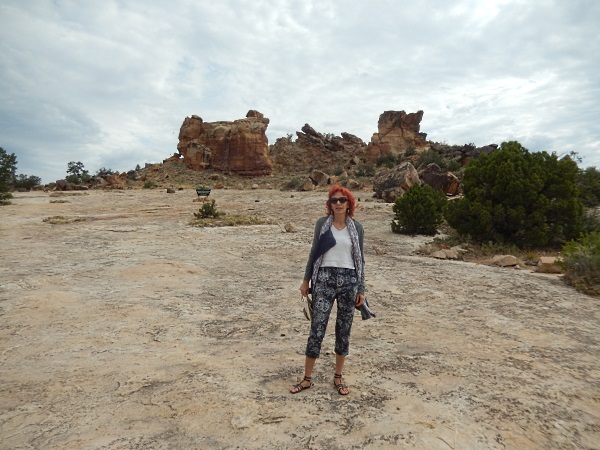 Because all this area is full of signs of Ancient Indians living there! Here is the Howenweep NM – it is a canyon where life flourished ages ago. They have a few structures still standing, as those Twin Towers, and a few mysteries still lingering: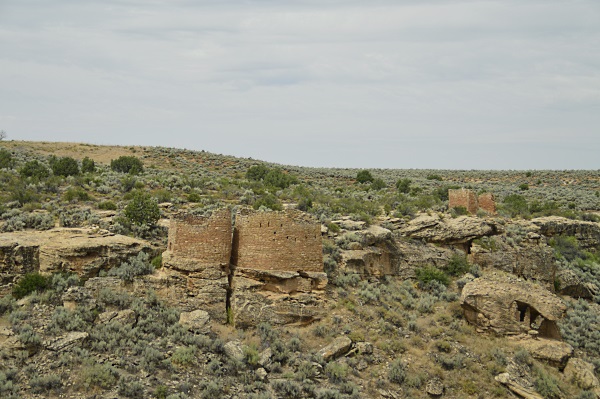 Thenᅡᅠ the drive was long…We listened to a book about Albert Einstein, a really good one, but still. We saw Mexican Hat on the way and the the Monument Valley with the place on the highway where everyone stops and takes pictures. Why – because Forest Gump stopped his long run through the US exactly there!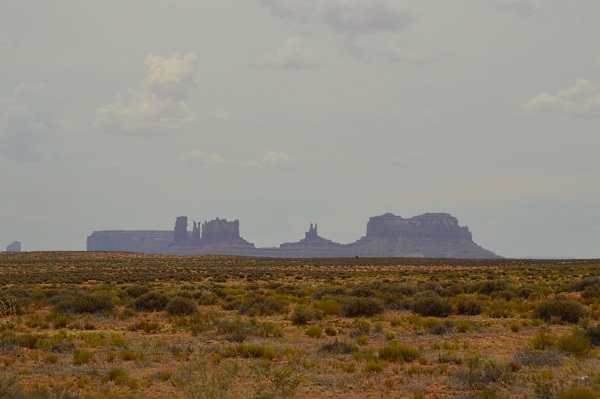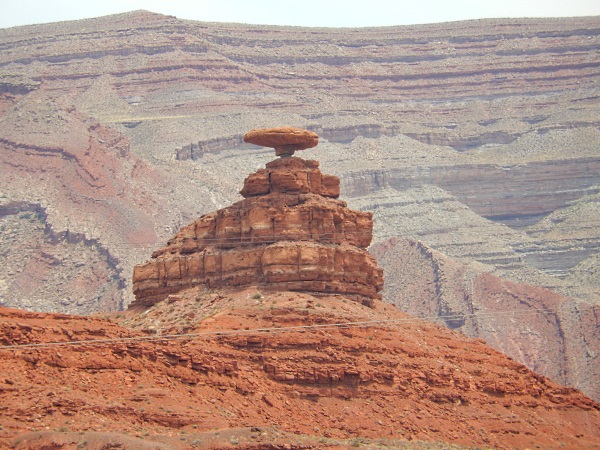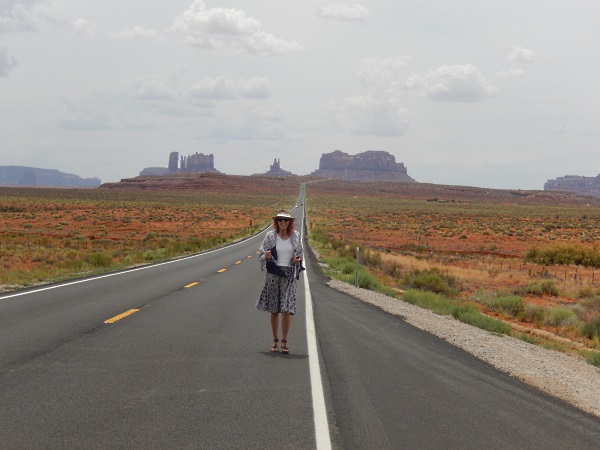 THen we noticed that the glorious Mittens of the Monument Valley are eroding, they have lost their 'thumbs' and do not look like mittens any more…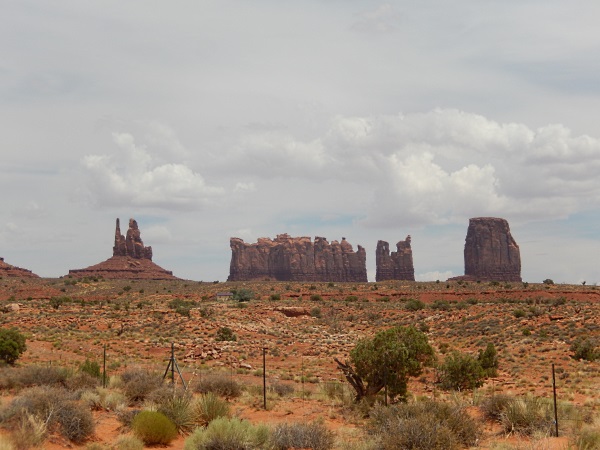 But the rock that looks like a mountain from a fairy tale -ᅡᅠ still looks inspiring: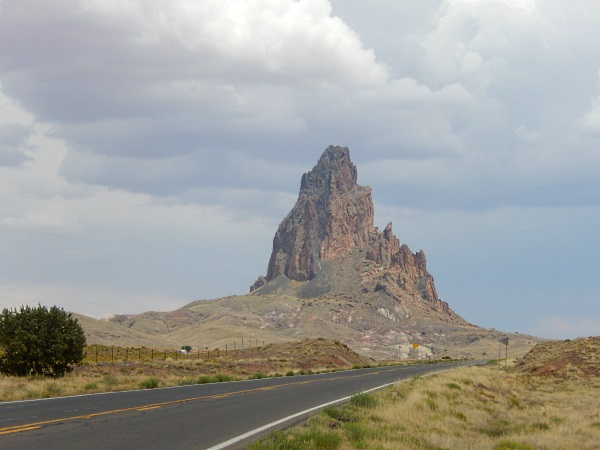 Then a little stop by this monstrosity of the Hydro power station of Lake Powel: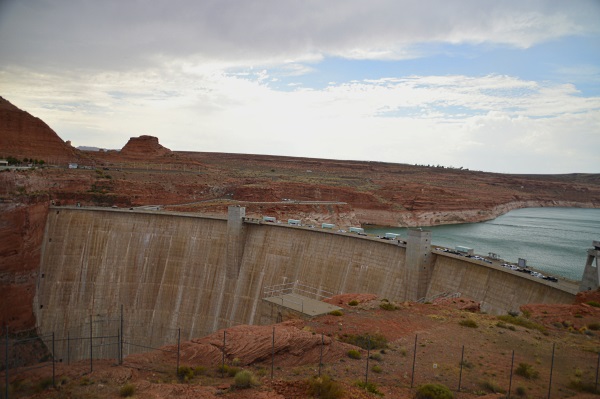 And we returned home to our super hot summer, to our permanent irrigation and tending our peaches and tomatoes!