On March 6th we were driving through Aragon. At first we drove down from Berga on C16, then turned left towards Lleida, but didn't stop anywhere till we reached Calaf: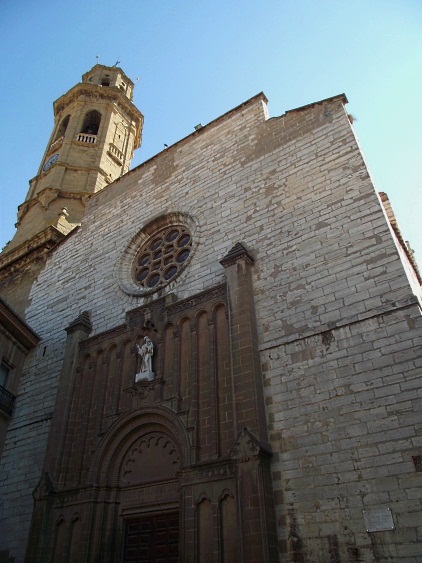 The reason we stopped there – we needed gasoline. So we felt our duty to park the car and go towards the main cathedral, but saw the same type of a church as everywhere in those parts of Spain, the same squares. Good. So we got our gas, and to tell the truth – a very peculiar truth – this gas was the cheapest we ever came upon in Spain anywhere in our future drivings. Everywhere else the price was the same- whether you pump it in the center of a city or in the suburbs. There is no way of being smart and saving on gas while finding better places where to fill up. that was our experience, except for Calaf :-). That already tell that Calaf is not a tourist destination nor it is a flourishing industrial city.
Driving around Lleida, on the ring highway we missed Rt. 240 towards Monzon and found ourselves by Rio Cinca. Whatever, we drove up by that river and the creatures we saw on a small town's Osso de Cinca church tower made us stop: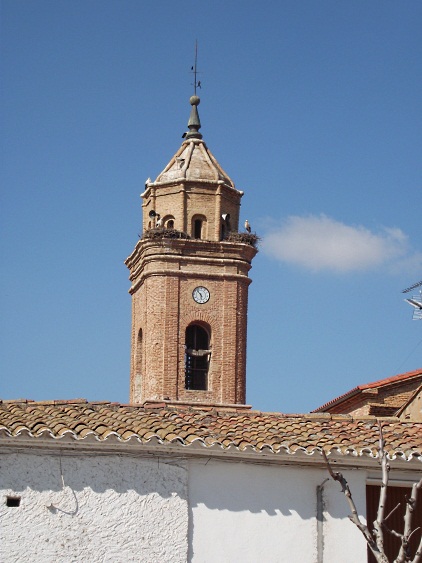 Isn't strange – storks were nesting on each corner of the tower…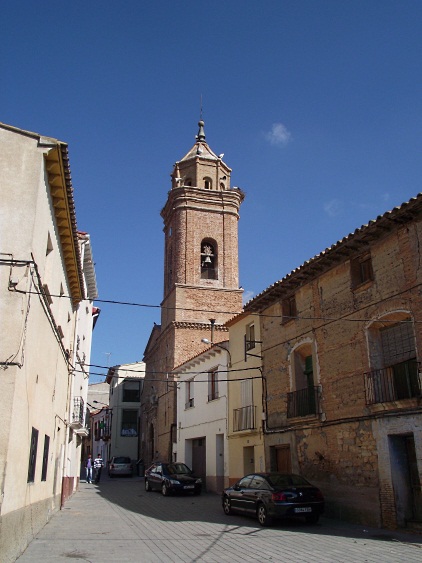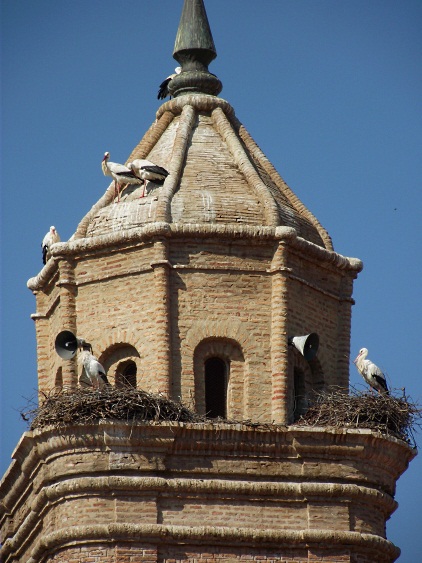 Not only nesting, but living their social life to their fullest with those clacking sounds and lots of trash under the tower :-). And then we reached Monzon and its towering castle on the hill: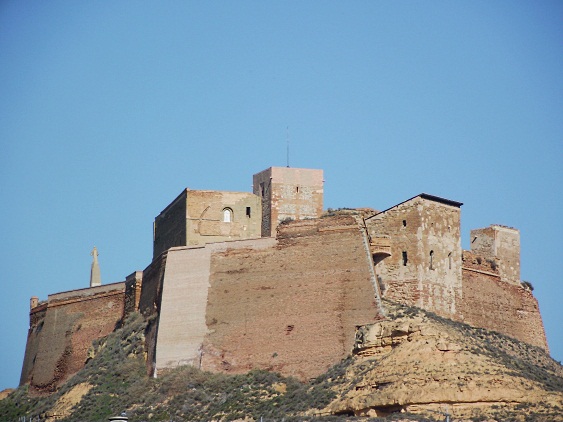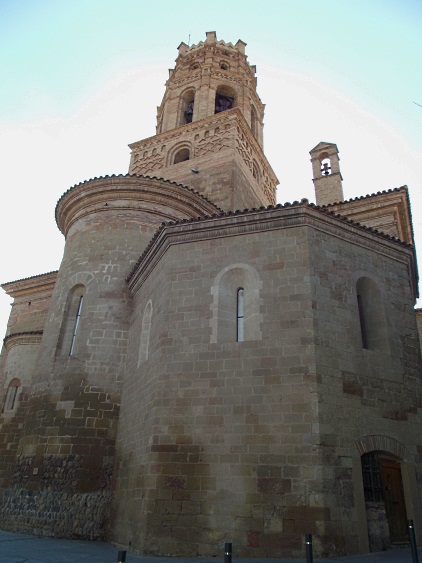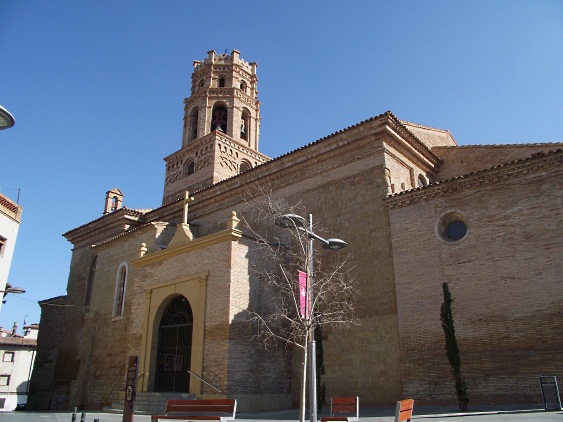 We found a very narrow road going up to the castle, but by that time we already felt "castled out", plus the hazard of driving that one way "hardly to pass road without breaking you car's mirror or a side door", so we just looked around in the main square at the bottom of the castle hill and drove out of town.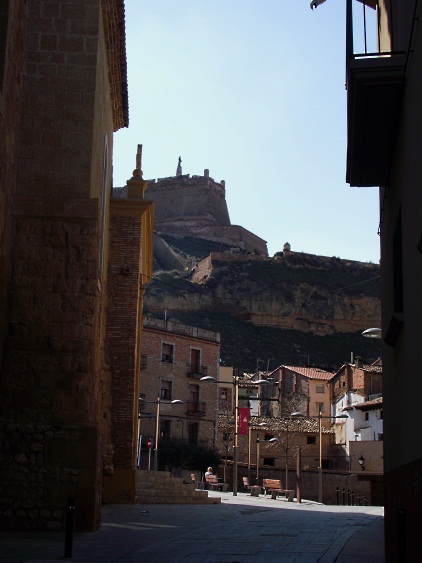 Next city – Barbastro. They were doing lots of road renovations in the very downtown of it, so we didn't spend much time there, either, just a pic of their Cathedral: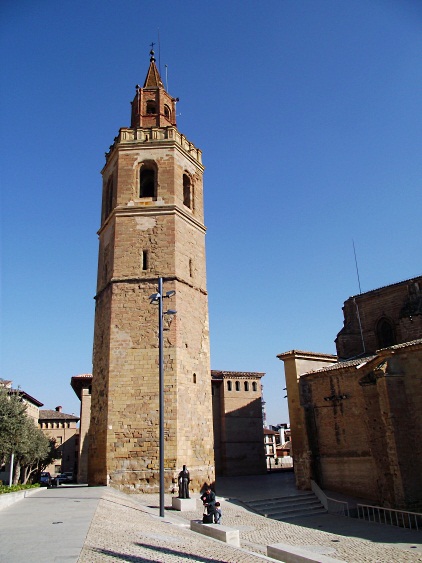 A stork on top of it: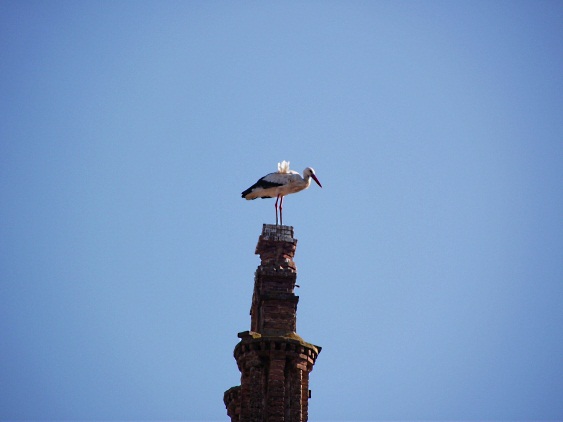 and a sculpture about their catholic past: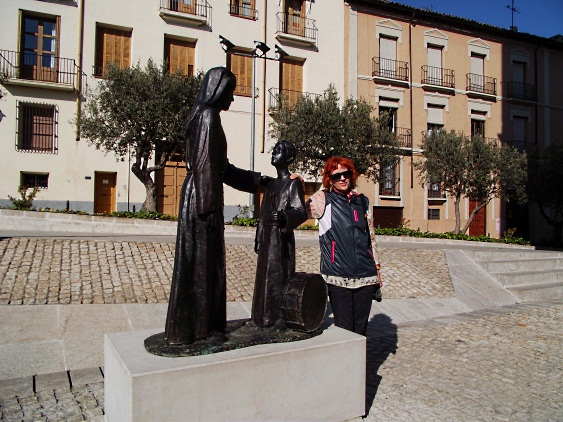 A note: there are olive trees in the background. you can see them in many place sin cities as decoration trees as well as olive groves as plantations for producing olives. Barbastro is described in tourist books as a city of beautiful architecture. We didn't spend enough time to see something very amazing or different than other cities we have already seen. From Barbastro we kept driving up by river Cinca, saw a couple of dams and lakes on the way – they looked magnificent in between mountains which started to appear and grow bigger and bigger: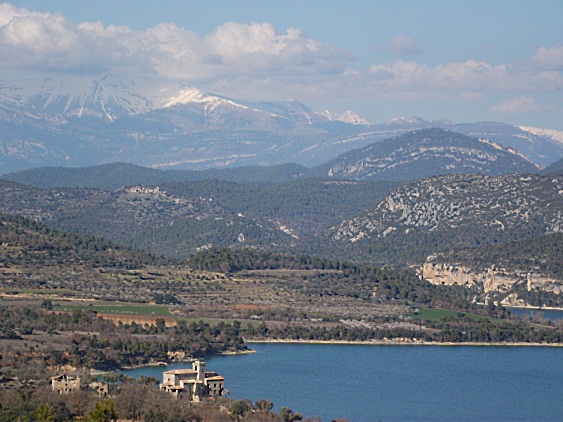 There were little old towns, I mean very very old towns on the shores of those lakes – evidently at some point they were built to stand high up on a hill and when people lifted the river water – they found themselves almost on the water, but still picture perfect.
Some of them still stayed high up. New architectural details started to show up – peculiar chimneys: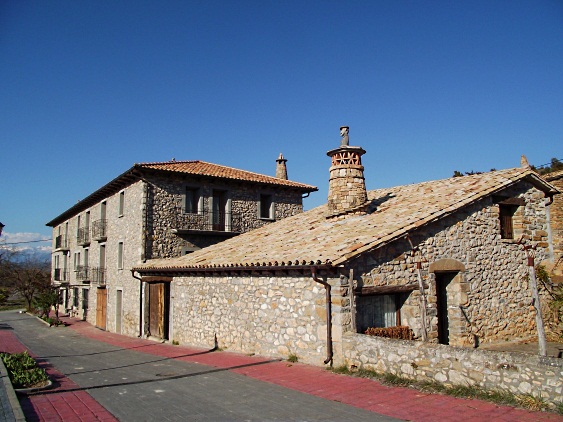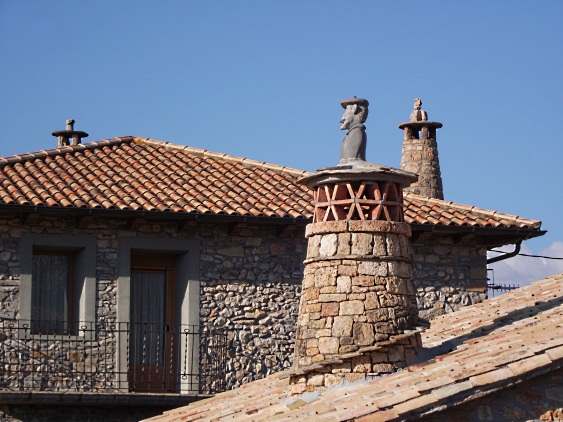 And soon enough we reached Ainsa – an old fortress town. This time again we didn't look for a way to drive up, but parked the car at the bottom, therefore letting ourselves get some exercise and climb a not very small hill with the medieval town glued to its top and sides: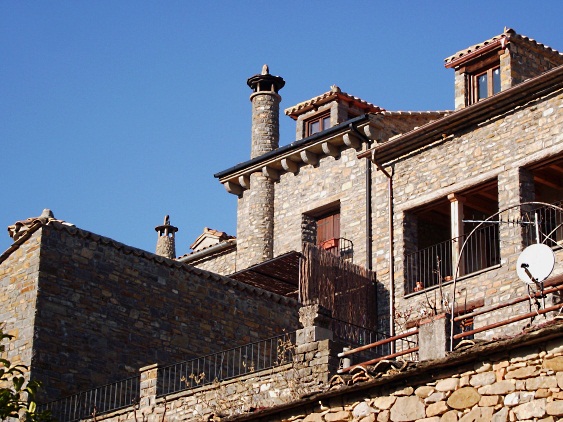 Of course, it was a pleasure to walk around in the narrow stone streets where no cars were allowed, alas…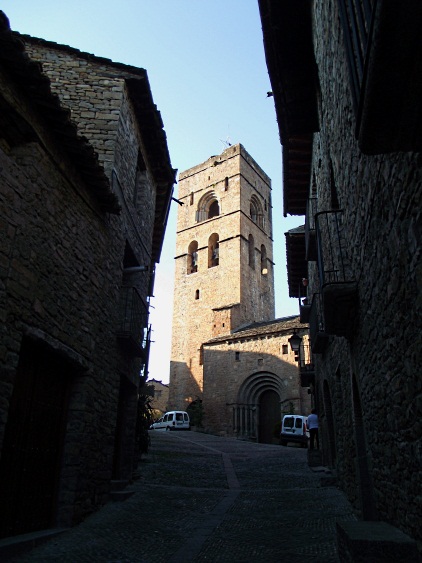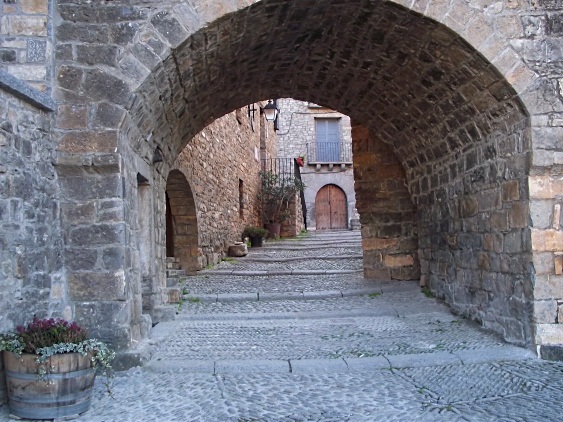 and take pictures of the confluence of two rivers at the bottom of the city hill: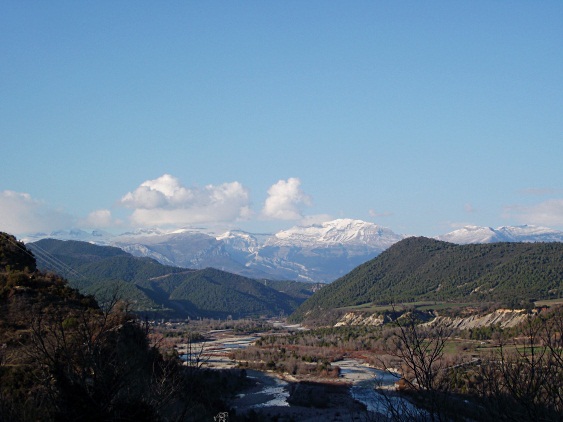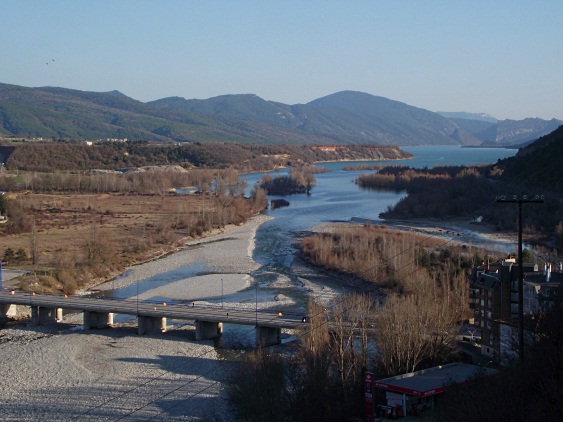 There is a rather big central square close by the fortress of the town, full of restaurants and hotels: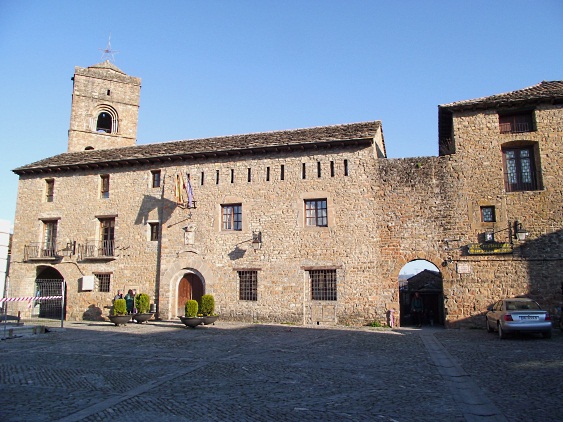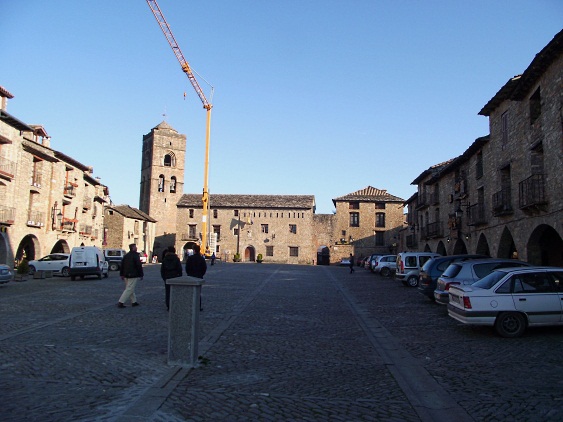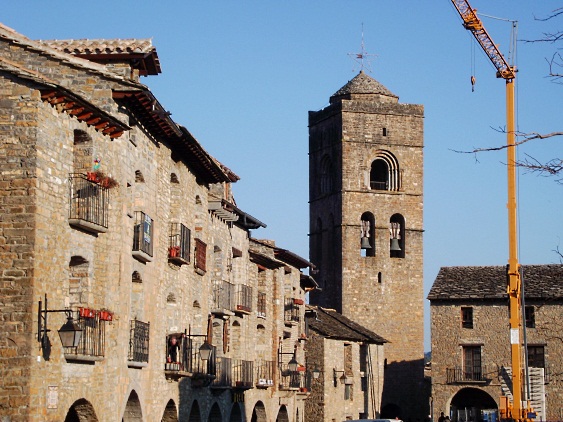 and the fortress walls: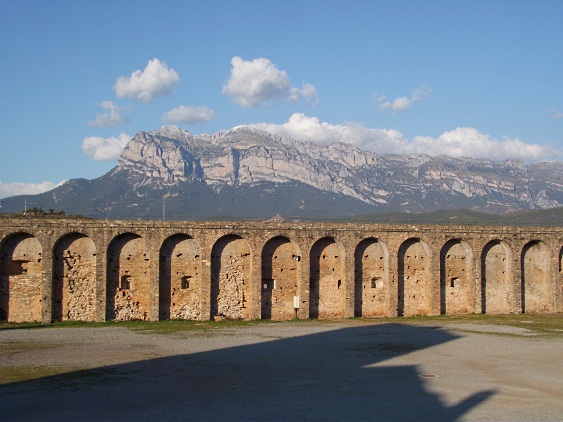 A very impressive town that Ainsa was…It was getting dark, the sun set and we still had to drive by the river Ara towards Hostal Rio Ara. On the way there was this abandoned town Janovas – which we noticed only because a lady at the informattion center in the castle in Ainsa told us to pay attention to it – people were replaced to other areas to live in order to make a dam on river Ara and flood the valley. But then the authorities changed their minds and therefore – the abandoned village…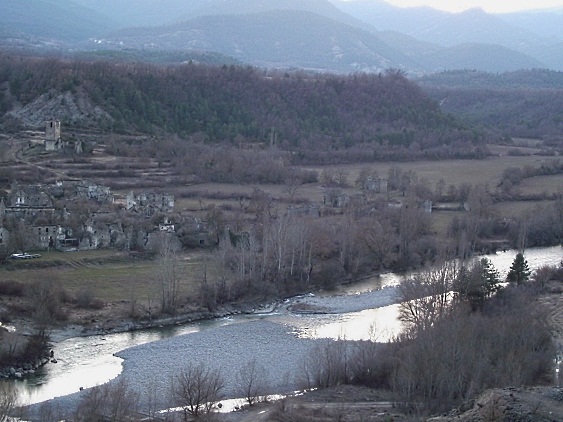 I have to say that the road by this river was very narrow and at times we had to stop and let another car through. Good the season has not started yet. So there we very few other cars. I thought it would be nice to walk in the ruins of the village Janovas, but we had no time. it was getting late. More about Hostal Rio Ara and the little towns by it – in the next Blog.