March 5th. Took my mom to the airport which is on very confusing roads by Girona… But luckily we found it in the pitch dark of the early morning. The airport seemed mid size, rather convenient for those who fly in and take a train to Barcelona from there. Then we still rested for a while in the hotel and left towards Banyoles, Besalu, Olot, Ripoll, but didn't stop anywhere except for our sandwich lunch somewhere on a mountain ridge by Ripoll where we could already see white tips of Pyrenees in between pine trees. The plan was to see Ripoll's Cathedral, but once we got into the town – we saw such a long flow of cars towards the center, which were mostly standing still, which is called traffic jam -a strange thing to be seen in those remote to our minds areas – maybe because it was Saturday and everyone was heading towards ski resorts. So we lost interest in the cathedral and headed further to Berga. The roads were mountain type and winding…The views were beautiful. There were small castles on the way, we stopped at one of them, and called it "The private castle" – because we forgot its name, I am sure it had it: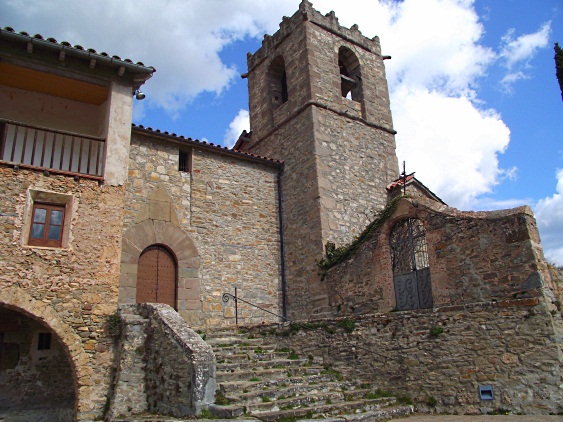 It consisted of a church on the highest point of the hill, a tiny cemetery on the right behind that gate, living quarters of the owners, with the whole farming life – livestock hanging around, farm buildings, etc. and a restaurant at the very entrance of this tiny ansamble of medieval buildings: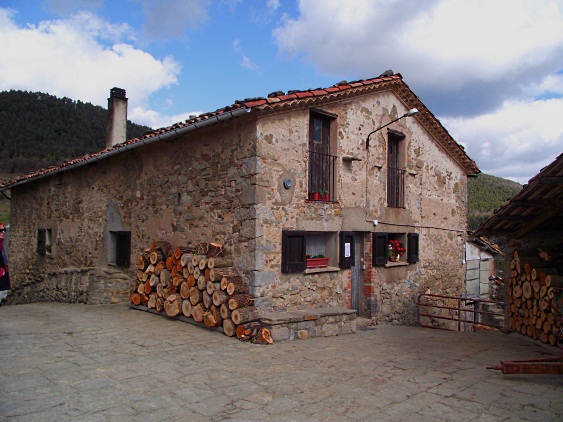 Life in such a farm seems romantic, especially with the views they have. But is it easy – I doubt…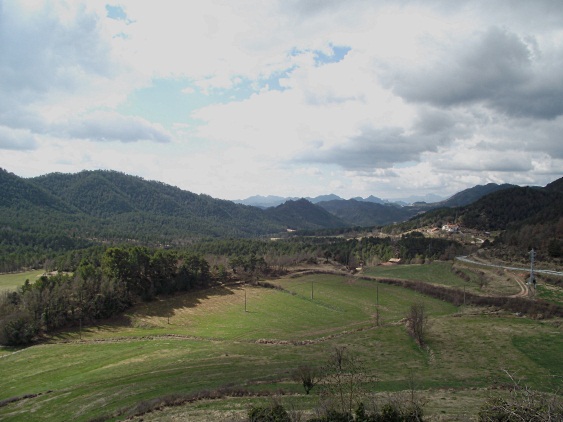 Then by Berga we drove up another already higher mountain with a castle on top, so here are the views: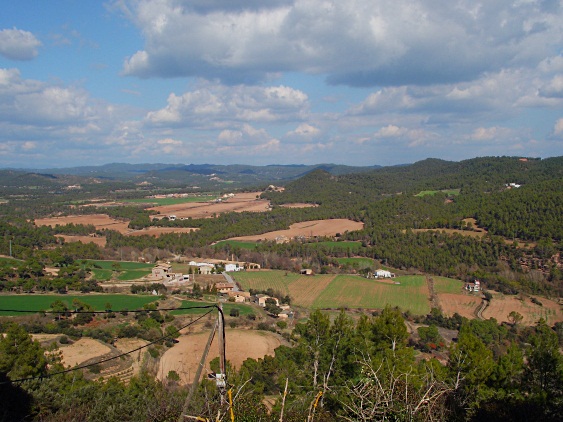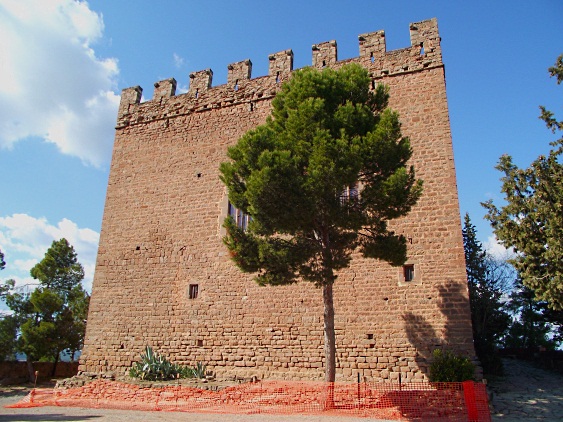 The castle has a name-Balsareny, but it looked very plain, just a square simple castle like you see.
We decided to stay in Berga, they have a nice modern hotel Estel, easy to find, easy to leave the town from there. As there was still lots of sunny time of the day we drove a loop visiting Cardona and Solsona which are described in tourist books. Cardona has a big hill of salt on its side. but the sun was shining from that side. we couldn't take apicture/ Nothing very special about that salt , though, they just mine it there. But it also has a big castle with a Parador in it- a Parador is a Spanish government owned hotel usually installed in an old castle, usually well installed so it can have like 4-5 stars and guests can experience living in very romantic, old, but at the same time comfortable surroundings. But we left this experience for the times we get rich. Here is the view of Cardona: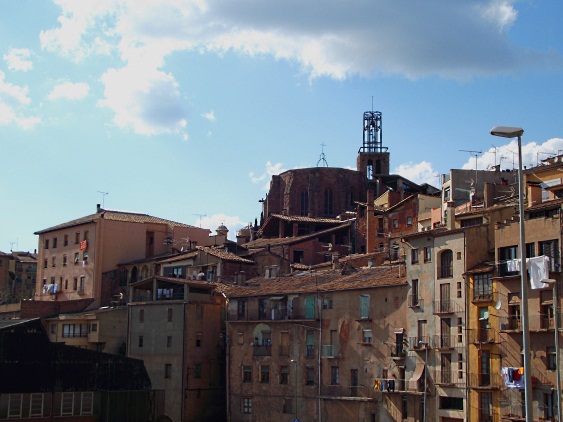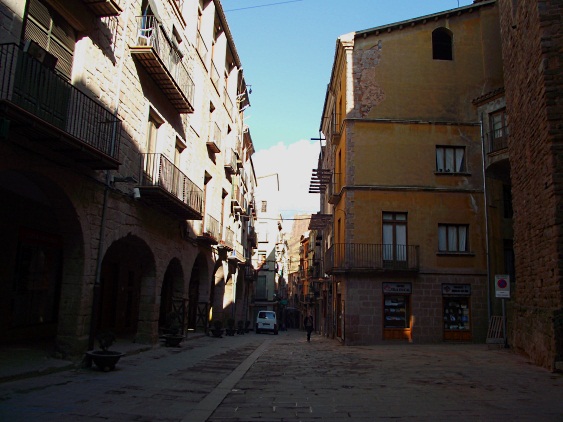 It seemed very empty and not very charming though the weather that day was perfect. Its cemetery – kind of strange…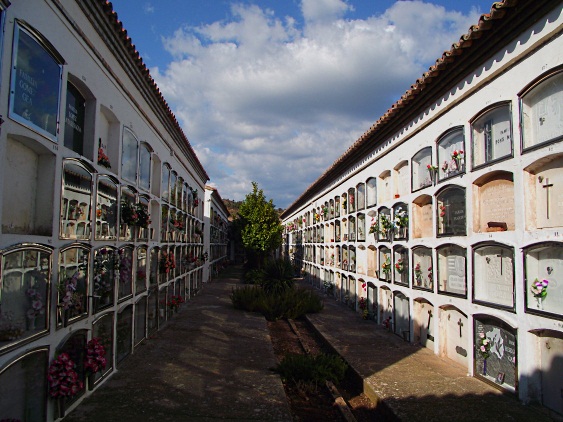 the next stop- Solsona. It met us with lots of dressed in colorful clothes people gathered around 4 puppets – so we decided they were celebrating Mardi Gras – or a day before Ash Wednesday. It wasn't the exact time for that, it wasn't Tuesday./ but as everywhere where people have to work on Tuesdays, they celebrate it on Saturday. The celebration was obvious only from the gathered kind of Halloween costumed crowds, from decorated narrow streets – each one with different objects – one with handbags, the other with paper garlands or cards or figures, but not from their faces. There were no smiles, everyone very serious… Maybe I am too used to Americans smiling everywhere? But life seems shinier when one smiles! So here are the streets and puppets: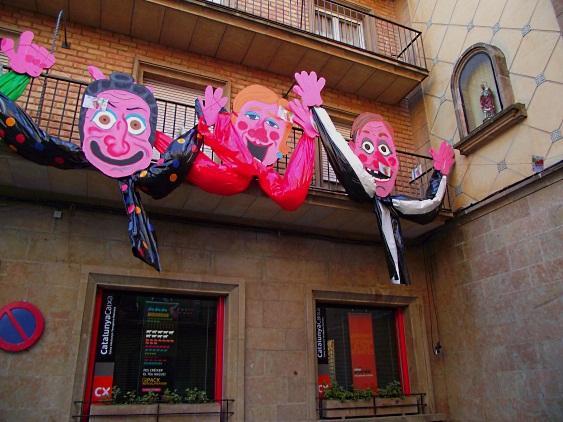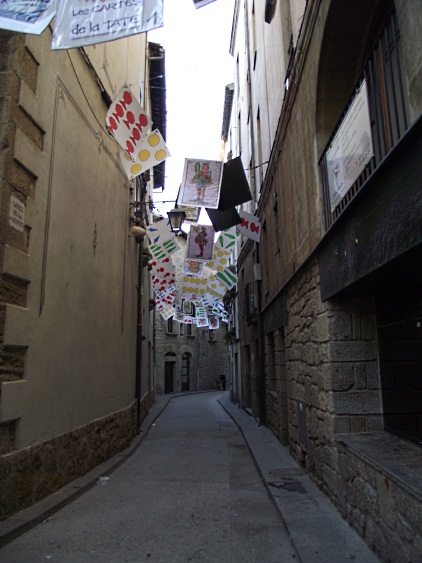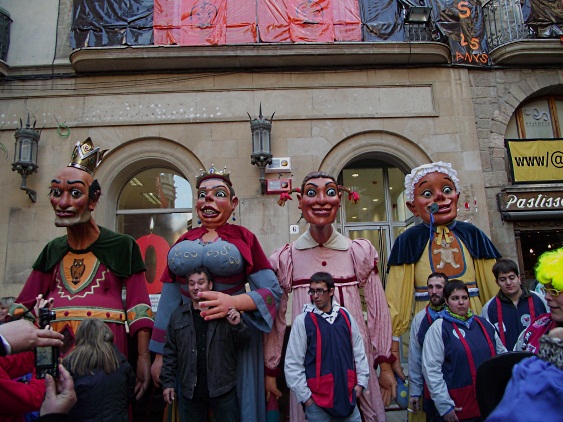 Families and some kind of teams of people had same colored clothes. There was also a stage with music in their main square and as usual – the fair! With cheeses and cured meats form farmers, some local crafts and mostly…bags and other crafts from Thailand…Those Thai people must be very diligent and busy supplying all the world with their handwork…
When we came back to Berga – there was a parade there, too. But we only took one picture. Were mostly filming the dances of the parade, of which they had plenty. Each float had a group of dancers in front of it – like cheerleaders. And who were those dancers- exceptionally girls…Even the pirates of this ship were girls. I wonder what were the boys doing at that time? I bet they were the ones who did the decorations and floats.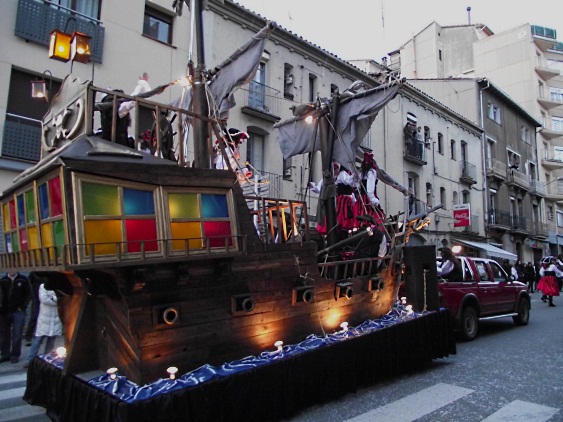 Here are some views of Berga (the first one is from our hotel door, next -our hotel rom):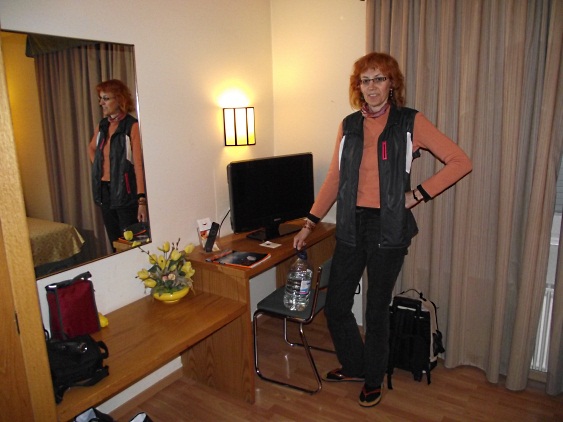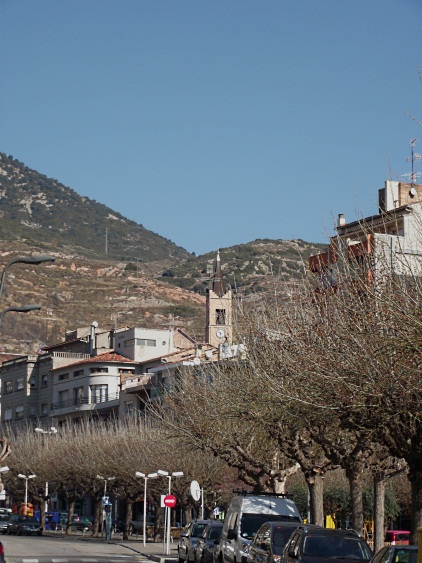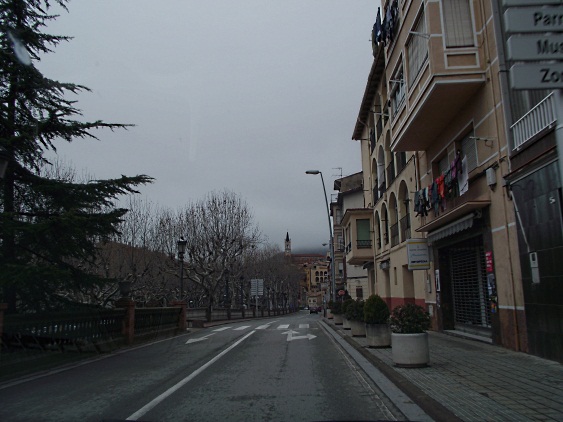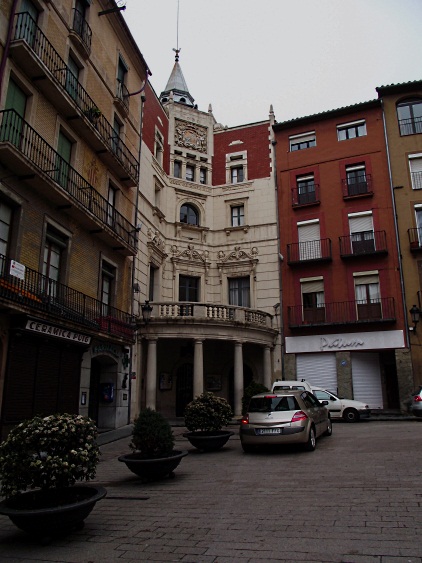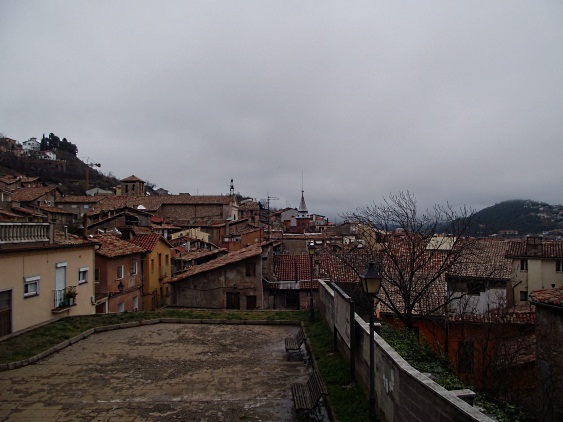 The church that dominates its skyline is old from the outside but very modern inside: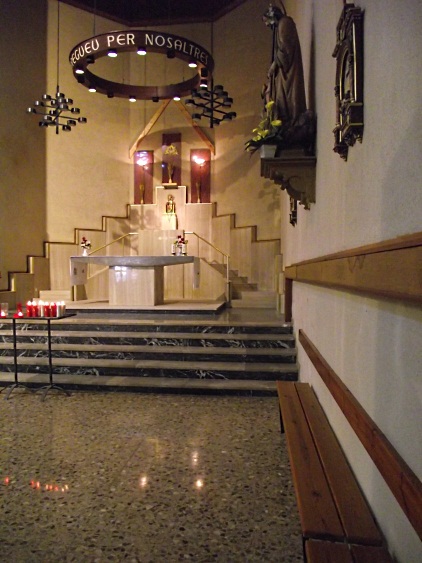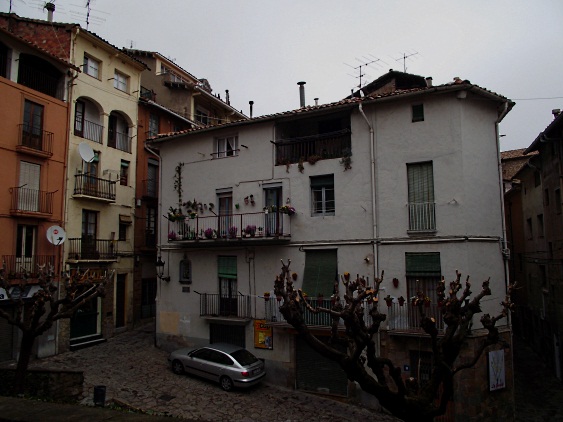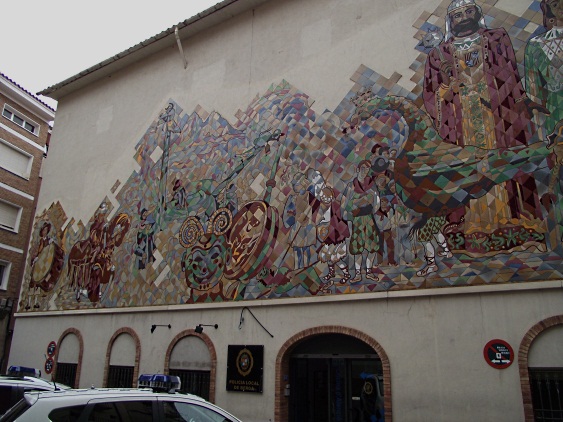 This last one is a mosaic depicting circus and fairy tales over a police station…