The 10th of March was again one of the most beautiful days we had in Spain – after The Pyrenees. The very morning looked foggy, but then it cleared up and I was already thinking of staying one more night in that wonderful hotel with lots of X-es in its name with the sea waves beating under our window: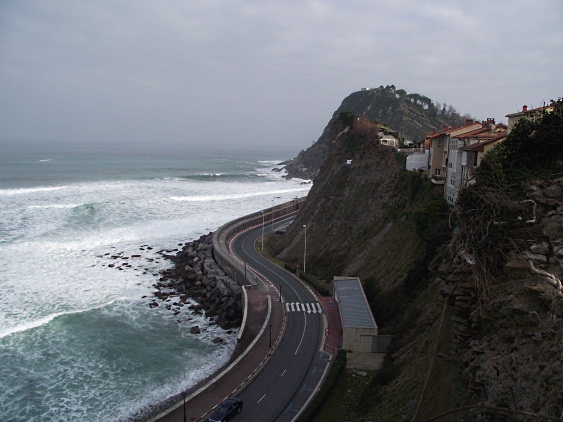 But then my willingness to see the mountains one more time conquered this wish to stay and so we just walked one more time in those 4 medieval streets of Getaria: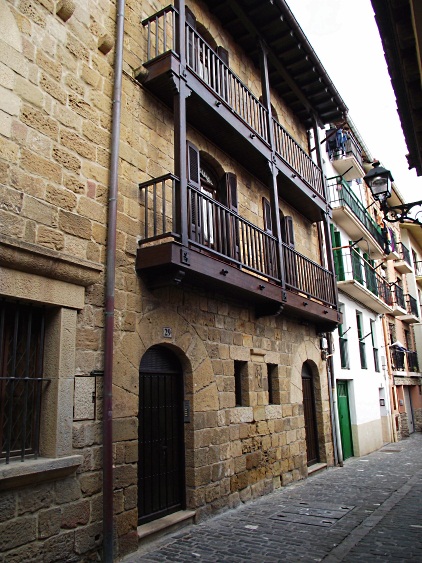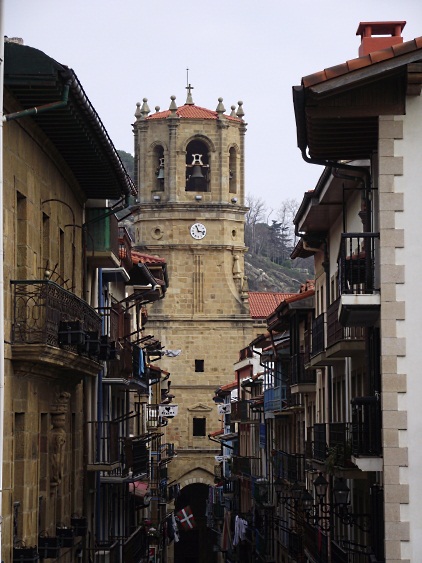 The church is very strange there- it is built over a street! So the altar part of the church is higher and all the floors are lifted towards the altar, so tat if you drop a ball by the altar, it wall roll down towards the entrance, or if you go for a communion – you would feel like climbing a mountain, or if you sit in a chair – you feel like you are in there to have a nap: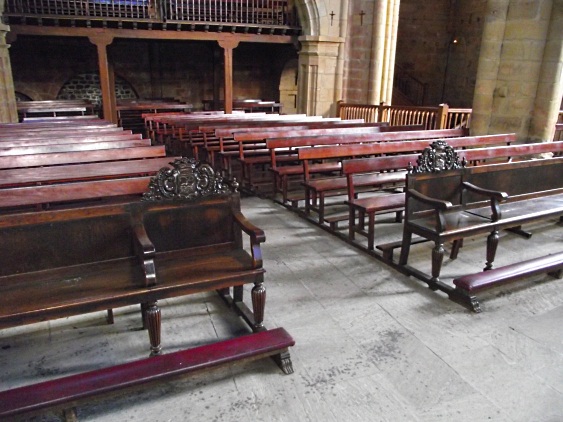 Spaniards like having coffins in their churches, some of them with a very realistic body, so that I was happy I visited them only now, when I am "over the hill" and not so sensitive, fo rin my childhood – i couldn't bear such a view: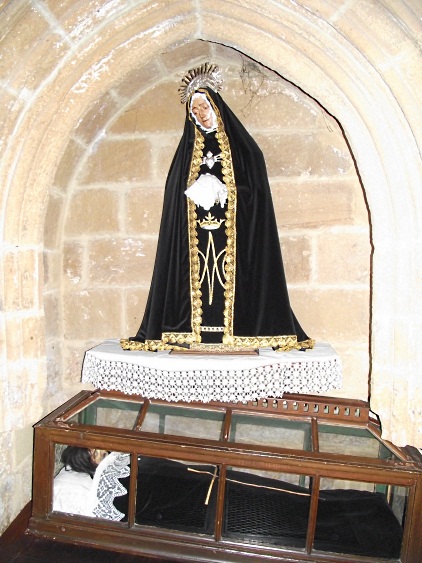 There is a fortress by the road, which you can climb up and see the town from high up: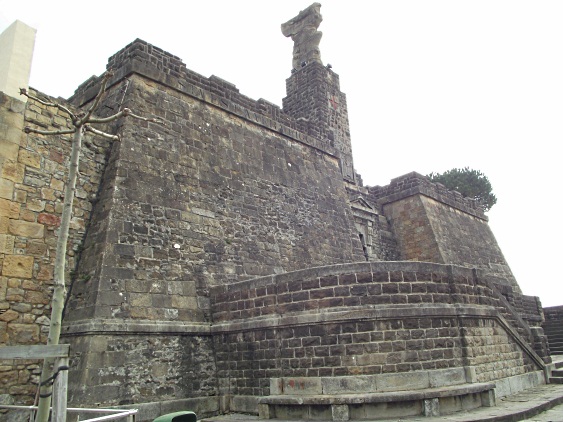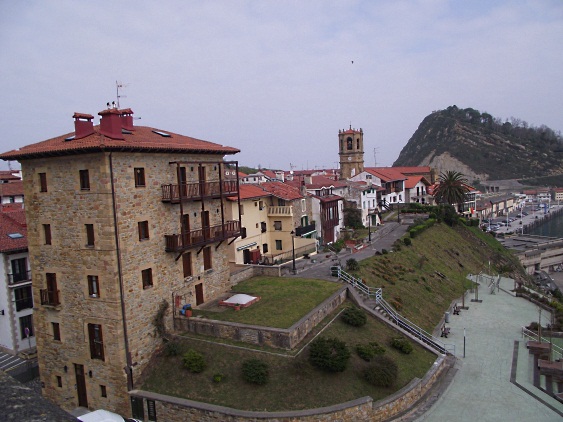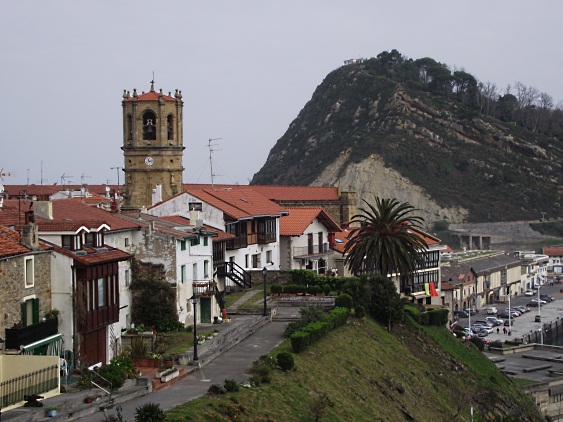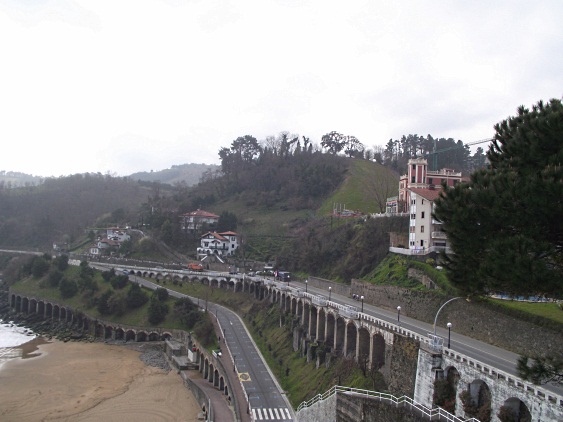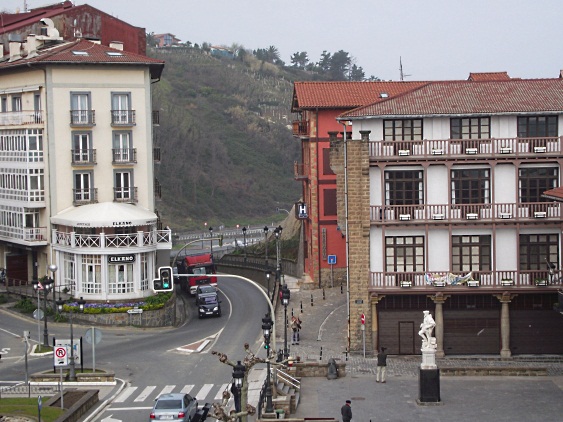 Our hotel was that last red building. We also walked down to the fishing port with the warehouses for fish: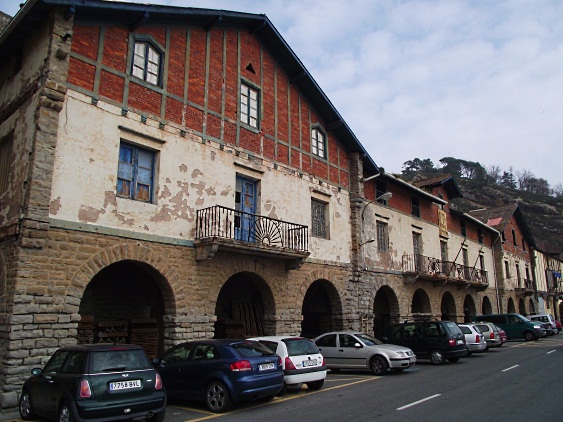 This is a town you can fall in love with and want to come again and again…but we would rather not, too far away…So we left driving up North on the same road by the sea till we saw Zumaia: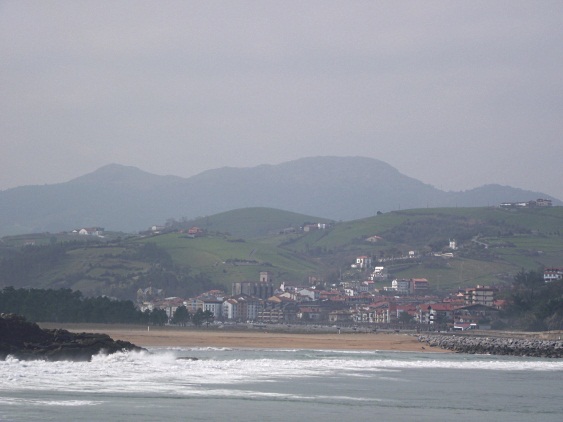 We stopped by the entrance to the city to see the House-museum of a Basque prominent painter Ignacio Zuloaga, but it was closed, so just some pics from outside of his house: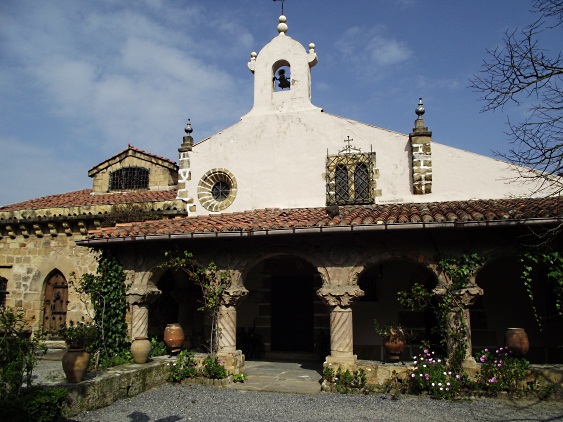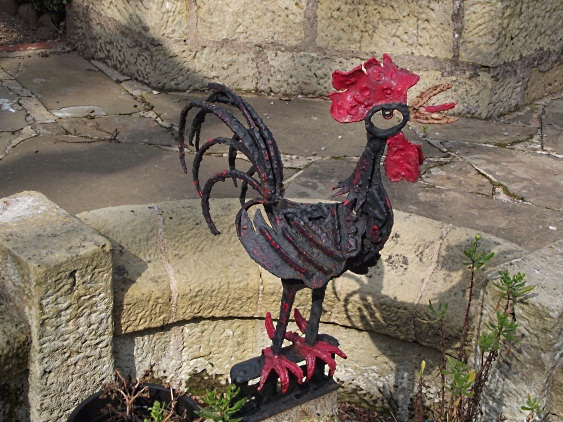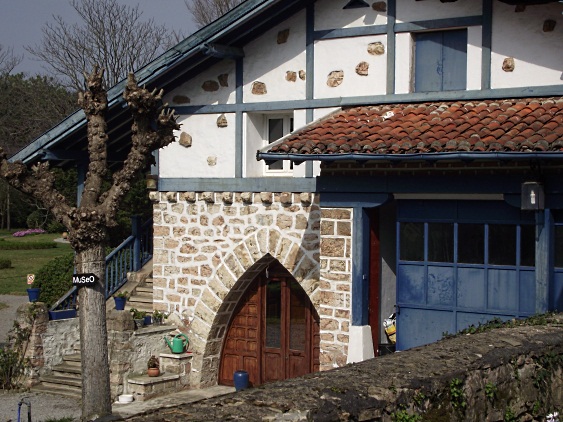 Speaking about Basques – they have their own language Euskera and their own different names of cities and places. But even their names in Spanish sound and look different – the letter combinations like "itz" or "oa" as well as the last letters "X, Y, Z of the alphabet are met in their words quite often. And also speaking about Basques – their waiters seemed to us rather unpleasant. This was area in our trip were they openly showed how they hate taht we don't speak Spanish and how they "don't care" -they would never look directly to your face. just somewhere through your head to the spaces behind…and never cared whether we stayed or left for the service for unbearably slow…Women waiters – a completely different story. They were nice as everywhere in Spain. Draw your own conclusions, I can't give a sexist advice :-).
Here are some pictures from Deba & Ondarroa – another coastal towns: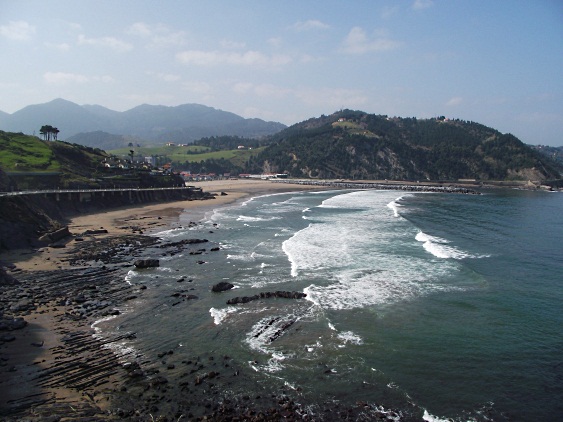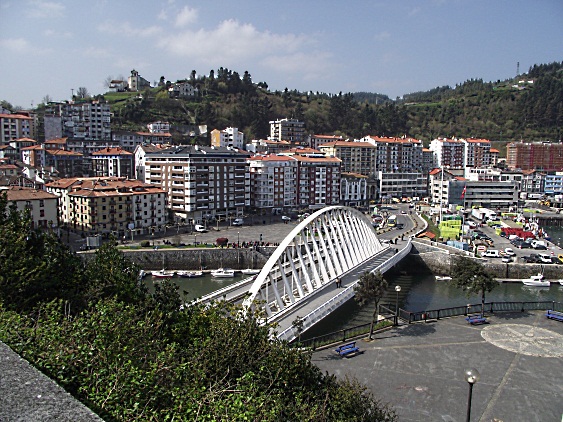 The maps usually don't show a road from Ondarroa to Lekeitio. but there is one, on the sea shore. a very narrow one. it was worth driving it for the views and the first sight of Lekeitio from the high coast cliff that the road came from: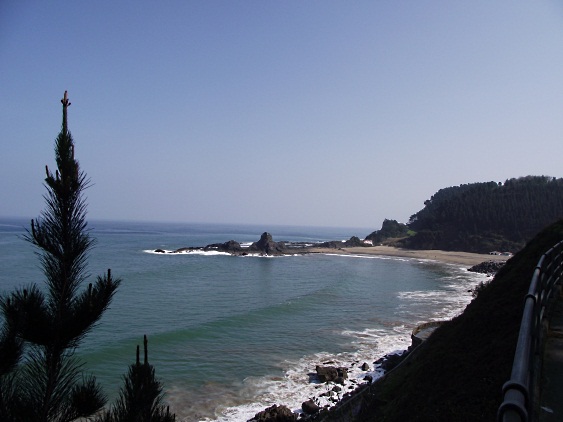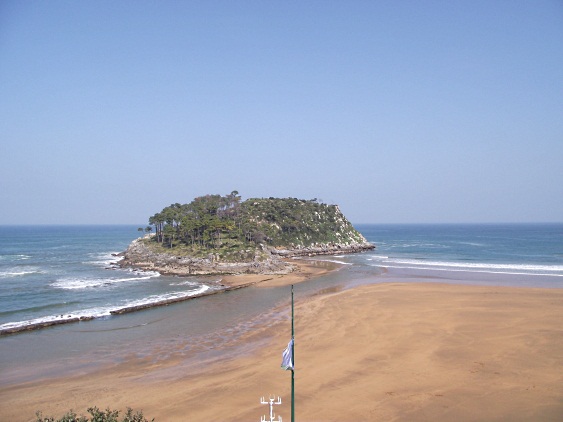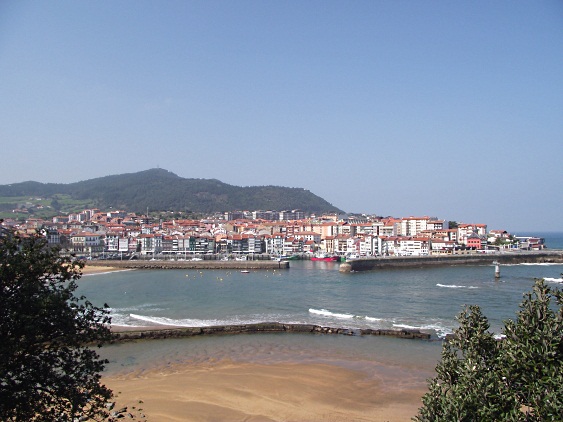 We found a space to park in the center on the street and walked to the port area to search for some "menu dia". That took us a while. Lots of places, all crowded and very unfriendly. After seeing the boats and the Cathedral: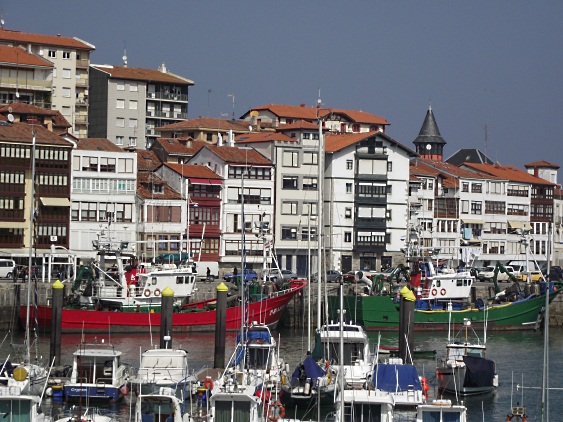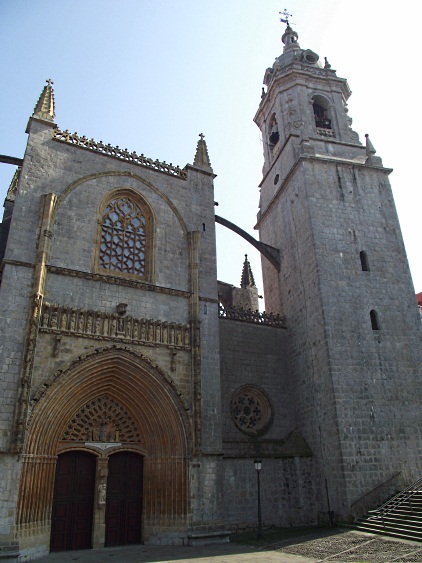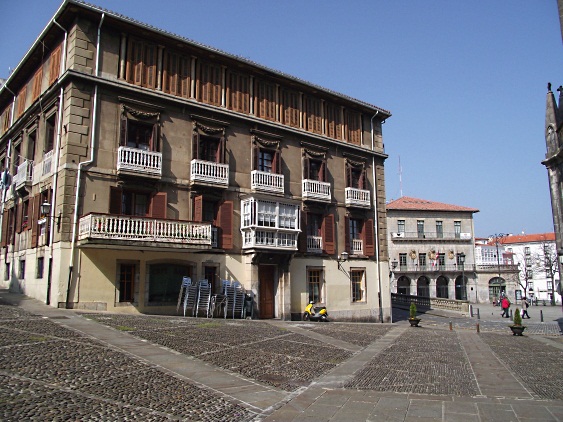 We found a nice restaurant further from the sea and closer to where we parked: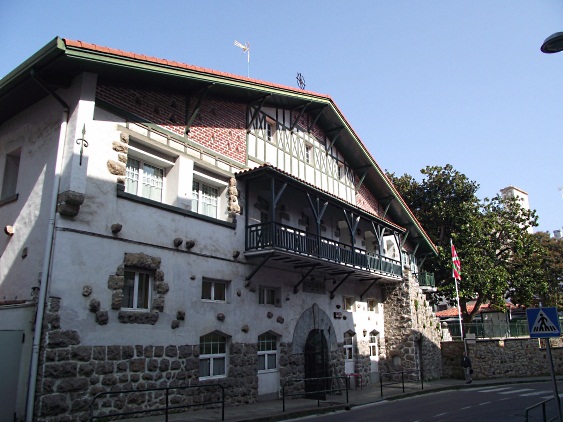 A magnolia tree was blooming if front of it: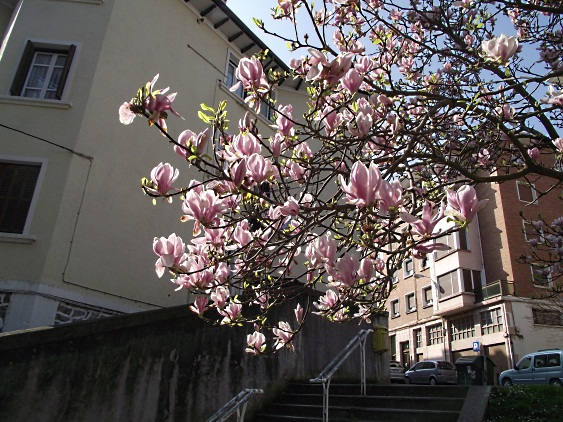 After leaving Lekeitio we already turned inland and drove for a long time, through the gray granite mountains. pretty high rocks over high passes till we reached Vitoria – Gazteiz – the Basque capital. Walked there a little, but not too much, same narrow medieval streets, same churches…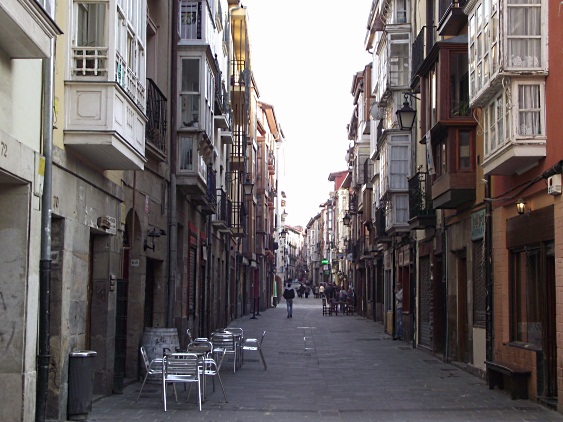 Except that their streets go parallel in co-centric ovals. But…we couldn't find their central square. And afterwards we had a big problem driving out of the city – the road out was kind of hidden…as it often happened to us over there :-)…So we drove till we reached Alfaro, already in the dark where there was a suitable hotel and pretty close to another place of interest for tomorrow -Corella.