In mid February St. George, UT, always has the Parade of Homes. Famous for its high end dwellings exposed to the public in "full feathers". There are usually 26 new houses with exceptional views, built with exceptional materials, fixtures, designs and fully furnished so that all furniture sellers can advertise themselves, too. They are built by different builders' groups, sometimes – for specific customers, so the styles differ a lot. Most of them are catered for multi children mormon families, therefore they have lots of playrooms, a movie theater, a swimming pool, mostly for jumping, not for swimming, lots of heavy furniture and they are usually rather dark inside. Maybe that protects form summer heat, I have no clue. My point is that I visit the homes out of curiosity, and with each year I am less and less amused. Well, the first time I visited the Parade – I was shocked at how many things I haven't seen yet! Things I couldn't even imagine could be incorporated into interiors. But this year I will describe only 4 homes and one feature.
So here is the first house called Tierra Colata – Flowing from the Earth. The Realtor there explained to me that it is designed by some woman designer from Manhattan, so that is why it had lots of modern features and was so different from other houses, except one, that I will show later. As if that woman -Hayley Johnson has designed an apartment for her in Manhattan and included lots of the elements in this house. Whatever it is – this house is waiting for some rich "artsy-fartsy" people to move in. It is on a lava flow in Ivins, on the NW side of St George with the views towards Snow Canyon. Therefore you can see the lava built into its walls. It is also built on a slope with the guest house on the bottom part of property, so that the main house doesn't even see what is going on in the guest house. They are separated by a swimming pool, which looks beautiful, but is a total energetic disaster…It looks like a perfect rectangular, with high walls and the water flowing down and cooling on them – only for the effect of it…So here is the entrance to the house: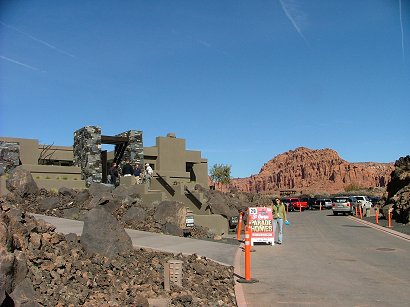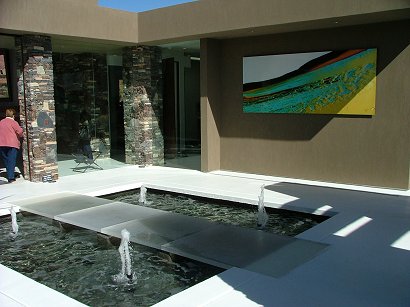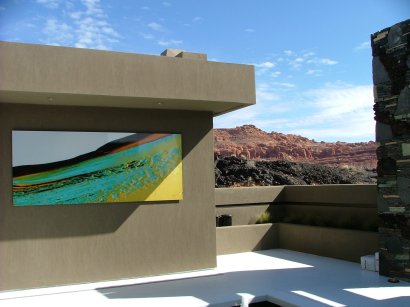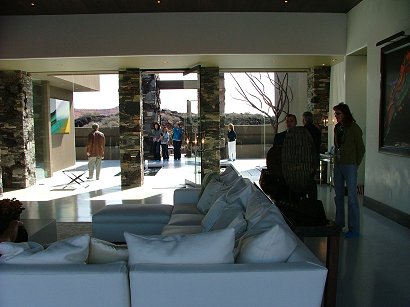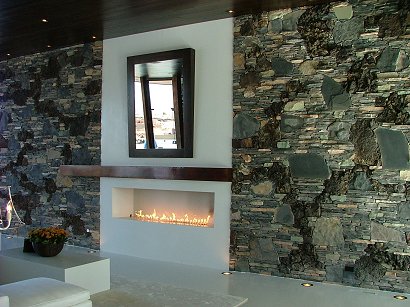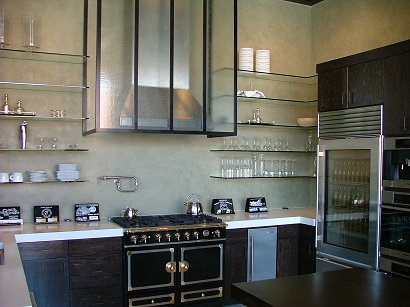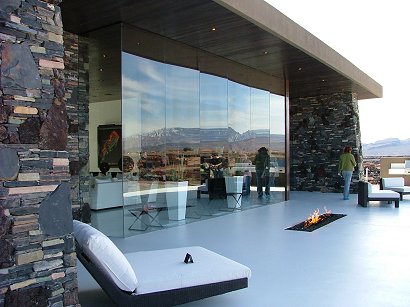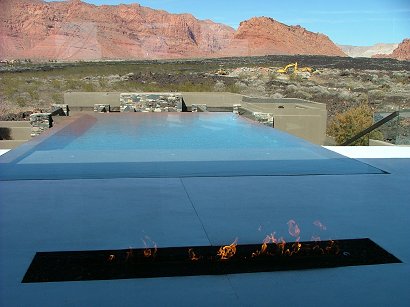 There are showers inside and outside… and while taking a bath one can enjoy the scenery: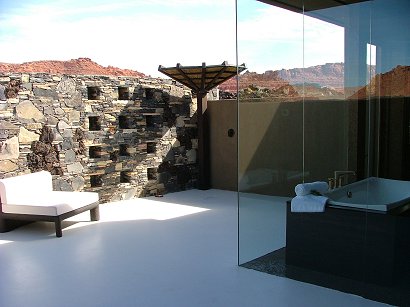 And finally – some sinks that looked peculiar. One of them resembles the a canyon, except that it is a white canyon.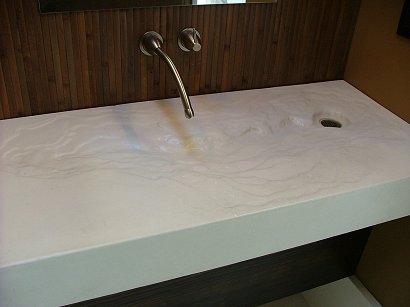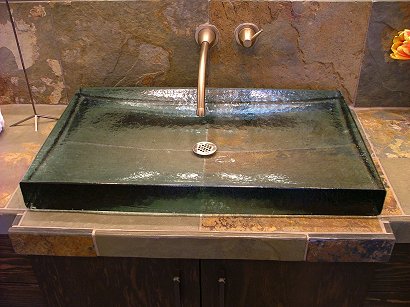 There was another feature in this house that we didn't photograph, were kind of in a rush to see other houses. But I will describe it. One of the shelves in the office can turn around – and you get into a secret place…for whom – an illegal house cleaner hiding from the authorities?.. For one lover so that the other doesn't see (because a wife would still figure out there is some part of the building not seen)?..it is not just a place but the whole apartment with a bathroom, kitchenette, bedroom, etc. How dare they bring this spoiled New York morality to the pure and pristine Utah! 🙂