When I am preparing the pictures for this blog I feel amazed how much we managed to do in one day, how much walking, how much looking and admiring! But that is how we travel. because there are so many things to see in Kyoto – we didn't make precise plans what to see every day. So we started the luckily sunny first day from taking two trains and going to Inara – the shrine of Fox the Goddess, or that is how we understood, for fox sculptures were everywhere, even by graves: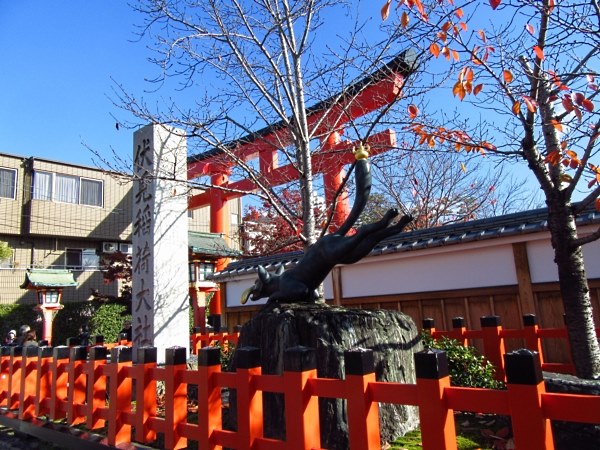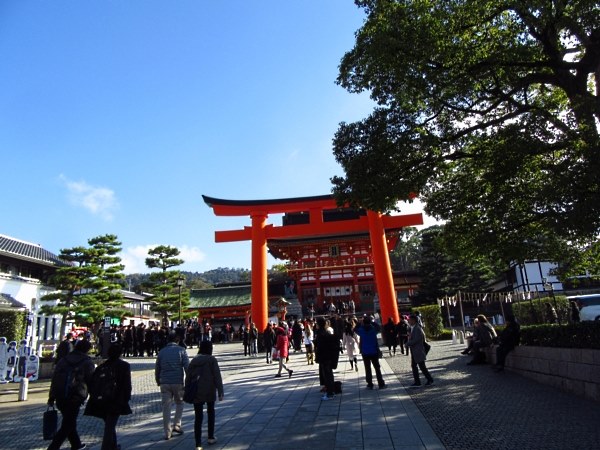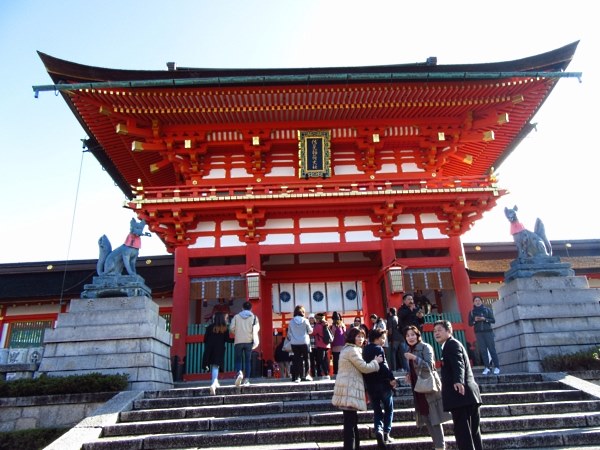 It is a popular shrine, lots of people, but many of them are dressed in kimonos, a pleasure to my eyes :-). Also-ᅡᅠ shinto shrines are more colorful than temples: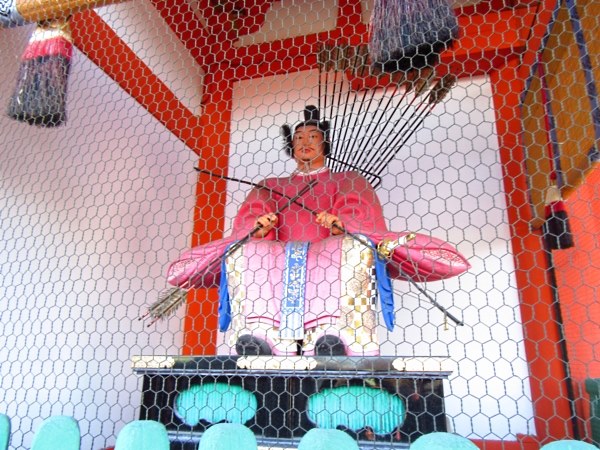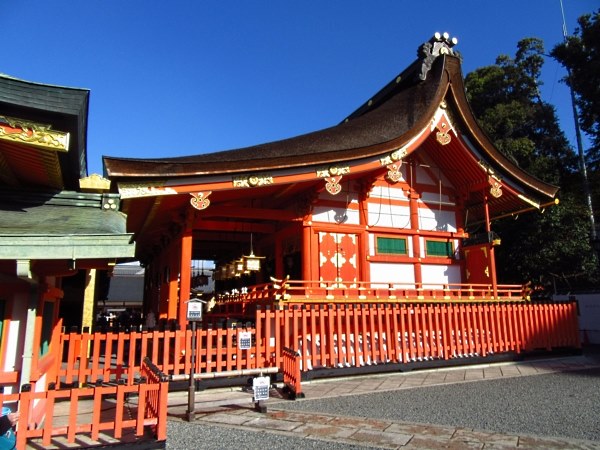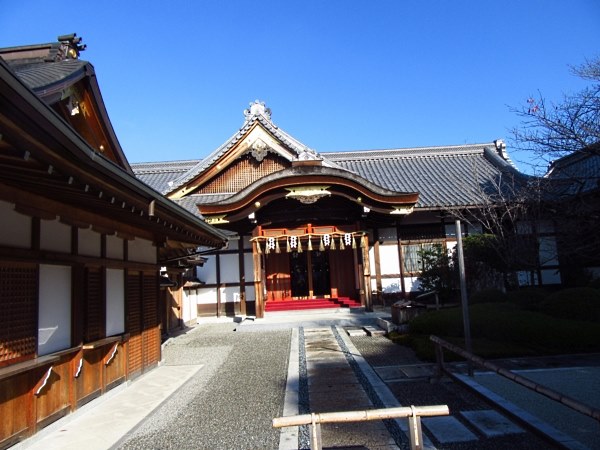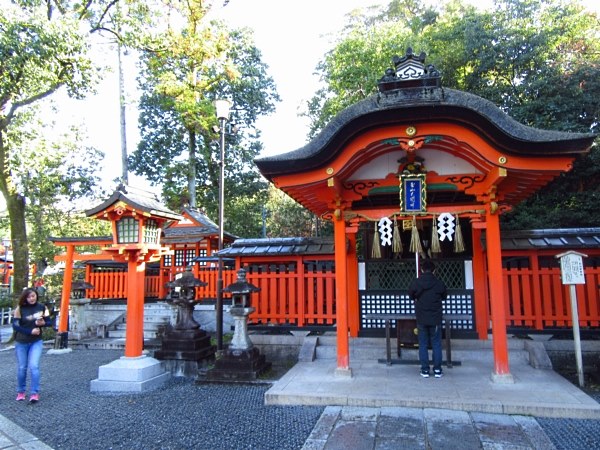 The main buildings of the shrine are at the bottom of a hill. But then you inevitably start climbing and paths (not one, a couple!) lead to peculiar structures or corridors made of Tories, shrine and temple gates: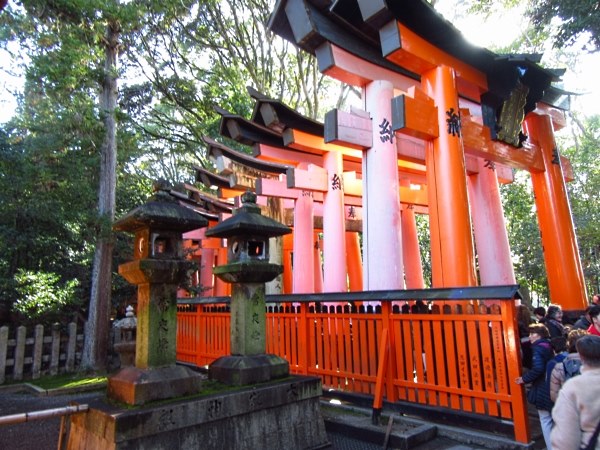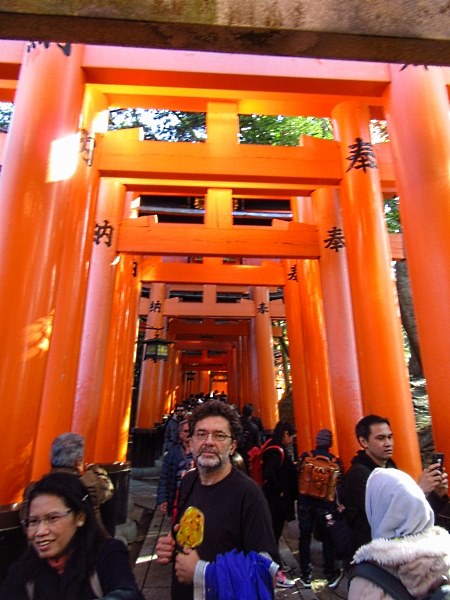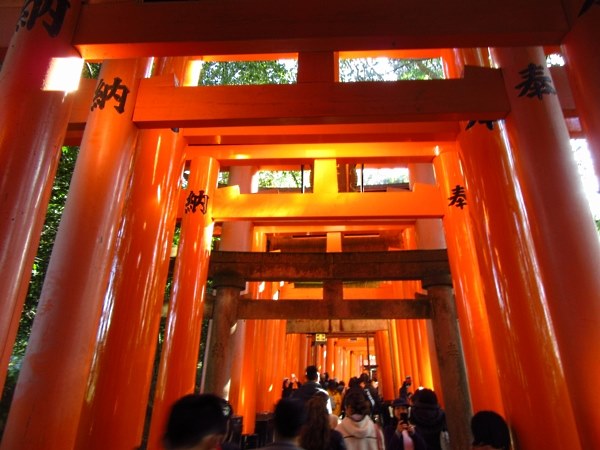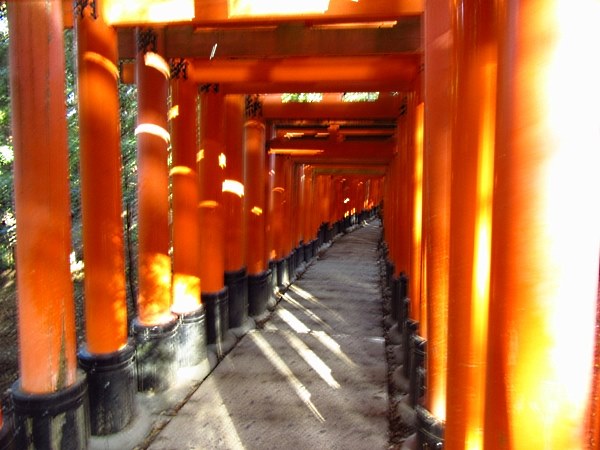 Tombs with Tores and little foxes: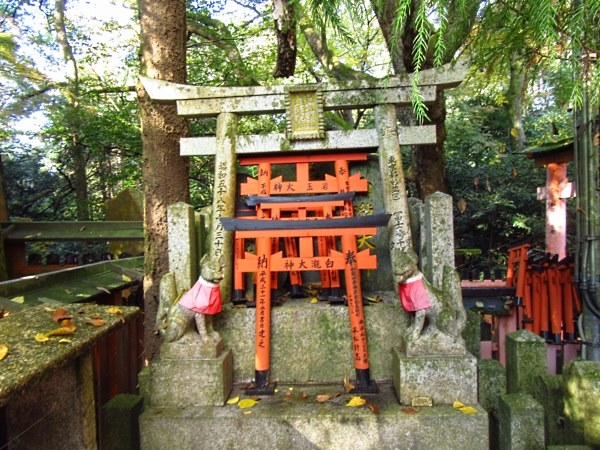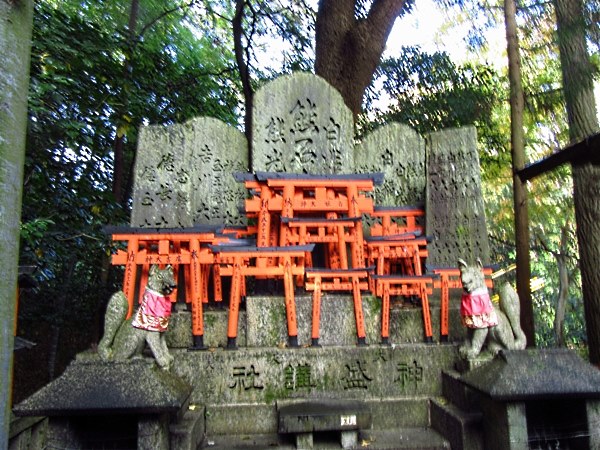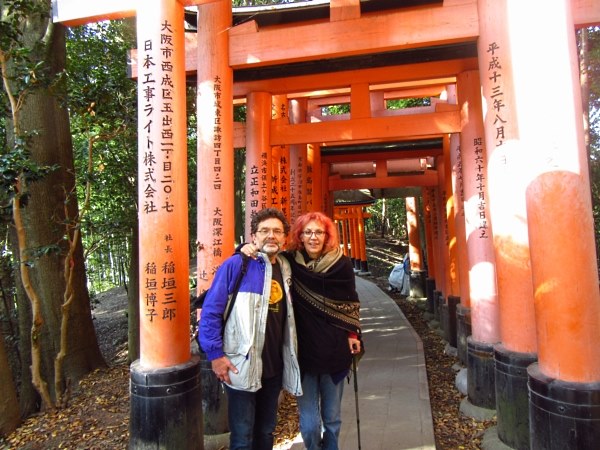 You can easily spend a day on that temple mountain…A lot of vermilion corridors and a lot of paths, good views towards Kyoto from the top: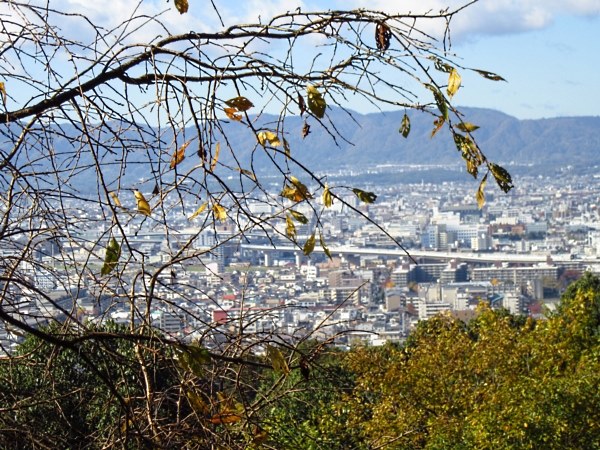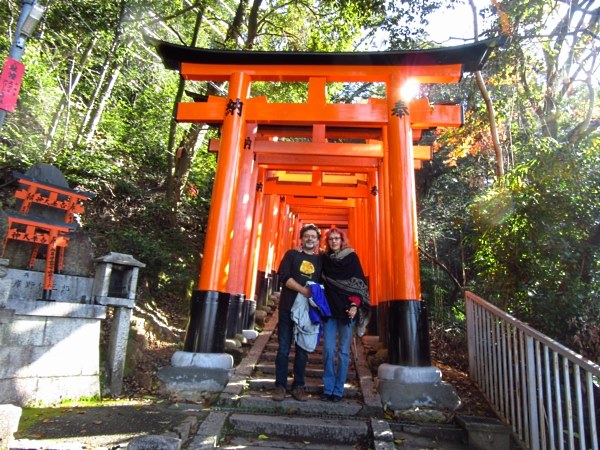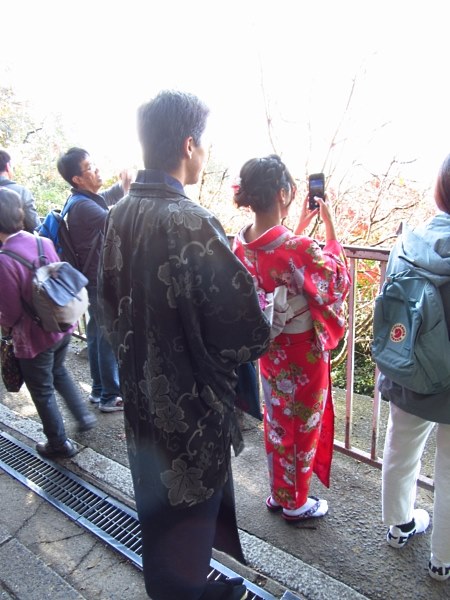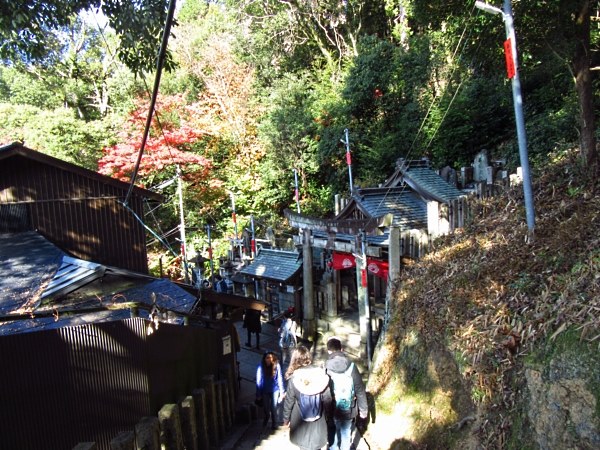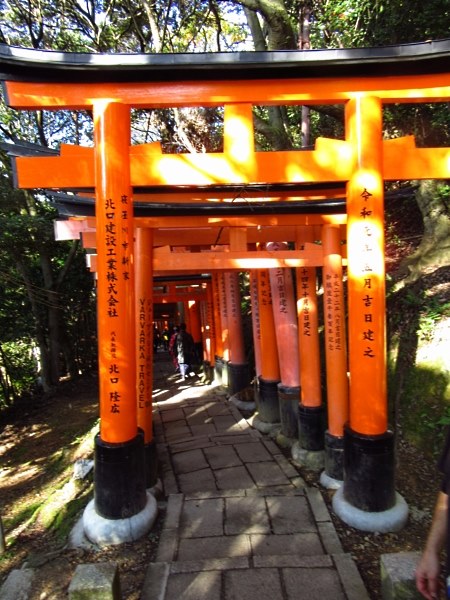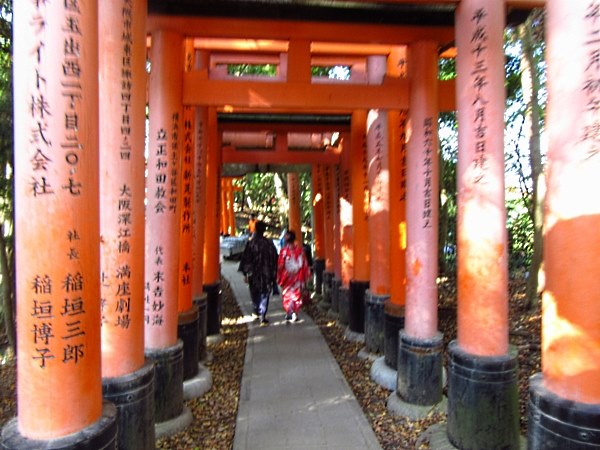 Andrei is pretending that he is symbolically washing his hands, but he is not: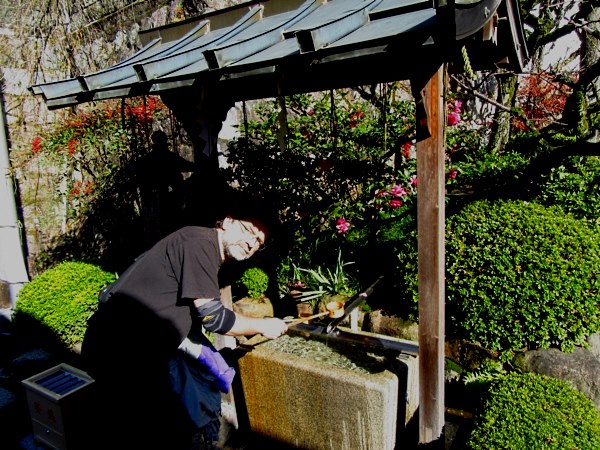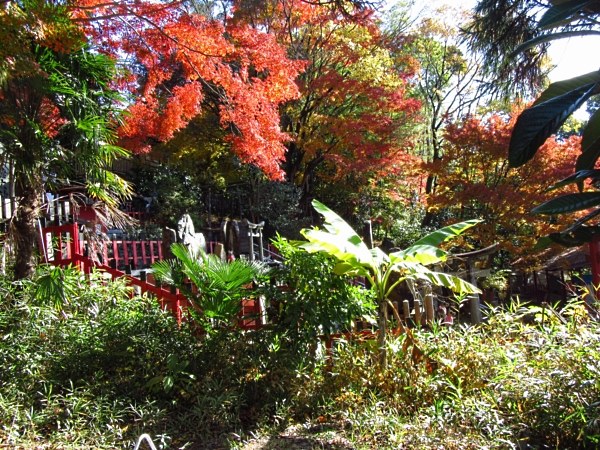 What a strange structure and strange colors amidst those browns and vermilion: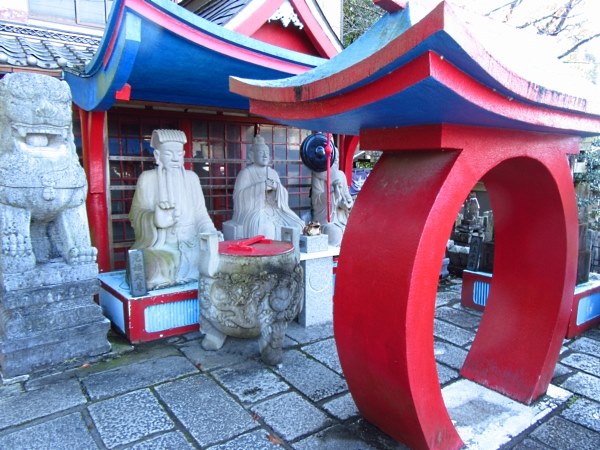 There is such an abundance of different shrines and temples, one can choose the best for praying or meditating, or leaving your wishes,ᅡᅠ or just admiring: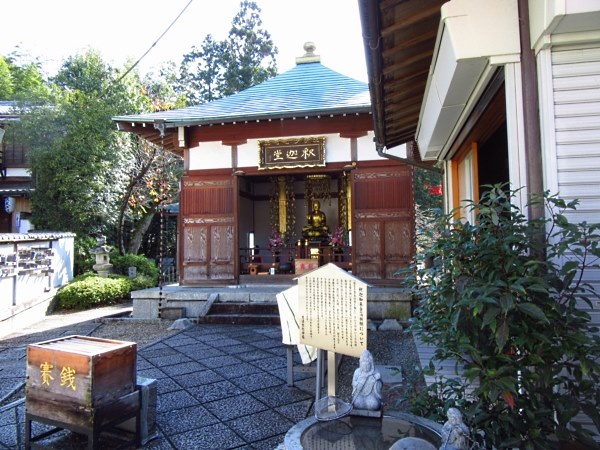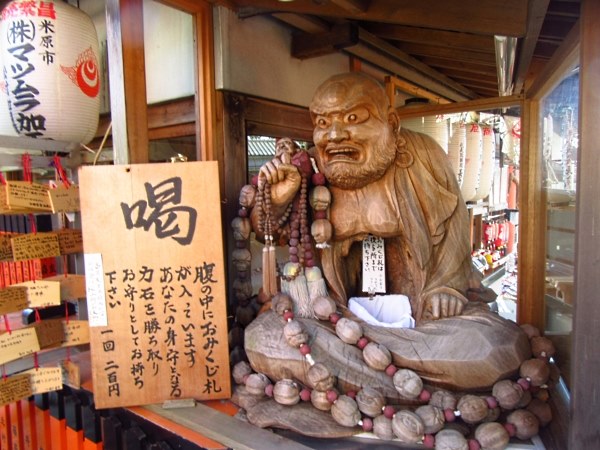 An altar for wishes – they are written on the little boards you can buy once you enter temple grounds: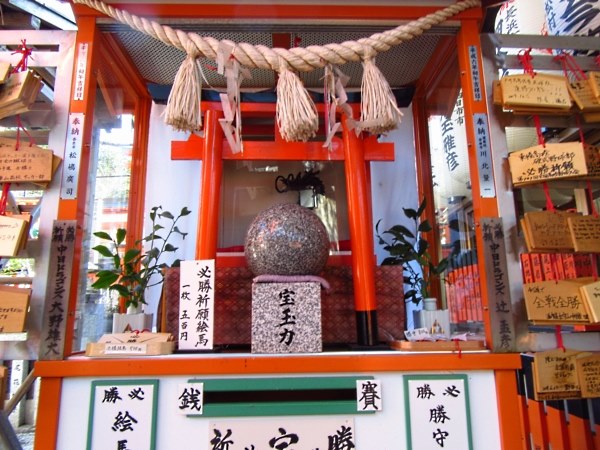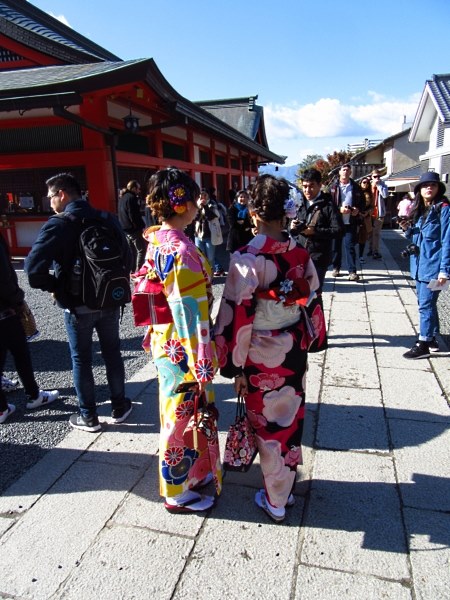 This is the view form the train station positioned very conveniently for the Shrine. The hill or mountain in the distance – is the one you climb in those vermilion corridors. Seems not a high one form here: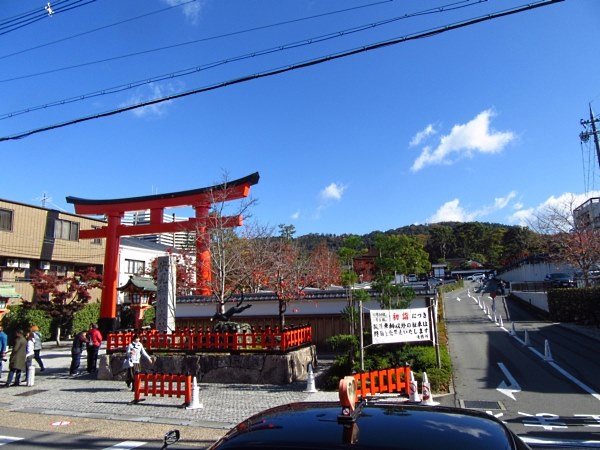 Only two train stops and you reach the main Kyoto station with the view to the TV tower: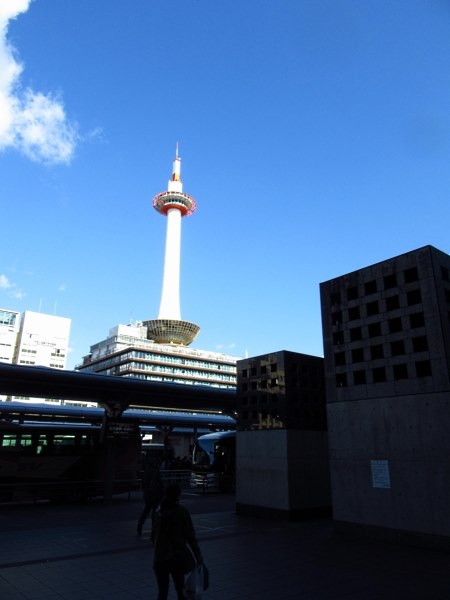 The futuristic Kyoto station: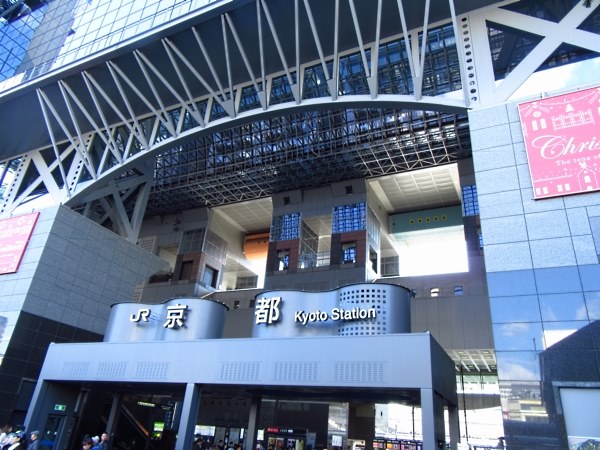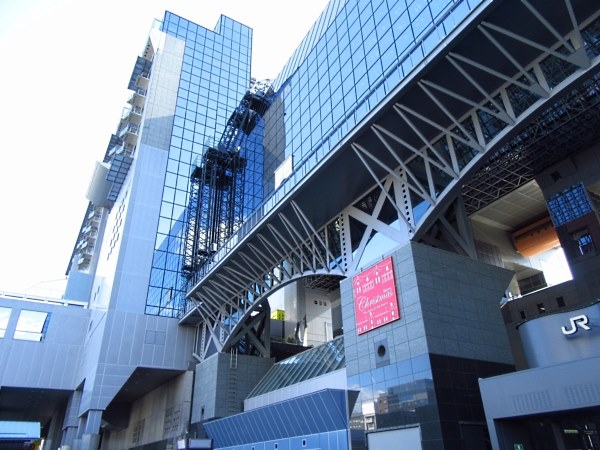 We walked from the station straight ahead – for a long time, maybe even an hour. There was a Budhist temple on our way Nishi and Higashi Hogan-ji: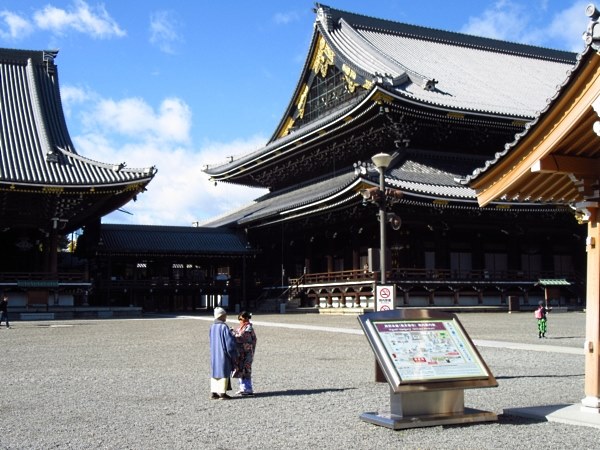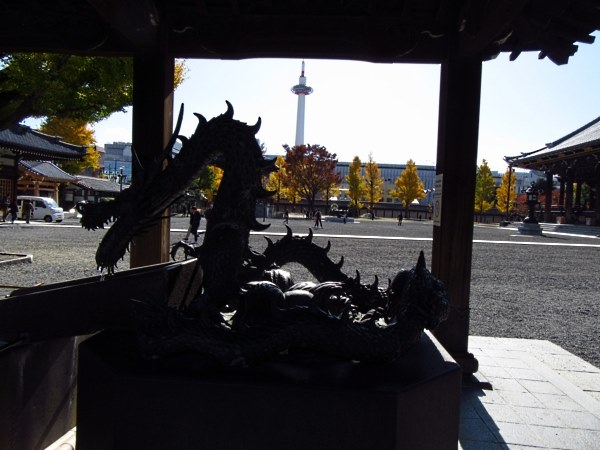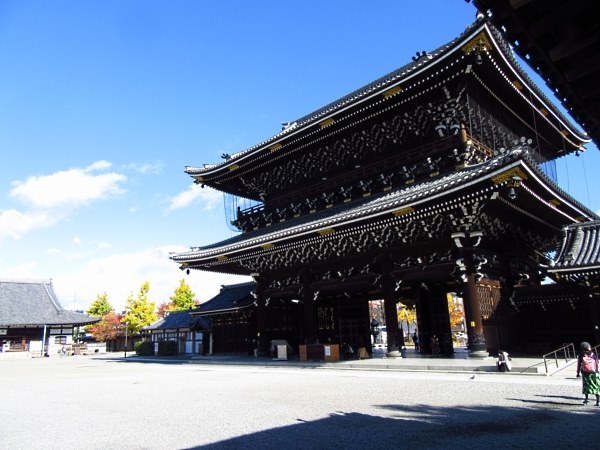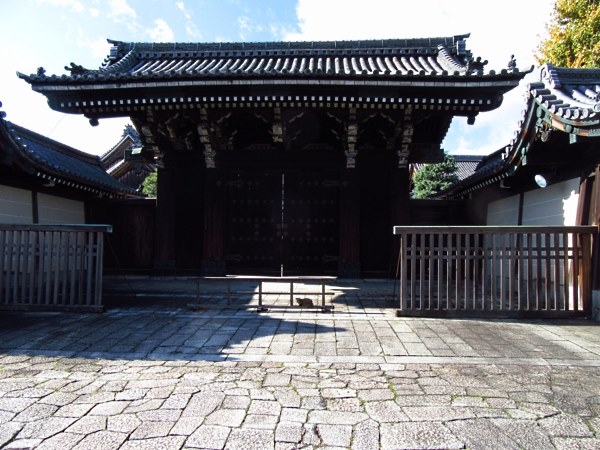 We could walk on their perfect polished floors in the temples (of course-ᅡᅠ without our shoes), see the art on their walls but I had no feeling-ᅡᅠ just super neat, no clutter, like even sterile, and I felt bad about not feeling any sacredness…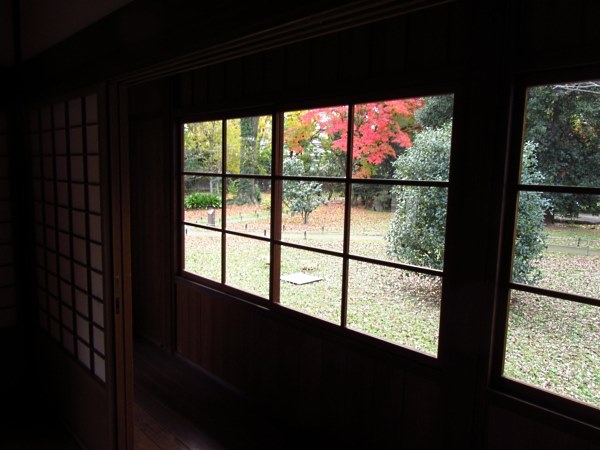 And here is a traditional house already in the park where Imperial gardens are. We reached after a really long walk, now I would suggest to figure out a bus and take it to there from the station. Once you enter the big park – the house is on the left for people to see how emperor's guests or some prominent family lived. What impressed me most of all were the floors!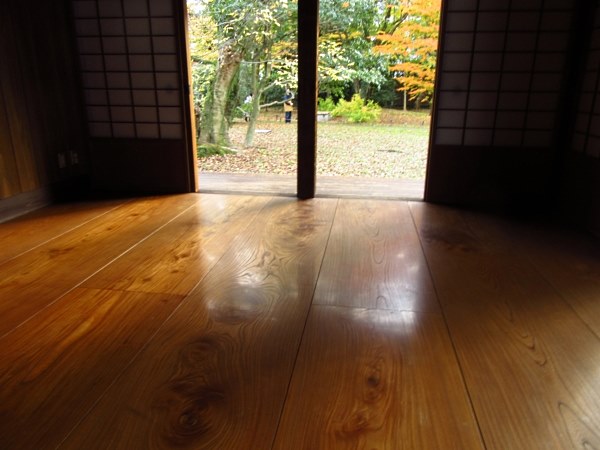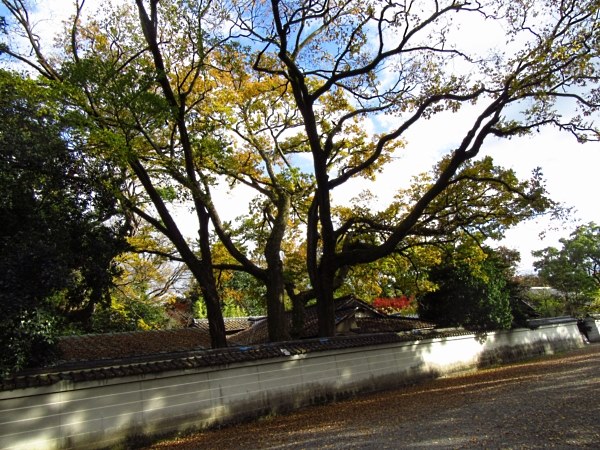 The palace gardens are all surrounded with a big wall. But even the park outside the walls was outstanding! The pine trees reminded me of our Lithuanian park in Palanga: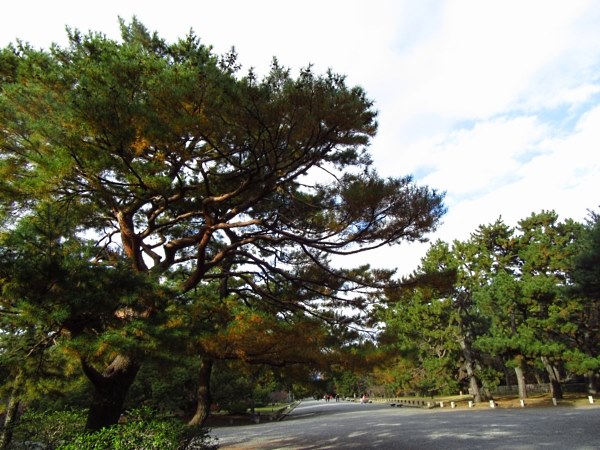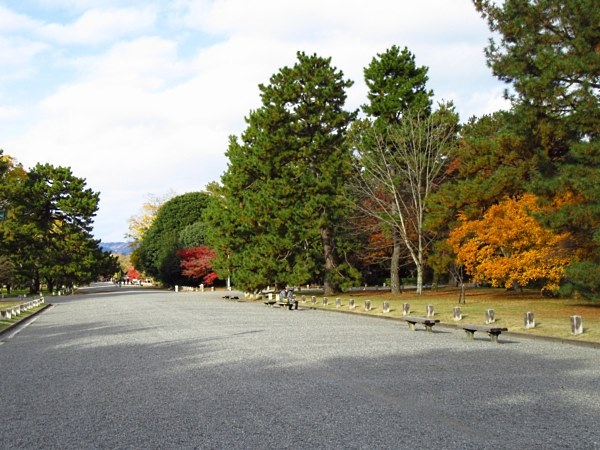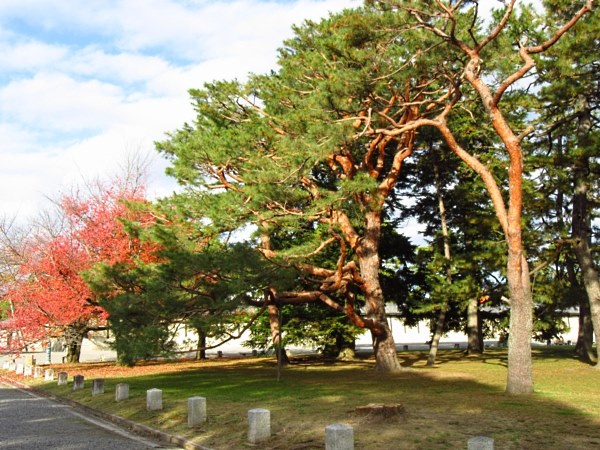 There are not one but two compounds of palaces with their walls in that park – one can investigate them for the whole day… Luckily the main Imperial palace was still open and we could have a glimpse of what kind of buildings were there and what kind of paths their holy feet touched: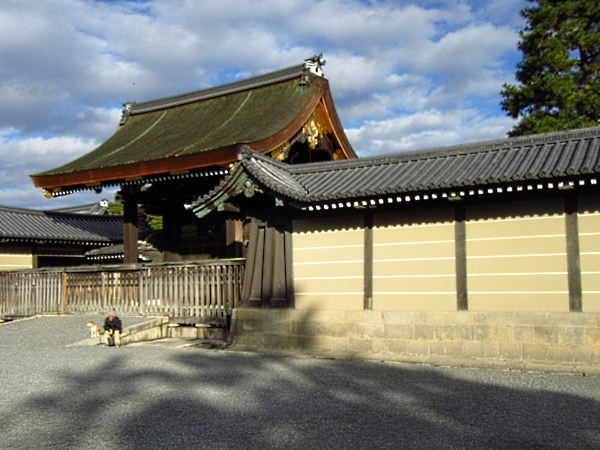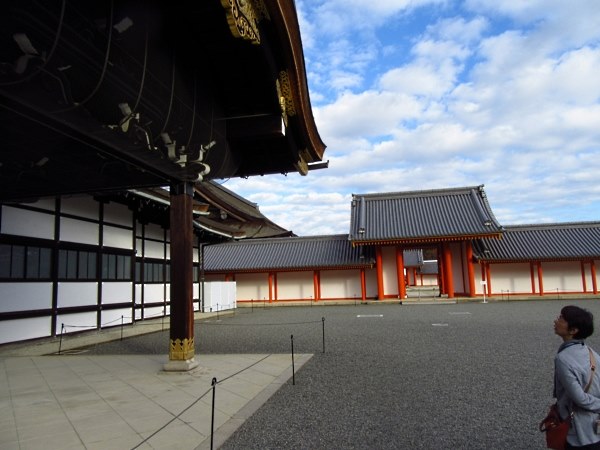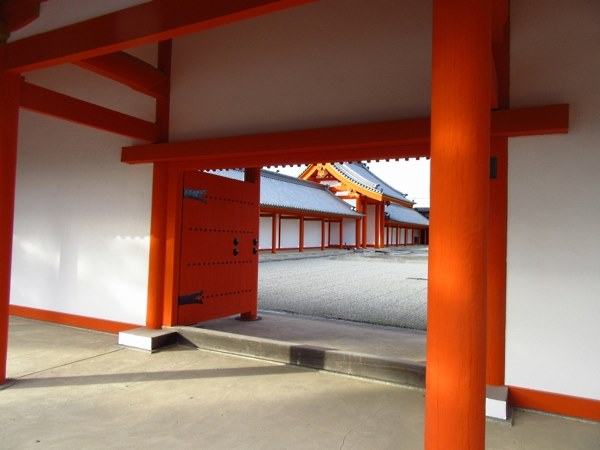 And no, nobody would let you in, only yards and gardens…They didn't let us into the part of the gardens that were for the Empress and the kids.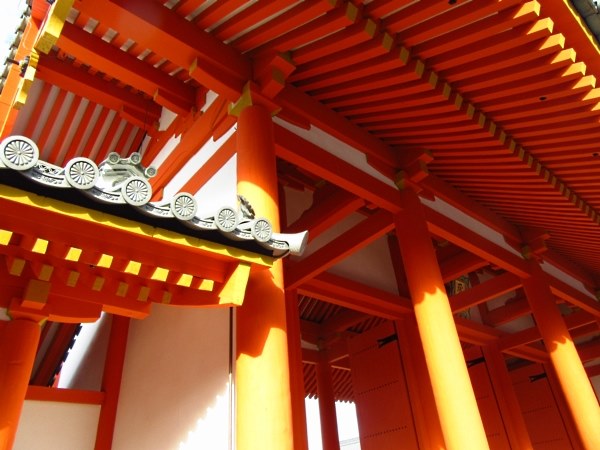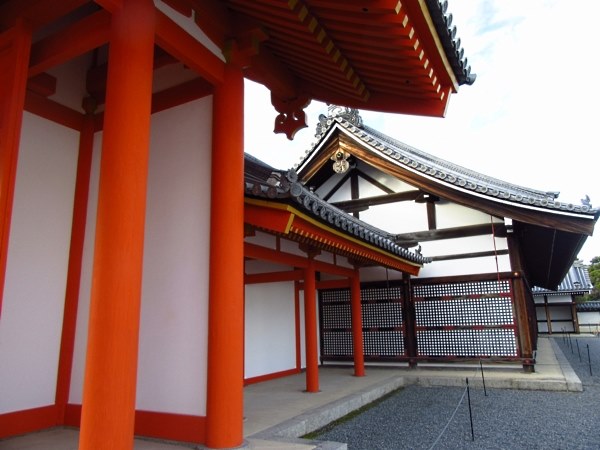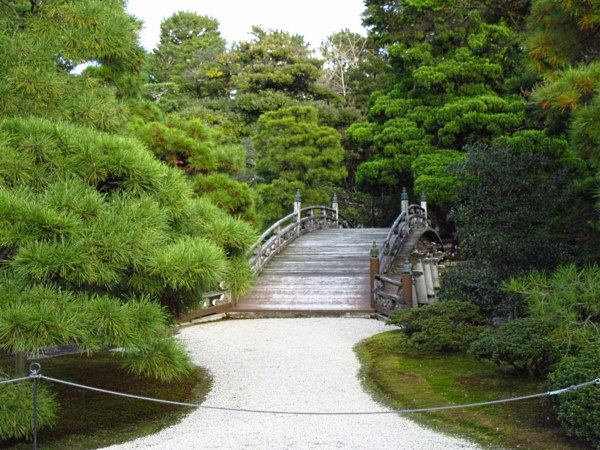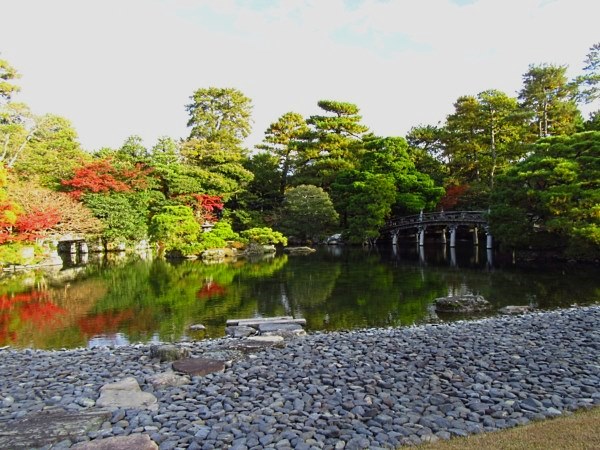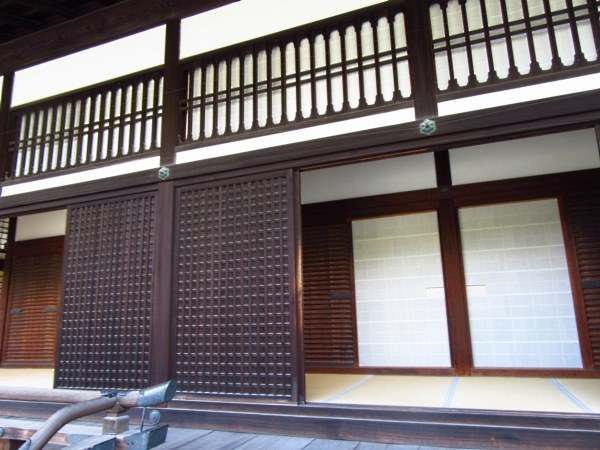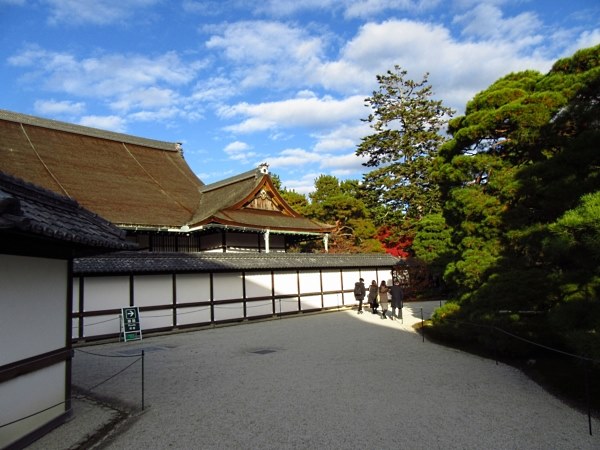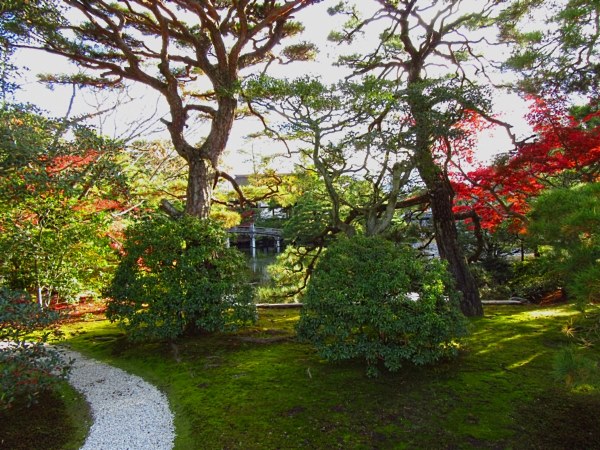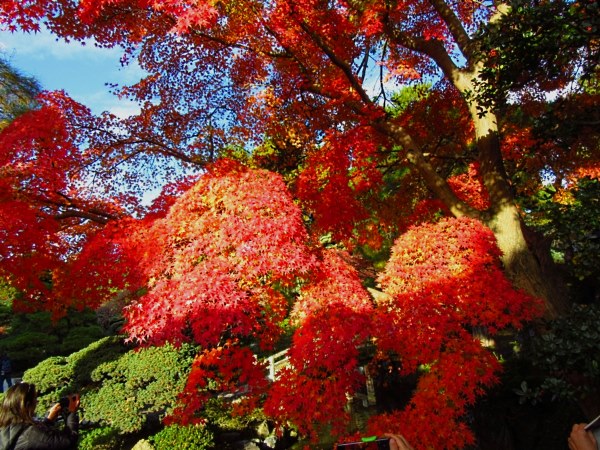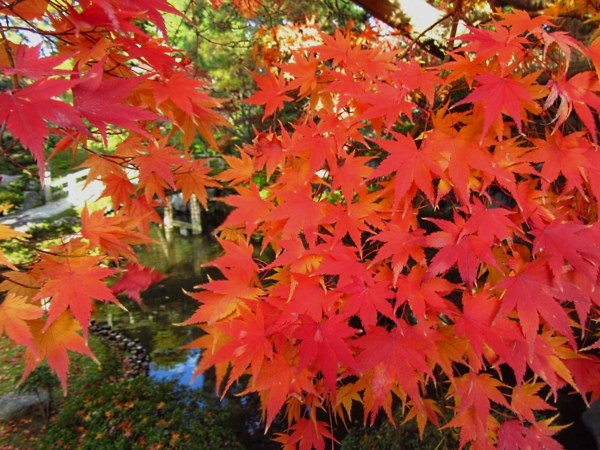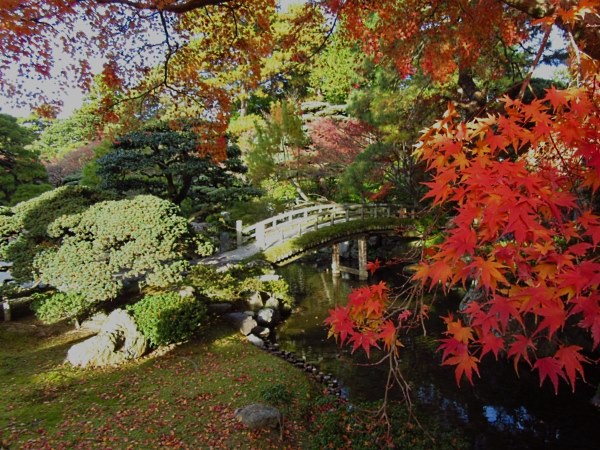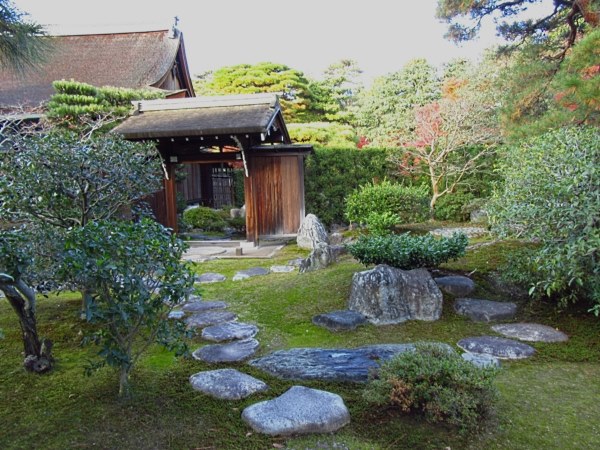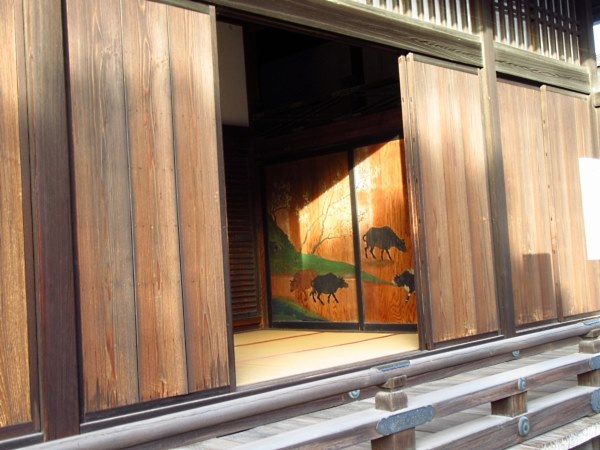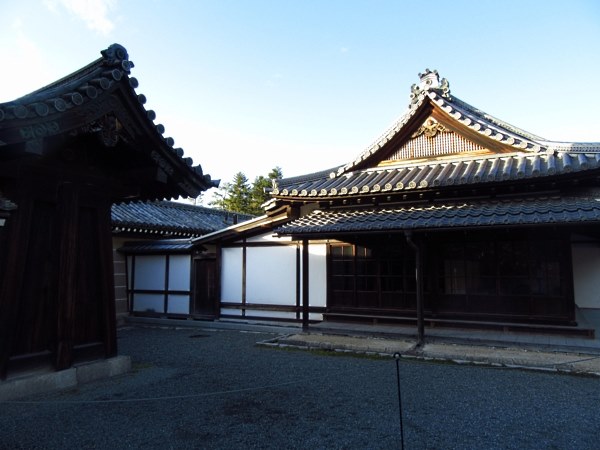 Then again we walked through the park towards Philosopher's walk… There was another Sento Palace compound on our way but to get into it-ᅡᅠ you have to make reservations on the internet in advance. So we enjoyed the sun and the colors of teh park: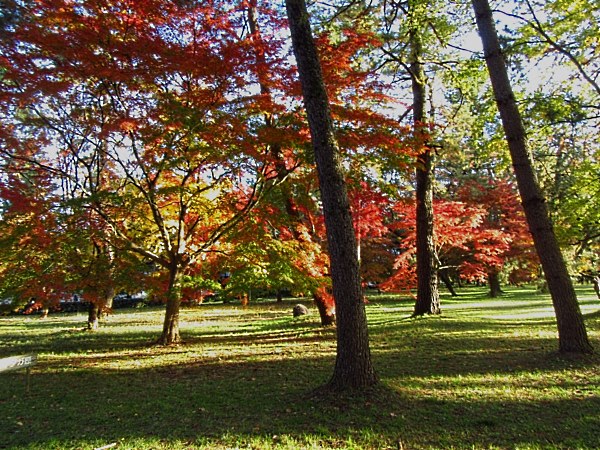 So Japanese…The white thing is a lantern, it is lit at night and it has a chrysanthemum shape on the side, seen only at night: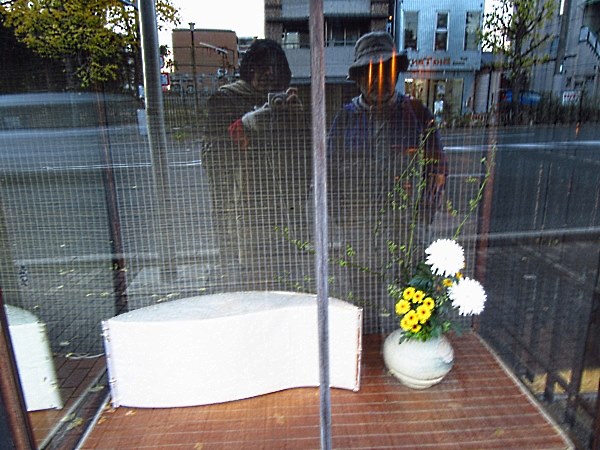 We reaches the Philosopher's walk only in dusk and it got dark very soon. It is by a deep running stream, in a fancy district with rich big houses. I think it is so advertised because of the sakuras that grow by the stream, so it is really impressive in spring. Now even the Philosopher's cafe was absolutely empty…nobody to philosophize with…On the way we saw several temples further, had no strength to go to them, just the decors by the street: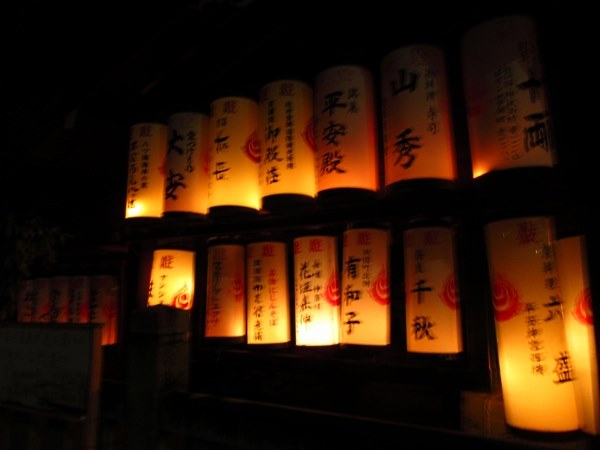 This is the theater with some information on those little boards: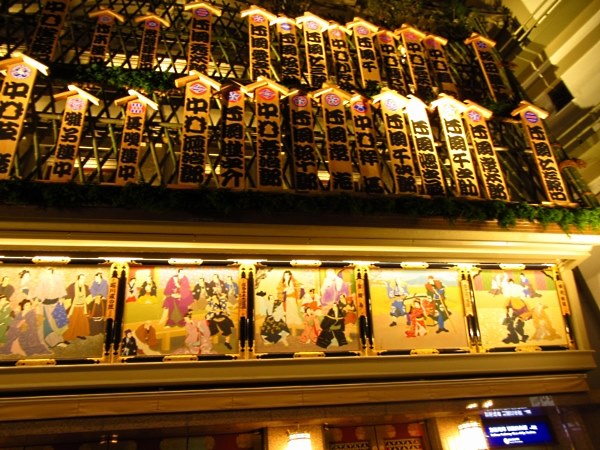 This is one of the few streets (Shijo-dori) very lit, very commercial and very crowded:ᅡᅠ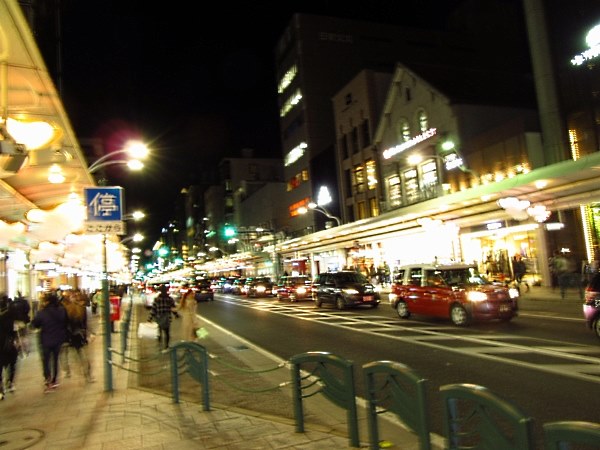 And so managed to reach our guest house, very tired. That was a full day. Luckily there was a supermarket close by where we could find very interesting and very tasty foods!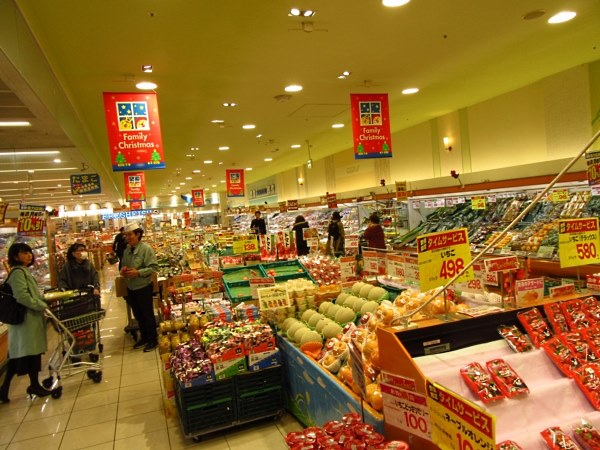 Next day we took a train (1h) to Nara.