At that point we already felt that we dot have enough to do in Costa Rica for 3 planned weeks. Thinking about how much work we have at home and to idle just in a tropical climate with no particular places of interest was not what we wanted to do. So what we did was we bought new tickets back. To change the ticket date it would have costed us $600 a piece (American Airlines), whereas to buy new ones was $200 a piece. The other thing was to rent a car – we still wanted to see the ocean. The car rental quoted us a price of $127 for those 5 days left. The place was in Liberia – which was not in Liberia, but some 30 km form it in the direction of its airport. Fort of all the rental place called Fox lied to us about their location. Our friends had to drive us back and forth on that road until we found. Maybe everything called Fox is prone to lying… :-). Then when we started filling the papers- the price rose to $400 for 5 days! I considered it ridiculous. the problem stemmed from our initial plans – we didn't plan to rent a car ourselves, our friends did. So we didn't research their conditions. Do not make our mistake-ᅡᅠ get a letter form your credit card company telling that they are covering your car insurance on the trip. We had that letter since long ago, carried all over where we traveled-ᅡᅠ never in any country did they need it. Costa Rica is the only one, it is very very bureaucratic, as we noticed, so it requires that letter…And ours was at home, not much help. But as we had no choice, we had to rent. Of those 5 days we drove only 3. Because after we rented it – we immediately drove to the southern part of Samara-ᅡᅠ where we had a reservation for 2 nights in a Sunset B&B right on the beach! While on the road we noticed how this Northwestern part of Costa Rica is dry. The grass was mostly yellow and lots ofᅡᅠ trees without leaves, some of them had flowers: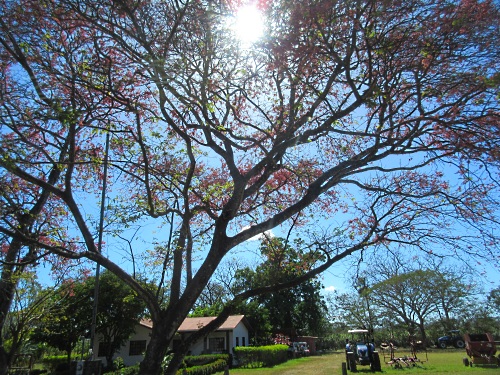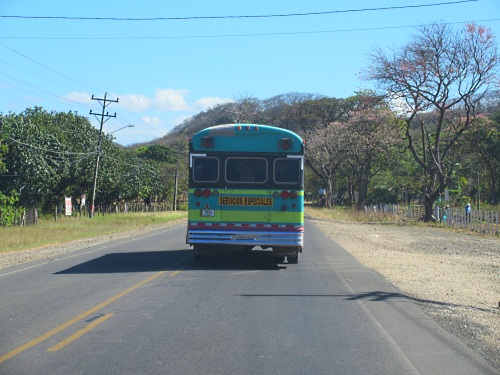 But as we had no time to stopᅡᅠ – I took pictures form the car window. The next one shows their way of making fences – they stick a branch into the soil, evidently during the rainy season – and here you go, it starts even growing! Then they prune their fences: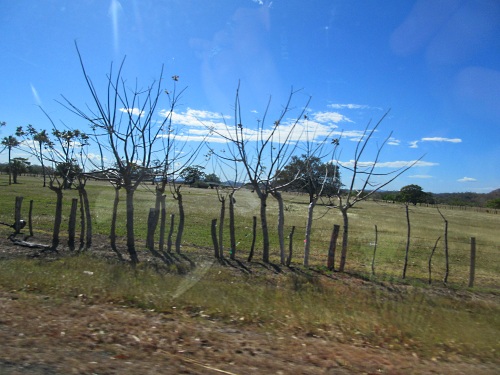 Once we got to the place, which is in Nicoya peninsular – we ran to see the sunset and that wonderful evening glow: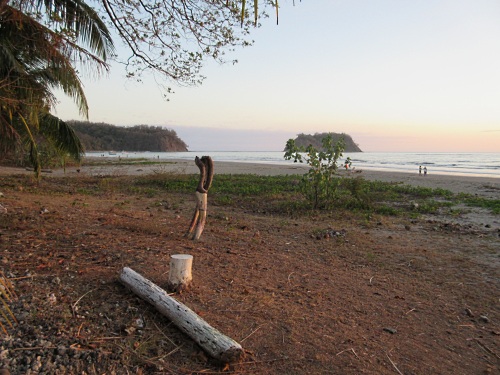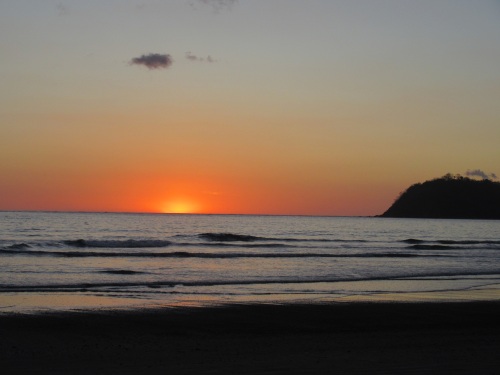 Then in the dark already with a flashlight walked 25 min on the beach North to Samara to get to some restaurant fro dinner. Our B&B owners were also cooking dinners, making cocktails if someone wanted-ᅡᅠ but we wanted to get a glimpse of Samara: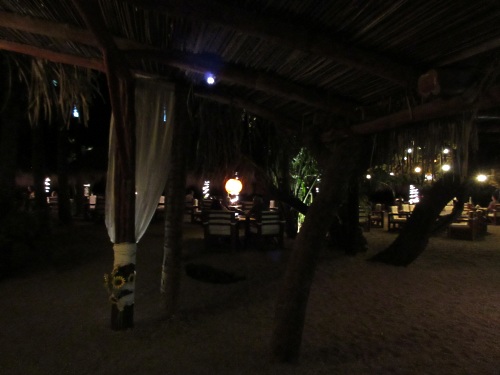 Those were several restaurants starting on the beach sand and going deeper in a more regular interior. We liked the restaurant "El Gusto" with floors and sofa's and on some evenings – with live music: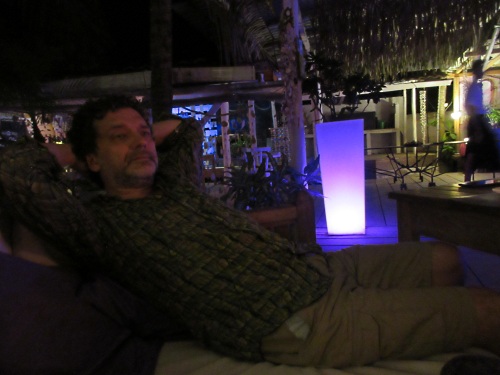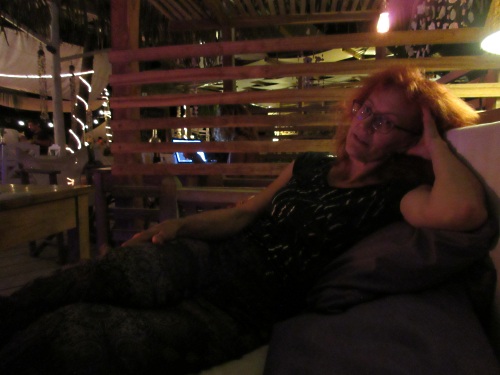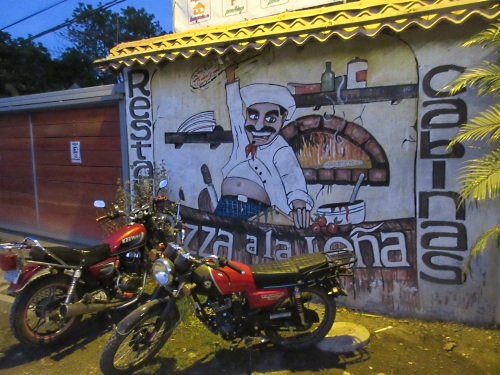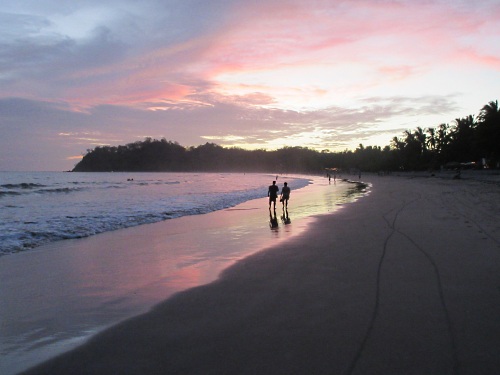 Then the walk back, on a super dark beach, lit only by the Milky Way! It wouldn't be so pleasant if there were more people walking because you could bump on them – but there is very few people in Samara. Most of them stay in town. As we saw plenty of restaurants and souvenir shops there. Our B&B had only three bedrooms, quiet and homey: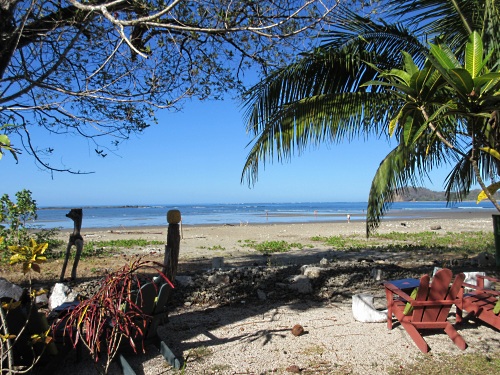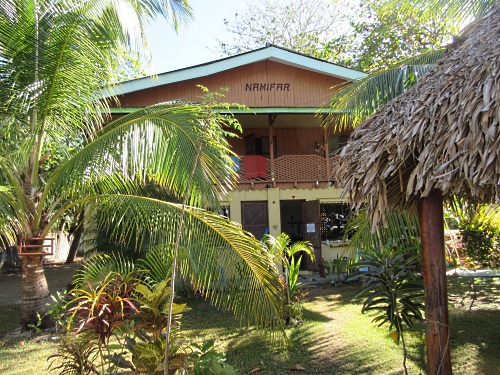 Very few people on the beach and the water was awesome!ᅡᅠ No wonder some people just go to Costa Rica coast, stay there and fly back home. The waves are of the right size, the water is so warm that even me with my slim body didn't get cold at all. And you can see a line of rocks in the sea – they are not a coral reef, but solid lava form long ago. When the tide is low – is is fun to walk to them through shallow waters and check for some sea life.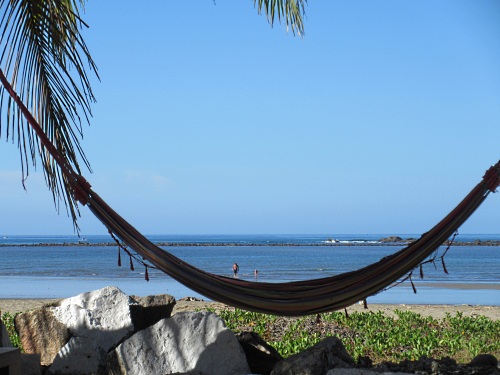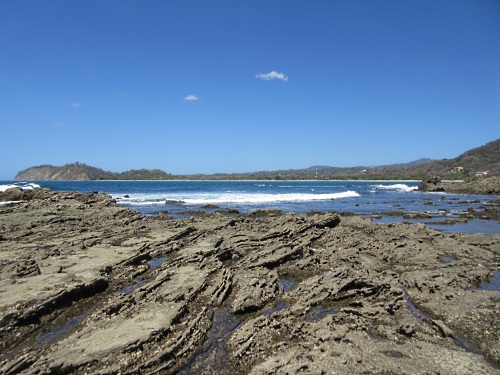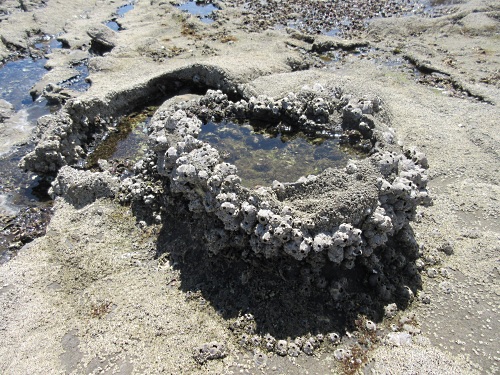 Sea urchins: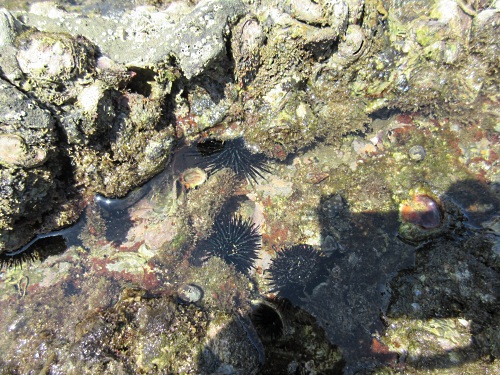 The sun is very strong there-ᅡᅠ definitely wear clothes or SPF: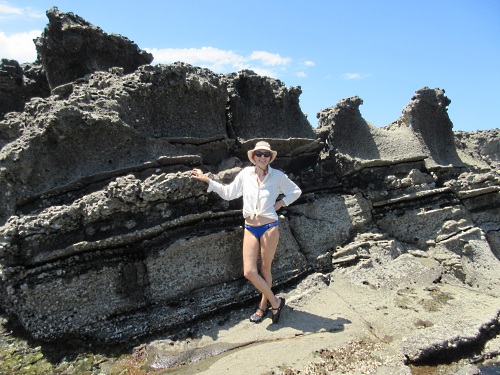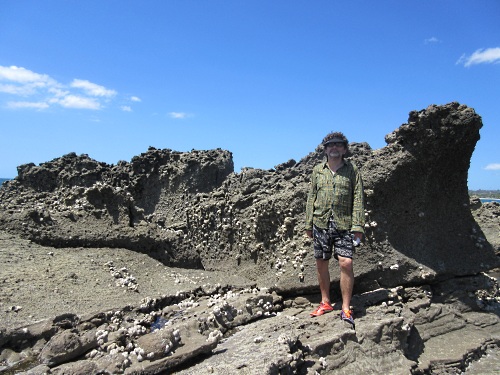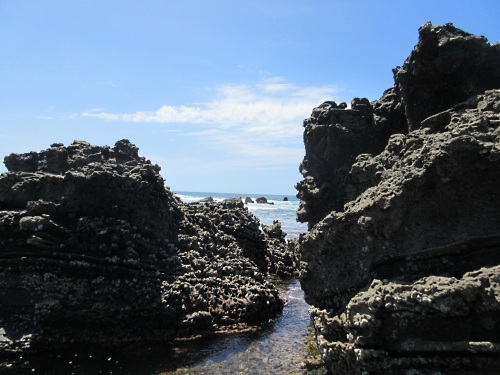 We were lucky that the tide was low at 10 am and at 11 am the next day – it was still not too hot to do the hike. When the tide is low during the midday -ᅡᅠ it would be hard. The heat is hot there :-).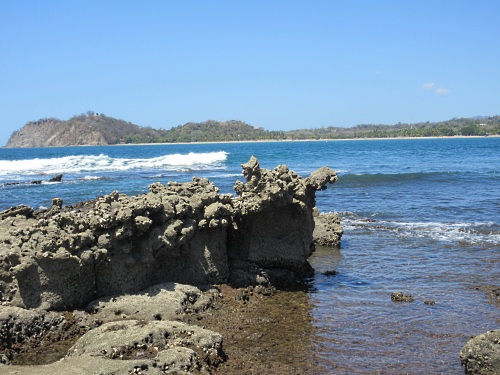 The first morning we went to the tide pools-ᅡᅠ we saw three very colorful puffers. Butᅡᅠ we didn't take the camera, were not sure how deep we would have to walk or swim in the water.ᅡᅠ the next day we took the camera-ᅡᅠ no fish…:-(. On the whole-ᅡᅠ not many wildlife in this country, not much sea life. And the sand is not white. far from it. it has a portion of ashes, I think. because it is hard to wash it. Well – it was better in Samara than in Jaco. That is for sure. And here is Andrei waiting for breakfast: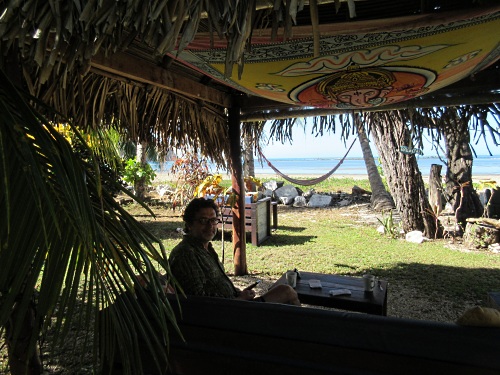 Our B&B hidden in the palm grove: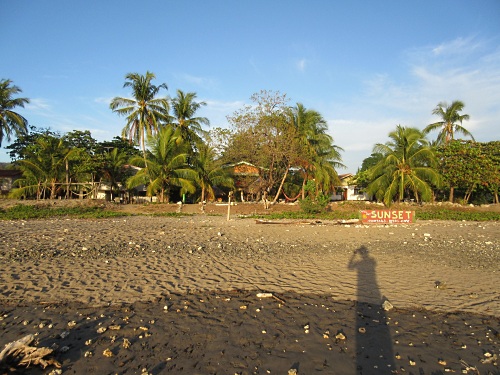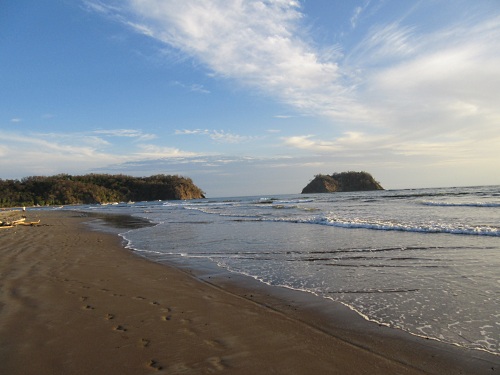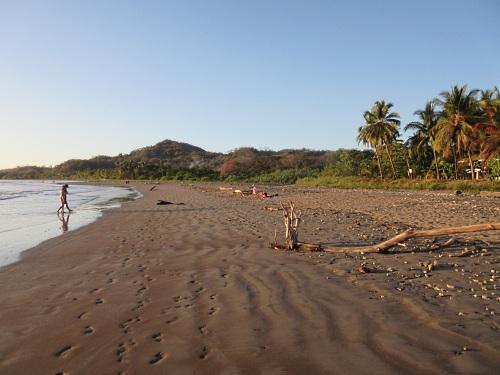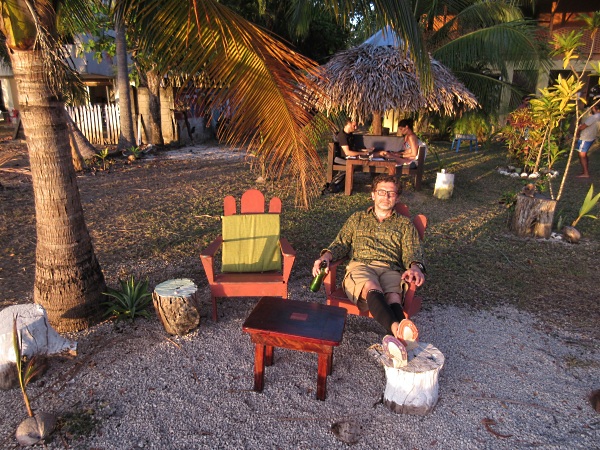 Though the humidity on the peninsular coast is much lower that the southern coasts of Costa Ricaᅡᅠ -it is still very hot. But we could sleep without AC, there is some breeze from the ocean. The second sunset we enjoyed tremendously: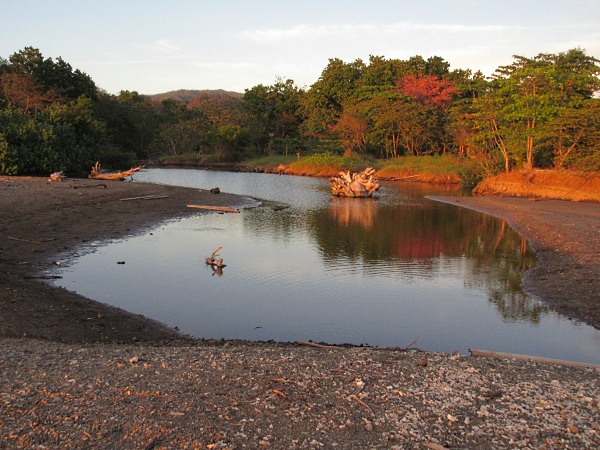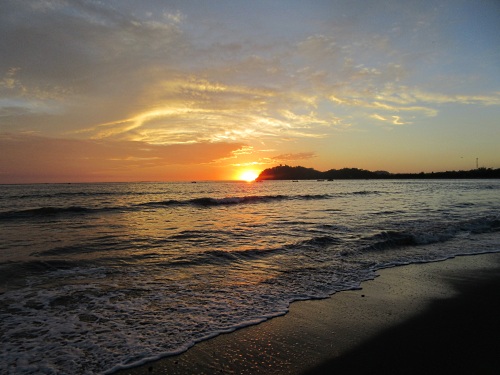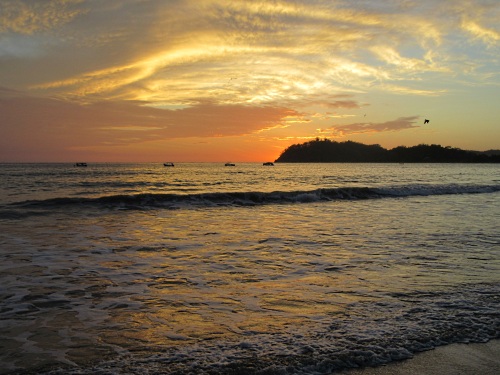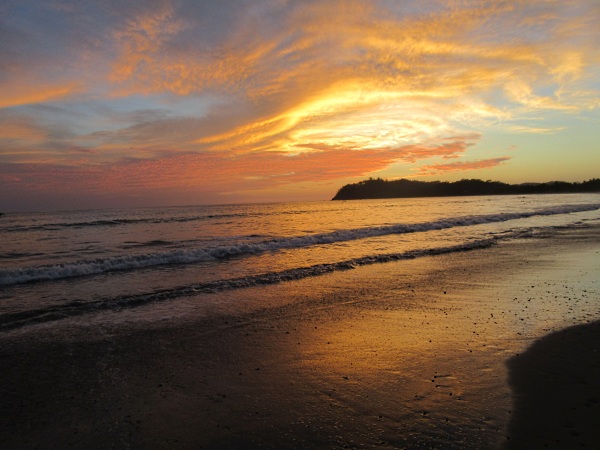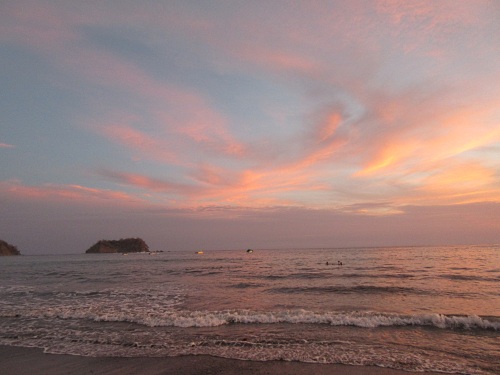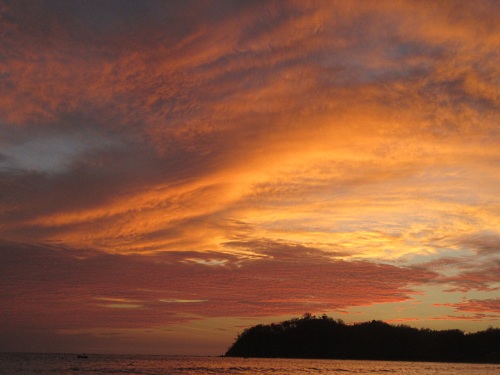 there was another adventure in Samara the last morning. I went to swim peacefully in the sea before breakfast – there was a neighbor's big black dog running around. It didn't dawn onto me that it can be dangerous. I went into teh waves- the dog behind me and started jumping on my naked skin…scratched it and also scared me to death. So be careful. because the woman owner is very careless and she just laughed when I told her what happened. it was my husband who saved me. Otherwise I don't know how it would have ended. We still managed to hike to another town more south from Samara – Puerto Carillo, which seemed even better for solitude and rest: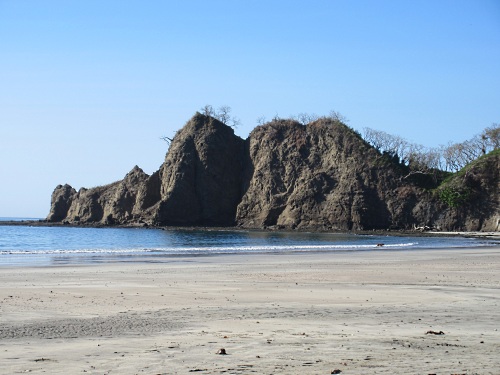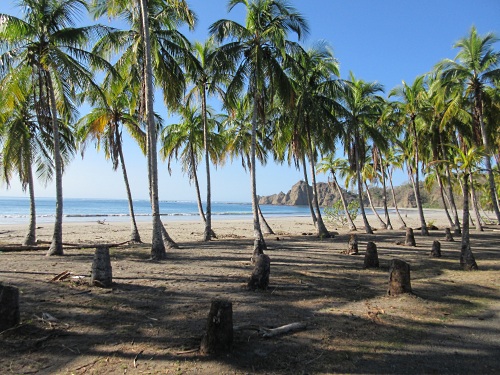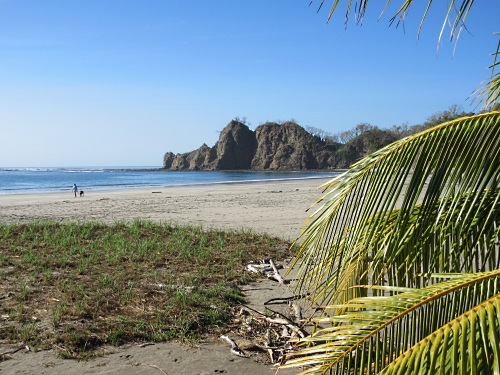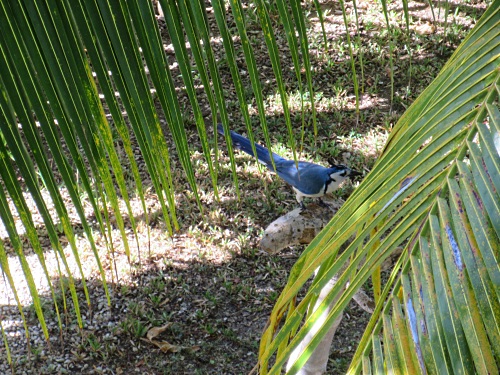 And then, bye bye to Samara, we drove for half of the day to Jaco. The roads are not so bad as we presumed. At least we didn't drive on dirt roads and the paved ones were paved. But they are so narrow, you can't pass a car is the driver of it decides to do some other activityᅡᅠ in the car than driving and goes to a slow motion…In conclusion – driving in Costa Rica no pleasure at all! So we decided – if we ever come there for the warm sea and the waves of the right size-ᅡᅠ we will take a bus form San Jose.