Bijagua ir towards the north of Costa Rica, in between two volcanoes – one of them is called Miravales. But we didn't see any of them – it is a place of lots of rains. The drive to there was beautiful, through little towns on the northern side of Lake Arenal, then through green landscapes dotted with big trees of impressive forms: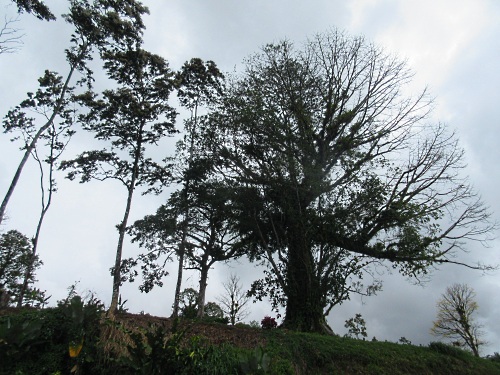 The churches in those little towns were mostly of modern type – no old buildings there. This one had a peculiar sign inside-ᅡᅠ to me it was an unusual sign for a church: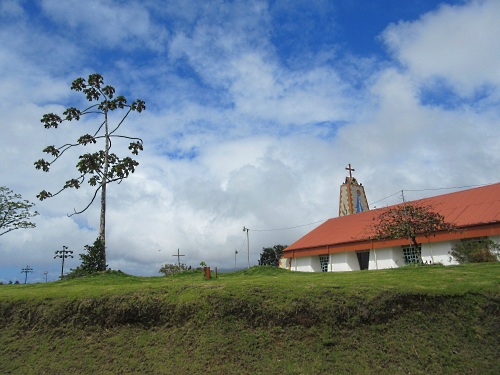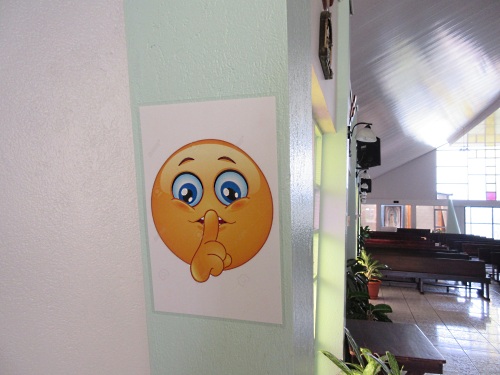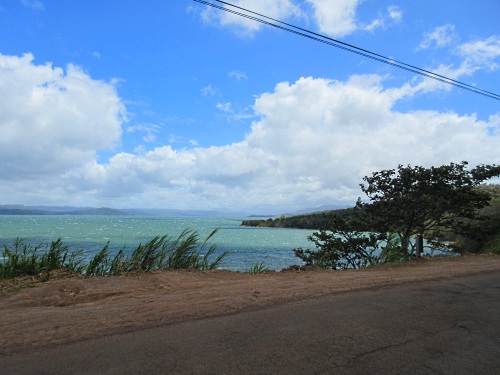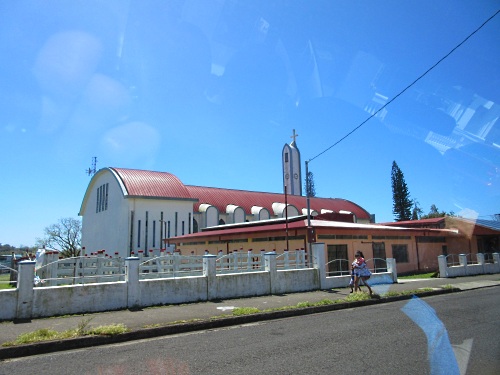 Those trees are mostly without leaves but they have flowers of some bright color. But we never stopped close to them, so no pics…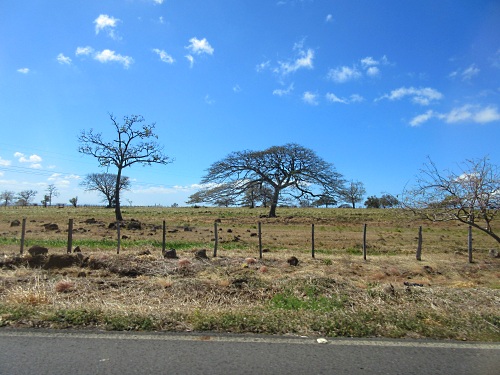 But we stopped in one nursery still by the lake-ᅡᅠ and enjoyed the colors of their plants: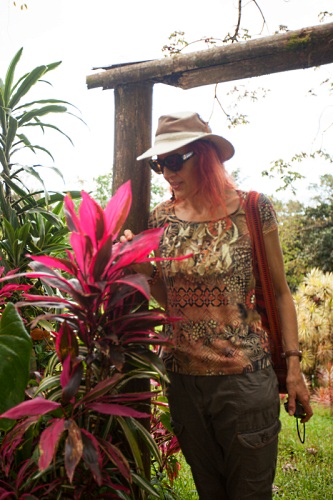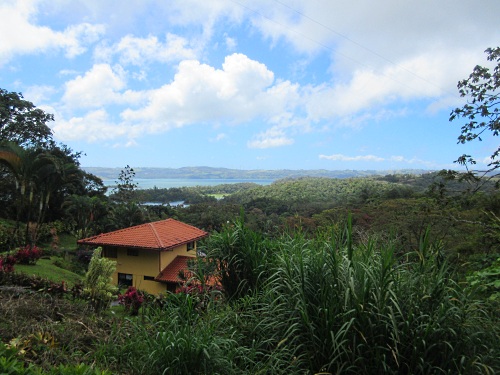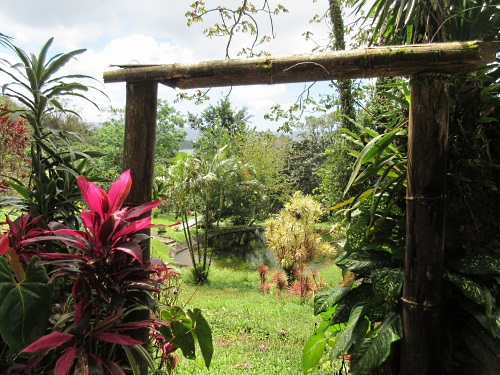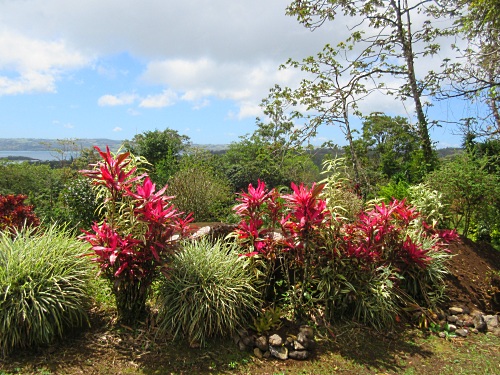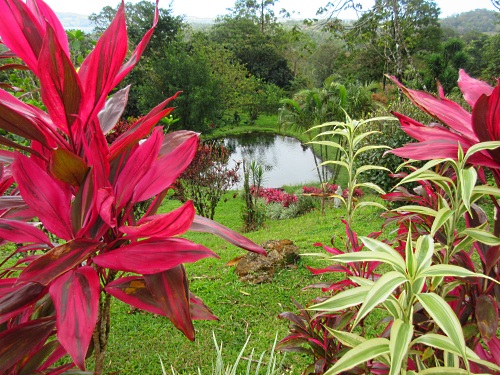 Lots of houses are for sale there, locals said they are in real estate crisis. That does not mean that the houses are cheap – their prices are comparable to USA real estate prices in good areas. In several hours we reached our destinationᅡᅠ -the little town Bijahua and our Air B&B on a mountain there: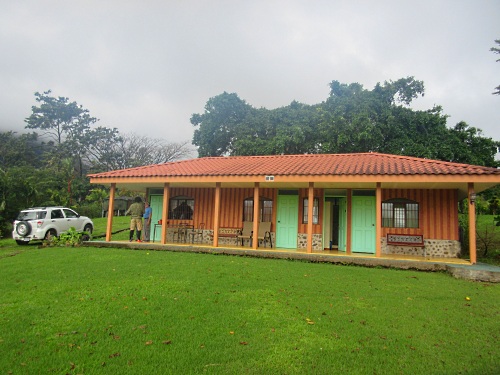 This house is comfortably built with two bedrooms, a kitchen and a bathroom. the owner Carole was super hospitable! She met us with a big plate of fruit, local eggs, bread, other foods. But the weather didn't love us there at all. Rains and winds almost constantly.ᅡᅠ The valley with Bijagua town was down below – but we could hardly see it. Low clouds, rain and wind…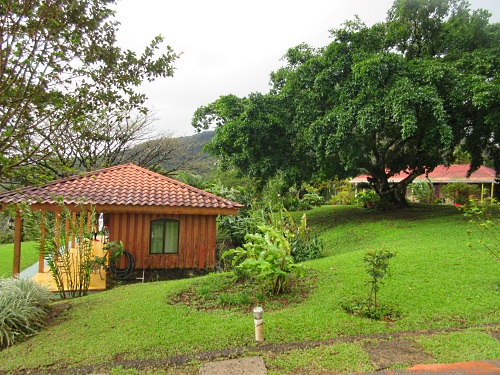 The owners have a big field and not many trees. So they built a temple: A temple for love, she said. Aren't all religions for love?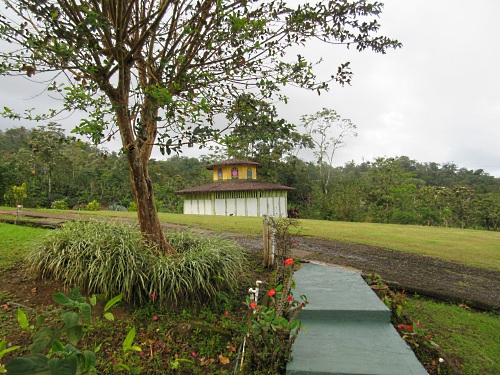 This is the view from our porch: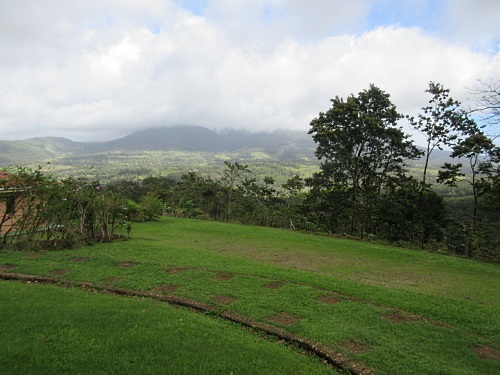 This is one of two trees still left and not used for furniture: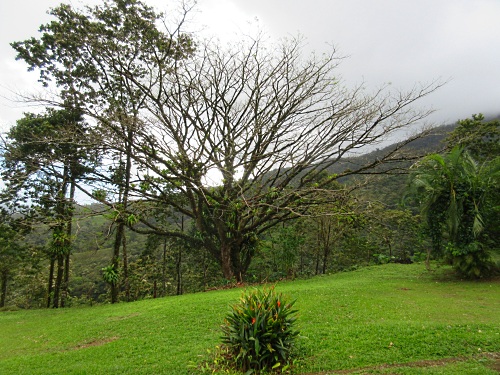 The plant looked very much like "the thorns of Christ" as we call it. but this one without any thorns!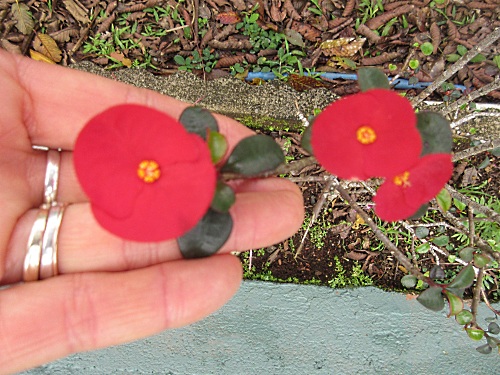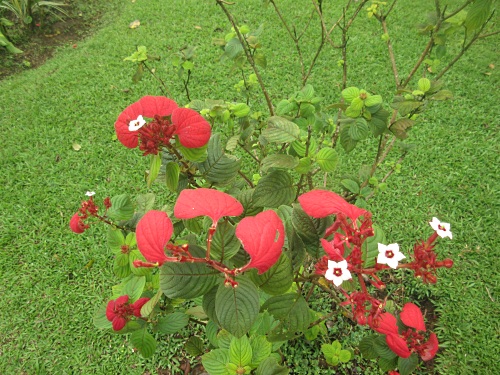 Those looked like impatients, but on tall bushes: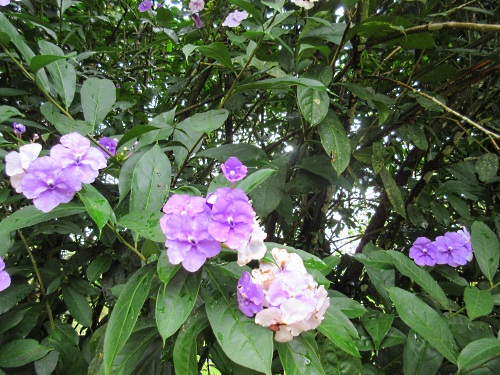 The hostess Carole: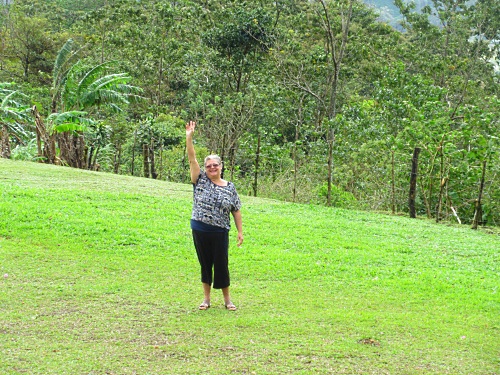 So why did we go there? it is a good place to start a day's trip to Rio Negro, where they write you can hire a boat and see a lot of wildlife. But it was too rainy to reach the river-ᅡᅠ the road is a dirt road. And close by, only in some 15 km there is a national park of Volcano Miravales-ᅡᅠ there are trails in that park. As we had to do something even in the rainy day – we went to the park, paid $12 each for the trails and managed to do only the first and shortest one-ᅡᅠ to the waterfall and the blue lagoon. The trail is called Rio Celeste: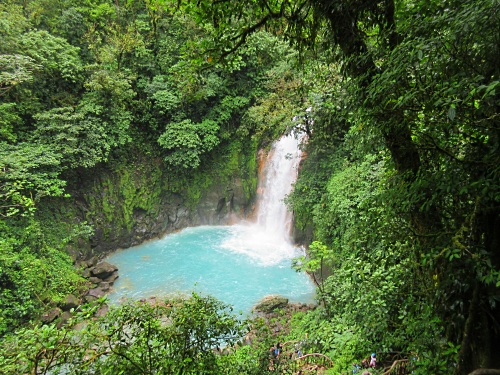 My face is tense here-ᅡᅠ I was worried to get off the path – the crowds that went there were unbelievable! Like on the busiest day in Zion NP.ᅡᅠ And the rain was pouring…We looked at the lagoon and decided not to go down to it-ᅡᅠ too many people, too much brushing each other.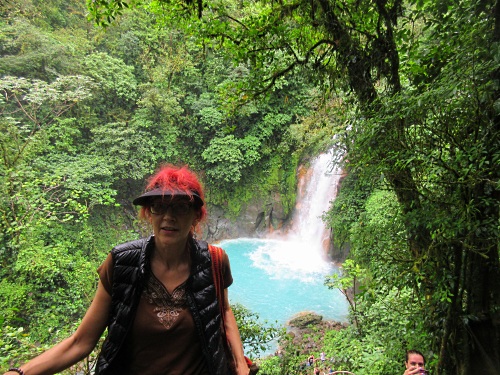 This one is to show how crowded those steps looked like and we had to wait to get Andrei on the stairs alone!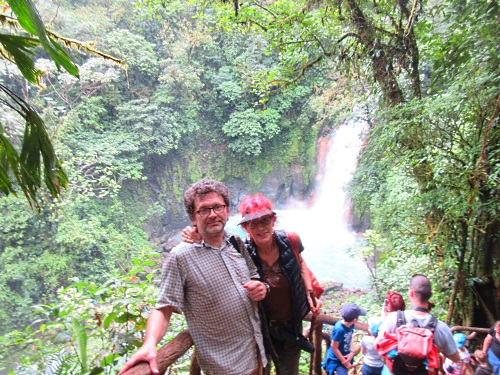 So yeᅡᅠ -we did not manage to do the other trails though we had energy for that – they were plain in mud, climbing up among roots, sliding and turning into a mud person. No pictures from trail, teh rain became so strong, it was impossible to take outᅡᅠ our cameras. Here is the only peculiar bird we saw in those two weeks of traveling in the Kingdom of Wildlife: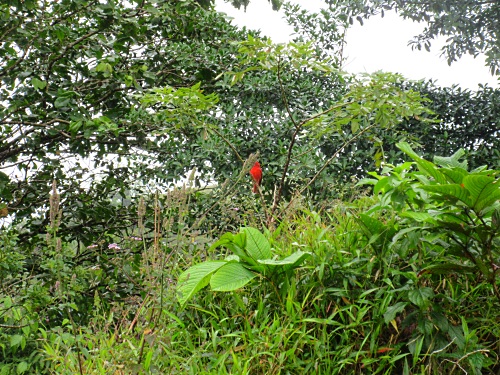 Here we are going towards the Pacific coast – the skies cleared up, because strangeᅡᅠ as it is-ᅡᅠ there is not a drop of rain there on the Northern coast for 6 months of what we call our winter and they call summer. But then the next months the monsoons are huge! Whereas deeper inland among the volcanoesᅡᅠᅡᅠ -it is raining always.