Phrae in tourist books is described as a Thai analog to Luang Prabang in Laos. And also as a town of super nice people. How can you resist such descriptions while it was also on our way to Sukhotai. There are lots of buses going that direction belonging to at least three companies. We picked a big fancy double-Decker and got the very front top seats. It was a beautiful 3 h drive. Unlike than in Phayo -there were taxi drivers waiting for us at the station and we were taken to our hotelᅡᅠ with a strange name Come Moon. Seems like Thai people were studying English but didn't learn well enough. But were smart and skillful enough to build a really good hotel! Two stories only not sticking out from the surrounding old style buildings, but with a modern zest!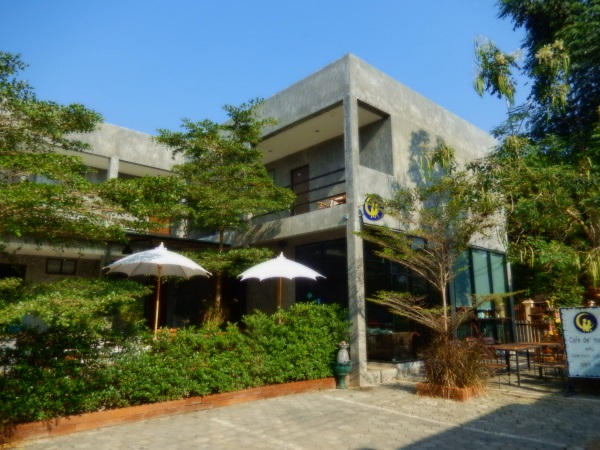 Steel glass and concrete! And very very grey, oh it looked good with any color you bring into the room: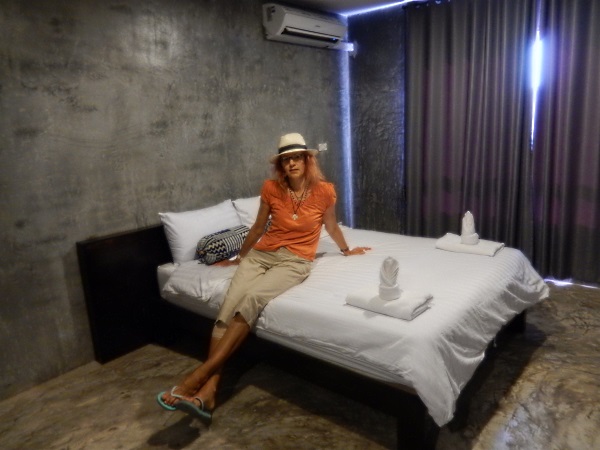 Very good for rest, for cooling off after our usual long walks and this time – bike rides. And it had breakfastᅡᅠ -some dishes were traditional Thai, like breakfast soup, some were American – like toasts and jam and fruit. I so much recommend this place for your stay there! "Come Moon"ᅡᅠ -and only $22/night, how can they pay off their building… The location is perfectᅡᅠ -just immediately behind the moat and the surrounding wall, in a quiet neighborhood and there was even a pizza place which we didn't notice the first afternoon. Yes, we came, settled and felt so hungry, so we ran towards the center in search for food and because we were so hungry – evidently we couldn't see well, so we missed a couple of restaurants. then reached the center where they were closing early with the idea that everybody eats at the so called Night market – if a town is not touristy, then do not expect dozens of restaurants around you like in Chang Mai. Locals like to eat out. And they jump onto their motorcycles and drive to the Night market which opens way before darkness comes. They are so not eager to cook at home, that lots of them drive to buy already cooked food for their families that they get packed into plastic bags! and drive home to eat. Yes, hot food in plastic bags, hard to comprehend…Poor people, they need some education. We ate there from paper plates. That is better. But as many street foods as we experienced – nothing beats the Sunday Market in Chang Mai, nothing. Here those would be my signature pictures of Phrae: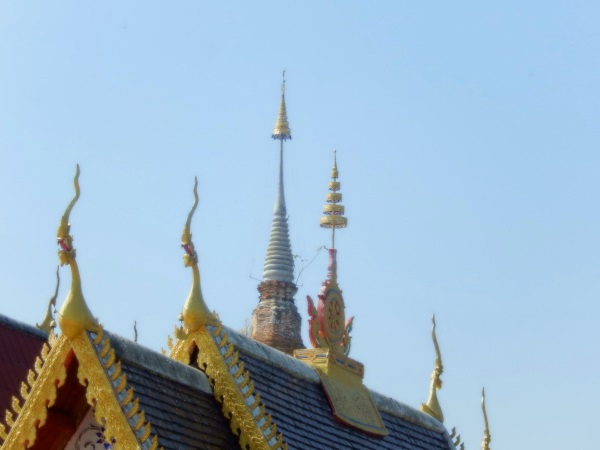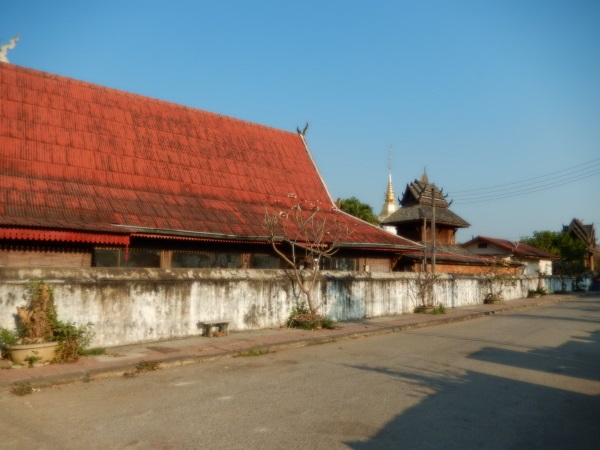 As we figured out the next day – the best way to walk there is not the direct route to the center, but on side streets, especially the ones that led us by the remnants of the ancient city wall and the moat. In some places there is a path to walk on that hill that the city wall was built on. From there the view towards numerous temples was amazing, and also for the sunset. And yes, there were lots of temples like in Luang Prabang, but unlike in Luang Prabangthey they were scattered, not on some main drag, and also – there was no touristy flair as in LP, which creates some celebratory holiday atmosphere. As for the people – they were the same nice as in other cities or towns, they are Thais, that is why we go and enjoy their country and their hospitality, their patience and putting up with us!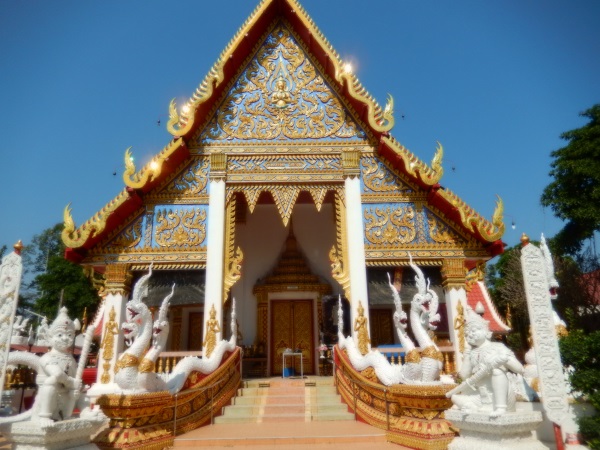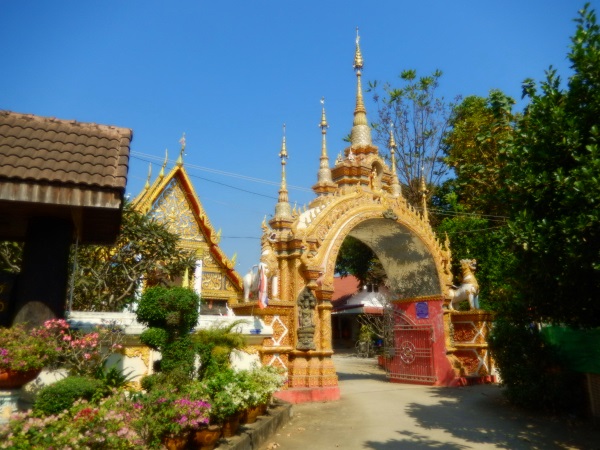 In one of the yards I saw those horses made from driftwood – they reminded me Tamra's horses in her yard in our Town Rockville. Which reminded me that we are all the same, very much the same, people of this planet. Even our tastes, aesthetics, methods of creating coincide, being from so far apart!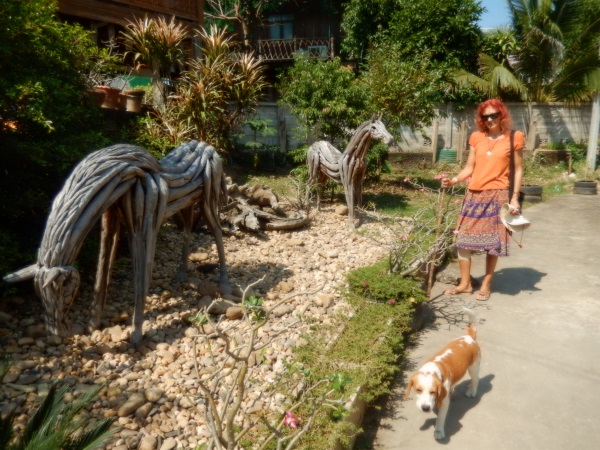 Here are not one but two crematoriums, of which we haven't seen non till we reached this part of the country. They usually have them here in a remote temple garden with some dining spaces for the relatives who, as we noticed usually celebrate their deceased while his or hers spirit is flying out a chimney.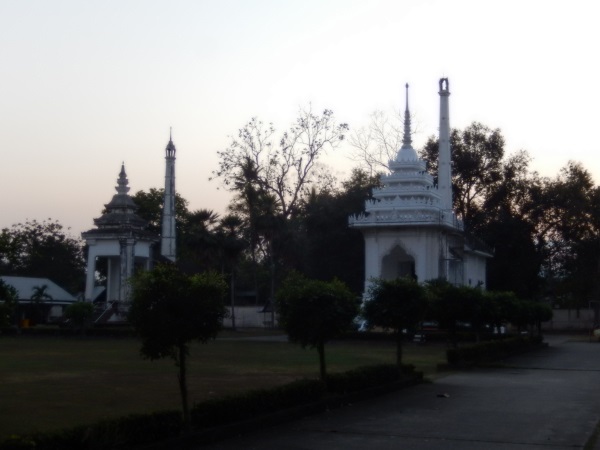 We spent three nights there which means we had two full days and were not bored at all. During mid day it is better to stay home and read for the heat is scorching. But mornings and evenings were glorious! We drove on bikes to the river which is not very spectacular, but it is a river: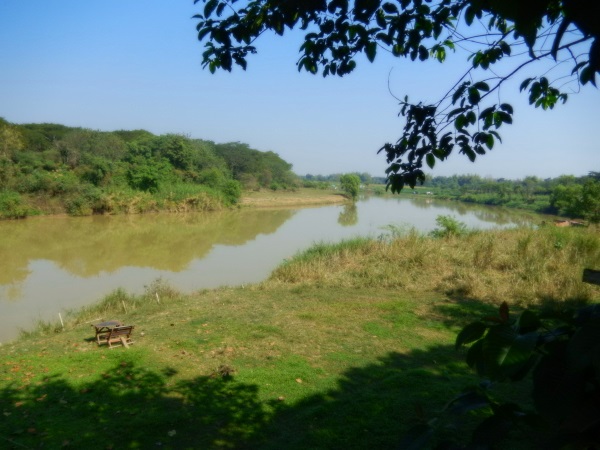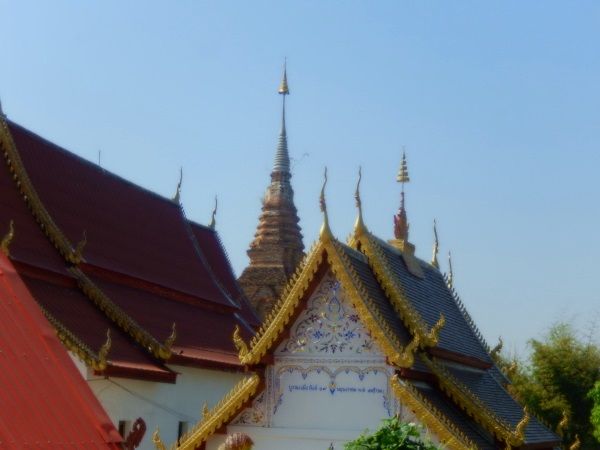 WE especially enjoyed this temple with lots of shooting towards the sky decors. To give you the size of the reclining Buddha I sat by his side: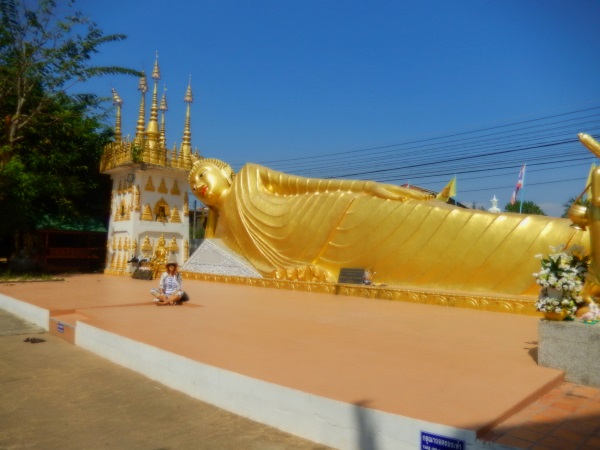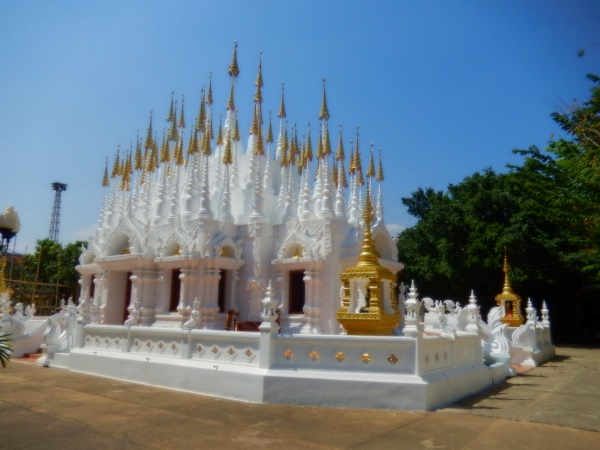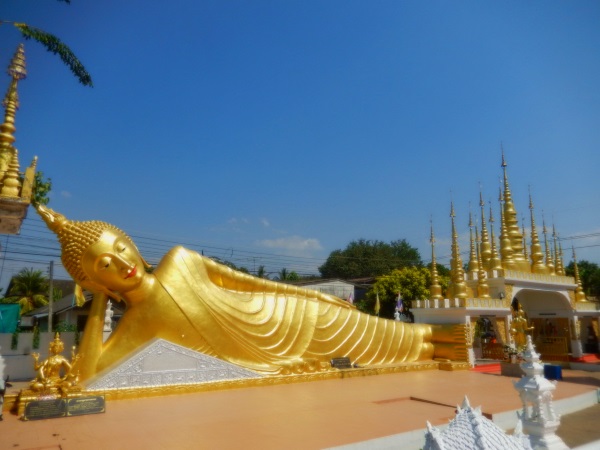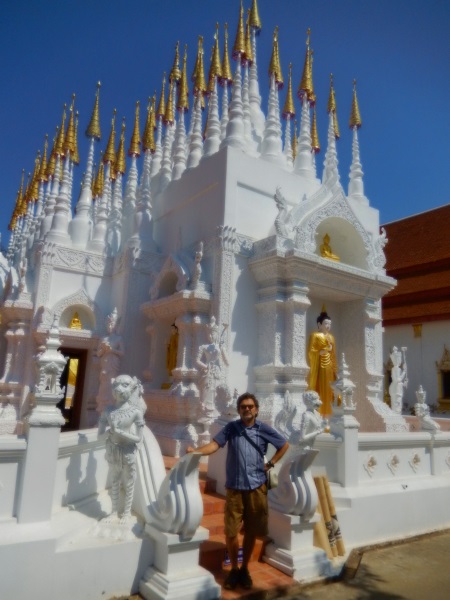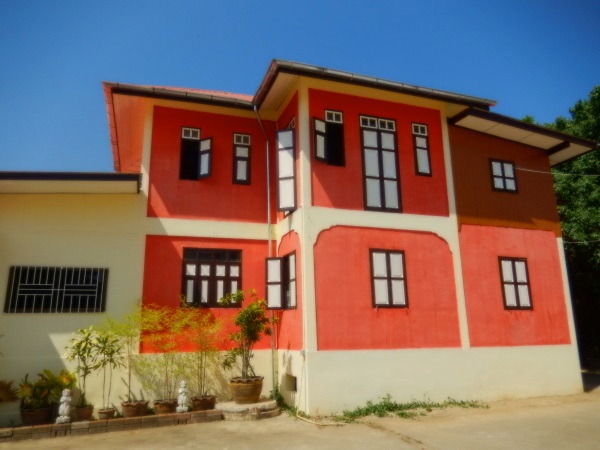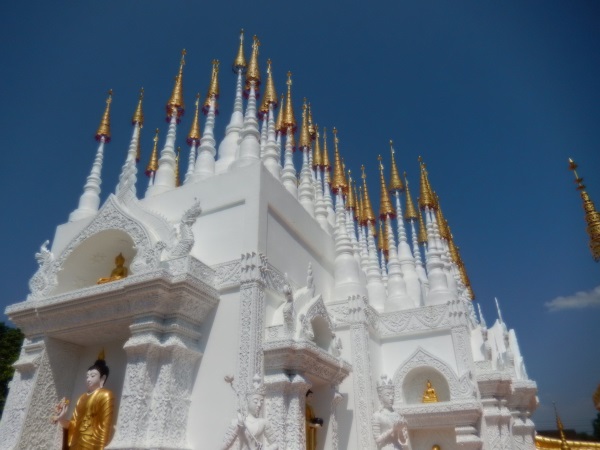 Maybeᅡᅠ I took too many pictures of this architectural concept of striving for the Absolute or becoming Buddha or Bodhisattva, or at least sending your wishes to the Universeᅡᅠ – but I couldn't help myself, it was so plain beautiful!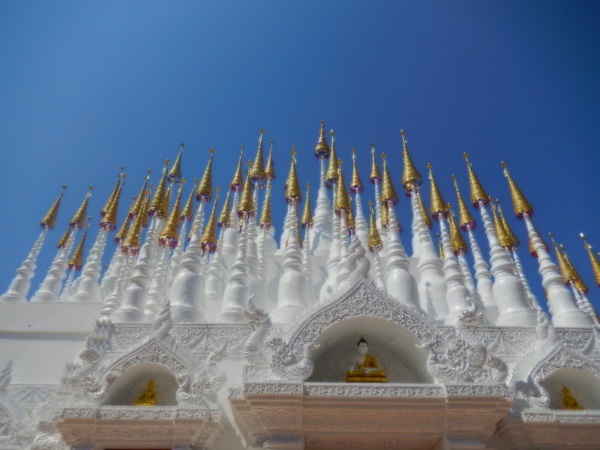 In the temple – here is what we saw – flags made from 5 20baht money bills dangling from the ceiling – the way of raising money in an aesthetic way: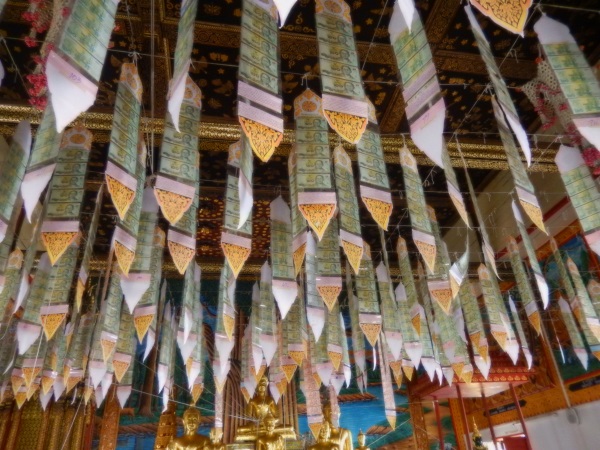 There were many other temples, there were also prominent old houses with a lot of wood carving decors, so cozy, so pleasant: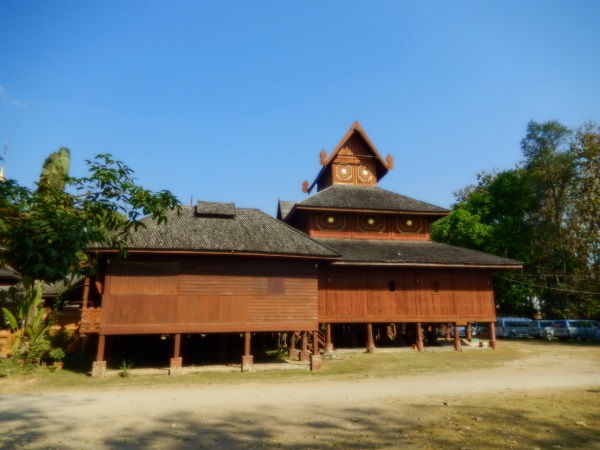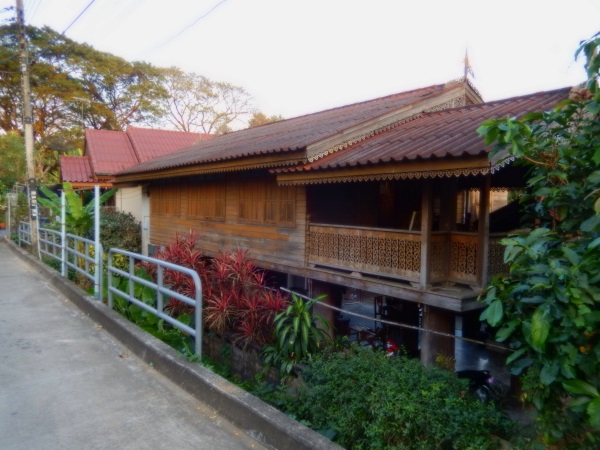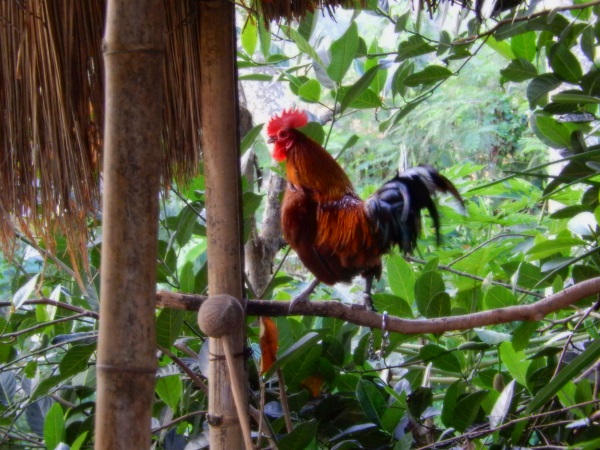 This a different Chedi, not like Iᅡᅠ showed before. But my aiming was not good: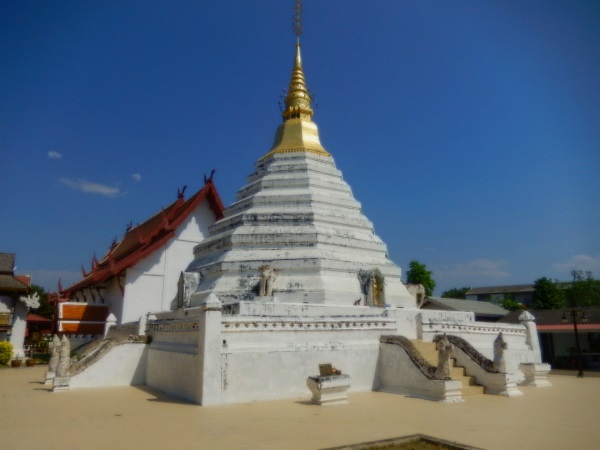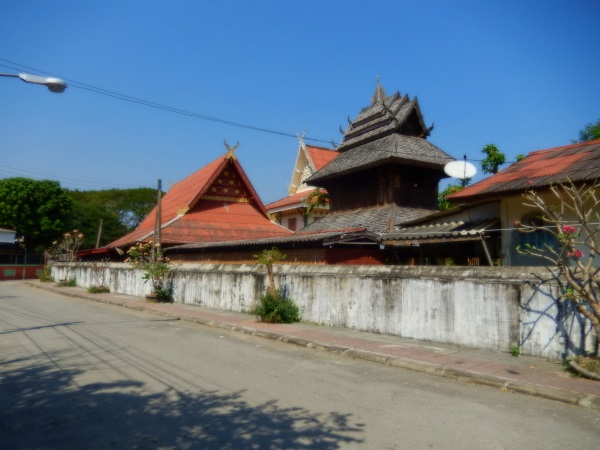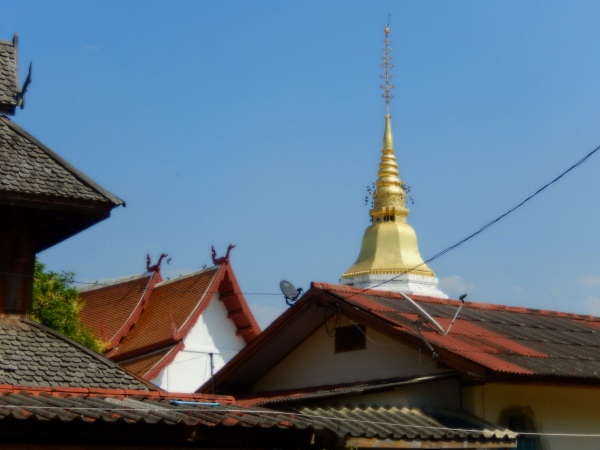 As we all know the sunset brings out warm orange glow onto surfaces-ᅡᅠ this time a bunch of totem poles and a big tree: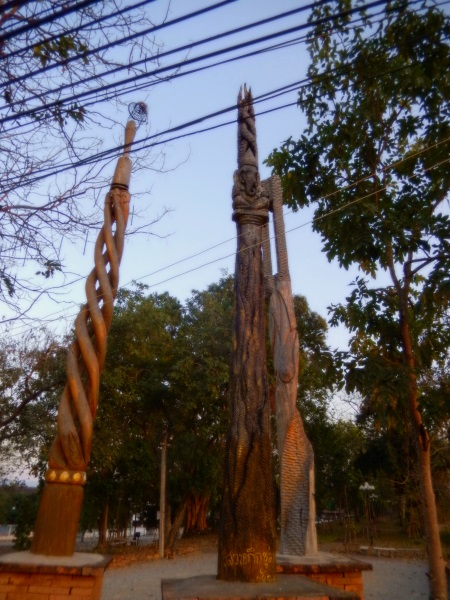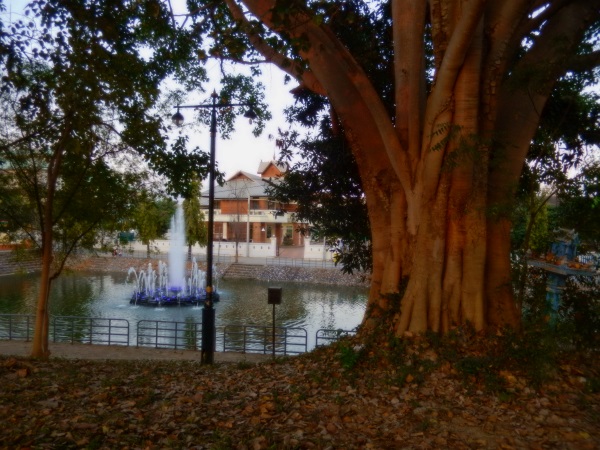 This a a rather strange temple by a busy street. It looks like this from the back:ᅡᅠ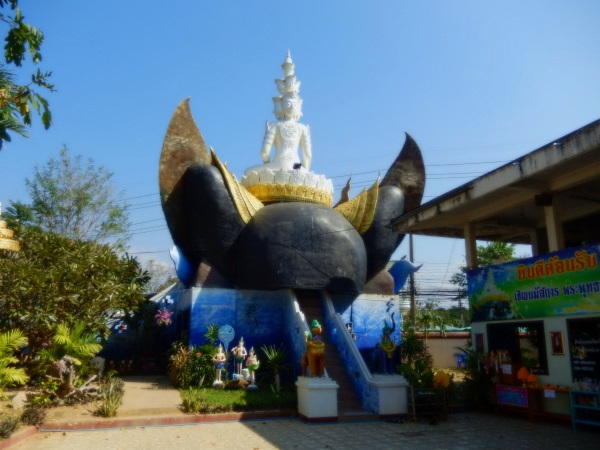 Then you take off your shoes, climb with care (low ceiling) one of the 3 staircases, turn around and find yourself in front of this: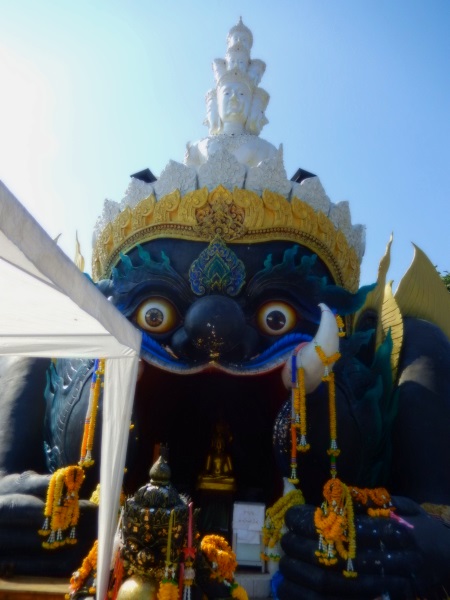 I happened to be there at the exact time that my aunt in Lithuania was being buried, a sad situation for me, so I lit a special candle for her, at least…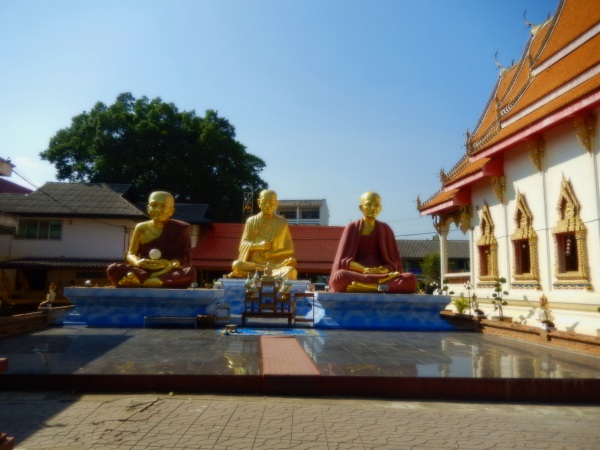 Here it shows how Thais revere their prominent monks who have reached the Buddha or Bodhisattva state and have done good deeds for their people. Going on a bike we could see more temples on the outskirts, or this close to the bus station, which was all wood and as in old times it was still used for crafts, weaving, embriodering, umbrella making, etc: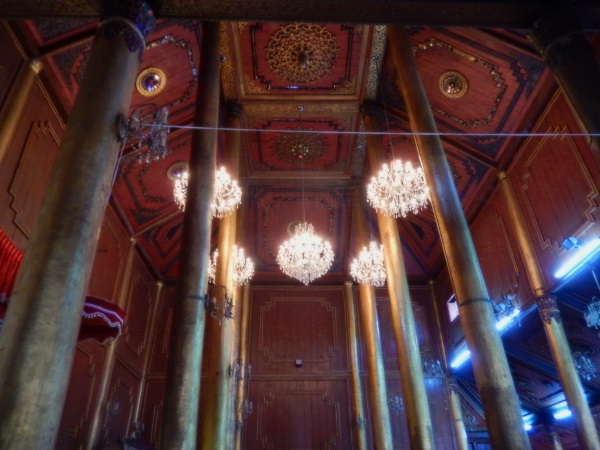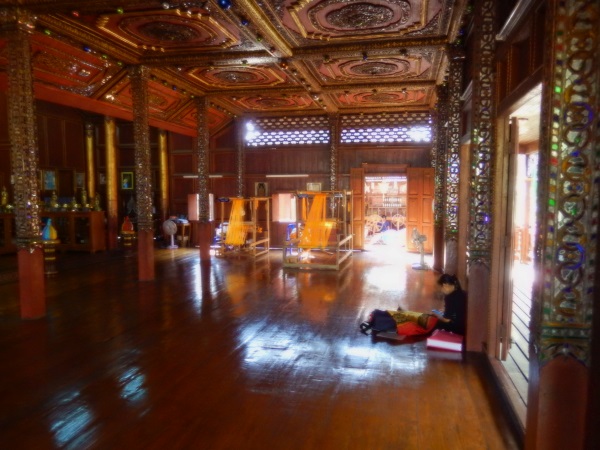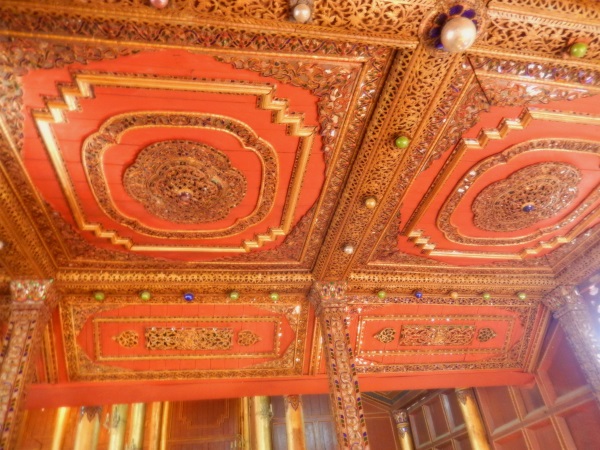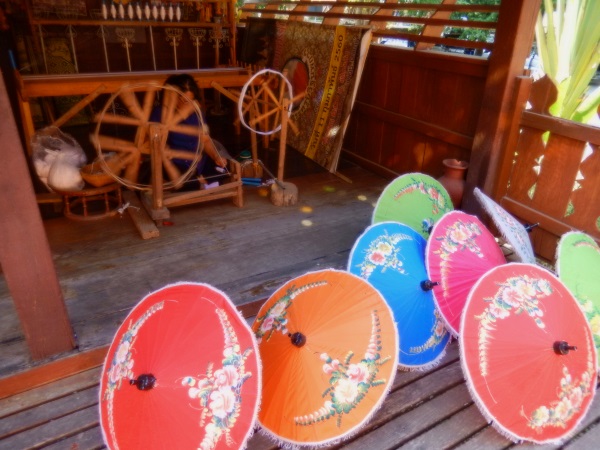 I can't issue a blog without at least one flower picture :-):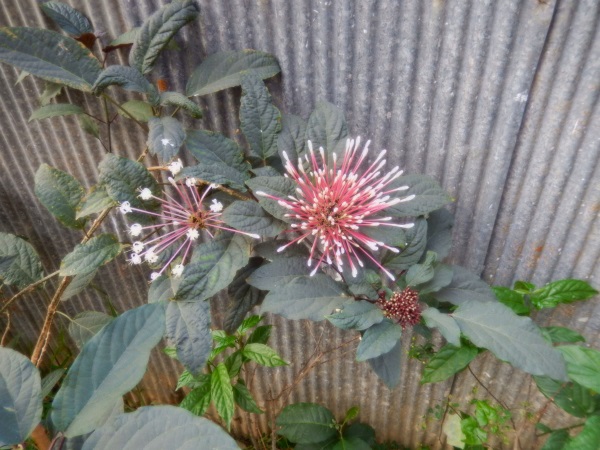 Here is only one small pat of a long , very long fresco in one of the temples. Usually they have frescoes not in the main building, but in the side walls that enclose the temple gardens. This one was interesting to me because it described all their celebrations through the year, especially the full moon and the figures in it were all in motion, all vivid: