We have been to Sukhotai once many years ago andᅡᅠ already posted some photos of it then. But then I didn't see much of it for I was not feeling well and Andrei was completely bed bound by his meniscus problem, so we decided to visit again the ancient Thai capital, one of them :-), and see what is left of it. So we took a bus from Phrae and in three hours or so we were in New Sukhotai. While on the road from the front top seatᅡᅠ the views were not bad: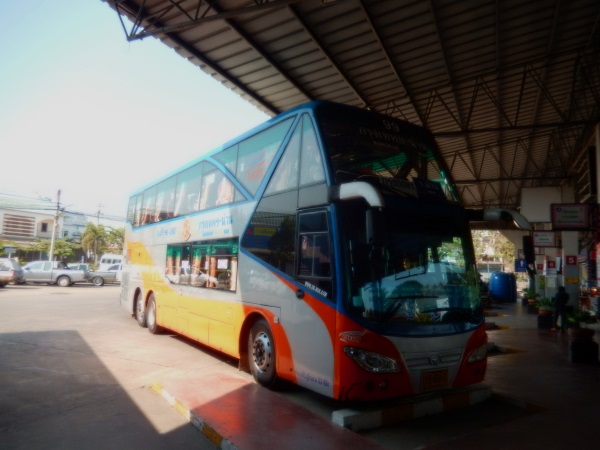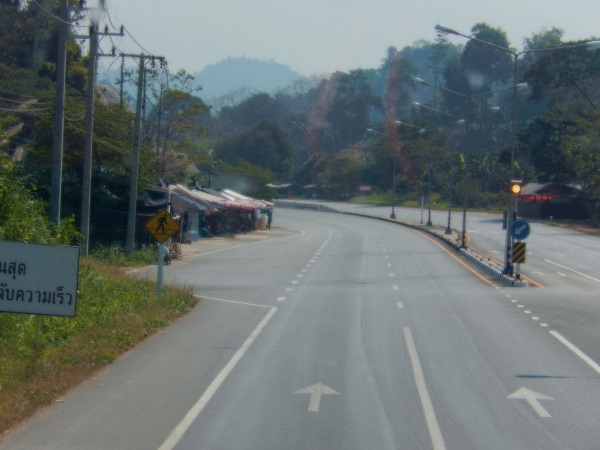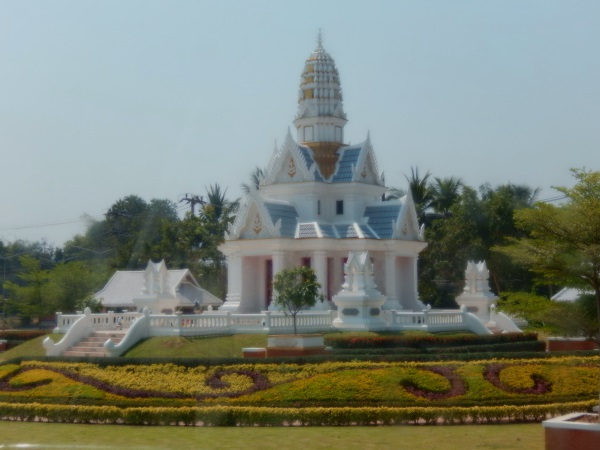 So from New Sukhotai we had to get to the Old one. That is where all the ruins are mostly concentrated. And that was a little tricky. Just a little There was a songthai waiting for us and we expected it to go the the Old town. But it started doing round trips on the highway, as sometimes they like to do, and then stopped in teh center of the New town to wait for more tourists. After a long trip on a bus I get impatient, my problem. So once we came to the Old town, which is half hour awayᅡᅠ -we checked into the Old Town Guesthouse by sentiment. Yes, it is in perfect location, the closest to the biggest ruins and restaurants and all. It looks also very authentic and inviting. And last time we had a room in a one story section, that was a perfect room. This time the room was OK, but the noise…Not a big noise, but as i noticed – all rooms in one section of the hotel are separated only by a thin board wall and we could hear everything from 2 rooms on both sides-ᅡᅠ even the cracking of a plastic bag…Not speaking about a lot of French talk, and when you don't understand a word – it gets annoying :-).ᅡᅠ That evening we rushed to see the main part of the ancient capital, and to admire the sunset there and also something unexpected. Those ruins are mostly the temples and Chedis, because everything else was not built from sturdy materials and perished. And lots of them are restored and turned into a well preserved and cared park: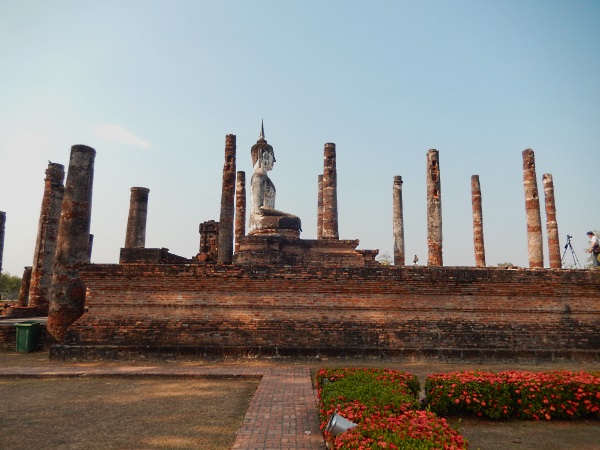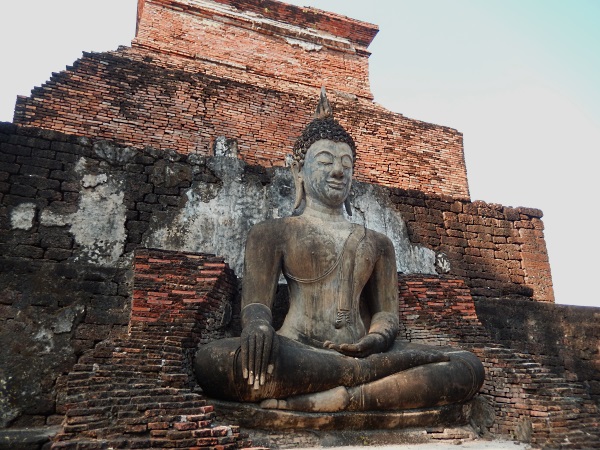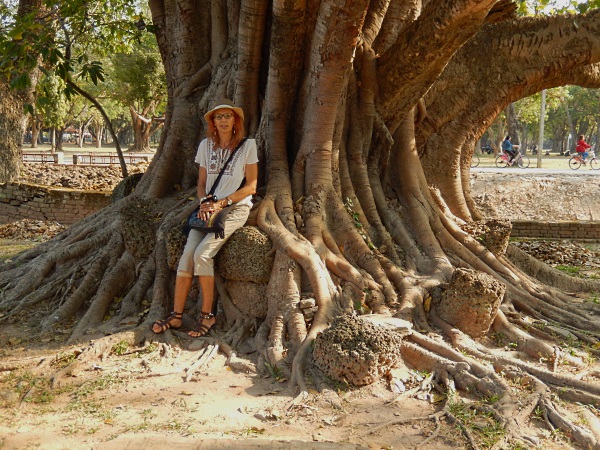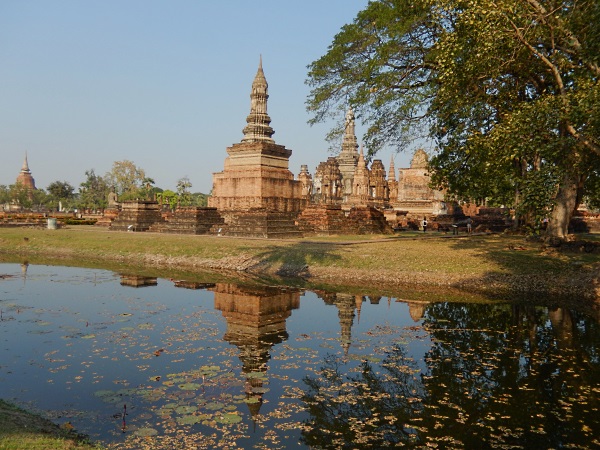 What an interestingᅡᅠ tree – such a long and horizontal branch like a tentacle of a giant squid: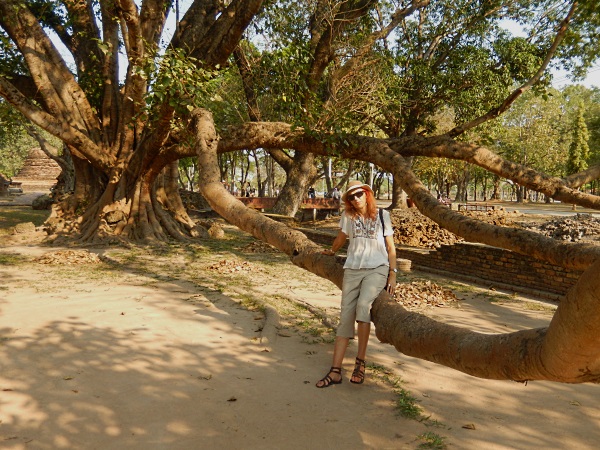 One temple there was built by Khmers -ᅡᅠ in Ankgor Wat style: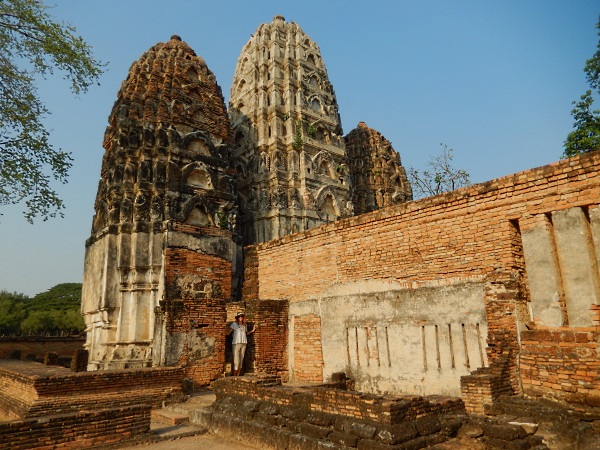 Andrei is intensively photographing: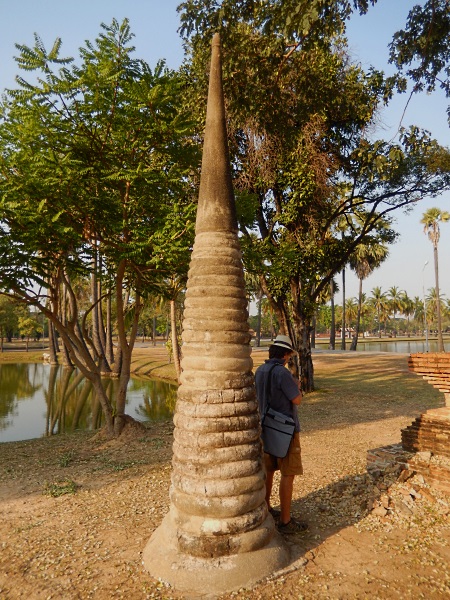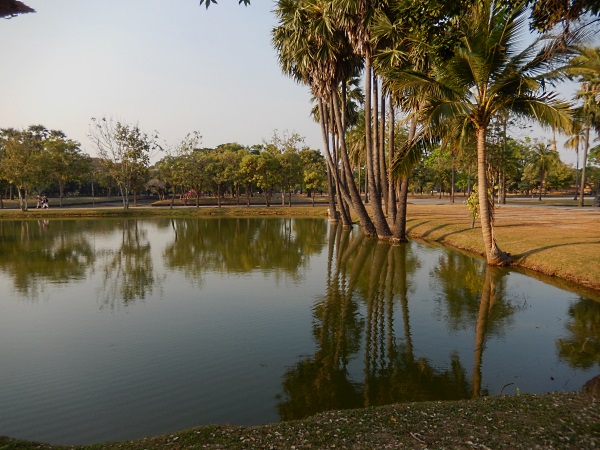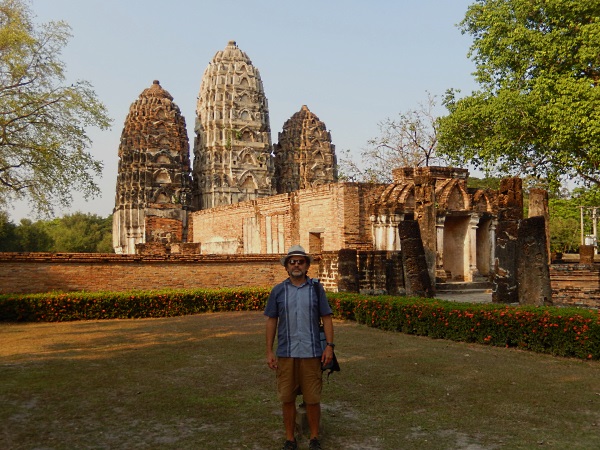 So we walked and we walked and enjoyed what we saw. As Thailand is mostly on swamps there are many ponds to catch the excess water and also to use it in the dry seasonᅡᅠ -which we experienced – it is very dry in winter!ᅡᅠ Those ponds were so good for reflections!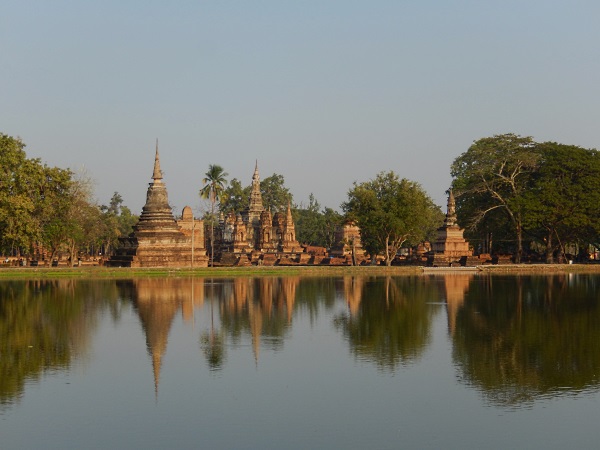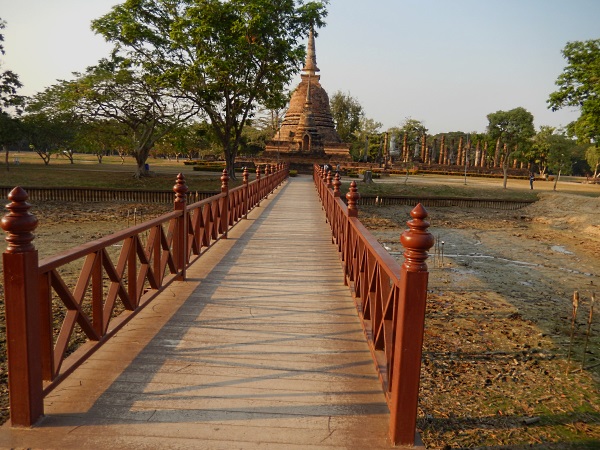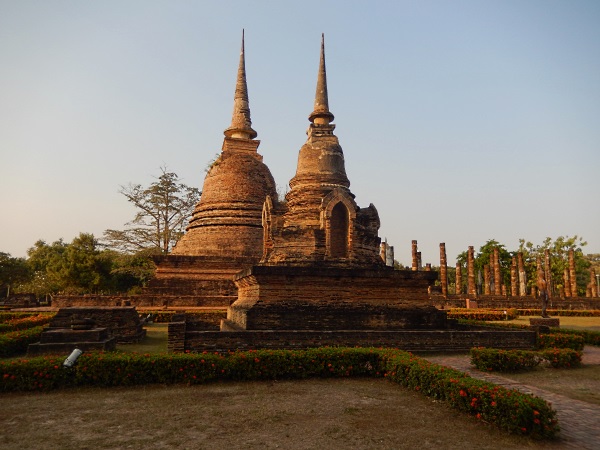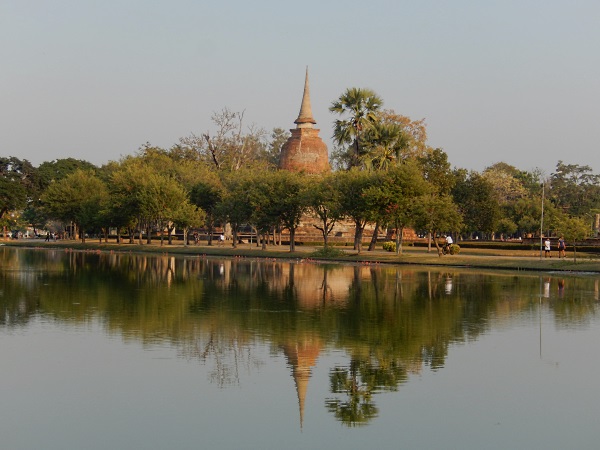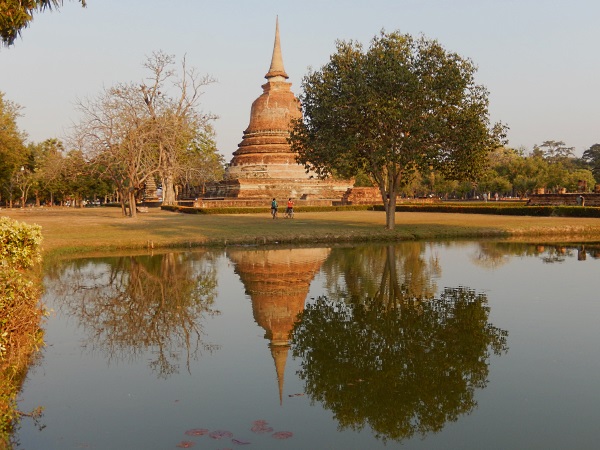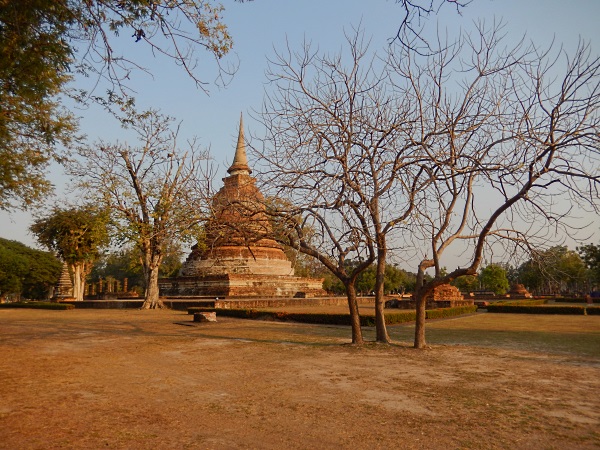 Here is a monument for the last King that Thaisᅡᅠ were still mourning: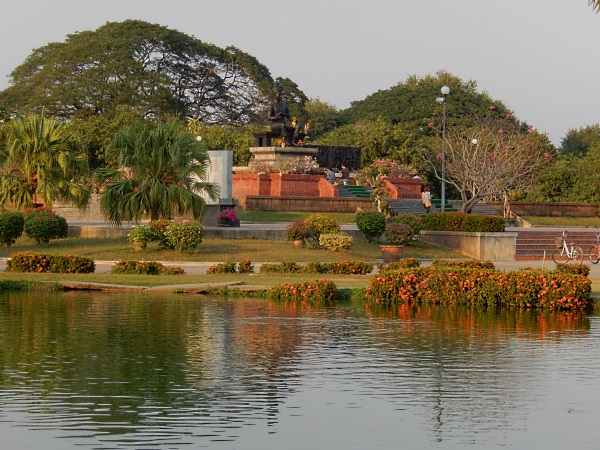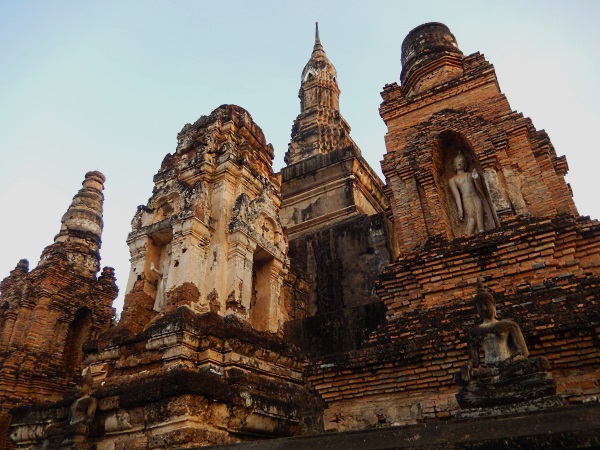 The Chedis in a for of upside bell are considered built in the Shri Lankan style: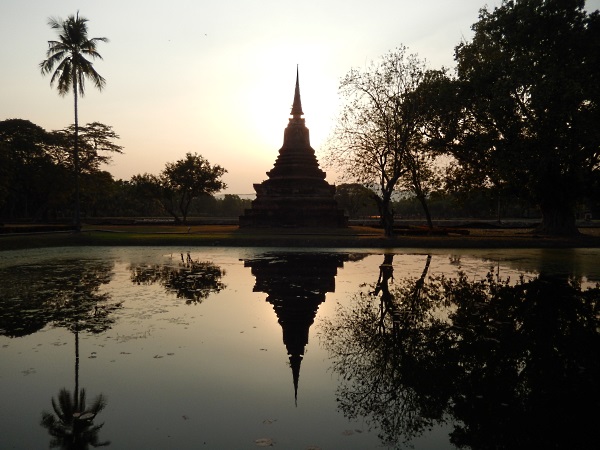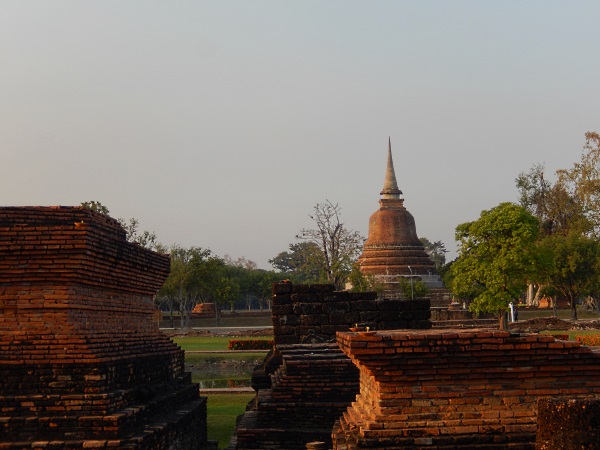 And here is what we didn't expectᅡᅠ -out Saturday surprise – we noticed little clay pots with candles set here and there on the ruins – once the sun satᅡᅠᅡᅠ -some guys very fast ran around them and lit themᅡᅠ – it was like magic: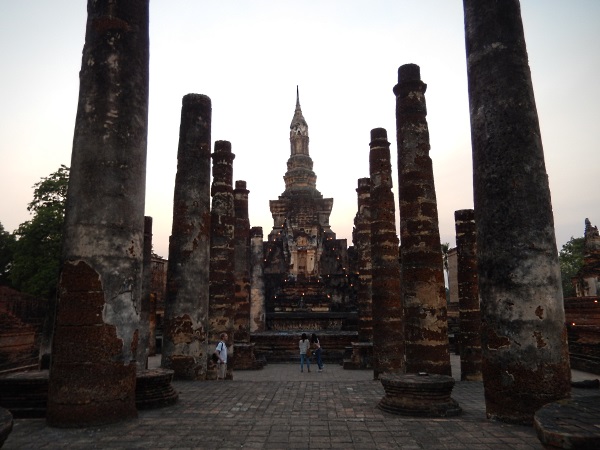 My advice – try to be in Sukhotai on Saturday, only then they lit the candles. The eve we visited the shops and restaurants that we remembered from last time. enjoyed the foods we liked last time and planned where to stay the next nights. Because of scarce availability we ended up staying one night in Thai Thai Sukhotai resort and then the last 2 nights in Sawadee Sukhotai Resort. Bot were very good! They ae not very close to the ruins. You have to take a taxi to get there, but they are all in one cluster and there are some restaurants close by. But stillᅡᅠ -to get to the man part of the town you have to walk on a busy highway or drive a bike or take a taxi. But everything else was super! Here are the receptionists,ᅡᅠ the corridor of Tai Tai Sukhotai and its pool: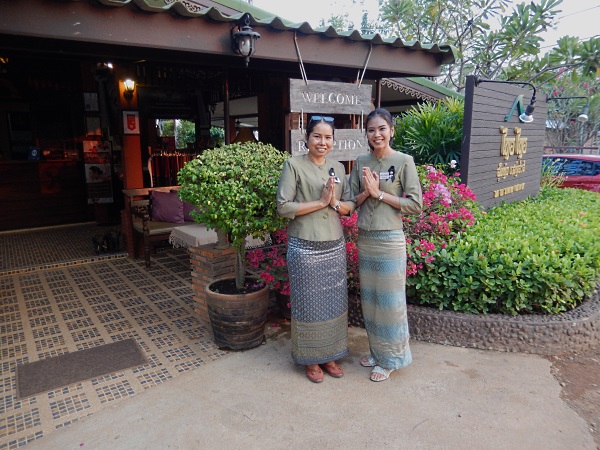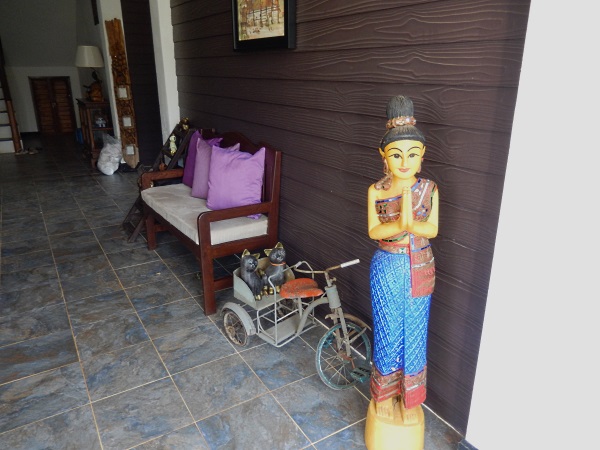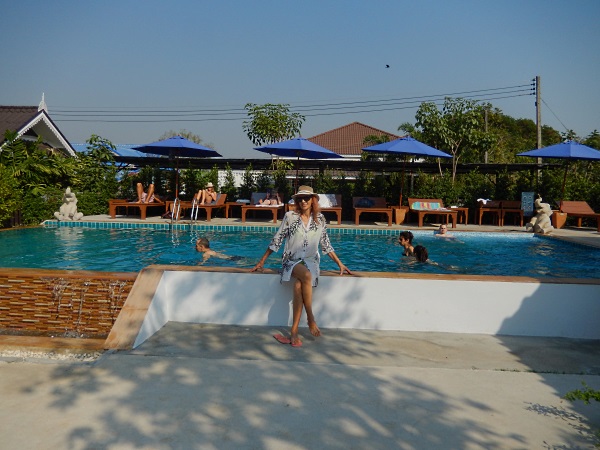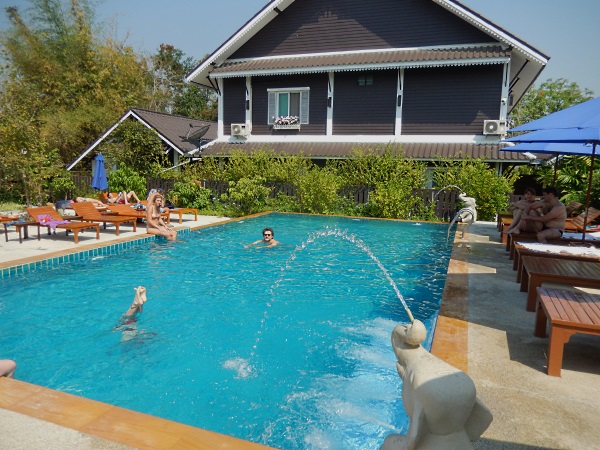 But the next morning we didn't waste our time – we rented bikes and drove to another part of the ancient capital with other but similar ruins andᅡᅠ views: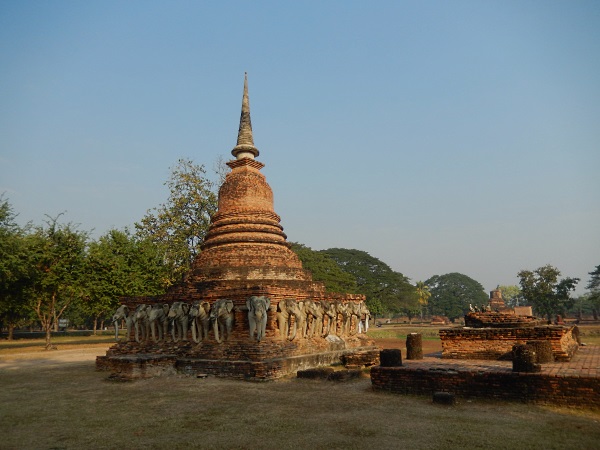 This one has a lot of elephants at the bottom.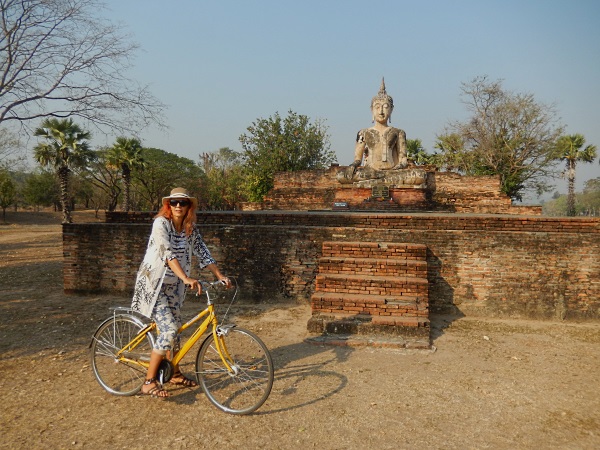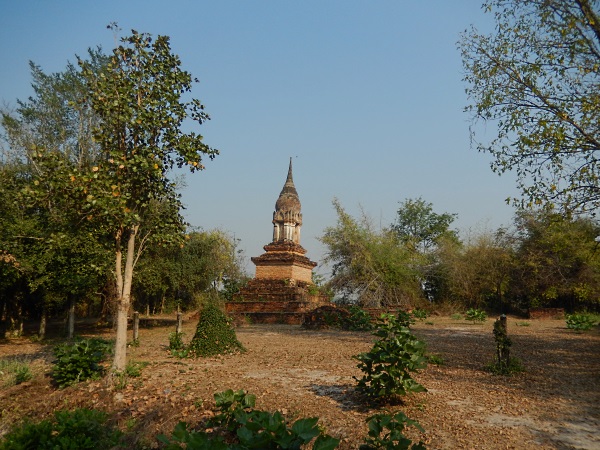 A peculiar tree – no leaves, just blooms: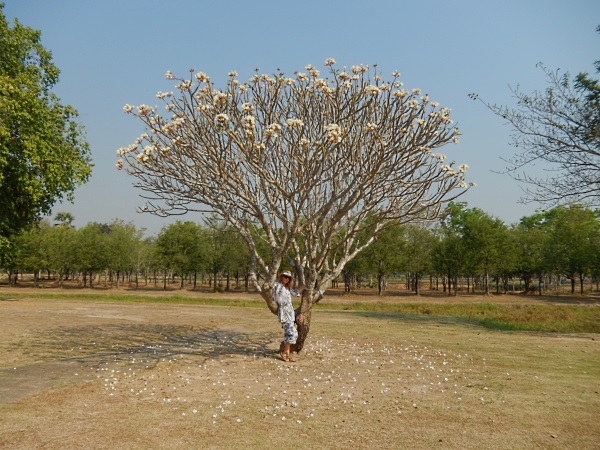 Toᅡᅠ think about how many people worked with good intentions to make so many bricks. then to build so many structures, and then how they admired their temples, how they prayed and felt their hearts uplifted…To me those ancient temples are still emanating pleasant and positive energy, but you can argue :-).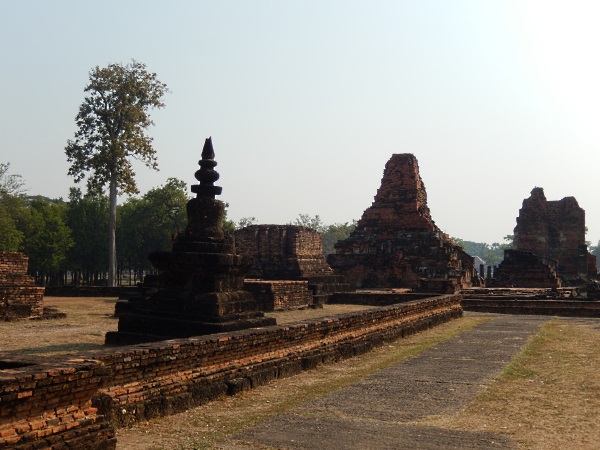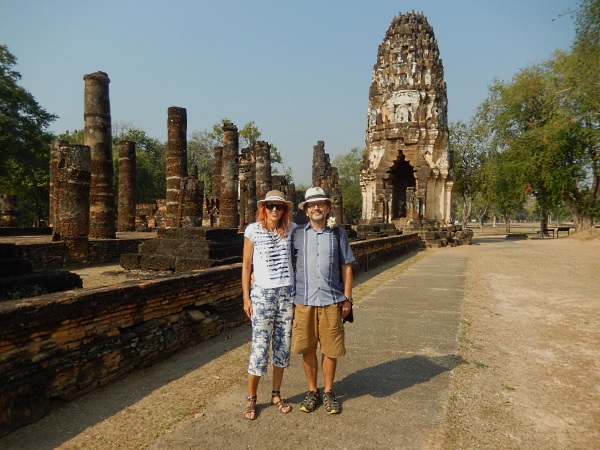 Here we found a garden with newly built temples. It had peculiar sayings written on trees.ᅡᅠ One read: "Facts are stubborn things".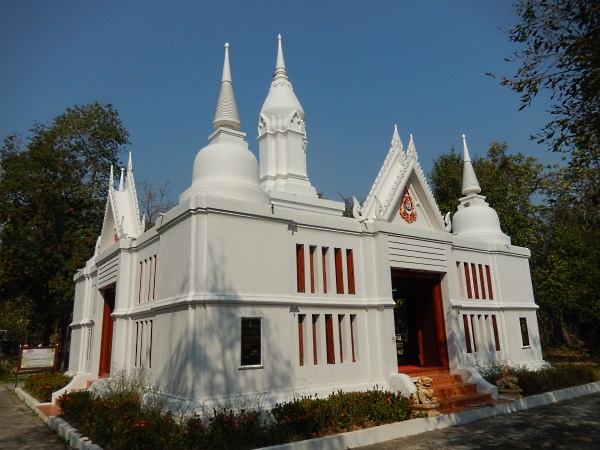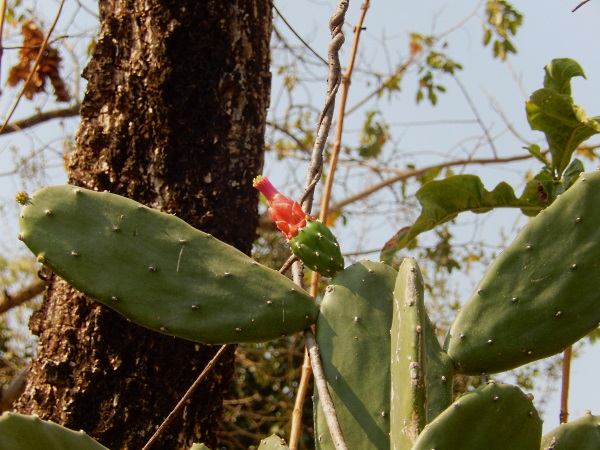 Then there was another Temple area:ᅡᅠ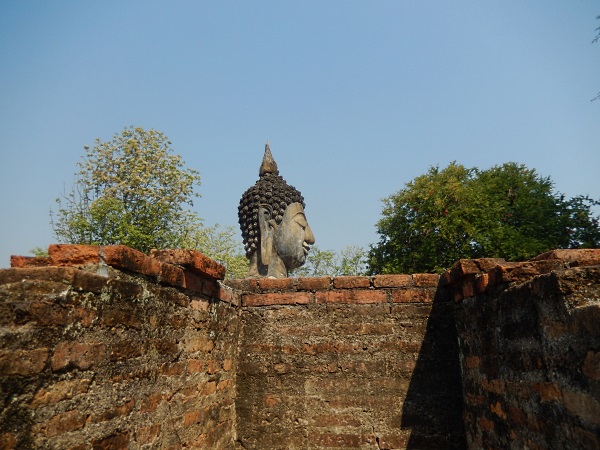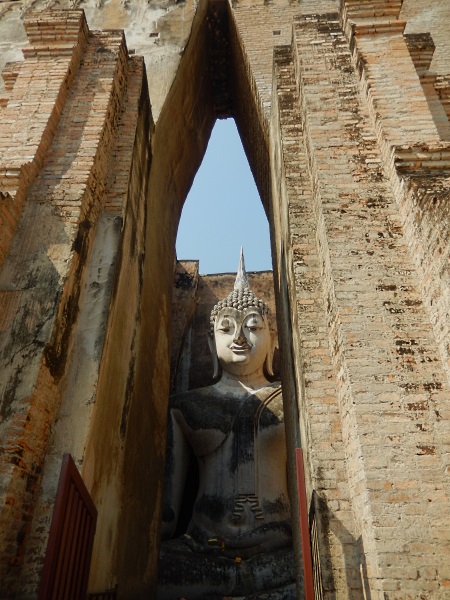 And very slim cows – but there was a lot of grass…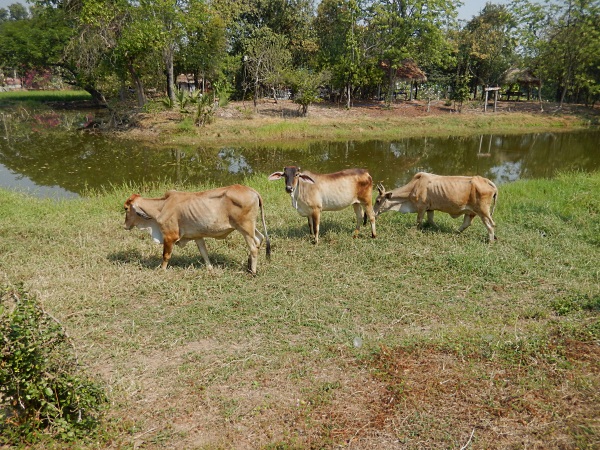 The last two days and nights we spent in the Sawadee Resort cottage, and that was beyond amazing! I can't recommend it more! Both resorts served wonderful buffet breakfasts, both had super nice staff, but to have your own cottage in a spacious manicured garden with views to the fields and far away mountains-ᅡᅠ nothing beats that!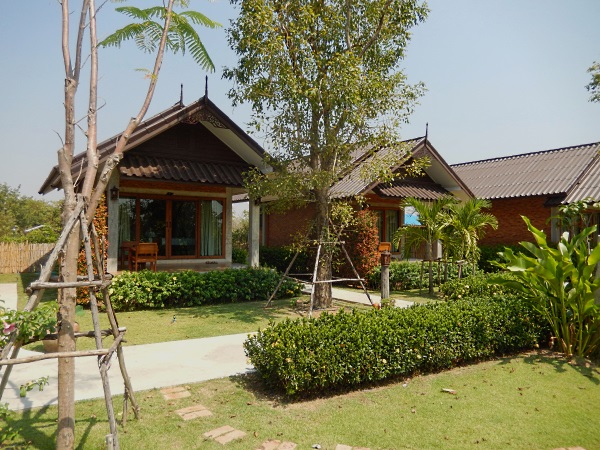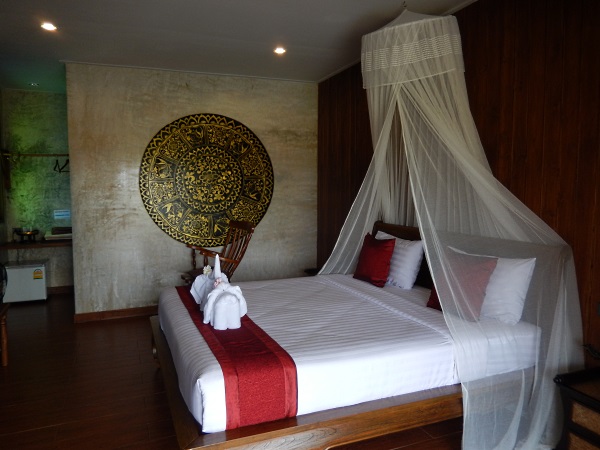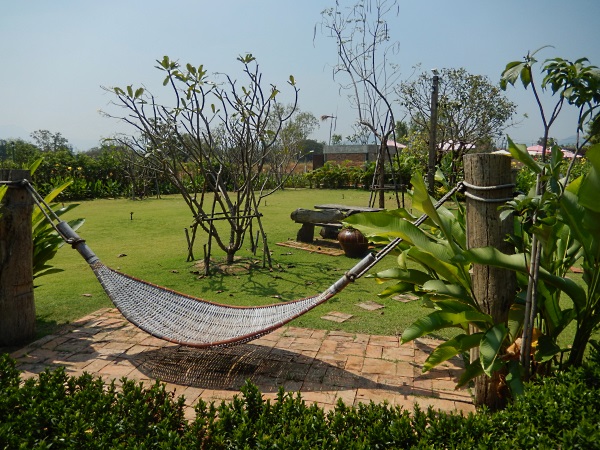 The housekeepers: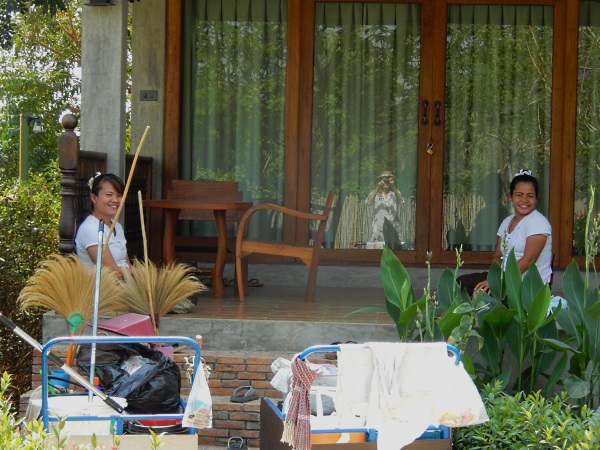 The gardener: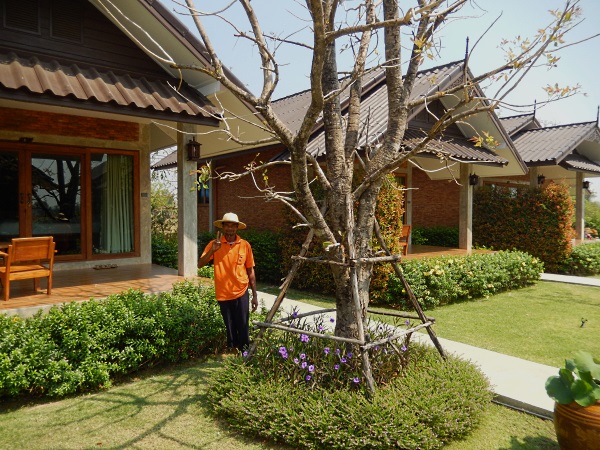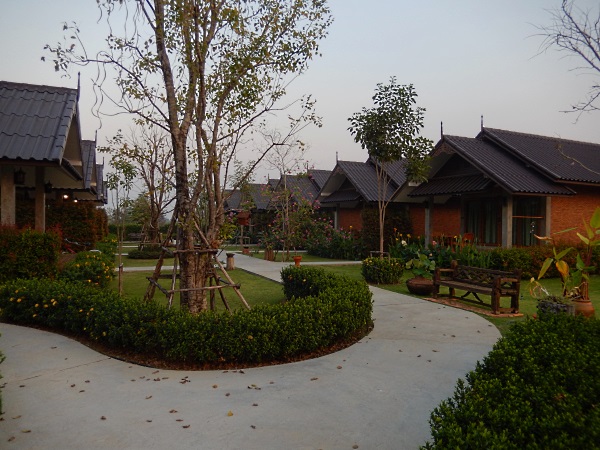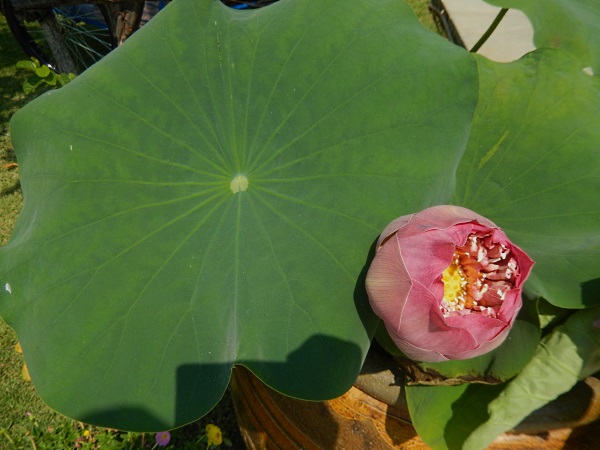 Elephants everywhere: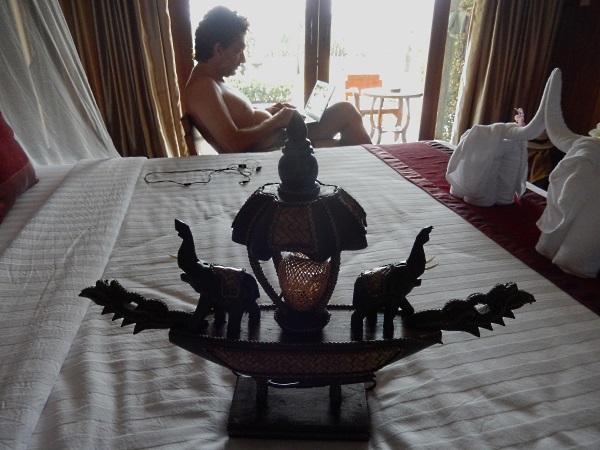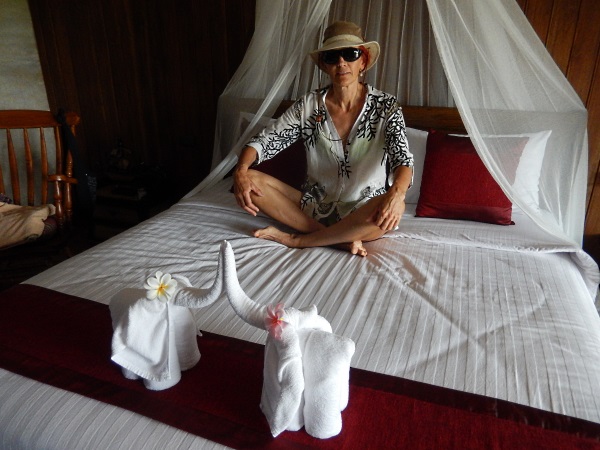 The poolᅡᅠ – in the hot weather it was perfect to have a chance to swim: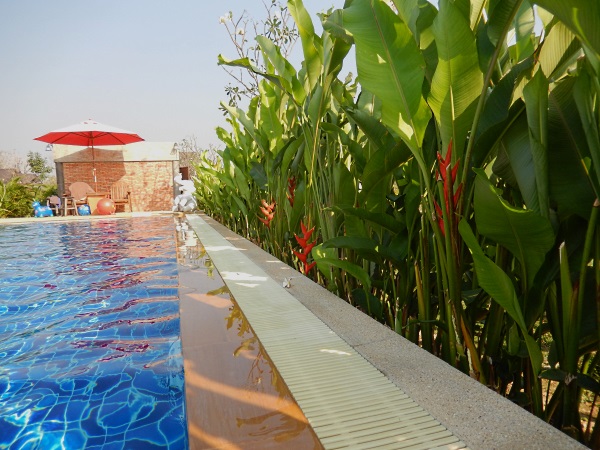 The last day we again drove bikes around the town, through farming fields, saw remnants of temples here and there – it had been a big city in a big kingdom: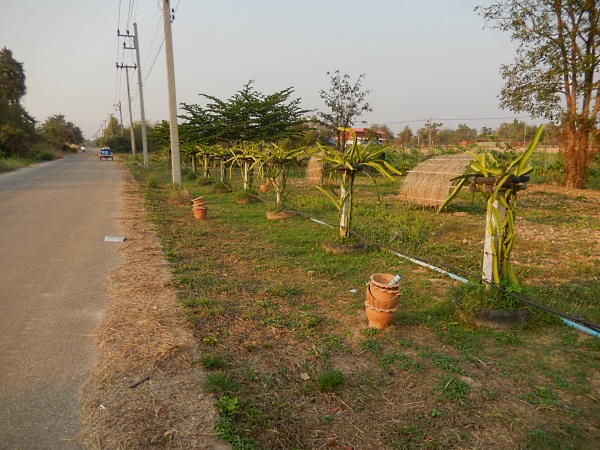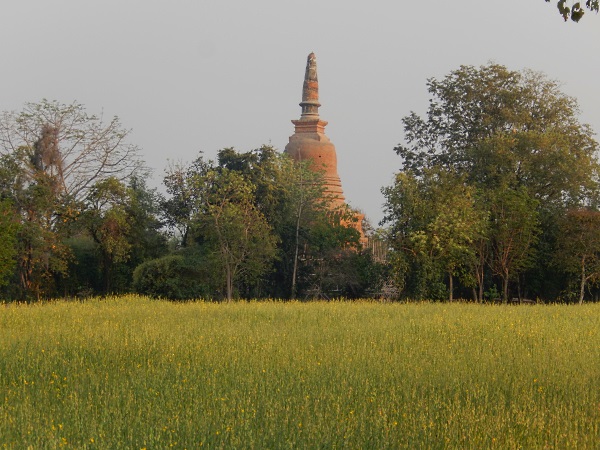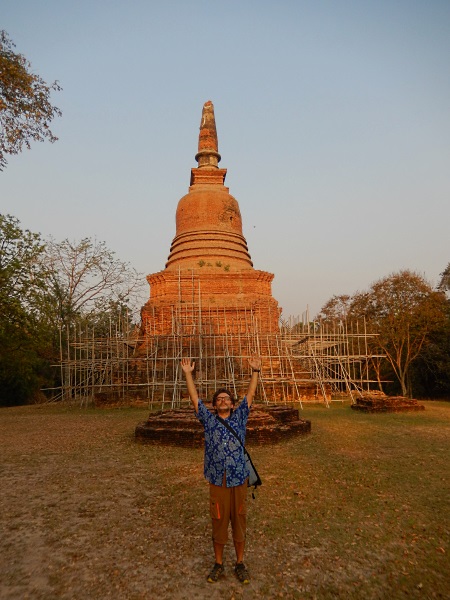 THat evening glow was so amazing all the 4 evenings we were there! It reminded me of my childhood summer eves in Lithuania, minus the ruins :-):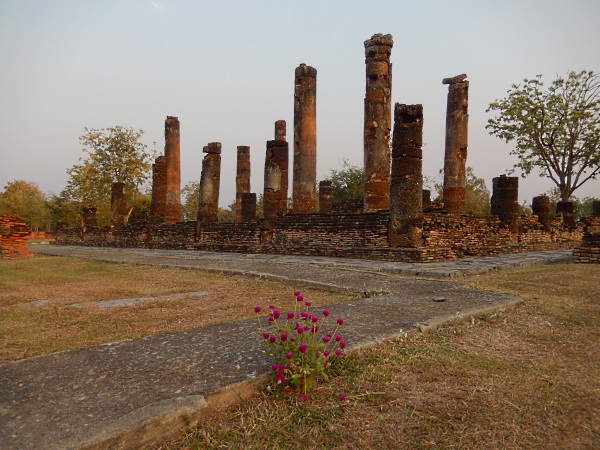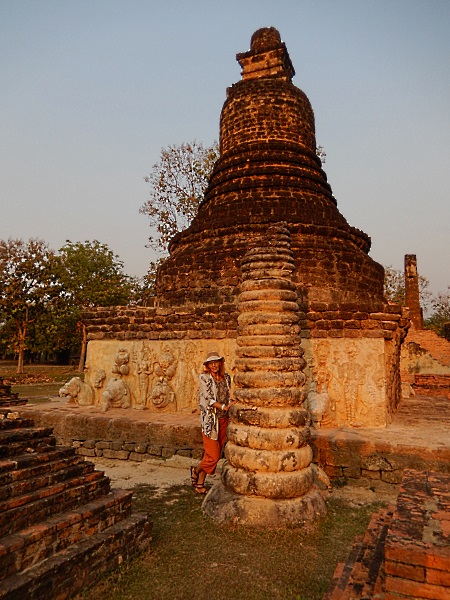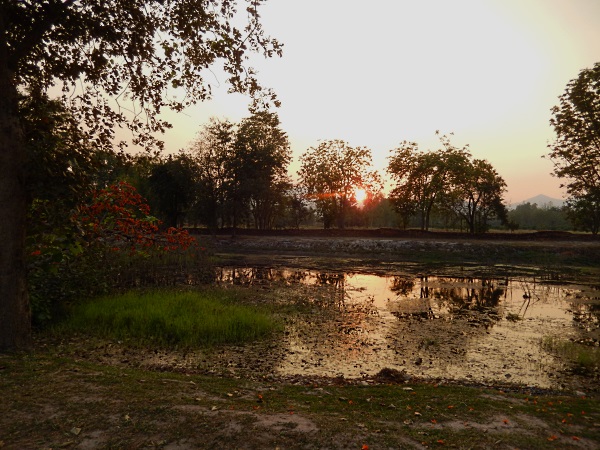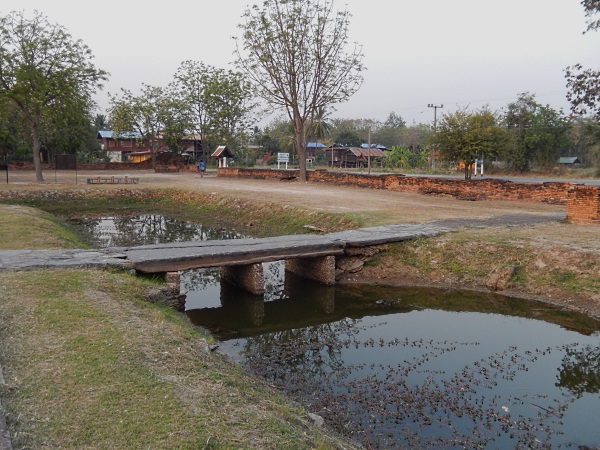 Poor cows…This bullᅡᅠ -maybe they raise it for its ears…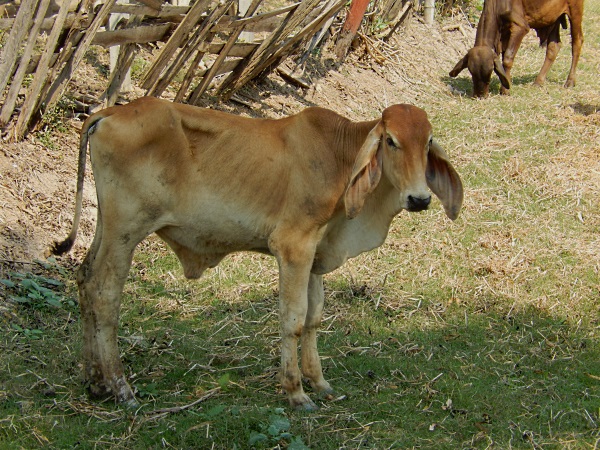 Here it was a shocking experience. There is a pond and a temple on the island in it in the very center of Old town. So we walked, looked at the Buddha foot there, then walked towards the water edgeᅡᅠ because of some noise – those catfish were eating with chop-chop sounds and so many of them, they were crawling all over – plain unbelievable! No wonder there were so many fried catfish for sale in the farmers market.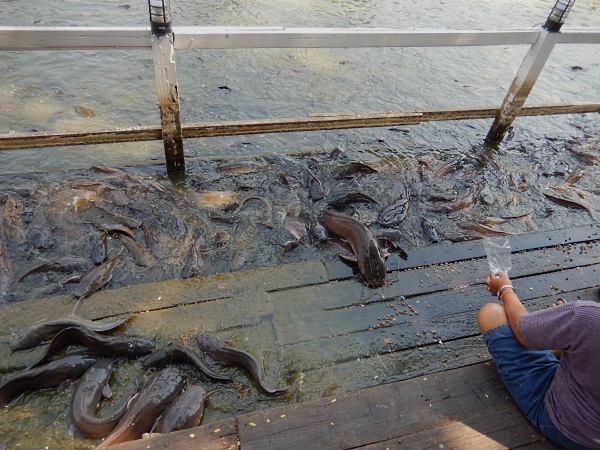 How beautifully the roots have overgrown an old structure: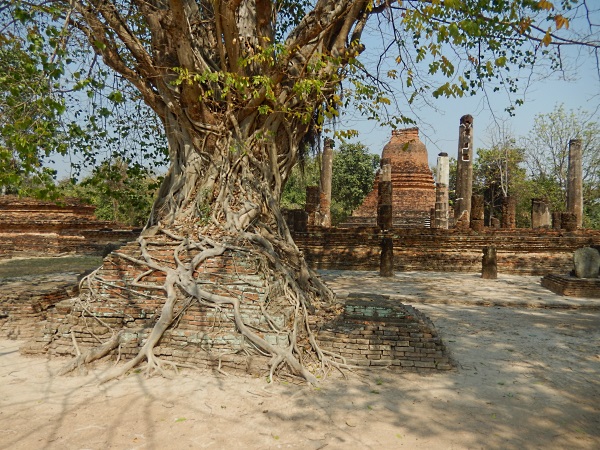 Andrei's pet: