Well well, this will be a long blog – we liked Tulum, it has a lot to offer. First of all – the road from Valladolid to Tulum ir really wide, looks like and airplane can land there. I mean – in comparison with other roads we took. On the way there are signs to different cenotes. We stopped by this one and it was not for us – it is for divers, it has a map ofᅡᅠ caves which go far away to different sides of the main hole: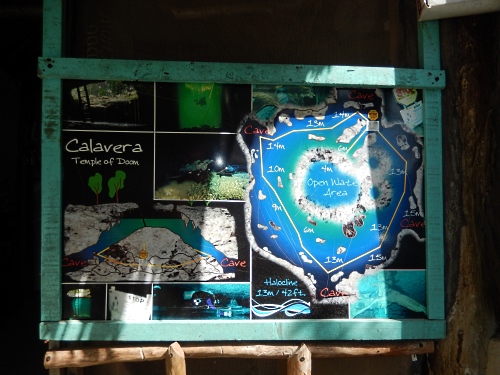 So we found our hotel Mango – it was not easy to find, only with the help of GPS-ᅡᅠ not that it is iin a complicated area – but because Tulum has only the main roads paved. The others are dirt roads with huge potholes filled with water, big stones here and there and cars parked wherever. The GPS led us to a road. that was not a road any more – but a path through jungle with trash all along it. When we said to the manager how we came, she was shocked and scared- she said there are snakes in the jungle :-). But I don't think snakes can live in the middle of the city. But that people through trash on a lot that is not builtᅡᅠ -that is for sure. Then we found a better way to drive to the hotel. Yes, the hotel is perfect, and the view from the reception desk is like this: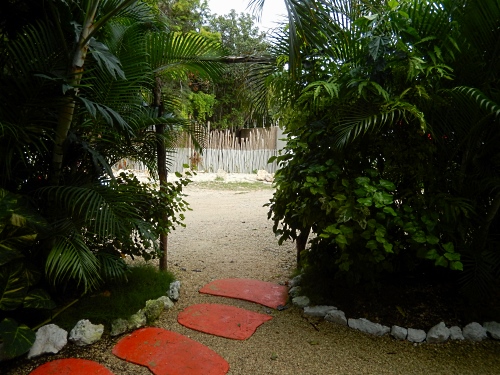 But this is a trick – on both sides of that wooden fence that you see from the path is nonsense…the whole Tulum looks like that – a nice hotel built in a neighborhood of trash – very strange! Here is the other side of Mango hotel and its cozy yard: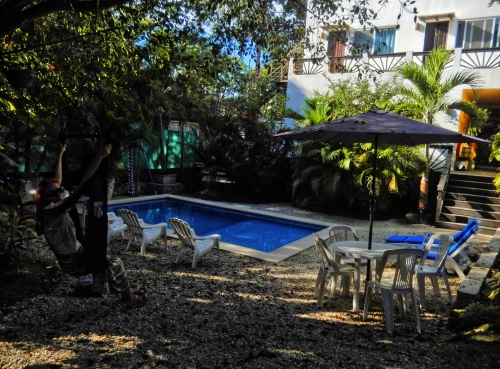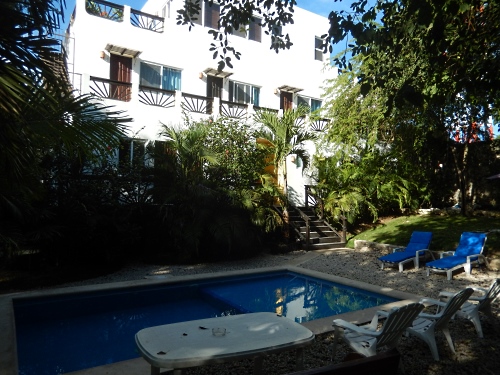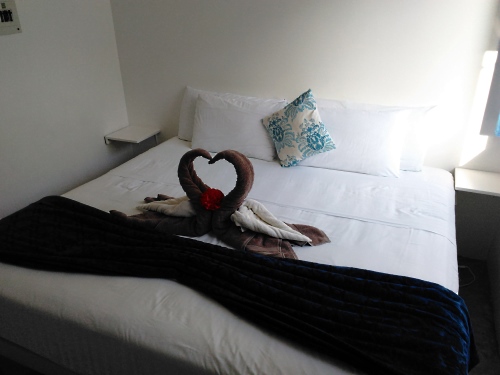 ᅡᅠᅡᅠᅡᅠ The owners of the hotel are British and the manager – Check! I found it peculiar that Mexican nation very often doesn't have their own managers…And they say there are no good jobs in Mexico…But the housemaids are local – which can be seen from those swans…it is their tradition, I guess. So we didn't waste time and drove to a cenote we knew from last time here – Crystal. It looks like a lake, but it also has caves extending far and beyond.ᅡᅠ Still – it is a pleasure to be in peace and quiet and swim there, and I love those palm trees that have leaves like palms 🙂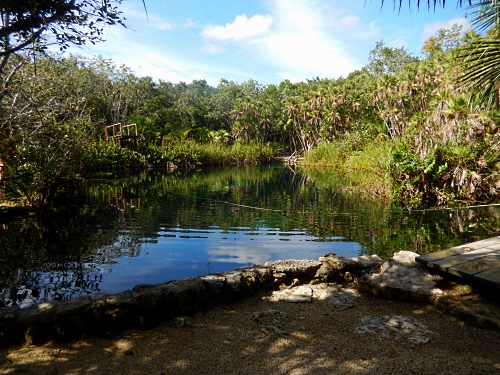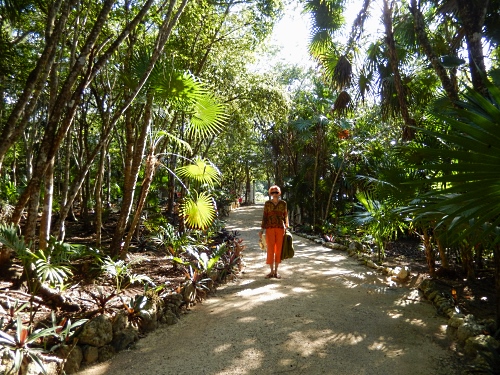 Then we ate in a very popular – very full restaurant of Mexican food and were not impressed…No taste, except for one – Habanero peppers, but who has tried them – knows what I mean: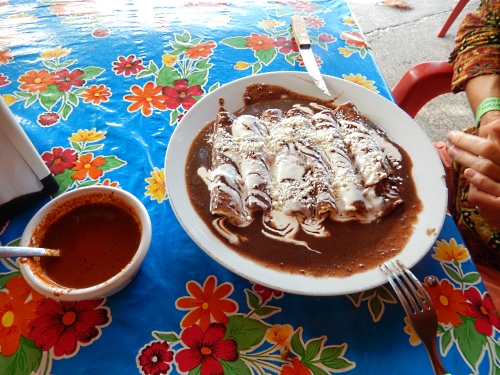 And we even managed to drive (the drive is around 3-3.5 km) and stay by the sea and see the moon rising from the clouds: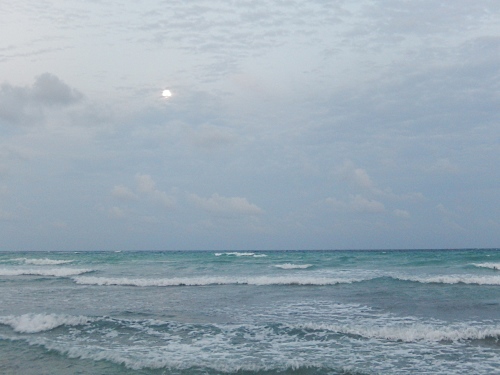 So the next day we drove the the best beach by far in that area – Playa el Paradiso – and it really is a Paradise, you can't wish for more: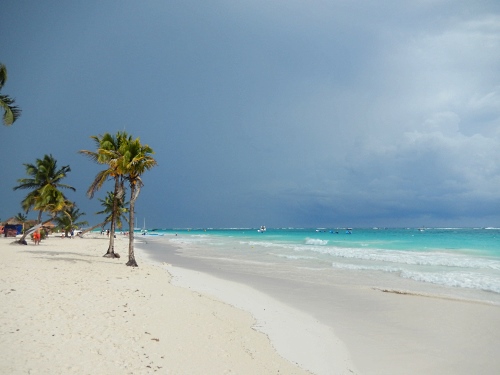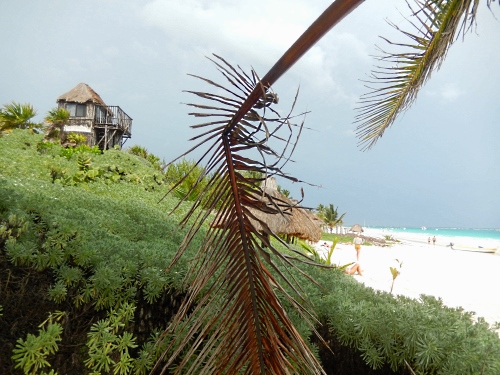 There are plenty of hotels on that stretch of land by the sea, mostly for those who just like to be by the sea all days long and not do traveling like us. But when you think – you will always be sandy, it is glued to your legs at all times except if you into an AC-ed room and your legs dry up. Remember – in this humid air you are always wet…There are also beds of different kinds on the beach for rentᅡᅠ -very strange and unusual to my eyes. I guess the owners are creative!: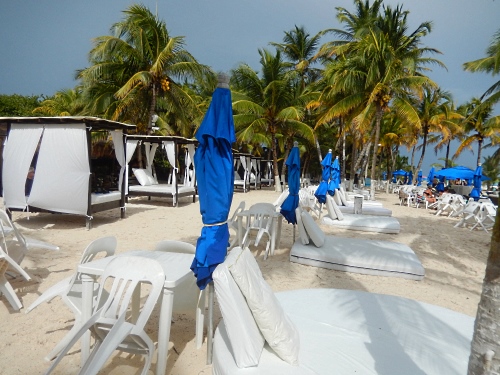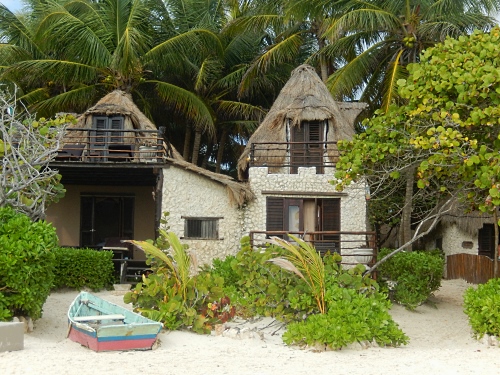 That day the waves were just right. They did a good massage. And so warm: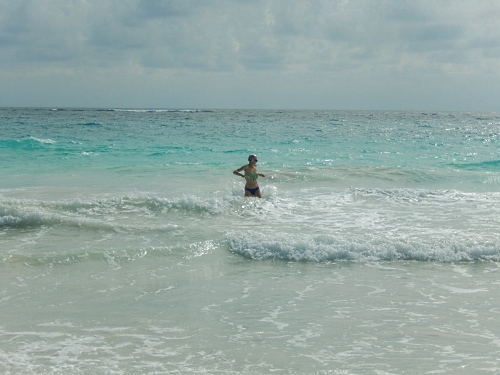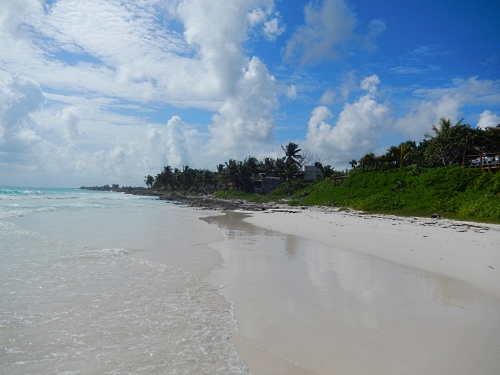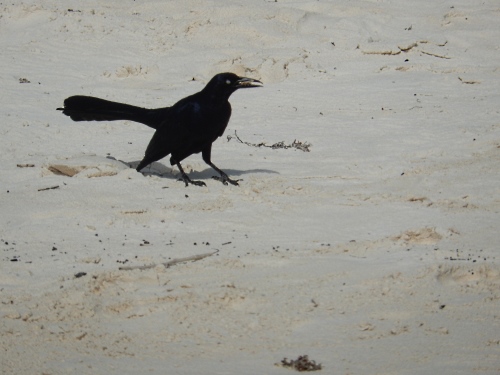 And here is one of the fancy beach hotels, where room prices start from $400, they don't even speak "pesos". I liked the design, so I am sharing: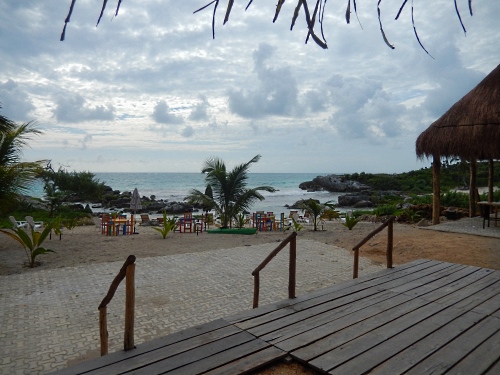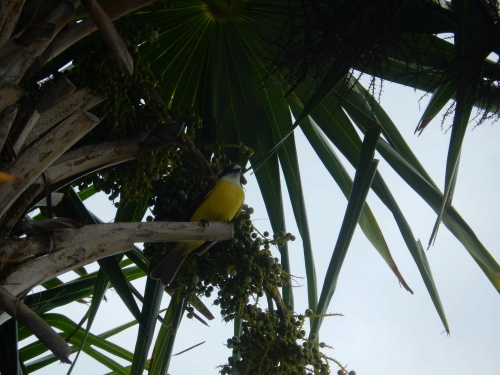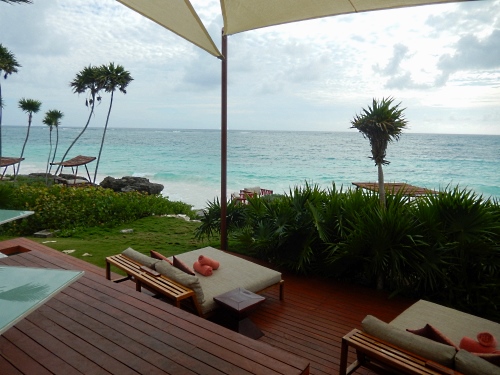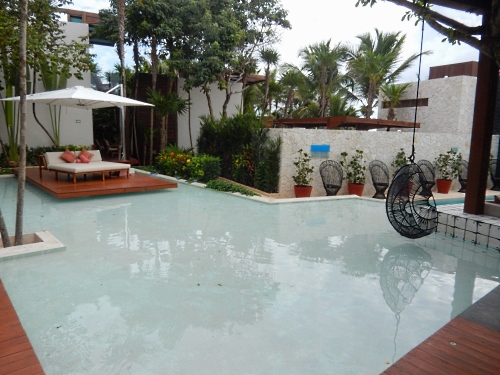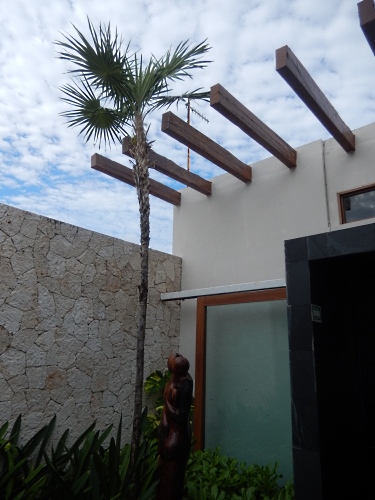 The next day it was raining , so we rested at home and went for a swim, snorkelᅡᅠ and a walk on the beach in the evening. We didn't plan on snorkeling this time, but a very pleasant English speaking Mexican came up to me and talked us into – for God's sake, they were only charging $10, it was uncomfortable to refuse: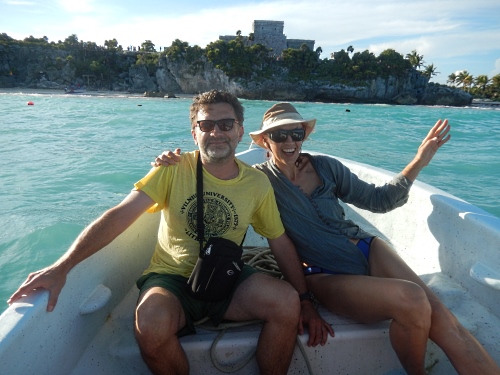 The Tulum Pyramid's ruins are behind us – they pass by the ruins and make a stop for pictures.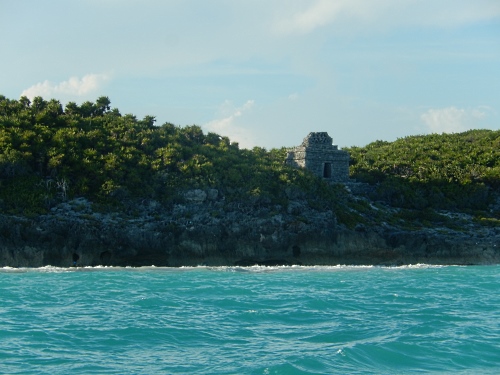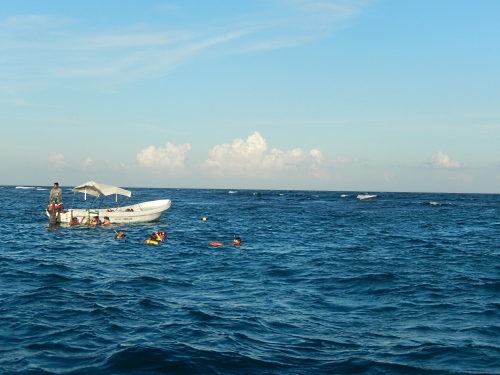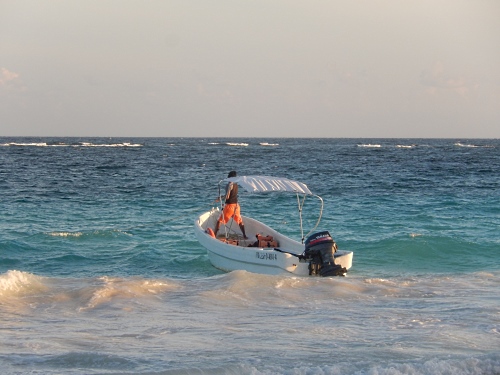 Strange as it is it was not hard for me to breathe through the tube, and I saw some bigger fish and three very big sea turtles. The second longest coral reef in the world is going parallel to this beach – where you see the waves far awayᅡᅠ -it is shallow there and therefore a good place to snorkel and see some life. The reef itself maybe it is very long, but not as impressive as the reefs in Thailand. But the trip was very pleasant. The boat guys told a lot about the reef, the sea and the ruins in English and were very helpful. They provided with the gear. Then as i mentioned-ᅡᅠ we walked the beach and waited for the big moon to rise – it never did…The horizon at this Caribbean sea is mostly cloudy…But it was a nice walk, with some picture perfect people we saw: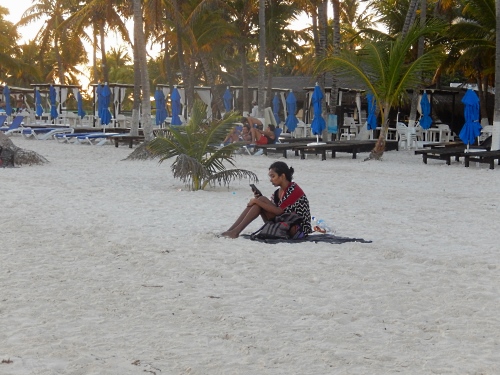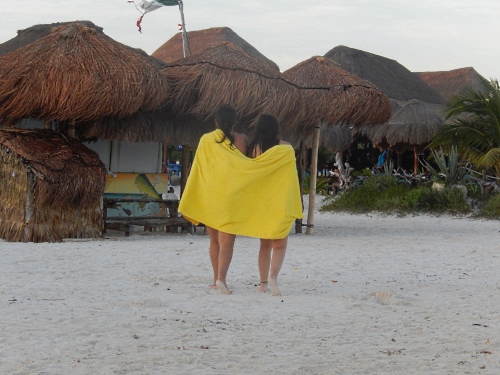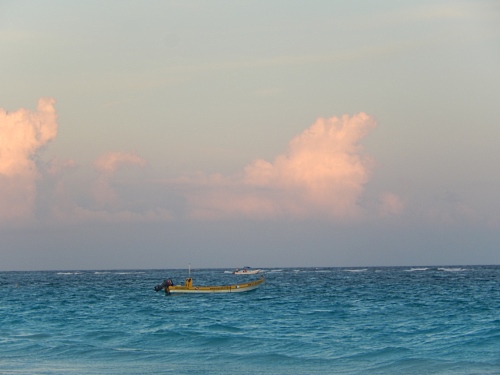 And the last day we had to get up early, because tourist books suggest to visit Tulum archeological site before excursions arrive – so we were there at 8 am. This is the extension path of the road you have to drive to the beach, a narrow one. This part is already for pedestrians only. On the sides of it – is wet jungle or mangroves, not passable at all: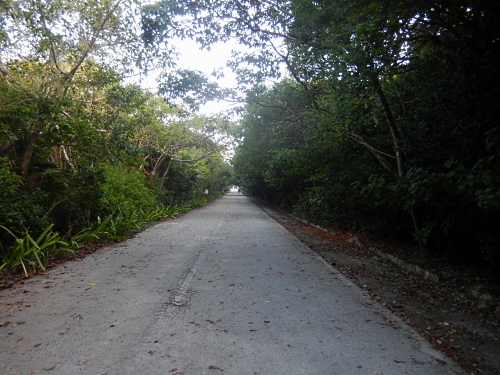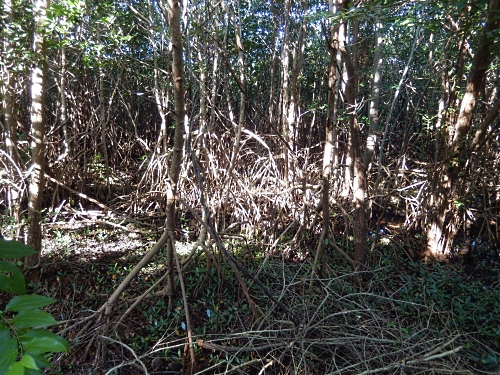 At the end of that long path there is a ticket office and a tropical racoon who was saved by one of the guides and now he has no family of his own so every morning he is meeting that guide, expressing his gratitude and then he is amusing the visitors: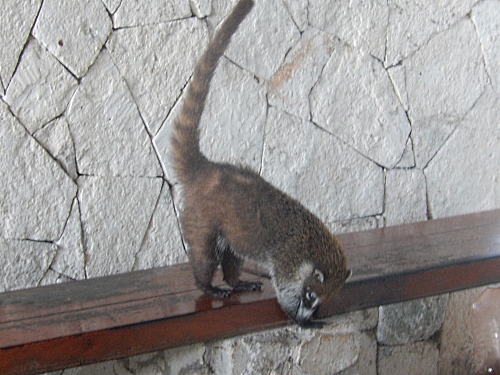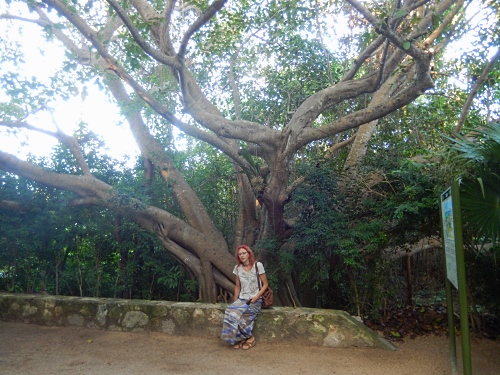 And then you walk around the wall and enter the site for the other side – the whole ancient city was enclosed in a tall stone wall. Once you enter – you just dive in to some very good energy: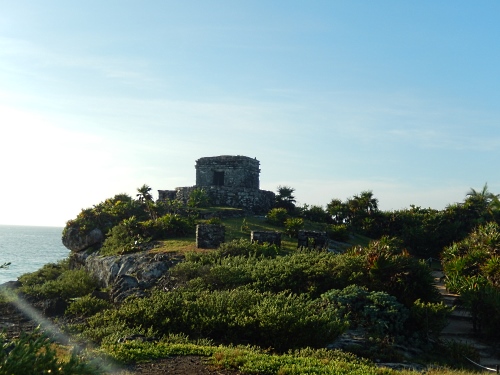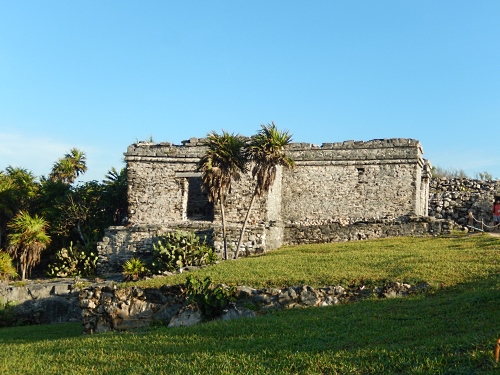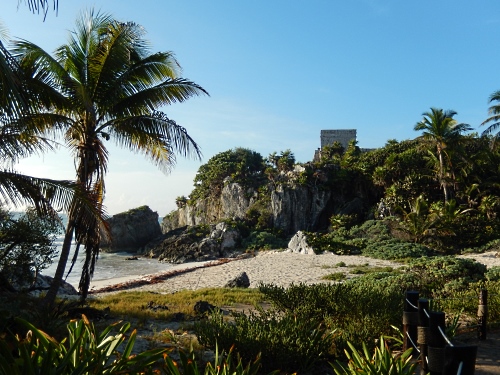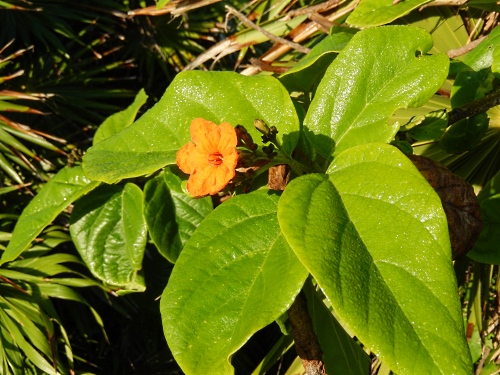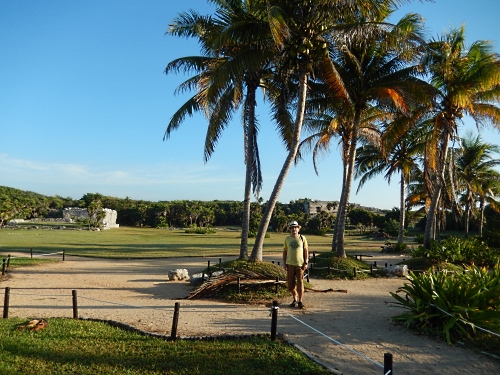 And I do not care which pyramid was for what, of course some were for religious ceremonies, some for a king to live at, some for arts and events. Nobody really knows what those rituals were or what kind of religion could gather people together and inspire them to such an extent that those impressive and huge pyramids were built! I heard the guides saying- everything is just a guess…But who cares – as if somebody in 1.5 thousand years will be interested how we prayed and what we believed in… If not for the bus excursions which increased the crowds after 9 am at once – I could stay there and walk and walk around. The pyramids were colorful, not as grey as they are now. But the paint was natural, so it didn't hold for several hundreds of years: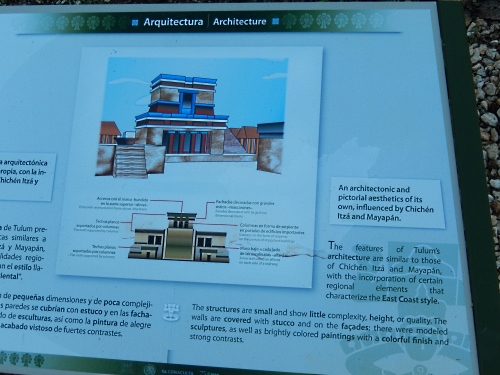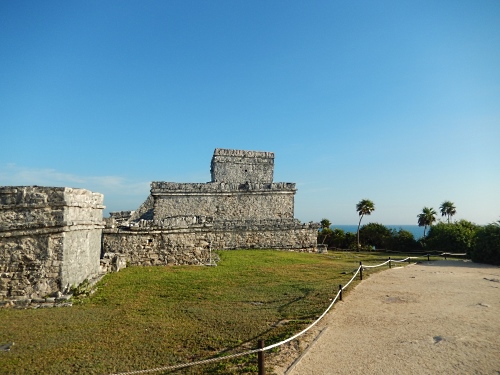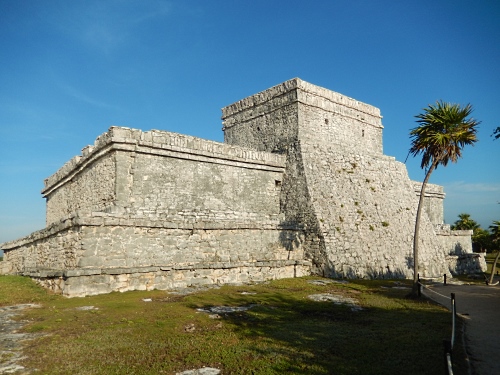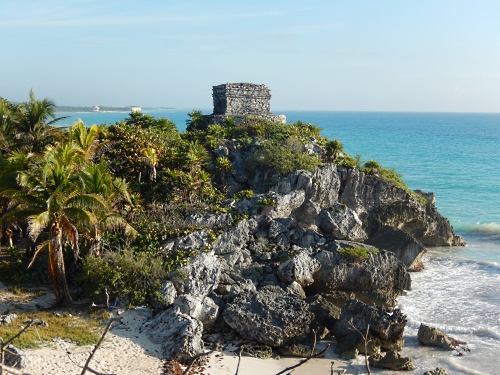 Here this beach underneath is protected from visitors – sea turtles come to lay their eggs in holes they make in sand and then little hatch-lings make their first trip to the sea:ᅡᅠ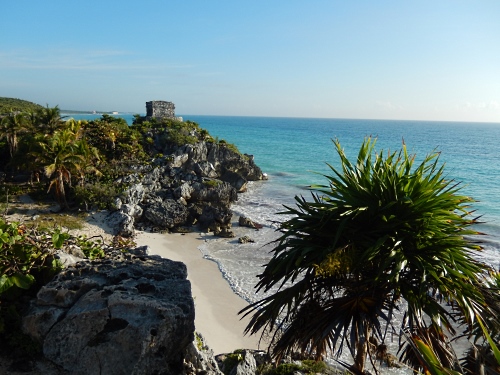 But there are stairs to the next beach where people can swim if they want or just walk and enjoy: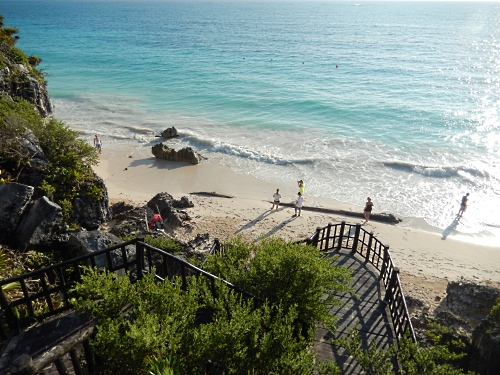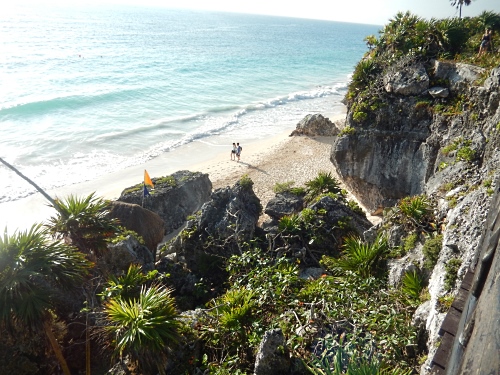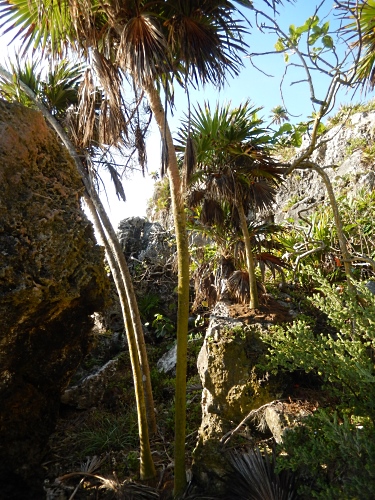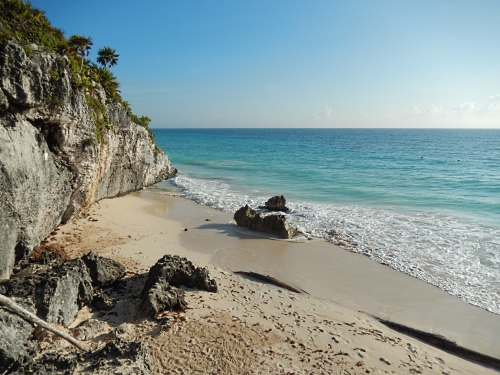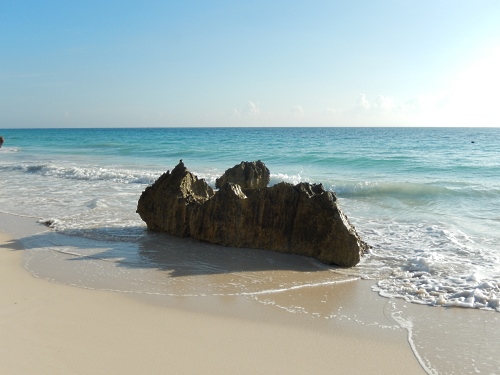 I think this is our best picture of this trip! 🙂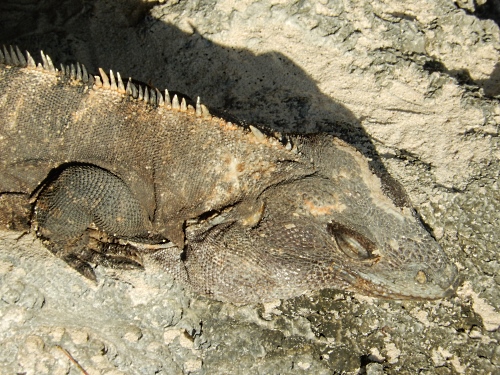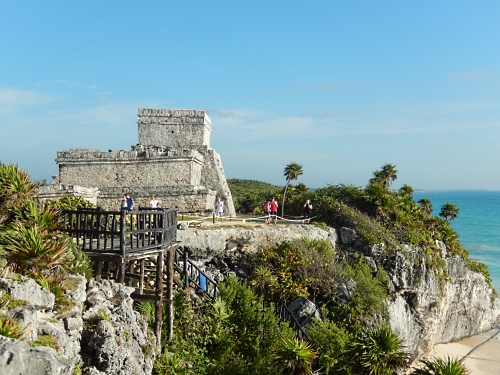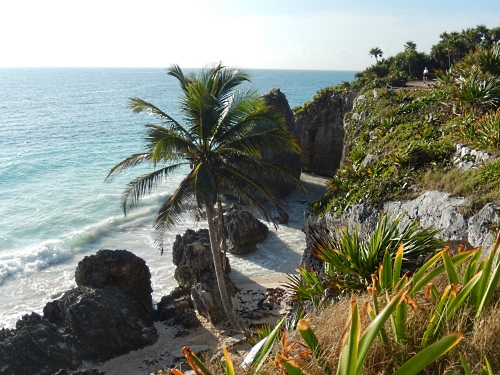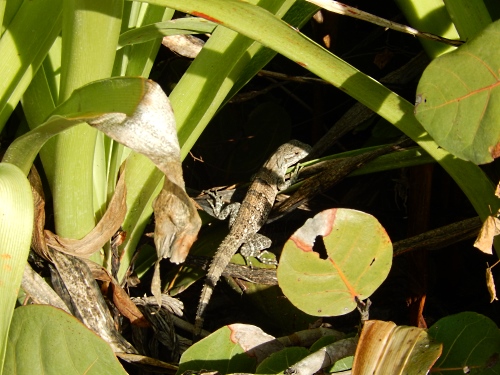 I liked those black birds in the tree behind the building: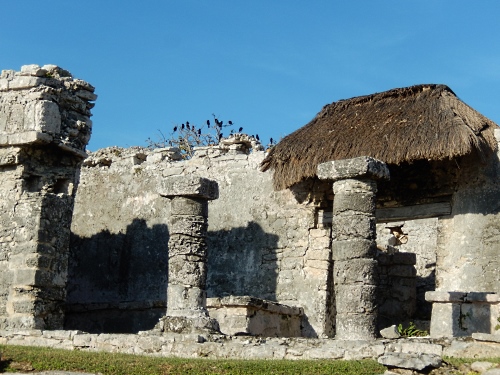 Here the simple houses where regular Mayas lived stood – but they were not as sturdy as the prominent ones: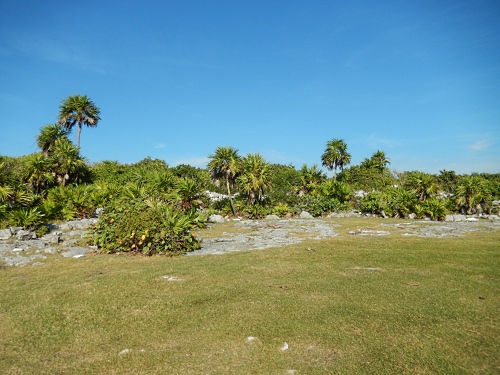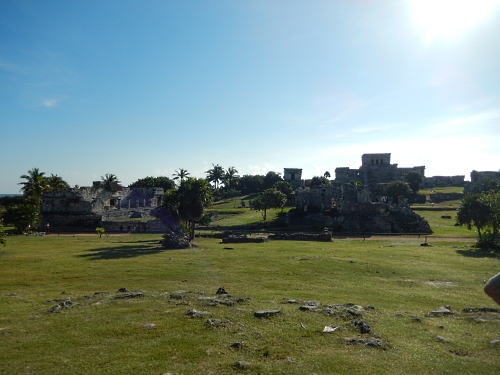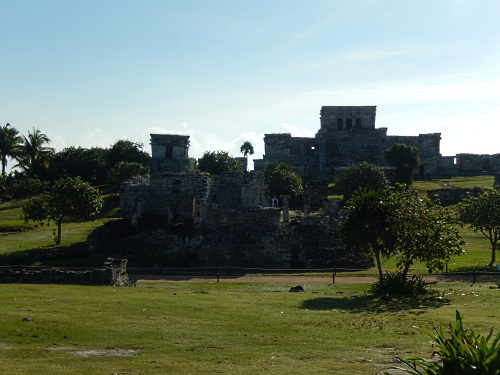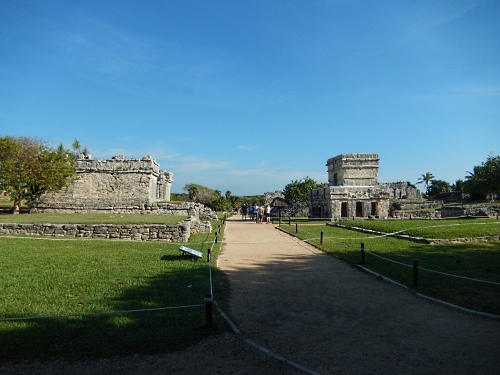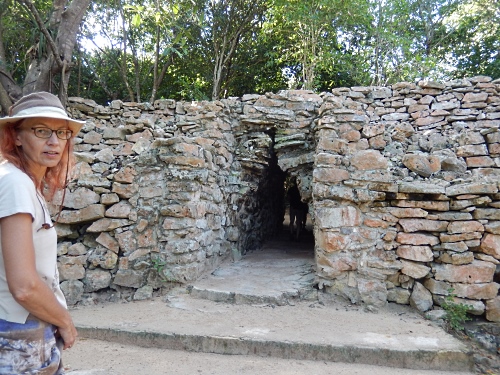 Leaving the site and going again to our Paradiso beach to swim some more! This time we noticed that those coconut palms are super prolific, they bloom (ironically ᅡᅠ -the blooms are super tiny) at the same time as ripening their big fruits, which can be a little dangerous if you look for a shade, which you do: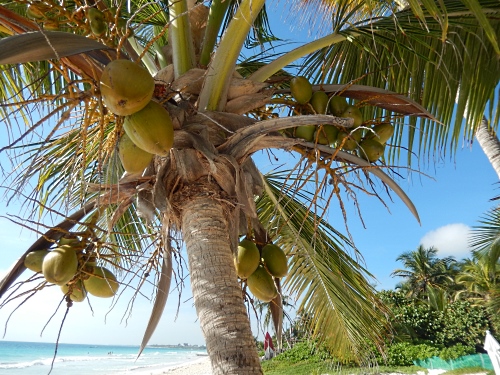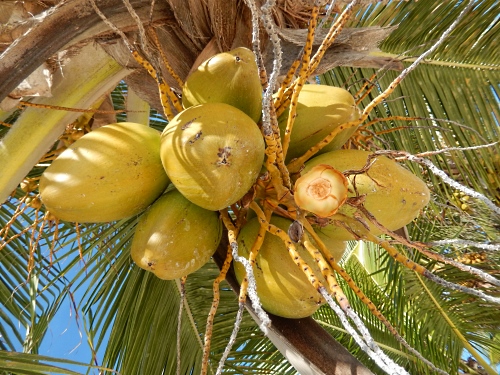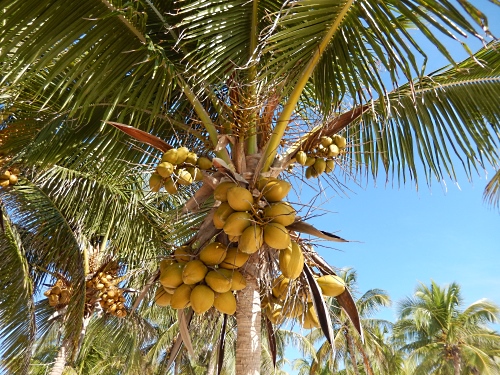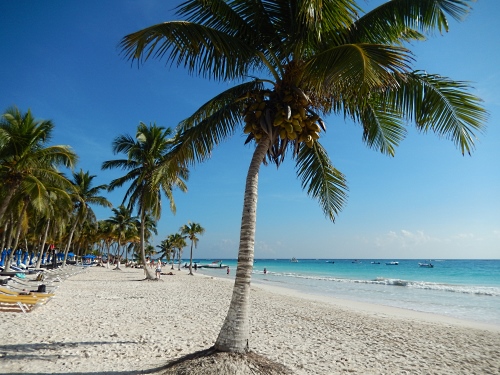 And we left Tulum for Playa Del Carmen, such was the plan…We had no clue tat Playa is not for us, at least not for Andrei. On the way there were lots of Amusement parks, so we drove to see how does Xcaret look like at least form outside. for if you go there – you have to go for the full day. The tickets to those parks are around $100 p.p. And you can snorkel there take different rides, see stalactites in the caves, etc. Some are more challenging, some less, but they are mostly for people who like to be entertained, which is good. So here is the entrance to Xcaret – when I saw it, me, the tree lover – I lost interest in adding to their pockets: