On the way form Izamal to Valladolid, on that road that passes by Chichen-Itza, there is a lot of cenotes, but not enough time to check all of them. So we picked Cenote Yodzonotᅡᅠ – and were not disappointed: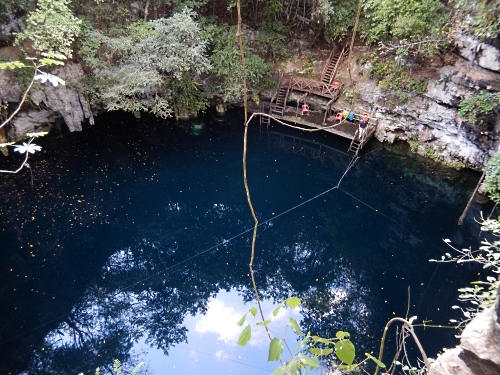 I saw cenotes from the airplane on our way backᅡᅠ -they look like a blue round eye in the jungle. I mean the ones that have an open roof like this. They are very deep and are connected by underground rivers. There are no normal rivers in Yucatan, only below the porous lime stone. Therefore all cenotes have the same pleasant temperature of 26C and very clean water, for now. They say that sadly, butᅡᅠ the pollution is getting underground, too: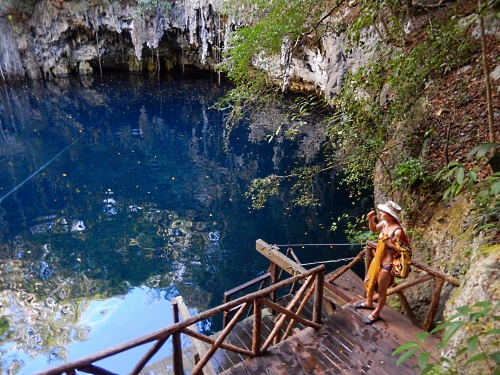 Here is the entrance and ticket office to the cenote, it is usually 60-80 pesos: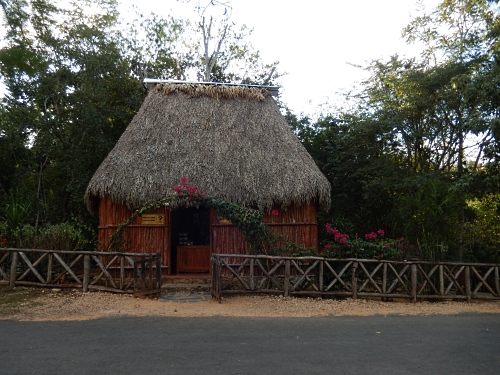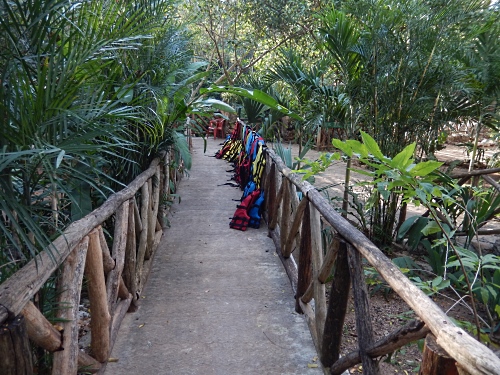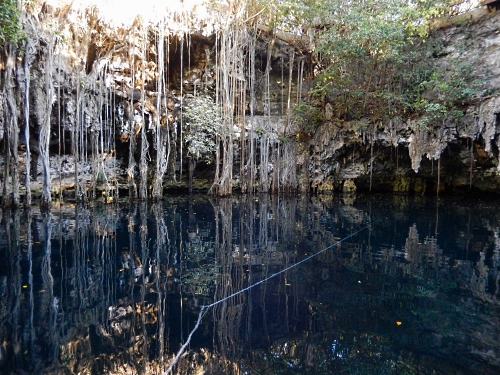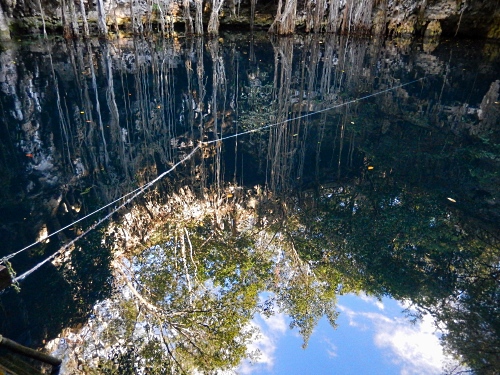 The depth: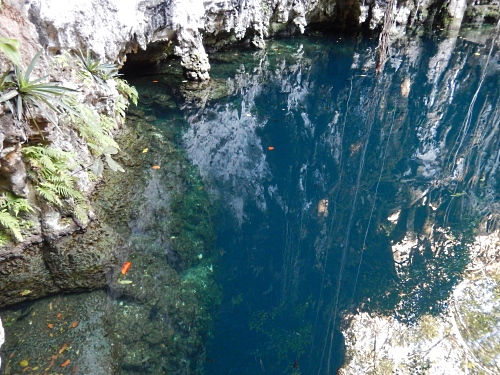 I mentioned in the beginning of the Blog about Mexico that the views and feeling in the pictures are better than being there. What concerns cenotes is vice versa- no pictures can capture the pleasure of staying there and just looking, not speaking about swimming…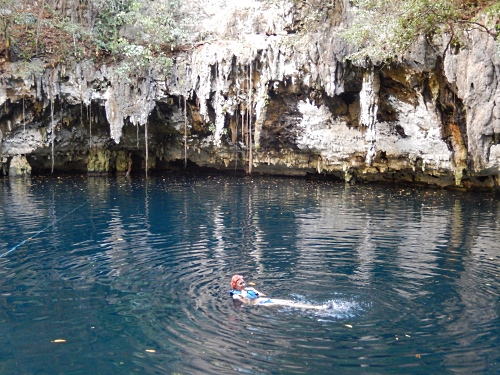 Valladolid met us with especially colorful and unusual clouds: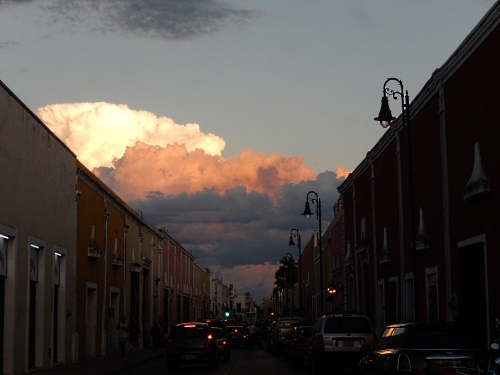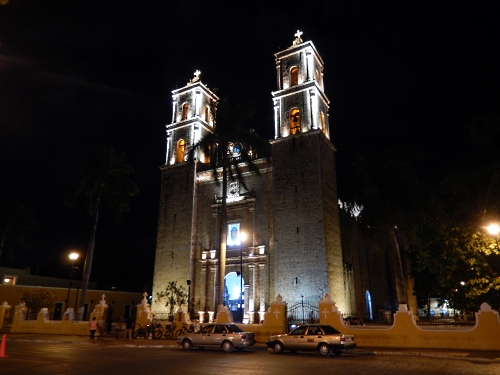 After checking in into our hotel Hipil – not bad, maybe even good had we not got a room Nr.1 in front of their reception desk and the kitchen…The hotel was an example how in a tiny itzy bitzy lot an 8 room hotel can be built and in its tiny yard a swimming pool can be included. Yes, and 8 room hotel and a person sitting non stop, even at night in the reception desk, doing nothing, but talking on the phone or with guests or friends, in front of our door (what a cheap work force)…Or the guests cooking an elaborate breakfast and jingling the dishes since 5:30 in the morning…So I didn't have a knack to take pictures of the hotel :-). But since we have been to Valladolid 5 years ago, we headed to our last time favorite restaurant and were not disappointed: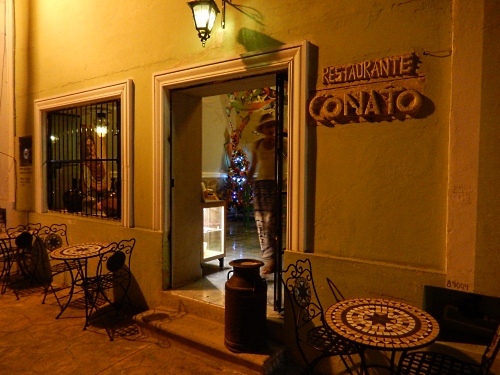 Here is how they serve burrito, with "a touch" 🙂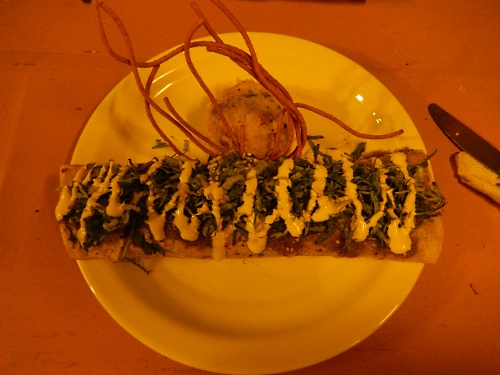 And here is what they have on their wallsᅡᅠ -the first room is devoted to Frida Kahlo and Diego Riviera, the other rooms do not lack in pictures also: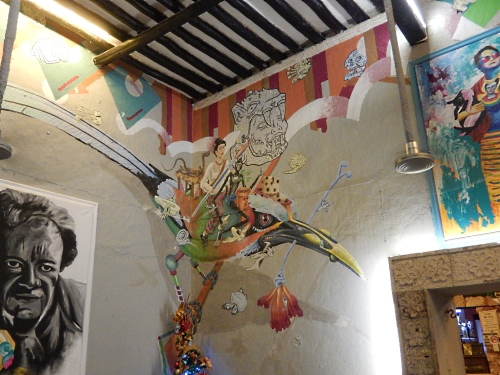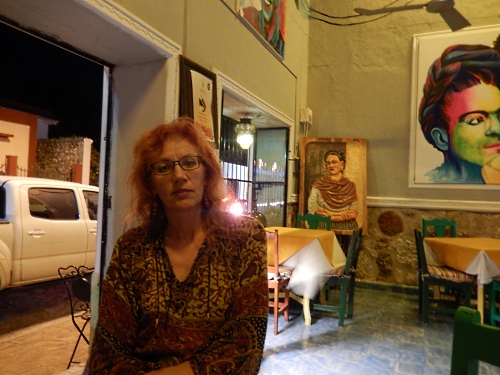 So we continued having our dinners at Conato. Three nights, three dinners total. Those almost 3 days in Valladolid were just enough. Ther eis anough where to go and what to do for even longer stays. The main attraction is The Convento of San Bernardinos of Siena, and here is the long street that leads to it: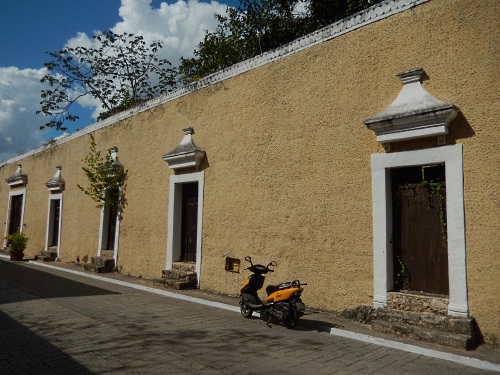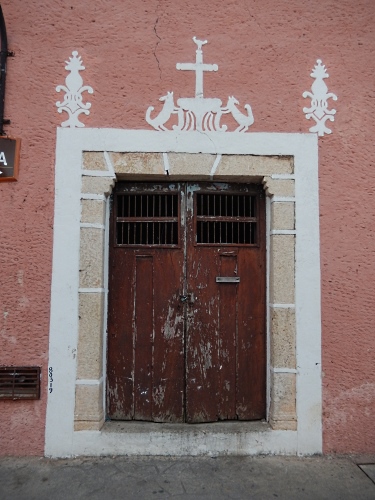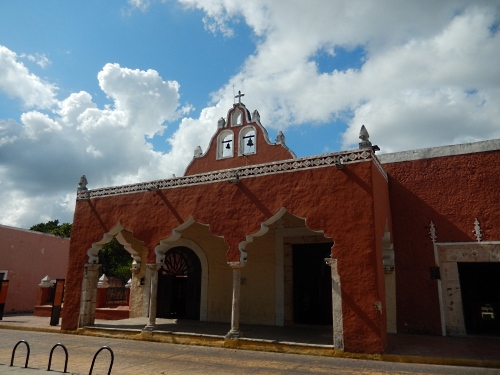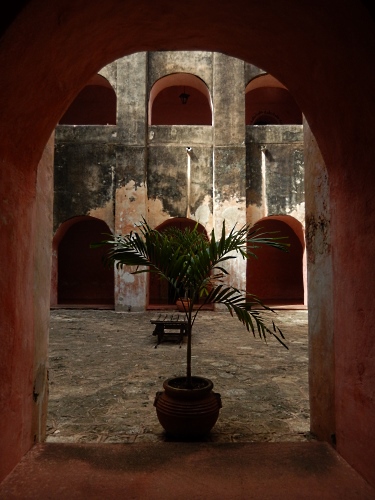 Last time we only visited the church and one yard, this time we went to their museum and the gardens, here is their water supply – a cenote with a pump: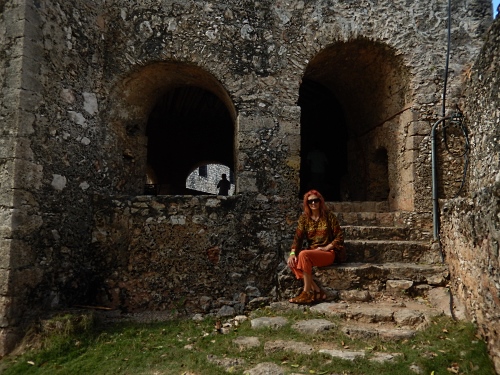 Here are the geese who attacked us bravely: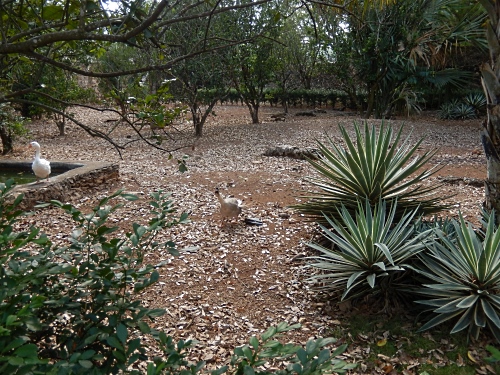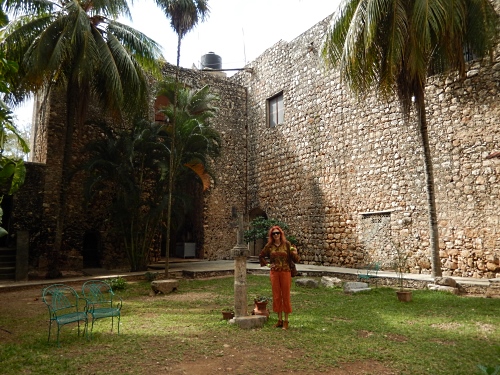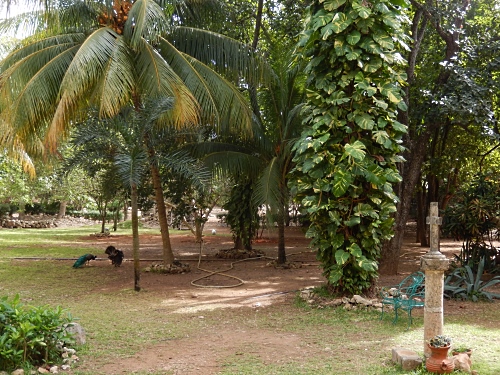 The altar of the church, there was a wedding and people were moving by the altar to pose for the pictures – for it is the main part of the ceremony, isn't it?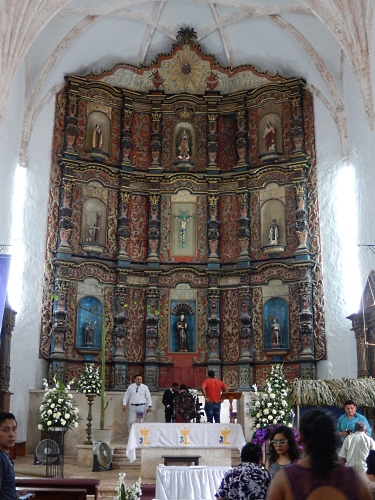 The other attractions are two cenotes down the road some 7 km from the center. We swam only in one – X'Keken. Last time it was marvelous-ᅡᅠ it has stalactites and stalagmites which were lit with colorful lights that were changing colors. Not this time…The lights were just white and even not directed to the biggest stalactite, quite a disappointment, but still, it was a pleasure to swim there: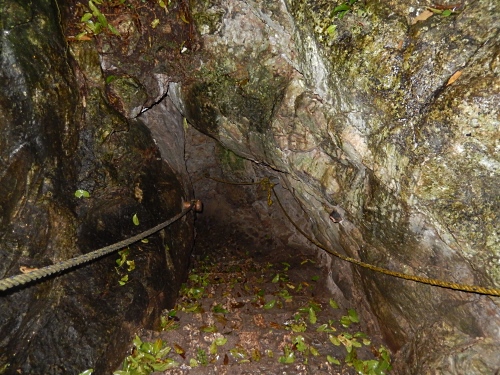 THis cenote has a closed roof, only a tiny hole in it. You go down the stairs and start seeing this: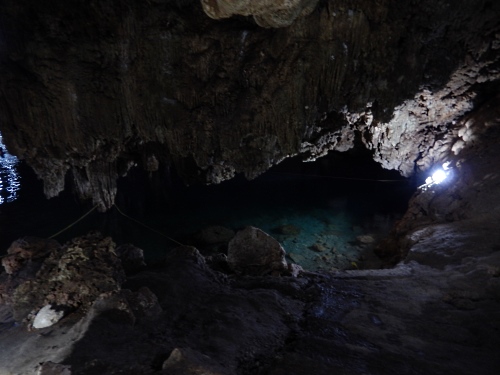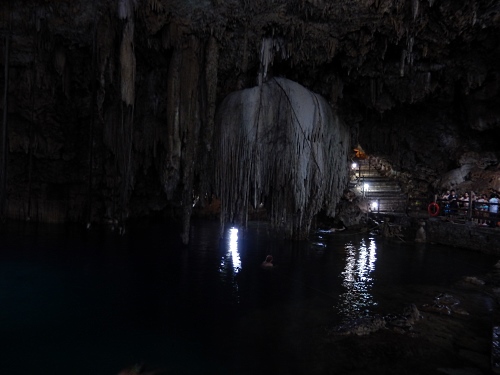 This time we didn't feel very safe – what if a stalactite dis-attaches while we are swimming underneath? :-). Here I am standing on top of the cenote – by its single small open window to the sky: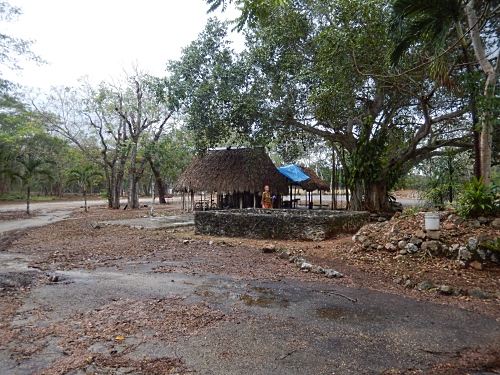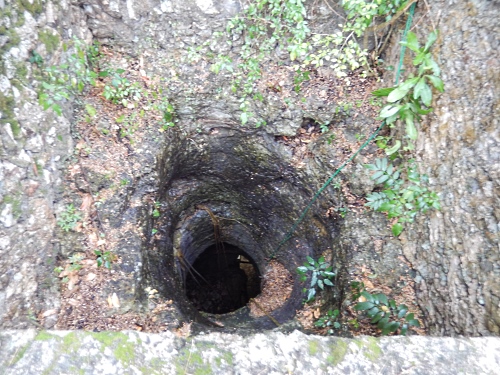 But the biggest fun to us was Cenote Zaci – it is in the center of the city and you can go there several times a day if you want. They also charge a little for the swimᅡᅠ -like 40 pesos, but if you eat in the restaurant on top with this view – you can swim for free: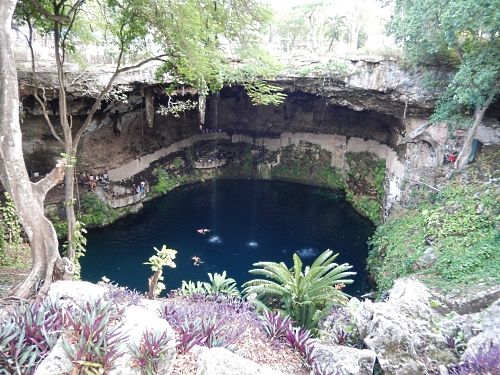 See a little figure swimming by the waterfall: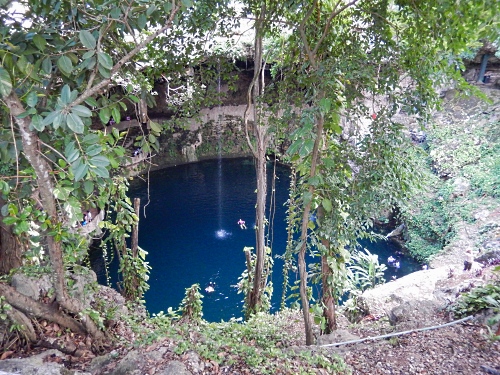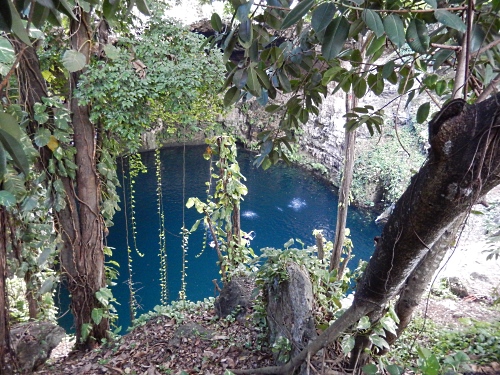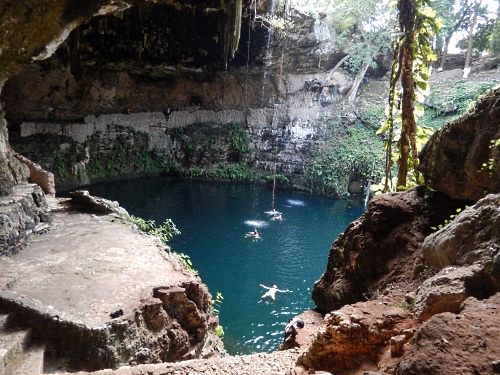 In addition I have to mention again – the air was very very hot and humid. So to jump into the water was like a very welcome and refreshing activity.