Dzibilchaltun is an archeological site half an hour north of Merida. We wanted to see it because it was on our way and because it has a cenote on its site. Those archeological sights are ancient Maya cities of different periods. They are spacious and I look at visiting those sights as a chance to hike with a goal to see all remaining or restored structures. So here are the first views we saw once we entered: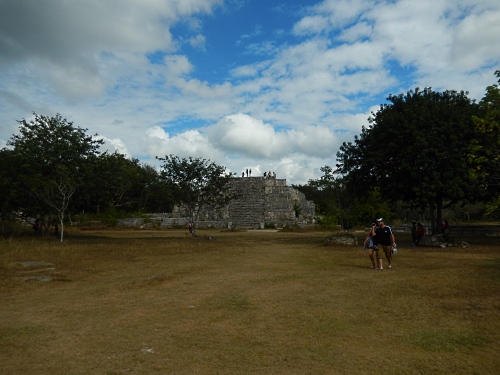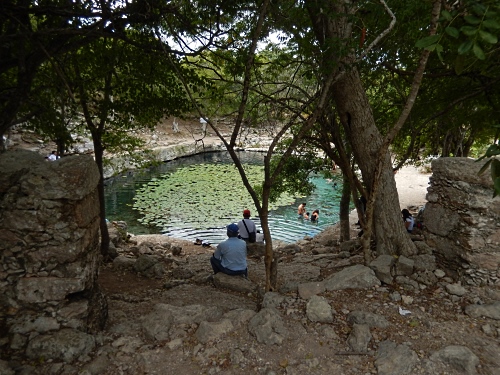 And once we saw the cenote- we just changed to swim suites and went swimming. forgetting the pyramids around – cenotes were the main goal of this trip. There is nothing better than immersing in cenote waterᅡᅠ -it is everywhere the same 26C, everywhere hey are very clean and blue. And they are sacred to Mayas, to us – too.ᅡᅠ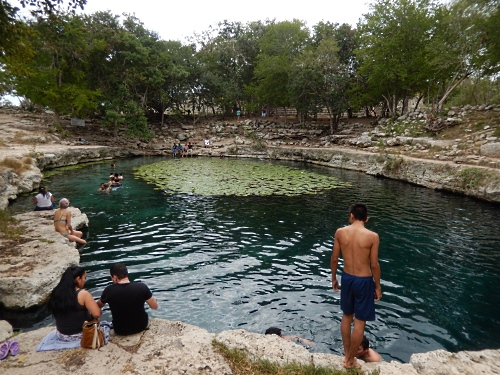 The Xlacah cenote (meaning Old Town) goes very deep under the rock where the couple is sitting, but cenotes are for swimming, not standing in them – so the deeper – the better. While I was sitting on the edge and enjoying the Spa -ᅡᅠ fish nibbling on my legs, mosquitoes were doing their own job…That made me a little nervousᅡᅠ -what if I got Zika…or Dengue Fever…But it seems-ᅡᅠ I didn't.ᅡᅠ And from then on mosquitoes were biting me wherever I went. Maybe not so much right by the sea. But Andrei got only 2 bites. Not everyone is tasty enough.ᅡᅠ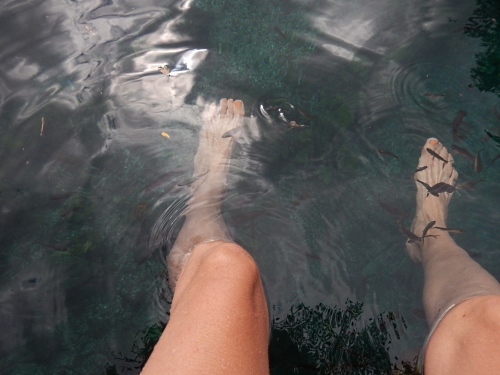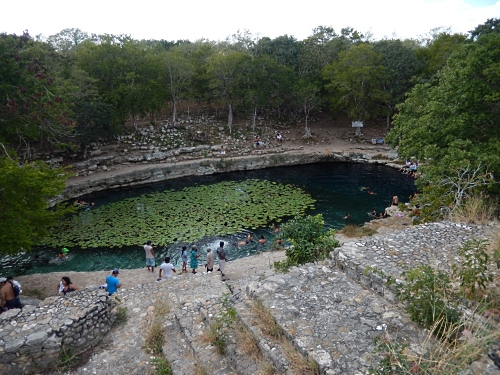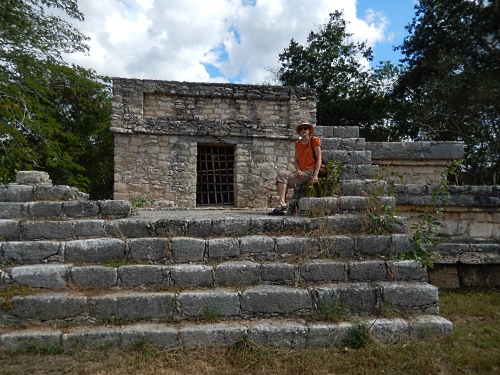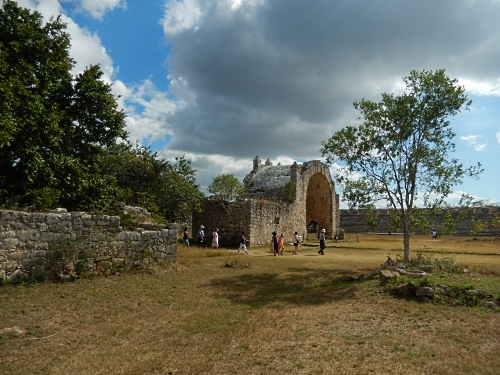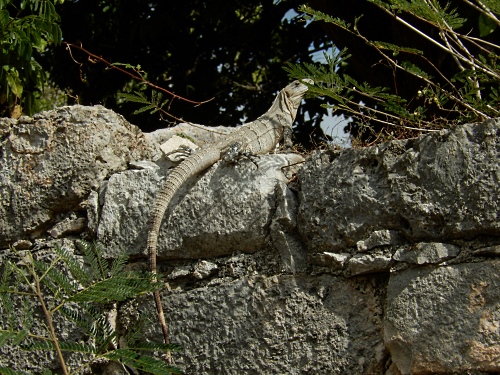 After getting refreshed we walked and walked and investigated. This cenral structure in a square is built later, it was a Catholic church, built by Franciscans: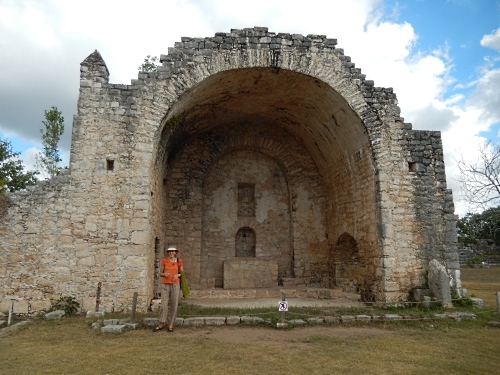 Here I climbed a pyramid and the view from above: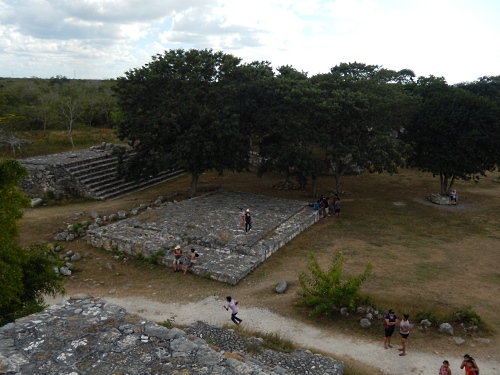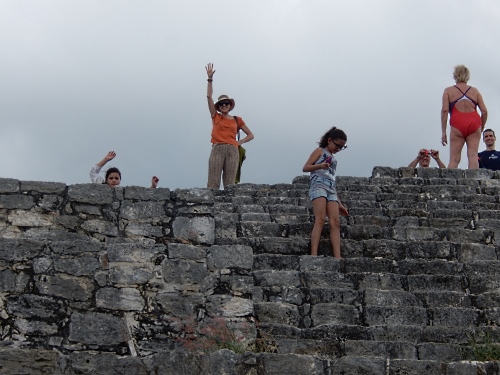 The birds that we saw while walking the the most interesting structure – were the most beautiful birds tat we encountered during the whole trip: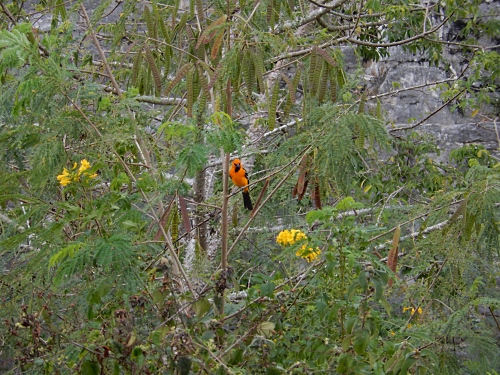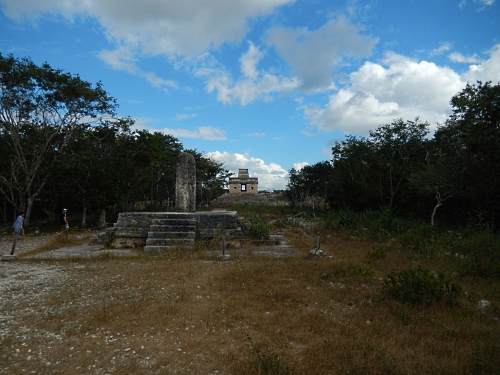 This pyramid at the end of a very wide and long Ancient Maya road is considered the most important in this site and is called Dzibilchantun – the House of Seven Dolls – the research team found those dolls in the depths of the pyramid and therefore the name. Nobody knows for sure what do those dolls mean, only speculations float around. And they are not very elaborate figures, too: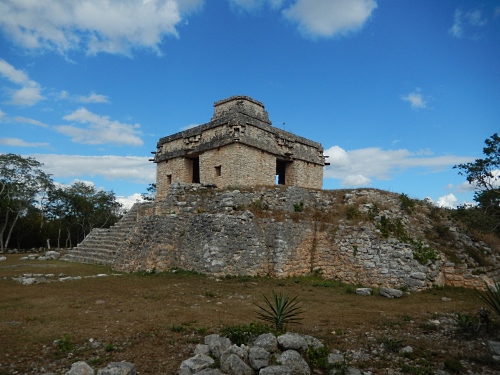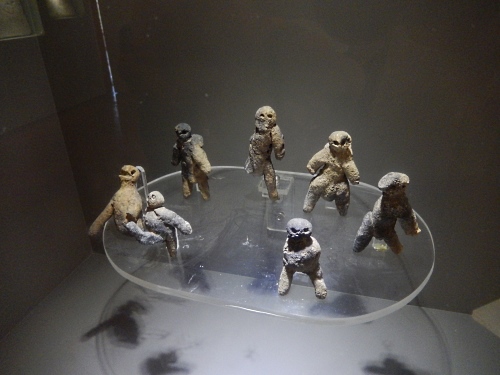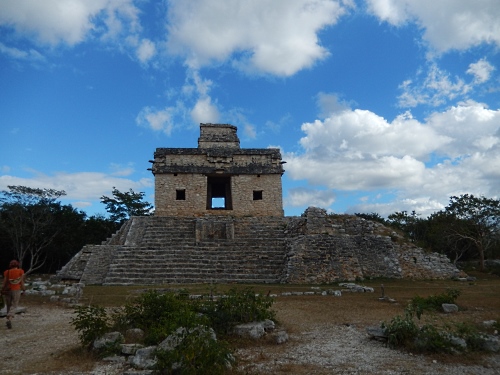 Then again we drove for half hour or so North, to Progreso, a small resort townᅡᅠ on the Caribbean sea, with the longest Pier for the ships and cruise shipsᅡᅠ to land, called Malecone.ᅡᅠ There we were lucky to see a really impressive sunset :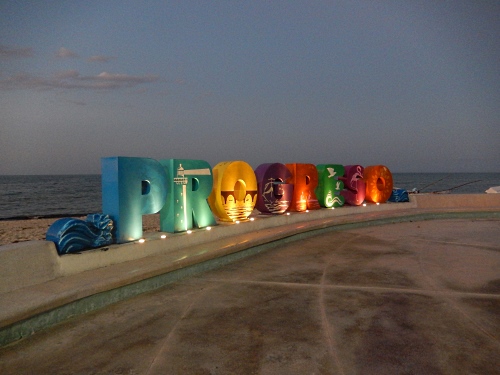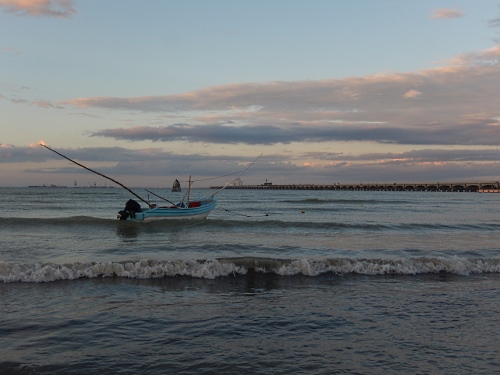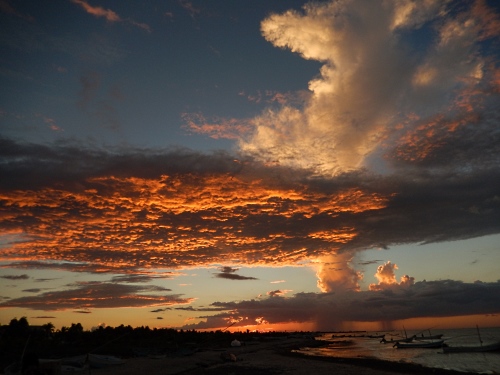 There are beaches right in the town, but being it a port, the water was not s enticing for us, so we drove a little to the left and found endless stretches of empty beaches with white sand and greenish clear warm waters, peace and quiet: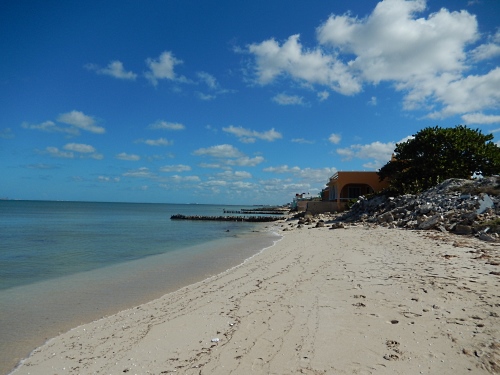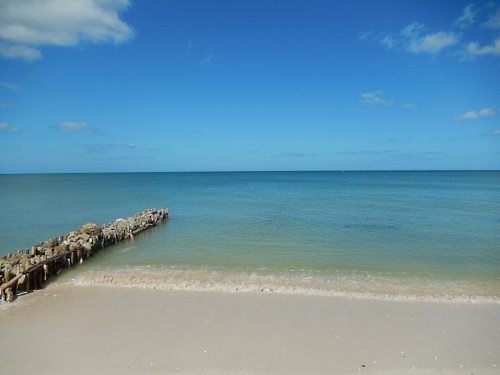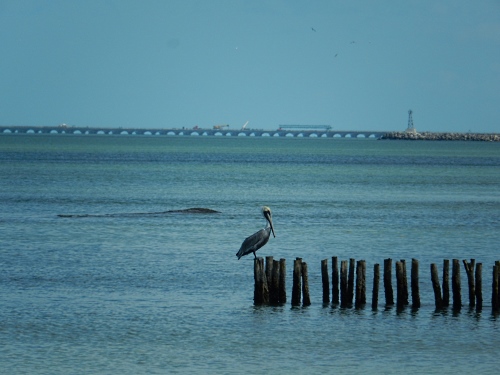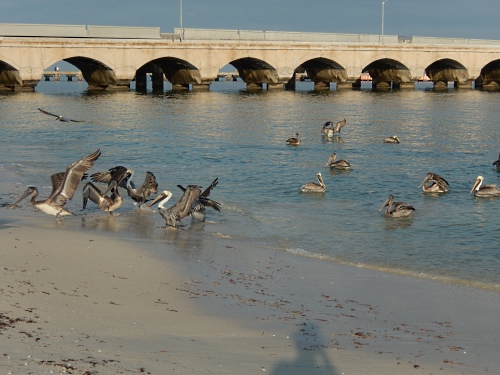 Fishermen are cleaning their catch and here is who enjoys i! The town itself was nothing special, typical provincial Mexican town, so I didn't even bother to take a picture of it :-). What we noticed was that mostly Mexicans were vacationing there, with the exception of some Canadians who have their Bridge club. It is hard to tell why some areas on this warm sea coasts get built with fancy resorts, like in Quintana Roo, and why some-ᅡᅠ not, like here. But that was the charm of this town. In two days when we left – we drove to the right of it parallel to the sea and saw a lot of individual fancy villas, lots of them for rent-ᅡᅠ all of them just on the shore!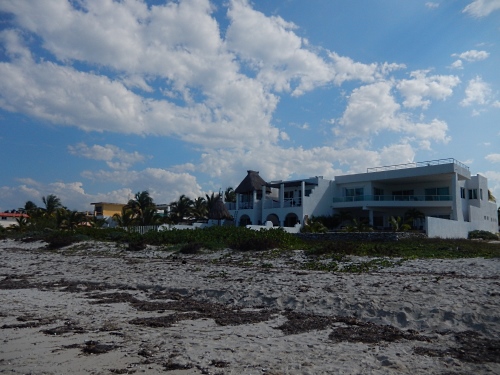 In Progreso we stayed in this hotel – Maria's Nicte-Ha – which means Water Lilly in Maya. It was very good, with a kitchen and a little sitting room, with a pool inside the yard: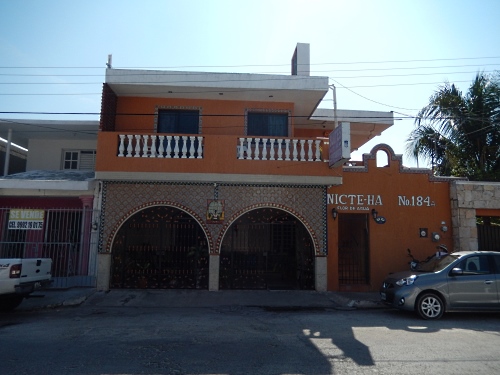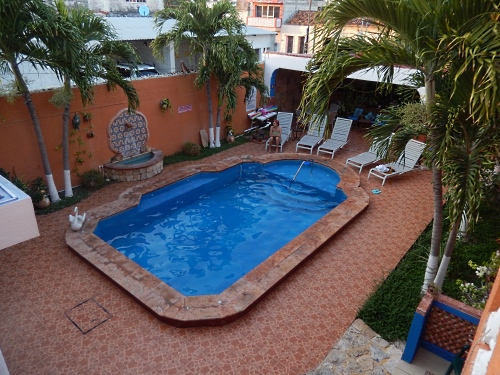 All in allᅡᅠ – it wasᅡᅠ a very good stay in Progreso. But nothing can be perfect – there is a lot of mosquitoes there and the heat…There are a lot of swamps around where flamingos live and hatch, but we were not lucky to see them, or maybe we didn't put extra effort to that reason. What I would suggest – go in larger groups to there, and rent one of those fancy villas on the endless white seashores! Though for shorter stays or for those who want to be in town and not to rent a car -ᅡᅠ our hotel was really really good!