I found out that most of Mexicans do not know Baca. They would ask me – Baha? No, it is Baca, just 16 km East of Merida, a small town with a church and a square, like the other small towns: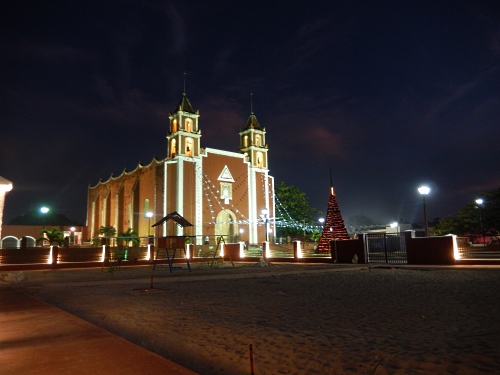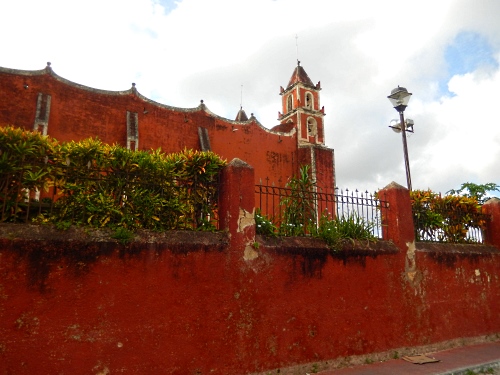 And here by this side of the church two smart American women boughtᅡᅠ a casa, which I'd rather call Fazienda. They bought it in a depressed condition and did such a fantastic job that all three days we were there-ᅡᅠ I couldn't stop admiring! The feeling once we found from where to enter it was that I entered Bramasole From the book "Under the Tuscan Sun"ᅡᅠ -it was like living in a movie, only better! Here is Casa Lunita from outside and inside: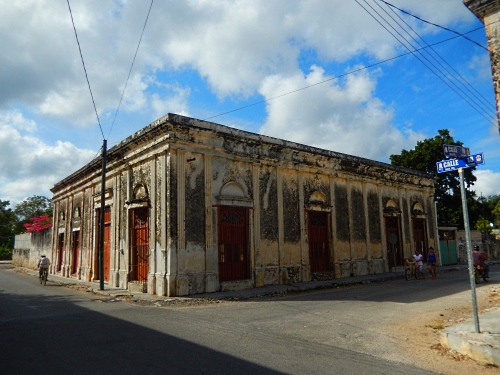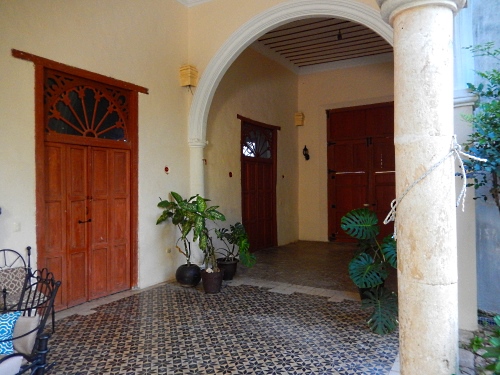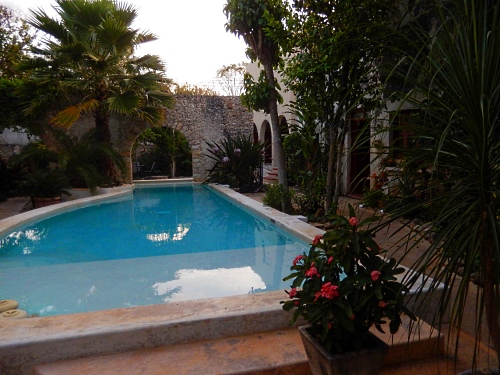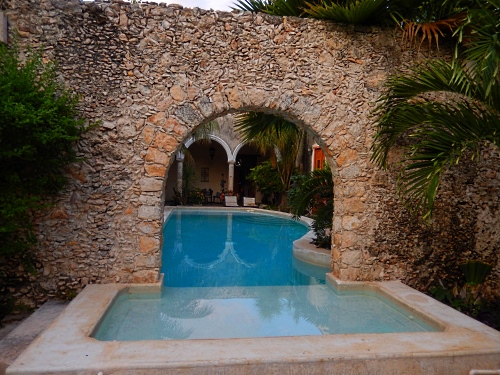 The owners not only restored the Casa Lunita in its original style, the also built a pool and planted a real botanical garden around it and in every corner of the yard. Wit a big variety of plants. When I looked into hotel gardens in other placesᅡᅠ they were just simple gardens, without much attention what grew there- everything grows in that hot and humid climate. But here my heart was in joy – you can walk around for hours and check – each plant was in some way interesting and in the right place, in some way very beautiful and unique. The owners even made a manual of all the plants that are there.ᅡᅠ And then there was Azula – the dog. With whitish – blue eyes. She wanted to lie on our floors to get her belly petted :-).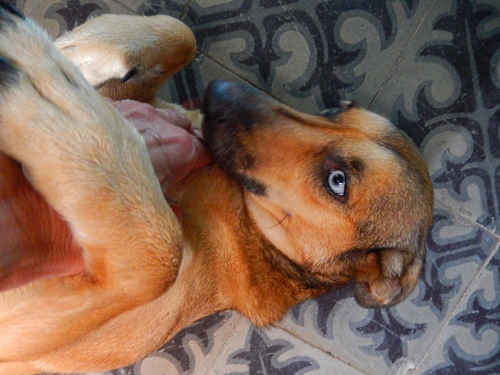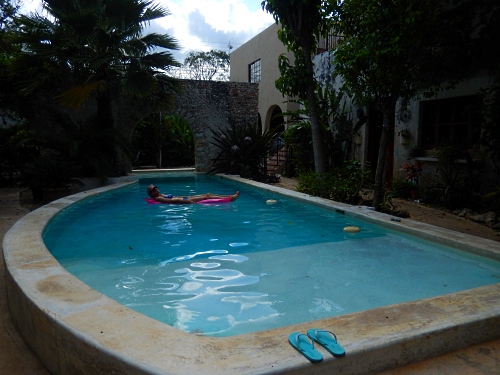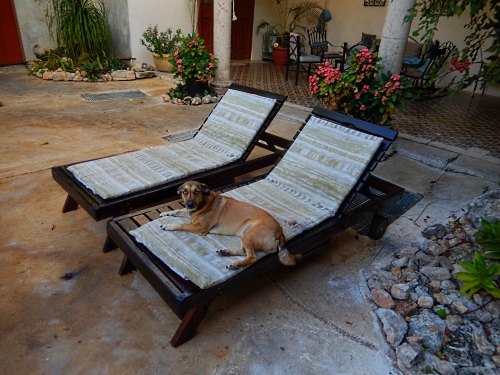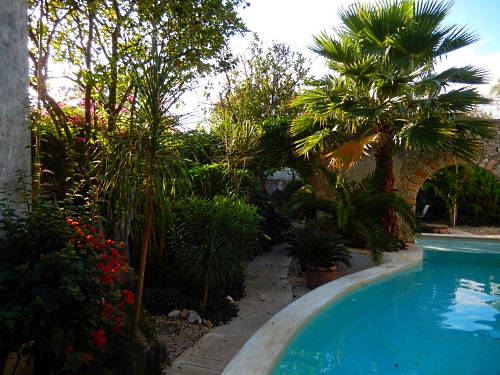 Here is how romantic the yard and pool looked at night in the dark, with the kitchen on the other side of the pool: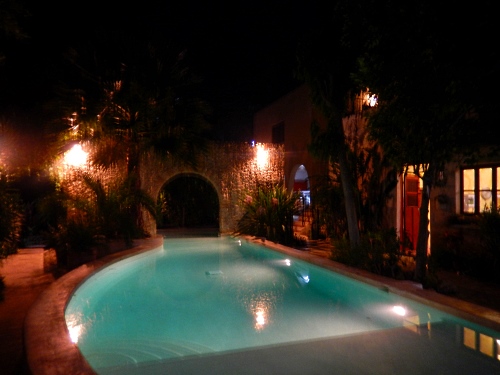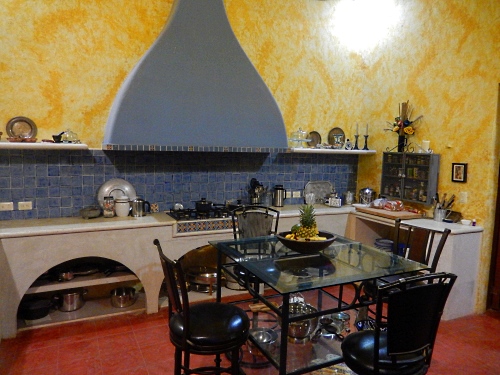 There was also a small water Lilly pool on the other side of the arch but I forgot to take its picture. It was especially nice at night because three big toads would come out from their hiding places and sit on the edge. Here are the doors from our room -I am sorry. I didn't take the picture properly, but for the idea:ᅡᅠ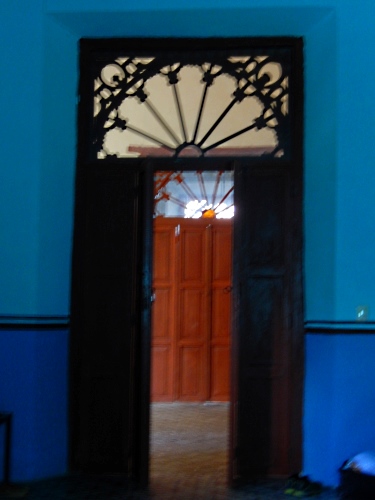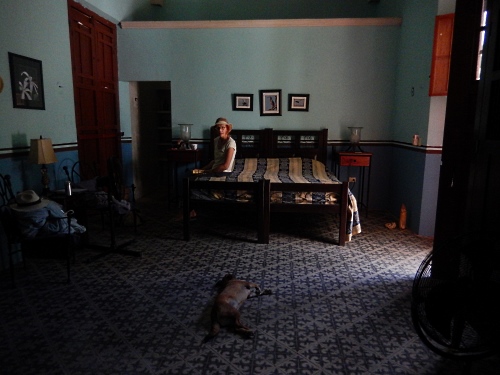 We will definitely go there again – such a place! And in addition to all the pleasures-ᅡᅠ we were there alone, exceptᅡᅠ for the housekeeper Sally. So we could enjoy the quietness of the evenings, the pleasure of cooking in that exotic and spacious kitchen and having our meals there. Sally cooked us very tasty breakfasts, so we enjoyed tat a lot! But again – nothing is perfect in life, situations do not let you be fully happy – being such an old style building with super tall rooms and with all those doors in rooms andᅡᅠ crevices in them – it cannot be air conditioned. So we slept with fans directed towards us and it was OK, but in that climate…I guess – the best time is January and February. And with all that – of course there were mosquitoes, but not many. Everything depended on whether I was tasty – which I was, o wasn'tᅡᅠ – like my husband.
Though Baca is small, but there is enough space for a big heart. We found it while driving to their celebrity Thai restaurant on the outskirts of the town. It is located or I should say – built on the grounds of hacienda San Jose-ᅡᅠ and the sign sais: Fundacion para el Bienestar Natural, A. C.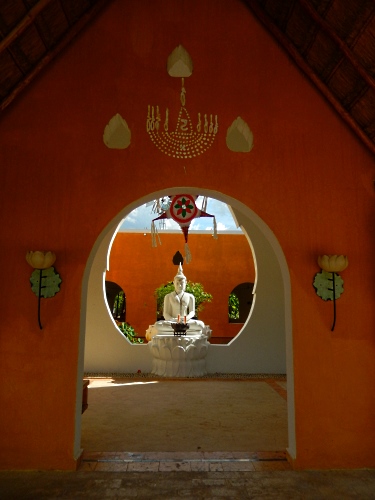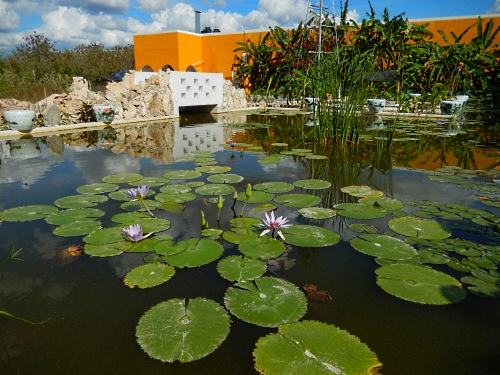 Lots of lotus plants in Koi fish pools here and there, a couple of Budha sculptures, a spacious promenade to the restaurant and a park behind it. There is a Thai woman cooking, so it was good. But we were very lucky to meet the owner of the hacienda, who is of French descent and was sick with cancer three times. With the help of doctors and his own inner peace he healed, therefore he continues to create the surroundings of peace. He said he created it for himselfᅡᅠ -but the park and buildings in it are for cancer patients, mostly those of low financial means where they can come during the day and walk in the park, get some electromagnetic treatment and consultations for nutrition and psychological help, also do some Chi-gong training in a special squareᅡᅠ -all for free! therefore lay people are not supposed to wander in the park, so that the patients won't be disturbed. So we were lucky that the owner took us around and showed us the big – i would say 1.5 m height amethyst he bought form Brazil for auspicious reasons and so on. Here is a Lotus seed pod, and the last lotus flower of the season: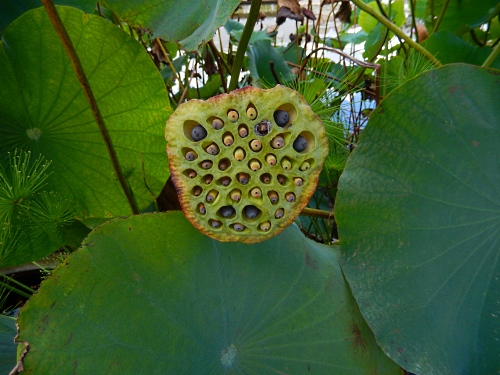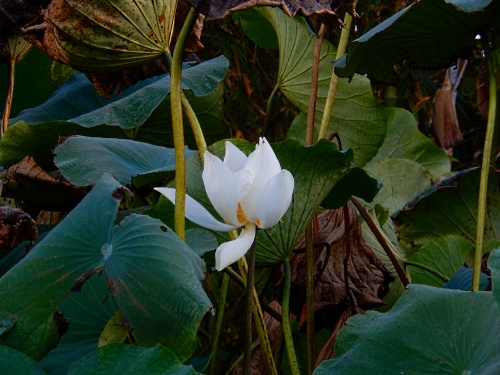 In the evening we went to a mass, it was close by, why not to go – everything was good and pleasant, only when it ended -they started exploding some fireworks and explosives so loud, that it was frightening to leave the church and on that note they got so excited that kept on doing their pyrotechnic fun all throughout the night…it is their Mexican blood, what can you do, Sally said. ᅡᅠ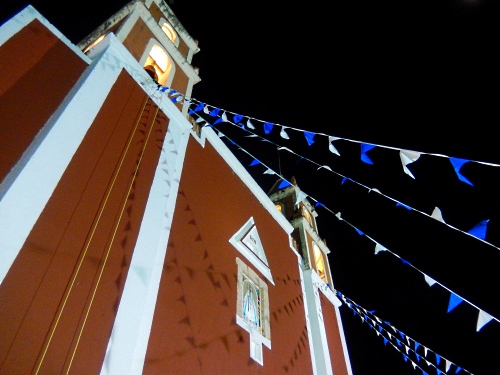 Here is Motul -a the town next door which is known for their Huevos Motulenos- Motula's eggs – made with lots of ingredients, but it was not the right time for us to eat more eggs after Sally's good breakfast…We Left it for next time. ᅡᅠ