Merida is the capital of Yucatan state in Mexico. It never dawned onto me, that Mexico is officially called Unites States of Mexico, though I never noticed that name, only while entering and filing the entry forms. So being sentimental people and loving to come to the same places that we have been and not explored enough – this December we flew to Merida, Yucatan.ᅡᅠ The very first day of December…it was a mistake. Last time we were there at the end of January – the weather was perfect. This time-ᅡᅠ not so much, too hot. So hot and humid, that while outside and some places inside – even our cheeks were sweating not speaking about the rest of us. It was hard to wonder around as we like and we had to take siestas. While organizing this trip I rented rooms with AC thinking it is a way to protect us from mosquitoes, but not from heat. It was from heat :-). But still we walked around in downtown Merida, which has nice buildings and views for pictures, and now while looking into our picturesᅡᅠ -I think that it is a very photogenic city, and not a pleasant as it looks: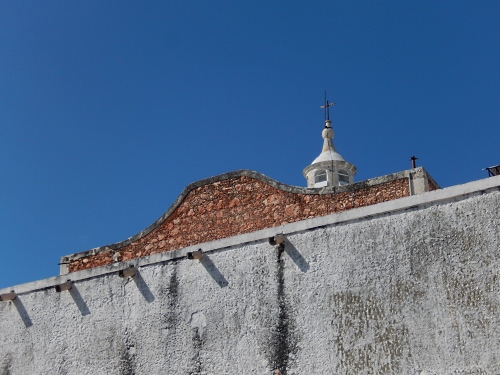 We lived in this street, but in another section of it. By Santa Ana Church, a very good place to stay and highly recommendable. Rented a very nice and sufficient King Bed apartment through Air B&B, with a well equipped kitchen, spacious and with a good AC. By the main street which leads to the center. Note how narrow their walkways are, and there are a lot of cars on those streets, so that is the feature which creates least pleasure: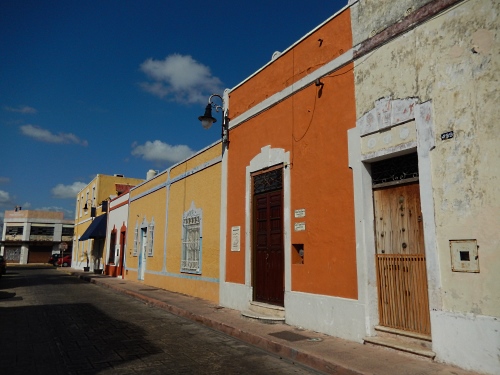 We lived in an apartment which we entered through this tiny garden: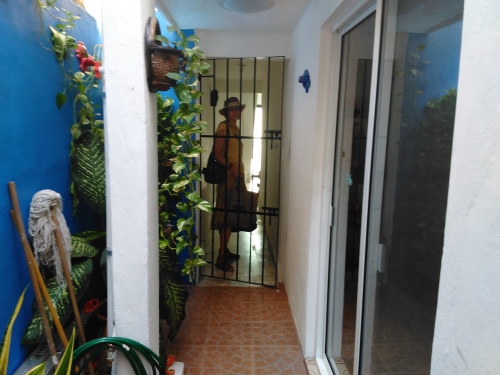 The cathedral from Palacio de Gobierno balcony: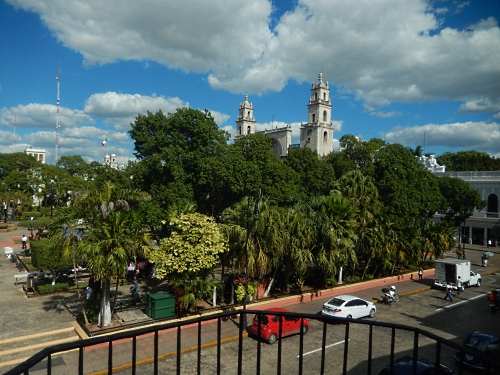 It is built from the stones of an old Maya pyramid and adding an insult to injury -on its location. Or maybe that can be called "upcycling"ᅡᅠ -depends on the viewpoint: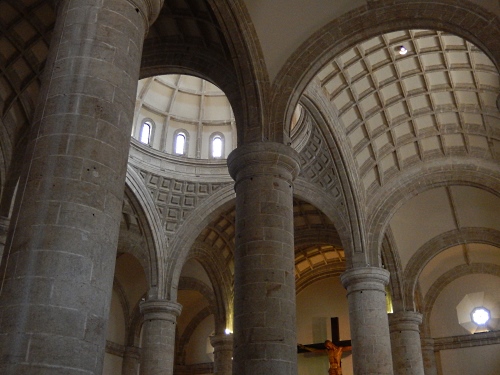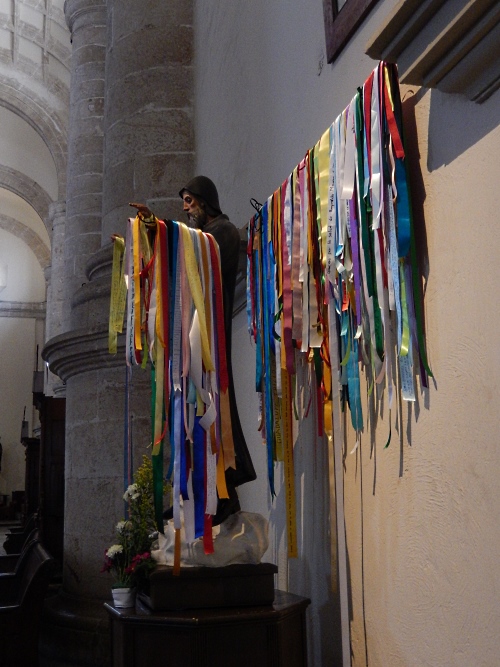 Santa Lucia church – very similar to the Cathedral, and it is on the same stretch: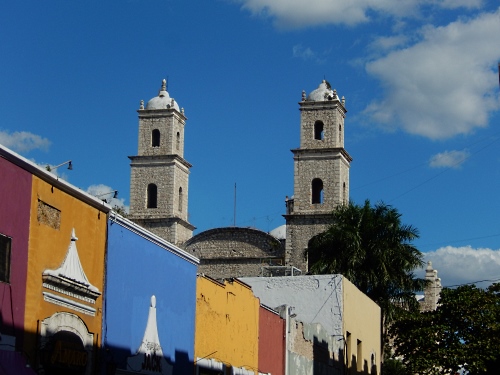 Each church has a little square around it or in front of it and that is always a welcome oasis in those walled streets. A little further to the side of the main drag there is a Folk Art museum, this is their wedding dress back in Spanish times: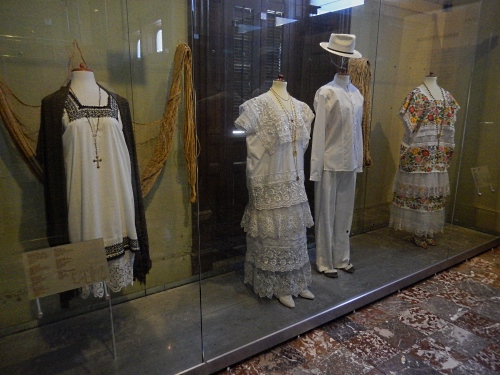 Churches are usually connected with monasteries, and all that looks very medieval:ᅡᅠ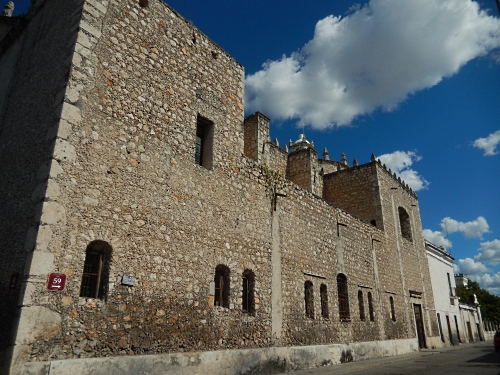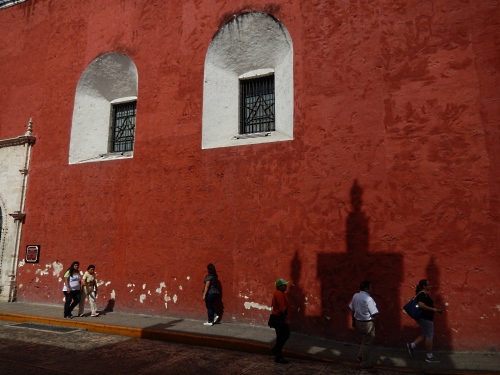 Here is a very special hairless dog, very Mexican, who was staying in an antique store. To me he looked like a kris-cross between a ig and a dog. Last time we saw them in Delores Olmeda Mansion by Mexico city, but they were closed from visitors. This time I could touch one!
WE bought this mask to our friend Delores in that Antique store: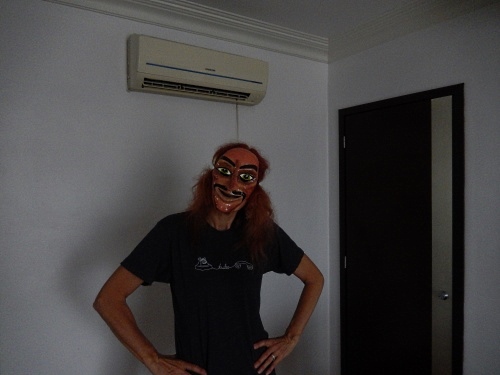 As well as the last time, we were luckyᅡᅠ to "catch" a good Piano concert in the Theater of Jose Peon Contretas, in the very center of the city: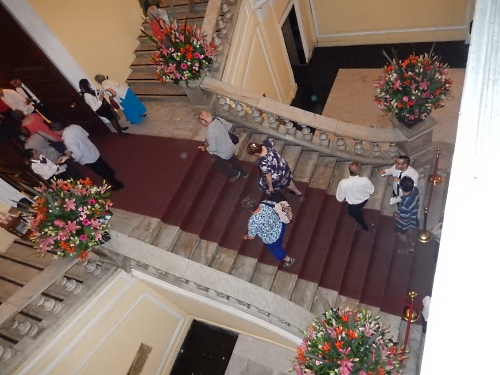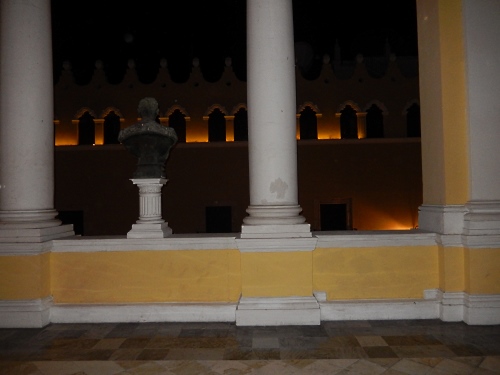 Merida has its own Champs d'Elyseeᅡᅠ – it is called Avenida Paseo De Montejo and is the widest street in the city. It would have been be nice to stroll on it back and forth if not that terrible heat…This avenida has the fanciest mansions in Merida, some restored some depressed: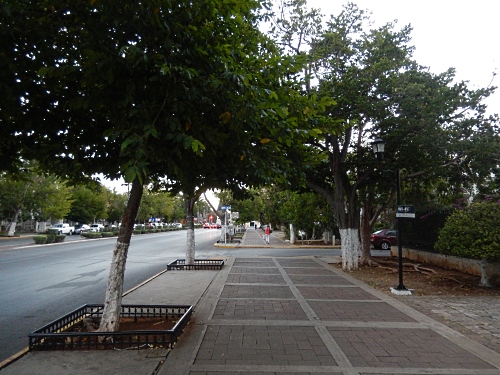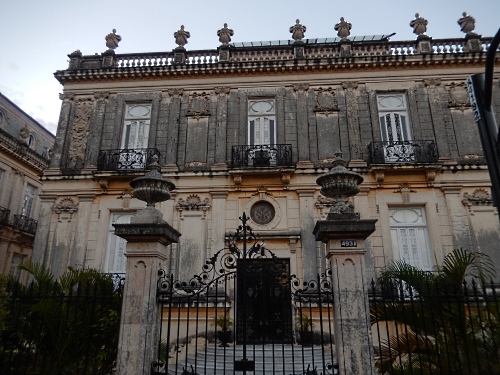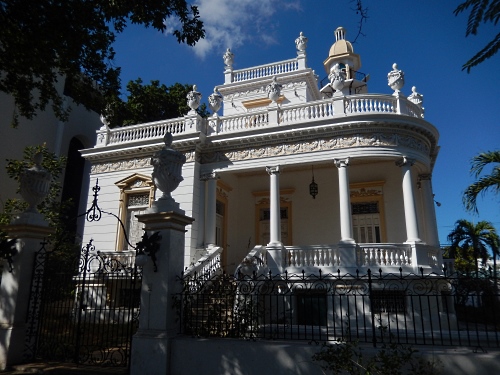 After staying for a couple of days in the city, we rented a car and drove south to see Hacienda Yaxcopoil. at least to have an idea how did haciendas look like. All those mansions in Merida were built on the money that haciendas produced by growing a special sort of agave and manufacturing ropes from it. Who would have thought that ropes can generate such profits! So here is the gate to hacienda and then the mechanisms to work on agave leaves and make ropes, also the main quarters where the owners lived, prayed and thrived: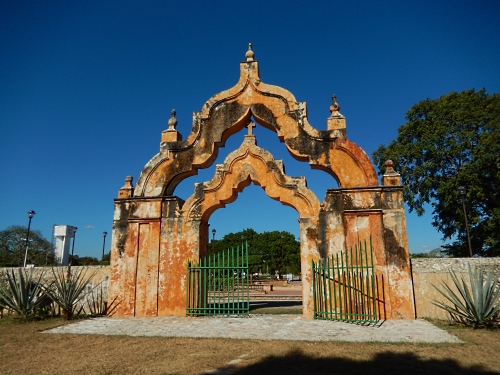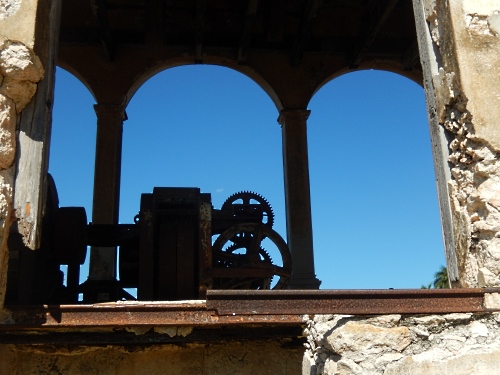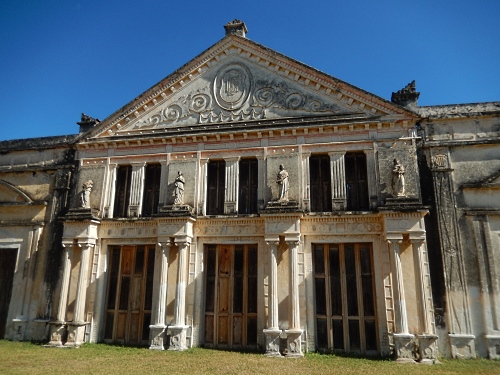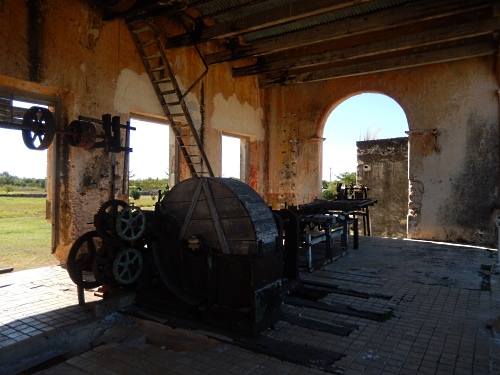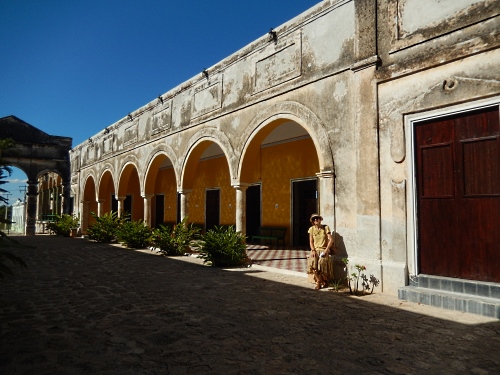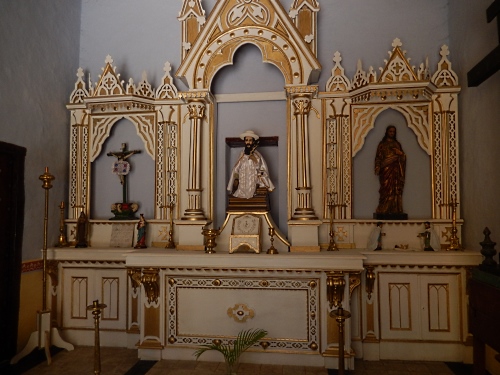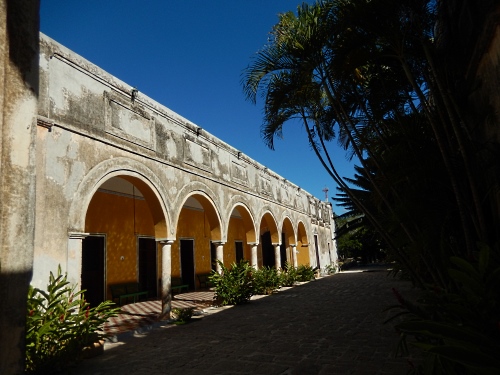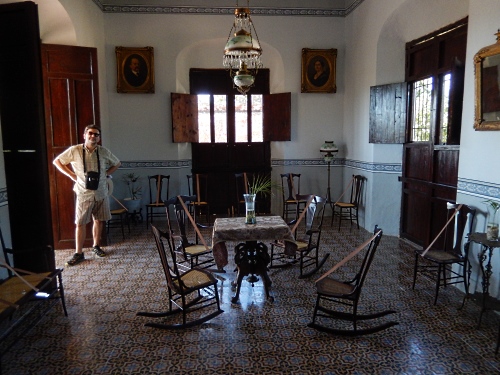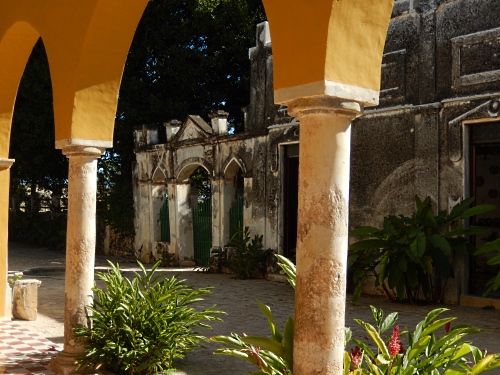 Nothing different, I guess, than in the Southern states of US. The same slavery produced riches to the occupiers-ᅡᅠ in this case – the Spaniards. Water was not a problem in Yucatan – you just dig a little and will get into cenote or an underground river, 7 meters deep…maybe more in some places. So usually Haciendas had a water pump and some reservoirs to keep it for dry months. This particular one has the whole cellar filled with water – I guess it was for cooling the main house. And the plants and trees of any kinds thrive in such a climate: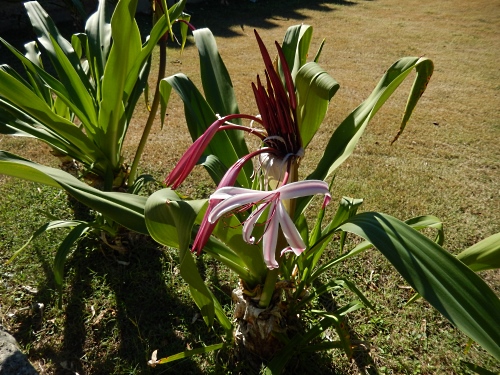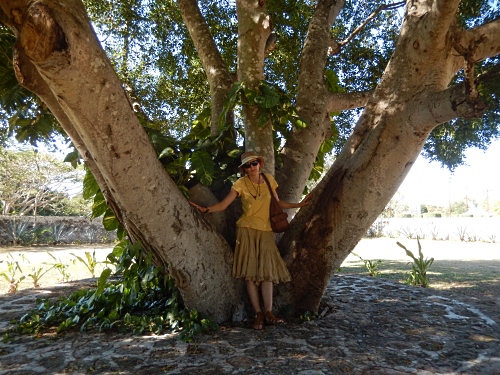 Shameful as it isᅡᅠ – we tried to drive to some cenote south of the Hacienda on Ruta de Cenotes – but the road was so bad and so abandoned, that we kind of got scared and didn't continue on it. When you think – you are very vulnerable in their bush. So we returned to the little town Uman and had a perfect dinner there at some canteen, popular among locals, which had two flat screen TVs showing different episodes of Mr. Bean. Strange as it is – Mexicans were not laughing at all and I found those particular episodes very funny. What a combination – maybe that made me laugh a full laughter I rarely find an opportunity! Mr. Bean in Mexico…
We did not return to sleep to the same apartment. though it was perfect. but because Merida is big, and to get into the center and out of it is a hazard. So we slept in Dubrovnik hotel in its outskirts, a good one, except that to drive into it you have to make a huge round trip on super bad roads because of their love to one side streets…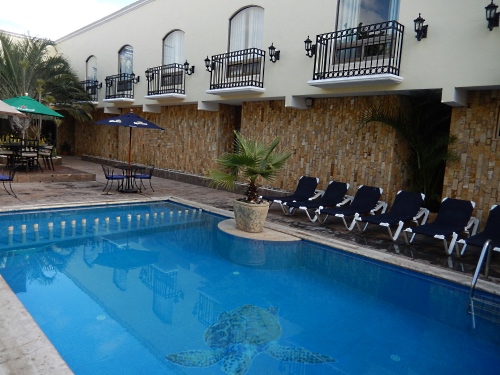 This is a new big museums devoted to Maya culture: