Ferrara isᅡᅠ half hour away by trainᅡᅠ from Bologna (4.60e) – how could I not see it…especially while I came across a booklet about it in the Padova loft. I didn't expect so much/ but I think I liked it most of all those cities we saw so far. Who would have known :-). It was even not on our travel plans. Though I have to say I noticed in some book a mention of it as a cradle of Renaissance. This time the train station was pretty far from downtown (20 min walk), but I walked nevertheless. No time to look for buses.ᅡᅠ The street was very wide like Champs D'Elysee up to Castello Estense: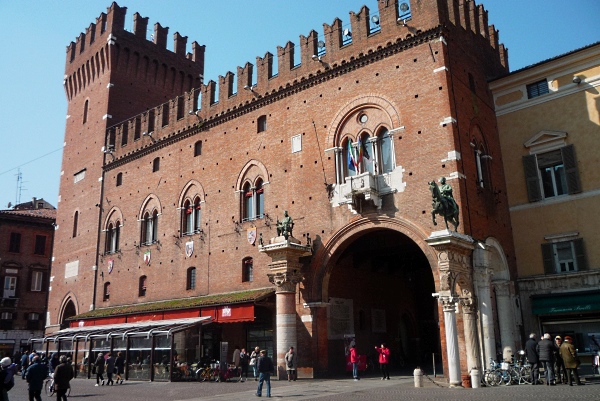 It is open till 6pm, so I rushed through the center of downtown, through the cathedral: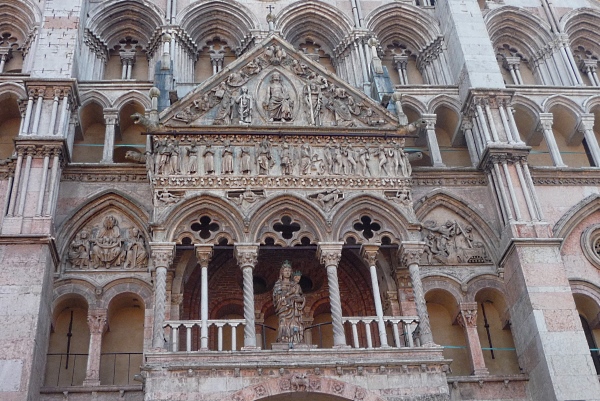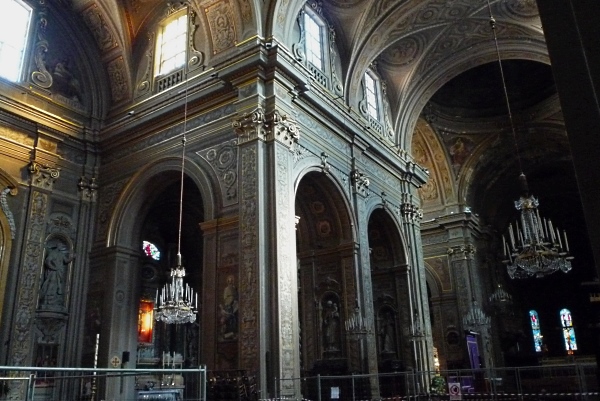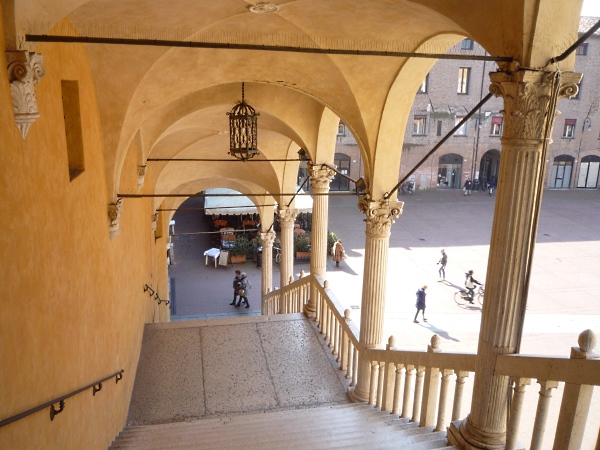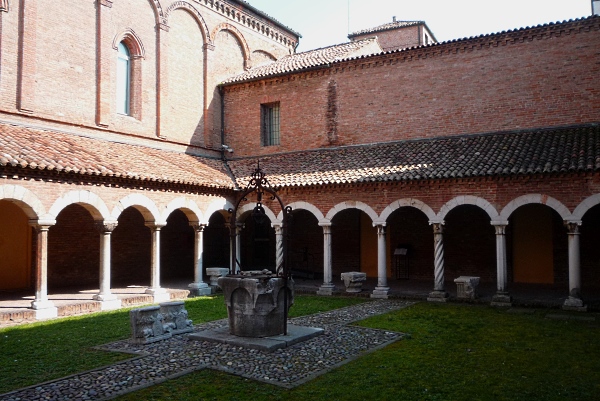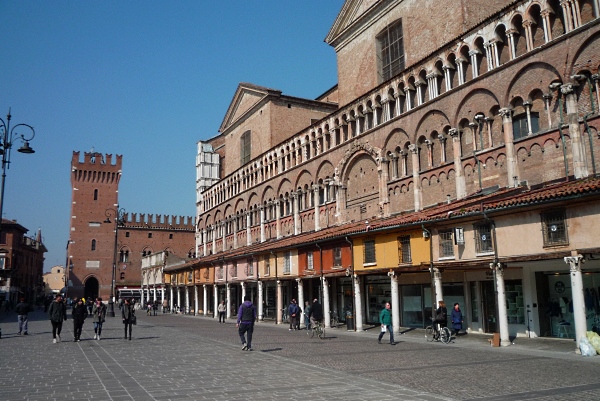 directly to the Medieval quarter. The best part – no cars there! only bicycles. And very few people, no tourists, just some locals, some kids when classes finished. And some 2 or three photographers in Via Delle Volteᅡᅠ -so I also followed their example and took many pictures in it, was hard to pick only four: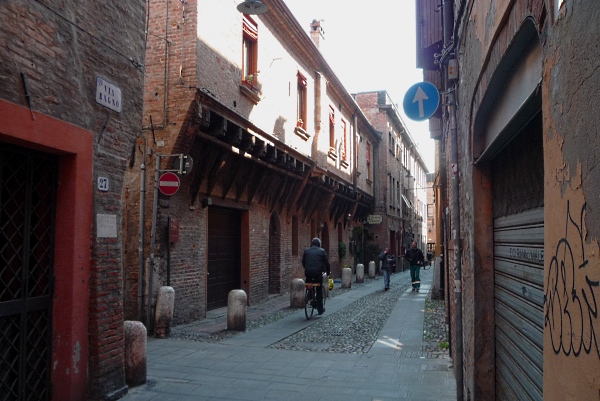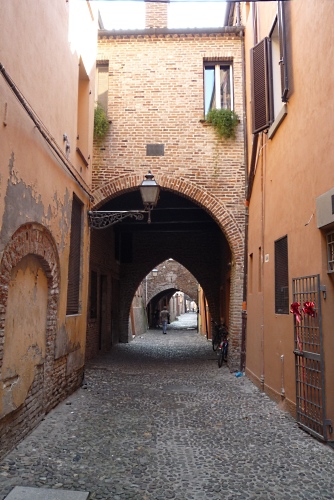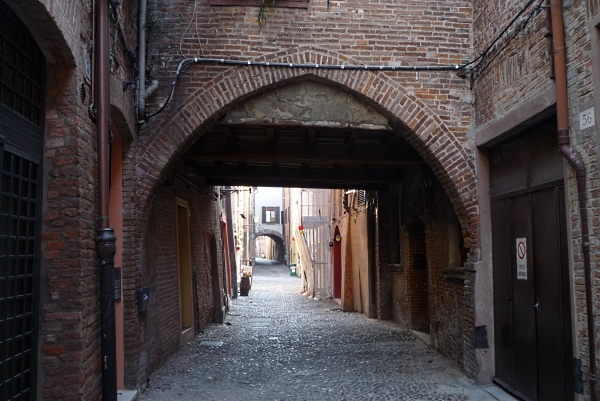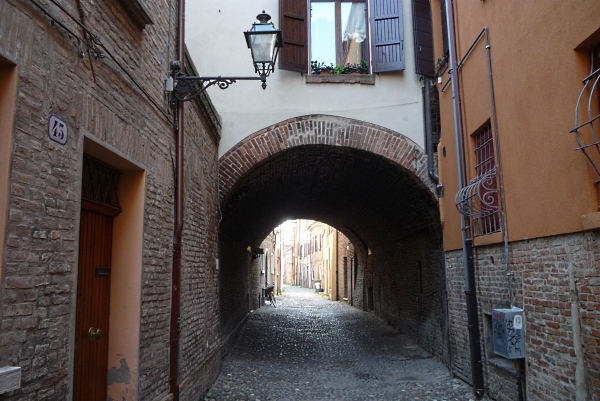 From there, through Ghetto to the Renaissance part! There is an abundance of palaces and mansions, also parks, so having several hours was far from enough…Ferrara has to be destination in itself. There are even little towns in the surrounding area, so yes, a destination for the next trip, no less than fro 3-5 days there. the only palace that was not closed at that time and was the most peculiar to me was Palazzo Schifanoia. ir is not in the very center, but still within the ols city walls, and the walk is marvelous. It is really one of the most precious art treasures in the city. Its name., Schifanoia, derives from its original function: loathing boredom and sending away tedium. One big hall is Salone Dei Mesi – 12 months painted on the walls. Boy, those artists who painted – were really not bored…It s a triumph of imagination. So many details, so colorful, so perfectly painted. Sad, but only 6 months are left, the others are destroyed…Here is at least one glimpse of them – I guess it is Torres: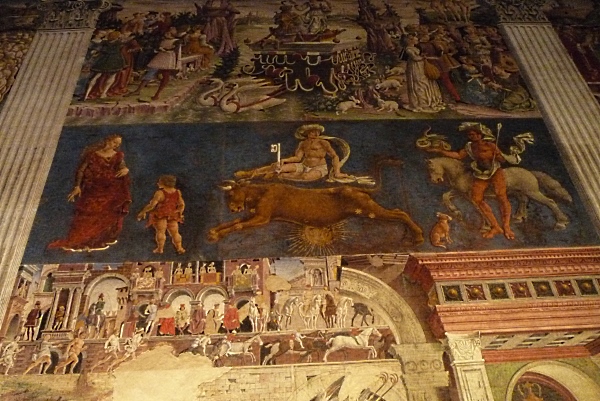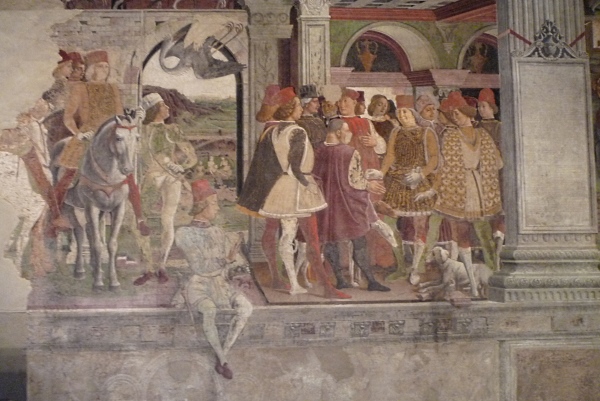 The best partᅡᅠ -I was alone there! peace and quiet. Here is the ceiling of the other hall- Salla Delle Virtu -where all christian virtues are represented. It has a splendid golden, painted coffered ceiling: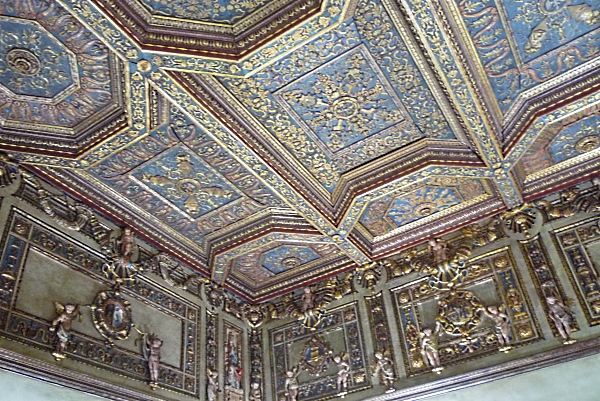 There is also a museum of Ancient Art, but after seeing those two halls how much more beauty can one consume…From there I walked the main street- "Corso" towards the other part of the city Corso is impressive, as usually Corso's are in Italy. There is a Diamond palace on the way – it houses art collection, but closed early. Some more churches and palaces on the way: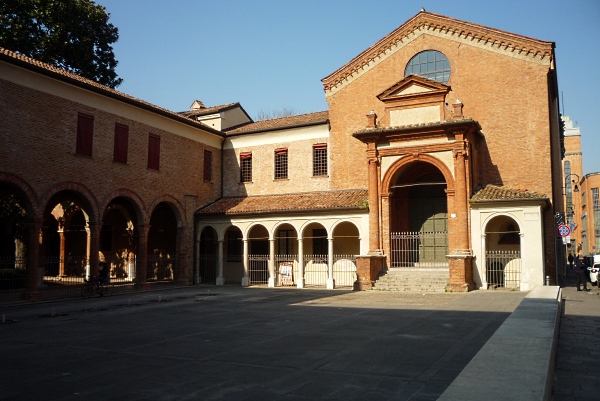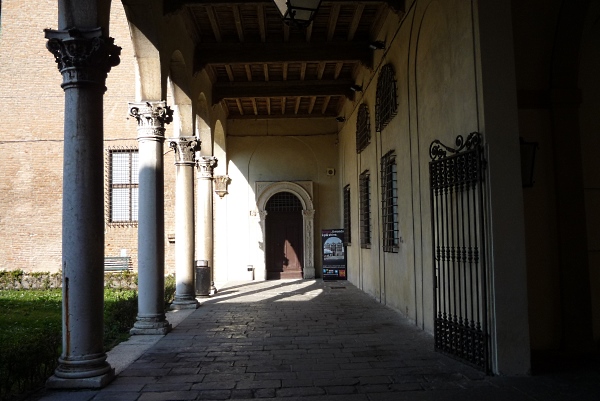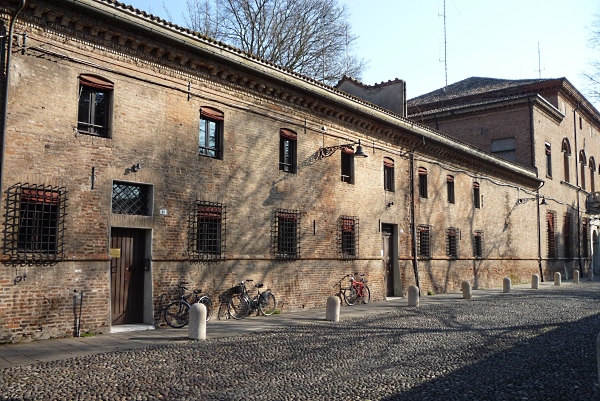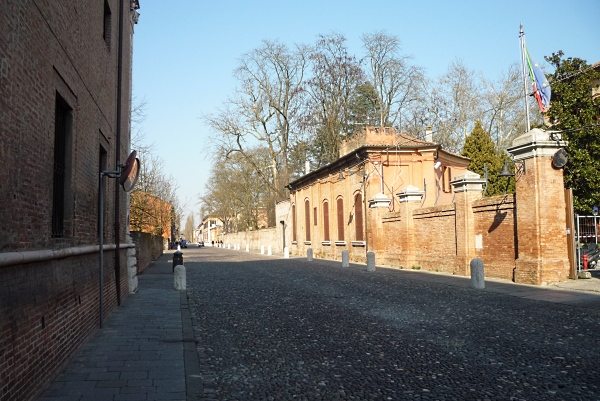 and I came up to a very big cemeteryᅡᅠ – Cimitero Della Certosaᅡᅠ -so big, it takes the whole corner of the wall enclosed city…it has a beautifulᅡᅠ church-chapel and columbarium ansamble: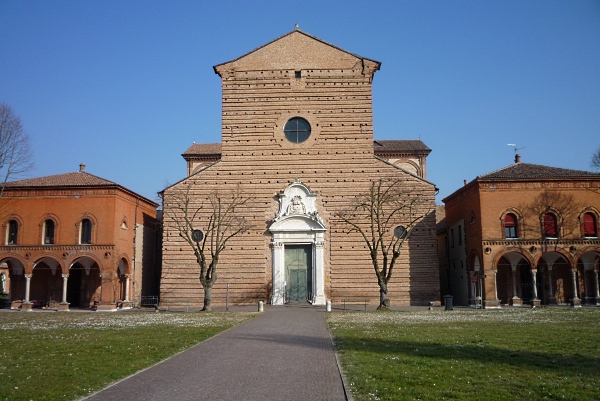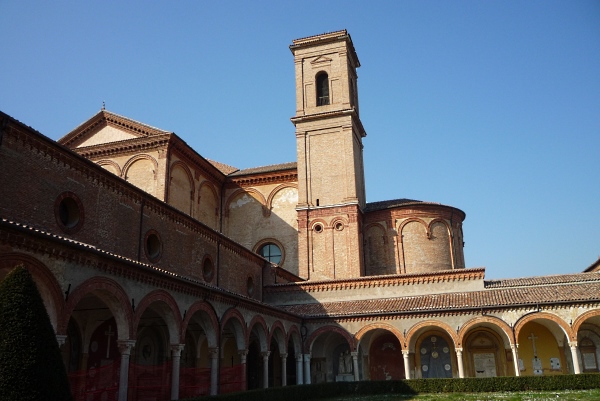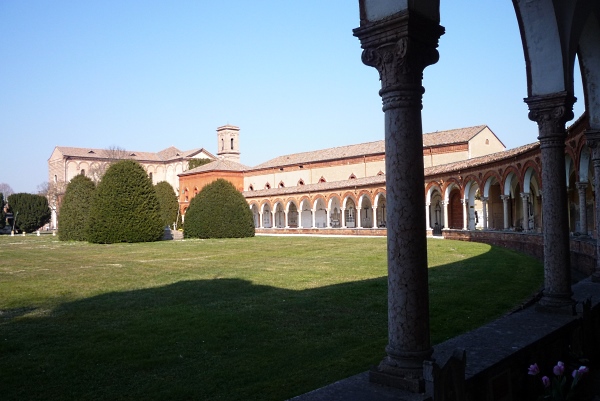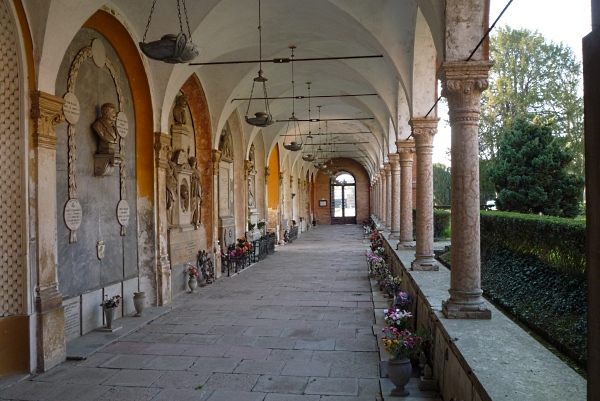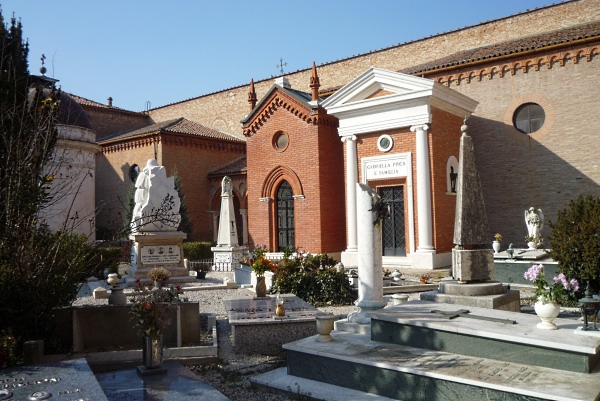 What a wonderful weather tat was! At last it got warm after windy days in other cities. I didn't was to go into buildings, but the castle was waiting for me, so what could I do. The first part – believe it or not – from those sunny views I got into dungeons…terrible, terrible, especially for my tall body: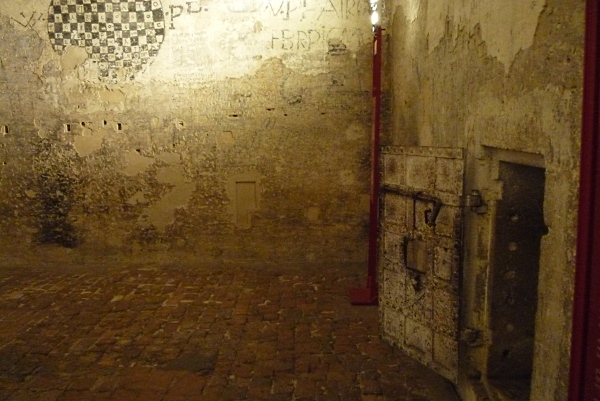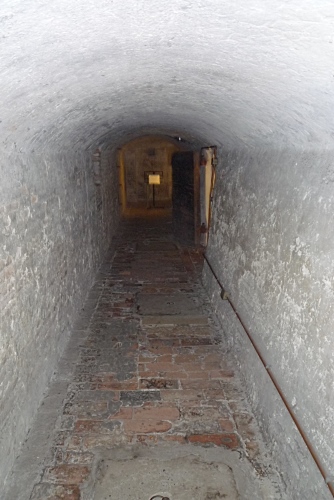 Then up the stairs – and the views of the castle and mote, then an endless walk through frescoed hall. So many frescoes, especially on ceilings, so that there were big mirrors installed not to break ones neck :-). Visitors can see the ceilings reflected in the mirrors. Most of the frescoes were in repair, so had bandages on them: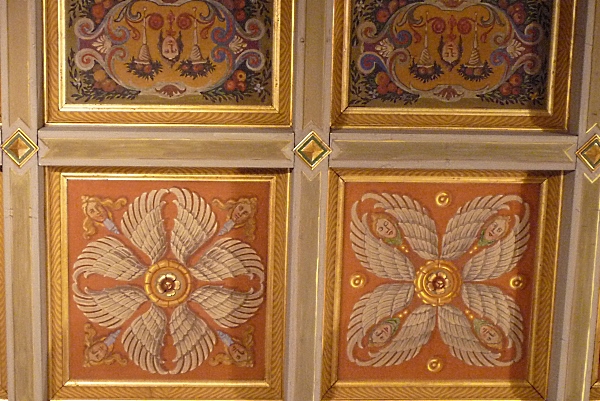 Here you can see little tiny faces incorporated in the ceiling decor; each square is different, amazing…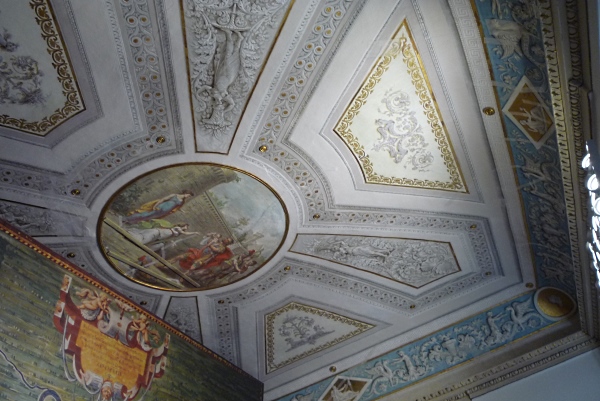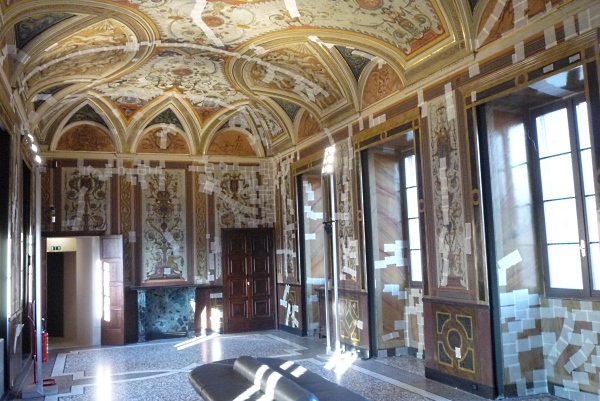 There were some painting exhibits. One of them was Giuseppe Boldini'sᅡᅠ -who is so good in painting beautiful women and their ddressesᅡᅠ -loved it! Here is one sample: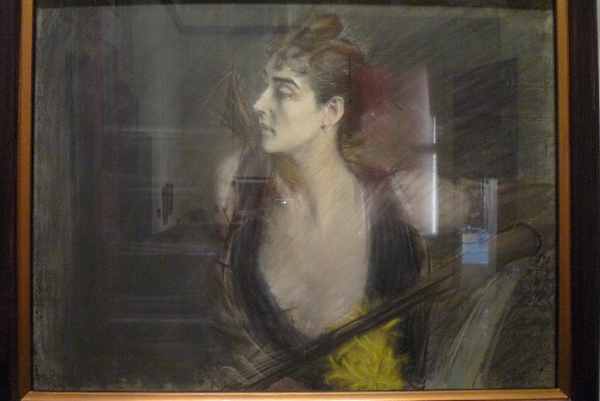 A last glimpse to the castle then a short visit to the peculiar oval entrance area of Teatro Comunale – and I had to rush back to Bologna.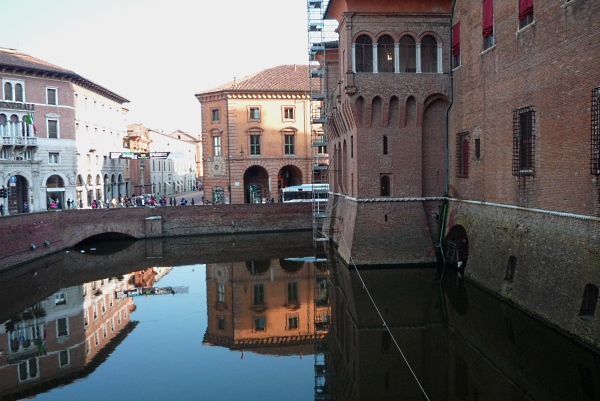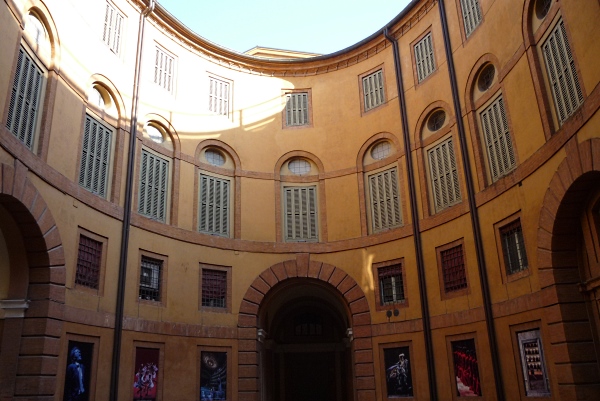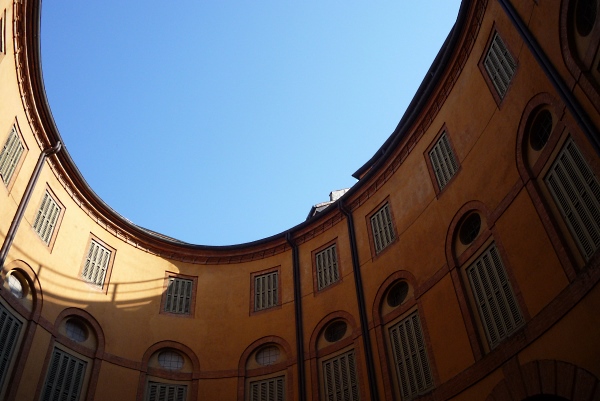 Ferrara is to be visited for a longer time!