On February the 6th Andrei was 50 years young. We had to celebrate! The first part of celebration was "Swimming with the dolphins", and that was super! They sell tickets to the attraction everywhere. There are three levels or sorts of packages. We picked the most inexpensive, it was around $100 US per person. We went to the delphinarium, with a taxi about 10 min drive, at about 9 am. The activities there start at 10 am. but before that we had a wonderful chance to stay in the beautifully built grounds by ourselves, observing the trainers feed and doctor the dolphins in special parts of the whole big fenced area from the sea. They also swam loops with the dolphins at their sides as if competing or keeping company. They are the smartest creatures from the animal world I ever observed. And they seemed to be the most loyal. I never noticed a dolphin not fulfilling the orders…It was very touching: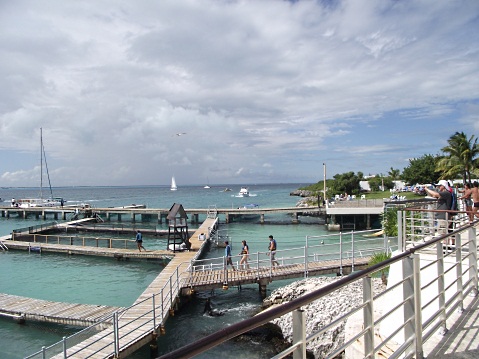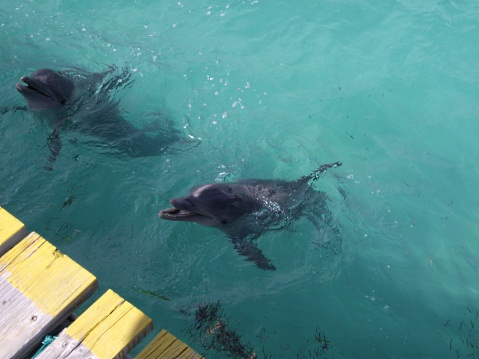 The dolphins were having fun before their very tense work day. They were jumping in coordinated manner in twos or threes, quite a spectacle: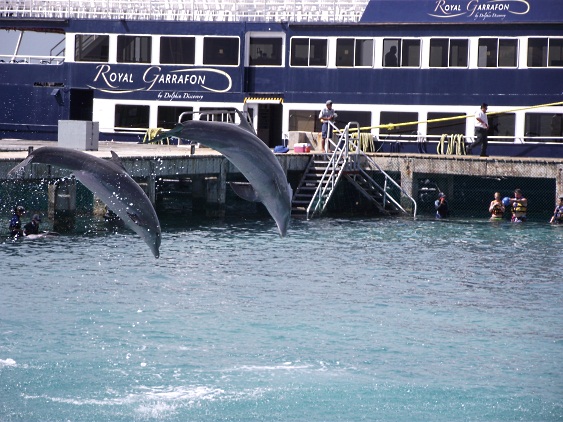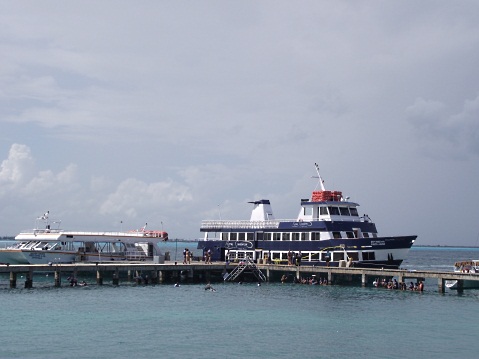 Then at 10 am the boats from Cancun started coming and crowds of tourists occupied the area. No more peace and quiet/ Everyone was lined up into groups, depending on the ticked they bought (the most expensive tickets were $150 US). We got instructions, left pour clothes in the safe boxes and lined up for our attractions in groups of 12. WE were taken to certain areas on the bridge and then went down onto a lower bridge in the water up to waste. Each group had a dolphin trying to please us…poor guy…At first he had to greet us, then one by one we would step up to the front of your bridge and he would come and kiss with you or reach your hands or lay in your arms like a baby: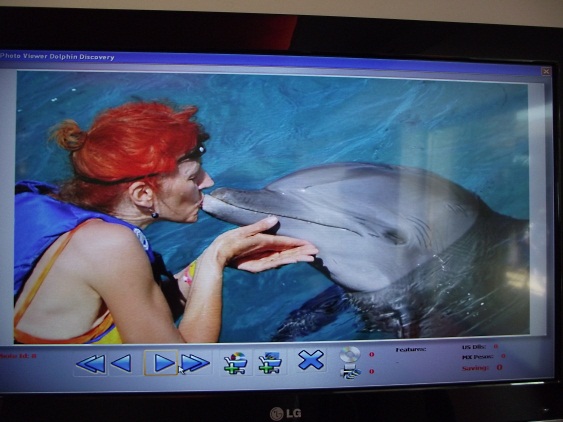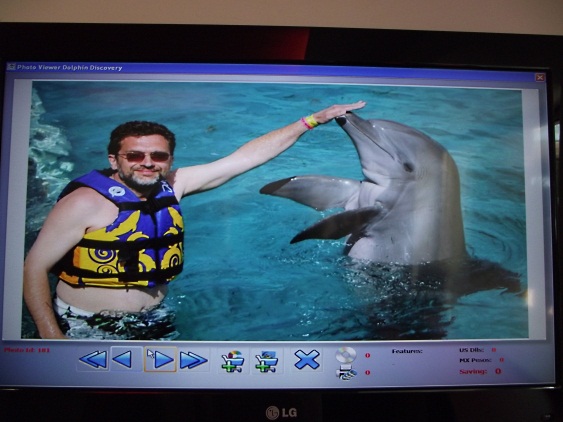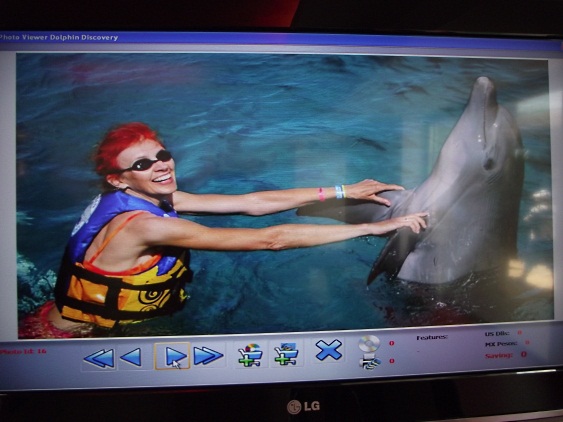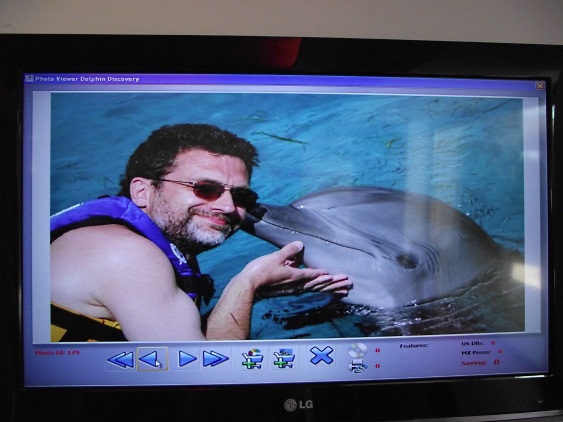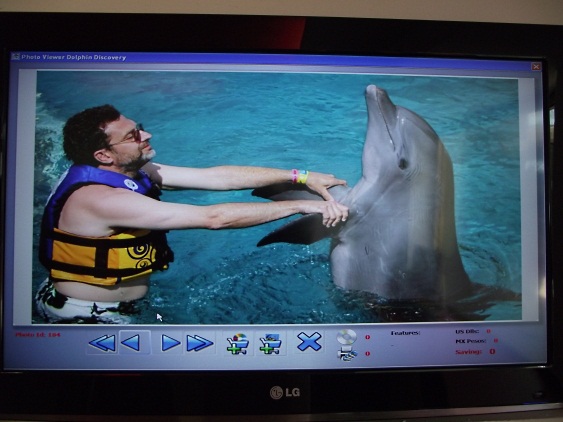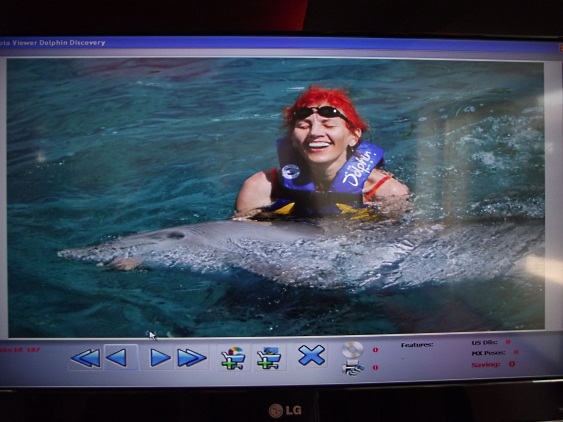 The nicest two tricks were when we had to swim further from the bridge and wait with a special sign making with our hands for the dolphin to come and pick us from the bottom. The first time he pushed my heel and I was swimming like a rocket. And the second time he came from under me on his back, with his belly fins in front of me- I grabbed them and he pulled, it was fantastic! Those amazing dolphins, how can people be cruel to them…it breaks my heart.
So the program lasted around an hour during which my teethe were shaking, so cold to stand in that water without moving much. After that – whatever you want to do. they feed you buffet lunch, then you can lay in hammocks, swim in their little pools and play in the fountains, or go and watch the sharks in a special tank, or snorkel in a cage with manta rays.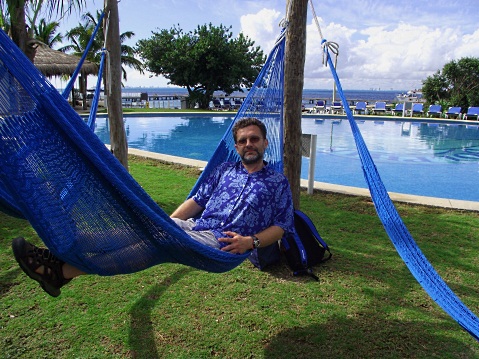 There were also a manatee and a sea lion – you could get an individual encounter with them for a special price.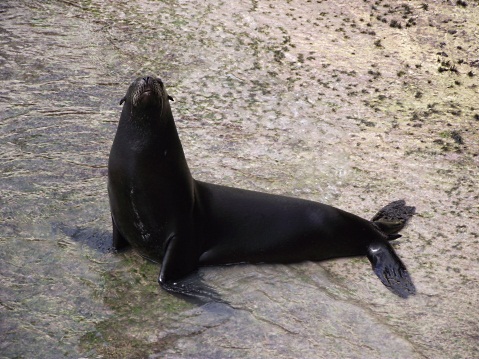 What I did was watch others have fun with dolphins and watch the sea and birds, so that the day went by very fast. It is hard to understand how those cute pelicans balance on the wire fence with their water shoes…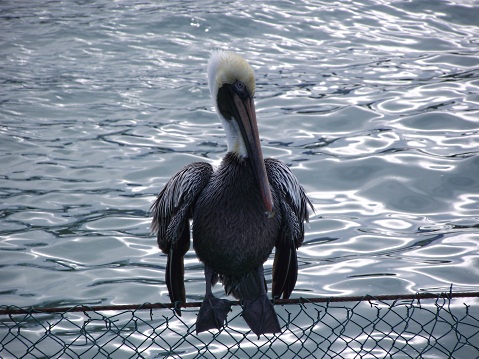 Here is a man who bought the mos expensive package – their group had 2 dolphins and he is pushed by both on each of his soles.
After the wonderful encounter with nature and a little sad that poor dolphins have to work so hard for their fish, we walked some 2 km to a place which Leo and Susan ( also from Zion ) rented, on the beach. They had a table set right on sand and Susan had a dinner cooked, it was a good celebration of Andrei's Birthday!
The next morning I went for a walk with Nancy and Craig to the other end of the island – 7km – to the very tip of it. On the way there were beautiful, creative villas, this one resembling a shell: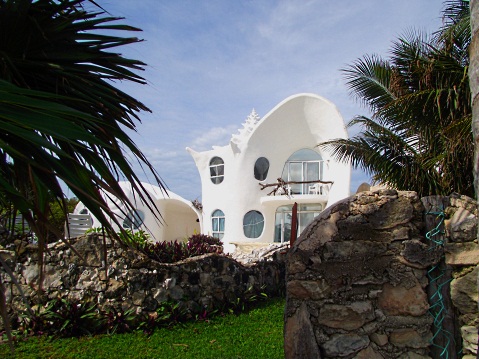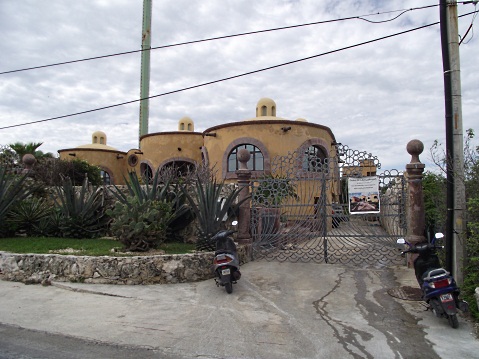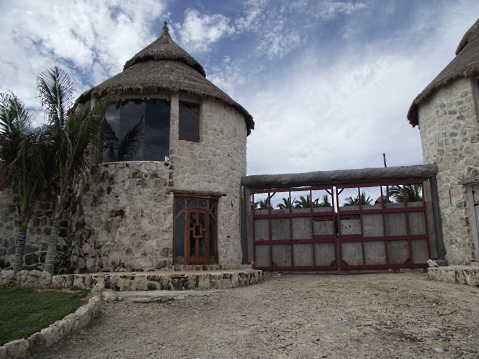 there was a peculiar cemetery:
at the very tip of the island there is a sculpture park: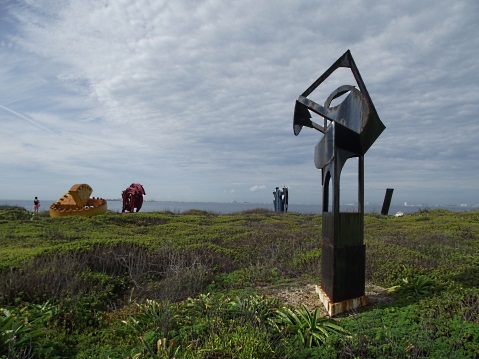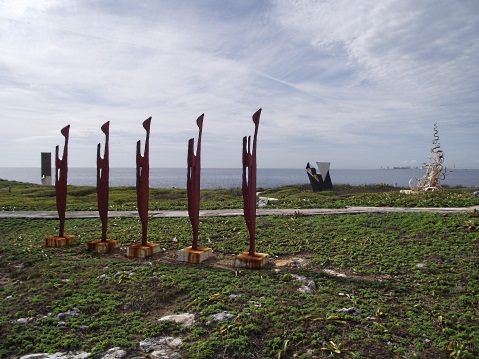 and the very very tip looks like this, as if two seas meeting: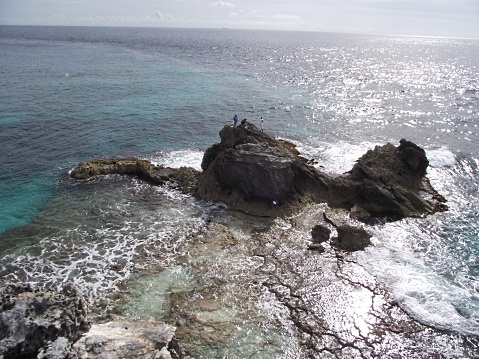 with Nancy and Craig having fun: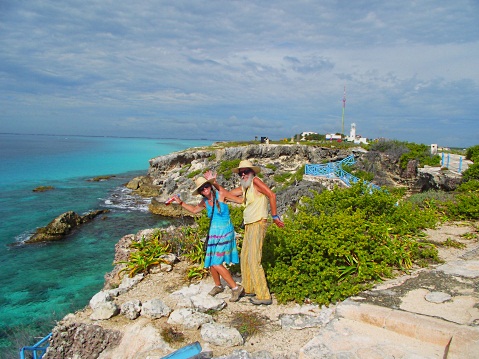 We returned home by bus – were lucky to nice on on our way. there are some buses there, but nobody knows their schedule because there is none :-).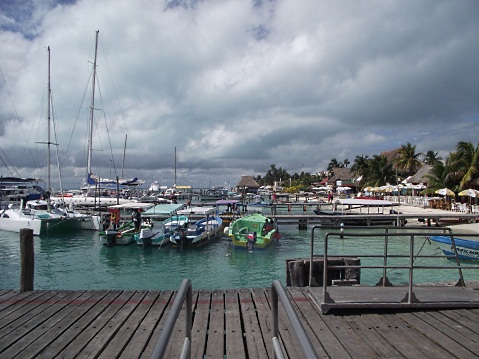 The trip back was easy, so much easier than going and coming form Thailand…So this is my big suggestion – go to Yucatan! people are friendly, mellow, the food is great the hotels, motels and hostels are clean, the sights are beautiful and interesting, what else can one wish?