From Koba we drove to Tulum, there is a direct road. Had a reservation at El Jardin de Frida Hostel.Actually it was called bed & Tacos. We didn't see any tacos there, but there was breakfast included and a little strange one/ In the morning we found a kitchen with lots of dirty dishes – self serve :-)…, and a lot of different veggies, fruits, eggs, all the product you may imagine that can be used to cook breakfast. And people were cooking, in full speed! Doing different fancy twists and turns on their pans. Single German men were especially particular what they were cooking and French ladies were more into making just juice, fruit salad and yogurt. But they set their table nicely. And of course – while cooking breakfast or eating – everyone is exchanging ideas what to see, what to do here, how to get from there to there. It is very convenient to stay in hostels in case you are not driving but using public transportation – you can get all the info about it and also companions for the trip. But we still had the car.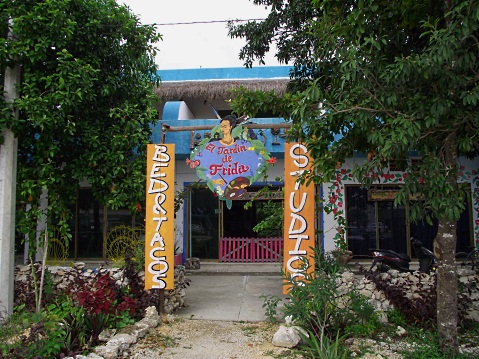 Our room was really big: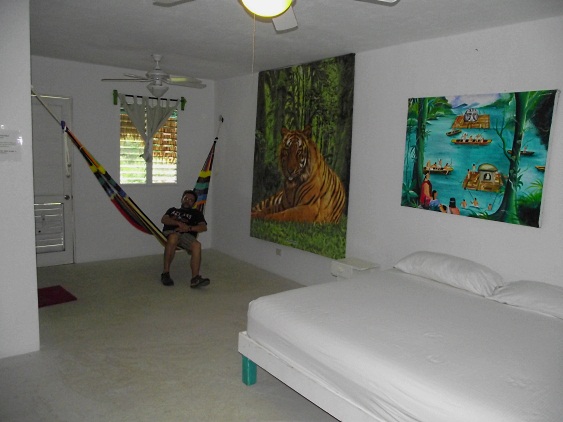 The hostel was owned by Mexicans. Which needs to be mentioned. because many of them are owned by foreigners. Like the hostel on Isla Mujeres is owned by Argentinians and therefore the order of things is a little different and and all the employees except janitors were Argentinians/ So here- Mexicans and I would say – a very good hostel! Rooms had two balconies each. This view was towards the yard: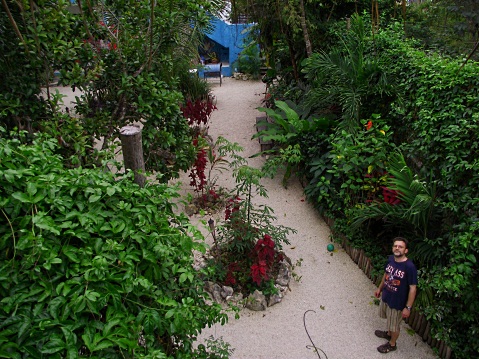 This "Mushroom" house was seen from the other balcony: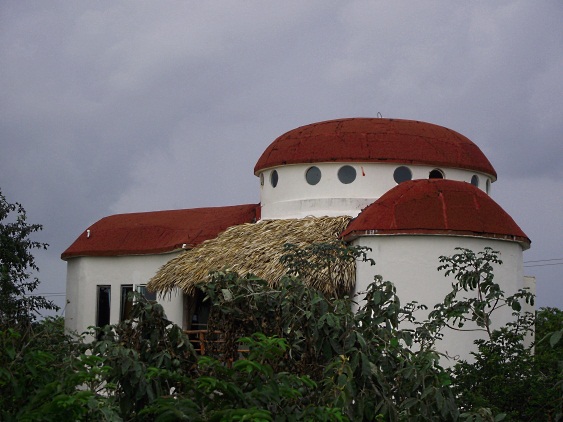 And here are some room names on the doors: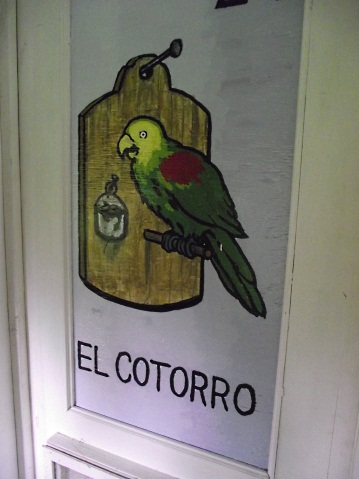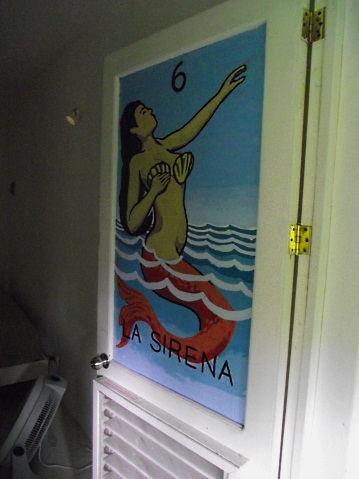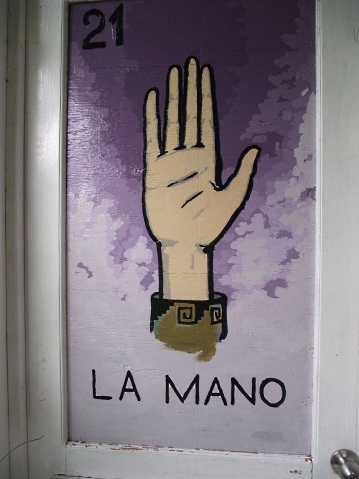 And as it usually is – the hostel had a yard with different sculptures in it: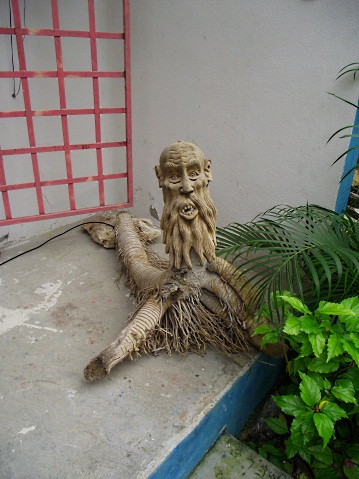 This time I already felt tired of pyramids and decided to skip the so called – picture perfect Tulum Pyramid, left it for the next visit. Just ate in the praised Fish restaurant across the street from the hostel, and drove to dip into one more cenote. This time cenotes here were outside. I man not bellow the surfaces, but like lakes – little openings in this white Yucatan limestone: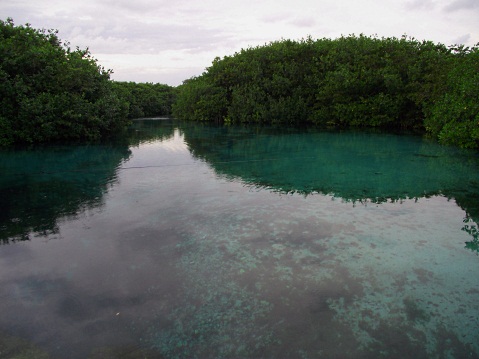 This one was called Casa cenote. We found out about it from the guy in hostel, there is so many of them to choose around…A really good place for people who prefer cenotes versus swimming in the open sea – like me! :-). The water in cenote sis so pleasant, the right temperature, very clear and blue and some people even dive there and look at their interesting floors and shapes, maybe some fish. Here is the alternative: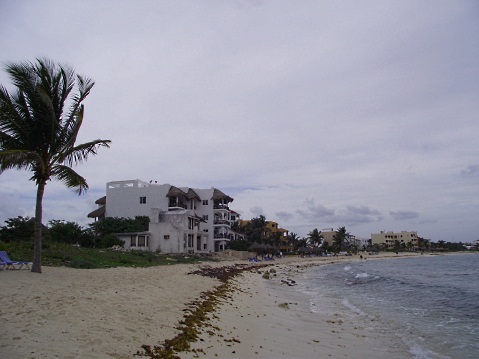 Winds, waves, what is attractive about that? And Andrei was tired of everything, so while I was swimming in the cenote. he was observing a family of racoons which surrounded him there while sitting on the bench and reading his i-pad: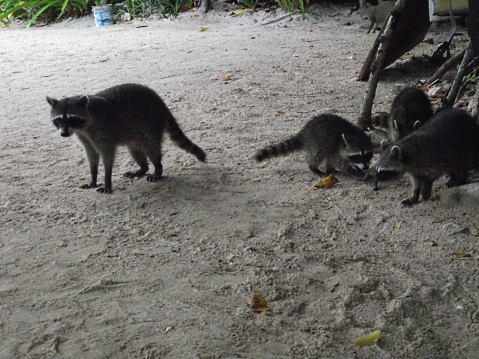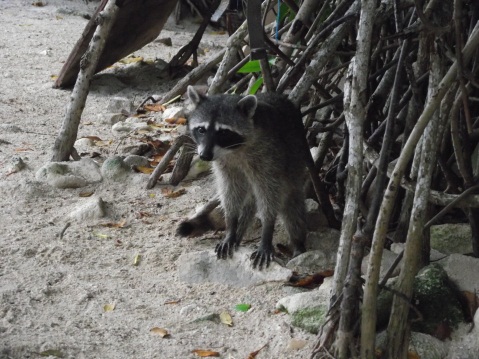 So that was that, we checked some towns closer to the beach, saw how many villas are for sale…and how dangerous it is to have a villa there (hurricanes). The next day after breakfast I still had an hour to try two more cenotes. I have to tell that cenotes are not free. Each has facilities, some taken care of paths, definitely a rope or two stretched along them, I guess for making some water acrobatics or at least stopping for a rest. Here is a path to another cenote close by: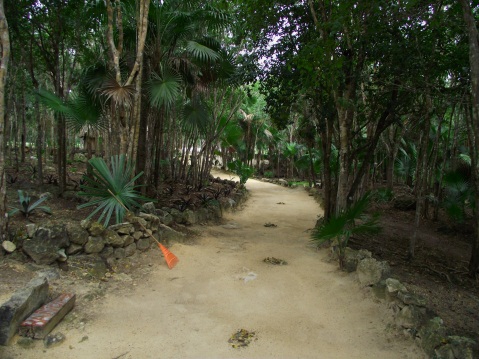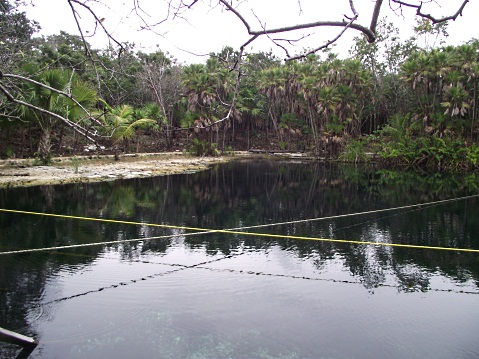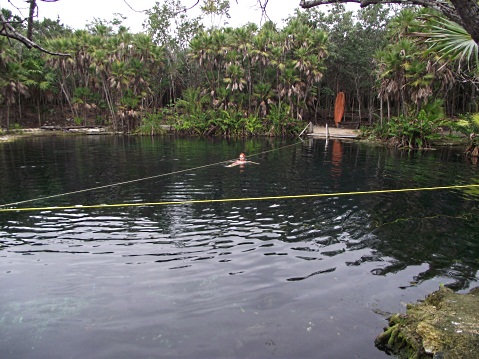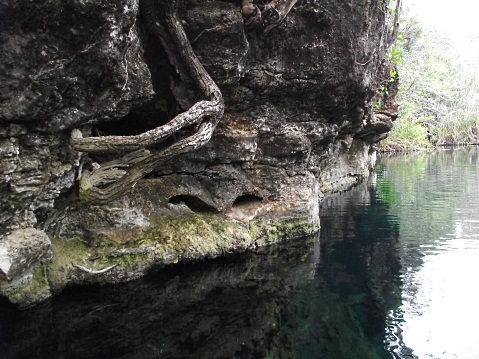 This is the last cenote I visited. They were peculiar in the sense that both were located on different sides of the highway…hard to cross, better to drive from one to the other, and they both belonged to the same ticket office :-).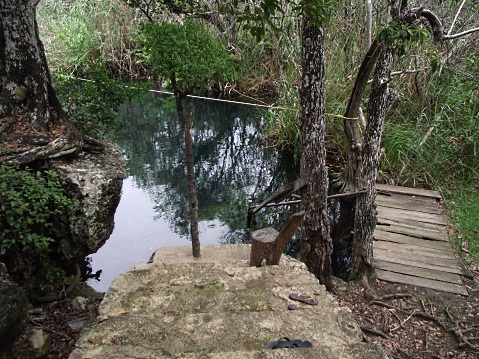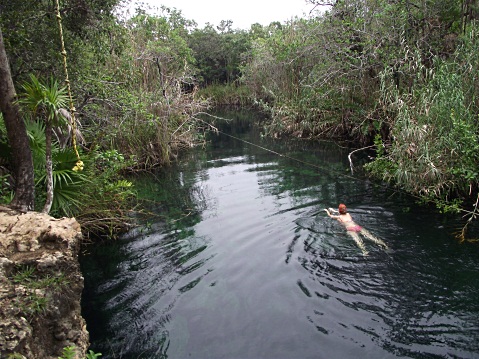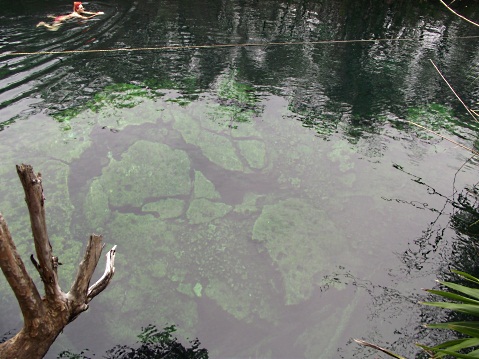 So transparent… so clean…I wish we had more time here. I would suggest to stay at least 2 night sin Tulum – there is much to investigate. But we were heading towards Cancun and Isla Mujeres.