Campeche is on the other side of Yucatan peninsula, on the Gulf of Mexico coast, which i snot as attractive as the one in Florida. The color of the Gulf is grey there and you can see it best from the highway stretching by the water. The downtown is further from the sea and is not only enclosed in walls, but has forts on all four corners and several gates to enter the town as well as many orderly lined streets with orderly painted facades: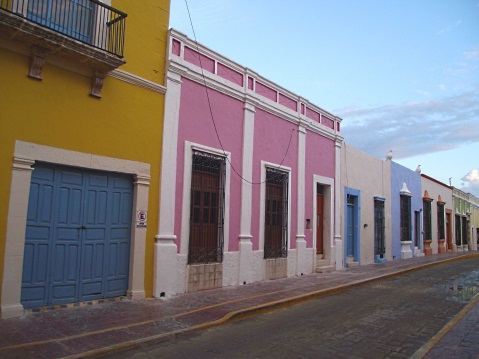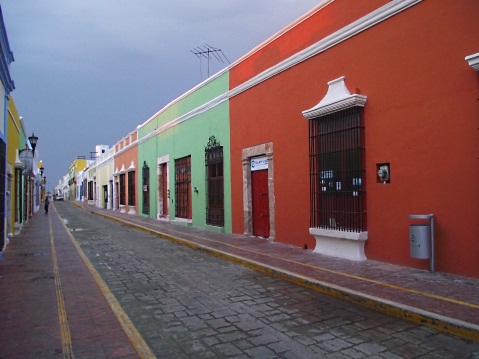 This street is #59 – no cars can park here: a photographer's paradise!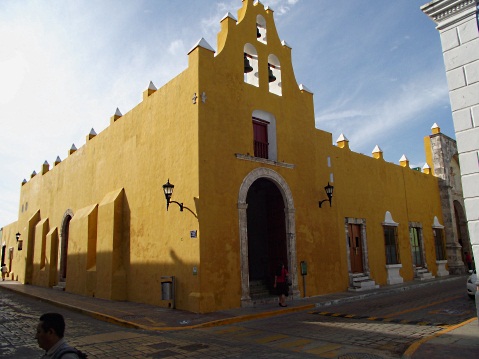 We stayed for 2 nights in a perpendicular street Calle 12 ,close to this church and we could park in front of our hotel "Lopez" . A very nice hotel! As everywhere in Mexican cities – you don't know what to expect before you enter the building and go deeper and deeper into it. So here are the inside spaces or lobbies of Hotel Lopez: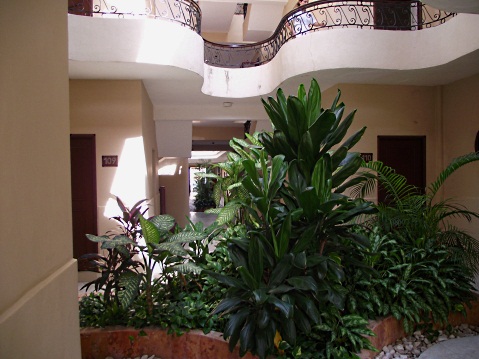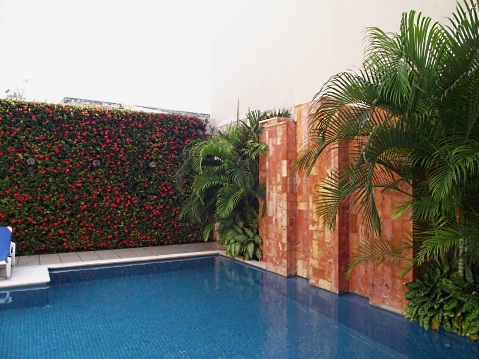 And here is the hotel pool where I didn't swim…Till this time I feel I haven't accomplished something in Campeche…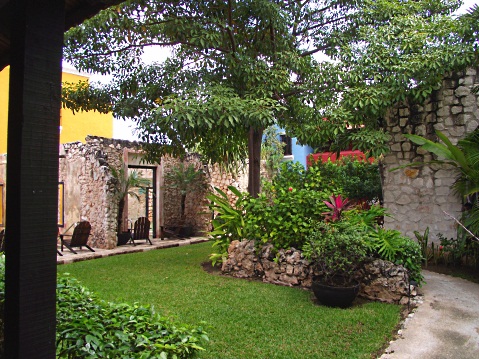 And here is another hotel where we didn't stay. Our American friends pointed it to us to visit for some pictures – it is built over some old monastery ruins with appreciation to the past and incorporating them into its gardens and pools: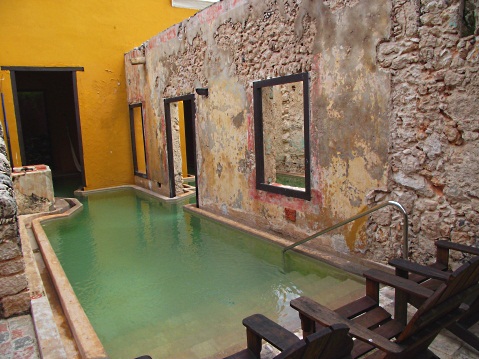 So one can swim in among the old rooms…Personally I don't find it attractive – to me it seems like a flooded house, like misery. But they think it is wow! and therefore their prices are around $500 a night .This hotel is on Calle 59 at the very East side of it, by the city wall.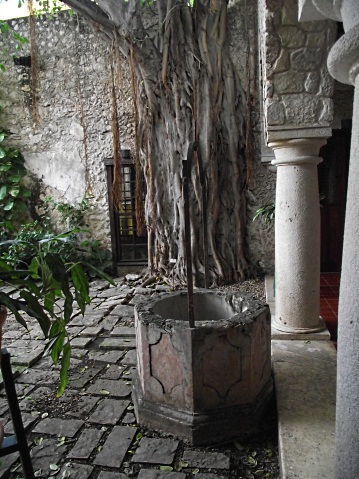 Campeche has many museums, enough for me to wander around for 2 days. One of them: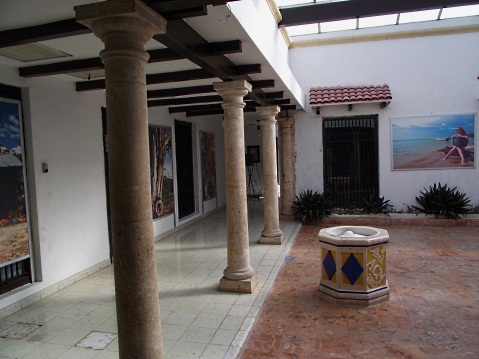 In the very central square, by the Cathedral: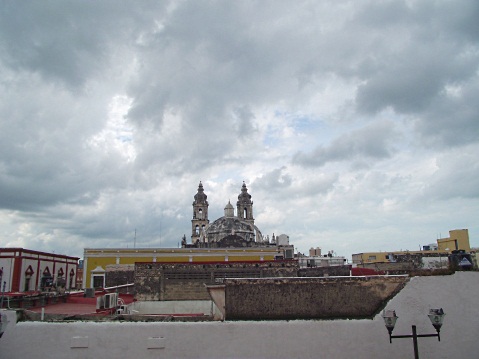 there is a rich man's house-museum: Casa Seis (facing the cathedral on Calle 57):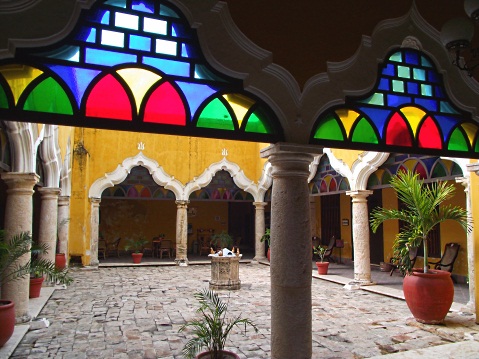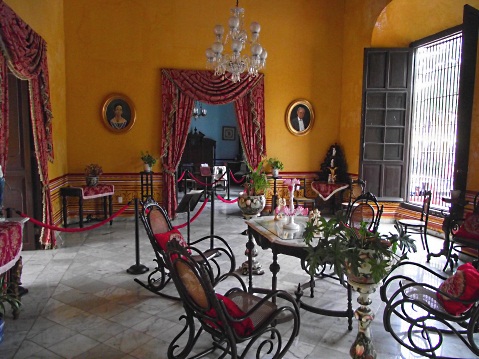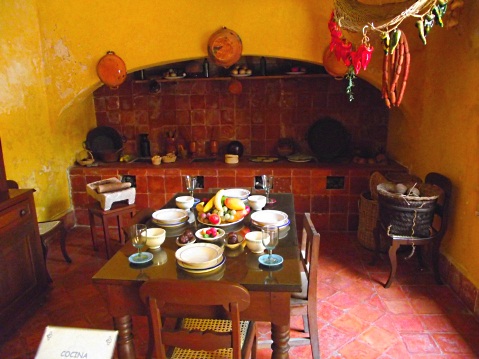 It is always nice to see how rich people lived or live 🙂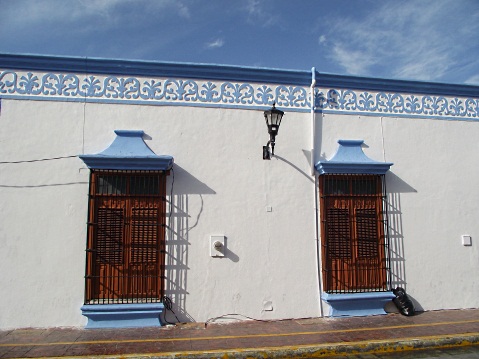 What was nice about the stay in Campeche – they have lots of music and dance concerts in the Man square. Also – the restaurants are good. There is a choice for different tastes. We even found a vegetarian cafe close by in the center, owned by a German yogi-woman. But she was much more interested in yoga than cooking. so it took as a while to catch when they are open and not lazy to cook and serve food :-).
Before leaving Campeche we drove on the very beautiful seaside highway south to Fuerte de San Miguel – a Fort still in the boundaries of Campeche. There a museum of ancient Maya art there, it pleased us to see how talented those people were: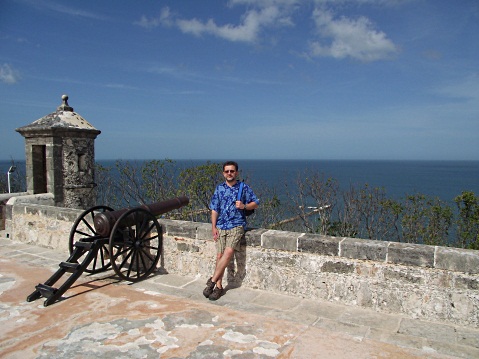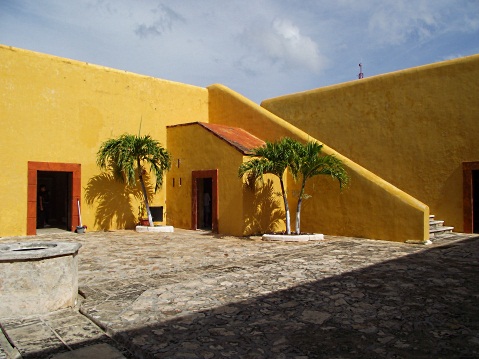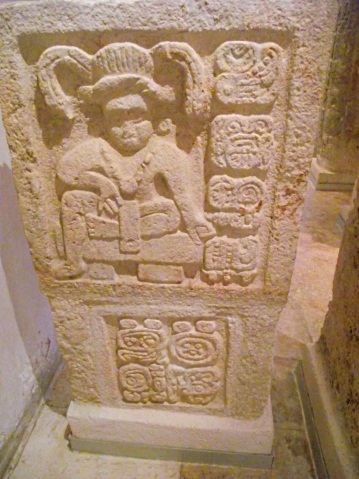 Just to show how cute their glyphs are. The Stellas are brought from one of the archeological sites.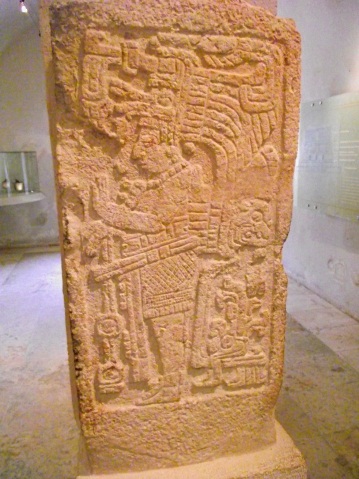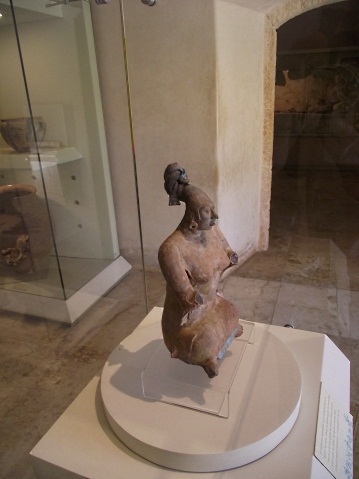 I am not sure if it is ethical to show a dead person in his burial attire…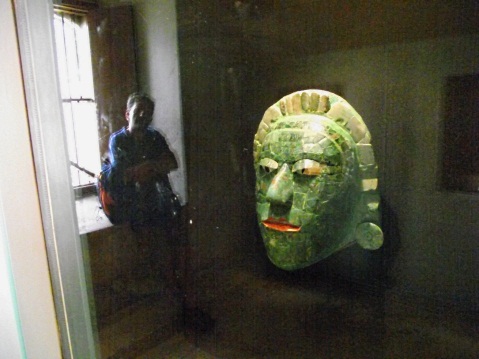 They used to cover the mummies of their kings with a mask of blue jade.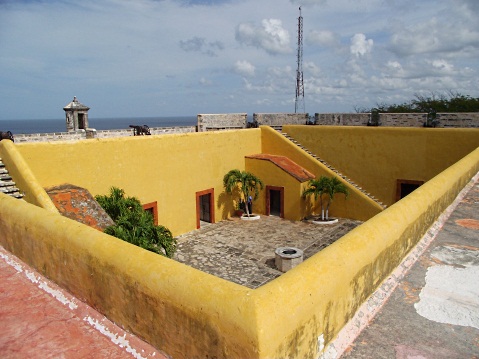 The museum halls are in this fort around the inner garden.