Initially we planned our trip in Yucatan like a circle – starting from Cancun to Valladolid: 2 nights, then Merida: 2 nights, then Campeche –2 nights, then Xpujil: 2 nights and a night in Bacalar and in Tulum on our way back to Cancun. We planned to see not only the cities, but also the archeological sites closest to them. Xpujil was to be a base camp for investigating the very tropical jungle and the sites as Calacmul, Becan, Balamku, Kohunlich and others. But…we figured out that it was unrealistic and inefficient to skim through so many nice and interesting places on our way and not to have time to enjoy them. Also – the roads are not so good there. I mean not all the roads are good enough, the way we are used to and the way we plan. 100 km in Yucatan are not the same as 100 km in Lithuania, let alone the USA. There are so many little villages on the road and that means very slow speed, lots of "vibrators" and speed bumps "tapes" , that you are literally crawling. A bicyclist is faster than you in a car. And we were warned – do not speed!
While searching on the internet for places to sleep- some cities got us enticed to several ones and we wanted to experience them so that we know. So against my strong belief not to overuse the resources of nature, we slept in two places in Valladolid, different for each night…One was hotel La Aurora, as I described before, a very good one, almost in the center of the city, except that the rooms facing the yard are much more quiet that the street side. But nobody spoke English there, though it is not a big deal. The other night was at Hostel 'La Candelaria" – in Candelaria square, a block from La Aurora. The Hostel in not only in a perfect location – they had a tent-church set up in front of a real church in that square and the masses and singing of all town enthusiasts lasted till 12am :-). But also – the staff speaks good English, they are very friendly and informative about places to go and see. I can't express more gratitude for them! They told about the cenotes, they told about the best restaurants. And the decor there was so pleasant! As it is typical in Mexican hostels we visited – there was a jungle garden, colorful little shacks, and "sceleton art" (they call it De Arte Popular – the Day of the Dead themed) pictures and paintings. Here is what we saw once we parked our car on the street and headed towards the hostel: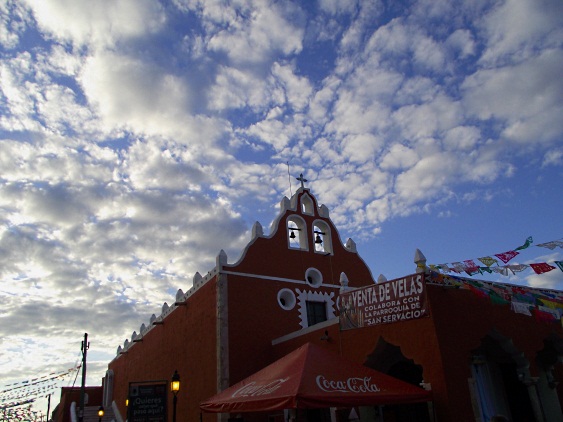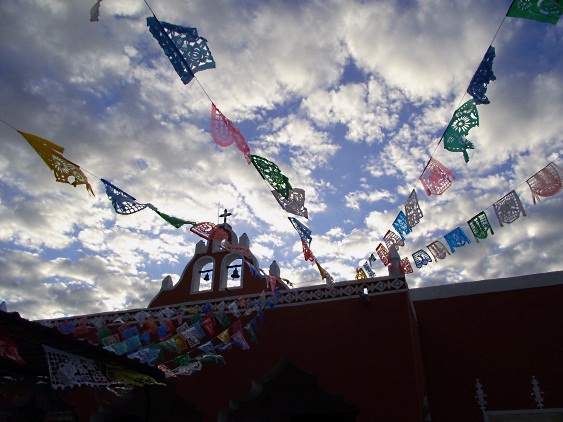 Without being ashamed – I love this picture! looks like some Tibetan flags but they are Mexican-Catholic flags…All the cultures have connections deep inside and sometimes they show up those connections outside…
Here is the hostel: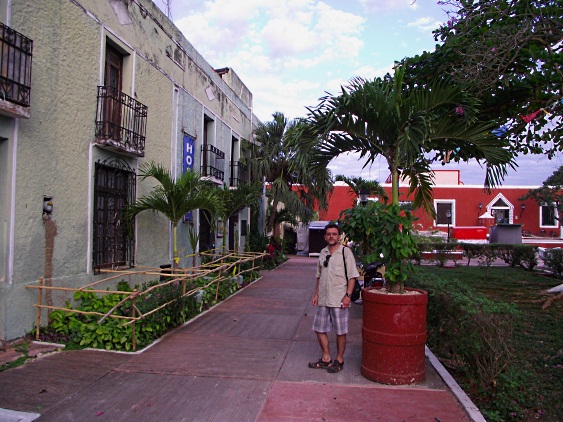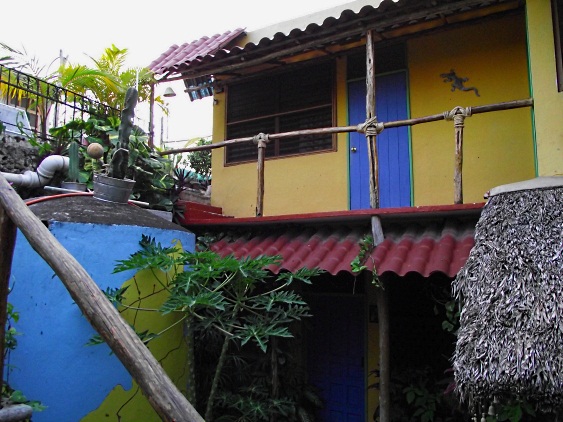 behind the blue door was our room. The experience there would have been really nice, except two things. They had to fix the water tank in the evening and until it filled up by the morning -there was no water, no toilets…And it is not so good for quiet night seekers like we are. Besides the noises from the square and my big efforts to finally fall asleep our neighbors came drunk and the American "she" was chatting in her high pitched voice by our door until they both fell asleep there, on that balcony path…Yak…But, the morning was beautiful and it offered more nice pictures: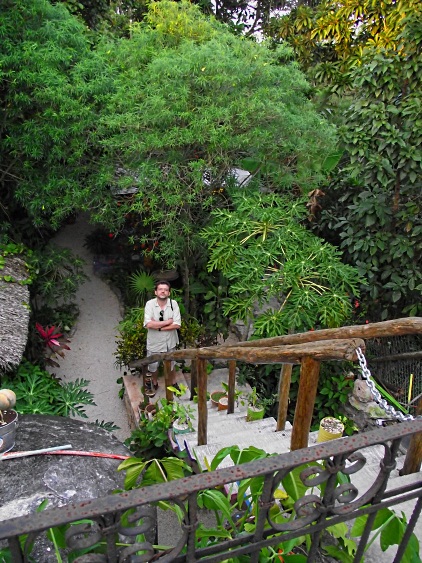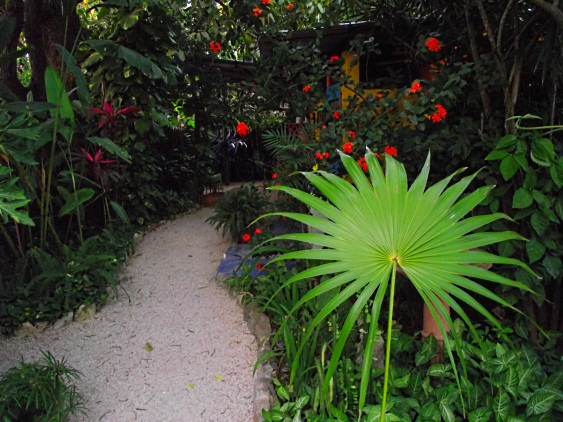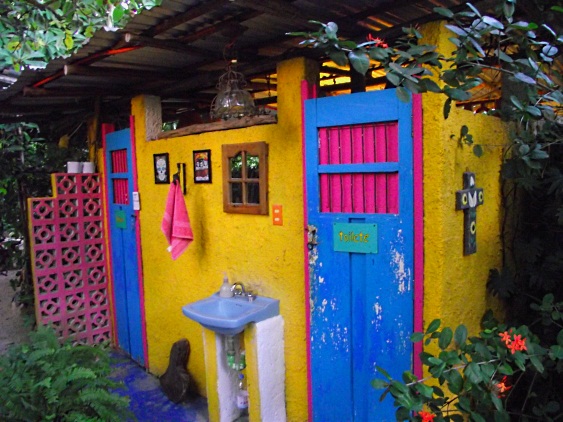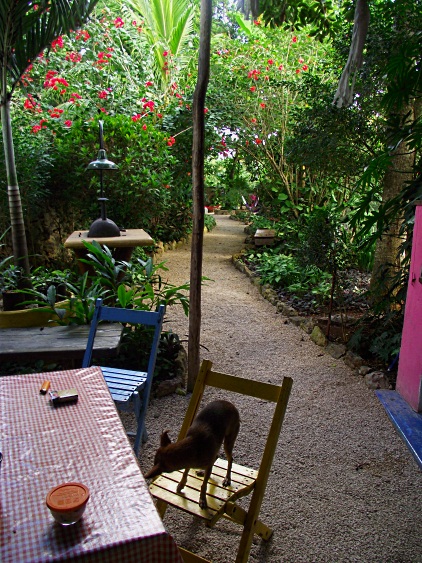 Every hostel usually has a dog, a cat. This one tiny creature is called Bob.
The time before Mardi Gras in Mexico is a time of festivals. Here is the Town Fair in Valladolid: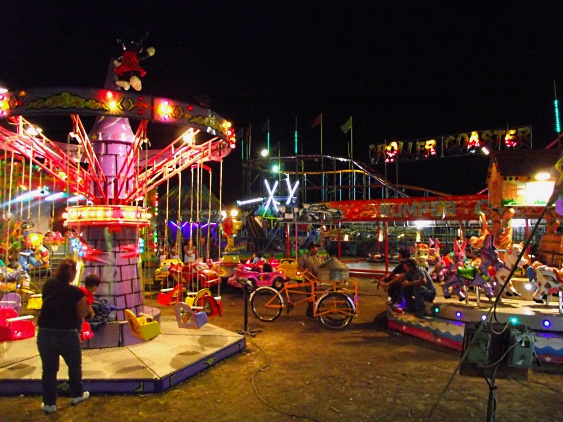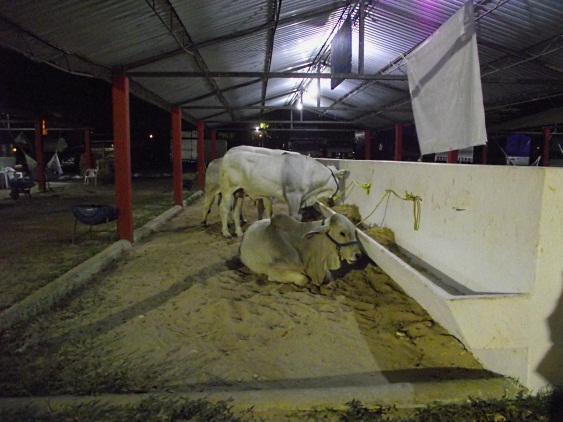 We saw such cows in the fields, and now we saw them in the Fair. Friends who travel to India said that this breed is brought to Mexico from India. Looked very exotic to me, except that it is painful to see them on such short ropes…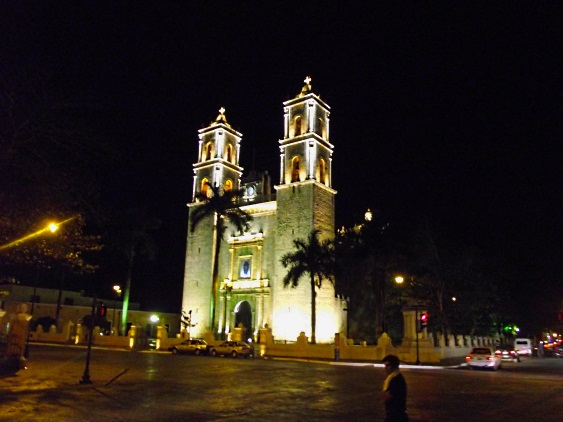 Valladolid Cathedral at night and the Burrito Andrei ate at a very artsy-fartsy restaurant Conato on Calle 40: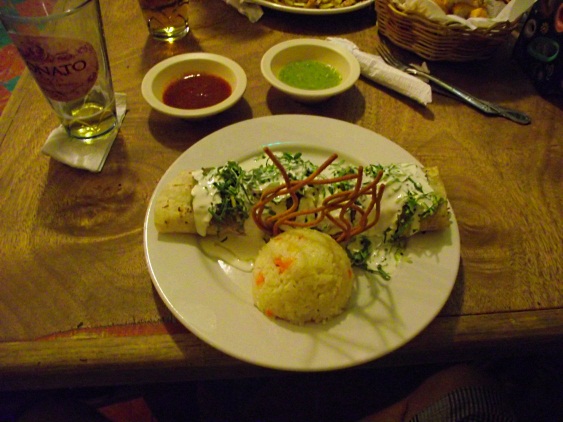 It is a pity I didn't take any picture of its interior…It had several copies of Frida Cahlo paintings, some other interesting decors, worth visiting. And the food was good!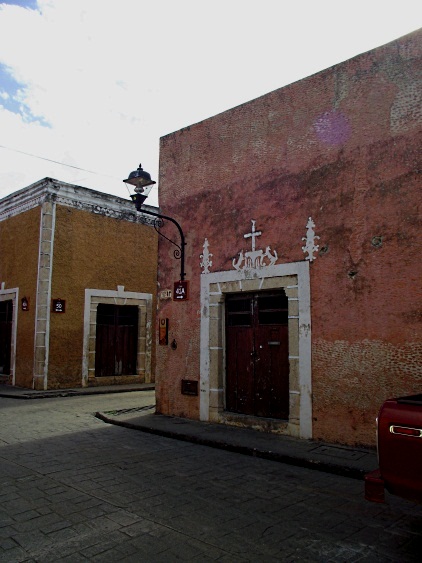 While most of the streets in Valladolid intersect at the right angle, Calzada Los Frailes is an exception. It can be called Diagonal, like in St. George we have one, but far from the looks I saw here: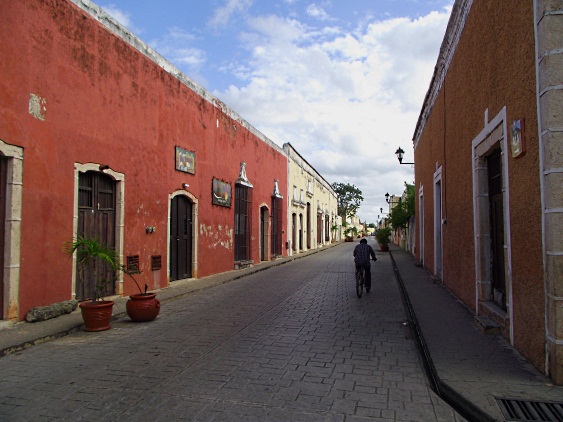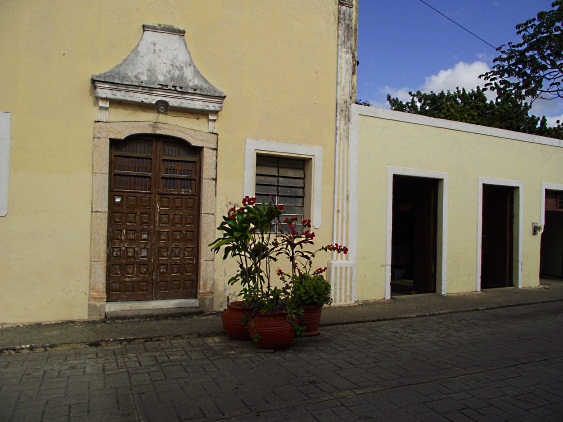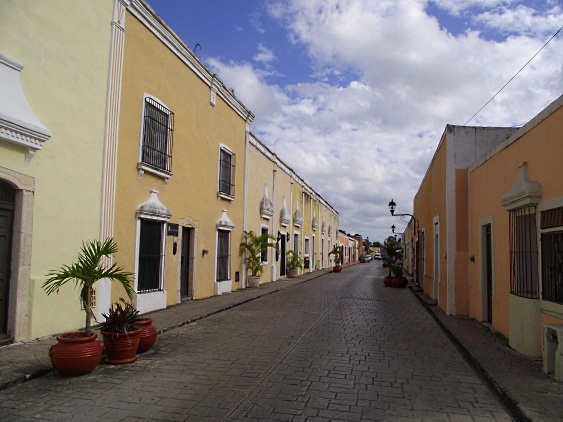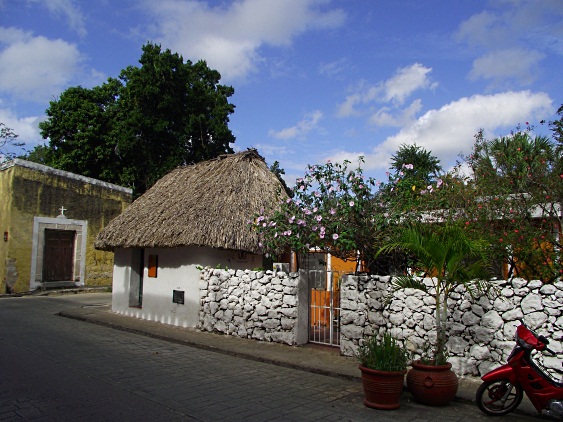 Boy, I loved this street. This is what I expected to see in Mexico and here it was. In a way – it was a dream come true! The Diagonal leads to Ex Convento San Bernardino: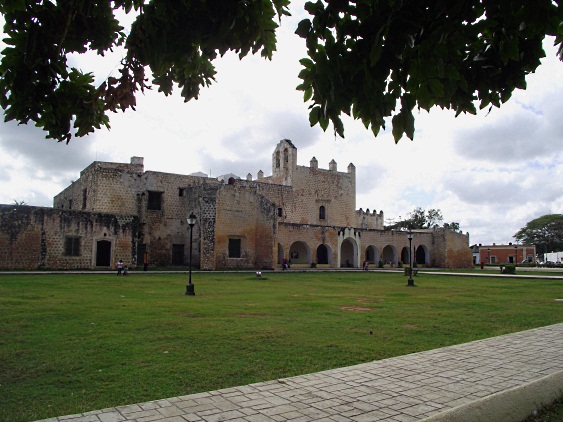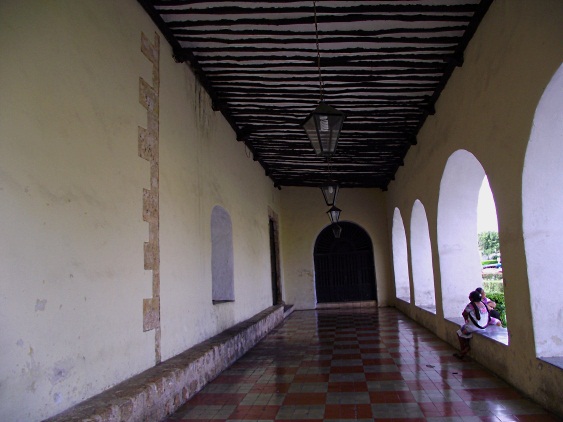 Two Maya ladies chatting by the entrance…
As it is clear from the name of it – the monastery or convent is not operating any more, but there is still life inside: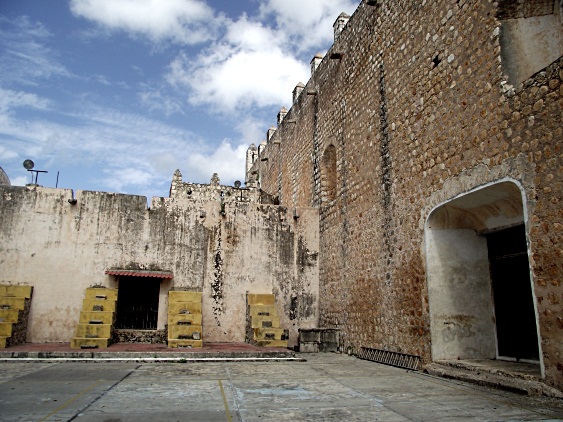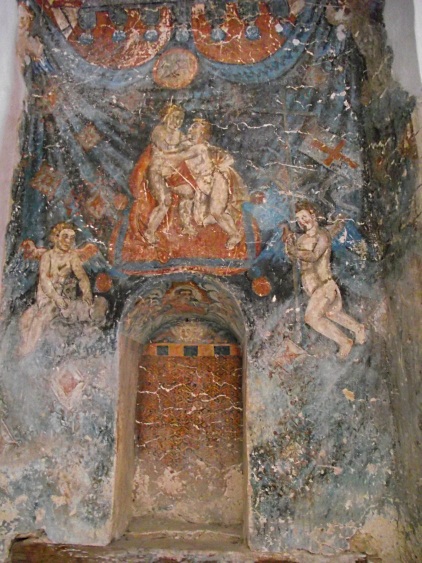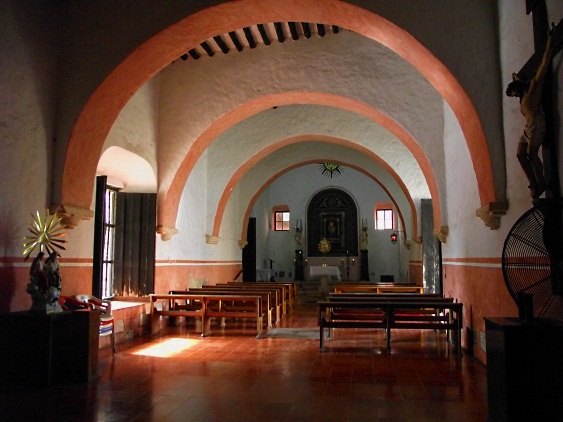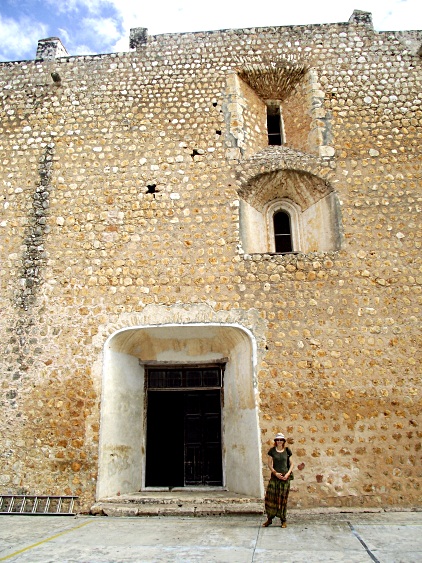 Here is the square in front of the Ex-Convent with blooming trees: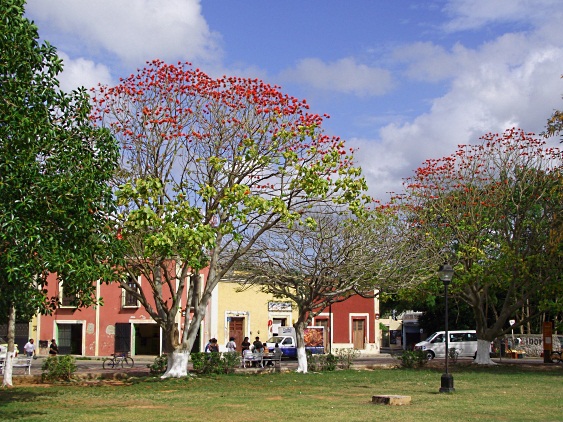 And here is Valladolid's cemetery on the way from the town towards Merida. First I was stunned when we entered it: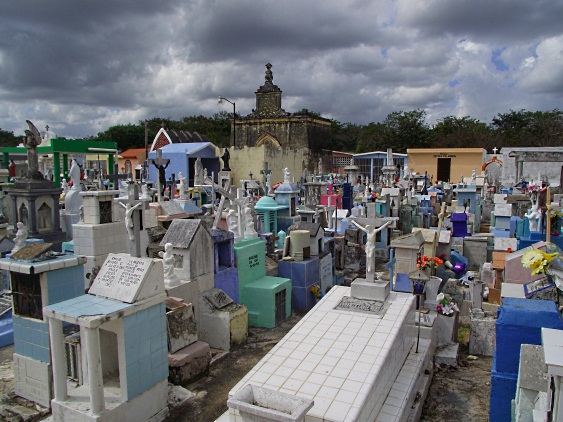 Like a town of doll houses. I can't understand how bodies are buried there, so little space for each tomb, except for the newer part of the cemetery and rich family chapels on the sides…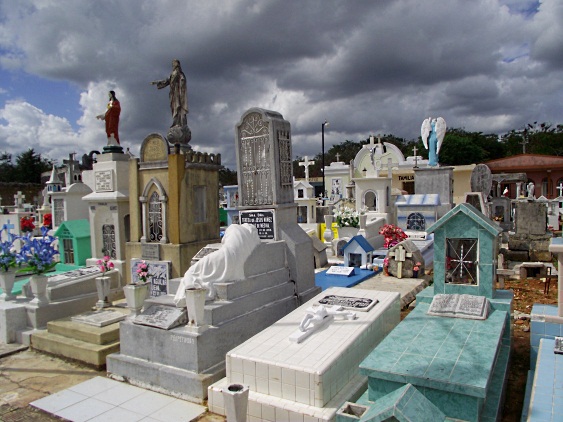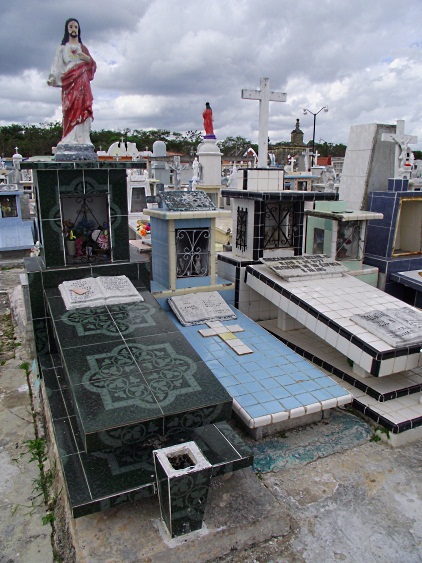 As you can notice – most of the tombs are decorated with tiles. They are very much into tiles in all their structures, I bet they are producing them there and with a peek into one of the tile stores I was amazed at the variety you can get.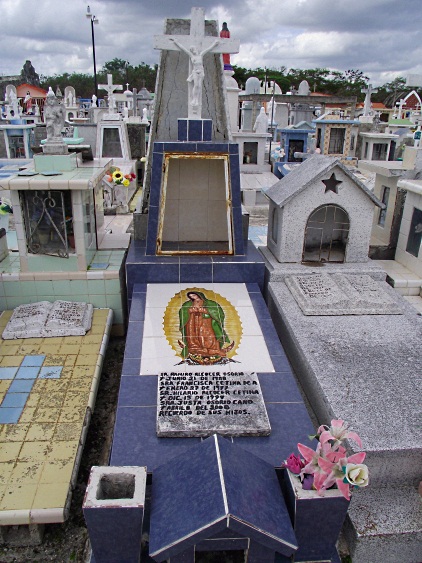 Lots of graves have a symbol of an open book – not a finished life story?..
(still much more)