A little interruption in Spain Blogs (they will follow after this one). As usually in April, we did a two night trip to Vegas. To have some fun before the season kicks in. And to enjoy Vegas while it is not too hot. Well, it was not hot at all, even cold. Too cold to swim in the hotel swimming pool outside…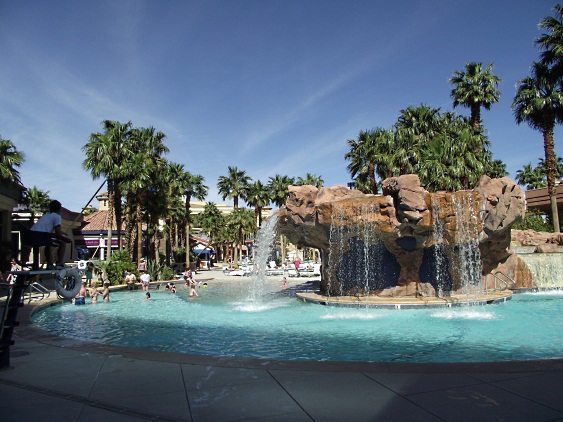 This time we stayed at Rio. The rate we got spoke about not the best situation in the numbers of visitors to Vegas. Well, to mind they built too many hotels, but I guess they know what they are doing because they are building more. After setting up in Rio and catching the jingle-and-rush atmosphere there we drove out to eat at Mt. Everest indian restaurant on Sahara Ave. It is the matter of taste, but we think their service and food are good, and the prices are reasonable.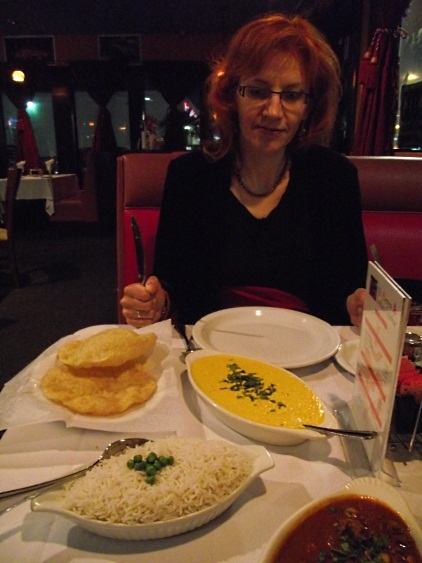 Then we rushed to listen to Valeri Glava's playing his violin at Venetian -in St. Marcus square. He plays with a trio every evening except Mon-Tue. And he does it with great enthusiasm, very pleasant classic pieces. Some people just come to sit and listen for a couple of hours.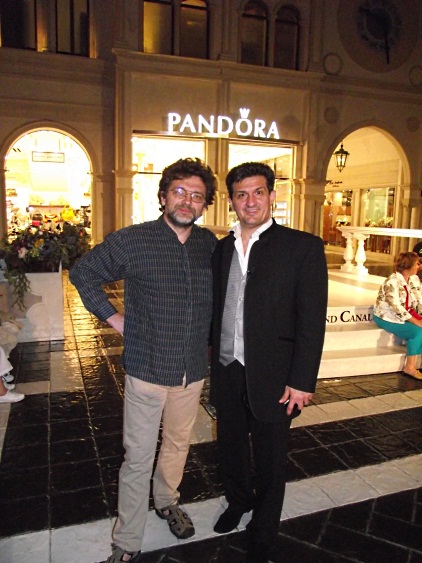 Amazing how late the shops and galleries are open in Vegas – evidently they are also lacking business. After 10 pm, when his concert ended – we still wandered around the Venetian and checked the art galleries we like: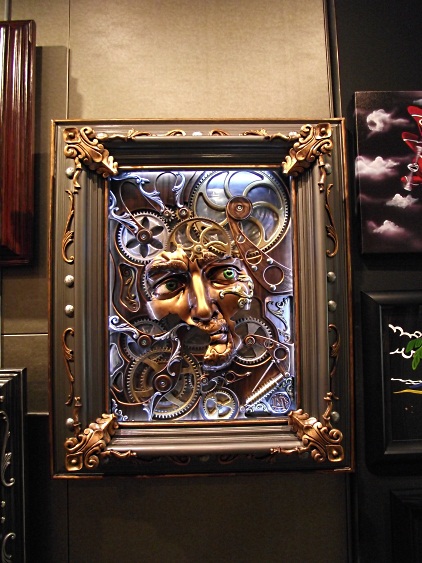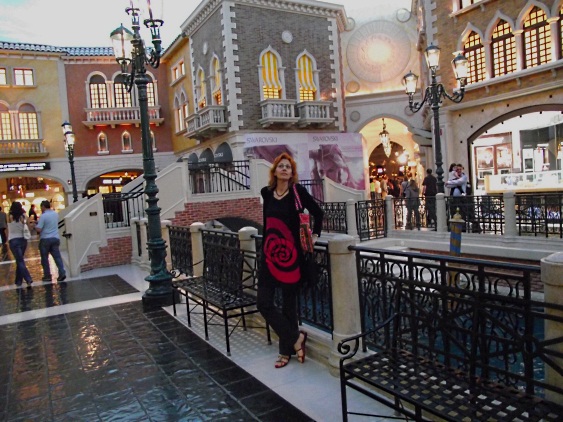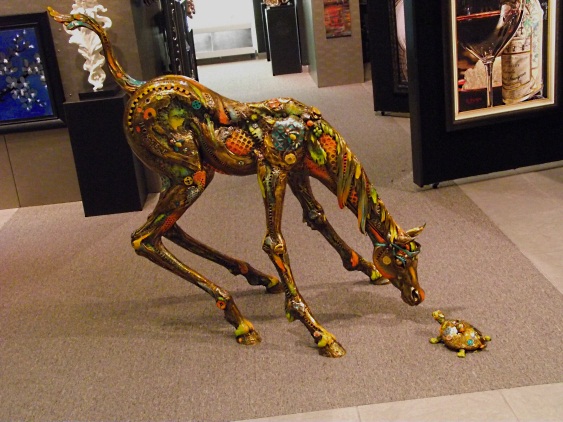 If you are not an employee of a certain casino or at least not a constant visitor to some particular casino, it is not always easy to drive directly to the parking of the casino you are intended. So we parked at Palazo, for that is where the traffic lanes as if directed us. But whatever, they are both connected and so it was rather pleasant to the spring decorations of Palazo before heading to Venetian: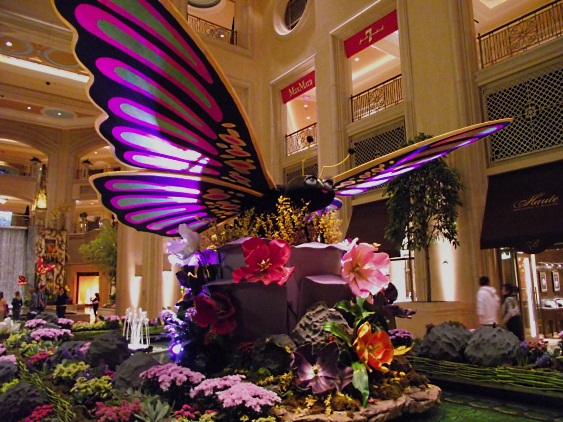 I don't remember Palazo being decorated with taste, so the same story this time…My guess – each casino group has different designers, so while their expenses for the decor may not differ greatly, their taste does…On the other hand – the spaces are so huge, it is really tricky to think of how to fill it up. It is much easier to criticize :-). For the amount of flowers and sometimes for some of their arrangement ideas my favourite is Bellagio, which we visited the next evening: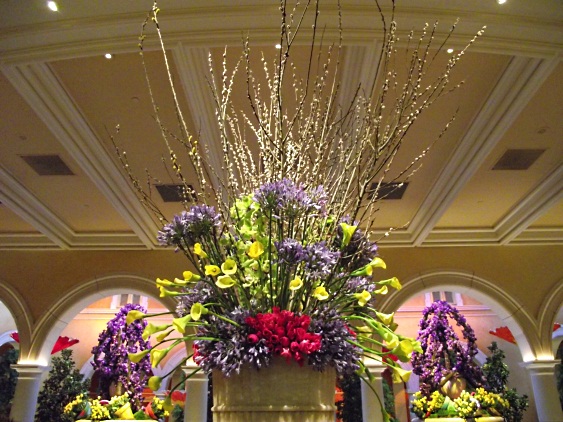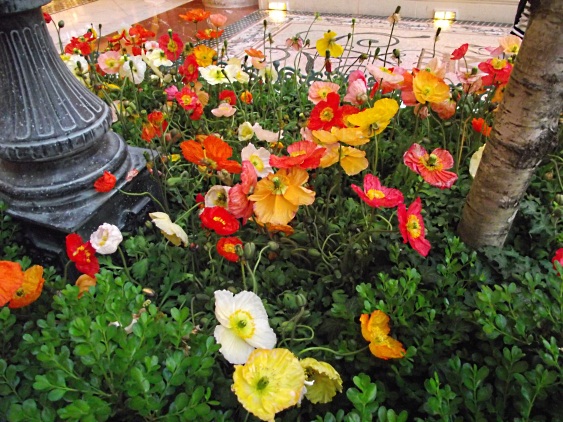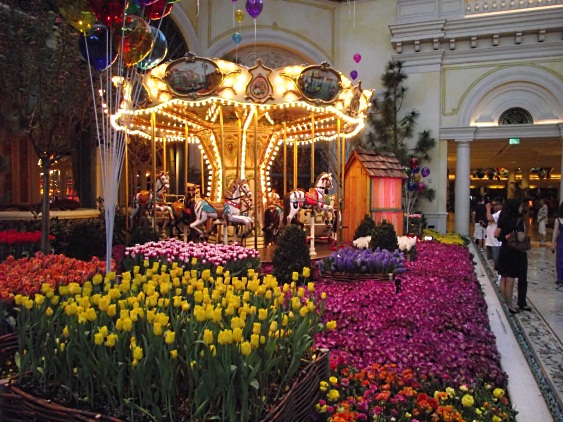 So much about flowers. The next day we observed how sting rays and sharks were fed by a diver at Silverton casino in a coral reef aquarium: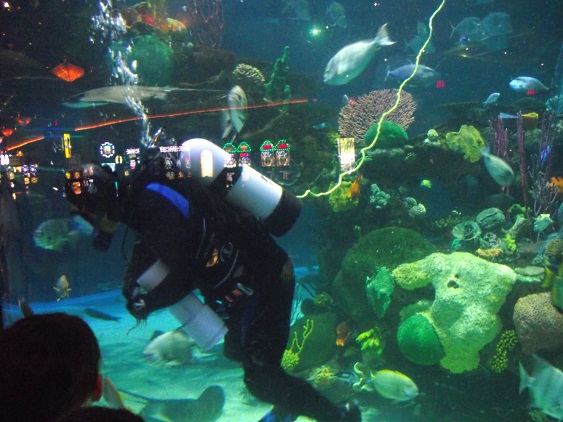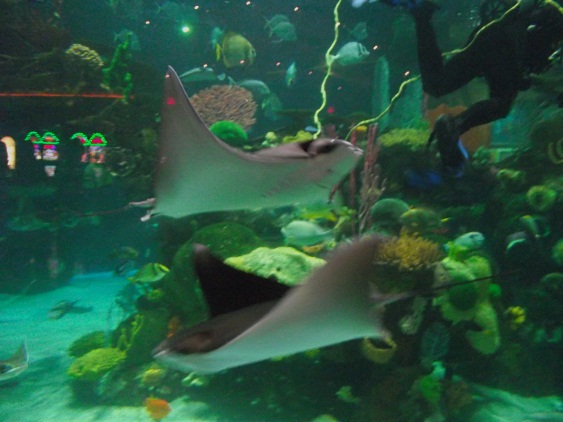 That was quite an attraction. As you can see the sting rays have their mouth under their body. Some of them would swim eagerly and grab the squid from the diver but some were not so hungry, so the diver literally pushed the squid into their mouths. The same with the sharks, but don't think they were large ones. Just small playful sharks, some of whom are nocturnal and they just stay at the bottom of the aquarium, but the diver felt they needed nutrients and also pushed squid into their sharp mouths.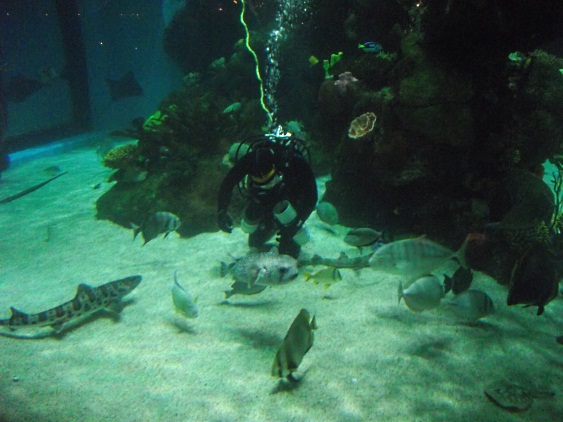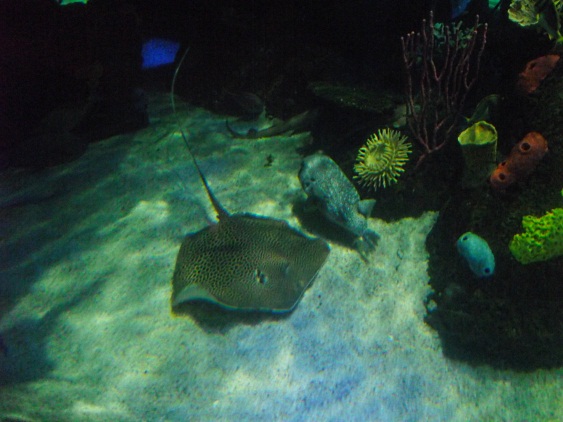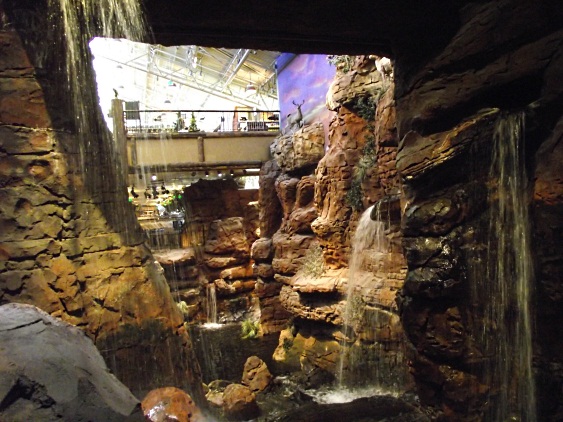 The next stop-the Flamingo hotel-casino. They have this nice courtyard with flamingos, swans, koi fish, ducks and other creatures all in a beautiful park setting: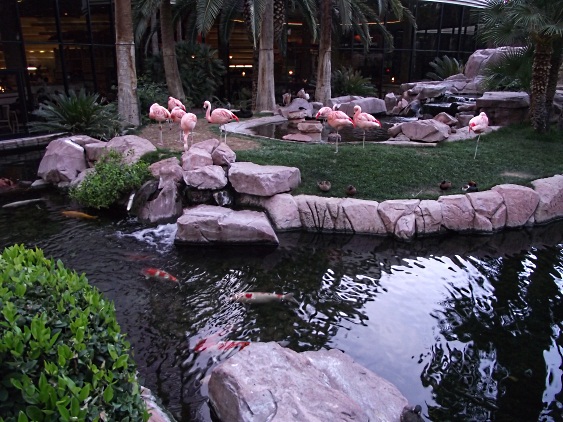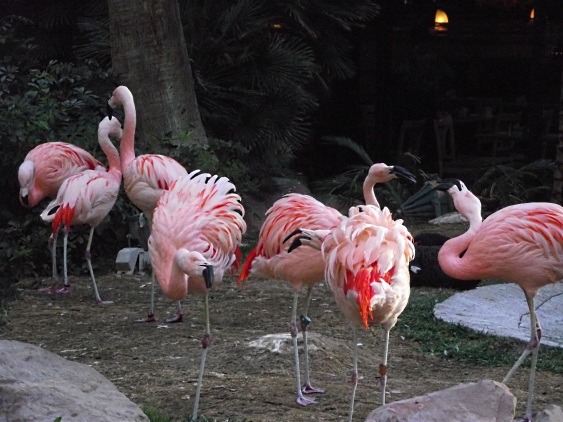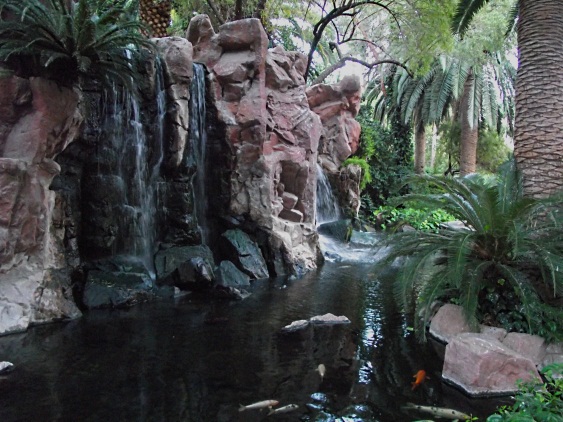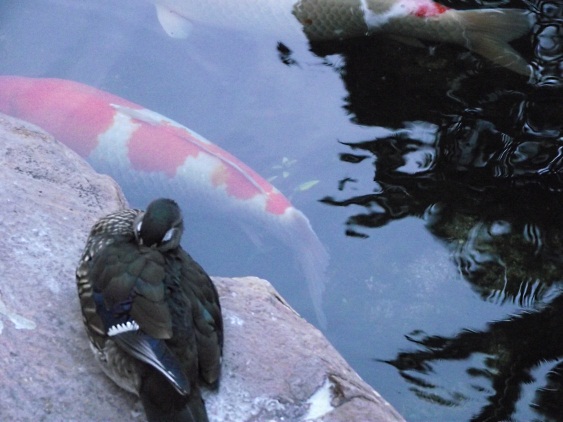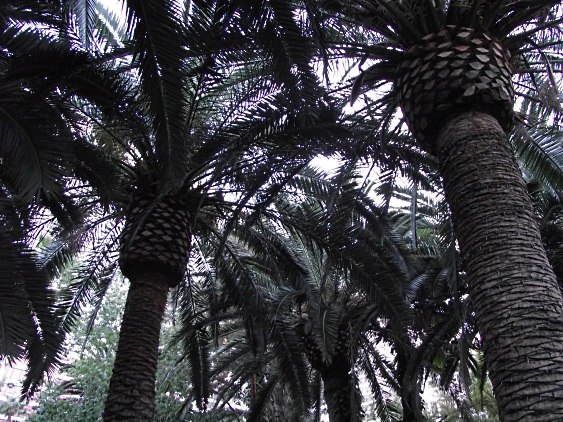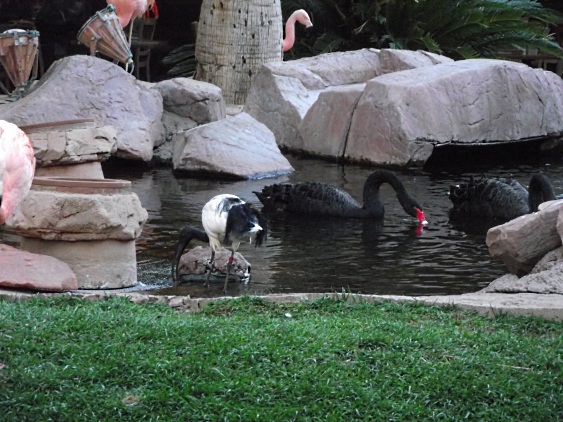 Then again Bellagio. it is very comfortable to park in one of those hotels – Flamingo, Harras, Ballys , Paris, Bellagio or Cesar's palace and walk around them using the bridges to cross the Strip or Flamingo ave. We prefer to park in the Bellagio because the elevator from the parking gets you directly to the flower world. But there are other nice walks in Bellagio besides the flowers, with designer stores and well designed restaurants on the sides and not as crowded as Cesar's Palace :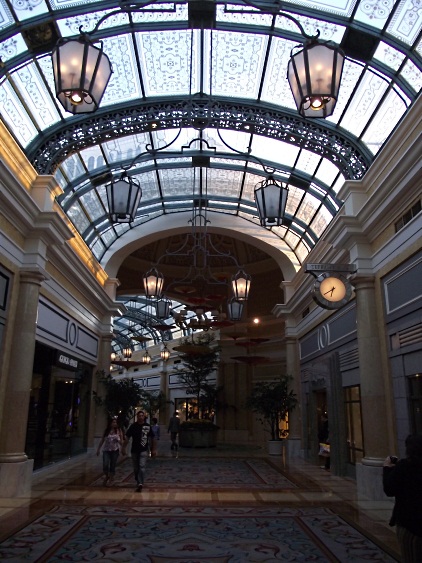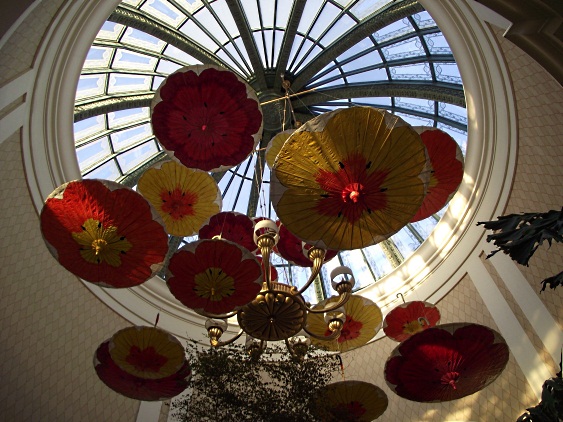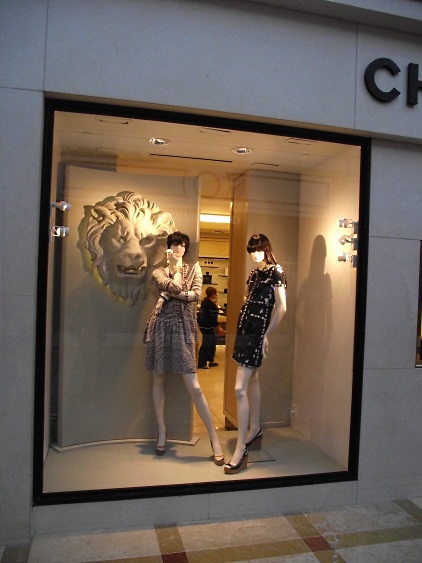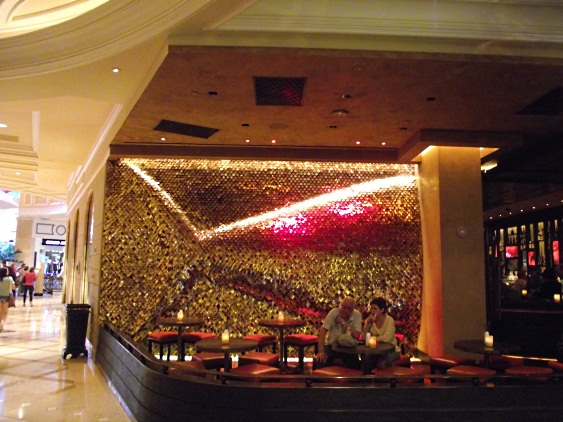 This restaurant is called Yellow Tail – and this wall in front imitates the scales of a fish. The thing about Vegas is that each time you wander around its casinos – you will see new interiors, new details you never noticed earlier. They have exhibits here and there and once we visit Vegas 2 times a year only, we find them changed. This time I looked around the entrance to Cirque de Soleil entrance in Bellagio – a sculptor Richard McDonald was exposing his very realistic but expressive works: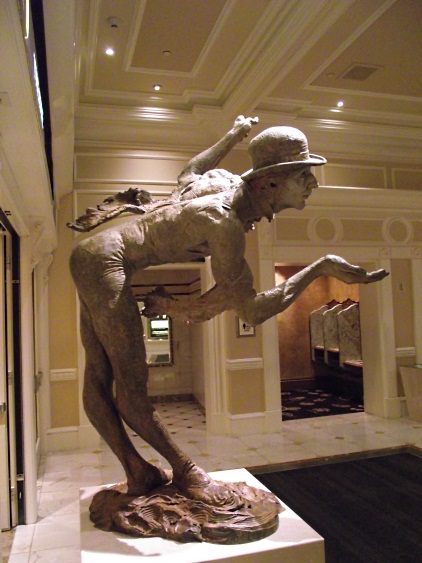 There was a TV screen showing how he works with the models – circus artists, constantly moving and doing poses for him.
Next stop – from the riches to the rags:-) -we had dinner at an Ethiopian restaurant that we found on the internet. Once we got there – we wanted to leaved, but stayed to be done with it- to feel like we visited Ethiopia and never bother to go there again :-):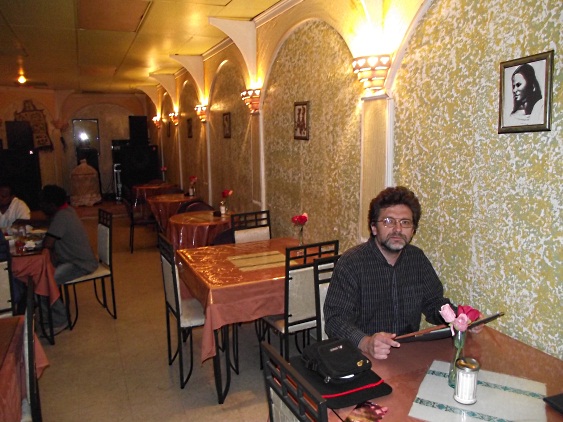 It is not about the interior, yes, it was very simple and luxurious, but the atmosphere was too Ethiopian for us – there were only exceptionally Ethiopians there speaking their language rather loudly, the waitress, alas, spoke some English, there were barely 8 or 10 items on the menu, but the food was tasty and interesting, just too spicy hot for my stomach. So we felt we visited the country, "check!".
Already for late in the evening we left the best part – The City Center. Again -had a hard time finding the parking for Aria hote, so parked where it was easy – in Cosmopolitan and were happy about it/ I would strongly advise to park there to make your walks around those new contemporary hotels -casinos, galleries, shops,restaurants -once you get from the parking lot to the 2nd floor – you just almost bump into a humongous chandelier – it is as if a chandelier with a restaurant inside/ But the strings of beads, the drapes made from them, are worth seeing and enjoying: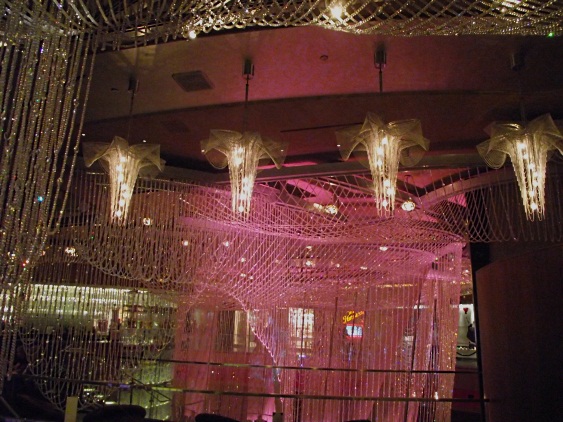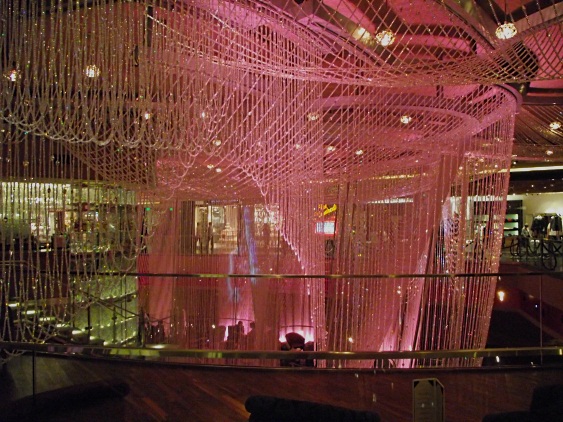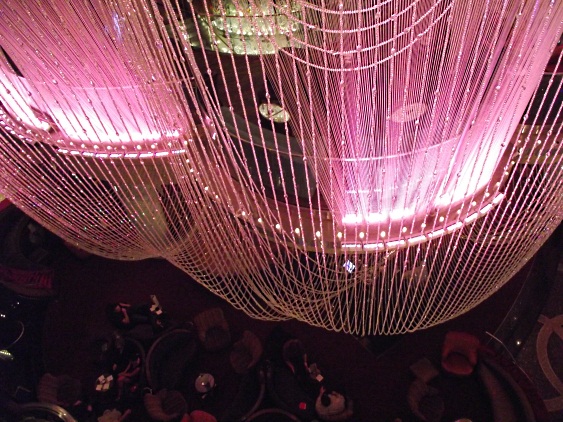 There are bridges connecting all those new buildings,so you have no problem, walking around them, just follow the written directions.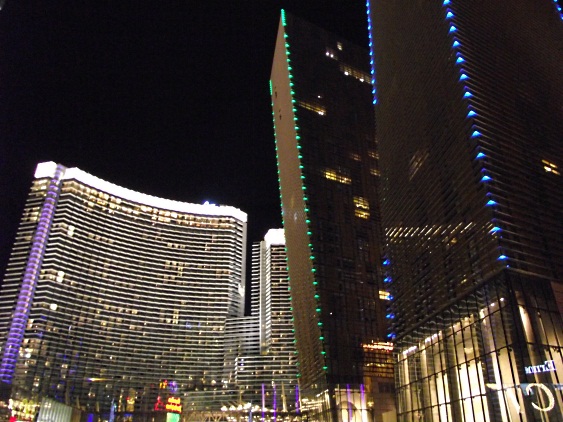 We didn't take many pictures in the ones we have already been last year and I showed them in my previous blogs about Las Vegas, but it was very curious to see the new Hotel -not a casino! – Oriental Mandarin. We are used to cheap Chinese buffets called Mandarin. This time – a completely different story. This hotel though it stands in the same City center – cannot be reached from those nice connecting bridges…you have to get down on the street level, go around some smaller buildings and walk to its entrance – I guess to stop crowds from entering it in vain. But the two men who met us at the entrance were very pleasant though we warned that we are just browsing, not staying there, they directed us to the elevator and said that their reception is on the 23rd floor! Wonderful – the whole Strip was seen from the big windows there, the lobby quite in the dark so that the lights form the Strip would be especially bright – and a couple of restaurants by those big windows, very silent relaxing music – a very nice spot to enjoy the peace and quietness in Vegas, which is by rule a noisy city. But we didn't take many pictures there, so you have to come and see for yourself. Just the lobby and the wall once you get from the elevator (it seemed quite impressive):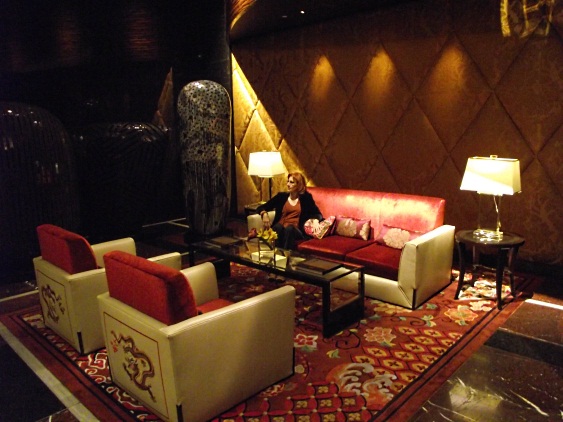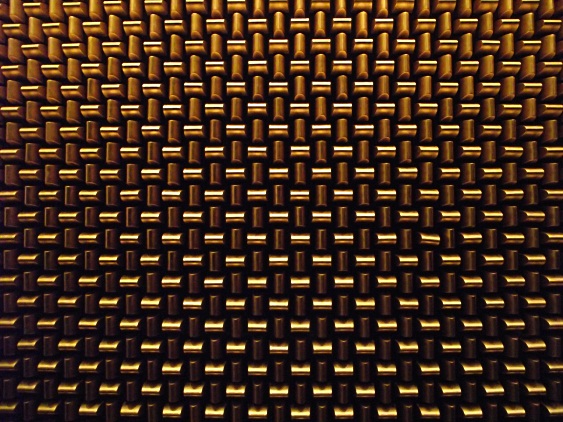 On the way we found several galleries, again – open way after 10 pm, one of them a new Chihuli glass gallery, with a sreen showing how his crew are blowing and heating and creationg those masterpieces: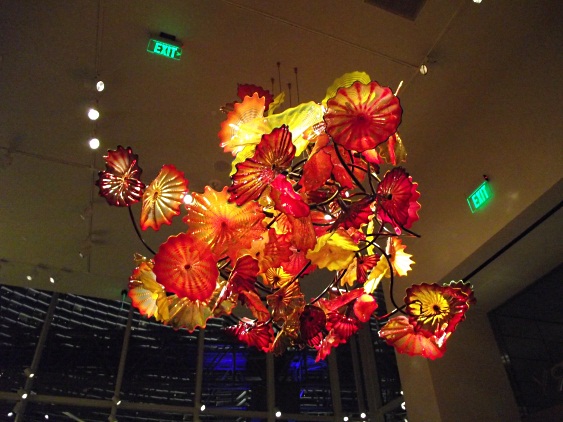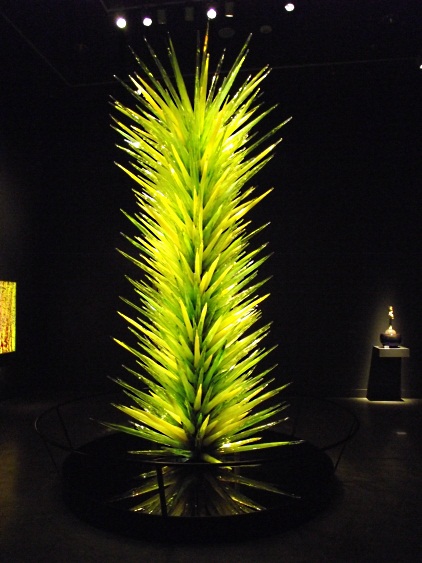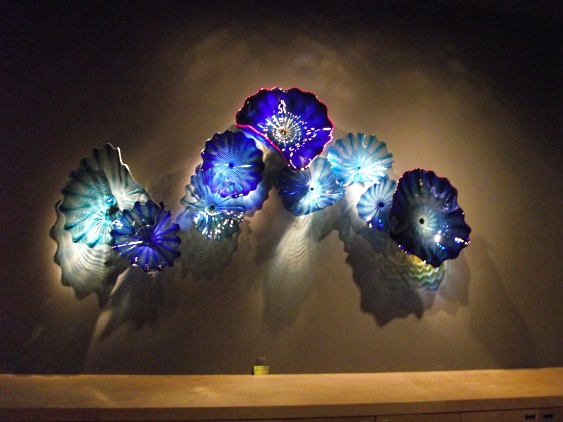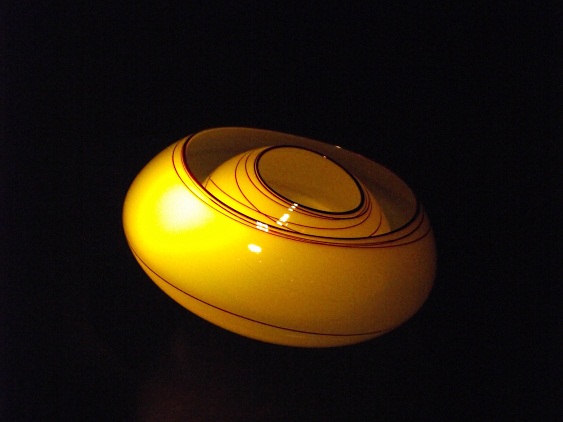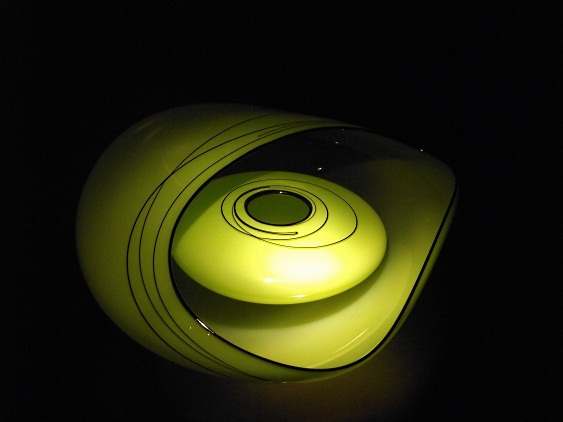 And back to Cosmopolitan, where this time we noticed some nice ceilings and a wall of a store made from old sewing machines: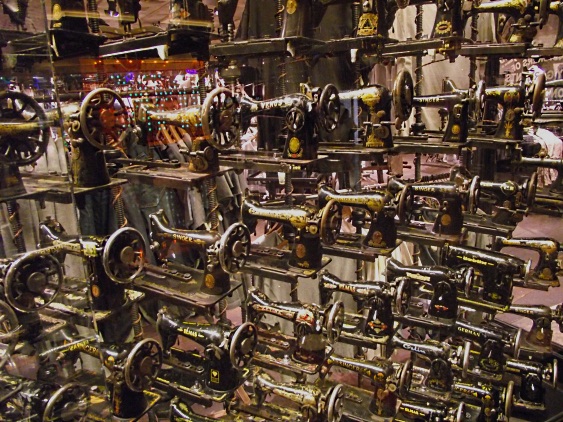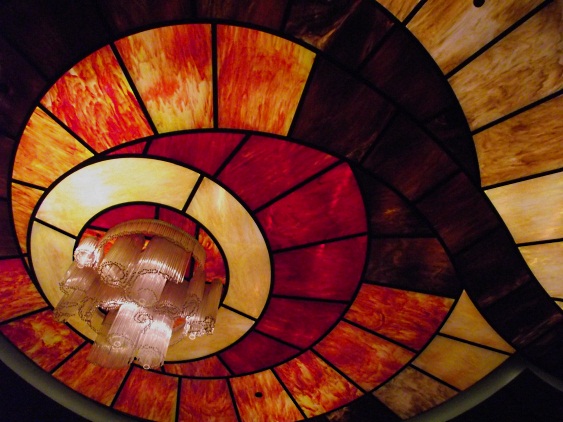 And finally – our hotel room, it was big, all the rooms are like suites in Rio: