We drove that long road #93 in Nevada and Idaho North, with nothing by the road except for chains of mountains. it would be kind of boring, except that the road was being fixed on several parts and we had to stay and wait. Several parts of it had only one lane. Also – there were a lot of trucks on the way and it wasn't very comfortable to drive, to pass them, etc. But once of a sudden we had an attraction – there was sign on the road that there are hot springs only half an hour from Twin Falls, Idaho, called Nat Soo Pah – Magic Mineral Water: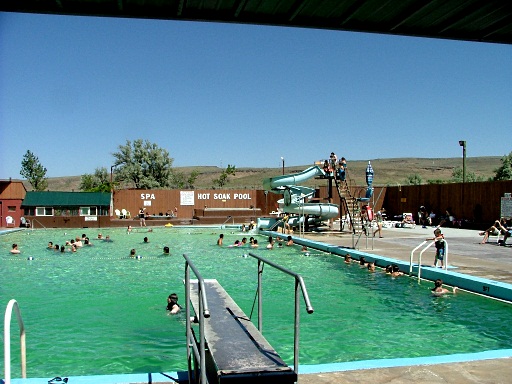 It was very good to have break in driving, to have a rest, pleasure and to cleanse our auras. And all that fro only $5 per person (versus $40 per person in the hot springs closest to Zion – in La Verkin, Pah Tempe Hot Springs – which I am not advertising at all).
Then we passed Twin Falls, there are real falls there, but we didn't go to see them, saw them several years ago on the way to Oregon. Since Twin Falls there landscape was strange – no mountains around, just flat lava fields, rough black lava fields, that can't be used in agriculture in any way…Like a devastated land…I didn't even take pictures of it. We were wondering where did the lava come from – then we realized there were some tiny hills in the horizon. What an amount of magma burst into the surface some very long time ago. It left some caves under the lava surface. One of them is turned into museum – called Ice Caves. We didn't visit it – it was too late, but saw some pictures and talked to rock shop keepers – it is really ice there covering the floors of the cave. The ice s so smooth that sometimes people skate there. But there are no stalactites or stalagmites as we would expect in a cave. As the ice is there – it is cold inside and they advice to dress warmer while going down. It was amazing that on that very hot day it could be cool somewhere without AC. Especially under a black lava layer… But you should never assume -that is my rule I have developed during my life span.
When we started seeing mountains in the distance, some even covered with snow – this was towards Sun Valley, where we were planning to stay the night. Once we entered the canyon where this well know ski-resort-rich area is – the mountains around it where not white at all and they were not spectacular. Just mountains, with rather even surfaces -maybe it was the reason fro ski resort. I would say Brian Head ski resort is much more beautiful. OK, not speaking about the resort buildings. Approaching Sun Valley you start getting the feeling that there is a lot of money spent or invested (depends on who and why) in every inch of the land. The trees and lawns by the road are already irrigated, everything is green, luscious pine and spur trees, lots of flowers, lots of fancy condominiums and houses. However – very few motels or lodges. So that tourists wouldn't disturb of some people's rest :-). When we stopped to ask in one motel about where can we find a no-vacancy sign – the woman started laughing at me. She looked at me and said I have to reserve a year in advance to get a room. That only very rich come here and have a good time, meaning it is not my place to have a good time, I didn't look i belong to that class. Sorry. Not for myself, but for her – the woman was not old at all, but already had very few teeth in her mouth. But at least she was serving very rich people. I asked – what celebrities like to come here, besides Schwarceneger – who we all know has broken his leg while skiing here. She said – celebrities like Bill Gates. Wow, and they stay in that pretty simple looking motel? Well, I kept this question to myself, I was already too sorry for that motel manager.
So being simple and not too rich as we are we drove back towards the airport that big airliners as well as celebrity air crafts are using to make their trip to Syn Valley a piece of cake. And in the town called Hailey we found a room in a simple motel called Hitchrack. By that time we have already done 606 mi. the room was very comfortable, small, but had even two beds, could sleep 3 people, had two pictures – a photo of a wolf who was staring at me on the bed and a drawing of a sheep – to whom the wolf didn't pay any attention. The room also had a small kitchen, which we didn't use. There were lots of restaurants around and some of them had quite interesting menus, healthy choices, local veggies – I guess they were all trying to please the celebrities' and their flocks' pallets. So ingeneral – it is a nice area. But fro pictures – I made only one I really liked: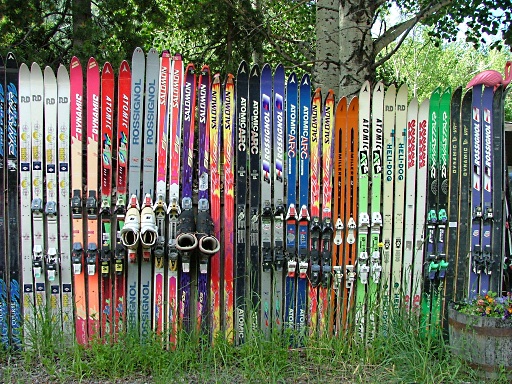 This is how some people make fences by the ski lifts. And how good those skis looked to me: while still in my country when I was young, full of energy and into mountain skiing , I could only dream of skiing on Atomics, Roosignols, Salomons – but at least I heard of them. So you can imagine – I had a bit of sentiment there…:-) . This was unexpected thing to see. But there was a thing I planned to see and was happy I managed – the skating arena, where I heard that lots of Olympic skaters train and the Lithuanian dance couple Povilas Vanagas and Margarita Drobiazko are sometimes training the young generation. This time they were not there, but it was impressive to see others dancing, men throwing women, then either cathing or not, singles doing triple axels, toulups…etc.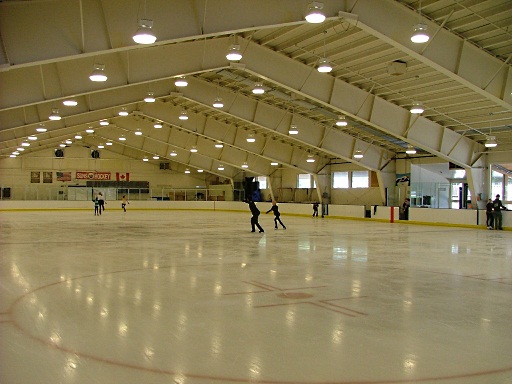 After watching for a while we drove towards Sawtooth National recreational Area – and that was impressive: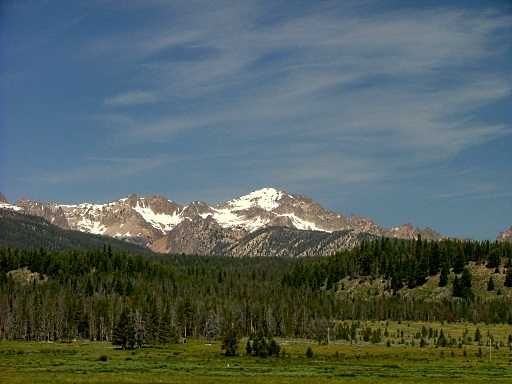 At first we drove up the pass, "up above the sky", and then landed into a very green valley by Salmon river: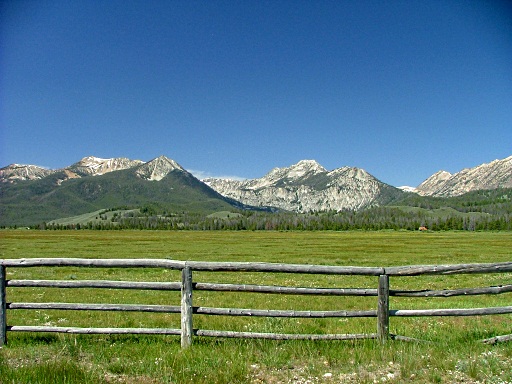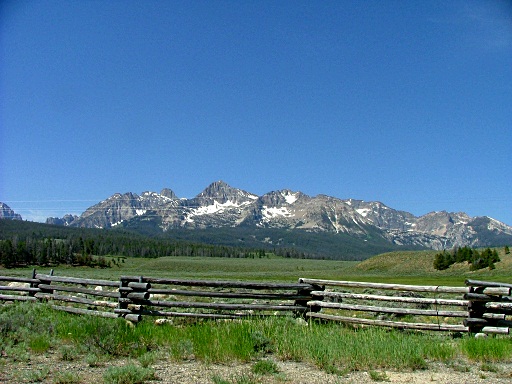 I think it requires no explanation why this mountain range is called Sawtooth.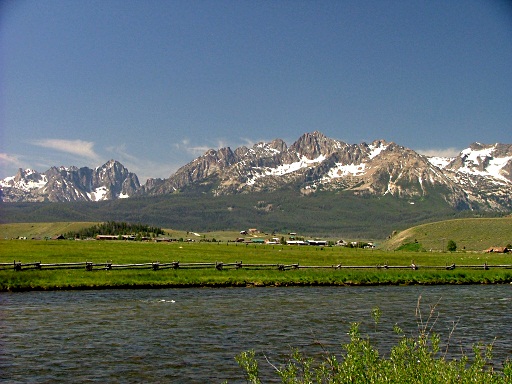 This is the watery and fast Salmon river. Stanley the town is seen at the foot of the mountains. It is spectacular to spend some vacation there! Here is another view of the Salmon river that we followed for a long time on RT 93 and we parted with it only in North Fork when we started going up a pass and towards Montana.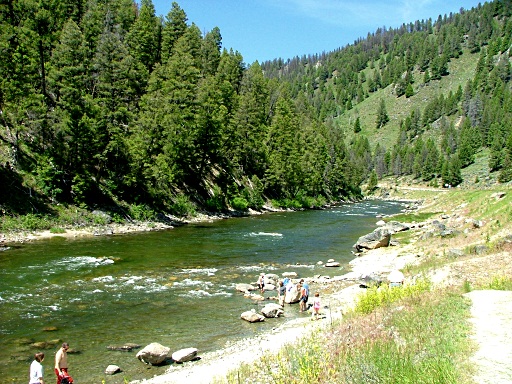 You can see some people by the bank – it is where a hot spring is entering the river. People are wading, some kids are even immersing into the warm waters. We didn't find enough space to immerse…:-)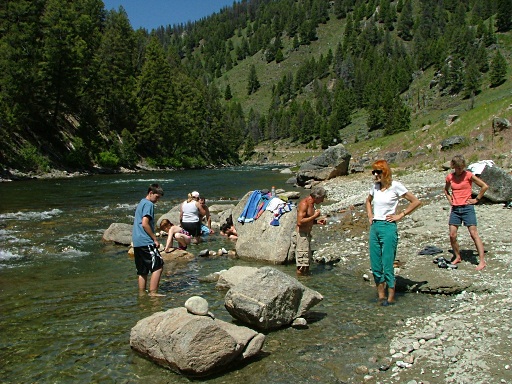 The views all that way by the river were very pleasant, the slopes of mountains had a lot of loose morena and it seems lots of them were shaped by glaciers long time ago…
(to be continued)