Sukhothai means "the dawn of happiness" and holds a unique place in Thailand's history. Until the 13th century most of Thailand consisted of many small vassal states under the thumb of the Khmer Empire based in Angkor Wat. But the princes of two Thai states combined forces and in 1238 marched on Sukhothai where one of them defeated the Khmer garrison commander in an elephant duel. Installed as the new king of the region he founded a dynasty that ruled Sukhotai for nearly 150 years. Through military and diplomatic victories they expanded their kingdom to include most of the present-day Thailand and the Malay peninsula.
By the mid -14th century Sukhotai's power and influence had waned, and Ayutthaya, once a vasal state, became the capital of Thai kingdom. Sukhotai was gradually abandoned to the jungle. If it wasn't for a 10-year restoration project, started in 1978 and costing more than $10 mln., there wouldn't have been the Sukhothai Historical Park: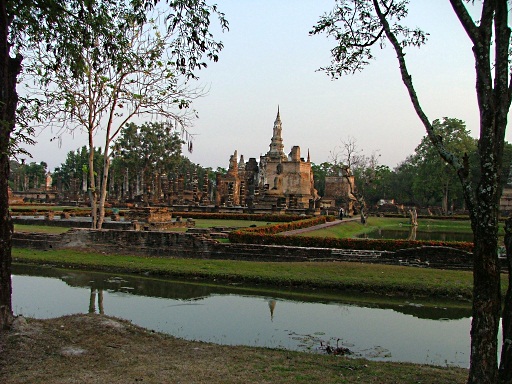 We took a regular bus from Chang Mai city Arcade Bus station and it took us about 6 h to reach destination. If Bangkok is 700 km from Chang Mai, Sukhotai is 427 km north of Bangkok, almost in the middle of our return way to BKK. Which means that it takes 6h in a bus to cover 270 km…Pretty slow drive…Though the roads are not bad but sitting there on the second floor of that double bus you feel like you are hardly moving. The tickets cost around 300bt each. It is two times more than the price of the tickets you buy in Khao-San road. But in that case you can buy only for certain destinations and keep contact with them in order to know where are their buses leaving from. The prices for transportation there don't bite at all, wherever you buy them. And you get better rides for more expensive tickets. lets say – the trip from BKK to Chang Mai was in a bus without shocks…12 hours of bumping…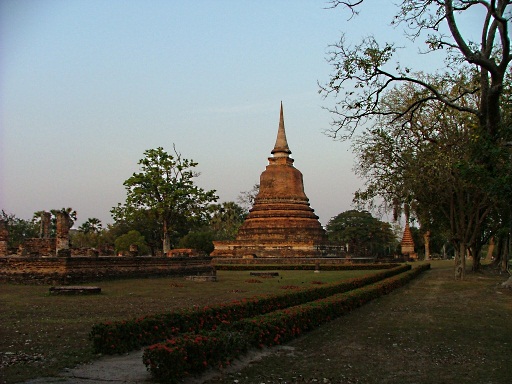 This particular bus entered the area just through the Old town Sukhothai – where the history was. Once of a sudden the old stupas appeared here and there close to the road side. That was it, we left the bus and went to look for the hotel tat our Canadian friend recommended: Old City Guest house. It was worth staying there. The guest house rooms were built around a cozy square: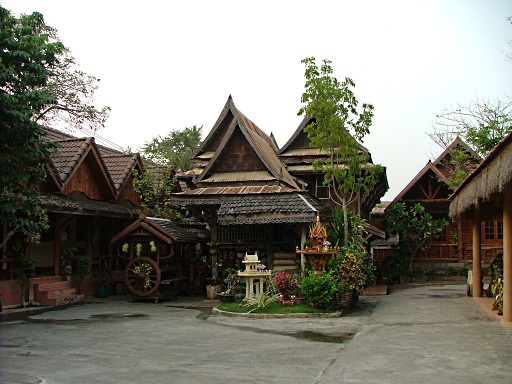 with the little altar in the middle – in case someone wants to please the Gods, the room was big, clean, comfortable bathroom and shower. After spending a week with a shower poring directly onto you toilet and having the floors wet for a while there – it was wonderful to have a spacious bathroom with a separate shower place. It was like a little center – with several hotels, restaurants, shops and bike rental places (the main city is 9 mi away):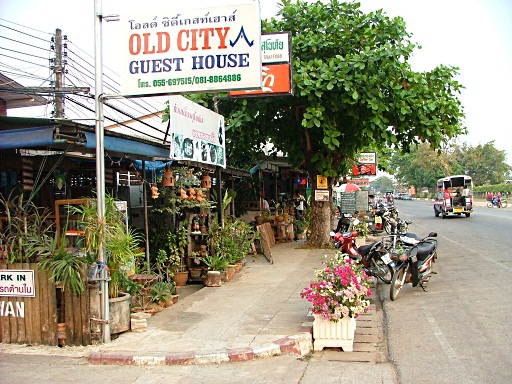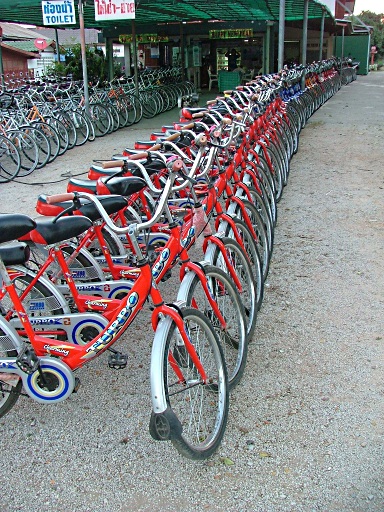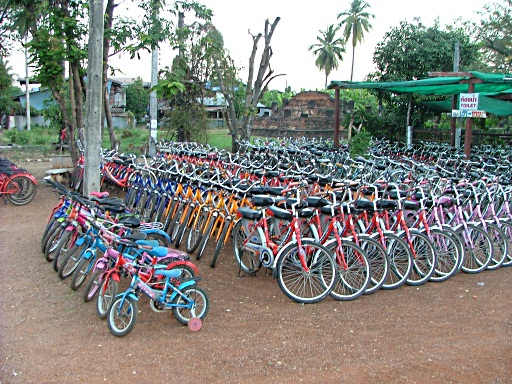 Bicycles are especially popular there while trying to see all parts of the Historical capital. It is a pity we didn't experience them and left it for the next time. It was a very pleasant stay, very good meals in the nearby restaurant Coffee Cup, nice people, good atmosphere. The park entrance was close by that little town center. Although the sun was setting I still eagerly went to see the ruins that were spread wide in the vast parks – I wouldn't call them jungle, would you?: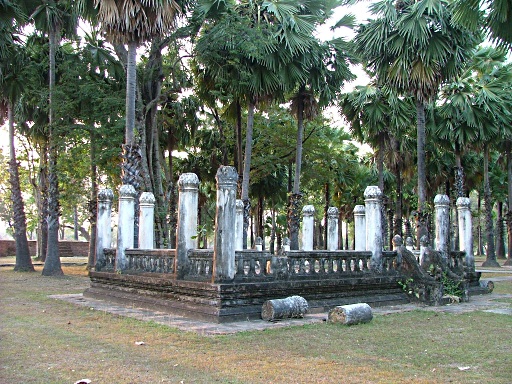 Maybe that is what the restoration effort turned the jungle into -a spacious park.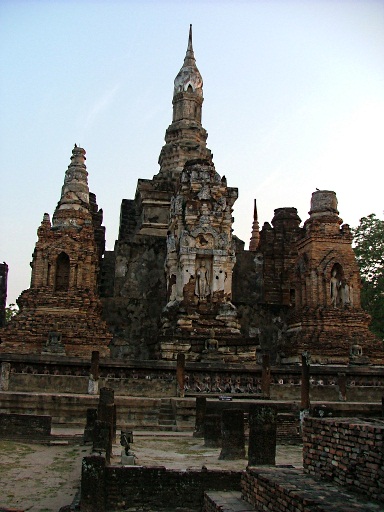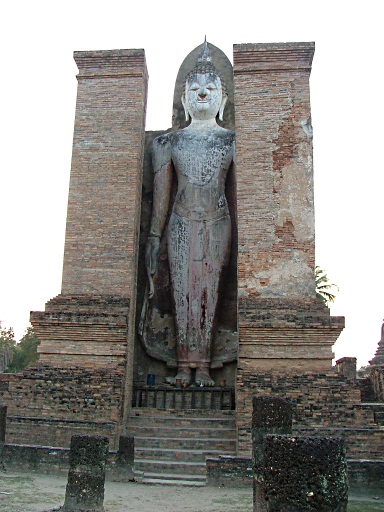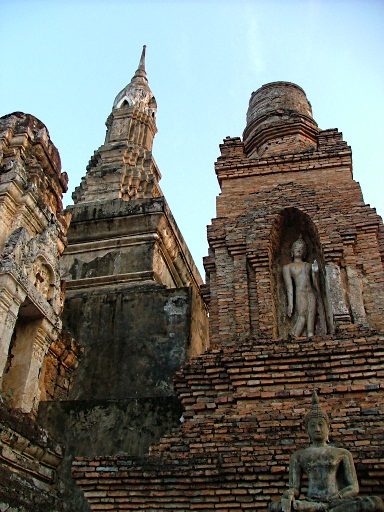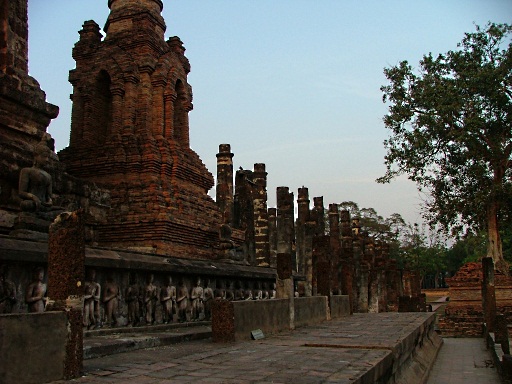 The weather there was clearly more humid than in Chang Mai and it was hard to breathe or move fast even in the very late evening. But there were almost no people, one miserable pregnant and very hungry cat – she had only one eye…, lots of hungry but peaceful dogs and the darkness setting onto the trees and temple ruins: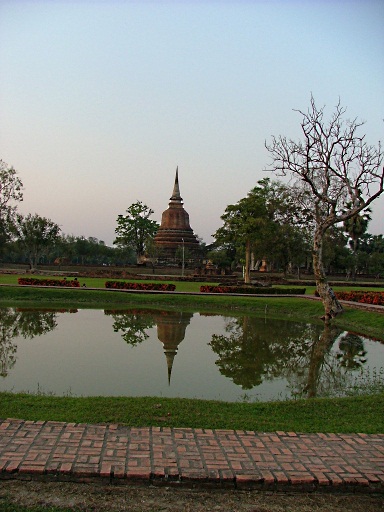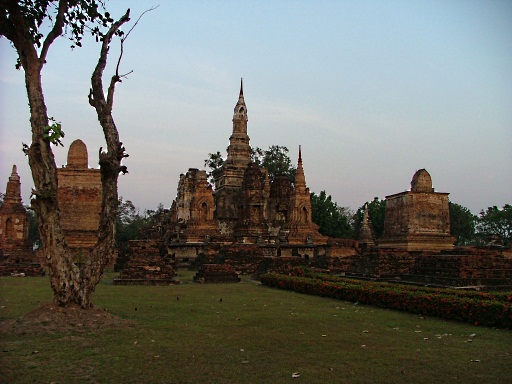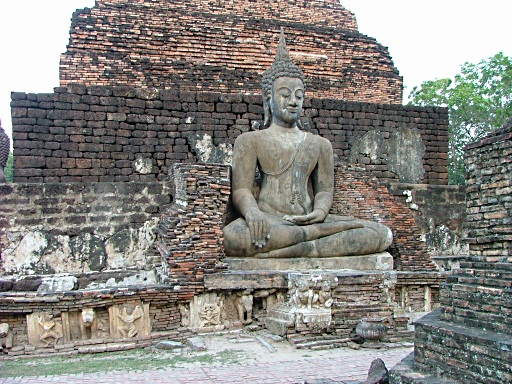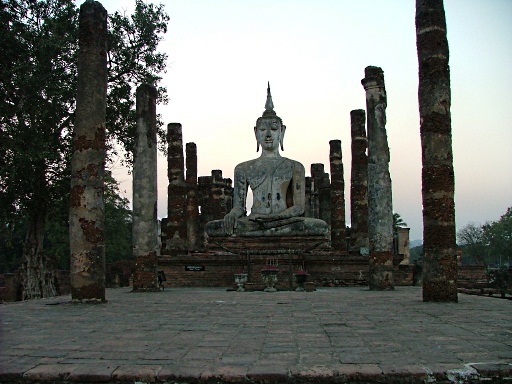 It is hard to imagine the grandeur of the city in its golden age…Harder to understand why people abandon so many already built buildings and go somewhere else to strive for survival and build again…Still they don't quite abandon those temples here – there are fresh candles and offerings.
A new temple surrounding an old stupa in the town center – there is a Buddha's foot print under glass in it: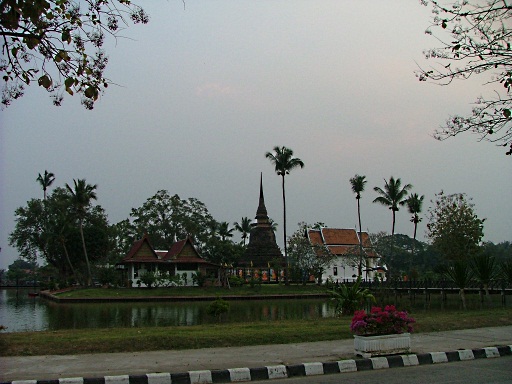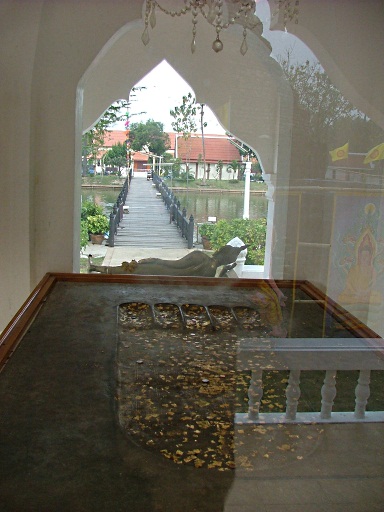 The hardest part in Sukhothai was to find a bus stop to go to BKK…Funny, isn't it? I asked everyone, then checked a little map of the town on a building that looked like a bus station -we waited there because the map said that this is the bus stop. it never stopped. It was evidently a block down – by some shop – no logical reason to understand – why was it in such a place ? So we missed our bus, had to take their songthaew – that crazy "animal wagon" to get to the New City Sukhothai to a real and big bus station and from there we tried to reach Ayutthaya, but the bus stopped some 6 km from the city and it was our last evening, so we decided to stay on the bus and reach BKK, our belloved Khao San road and feel a little more of its atmosphere. Actually it is not the Khao San Road that we liked, but other roads in that area, that I even don't remember their names. There is like a cirkle of them behind a temple, that faces Khao San road, towards Phra Artit road – a very lively, cozy, backpackers' area: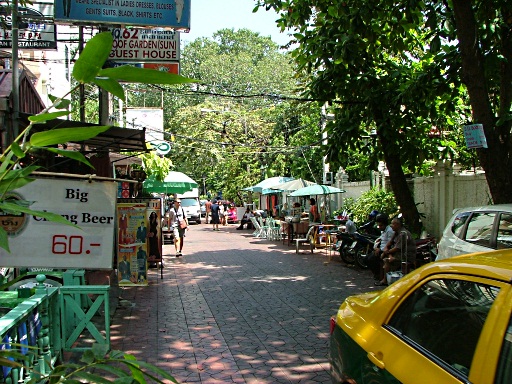 You don't have the big city feel there. So the next morning I walked a little towards the Kings palace in the streets I already know buying still some presents and nice things and off we left to the BKK airport which is very modern: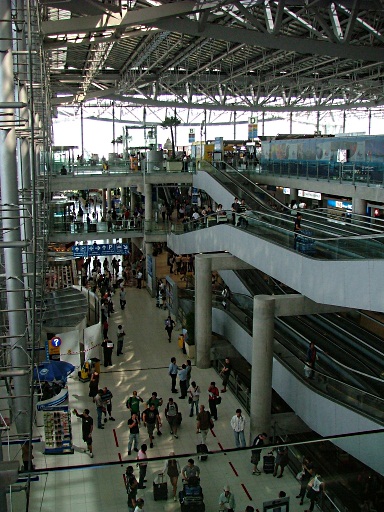 but also has Thai decors: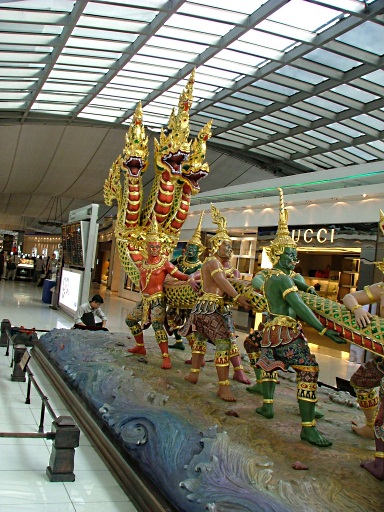 beautiful modern spaces: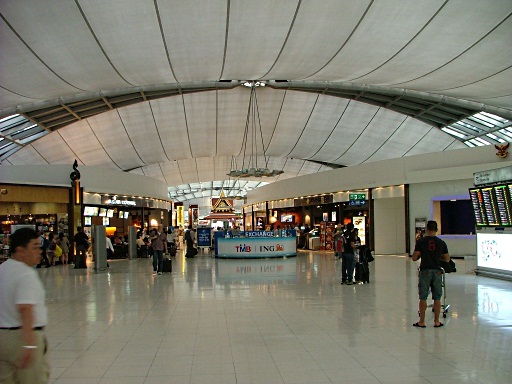 And flew back home via Taipey in Taiwan: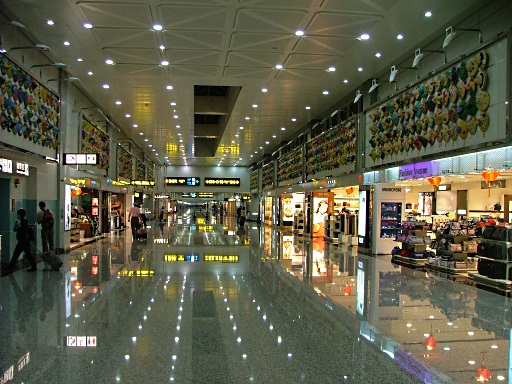 Los Angeles, and believe it or not – Salt Lake city…: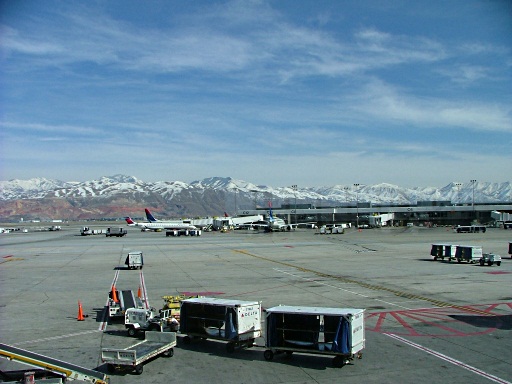 Once we reached LA – the plane was late by half hour, then we had to take our bags. check through customs and run like crazy to another terminal. So we ran…like crazy…Over there after going through their security we found out that our seats to Las Vegas were sold…Big disappointment after 3 hours flight to Taipey and 12 hours to LA…Luckily they gave a a hotel room, so we rested and early morning rushed for a flight to SLC, then another flight to Las Vegas. which was also delayed…A very long and not easy trip home…But in a week I recovered and already wanted to go back :-).