We had to come back from Koh Chang, the island, to Bangkok. I think it is worth describing the trip so that anyone who decides to travel in a similar way will have some idea how it works. First of all when we bought the tickets from BKK to Koh chang – we bought them round trip. Which mean that we picked the date for a return trip and they told us to not be late for the ferry which leaves the island at 10:30 am. So around 9 am we are ready by our hotel trying to catch a taxi -" the animal wagon" – there is usually many of them zooming back and forth on that main island's road. And yes, there is a lot of them standing there, for I guess – several drivers live in Lonely Beach. So they got up not very early and seemed to be willing to take us to the ferry landing. But no – their "mafia" rules didn't let them do so. None of them agreed to take us where we needed, only some two-three beaches down, but not to the ferry – why? No logic at all – for the ferry landing is only no more than some 5 miles past the last beach. The more sensitive travelers had to take real taxis and agree to pay whatever they asked, which was a lot. Then at last we managed to stop a wagon which was going to the ferry. Guess how many of us the driver packed into the wagon…many. Two guys were standing on the step completely outside, in a danger to fall off on one of the sharp turns…we all sat like herrings in a box and one girl sat on us…The backpacks were on the top of the roof. And have in mind that not all passengers were simple tourists like us. There was "an old white guy and a young Thai girl couple" in this crowd and being so clean, well dressed with crispy white pressed shirts looked completely inappropriate there, though they didn't complain at all and kept their smiles. And that trip lasted for 40 min…
I have to make a brief explanation at this point – we were warned that it is a practice for older white men to go there and get a younger beautiful Thai woman as a companion or a guide – depends on the agreement. So those couples didn't slip my eyes – usually those women were rather beautiful and well dressed and with lots of jewelry – you notice them in the crowd at once. And they look professional – one was even talking about the web site she had and the price list for her services there. In fact, lots of foreigners are afraid to go to Asia just like that "in a wild way" – without a guide or a tourist group. So they hire a guide who sometimes even speaks their language. We met a Thai lad speaking perfect Russian leading two Russian girls from Vladivostok from temple to temple. So Thailand is full of different kinds of tourist services. And everything would look pretty nice if only those older men who had Thai women companions behaved normally…But no way. Most of them were looking at those women with such hungry eyes, that even trying not to pay attention at those odd couples didn't work…And they were not controlling their hands either. When young people behave like that – it is not as irritating, sorry older men…I know I am too judgmental…But I saw pain in the Thai women eyes and therefore I have to mention this phenomenon. I guess there is a lot of Cho-Cho Sans there, sad… But – of all the weird things that our friends prepared us to see -this was the only one and I was happy about it. Thailand is not as creepy as some people describe it – if you don't stick your nose purposefully into certain bars or streets.
So here we got to the ferry landing almost half hour late. And thought our ferry left. But we were not worried – already learned not to be. So we all waited and as it came out – there was no ferry for 2 hours straight…So we all were late to the buses, which were waiting on the shore. How do we find which bus -just go and have our ticket in our hands – and the responsible people for gathering us see them and call us to go to that or another bus. Our bus was full this time. Hard to guess how – did those other people wait for 2 hours in it to be filled with the last person in its last seat from our ferry? No answers, but we were seated to a mini bus and off we went -much faster than the regular big bus, hurray! But then again – after a while the mini bus stopped – again – no explanations. for the driver doesn't speak English :-). But he parked at a nice store full of tasty snacks and a swing. We had enough entertainment while waiting for another mini bus to pick us and it did. It was just a confusion that they took us not to Khao-San road where we were supposed to be taken, but to the main Railway station. But it is not hard find your way if you have a map.
A good feature about the hotels in Thailand is that you can leave your spare bags in it for safe keeping until you get from one trip and then another for a very low fee. In that way they get you back as a guest for a night or two. Smart move. So we stayed that night in the same New Merry V, this time got a better room, and the next evening left for Chang Mai. Again – bought tickets in the same agency by the hotel – as I call -the hippie agency. At times nobody was speaking English in that agency. But they had two aquariums with parrot fish which brought them luck and so they had lots of tourists using their buses. The main luck came, of course, not from fishes, poor things. trapped in those small aquariums, but from their twice cheaper prices than the regular buses from bus stations. There was another major advantage – you just have to walk a very short distance and get into your bus, whereas to get to a major bus station is a whole ordeal – taking a taxi is fine, they are there for you, but to get irritated by their traffic jams is another thing…That evening we got into our bus at 6, left at 7 pm and reached Chang Mai at 7 am. The trip wasn't pleasant at all – I guess the shocks on the bus were too worn out. Sadly, they charge you only $10 dol for such a long trip and here you go – you have to suffer because you didn't know…it is hard to advice at this point – but I just mention other options of traveling those 700 km – there are overnight trains with sleeping coaches and there are also flights. But then again -you have to get to the airport, from the airport…And yes, tickets are more expensive. This particular bus stopped in the middle of the night at some special place they have for buses – there is a cafeteria, toilets, space to do some exercise – for one hour…it had two drivers – one could sleep while the other one was driving, he had a bed downstairs, so why to waste time on that uncomfortable trip, must be our cultural differences…Interesting that in that middle of the night almost nobody ate there except lots of us bought pineapples – they skin them and cut them and cut nicely into peaces just in front of you, good and fresh. And that part worked well. Then the drivers switched the AC I guess – in order to freeze us, maybe again – because of our cultural differences…Have in mind that the weather was very very warm if not hot not only during the day but also during the nights. So we forgot that we have brought sweaters. They were hidden in the backpacks in the baggage compartment. We had to ask the drivers to lower the cold and closed the ducts and somehow managed to reach the destination still alive. My advice – always have a warm cover while you travel in a bus there.
And here we reached Chang Mai in the morning. It had some morning freshness in the air, this bus had at least a good feature – to take us to the center of the city, not to leave us in some bus station on the outskirts. Of course, they wanted us to stay in the hotel where they dropped us, but we walked joyfully towards the Tha Pae gate and through it into the 1 square mile Old Town all surrounded by a moat and remnants of city walls. Once you enter the gate – it is entire different atmosphere, not a big city any more, lots of tall walls and very many temples behind them. There were some houses, too, and lots of hotels and restaurants. The houses also had tall walls but hotels didn't. So we went here and there to the side streets looking for a place to stay and were amazed to find so many guesthouses…So many. that you can be not worried at all – you will always find a room. Especially when you start looking from the early morning as we did. Luckily we walked with a Canadian girl Deanna who was already living in Thailand for over a year: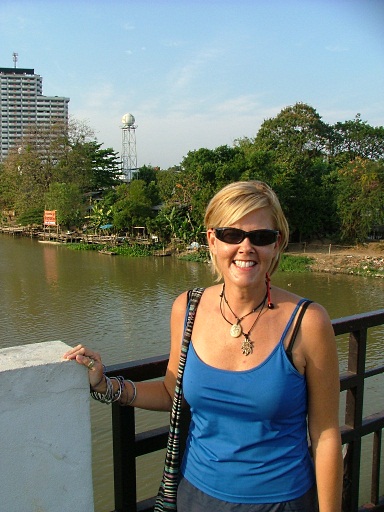 We all went to the Kavil House that she was planning to stay at – and we also ended up staying there: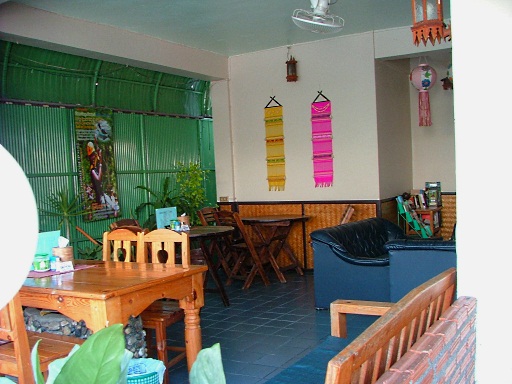 It had good vibes, a very pretty doggy, a Siamese cat and a rather sad bird en caged for good luck , I guess…A bird who can't hide anywhere from the sun and heat, while his friends are chirping around in trees, it is sad: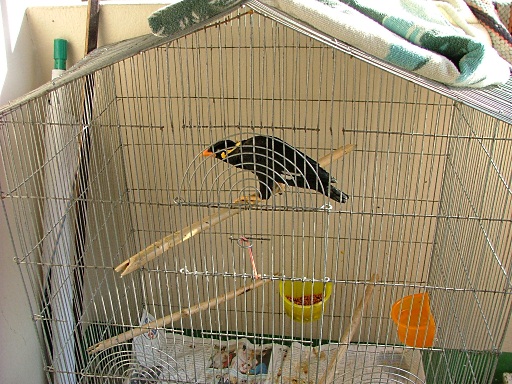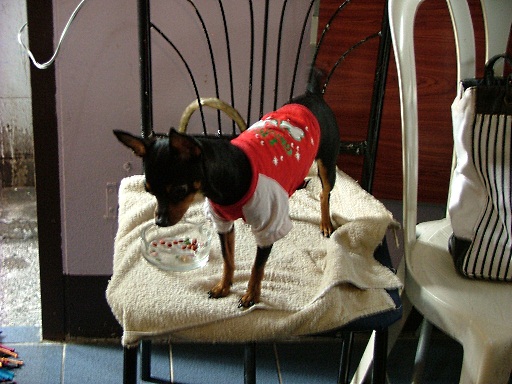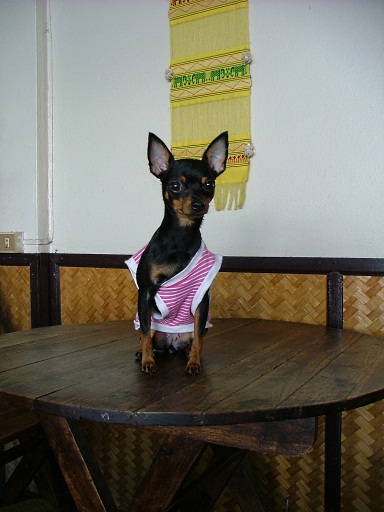 The dog is a female and her name is Kapun, its a girl's name…cultural differences :-). She always had those little shirts or even dresses in the mornings for the owners thought that it is cold for her…in 27C…
(to be continued)