Koh – means "an island" in Thai. They have a lot of islands in their very warm seas…Hard to choose where to go. So we chose based on friend's advice and the closest distance to BKK – we had to take a bus for a 6 h. trip. And the bus left by Khao San Road – very close to where we stayed. So that part of the trip was very nice. The best moment – we didn't get into the bus. It filled up before us, so they gave us a mini van – they are more comfortable than their huge double decked buses and at least they go much faster than 40 mi/h, that is how buses go there… It took us almost 6 hours to make 300 km. Mainly because it stopped in the middle for a 1 h break – the stops are usually in special places with a cafeteria, free toilets, a lot of sinks to wash the travel dusts. Interesting thing about their toilets on the road (sorry delicate readers…) – they do have sewage of some kind, but no flushing mechanisms. Each cabin has a faucet on a low level directed to a little basin and a bowl in that basin – you have to scoop some water into the bowl and flush the toilet. And they all looked clean. So people behave well.
On the way we saw fields of rice, some palms and some kind of cacti that I later figured out were the Dragon fruit producers: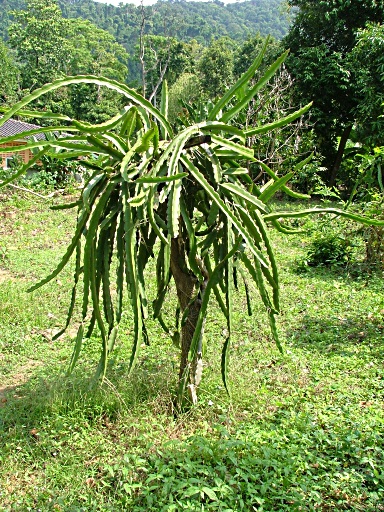 And here is how the fruits look on market counters: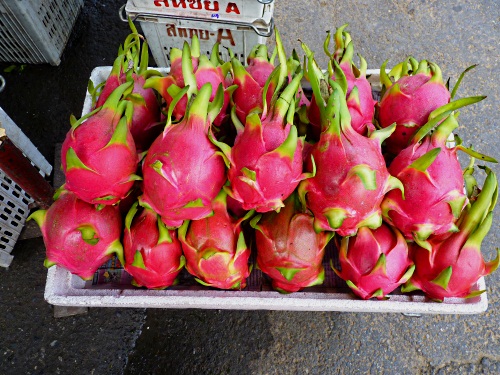 I somehow spaced out and didn't take their picture. Luckily we met a Lithuanian couple later in our trip and today Jurga sent me her picture of Dragons. As brightly pink as they are on the outside – their inside is white soft , crisp, very lightly sweet and sour mass with lots of black poppy seeds spread evenly.
Once we reached one of three ferry landings we got tickets to the ferry and marched down to it. But before that there was a short moment during which their catchy sales people try to get you to their trap. It is extremely hot and humid there, you are tired from the trip and they start telling you that it is hard to find an available hut or room on the island. You don't know much about the accommodations, just assume that you will find. But for the first night – maybe it is smart to have one and at least to know which town in the island you are going…So you agree to pay them for the first night in some Siam Huts resort and of you take the ferry, an 45 min sail. Once there – there are lots of songthaews waiting, called taxis…Ya, right. They look to me like cattle wagons…The driver throws our backpacks onto the top, packs us into his wagon with one British guy left standing on the step and holding onto the rail…because Brits are used to it in their buses? Maybe. More because those taxi drivers are the greediest people of all we saw in Thailand. they belong to mafia, and it is not only my opinion. Their services are the most expensive and they don't look well to do at all. They seem like they are under someone's very hard arm. What can they do…
So they drive rather fast on very windy and hilly road for about 40 min and here we are thrown out by Siam Huts…right in the middle of a field of trash with terribly shabby huts sticking on stilts above the ground…Oh boy…We went to the office, took the key and were shown to a hut by the sea: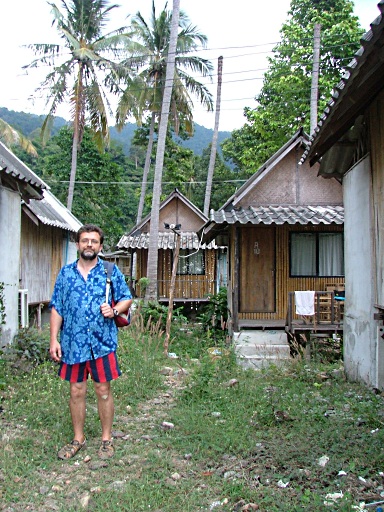 As much as the surroundings gave a a shock, the inside of the hut didn't make us happy at all and leaving there our bags we went off in search for something better looking, something not so trashy… A tip: never ever pay for a room before you see how it looks! And don't believe their pictures: there are never weeds and trash in pictures or are there?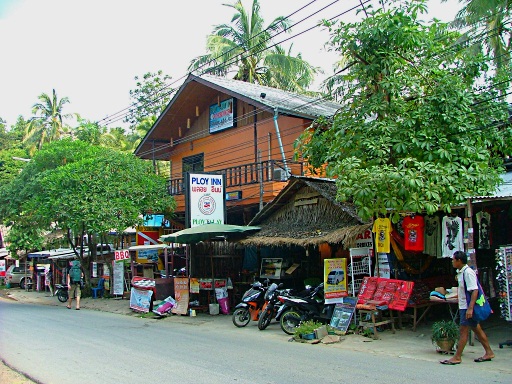 So wee found this Ploy Inn in the center of the town we were in – the Lonely Beach, on the main street which looked like this, going down: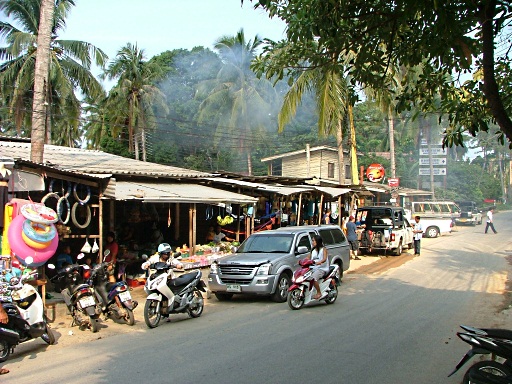 There is the fruit market behind those cars and motorbikes, and clothes and other beach item markets all over, as well as many internet cafes, travel agencies and massage parlors. Only the internet cafes and a pharmacy have AC. Others have the air from the street. And here is our street going up: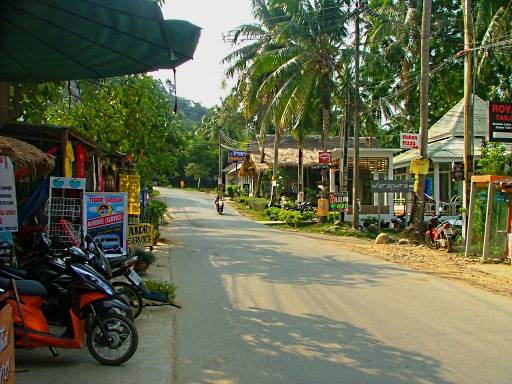 Our hotel had AC, it was very much needed and appreciated. It was clean, had good interior colors, a couple of ponds with fish for good luck and a little piglet in the yard who squeaked when I petted him: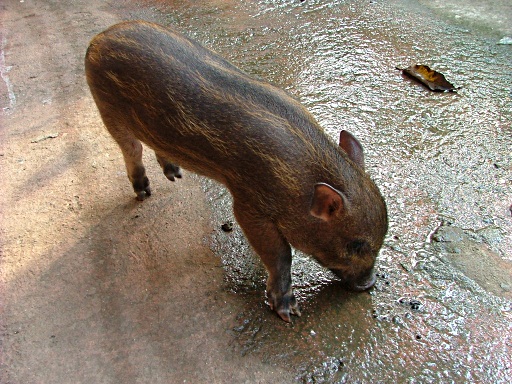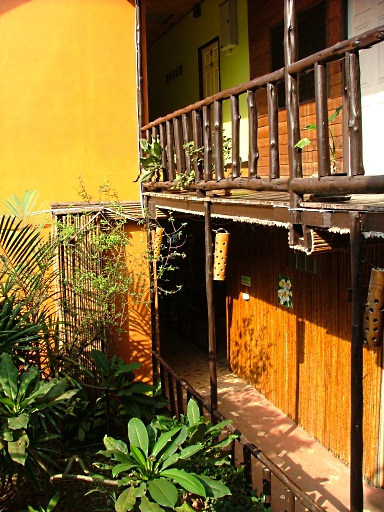 This was our corridor on the second floor and a detail of our room to show that the drapes were well color matched with walls which I wouldn't expect from a lodging in that price range and especially after we saw the hut…: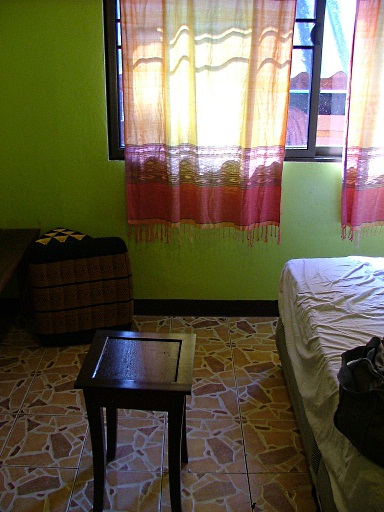 So it was nice to stay there for 5 nights, except on Tuesday…There is like a curse on Tuesdays – a bar not far away has a part every Tuesday. So never ever stay in that hotel on Tue. A party means – a super loud music, though it is hard to cal it music- they are basically computer generated super loud "bums"… You can't cover your ears – the sound comes through grounds, through vibrating your body and it lasts till 4 am. But that was only one night :-). The other night sit wasn't as loud and it would end at 12 am. So there are always pros and cons…We liked the room, the hotel, it had character versus even better huts that we saw later, but it had also the noisiness of the bars around. Thought other bars had island music or something softer, that you can call music. Very often even live music. And so few visitors…yes. there were very few tourists. considering how many places to stay and eat and to have fun there were. Our hotel had a very nice seafood restaurant – and it very often stayed empty…what a waste. I guess it is the worldwide crisis…
After settling we went to immerse into the never even before experienced such a warm sea -like a hot tub: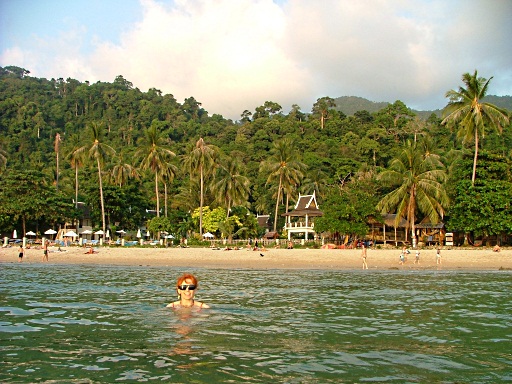 The water so warm – you can stay as long as you want almost not moving – and no feeling of cold or shivers…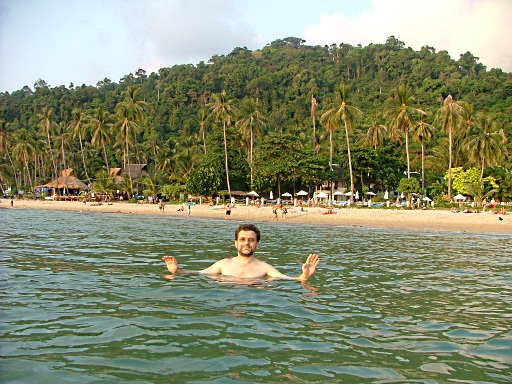 the sun was setting rather fast, as it is usual in the South: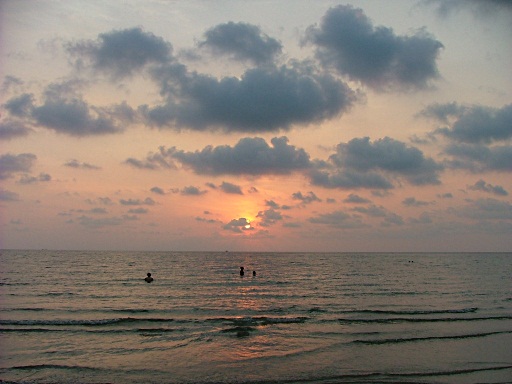 (to be continued)