The next morning it was a very strange rooster that woke us up: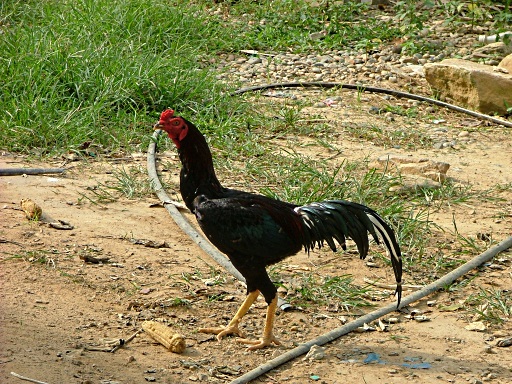 Yes, Thailand is about roosters, they have a lot of them, for luck , for hens, for looks and for fights…And there are always wandering dogs around – very rarely, but sometimes they bark early in the morning. Luckily over there you just don't pay attention, it is vacation! You just get up and go swimming in the sea. The point is that everyone on the island is slow and late – so going downstairs to have breakfast is not a good idea -you have to wait at least till 9 am looking into the fish pond: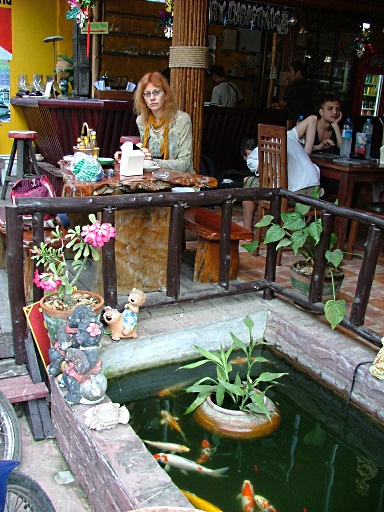 and then go into the dusty street and down the dusty road with trash on both sides and coconuts lying under palm trees with no one interested to pick them and eat, you go towards the sea, app. 10 min walk, find a hammock in the Tree House restaurant (which is not on a tree…) to spend the part of the day till lunch: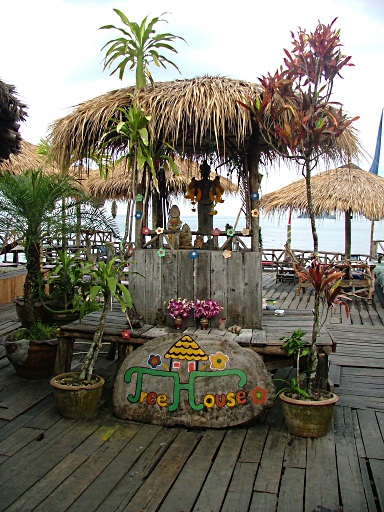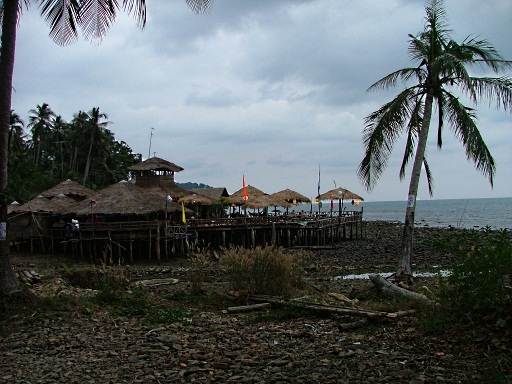 In the morning it was tide time – the water was under the deck, so you sit in a hammock and hear the waves under you, as if sitting on the sea. It would be nice to have breakfast there, but it is included in our room price in our hotel and it is not a bad breakfast, so we decide to have dinners at the Tree House and lunches in another nice place on the shore.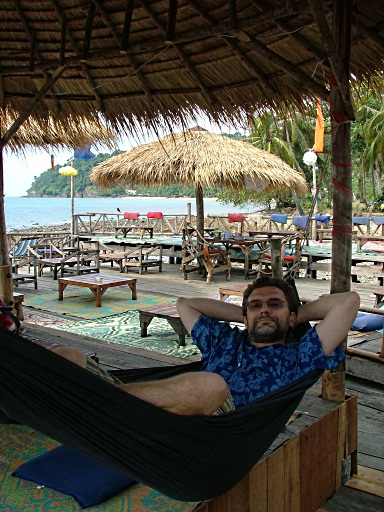 They have good menu, as well as others, and they have good cold cocktails, some mixed fruits with ginger, so that was a very nice feature. They are a very hippie place, pretty quiet, especially nice in the dark when the evening comes – you may get some little breezes from the sea which is a big relief in those very hot temperatures and high humidity. Whereas there are a lot of restaurants in town, but in the evenings they "stuffy":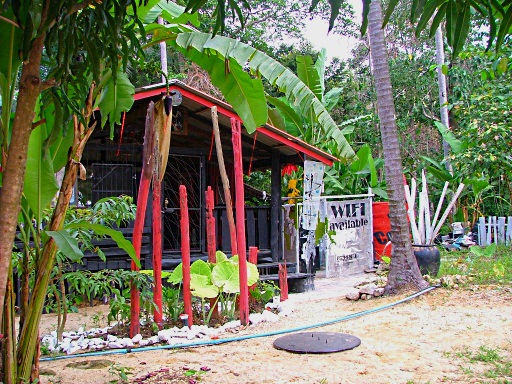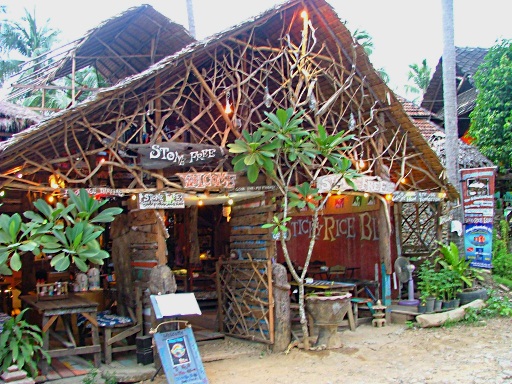 This one is made only of wood and nails. No stones were used, as they mention it on their name. There are usually very few tables fro sitting regularly on chairs – most of the tables are on higher platforms and very low – we are supposed to lie by them or sit in a lotus pose. there are usually some hammocks by the tables – some guests may choose to eat in hammocks.
The next one restaurant requires a mention – it is called Om and it denounced this word in my eyes. It was just as an insult to this wonderful word. If I lived there – i would have no choice but to explode that thing…Their "rhythms" which they maybe call music were the loudest in the area and on Tuesdays they lasted till 4 am. All the shops close to them were exposed to that terrible ground and wall shaking every evening and I felt really sorry for them. But being so tolerant Thais suffer silently…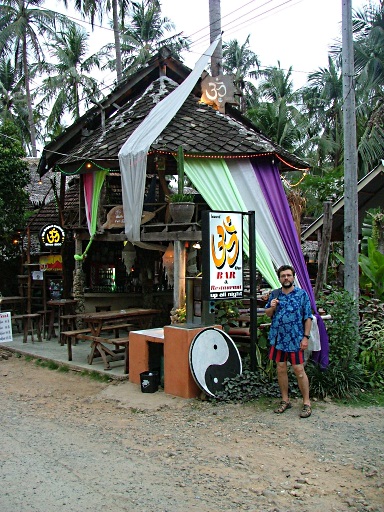 Speaking about music at night – there were restaurant that had good live music, local groups playing island tunes, lots of European girls, dressed with taste in cocktail dresses dancing, it was real fun. But that Om…it was something wrong with its owners.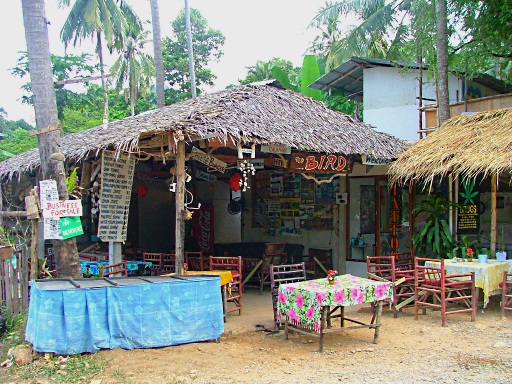 This particular restaurant looked the shabbiest and one morning the owners brought the sign : Business for sale…
Our last morning there was Saturday and though they don't acknowledge that Buddhists celebrate Saturdays more that any other day -all the houses and businesses were busy in the morning preparing an offering plate that they took to some temple: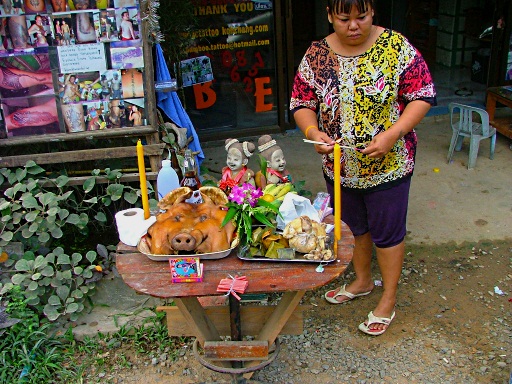 This offering is by a tattoo parlor – tattoos are very popular there. And I can't promise – being as against tattoos as I am if I had to live there a month or more – maybe I would end up getting one, at least a very little one…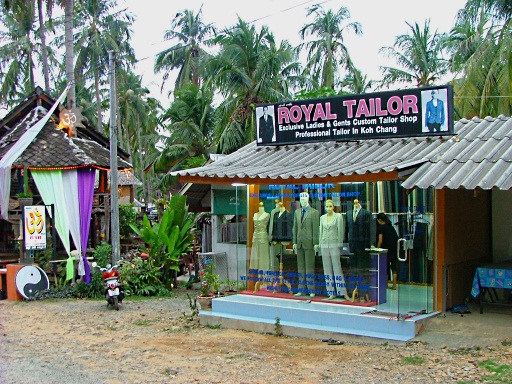 This is another very strange store to my eyes – on this dust a fancy slab and glass walls for what…office suits and evening gowns…And it wasn't only one store in the area…Lots of them. Which means – some business people don't waste their time there, they buy clothes for work at home. I guess -the prices were so low, that it was worth making a small break in vacation. But those stores – I didn't even cast a glance or check…I am out of that world for good.
(to be continued)