Transportation in Bangkok is easy – lots of taxis and tuk-tuks waiting for you everywhere. Metered taxis were all over and they can be relied on. They also have AC, a very good commodity while spending time in transport jams. But there are some tips with tuk-tuks – some kind of open carriages for two passengers made from motorcycles. Everyone needs business. So tuk-tuk drivers are especially annoying – -offering their service on every corner. But be careful with them – you have to talk before and agree on price, you have to let them know how many "crazy' stores you agree to visit with them and be prepared to breath the polluted street air all the way. By "crazy" stores I mean the following: some stores make an agreement with them – tuk-tuks are supposed to bring customers and in return they get a stamp on their card in order to get free gasoline at some point after acquiring a certain number of stamps. Usually those are very unpopular stores, like suit stores – who for heavens sake is thinking about an office suit during vacation, let alone us- who don't work in offices at all…or they take you to travel agencies, who are the very expensive ones, while there are hundreds around with better prices. So it makes you feel uncomfortable to be pushed into a store you are complete;y not interested in, and to pretend you are. Otherwise -the driver doesn't get the stamp… Also – they are very small vehicles for people like us – hard to get in and out. So as you see – I am not a fan of them. Very often they catch you in the street while you are looking at your map, pretending they are some guy who knows the city and is willing to give advices. Try to avoid them, just simply walk away. because those ones are the most desperate. They offer you a super cheap price, then during the trip they mention that in reality the price is bigger and then they drop you somewhere, creating an unpleasant feeling – so better to rely on your feet and just go. Which would be not as bad if the blisters didn't develop at once…or if the motorcycles were driving only streets not the side walks…or if the sidewalks were not densely covered with tables and goods for sale. But you can find your ways, I did, I walked a lot. To the extent, that sometimes I had to buy different slippers on my way – to get blisters on different toes. And it is my way of getting in touch with life there more. A tip for walkers – you can't look up or to the sides, only down – the sidewalks are very uneven, steps, cracks, anything can get you in trouble…Once while climbing some steps and almost cursing them – so narrow, so close to transportation brushing to your side – here I see two men carrying a casket draped in green silk…and also climbing those narrow steps, etc…Life.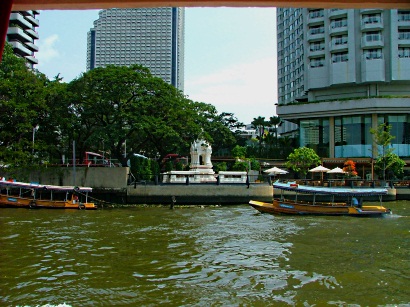 Speaking about transportation – river! it is booming with boats, shooting and roaring back and forth, across, sideways. never bumping each other, very skilled drivers. as well as the ones on roads. As I like analyzing maps I figured out that we can take a public boat from Shangri La hotel to Phra-Atit road, where we were heading to spend the next three nights – the backpackers – hippie area. The river is very wide and very full of dirty water. it was a good experience to use that boat and see the temples on the banks and the city from it while paying only the "bus" ticket. After that trip we lost any interest in going on an excursion boat trip in the river and canals – the water is so dirty and when it splashes on you – you want to sanitize…On the other hand – they push those boat trips all over in an annoying way and they are priced so inadequately.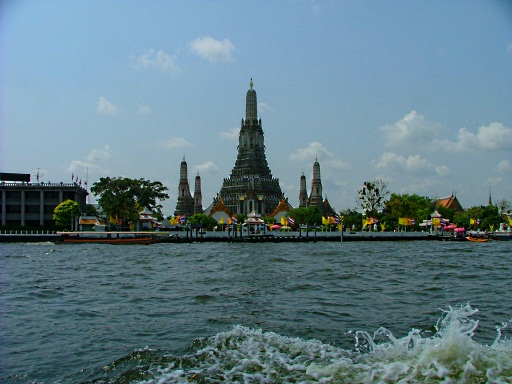 Here is the Temple of Dawn – Tha Wat Arun. That boat stops in lots of places and is really comfortable for visiting several temples and places on the way. Therefore it is very popular among residents. The price – 13 bt. per ride. But if you want to get to this particular temple – you have to get out on the other side of the river – the stop is only there and take another boat, which takes you across the river for 3 bt. They have their system :-).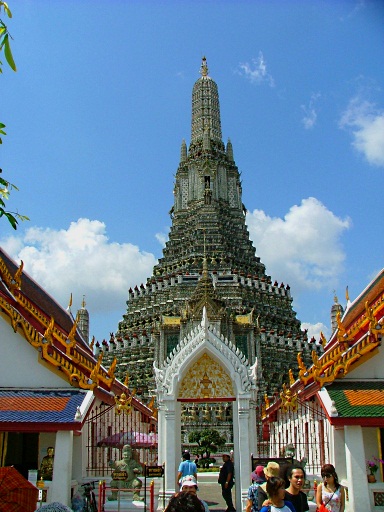 Here is how it looks like – people are allowed to climb to a certain height up the very steep stairs. But that day it was so hot, we preferred to stay in the back of it in the shades of big trees with exotic flowers coming out of their stems at the bottom: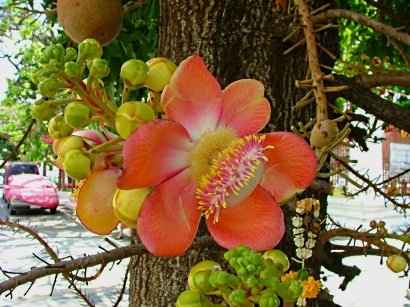 and enjoying the surrounding buildings: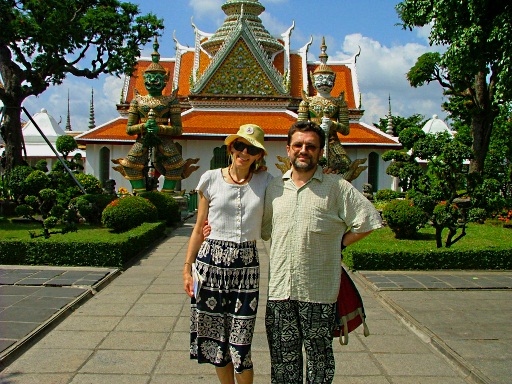 But that happened the next day. The day we moved – we had our backpacks with us. So directly to The New Merry V hotel in the hippie area. Or as they know it there – the Khao San Road area. It is well known for its cozy atmosphere, like a tourist friendly village. Little streets with many restaurants, hotels, massage places and, of course,- tables with goods and foods, and still many cars and motorcycles trying to pass those narrow streets, but no accidents. I took pics of the area at the end of the trip, they will be there, keep on reading :-).
This area is a walking distance to University, Kings palace, to lots of big temples, so we figured it is better for us to investigate the city from there.
The Big standing Buddha and temples around him: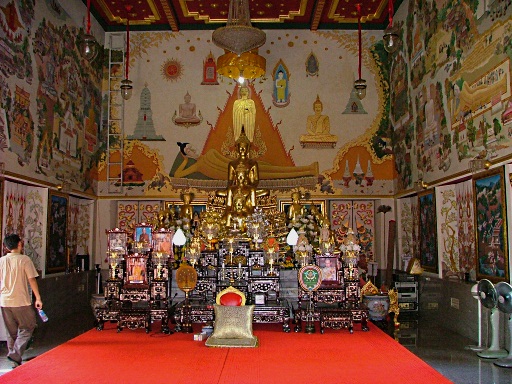 There are carpets in teh temples and everyone is supposed to take off shoes and kneel or sit on the carpet. And to bring a lotus, flower leis, incense or money to Buddha. Sometimes they sell a bunch for 20 bt. – several sticks of incense, two candles, a lotus and a little paper slip with very thin gold foil to be glued to Buddha's body or toe. Wherever everyone else is gluing those foils onto.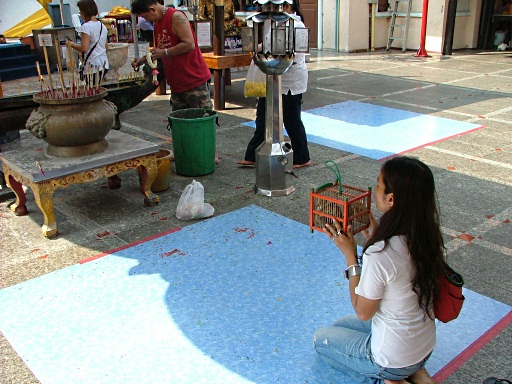 Here is a woman – evidently she has a very important wish! They sell little cages, even smaller than this with a lot of birds inside…for 100 bt. – you buy and save the birds lives, let them out for your wish to be fulfilled…but monks don't support this cruel practice of easy money… Interesting philosophy – Buddhism as if teaches to dis attach from your wishes and desires…While there we mostly noticed people sacrificing, giving offers and visiting the temples mostly for the reason for their wishes to be fulfilled…But maybe it is a very wrong assumption from my side – ha, what do I know having visited it for so short and having no person with good English to explain me what is going on…
But this I can say for sure- they seem to be deeply religious, very sincerely, from their hearts. And that makes a really safe country to visit with a very tolerant atmosphere for us," farengas" or whatever they call us. And it makes a difference while you travel – not to be afraid of thieves, to trust their word, etc.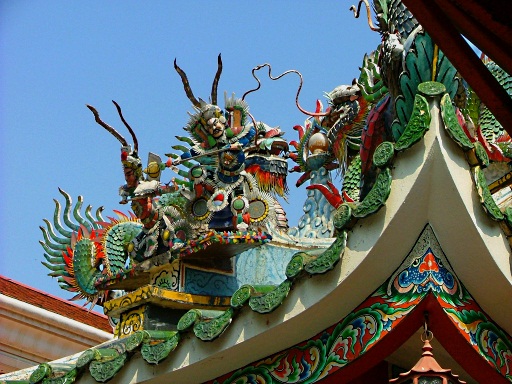 Those decorations are incredible, I bend my head…it maybe not our taste, but the detail, the creativity, the imagination they have – I am humbled…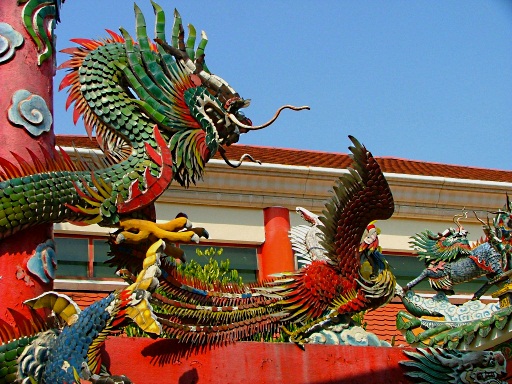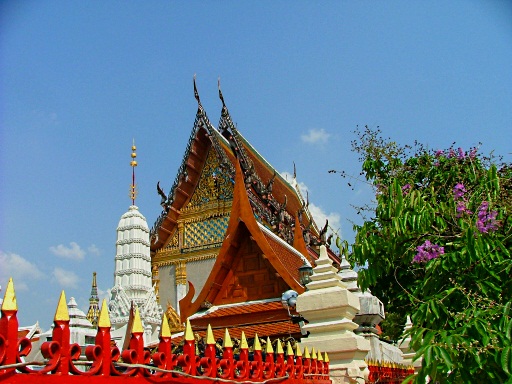 In another temple we walked around and found a viharn – monks' area, they live there and maybe meditate: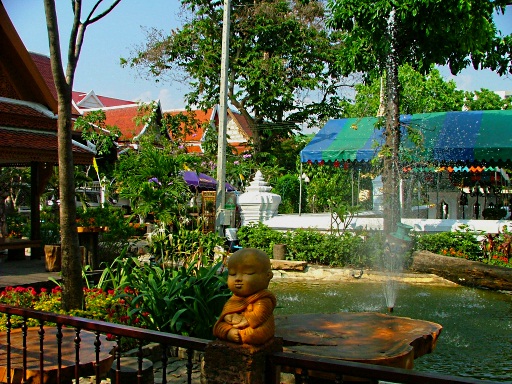 each temple also has a set of chedis – they remind me of a cemetery with fancy tombs. Some of them are used as tombs where the ashes of well known monks are buried. But some, as i heard from one excursion leader who spoke Russian, are just built in honor of some kings, their relatives, well known monks. Maybe it is not so simple to understand it in our way – as we are used to understand tomb-like structures built around churches.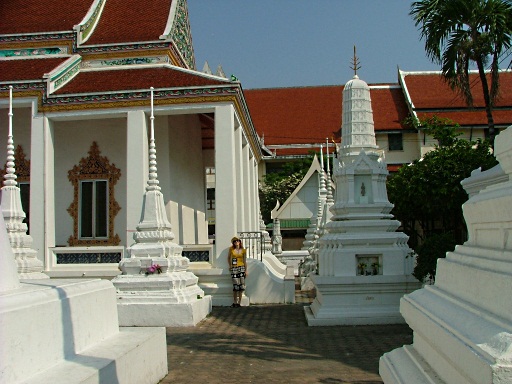 Here I feel like I am in the Land of White!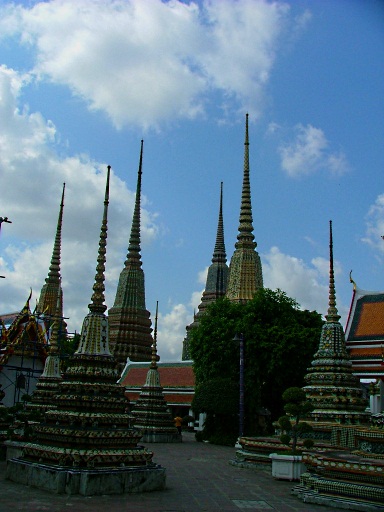 Those ones are built in quite a different style.
The next day we visited Wat Po – the temple of reclining Buddha – it is a very impressive and important temple -it is considered, that Buddha lied down and there and then he reached the Nirvana. Wat Po is next to the Grand Palace and can be recognized by a lot of buses parked by its side.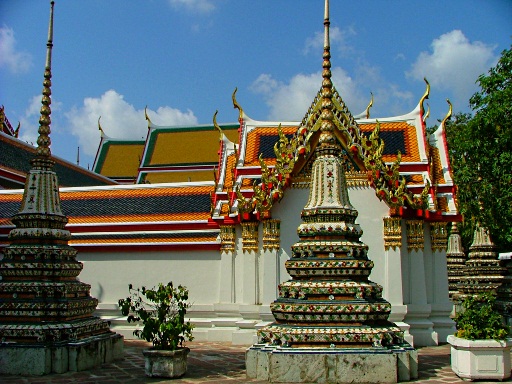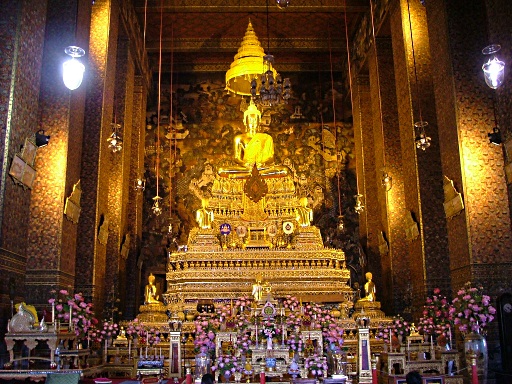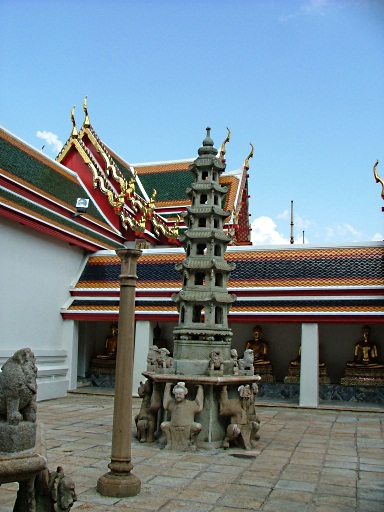 And here is the reclining golden Buddha and its toes and feet all encrusted with the sea shell- mother of pearl: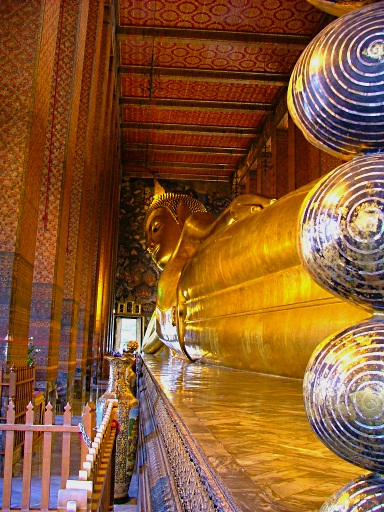 Hard to understand how it is – well, it was hard to get him all into one picture. One of the temples is built around this very big and long golden Buddha…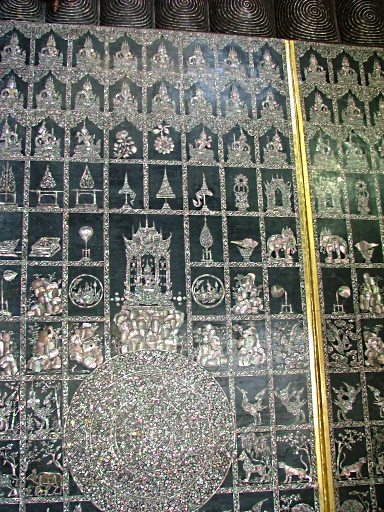 here are the big rectangular bottoms of his feet…
(to be continued)