Here we are back from Thailand, getting rested at last, and I am starting to recover the trip by writing the Blog! Before going we got advices from friends – it wasn't enough. We did mistakes and it made the beginning of the trip not so wonderful as it could be. So as usual -I will give lots of advices for those who plan to visit the country, along with my impressions.
The first impression- a very very long trip to BKK. 2.5 hours from us to Las Vegas, a night there, 1 h. to LA, 12 h. to Tokyo, 7 h. to Bangkok, 45 min to hotel. And some waits in between – usually the waits happened while we were already packed into airplanes – to the misfortune of my long legs… The last part from tokyo to BKK was the easiest – for when the body is so tired, it collapses. I don't remember that part :-). Except that once in BKK you have to gather yourself, look good and go through a very serious passport control. We get entry for only a month. They don't want us longer there. Well, there is one way I figured, though I didn't need it this time, but who knows… If you volunteer teaching English to the monks – then they give a 6 months visa. So I wonder how those Lithuanians who are writing to delfi.lt managed to the whole 6 months over there. Maybe that or crossing borders every month to neighboring countries (I wouldn't like it).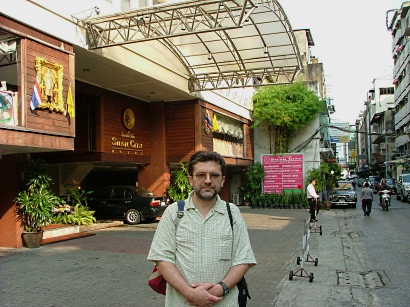 The night we got there we took a metered pink color taxi to our reserved Silom City Hotel – I can recommend it to anyone. It is located in a very narrow street, as lots of streets are there,(amazing how the regular size sedan cars can drive there), and therefore looks small, but it is tall. And has one of the most beautiful little temples by its side – for good luck and to have a place to collect peoples offerings for, I guess, monks ? Maybe just Buddha. Who knows.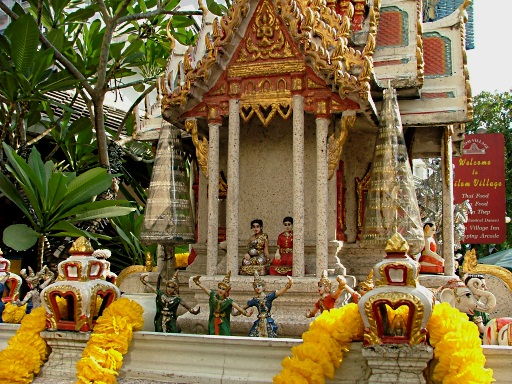 Those little temples are at every hotel, only the larger the hotel – the smaller the temple :-). Usually theyare on a leg – to be taller and surrounded by fence, staircase, flowers, waterlilies in pots. They have so many details, that you can't even keep attention and notice differences.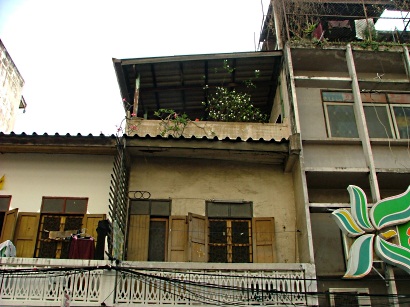 Those are the houses on the opposite side of the hotel. Having in mind their climate- people's energy to grow flowers in balconies exhausts at their temples…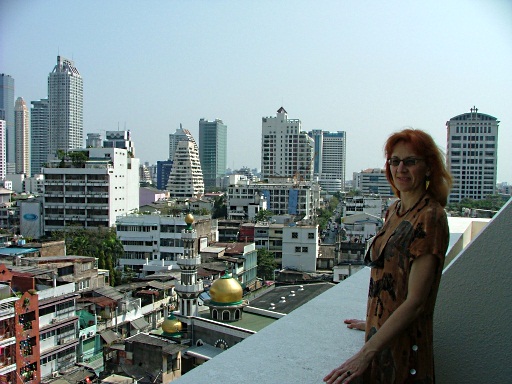 To finish the talk about our hotel – it had Wi-Fi in the rooms, it had a buffet type breakfast, it had this view from our 9th floor, yes, but it wasn't much pleasure staring at the city – so hot and humid…hard to describe. While outside – you are totally wet, the skin is always covered with some slime 🙂 – like snail's…Hard to walk, to be interested in things, hard to enjoy. But after several days you get used to it, at least a little. I didn't notice too much pollution in the air except the regular one- lots of cars, motorcycles -what can you expect…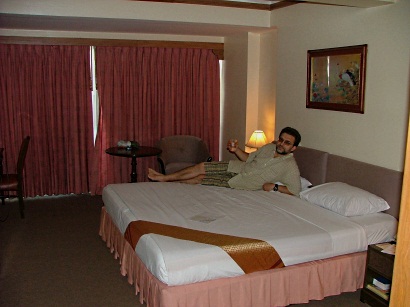 But the room was cool and nice, the bed huge – especially comfortable to get a Thai massage from hotel's masseuse. They stretch you and turn you and stand on your muscles – it was convenient for the girl, too. Notice the national Thai scarf on the edge – you get introduced into their world of colors, patterns and fabrics starting from the hotel already…
And here are the hotels that we didn't stay at: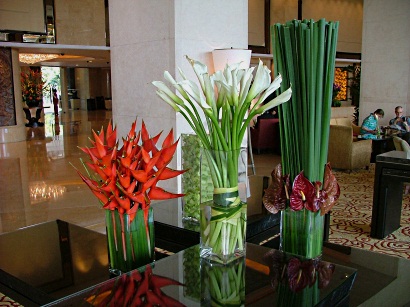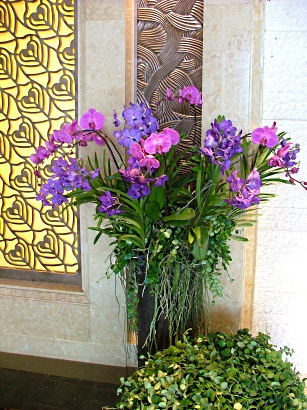 Orchids everywhere – starting from the airport. They are in beautiful vases, they are just hanging from poles or on trees with their roots in the air – and blooming in full swing! I wish I could get some of their liveliness!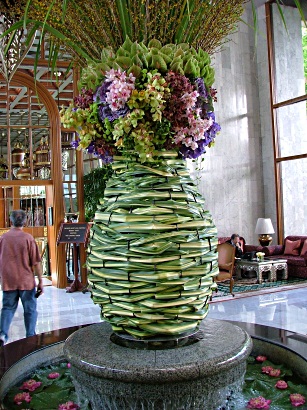 Note: there are lotus flowers floating in the pond below. So those big and fancy hotels are located by the river and I remember two of them by name – Oriental and Shangri La. Ruth told us to visit them and see where rich people enjoy life.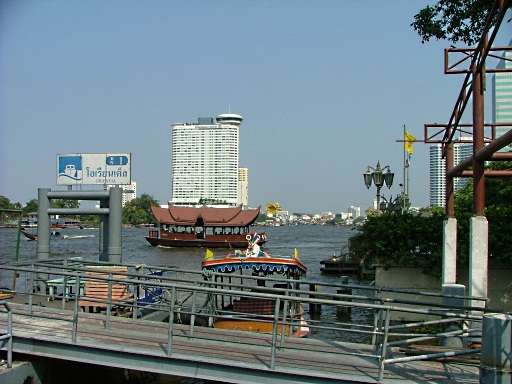 There is a pier by one of those hotels and the boat that looks like a house is carrying visitors from one fancy hotel on one side of the river to the other fancy hotel on the other side of the river, for having meals at different restaurants, or so we were told.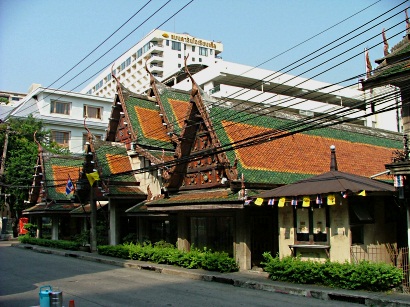 Some kind of trade house on the way to Oriental. This is a very typical roof for temples and I see now a lot of it in my pics. But this one was the first we saw and it was fun! It also shows the wires…they look like that everywhere and I hope someone understands their order.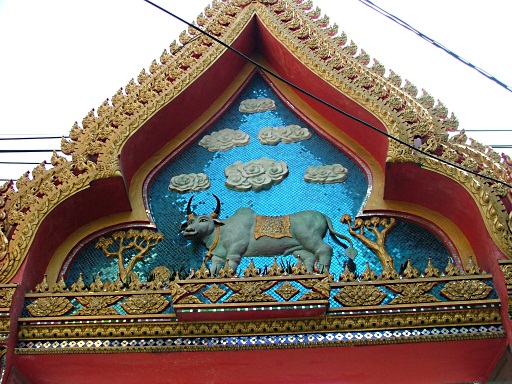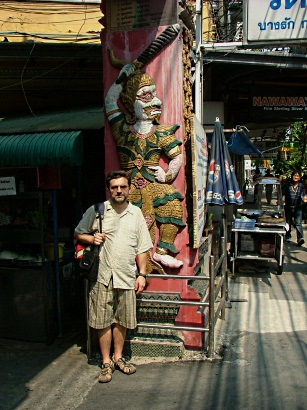 This is a very special Erawan Shrine – San Phra Phrom. It is built by a three story busy street, lots of tall buildings around, very noisy and congested, very polluted place. But it is magic to Thais. To my eyes – it is not a even real temple, looks like one of those small ones by hotels with a busy yard around it – except that it has a four faced Buddha. But monies are flowing like a river there – everyone is buying flower leis, candles, incense – as you can see lots of leis are on the fence surrounding Buddha. They all are placed for some wish to be fulfilled. And – it does magics. The wishes always get fulfilled! And in gratitude you have to return, pay some money to the cashier and have the special dancers dance for the joy of your fulfilled wish! Like this man did.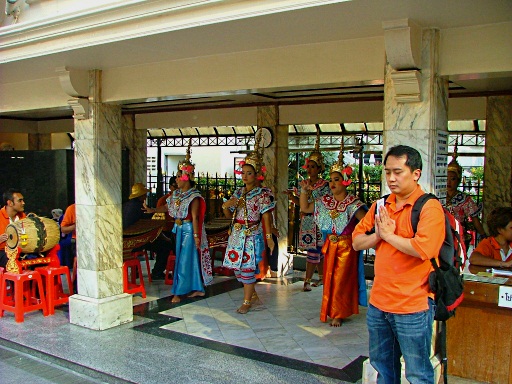 (to be continued)