Yes, I know, it was long overdue…But I was busy with garden work lately, then some house work , while in November-December I visited my country Lithuania, so there were no blogs. the weather is too Grey there at that time, can't get good pictures.
But here are some pics from Vegas – we visited it during Christmas time and the highlights of the visit was contemporary architecture and interiors. I never get tired of seeing what is constantly created and built in that sin city, which doesn't bother us for its sins or crowds. We almost never gamble, we pass the casinos as if regular streets with some nice stores on both sides, and we head towards where new things have emerged. What makes it amazing is that they don't save on materials, on ideas, they let their architects go wild. Also – the speed in which they demolish the old hotels and build new ones in their place. You come in several years- and won't recognize the Strip, it is like a new city. So here it is – the City Center -which is a complex of casinos and hotels with all their satellites – fancy restaurants, hotels, passages, entrance spaces, fountains, flowers and decorations: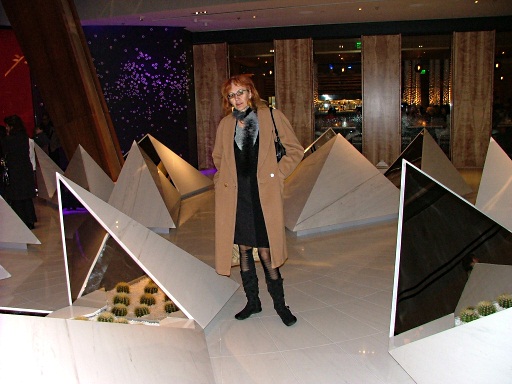 There are real cacti planted in between those pyramids, poor guys…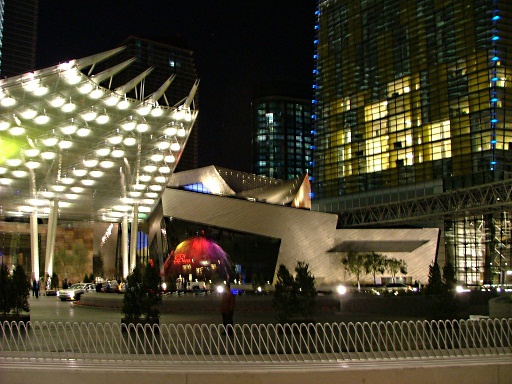 The entrance: they made two spitting fountains with their spitted portions of water colliding in the air – and at that very moment a colorful light flashes on them making it look very spectacular, different colors each time.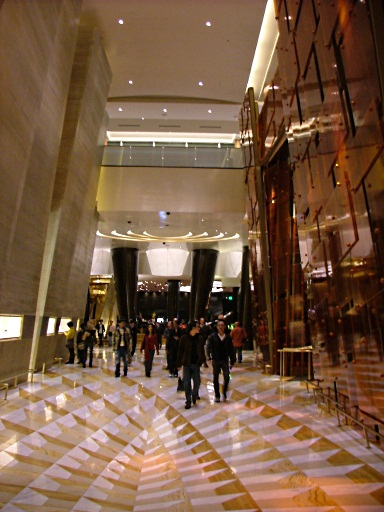 It seems the yellow stone on the floor is Jasper…I have a pendant made of it , no so dirty cheap. So how much could those floors be worth, not even speaking about the design. And yes, the walls on the sides are leaning, it is not some optical effect.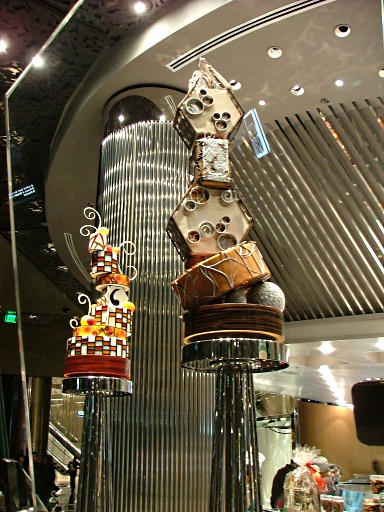 I know that my brother architect would say those are crazy decors, but they were decorating the desert bar, what else can one want. They look very happy to me, especially now, when I am no longer eating deserts.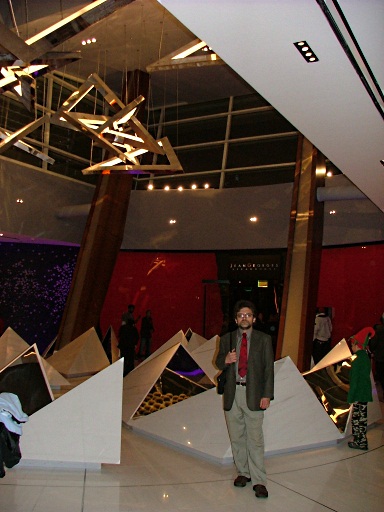 Andrei in the same pyramid hall we liked so much. But his pic shows more of the ceiling design.
Here we went for dinner at a Spanish restaurant: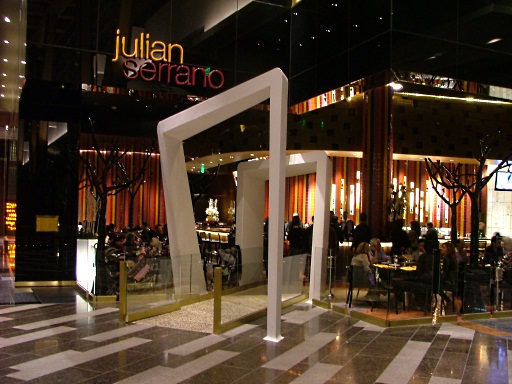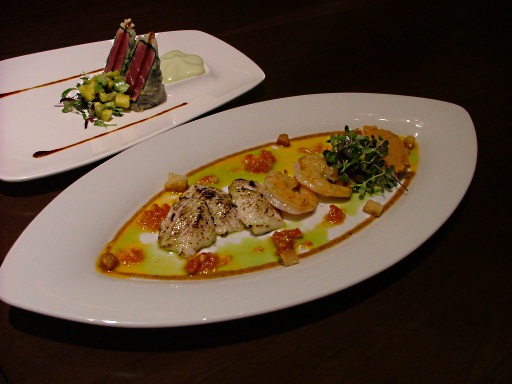 These are the tapas we got there. Beautiful, very tasty, but for people like us – not much food :-).
Still I felt pretty happy there: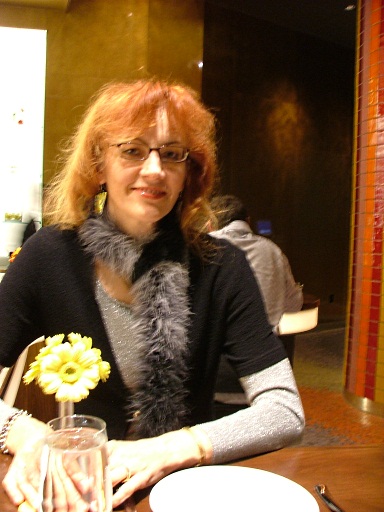 And Andrei was, too: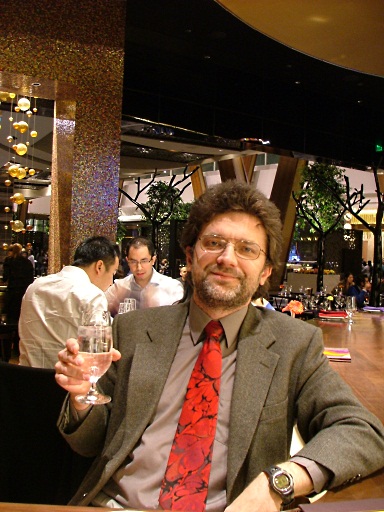 And here are the fountains dripping in waves from a special wall by the entrance to this building: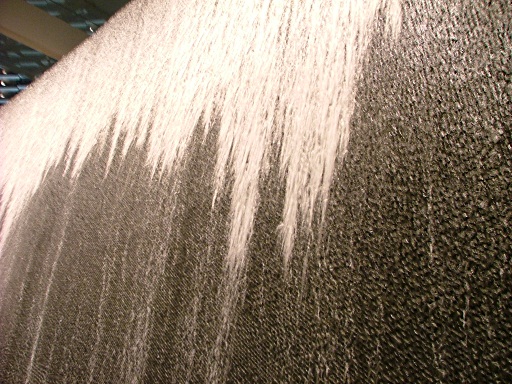 We stayed in MGM hotel and to my biggest astonishment – they gave us a very contemporary style room, that I never suspected they had in MGM, though a very tiny one: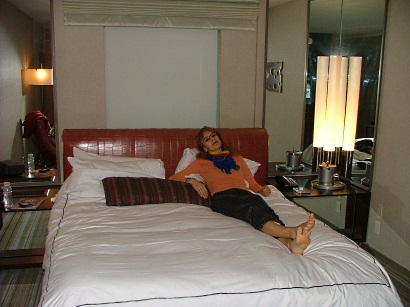 It is a pity I didn't take a picture of the bathroom mirror – it had two rectangular windows without the shiny substance in the back of it – one was a light installed directly in the mirror, the other – a TV. You brush your teeth – and watch Larry King with some Zoo man discussing and petting exotic animals…
Then we saw some usual Christmas decorations in Bellagio – more for a tradition than for a big amusement. But still – it looks festive: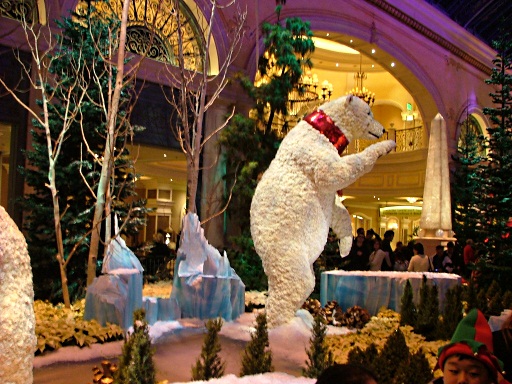 Have in mind that the whole body of this bear is covered from carnations…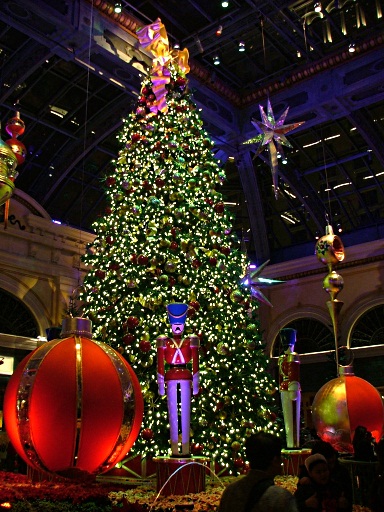 Here is a pool full of cranberries in Palazzo: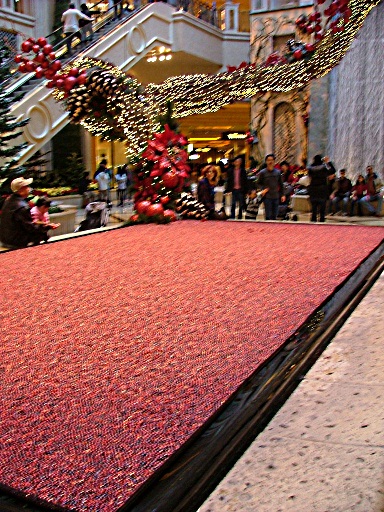 So much for the Christmas decorations…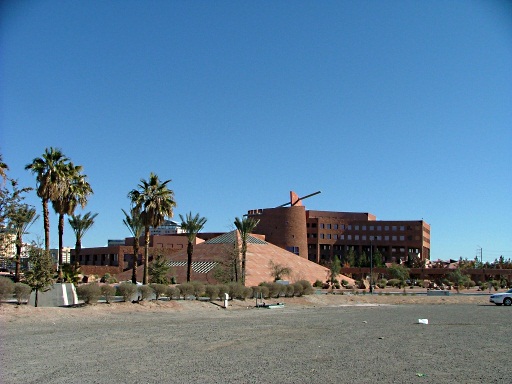 This is Las Vegas hospital -it has a pyramid almost as Louvre does :-).
And finally – the biggest impression – when we drove into Vegas, still from the highway I noticed a pile of metal that reminded of the sad remnants of New York's Twin tower after it burned… a little further from the road, behind the World Market building. It looked so strange that we drove there on the way home – and it was too unusual…evidently it is not a pile of metal. But a modern building, still not completely finished but already has a function applied to it – so please sit down – it is a Cleveland branch of Brain Institute!..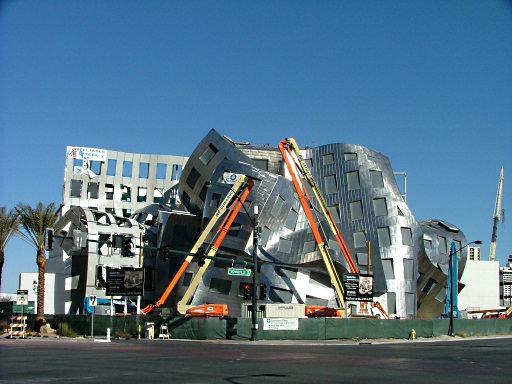 I bet that people with brain problems will not get disturbed by this "creation", and I bet doctors will find it easier to concentrate on brain problems there more that on the curly walls of their offices… To think of it… 🙂