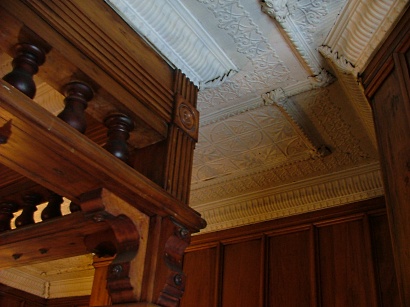 The Lodge where we stayed was impressive, but unluckily – there were two buses of young tourists staying the same night as us and that was not so pleasant. It would be no problem, we could stay in our rooms, but computers…We need to work with them every evening, and so we have to sit in common areas where those kids interact. The internet was bad, someone was endlessly speaking in Dutch by Skype – so that everybody could hear every word…No, very unpleasant. My advice for myself and others – ask when you check in – is it very full, then don't stop if it is.
A Catholic in front of our Lodge: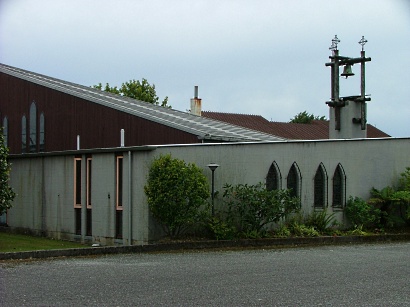 But today we have a reward – we are staying in Hokitika by the sea in a small house with only two French couples and can work with our PCs alone in the dining room, comfortably, quietly, fun! I don't want to sleep tonight, such a nice environment not to be fully enjoyed: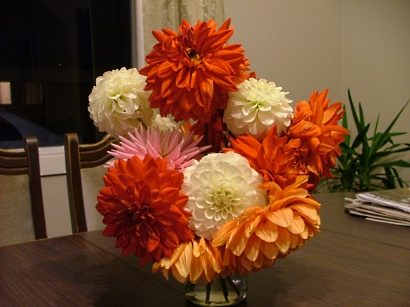 There were dahlias on the dining table and in our room. Lots of gardens in those areas here have dahlias, it makes me happy! I used to have dahlias and I always enjoyed looking into other gardens and admiring their dahlias…
From the beginning. We stopped at the end of the main street in Westport and here is what we saw: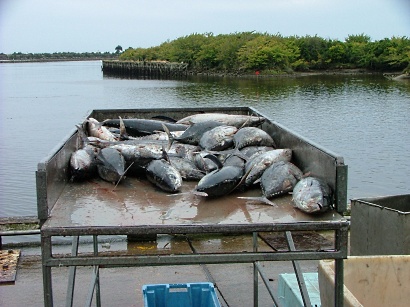 Those are tunas that they just unloaded from a boat…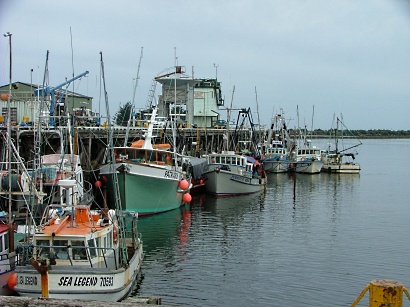 Drove down Rt 6 south by the coast: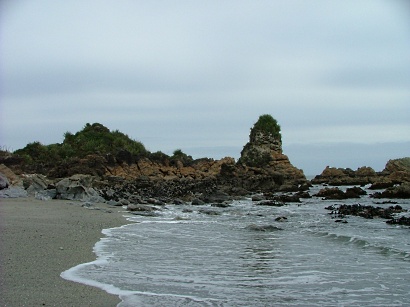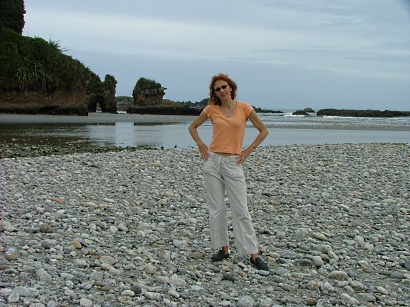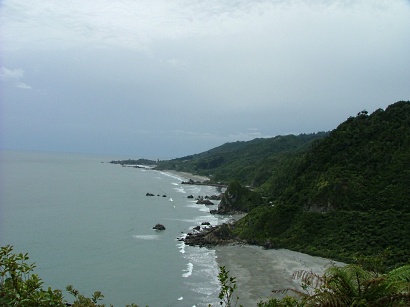 The coast on the way was impressive, too. very dramatic, very much like Oregon coast, only warm, no wind, just waves. Not much sun, just exactly the weather for traveling, also exactly before the rains start (which they did late tonight).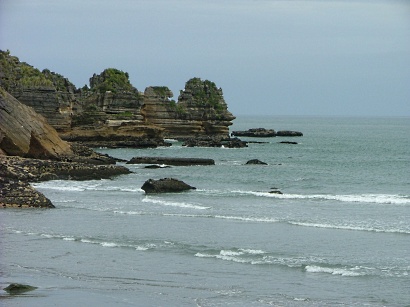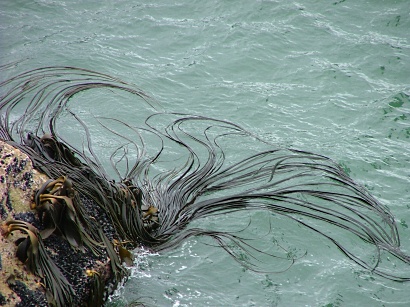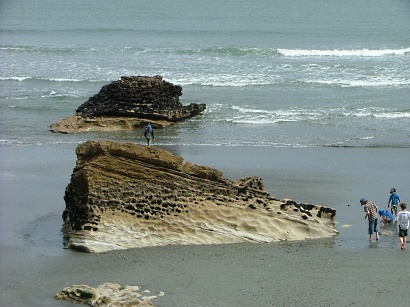 towards Punakaiki Pancake Rocks and Blowholes: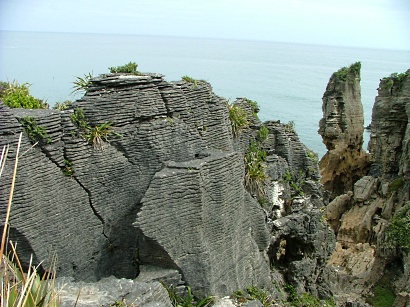 Impressive…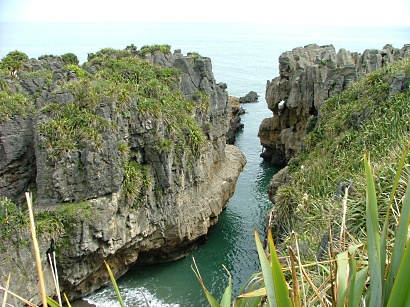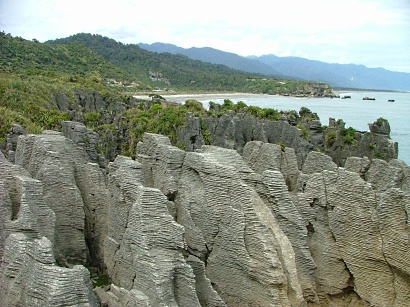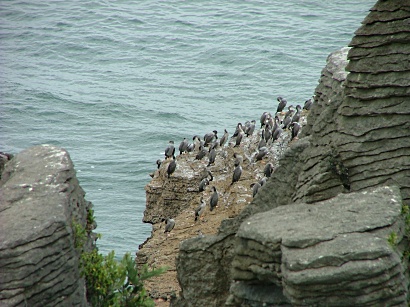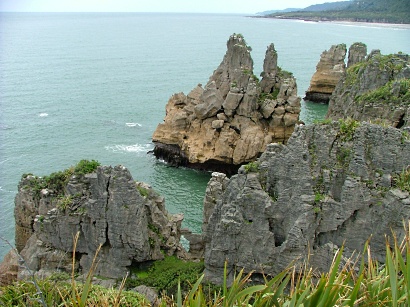 There we saw some dolphins swimming up to grasp for air. but they were so far away, that it was not worth straining your eyes…
After the Pancakes we drove to Greymouth – another bigger city on the shore. Walked a little in the center and here is what I liked: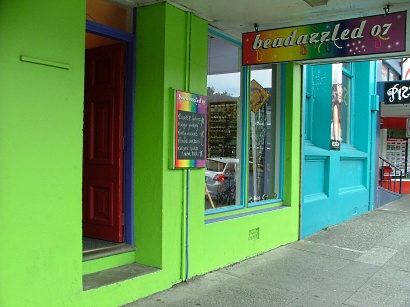 We also stopped at the beach past the city, which was a little different: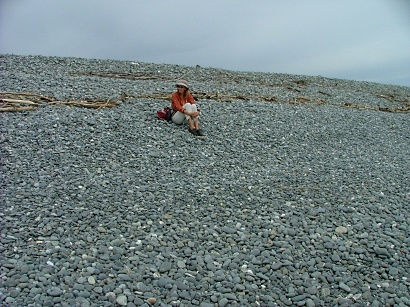 It was so peaceful and quiet before tomorrows storm that we had some really good rest on those stones.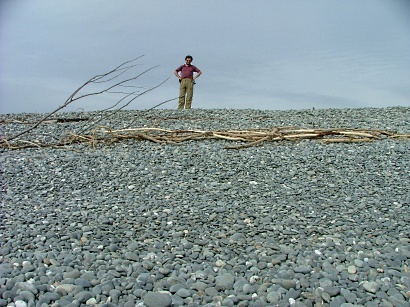 And here is the Hokitika beach where we decided to stay two nights: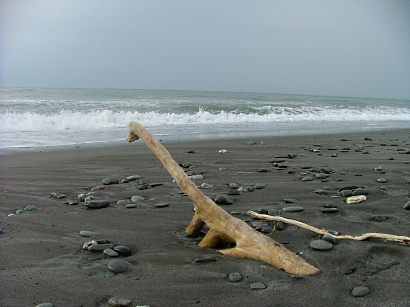 Our little lodge is seen in between trees: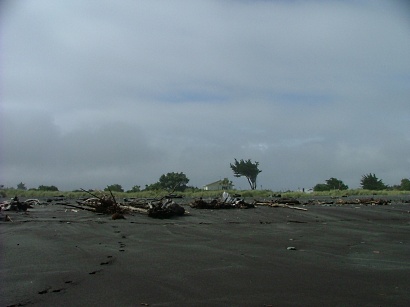 There were lots of driftwood and green colored stones on the coast, I couldn't help not picking them. For obvious reasons I can't pick driftwood which I would really want to. So at least stones…Those stones I found are not pure , my guess some droplets of jade are mixed with quartz or something else. I didn't find pure jade which has a distinct feel. But some people do. But some other stones on the coast were so pretty, that I don't know how I am gona carry my bags. I also picked big ones and left in our hosts' garden. What the heck – the sea is a couple of steps away from the house, so I ran back and forth today in the evening several times.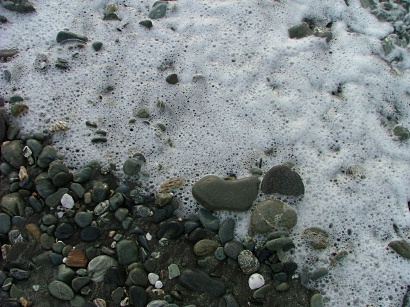 Didn't dare to go into the waves – they seemed too dangerous, the open sea gets deep at once and also – I bet the waves are dragging into the sea…But there were some lucky surfers. Hokitika coast has some specifics:
And that is about it, the town itself is worth not only visiting but staying – cozy, small, lots of Green jade outlets, some restaurants, just right for vacationing. Oh, and when in got dark we drove to the Glow worm cave just in the north part of town by the road – yes, they are glowing those criters, very cute! Different than stars. On both sides of the cave which has no roof . Looks romantic! And spooky. But I can only describe it , no pics…:-)