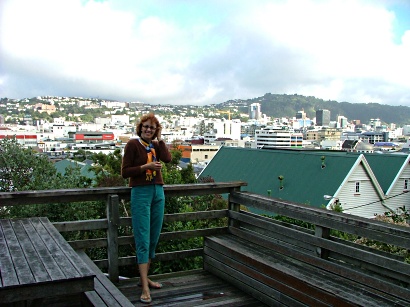 We got up at 7am, ate and rushed to the ferry terminal. Andrei is following American logic which doesn't work here on the roads…they write directions on different places and angles, so that you get so confused and almost certainly find yourself on a wrong road. This is especially unpleasant when it happens on motorways, it takes a while to find a place to turn around. Wellington, the capital, is one of those confusing places, and having in mind how small it is – it drives you crazy…Taking a motorway was our mistake and it took us several turns, several wrong turns and a talk with a very pleasant and helpful guy in a gas station until we found ourselves standing in a line for the ferry. The ferry was good, comfy seats, some with tables, a very good canteen – we got such a big breakfast meal that even sharing it were filled for the day. OK, I will describe it, for it is kind of my specialty :-). One big plate was piled with 4 sausages, 3 potato pancakes, several pieces of ham and a huge scoop of scrambled eggs. It all costed 12.50, but coffee and ketchup were extras. The trip lasted 3 hours, and all the way you could see shores – either of one island or the other. it was beautiful to see how the boat left Wellington: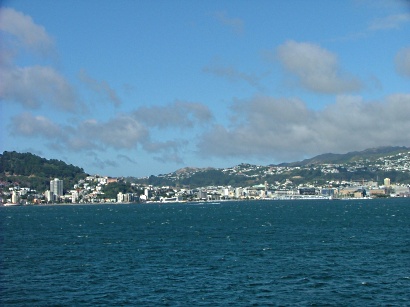 and how it sailed through Marlborough sounds towards Picton: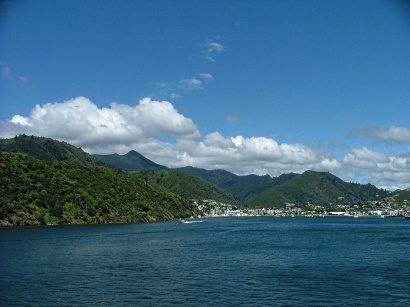 Picton is nothing to get us interested, but there again wasn't easy to turn to the right road. We took the coastal road – very windy, narrow, but beautiful, with the views of green mountains sinking and dripping into the green waters.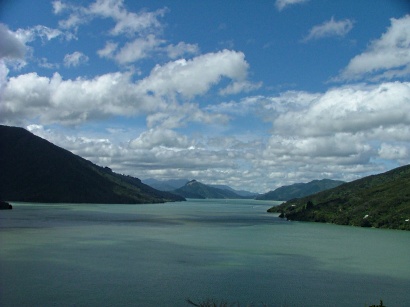 There was a Pelorus River on the way and had we more time – we could have done a walk to its waterfalls.But
no time…There was also the world capital of green mussels, but we didn't stop there either. Until we reached
Nelson -and there in the center there was a wow! All the streets were decorated with hanging begonias, so many and so colorful and so alive, that I was standing and looking and there could have been nothing else…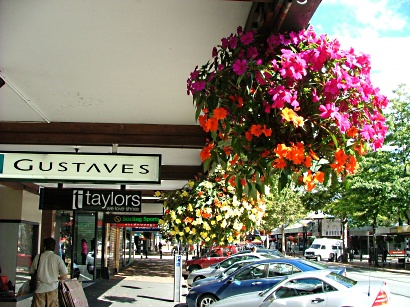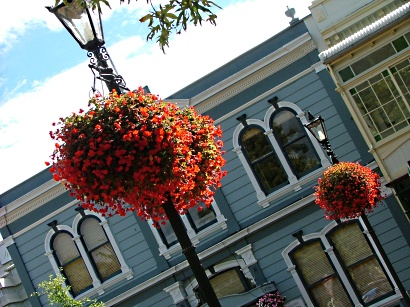 But there were cafes, pubs, shops. They are making their own ales, so it was a pleasure to try some. I am not a specialist, but they were good to me! Interesting point – pubs don't have toilets…In the main street the only toilet we found was only "one hole" as I call in Starbucks. After getting a little merrier we climbed a small hill covered with beautiful trees, resembling to me a Capitol Hill in D.C. -just a smaller version, and we reached a Cathedral.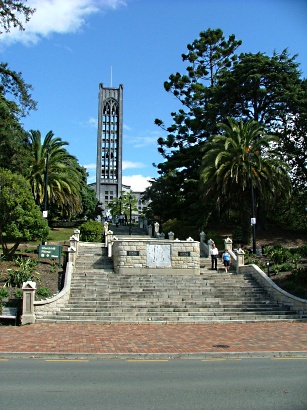 The hill and the streets around and also the main street are called Trafalgar. The cathedral is an Anglican church. She was the reason Nelson was the second town in NZ to get its township.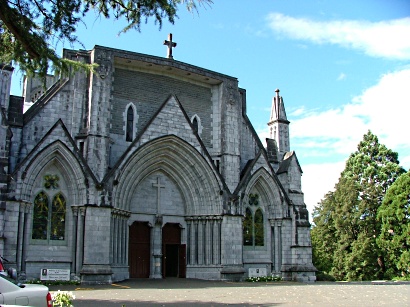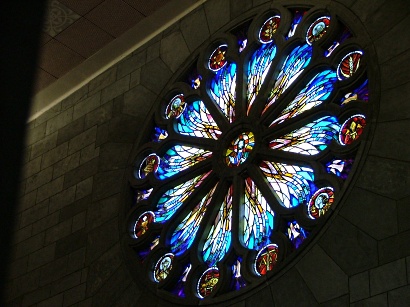 Then we drove a little to the side to see the NZ geographical center -it is on a small but steep hill and we ran out of our intangible resources to climb it. So it goes…
But on the way we found Queens gardens, with a Chinese garden in the corner: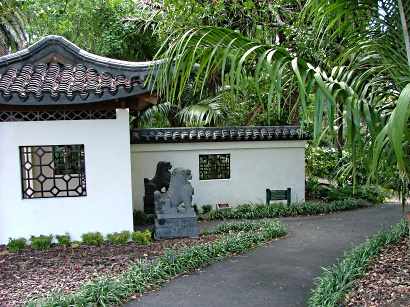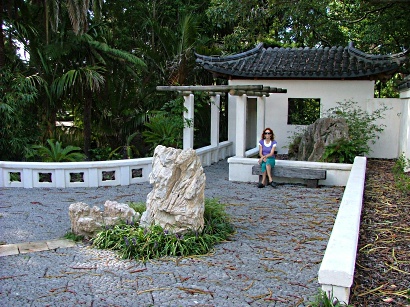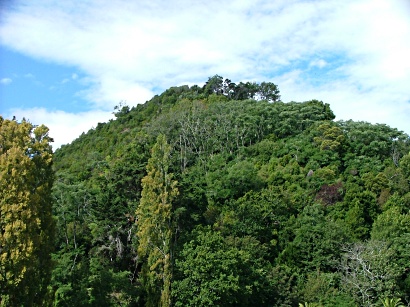 Passing Nelson immediately we stopped at a very wide beach-so wide, it was hard to reach the waters and when we reached them – we decided not to get into the waves, for they didn't feel like welcoming. I can't even explain. Some beaches are very cozy, some are not. here I noticed – the beaches and lowlands are so flat that when the tide of 4 meters goes down – super duper wide areas besides the sea become like marsh lands, half wet, half dry, dark grey, and very wide and flat, no plants… To make them not so boring, enthusiasts even make words and signs of stones(they have to bring those stones from somewhere) on those wastelands that you can see from the road while driving.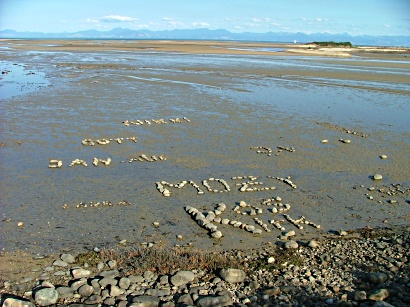 (This pic I borrowed from tomorrow's day, because while driving we do not stop much, so this one was taken from a board walk to Abel Tasman Park.)
It is like in Hawaii they make words out of white shells and stones on the black lava fields, or by Salt Lake city they make those same things from black stones on the white salt fields. It is good people use their overflow of energy and their time not in vain but in good use!
They say that the difference between tides here is 4-5 meters! Oho! In Maine it was 2 meters and still looked impressive.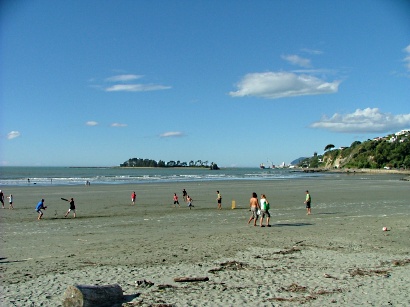 This is still a beach by Nelson.
And here we are – in Motueka, 20 min from Abel Tasman national park entrance. Lots of choices what we can do tomorrow. Tired of reading about those places. Somehow I think that it is really not so easy to travel without any guidance and also with that big ambition to see so much…It seems simple later, but in the beginning you have to plan your time best and think of various ways of taking this road or that, sleeping here or there. So we both agree that we couldn't travel with reservations – we always would like to change them.
This time we found a very nice motel – and right at the moment we felt like stopping for the night. Very private, quiet, with a garden in the middle. With a kitchen, and everything else, except for internet, that is why my Blog is late. Catching the internet was tricky. We always buy it with cc, there is no unprotected internet in NZ, but we have to find a signal and the right one. So driving around motels, lodges and checking is a way of spending some evenings. If we have it in the motel itself – then it is even more boring – we sit by our PC's and type…