We didn't too much in Santa Cruz so I thought maybe I shouldn't even mention it. But then I felt it was the best seashore I saw during the trip. It was warm (while it was almost freezing during the night just a few blocks from the ocean) and it was peaceful, no wind, just the sending its rays to the sparkling waves which were beating their rhythm under me and spraying me with the salty water. The perfect place to do Tai-ji! I guess there and not so many places or moments in life that you can enjoy and feel the forces of nature so close to you and at the same time – so calming and peaceful!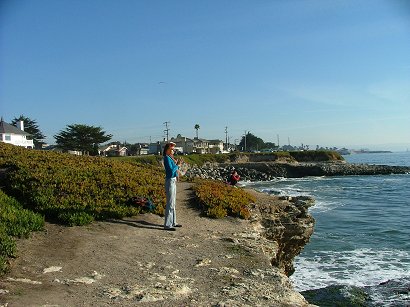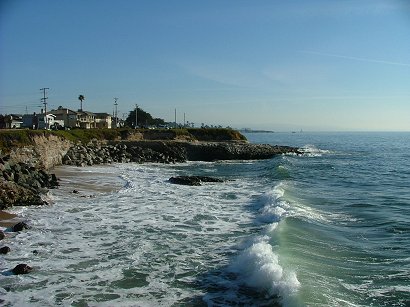 When you turn you head from the sea – the houses that line the shore are also well worth to stand where they stand. Some of them have amazingly big aloe veras in front colored in orange by cool winter.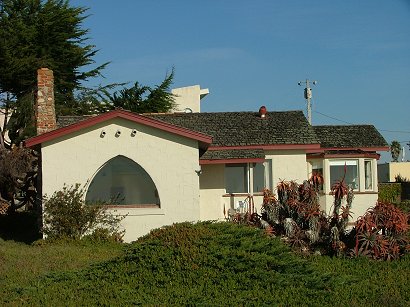 All those views are in the North side of Santa Cruz. it also has a State Park there: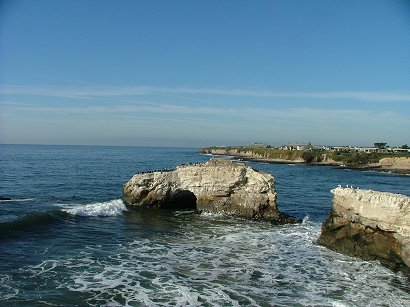 But before that the previous evening we drove to the Mystery Spot somewhere by Santa Cruz in the redwood forests. I write somewhere because every santacruzan I asked about its whereabouts mentioned the name of the street or road but have never been there before. It was tricky to find it because there are two roads by the same name Branciforte, going almost parallel, the only difference is that one is road and the other one is drive… And of course – the first time we took the wrong one which lead us to a beautiful golf course. After the inquiry there we found the Spot!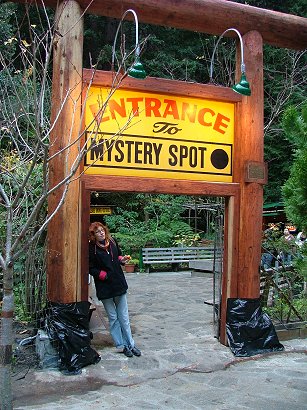 There is no use of describing of what is already extensively described about the Spot in the internet. One of good descriptions: http://www.roadsideamerica.com/attract/CACRUspot.html
Just one little fact – once I got from the car in the parking there, which was still not considered the Spot, just "by" the Spot, I already felt rather weird, my lower back in pain, I could hardly climb the hill to the shack…In the shack I was very dizzy and had to hold onto the rails not to extend my length through the whole floor. After we left in some 2 hours the back pain disappeared. No comment…