The town of Big Sur is very dark at night. It is not a regular town. Rt. 1 turns from the ocean behind a mountain to return to the ocean again. There are lots of redwoods in that canyon through which Rt.1 passes. It is narrow, protected from ocean winds, so houses and hotels-resorts are built by that road and extend several miles. At night it is very dark and not very convenient to look for lodging. Better get there while it is still light or make a reservation. Not to waste time and energy in stopping and asking for vacancies or prices. Because it is so popular among celebrities, as they told us, some hotels charge $800 per night… And as nowhere else we came across in California, most of the hotels don't have high speed internet. Just north of the town there is a cute Andrew Molera State park, which charges $6 per car. But it is worth visiting – the path leads through Big Sur river and then by it towards the rocky shores of the Pacific. And yes, it is not so easy to cross the river – although there are some bigger stones thrown on the path, but your feet still get wet. Solution: you have to either go barefoot (cold in winter) or have big waterproof boots. Well, we got wet in our sneakers, but that's what happens when you travel. There is a beach all covered with very long seaweeds which look like giant snakes. One and has a big ball of the same seaweed body. The other has a grown stone into the weed. So it is not easy to lift them. The ocean is making rather loud sounds of big pebbles rolled by the waves.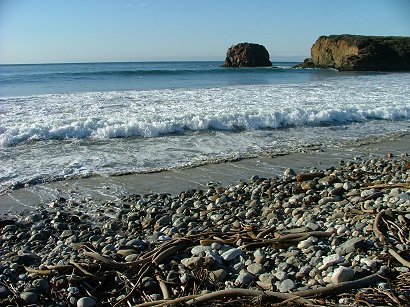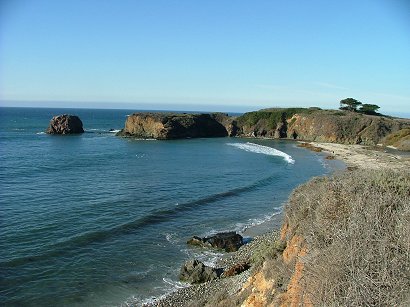 After that driving was very very beautiful. Sea on one side, cows (lucky them) and hills on the other and no civilization at all. Except for one lighthouse. Here is the view from Hurricane Point towards the Bixby Creek bridge: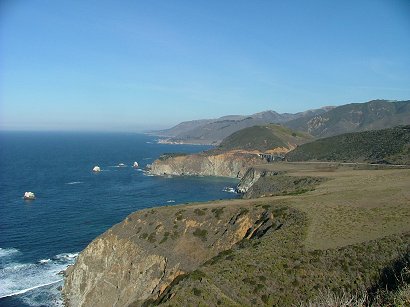 Carmel showed up pretty unexpectedly. At first the modern part of town, meaning malls and stores, then we noticed a Carmelite monastery, nicely located among the greenery. So we stopped and smelled the church – there was not a soul there, but the doors were unlocked like in a good catholic country, so that all in need could stop and pray surrounded by pleasant incense.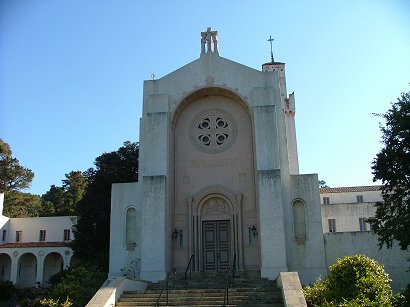 And then once of a sudden – we found ourselves in Monterey! With the sea lions making a big noise by the warf- I bet they had their lunch already and were trying to comfort themselves for a good afternoon nap but still they had to fight for a better place on surfaces sticking from the water: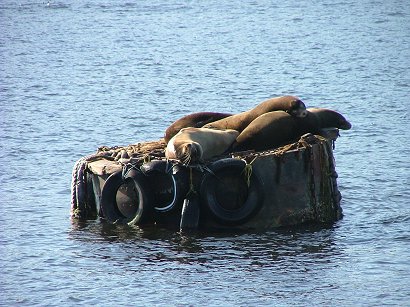 Views from one of Monterey's warfs. A pretty good seafood restaurant on the Warf with the views towards lots of yachts. We enjoyed not only them but also watching the cook prepare and cook each meal.