It was the third time we visited Chang Mai and it seems there is a reason whyᅡᅠ -we like it so much! Together with lots of other people, so it got very crowded…That is the feeling you get once you are taken with Taxi or walk from the minivan stop not far from Tha Pae Gate. The hotel we reserved through Booking.com was called Bahn Mi – in a nice little street with a British owner which was a really nice bonus – he could tell us some things about Thailand and give some advice. Chang Mai seems to be densely full with restaurants and interesting shops and massage places. This time we found a really good vegetarian restaurant, and I enjoyed a really good massage by the same lady in a temple garden every day! In fact she helped me a lot with my knee, which started swelling the very first day I walked a lot in Bangkok and the whole trip made me use a cane and bandage. For your information 1 h Thai massage costs there 150 bt. And during my trip I never got as good one anywhere. As I figured out later – it is not only one temple that offers its grounds for massage therapists, here are at least three of them. So one gets spoiled in Chang Mai…Here is the cafe where we liked to eat not only because of the food, but because they have a shelf with books which tourists can exchange and also get ideas for their further travels form Thailand tourist books: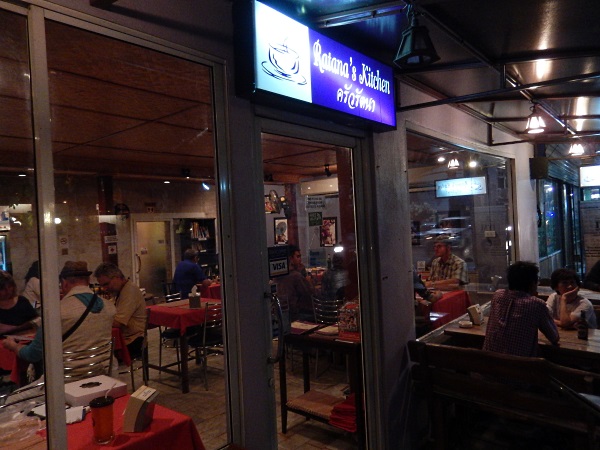 One of the weird shops that sells so many different things and cow bells are among them, their sound is pleasant: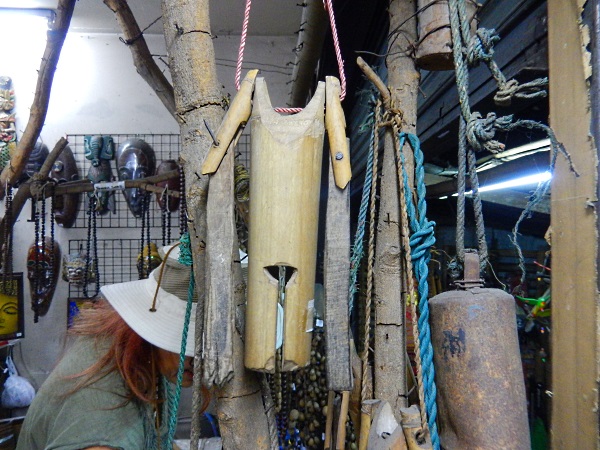 I don't see, I don't hear, I don't smell – it is meaningful for Thais: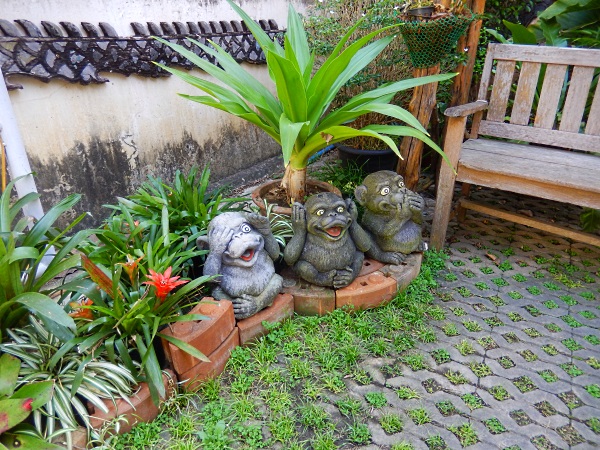 Only one temple had so many orchids around it and it was the closest to our house. Its main Buddha was lit in bright changing colors. Here are the orchids: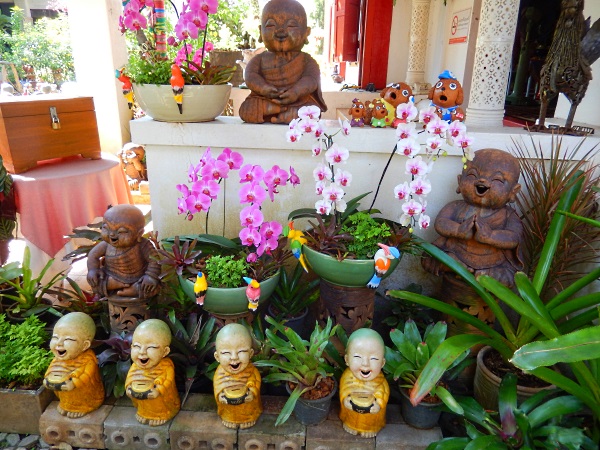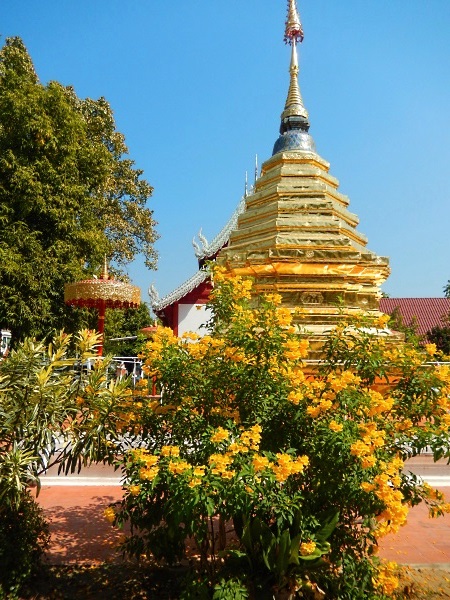 This is the view from a very shabby but very tasty organic vegetarian cafe Bodhi Treeᅡᅠ -it is literally under the Bodhi tree: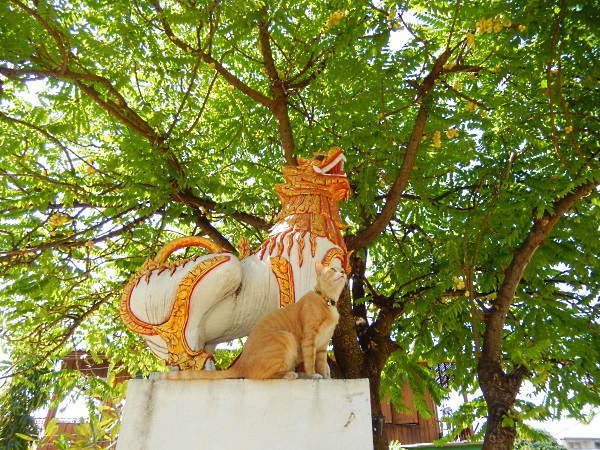 We planned our trip to be in Chang Mai on Saturday. I wanted to go to Doi Suthep temple some 1 hour away higher on a hill side and see the little Thai girls dancing. Well, I had to be disappointed. They are not permitted to dance by that temple or maybe all the other temples any more. What a loss – it was the most beautiful manifestation of Thai culture…But when we took the special taxi to thereᅡᅠ -we didn't know that. Our first stop was the Zoo, which pleasantly surprised, how nice it was, how good the conditions for the animals were (considering that it still is not freedom) and what a variety of animals they had: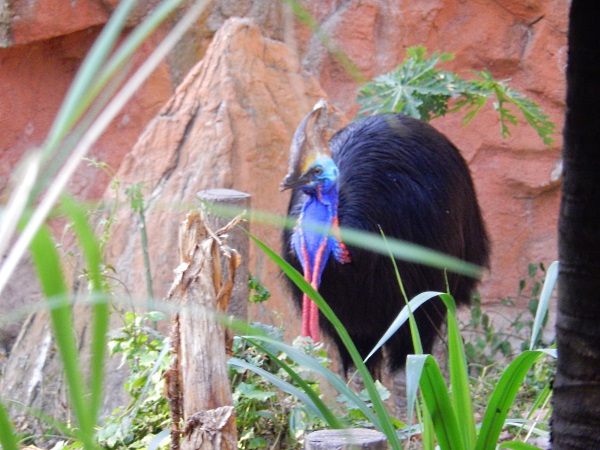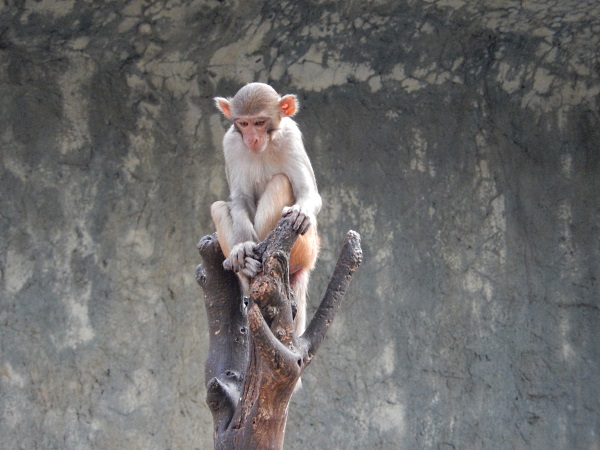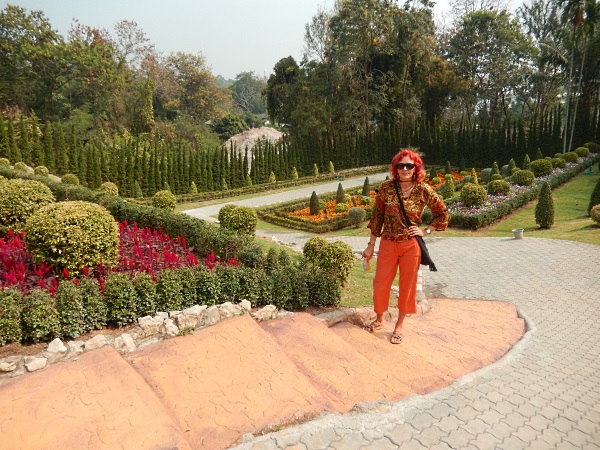 Always gloomy: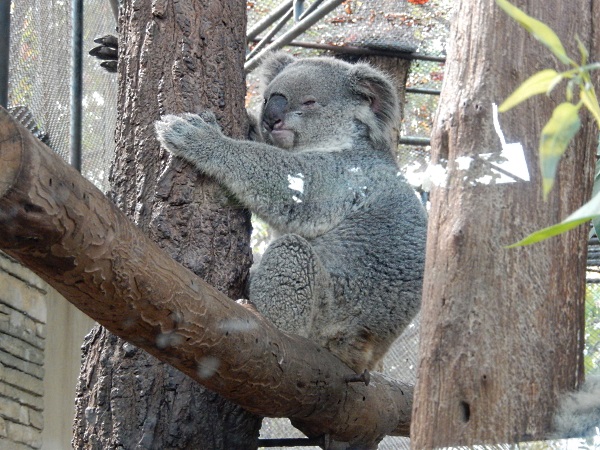 Always happy: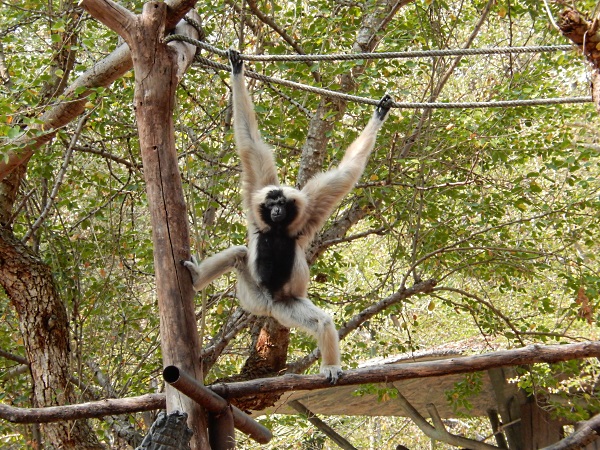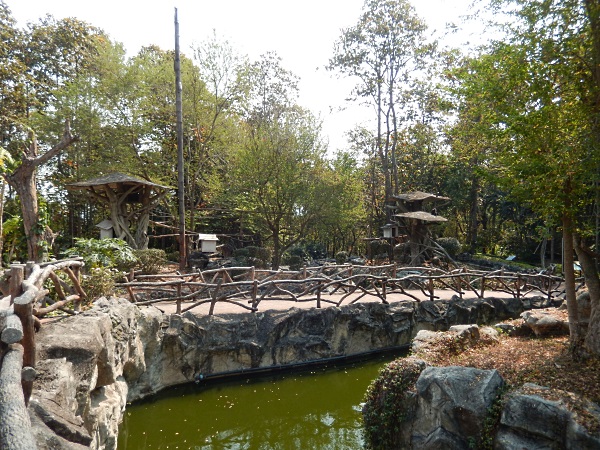 There were cucumbers for sale in little baskets to be fed to this elephantᅡᅠ -and boy he wanted them! After he finished eating – he lost every interest in me. Poor thing, with his legs chained…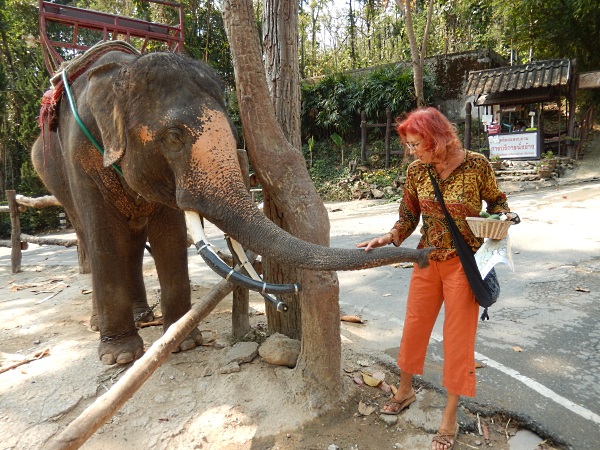 The Zoo is not on a horizontal plain, far from that. So it involves going up and down its roads. There is alsoᅡᅠ an Aquarium, but we had no time to visit it-ᅡᅠ we were rushing like crazy to get to Doi Suthep in time, not to miss the girl dances…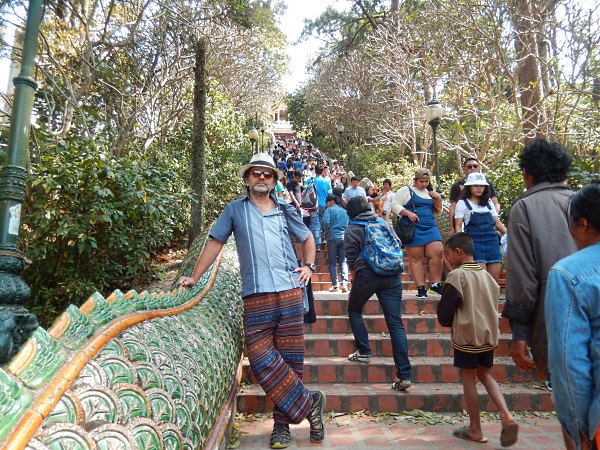 See the crowds going up to Doi Suthep…It was their holidayᅡᅠ -Big Buddha Day and not only tourists, but Thais, too, go to visit this temple with the main golden Chedi know for it houses Buddha's bone. But those girls were not dancing, only posing for pictures on the stairs and that was that, cute: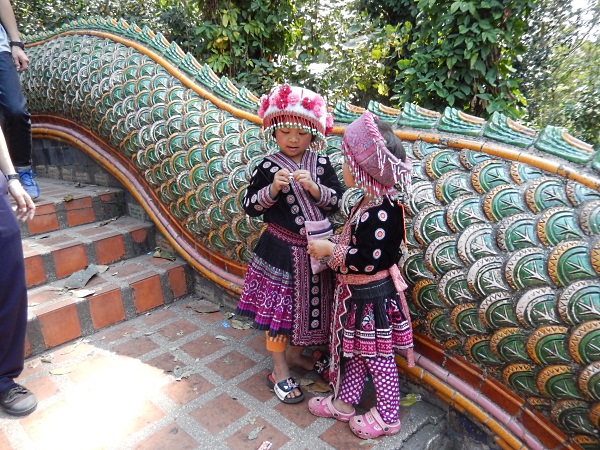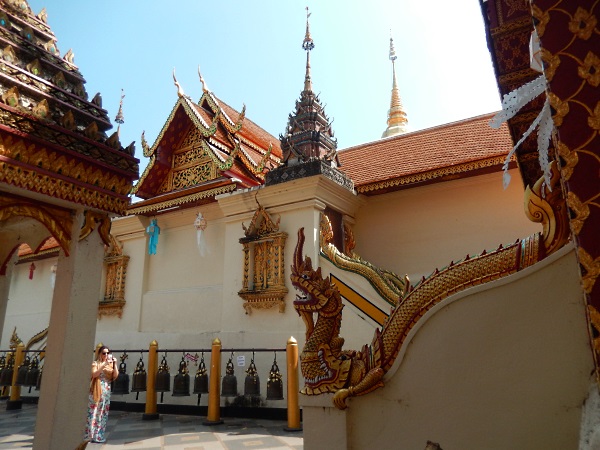 This time I looked more attentively to the frescoes on the temple inner walls and liked them a lot! Especially their color scheme: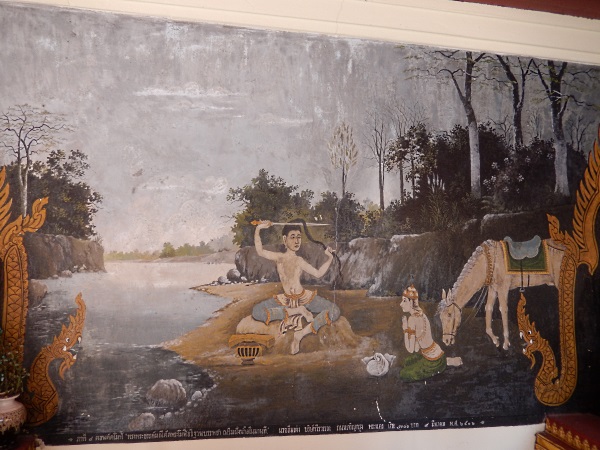 White elephants in Thailand are considered sacred and are kept only for the use of their kings. But this one has even a storyᅡᅠ -it came here by itself, turned around three times and trumpeted three times, which Thais transcribed as a sign to build a temple which they did.ᅡᅠ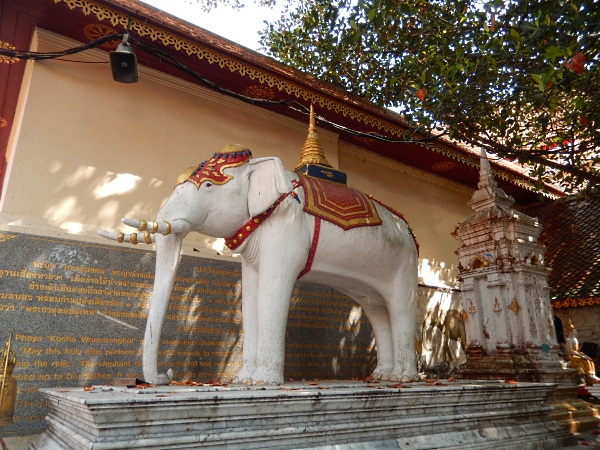 What a strange Bodhi tree – fruits grow from its trunk. Each temple has a Bodhi tree-ᅡᅠ a big and old one, a sacred one.ᅡᅠ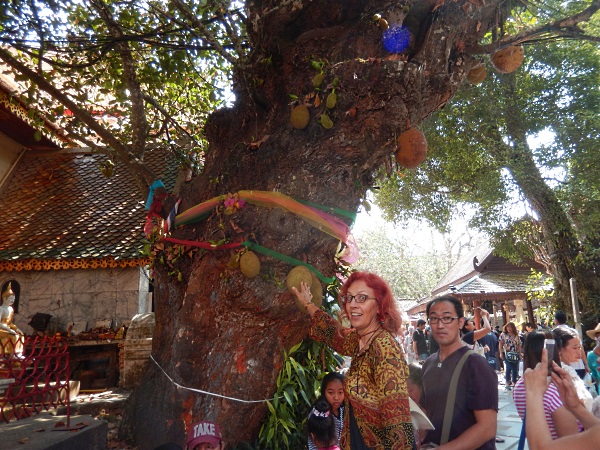 Here is the view from our hotel balcony – lots of guys playing pool in a bar and drinking beer – so it was the main shortcoming of our hotel – the noise lasted till 12 am, but only till then and for us those Big Buddha Days (because those were Saturday and Sunday and the moon was full and red!) was a savior for 2 nights-ᅡᅠ alcohol was forbidden those two days and nights and therefore the bar was closed, yey!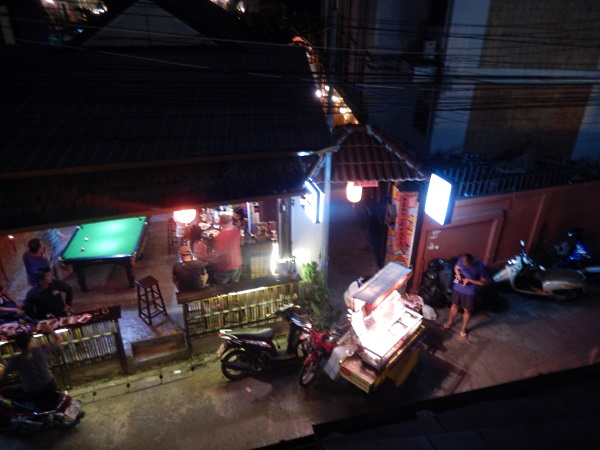 For the Big Buddha Days monks decorated their temples in colors and with diligence: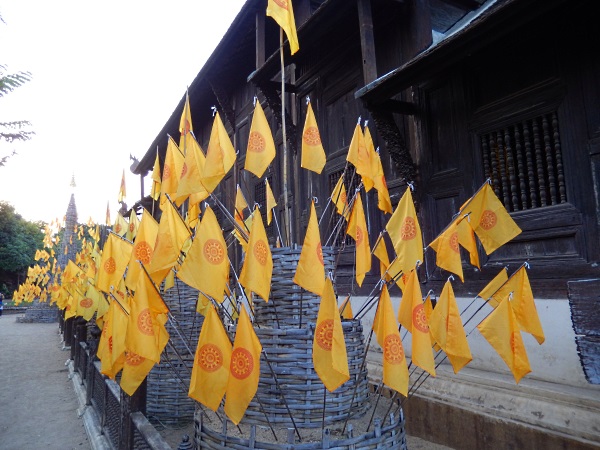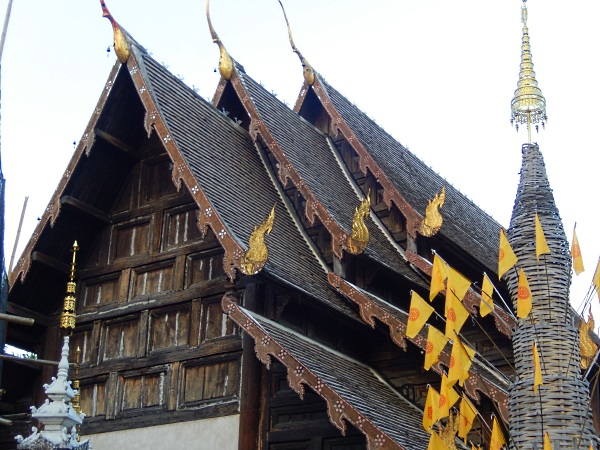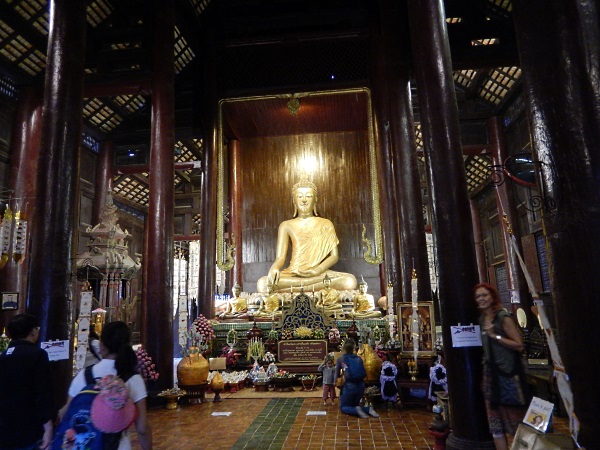 Houses where ordinary people live: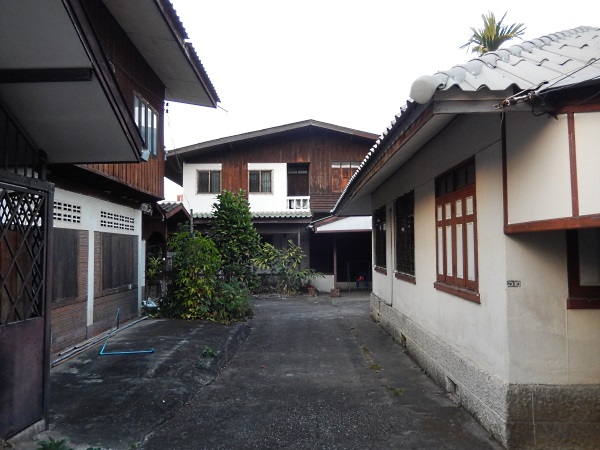 One of the mornings we decided to check the south side of the downtown, which is enclosed in moats. We walked on small streets following the route with most temples towards Westᅡᅠ -it was a pretty one: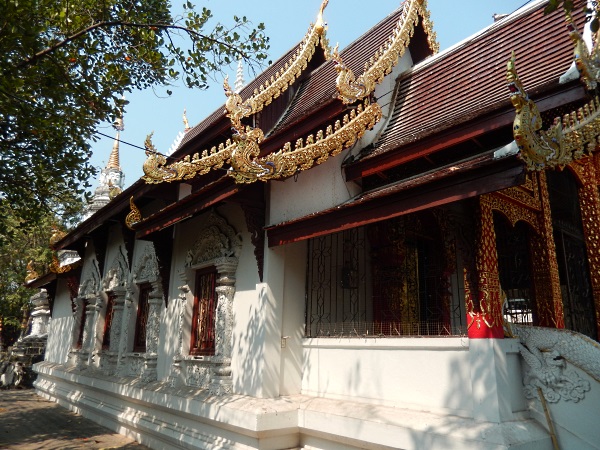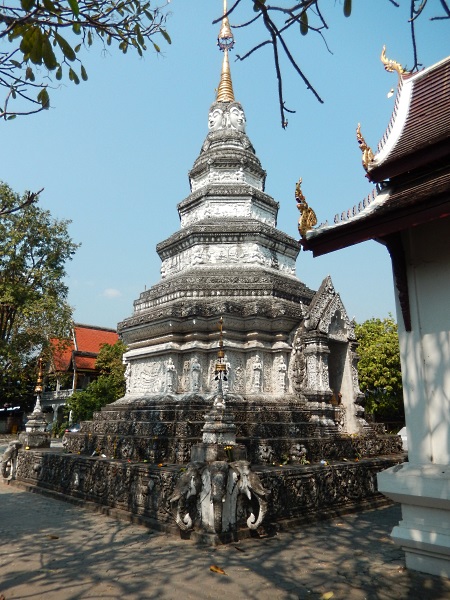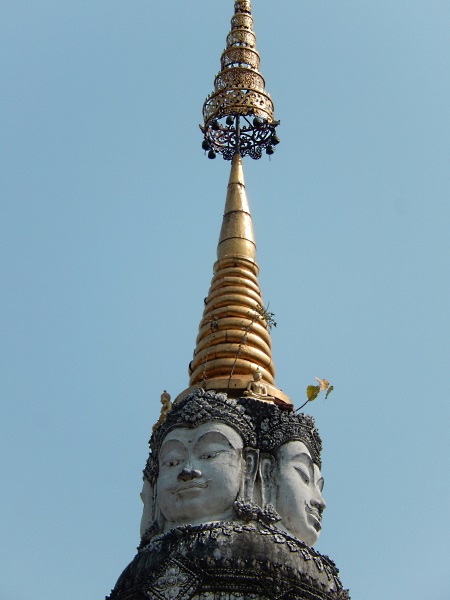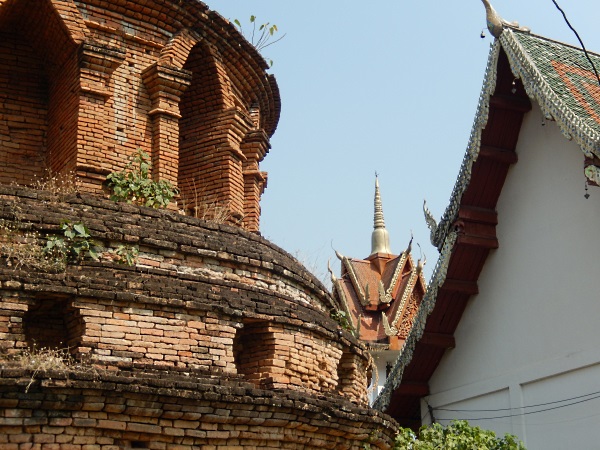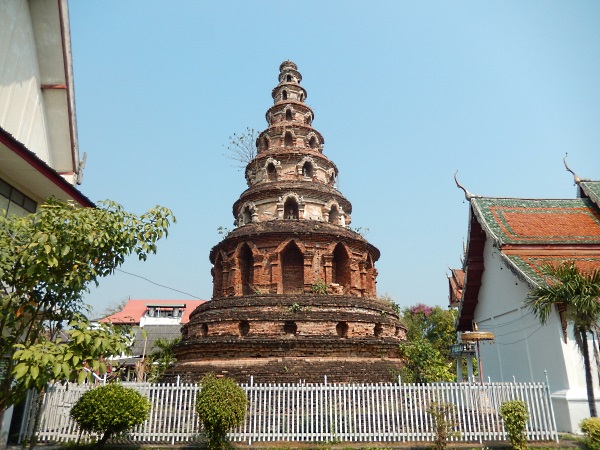 But best of all were our findings of lots of other small hotels and hostels that were not in the area where bars were making noises. So we made notes for the next time. And that is my advice for silence seekers. That direction leads to the Town park on the very SW corner and that park is very cozy in the heat of a day: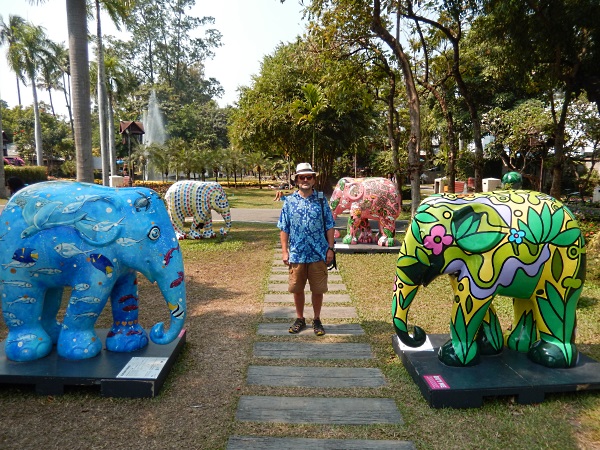 Evidently this year the park is decorated with a variety of elephants, but it also had large amounts of flowers just brought there after a recent Flower festival which we missed. So at least we saw their flowers here: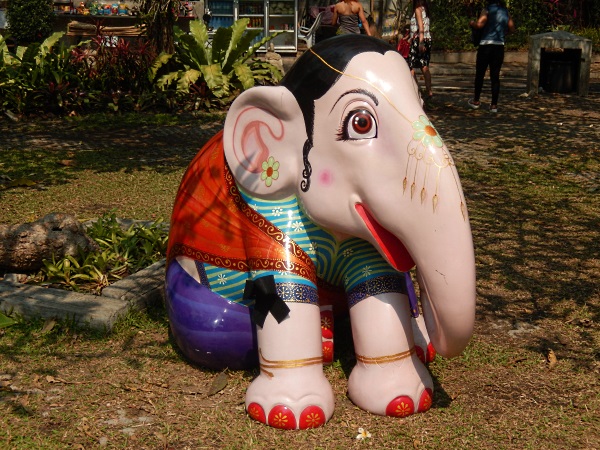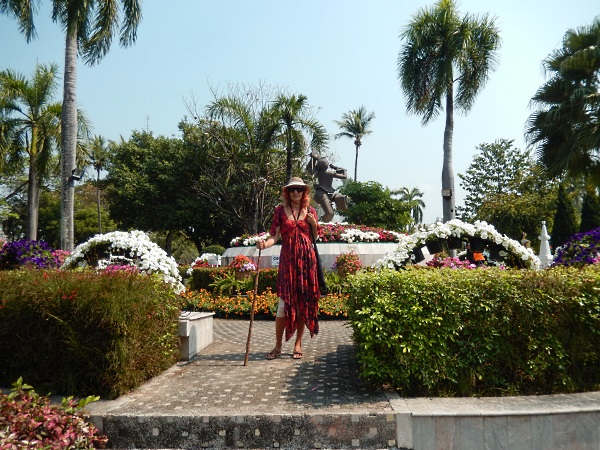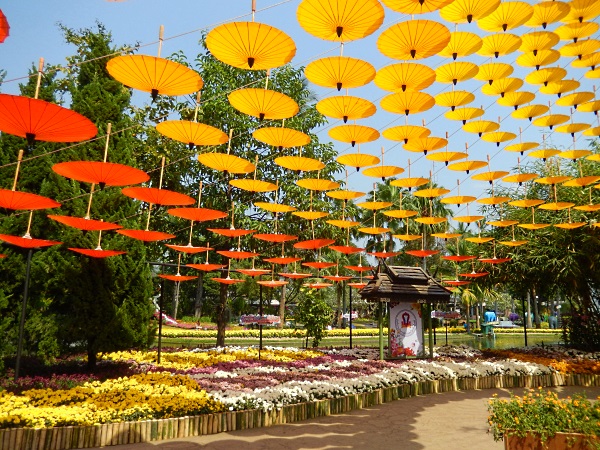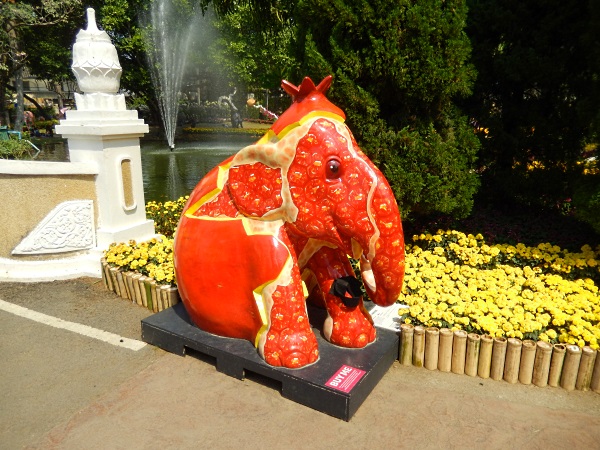 On the way back we entered one of the temples and here is what a fresco we saw there. Maybe it is like a warning against alcohol, cigarettes, but what are those different warms with people faces doing in the man's insides?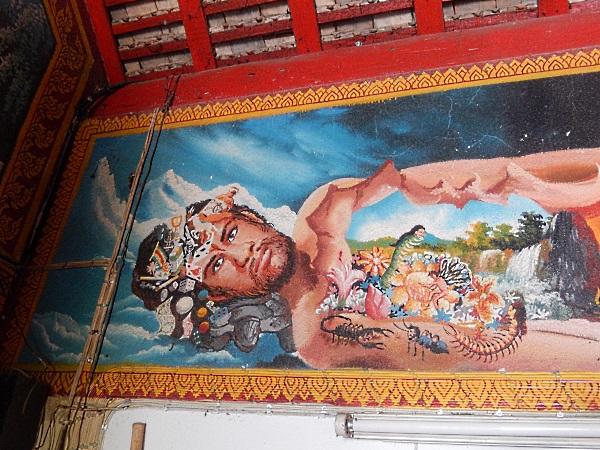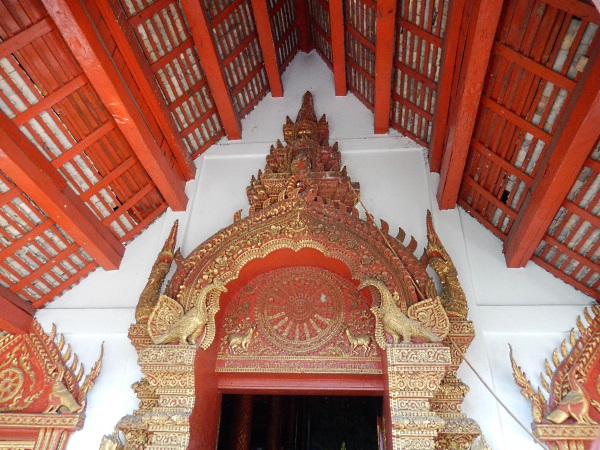 A usual combination of cacti here and there: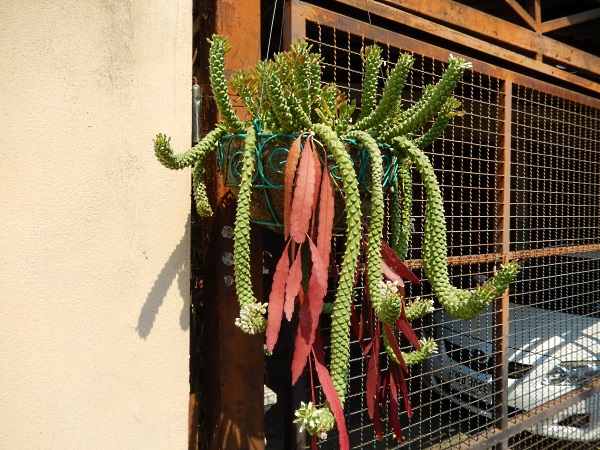 This is a promenade in the Tamarind hotel – a fancy one. But I noticed that they always have an interesting exhibit of ethnic people that live in the hills and keep on to their folk ways of lives: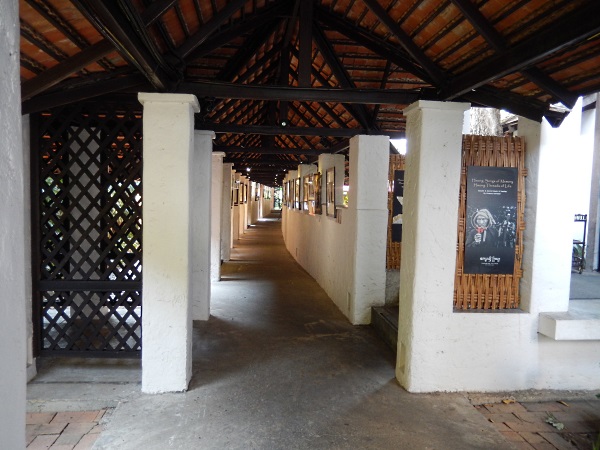 And the last impression about Chang Mai was as usual -ᅡᅠ the Sunday market. never miss that! it starts when the sun is still shining, but towards the evening. At that time it is still manageable to walk through it and look around. later in the evening such a mass of tourists come, that the street becomes like a packed bus: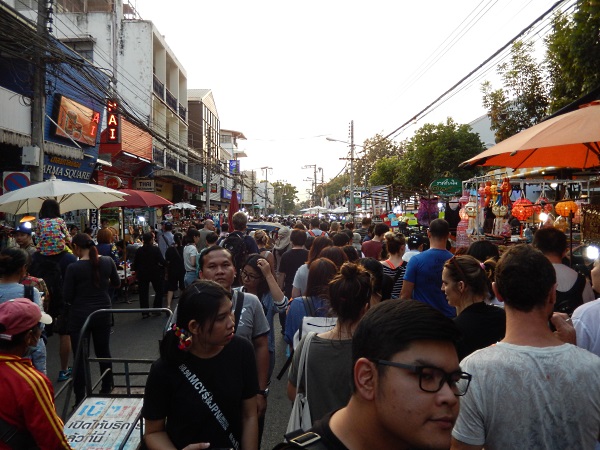 This band of blind people I saw even 7 years ago…They usually set up in the middle of the street and it is kind of dangerous – they can be stepped of pushed.ᅡᅠ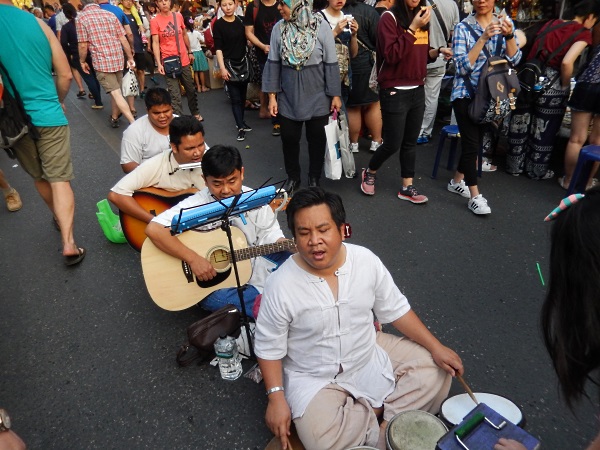 Everyone is trying to collect some money…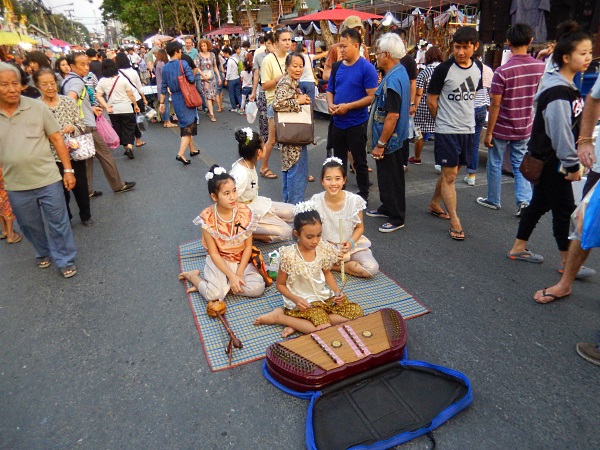 The side streets turn into super massive massage parlors – mostly men are on the chairs – not to waste time while their women are shopping :-):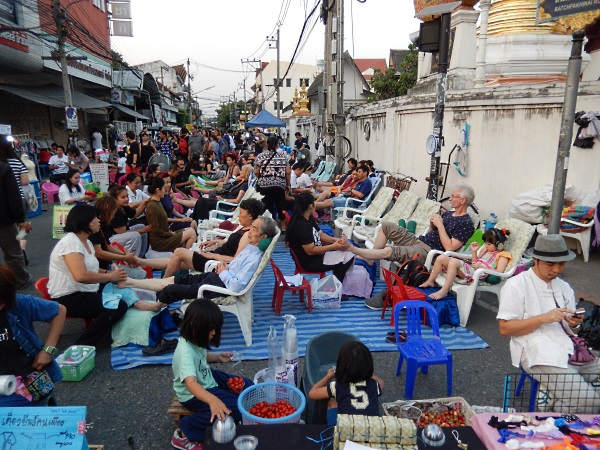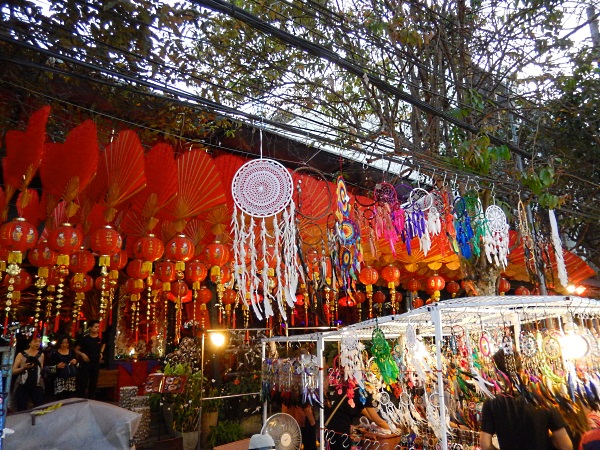 And the close-by temple gardens turn into food courts. What a variety of foods one can try there! And so cheap! It is a big celebration for all your senses! But better to bring your own food box or plate – in that way we can all try to lower the amount of waste this poor Earth is accumulating from us.