It was our third time in Thailand. Why you may ask, why to travel in a country we have already seen while there are so many unseen. And will never be seen by us. Because we are "following the dollar"ᅡᅠ – tickets were cheap to Thai;and this year. And because I figured that out this time – Thailand is a country of my childhood summers. The same light, the same feeling of safety and excitement, the same feeling of being cared and loved. Strange as it is. Of course, nobody takes you around if you do not organize or order it, nobody cares how you are dressed and if you ate enough – but we lived long enough not to notice how we do that, it is a routine. So I visited my parents and flew to Thailand from Lithuania – Helsinki -Bangkok. A long flight, some 10 hours from H to B. But my Andrei's trip was longer – he flew to LA -Tokyo-Bangkok, therefore spending in the air almost 21 h. But what can you do. My advice – buy a traveler's credit card which lets you into Airline lounges, it makes the trip more entertaining and tasty. Some of them have unoccupied sofas where you can nap for a while. One of themᅡᅠ – this was in Phuket and they accepted even the local, meaning not only international travelers – they offered even a 15 min shoulder massage. But we started in Bangkok, Andrei met me, we left our bigger luggage in a safe room for 100 bt a piece and went to cover the places we haven't seen last time – the Silom Park with King's palaces. The whole Thailand is in grieving. The first view our eyes touched in the airport was this memorial for their late King: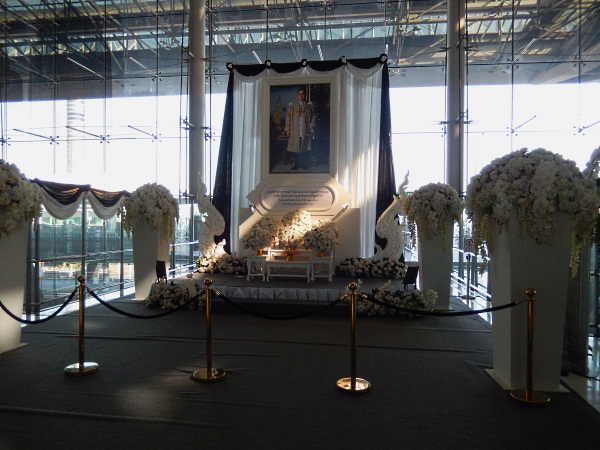 And after we got off the metro train and walked for maybe 3 km to the park – all the way we saw such memorials, bigger and smaller and also all the walls and fences were lined with black and white fabric – it got into our psyche, we were not very joyous…Here is a glimpse of Silom park and palaces. The white one is carves from Teek trees: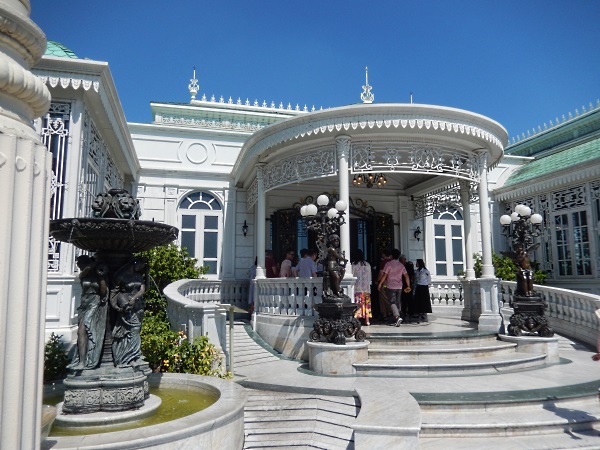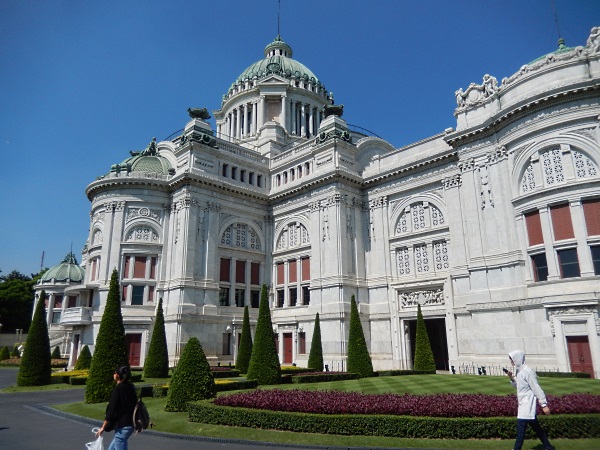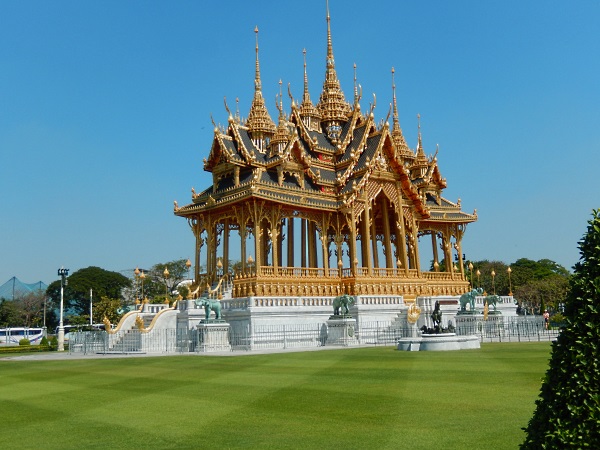 No, we didn't go inside, too tired after long trips, to jet lagged, too many people. And hot. We arrived at the end of January, you would think – the best time to visit Bangkok, but it was plenty hot. Sweaty. And we walked a lot the very first day, which played not a good impression on my knee and it started its protests the rest of the trip. Also – we didn't have a lot of time. Our firs encounter with Thai food was the worst through the trip, to our horror they served us little paws of crabs in their famous papaya salad…So we were happy to leave Bangkok behind that same eve and fly to Krabi.