The morning we left Wanaka was cloudy…it was a big luck for us to have seen the lake and the surrounding mountains on such a nice day! So as I mentioned earlier – we just dived into the clouds that were literally rolling on our way. ᅡᅠWe were heading to Fox Glacier. the road winds first by one big lake, then returns again to Lake Wanaka through a very narrow Neck – a piece of land between them, then dives into luscious rain forest with lots of narrow bridges through endless number of rivers and streams. ᅡᅠWe got enticed by at stop: "Blue pools" and a number of cars parked there – ᅡᅠso we went on that hike, half hour round trip, and luckily the rain stopped, so here is what we saw: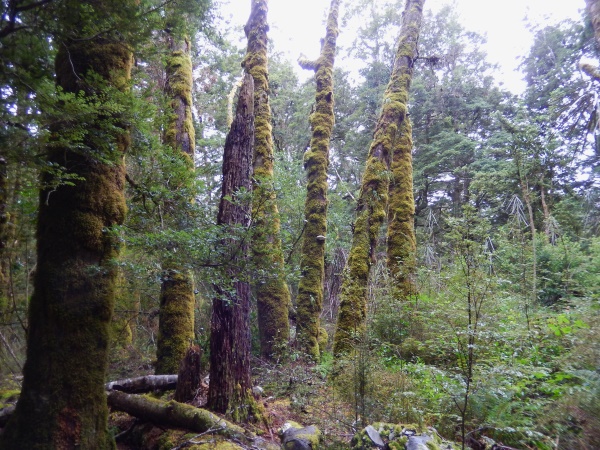 When I see such trees i always remember the beginning of Pushkin's fairy tale: U lukomorja dub zelionyj… 🙂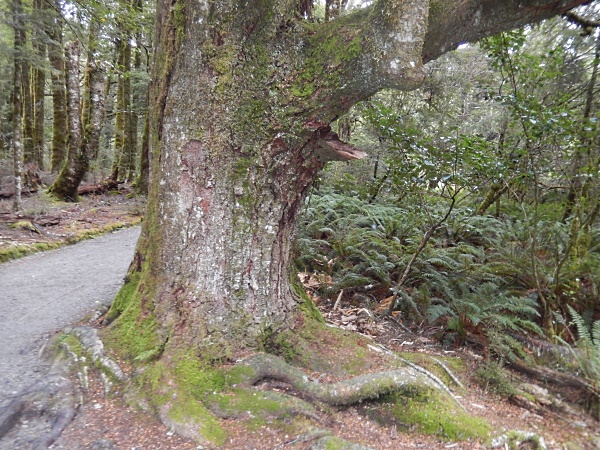 And under such a tree in Lithuania in August (which is an analog of February here) one would always expect to find a mushroom. We searched…All the way and back. In this humidity and warmth and such a forest moss -there should be some. I picked a small bad and was worried that it will be too small :-). Because I always find things to worry about, I guess. the catch was almost zero – well, three low quality ones…then i asked a local lady – she said as far as she knows – mushrooms grow there in November, which is like May in Lithuania, interesting.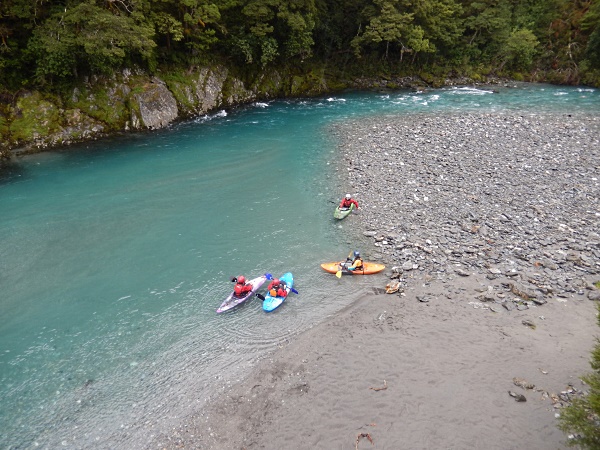 Here is the place in the rover called Blue pools: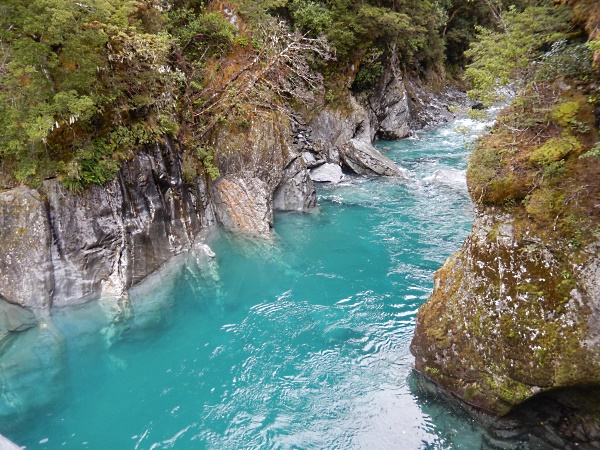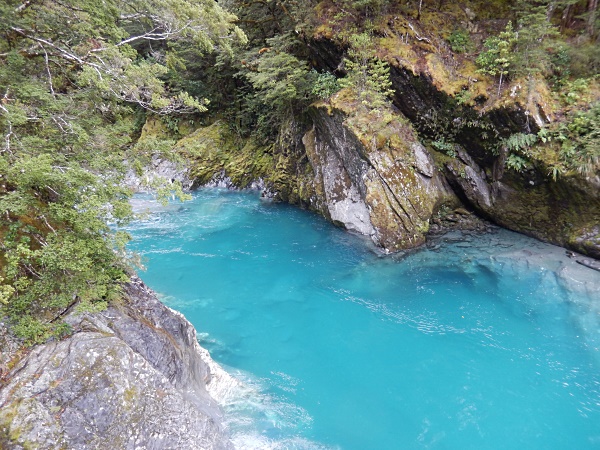 When we came a young couple was in swim suites prepared to jump from the bridge- but I took a movie, not a pic of their jump. They jumped into those blue waters! Wow! And it was cold for them. But they got out safe and sound.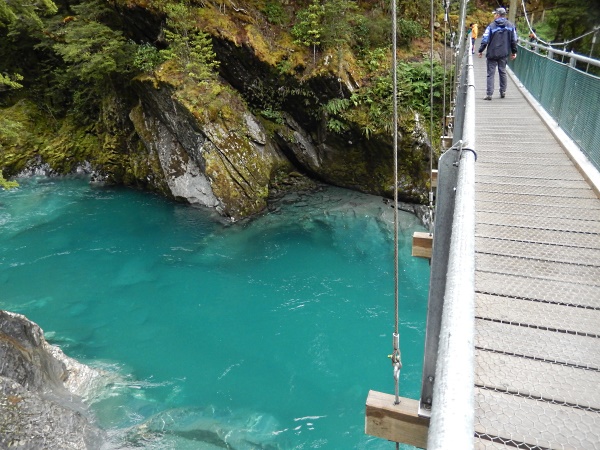 From there there is still a long windy road through Haas pass and down to Haas where we had lunch. The most popular fast meal here is Fish and Chips- ᅡᅠbecause this country is like England's continuance. They deep fry white cod in batter and this is what they call Fish, and they cook French fries – those are Chips. We somehow are not excited by that Fish, but we love their Chips! Once i tried a scallop deep fried in batter – it was goo, too. So here we are having Chips, the rain is pouring and I am asking the lady at the counter about their weather…She said they are getting 5 meters – which is 3 average persons put one on top of another -in one year…No wonder it is the rainiest place on earth, no wonder so few people live here. I haven't checked the data, but young Zealanders told me that of over 4 million ᅡᅠpeople living on both islands, only 1 million lives on the South island and most of them on the East coast. That is one of the rare places on earth where we like East more than West :-). After Haas you reach the sea pretty soon and here is how the coast looks like- ᅡᅠnot so pretty :-):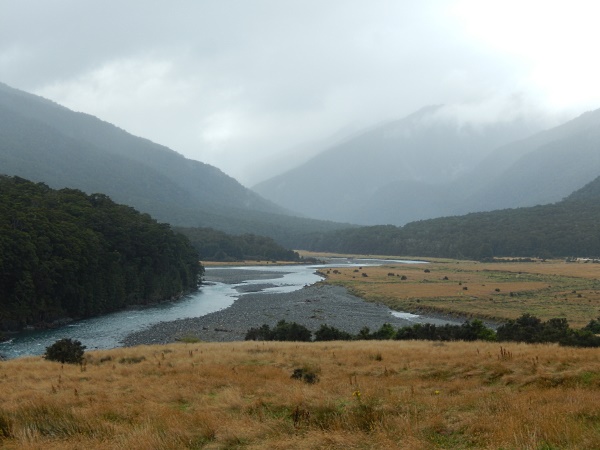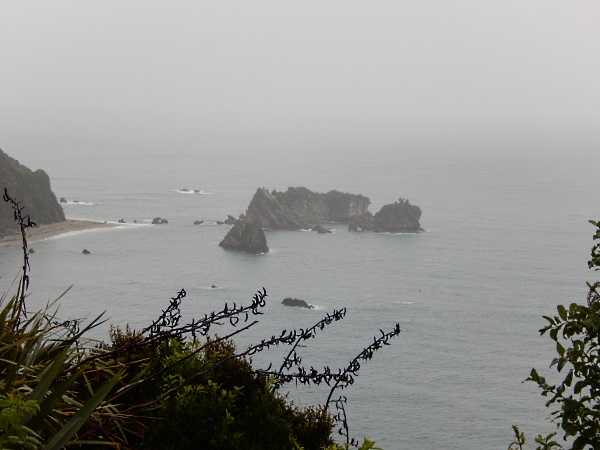 It wouldn't be so bad to walk on the coast and pick the very white, semi transparent and round stones, but the sand flies, those are nasty there.ᅡᅠ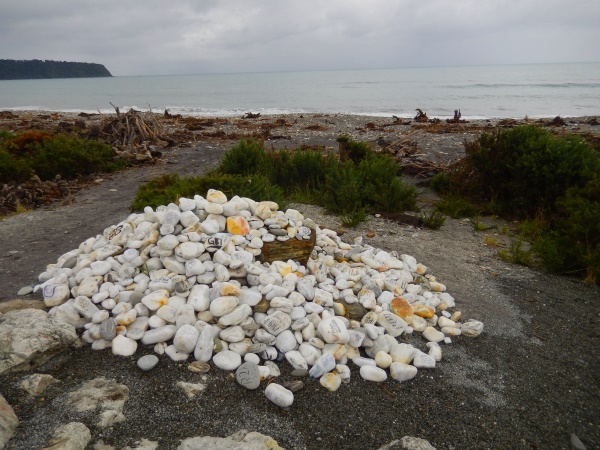 This heap of stones was a spiritual one- ᅡᅠthere were thoughts and stories written on the stones! Some are worried about legalization of marijuana, some about their husband who died without seeing NZ, some are very happy seeing NZ, some just make drawing or so. I also wanted to make my contribution and write: "Dear young people, lets save this beautiful nature, lets be more conscious in how much energy and water we use for our own comfort! The land belongs to you and your kids…" but to my sadness – what I notice in the common kitchens- ᅡᅠyoung people don't care. They just don't care…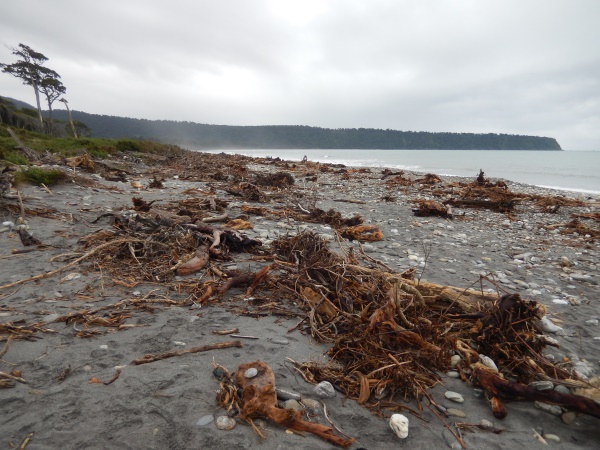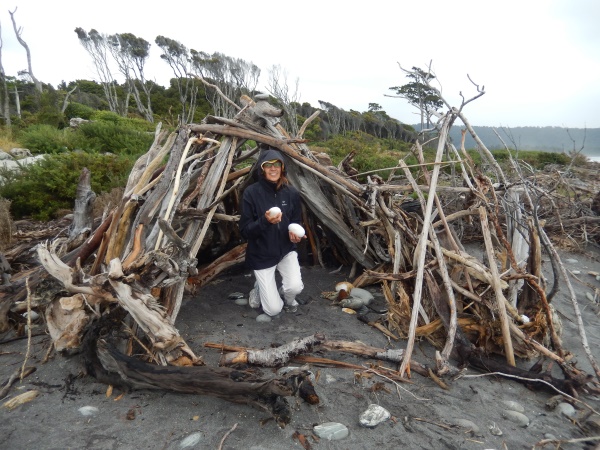 And because of that this is what we see once we get the Fox Glacier, it is almost gone, only some remnants left: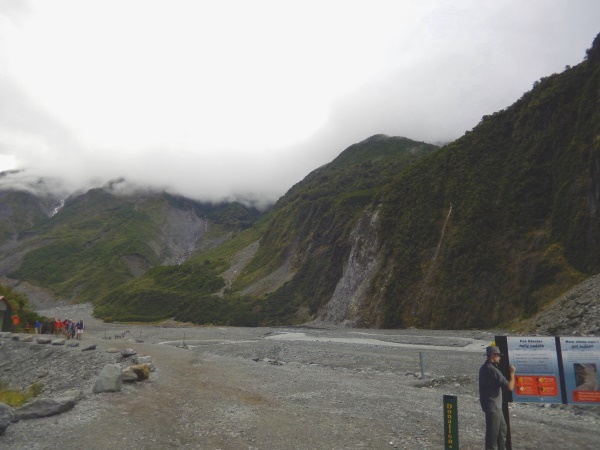 Not so long ago all this valley was the Glacier – all ice. Those mountains ᅡᅠwere sculpted by ice. Even when we were here 7 years ago – there was more ice seen, and now it is like this: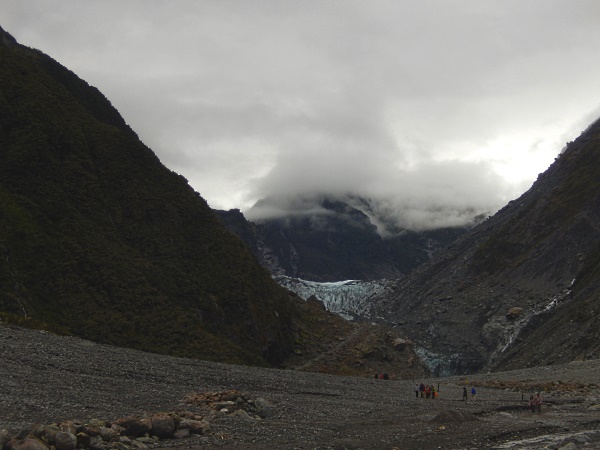 The path to the Glacier is well maintained and they don't charge for entering ᅡᅠany National park here in NZ. ᅡᅠHow do they manage? it is 1.5 km to get to a viewing place which is 450 m from the Glacier – pretty close!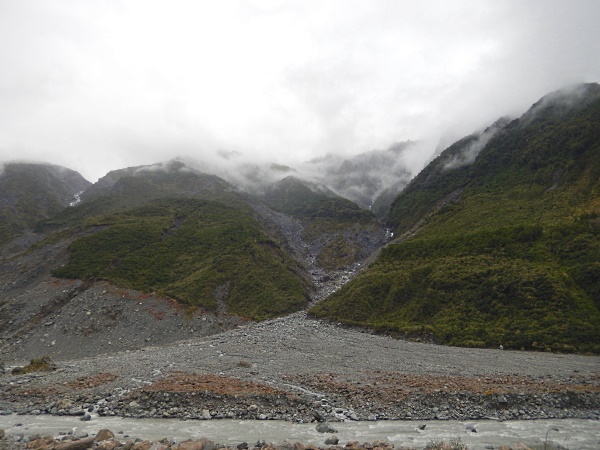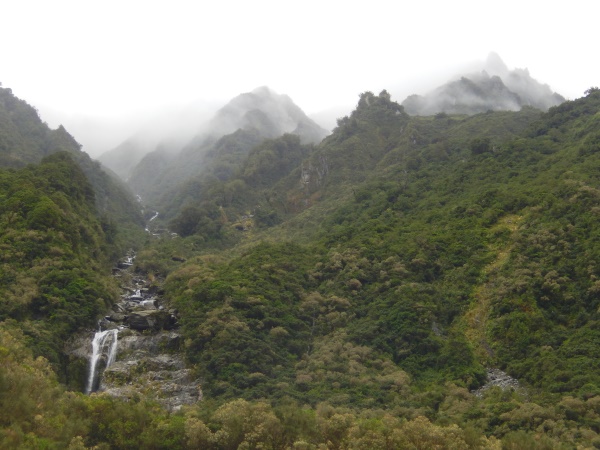 This orange growth (lichens -symbiosis between algae and fungus) on rocks is pretty attractive: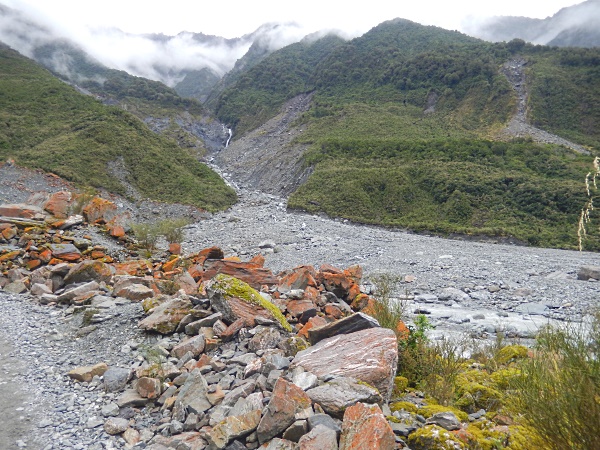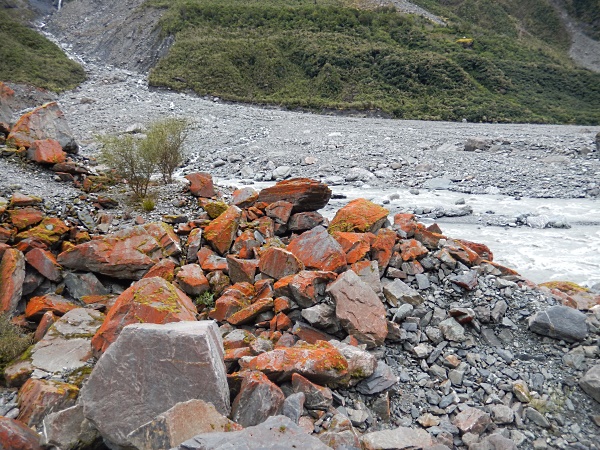 We see three steps of ice here: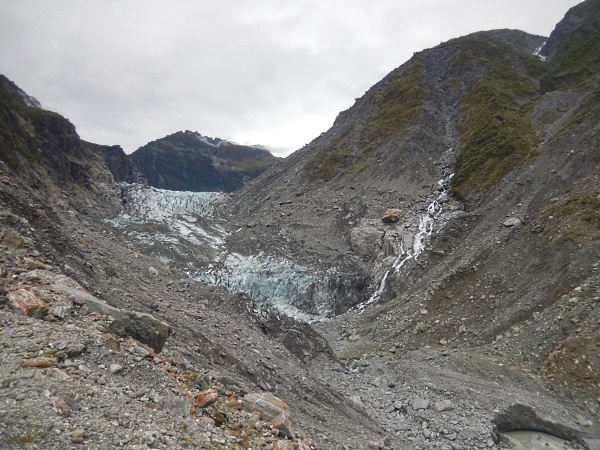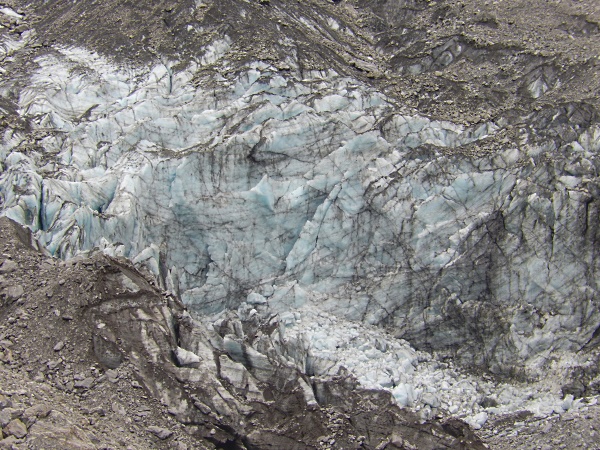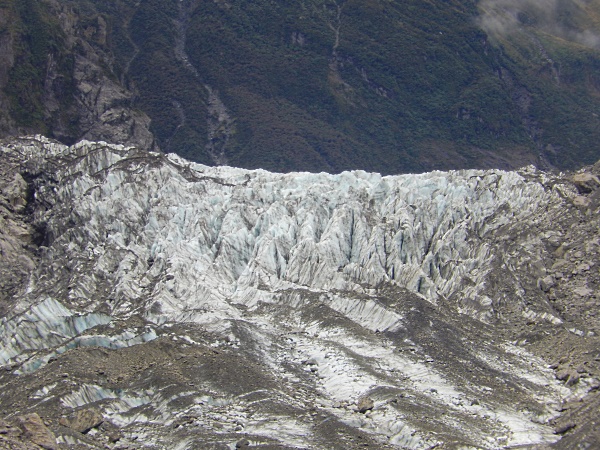 Well. Fox Glacier is considered one of the tallest or longest glaciers, its length being 2800m, a lot! But from there we see only the lowest part.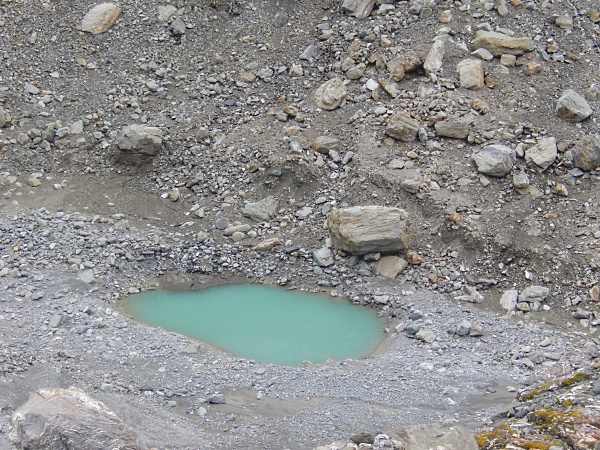 The glacier water is at first grey, then the sediments land to the bottom and it becomes super greenish-blue. Here is the lowest part of glacier: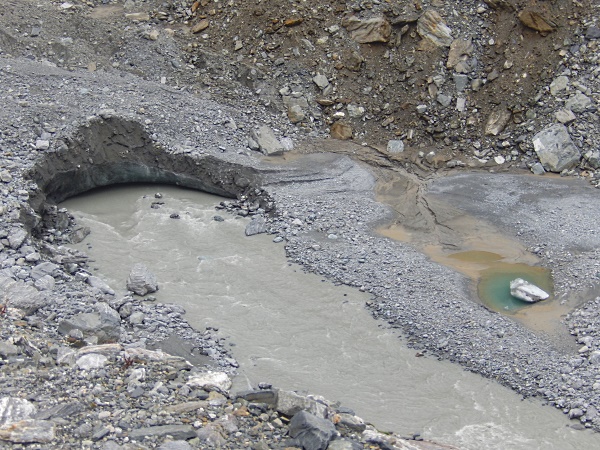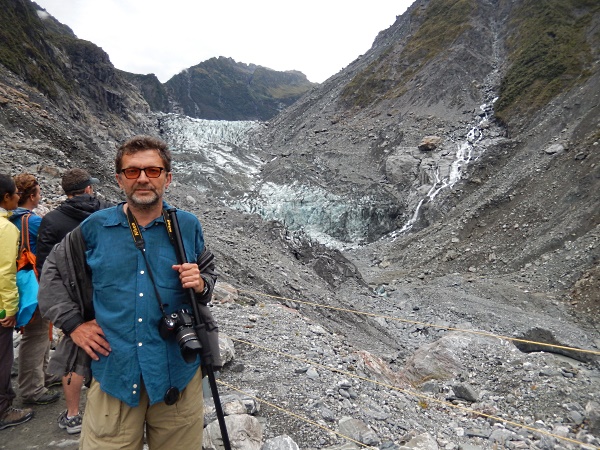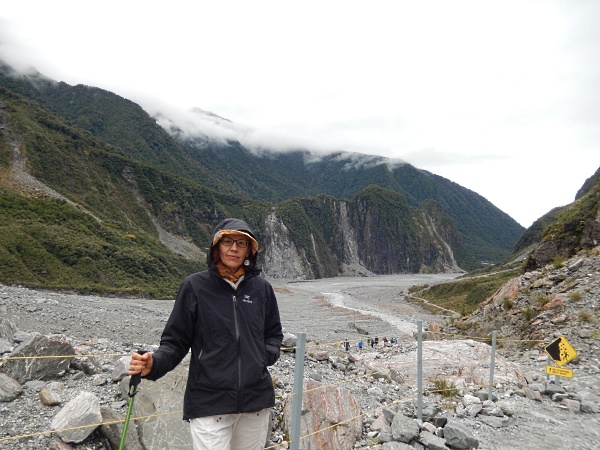 As you can see from the sign behind me there is a danger of rocks falling…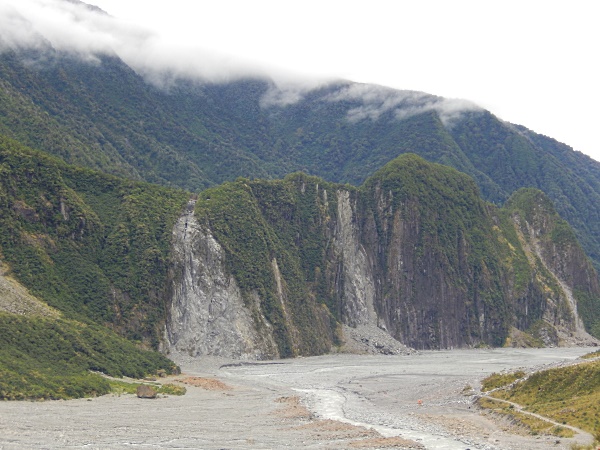 I loved those vertical walls and the stones colored by moss and lichens: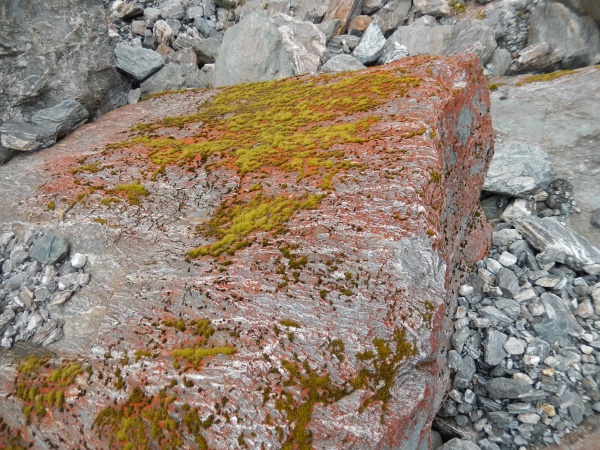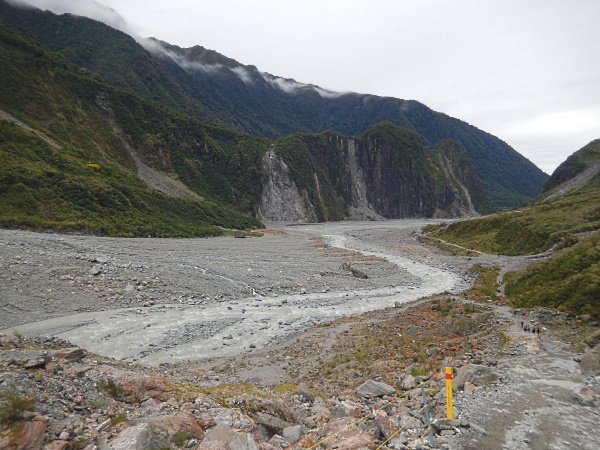 How colorful this slope is…: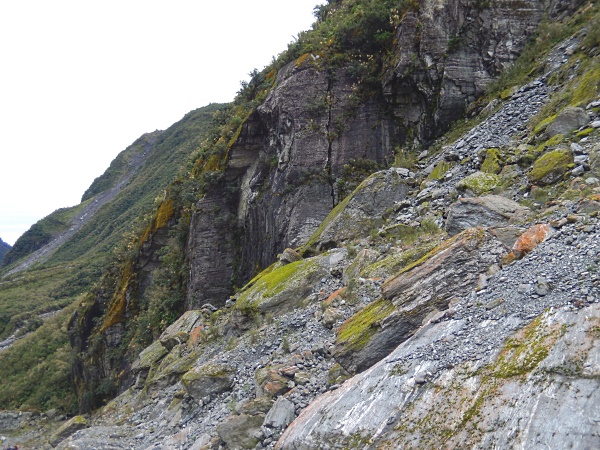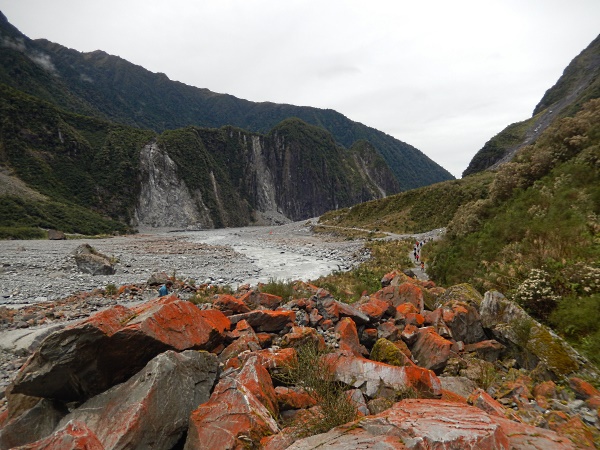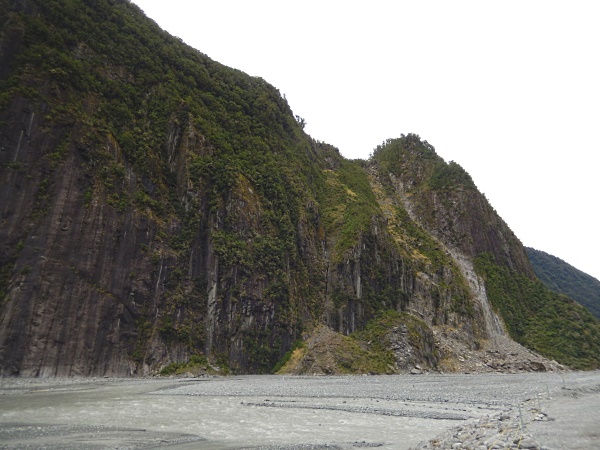 So Fox Glacier is 270 km from Wanaka. There are only 350 permanent population. But I think there are more German and Chinese tourists , counted separately, than there are locals. Good, there are jobs for locals! they are happy!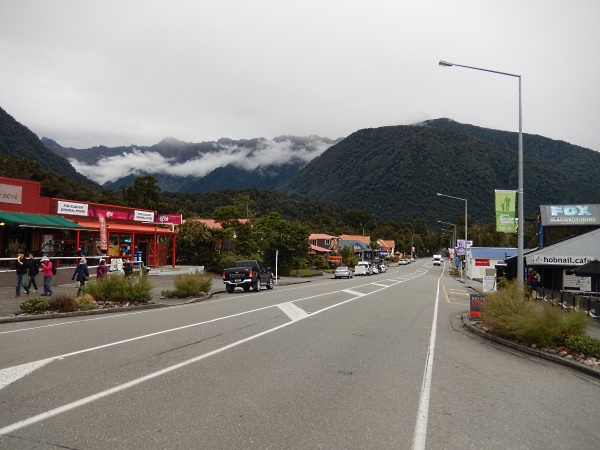 Here is how the main street of Fox Glacier looks like and how our room at Ivory Tower Backpackers lodge looks like: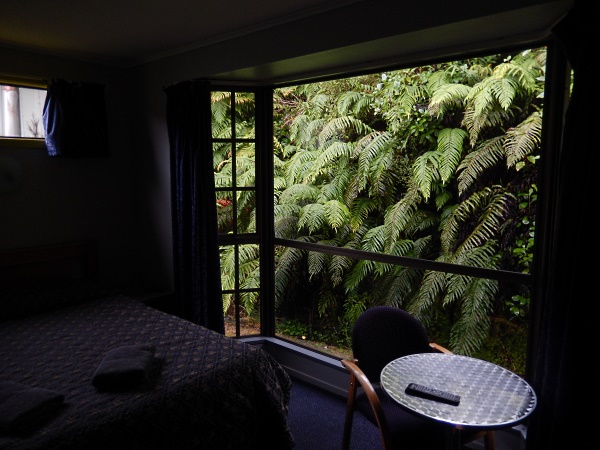 The Lodge is really amazing! it is built and decorated with so much love and attention to details, with so much care for us, the guests. The kitchen is well equipped, the motivational pictures on the walls of common areas are very good and the other pictures are all meaningful and nice, ᅡᅠnot just some pictures to fill up a wall. There is a hot tub and an infrared sauna – fantastic! So good for joints and spine problems! Best of all -they have a very good music all the time in the kitchen – dinning area. Then youᅡᅠcan hear the rain behind the window, and it lasted the whole night and then the whole day till 4 pm, when we and others went to see lake Matheson (called by a local farmer's name, not the representative of Utah :-). it is a 4.4 km walk around the lake with superb views, especially good in good weather because the lake reflects two tallest peak in NZ – Mt. Cook and Mt. Tasman. But we were not blessed by those views…what can you do. The clouds were ᅡᅠcrawling on the ground and not letting us see at least a part of a mountain: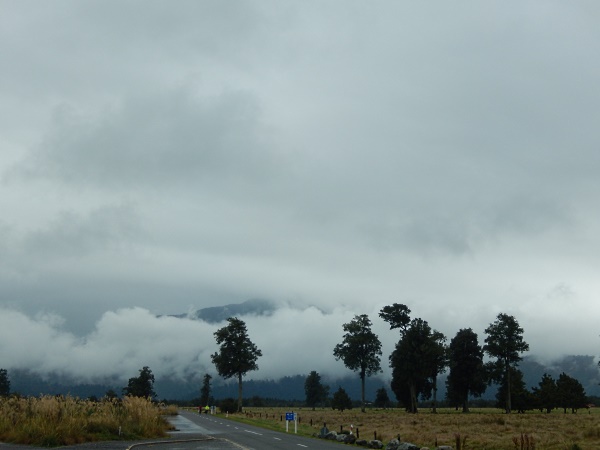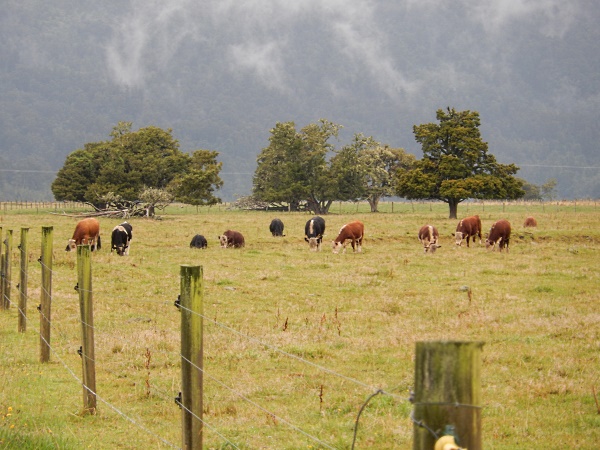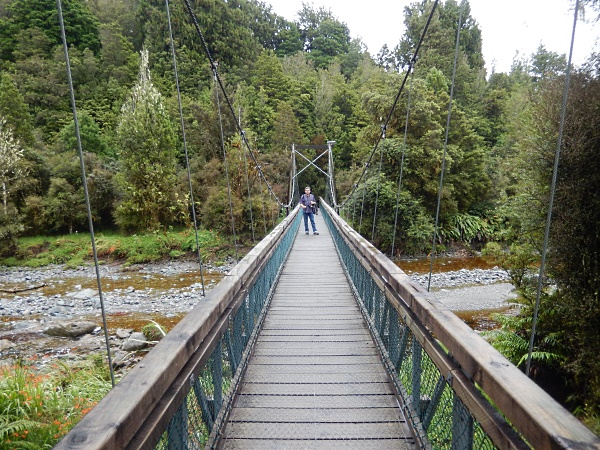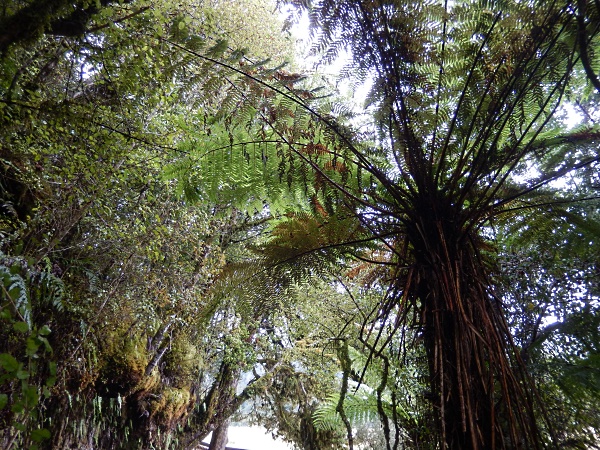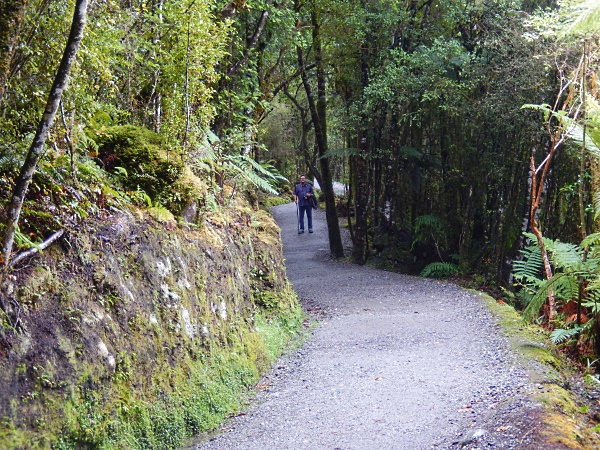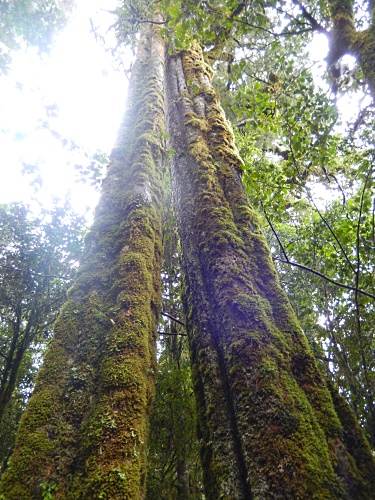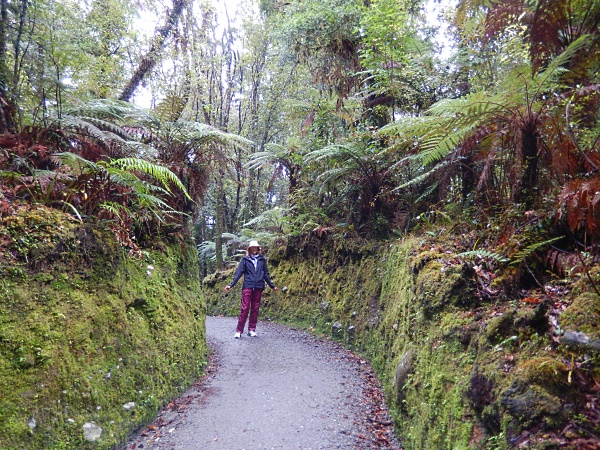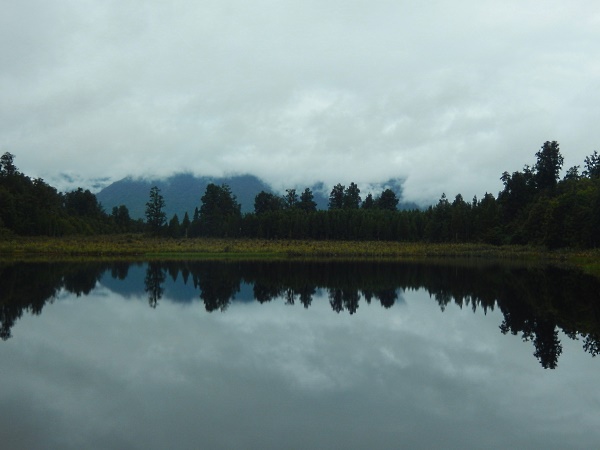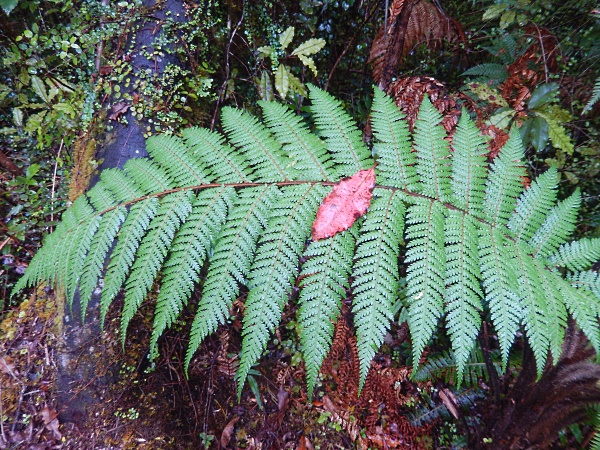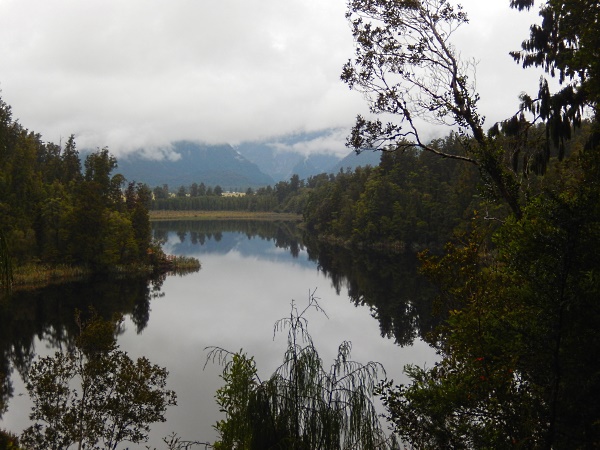 This is what we could have seen if the weather was good (I took a picture of a picture :-)):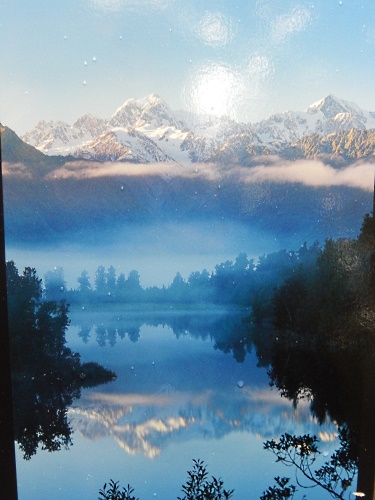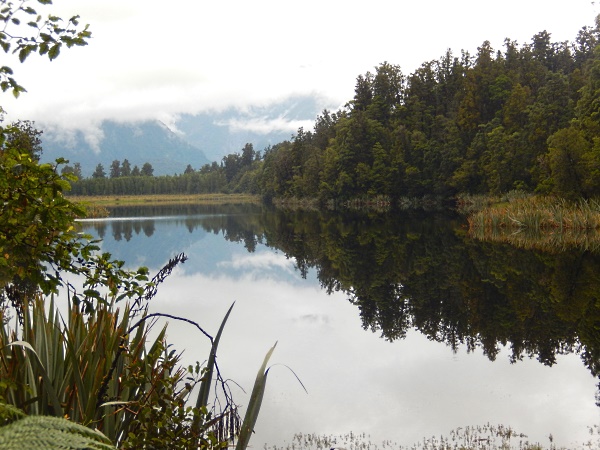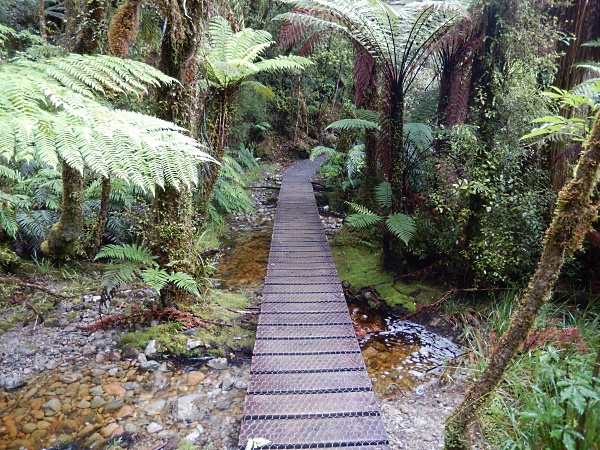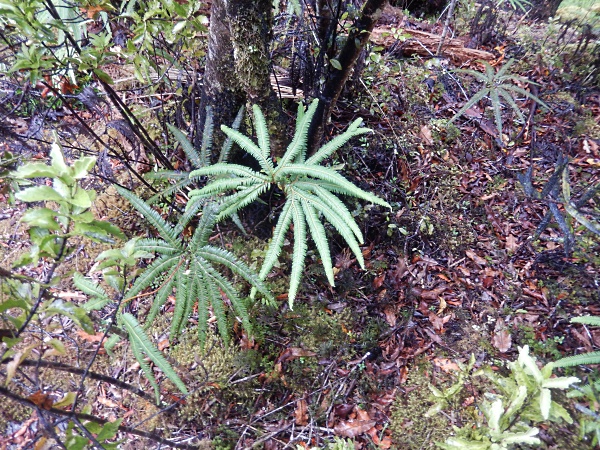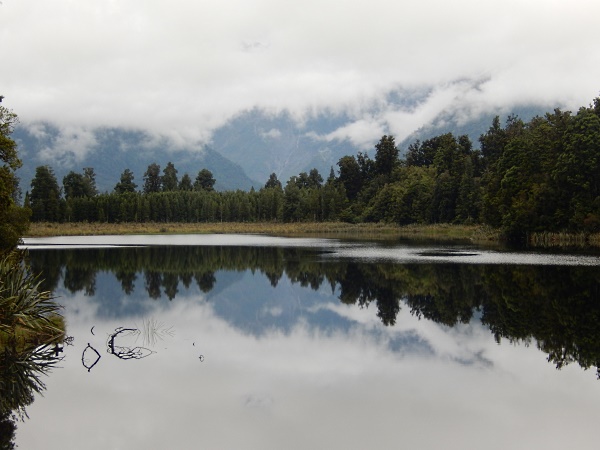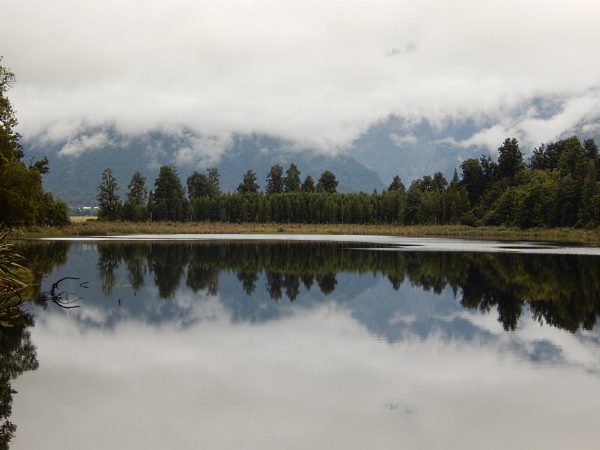 Those last pics are similar, but I couldn't choose between them, so I placed both :-). Then at night the rain started again, but nevertheless we went to see glow worms which are all over the jungle walks. They glow, but very slightly. And to walk in the rain forest in the dark when it is raining…quite spooky :-).