Deforestation…because of greediness…seems like everything bad in the world is because of greediness. Maybe lots of ᅡᅠgood also ᅡᅠ- the civilization wouldn't have developed if it wasn't for greediness…And we wouldn't have managed come so far to see all the wonders of New Zealand nature! The remnants of old, like Jurassic era forests are here, in the Catlins! They are sacred to Maori and some white people, me including. Catlins are the South West part of the South island. Once the white man settled new Zealand, he saw those magnificent tall trees of different varieties and cut them, sent them to his old country…then he brought sheep which graze on all the slopes of the hills and here we have – civilization.
The first turn once we entered The Catlins was towards Kaka Point…What a name, what an address to have :-). It is a nice little town by the ocean, with very beautiful ᅡᅠshores, leading to a lighthouse on the Nugget Point: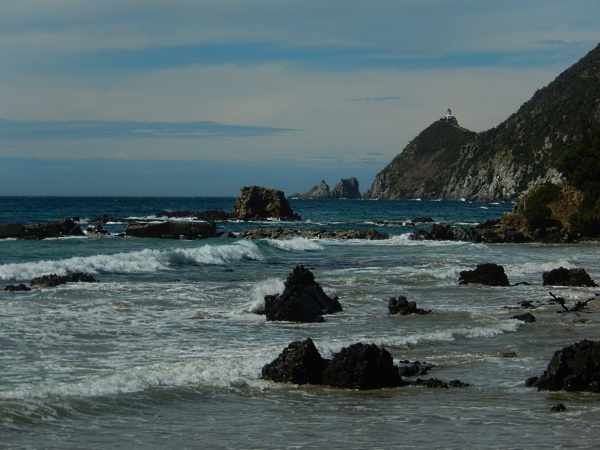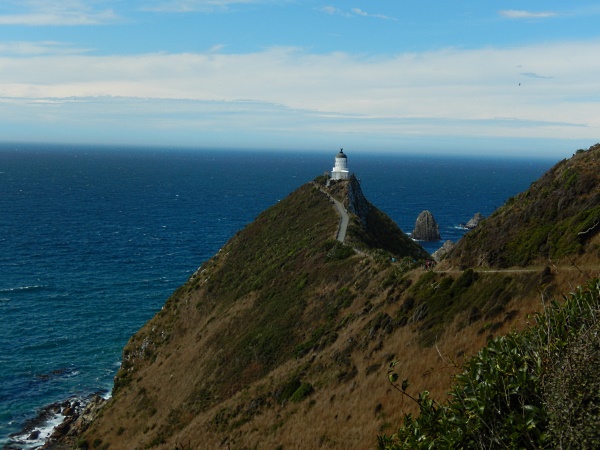 You don't need to climb that hill or rock. you drive there, but then you walk close to 1 km on a kind of dangerous path – the drop of the slope there ᅡᅠis almost vertical, the very end of the trail reminded me of Angel's Landing trail in Zion :-), so I didn't do it, Andrei did. So I wanted to take his picture while he was going down from the lighthouse – and here is who I got :-):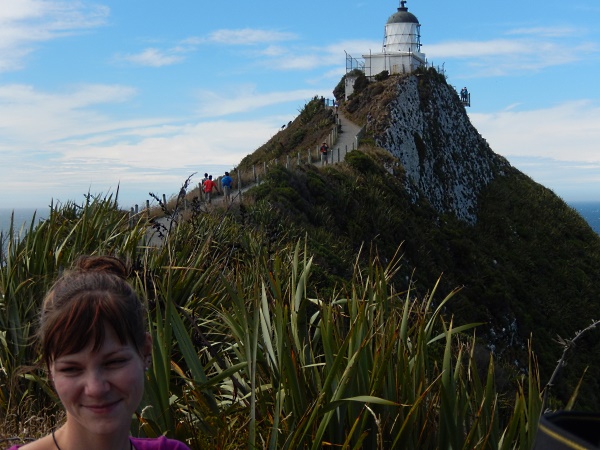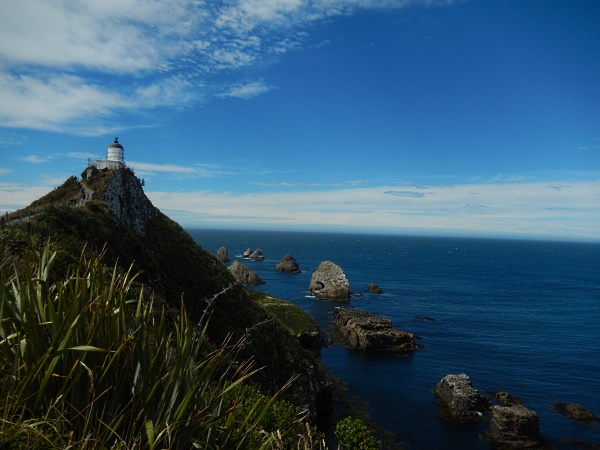 I love paths..they have a promise, a hope and a mystery: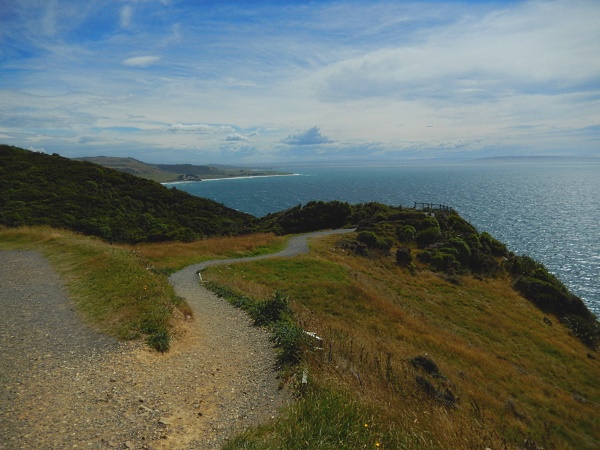 This is a Roaring Bay – Yellow Eyed penguins live there, but from our experience and from what we read – it is very tricky to happen to see them…instead – I was admiring the color of the sea! Once the sun is out -the ocean is fantastic!: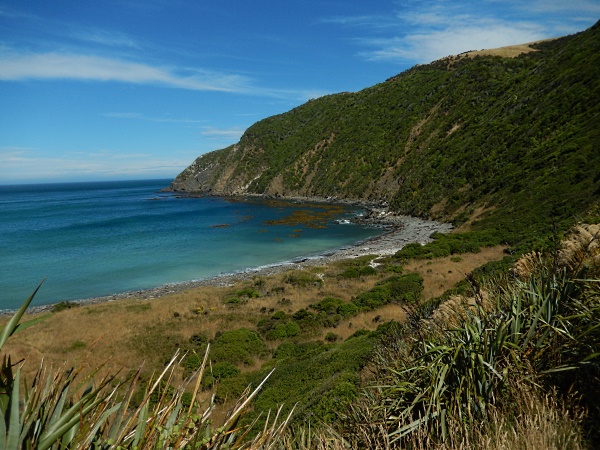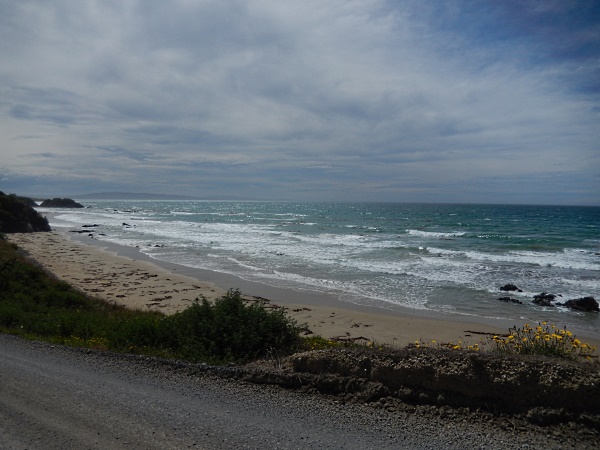 Owaka is a little bigger town on the way. The peculiar thing we noticed there was a Teapotland: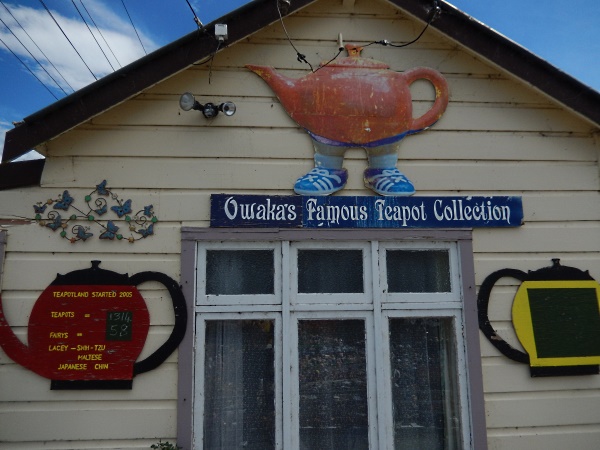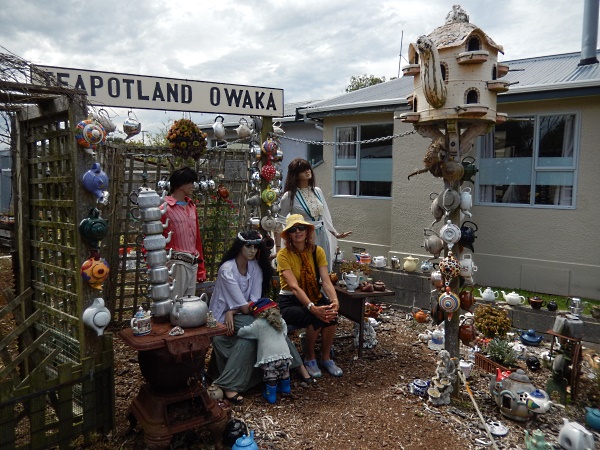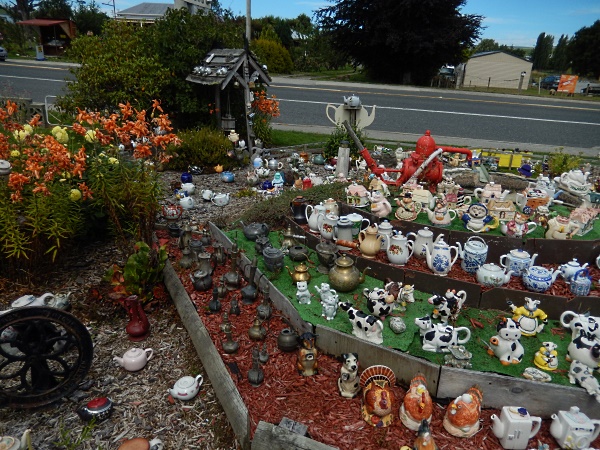 Then we drove through the Catlins Coastal rain-forest park. it doesn't mean that the fores was all over – ᅡᅠonly a patch here and there: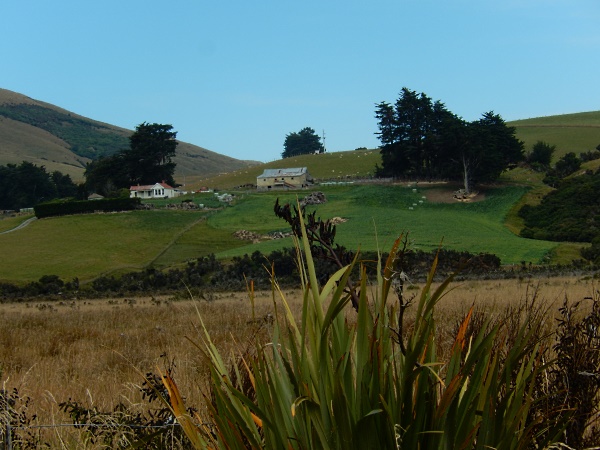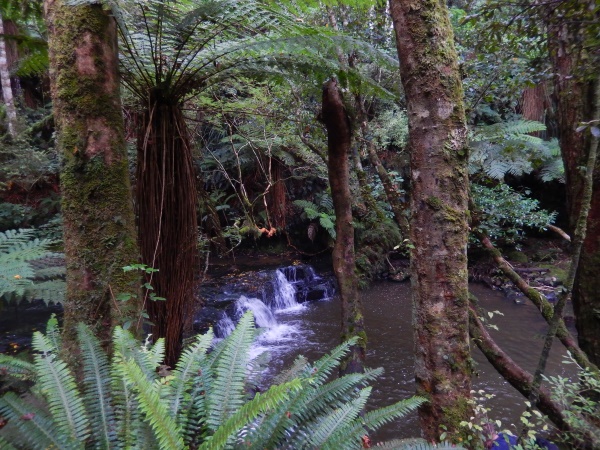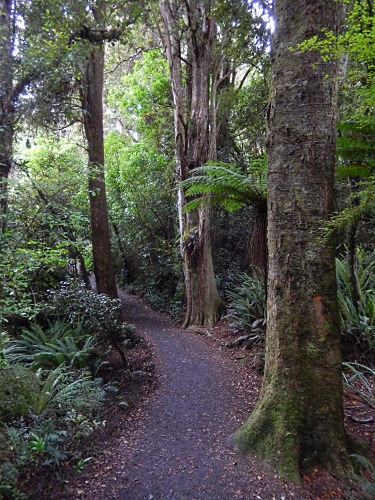 The forests are such that without a path you could not enter it. But there are pats, especially to waterfalls, and a lake, all have little labels by trees- telling the name of the tree species! here is Purakaunui Falls – a very sacred place!: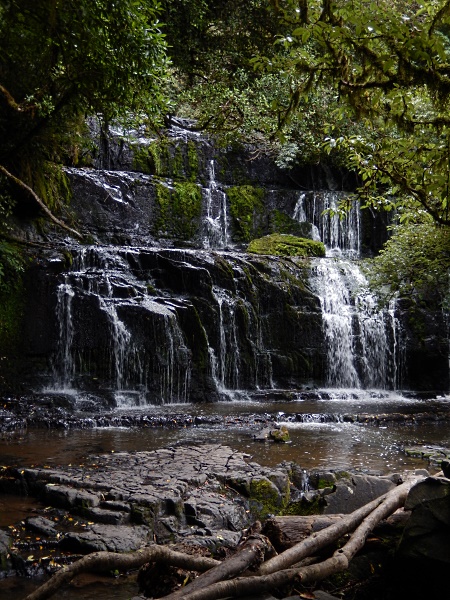 Some trees are hollow inside, but still growing up, still alive!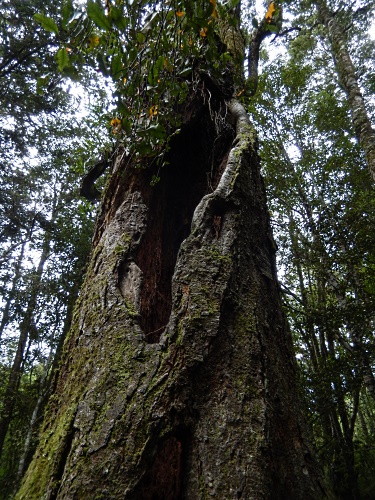 A bridge to Papatowai: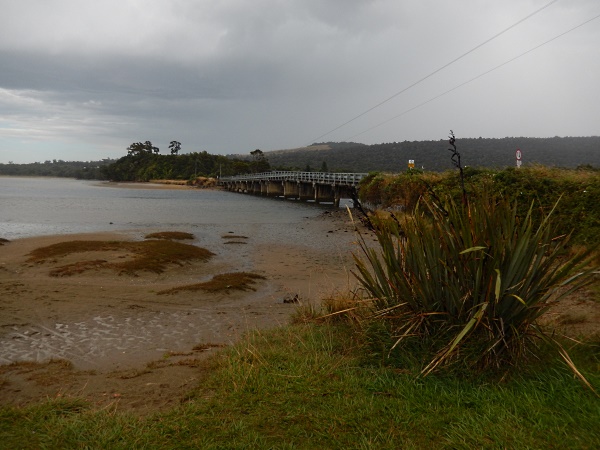 The most important place in Papatowai – Lost Gypsy Gallery and cafe ᅡᅠ- featuring Steampunk art – ᅡᅠit was closed on Wednesday, ech…But there was a phone on the path telling us about the rules and all :-):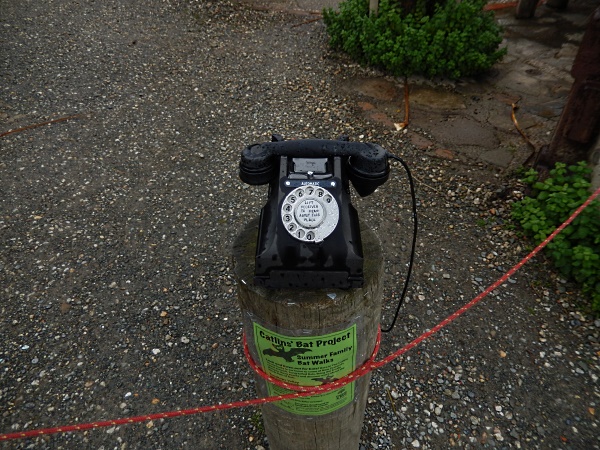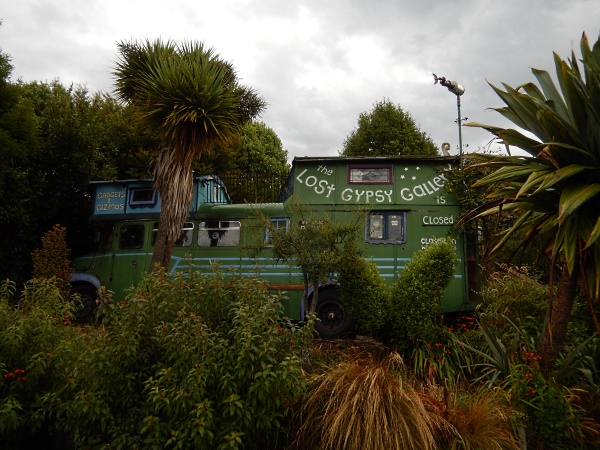 Their mail box: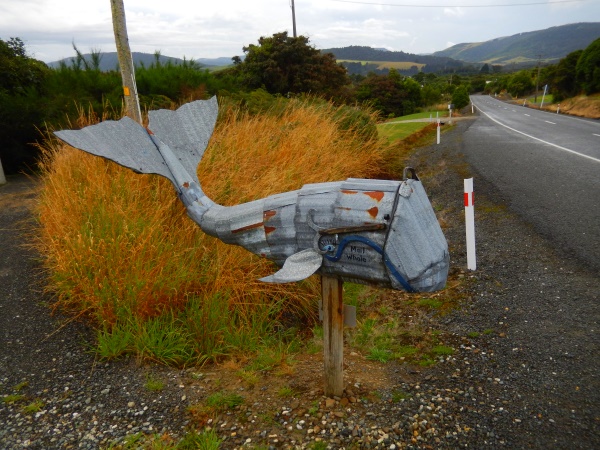 There was a beautiful lookout on the way: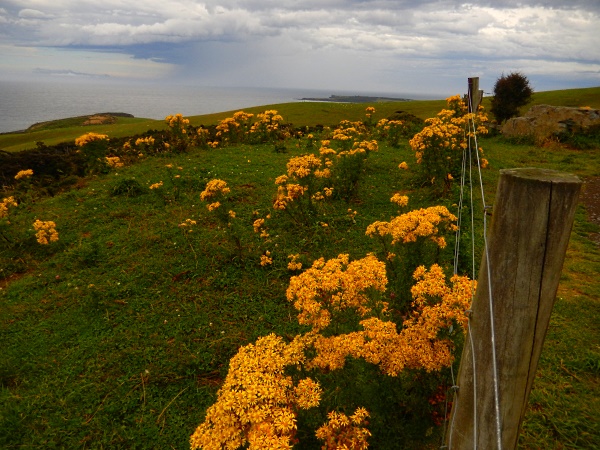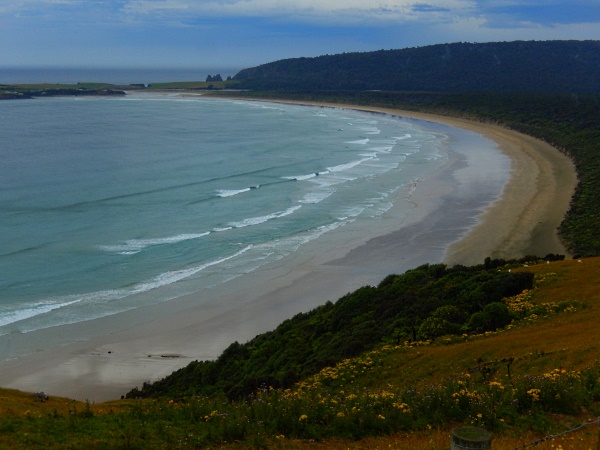 Walked to this beach through the forest, some trees ᅡᅠhave this peculiar bark: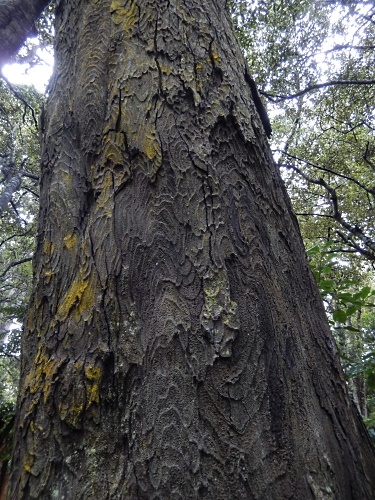 Entrance to the beach: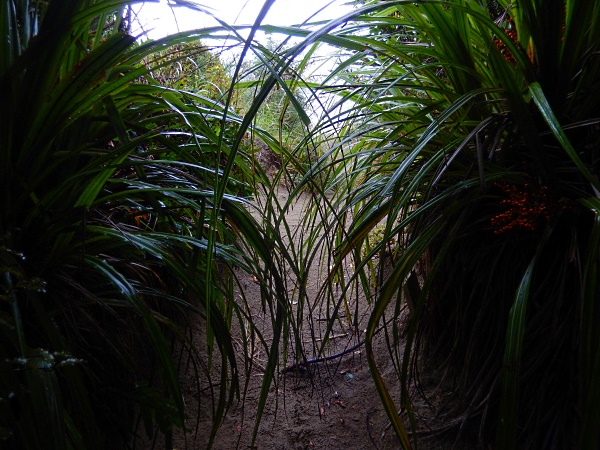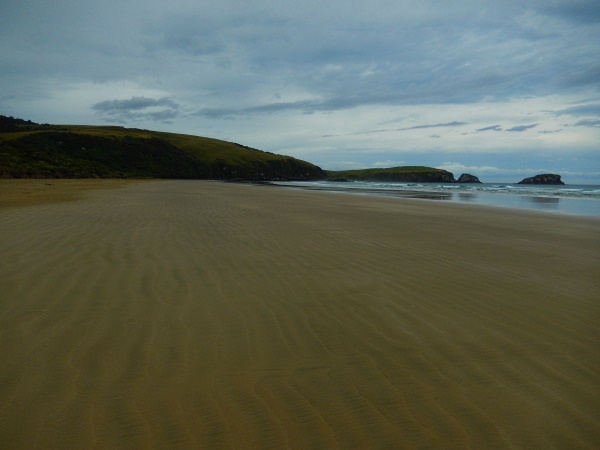 A swamp with a boardwalk: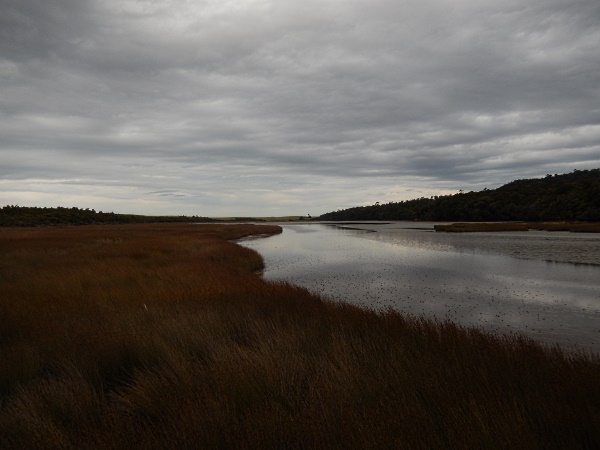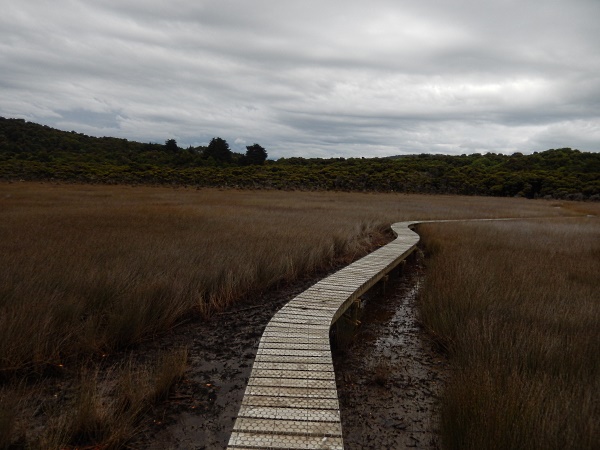 And the clouds gathered to a very pouring rain, but we still managed to shoot ᅡᅠthose figurines on a lake: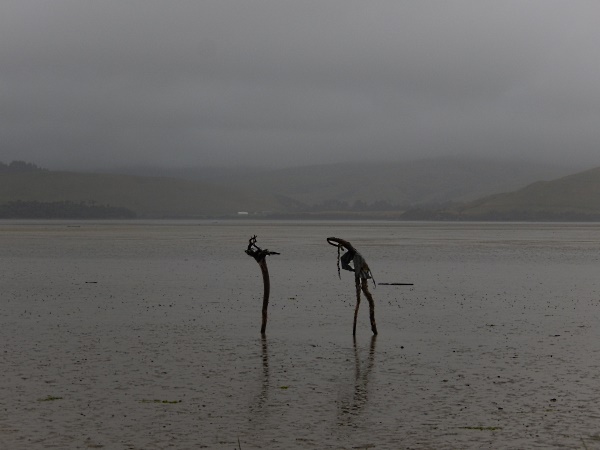 That was the end of the day. We reached lazy Dolphin Lodge ᅡᅠin Curio Bay- right on the sea shore and settled down happy to have a roof ᅡᅠin his rain. But the next morning was sunny and bright -and the dolphins were playing in the Porpoise Bay ᅡᅠ-so here is how our Lodge looks like from the ocean and from the street: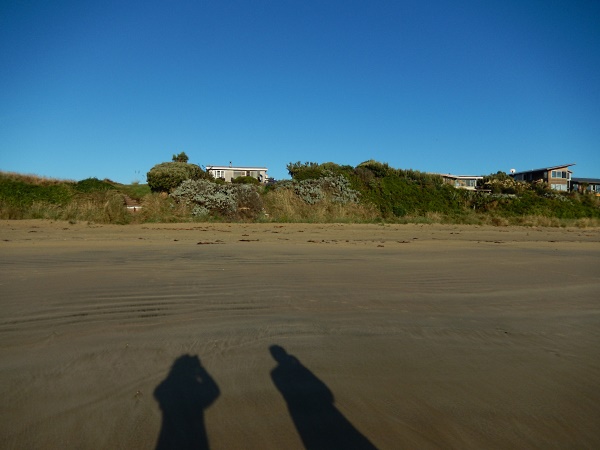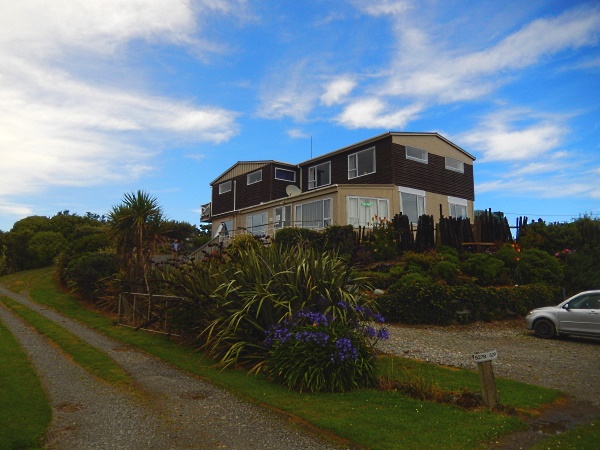 It is a very good place to stay – big rooms with sea views, comfy beds and 2 kitchens, two spacious living rooms!ᅡᅠHere are some views of Curio Bay, where people come to swim with dolphins for free (as Austrian guys told me they did :-)), and also to watch shags and yellow eyed penguins: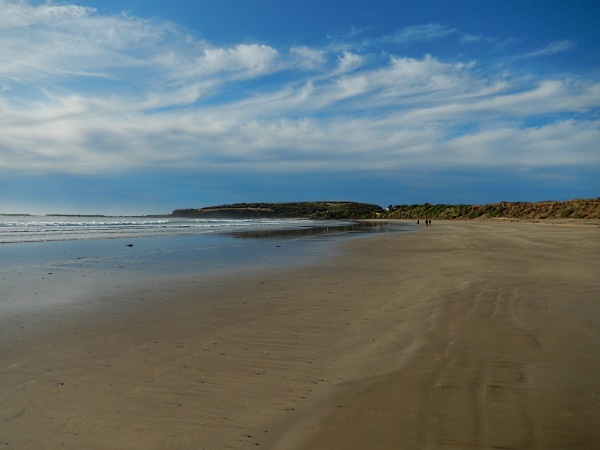 This down here is petrified forest – when the tide is down you can see tree trunks in those rocks: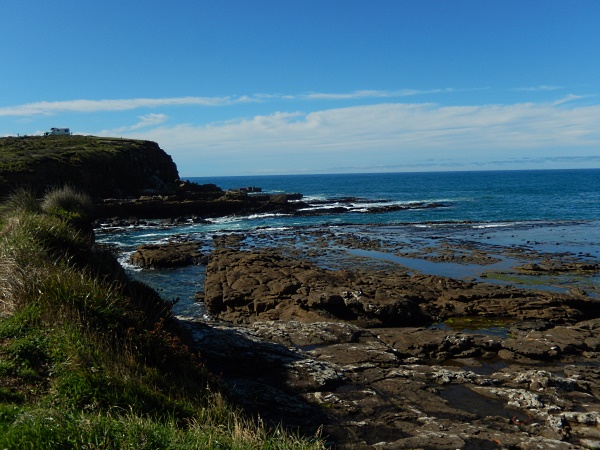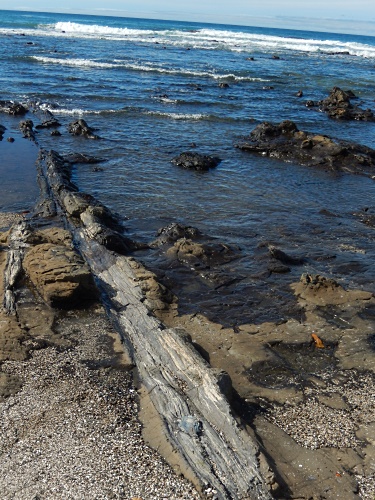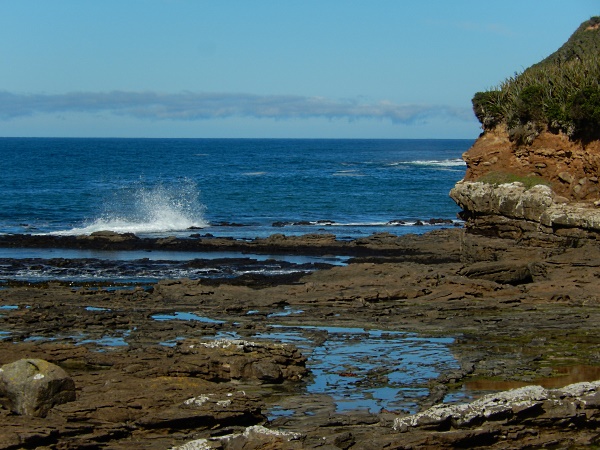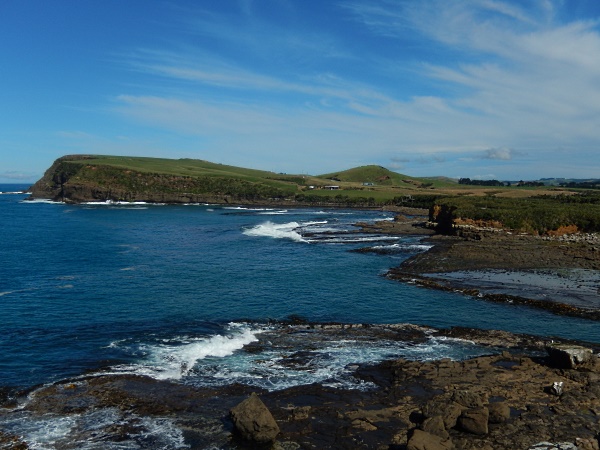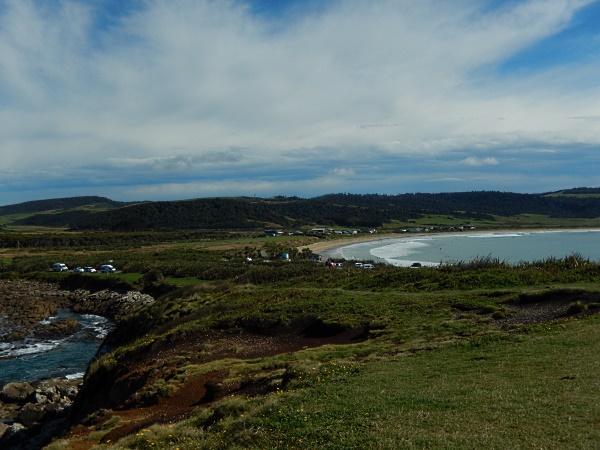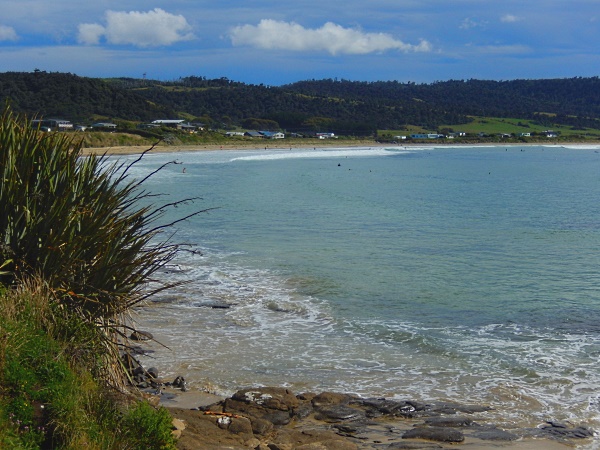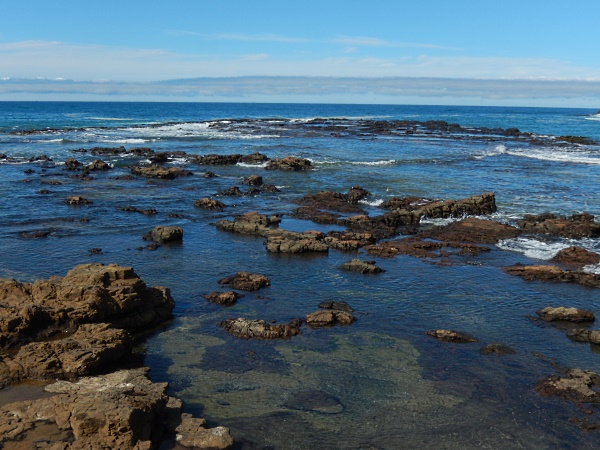 Those "falls" are called Niagara :-). With humor. I wouldn't call them "falls", but the land surveyor did: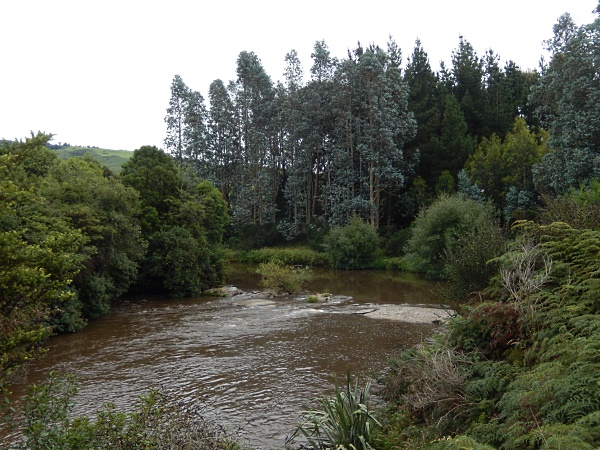 The skies were again starting to get cloudy so we drove back 30 km to McLean Falls, which we didn't manage to see yesterday. The walk was through the exotic forest and the falls were striking, too: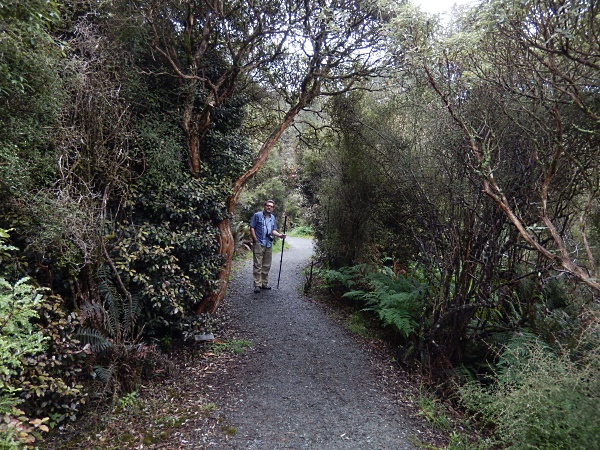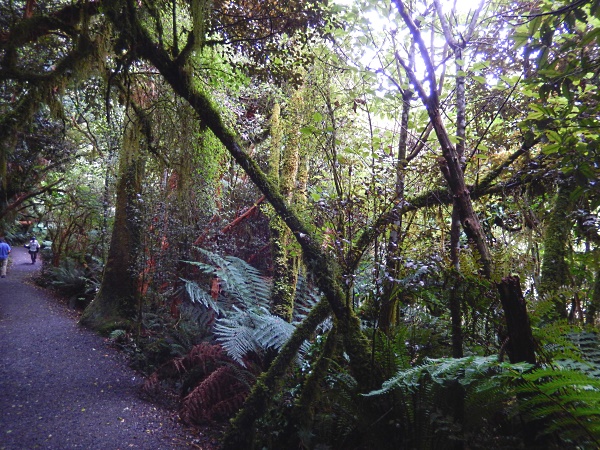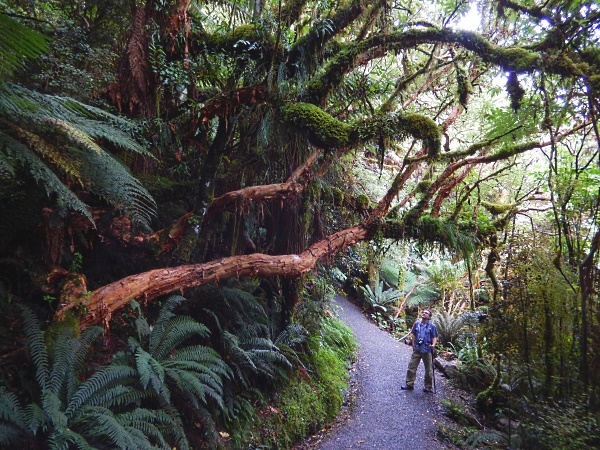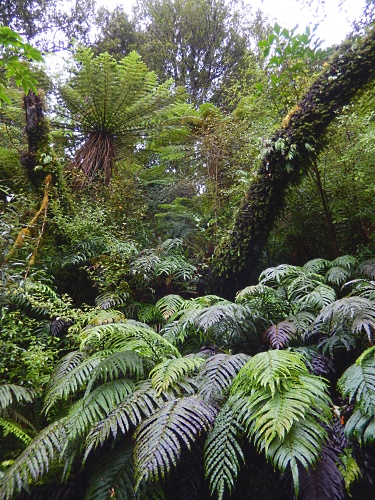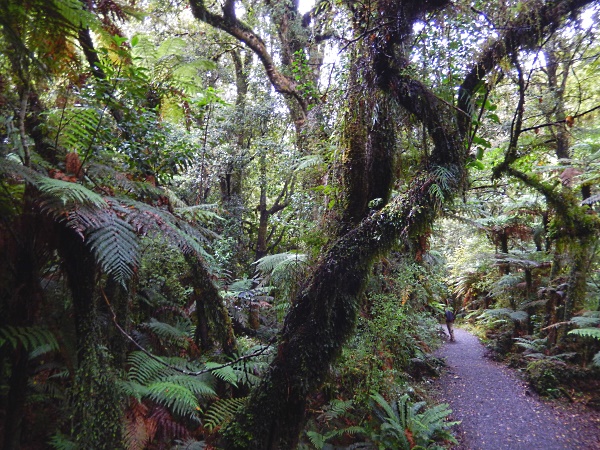 Those are clumps of moss on tree stumps: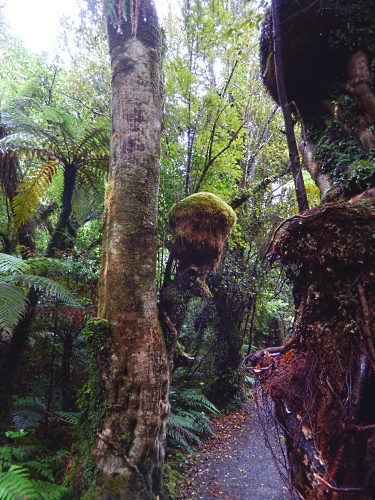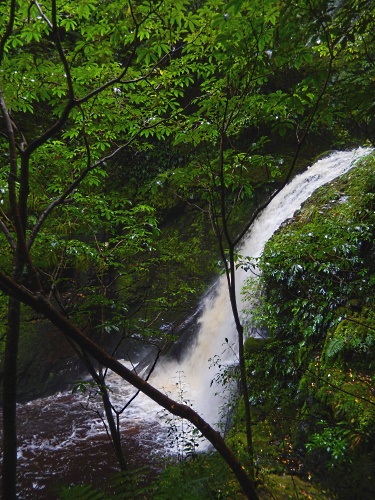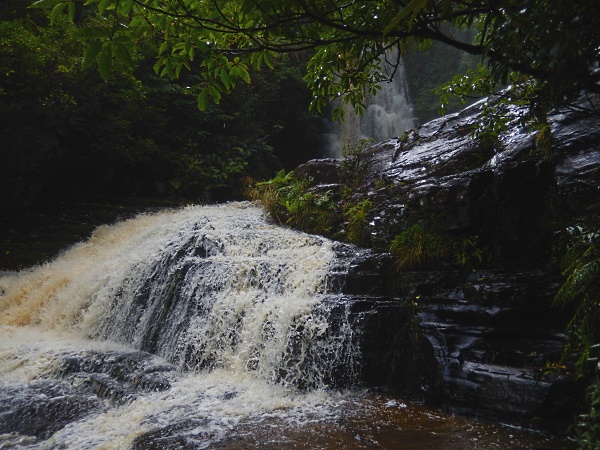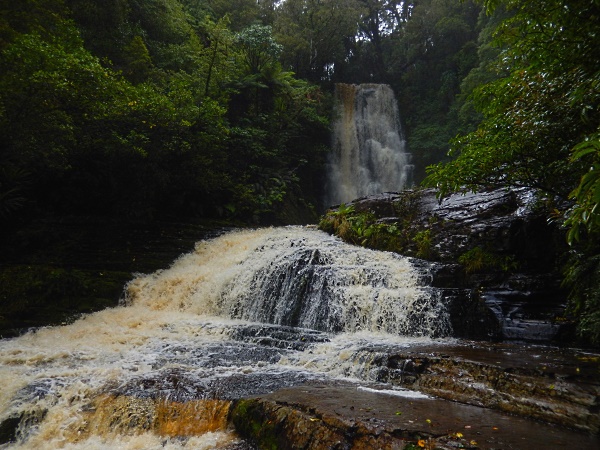 Here it is not moss, those are tree tops so well nit together by the shore: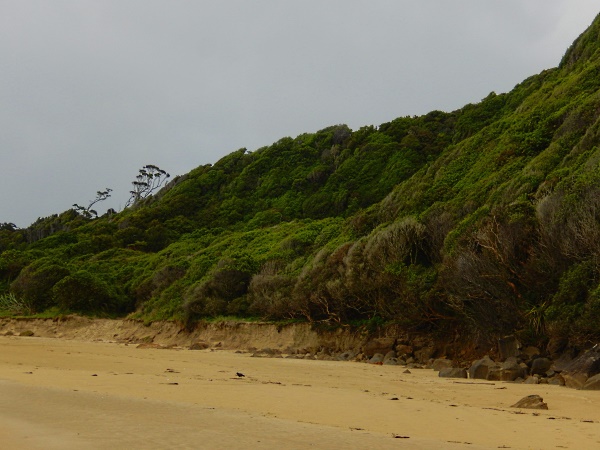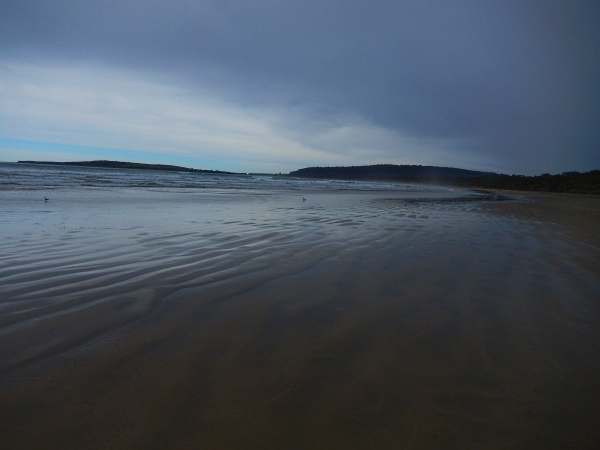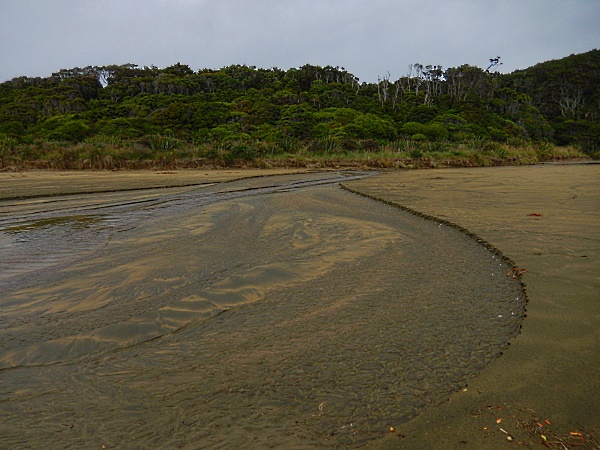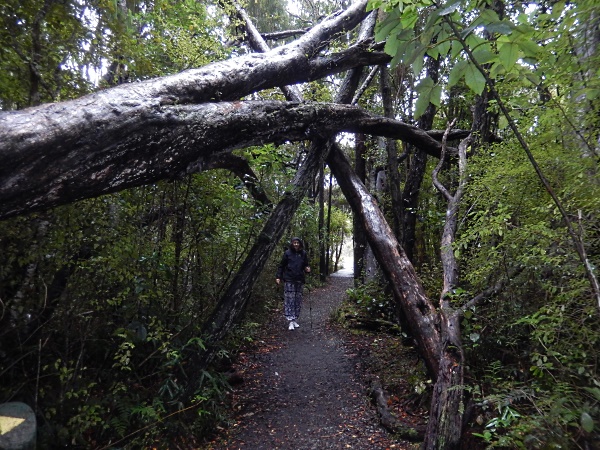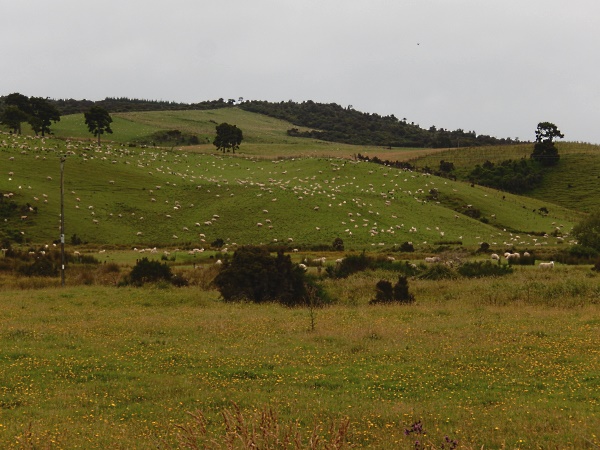 And – lots of sheep everywhere-typical!
the last evening in Curio bay we were lucky-we saw even 5 penguins, not the tiny ones, ᅡᅠbut bigger ones- ᅡᅠYellow eyed, not from close by and not in very daylight. but in twilight. So here are some pics we tried to make: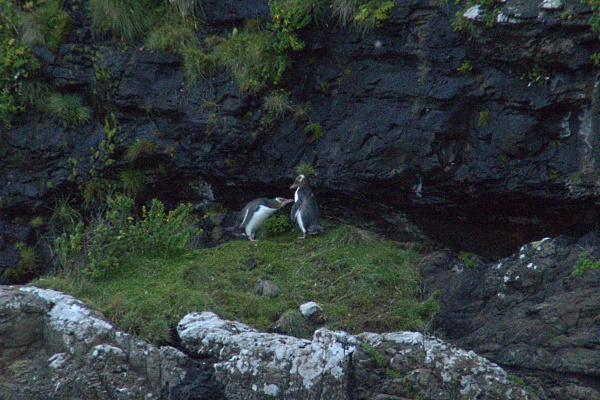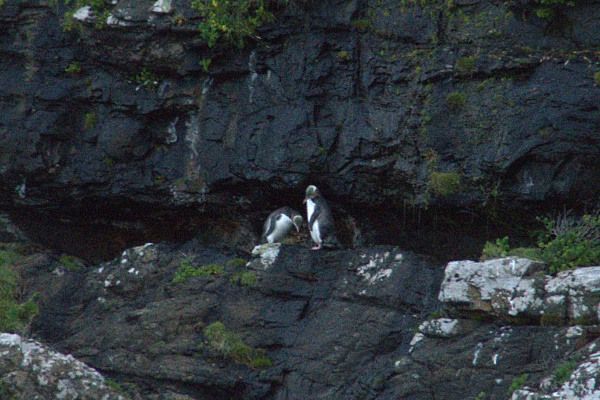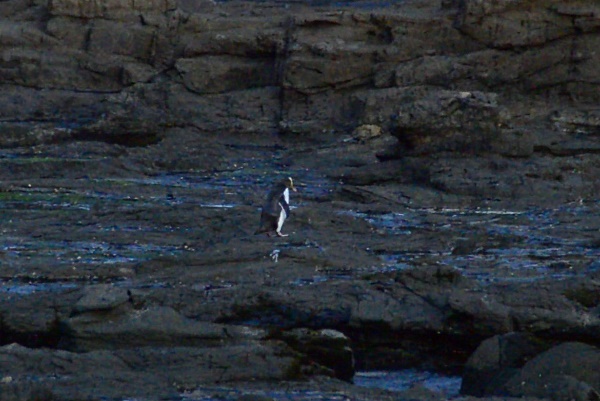 They were very cute, we watched for an hour or more 🙂