This part of the country is called Otago region, everything here is Otago, even the peninsula which shelters Dunedin's port from the ocean. Today was our Otago Peninsula investigation day. And it was a lot to investigate, ᅡᅠwe didn't fulfill our plan…Driving the road by the waters was pleasant…Here is how Dunedin looks like from the other side of the bay: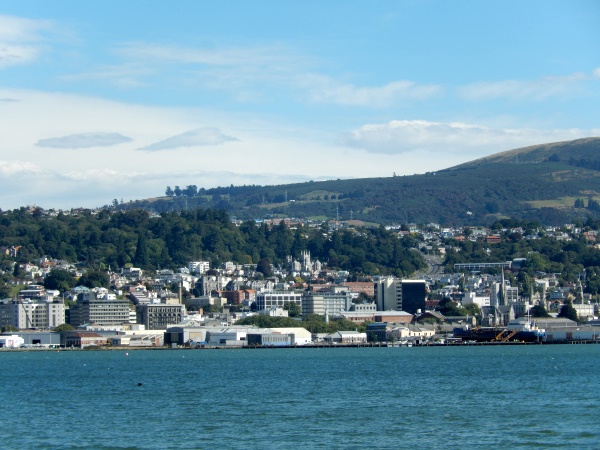 There is some mansion with gardens on the way, but we just stopped to look what it is , admired some flowers and drove further: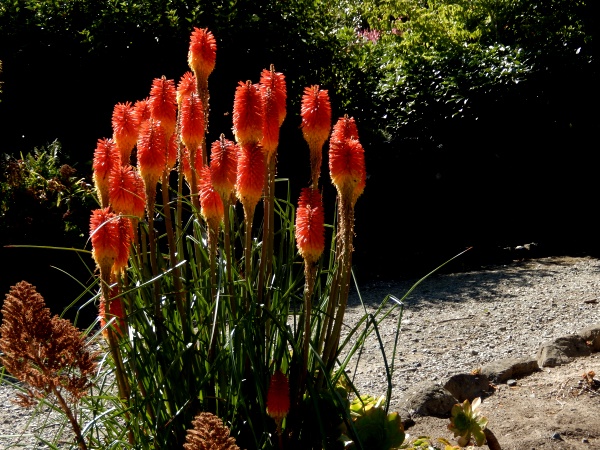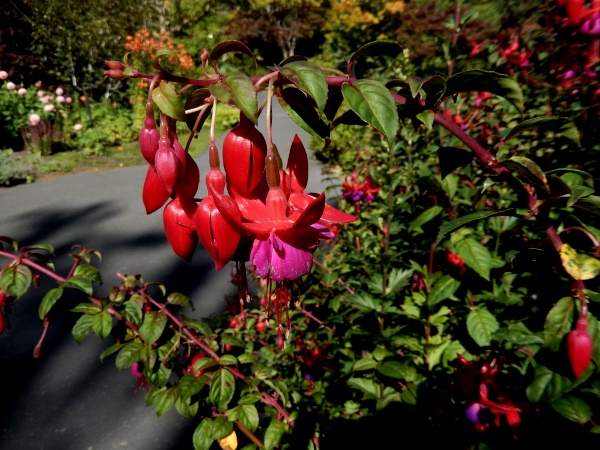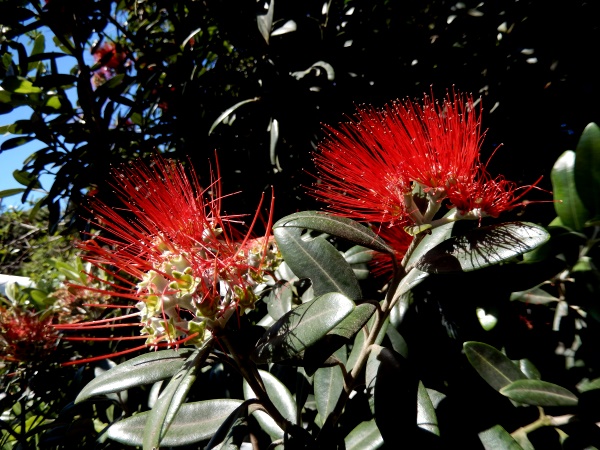 This yellow rock attracted my attention, so we stopped to walk towards it and found a cemetery on the very piece of land sticking into the waters, surrounded with very big trees. A good place to grieve and see how beautiful nature is…hoping it eases the pain…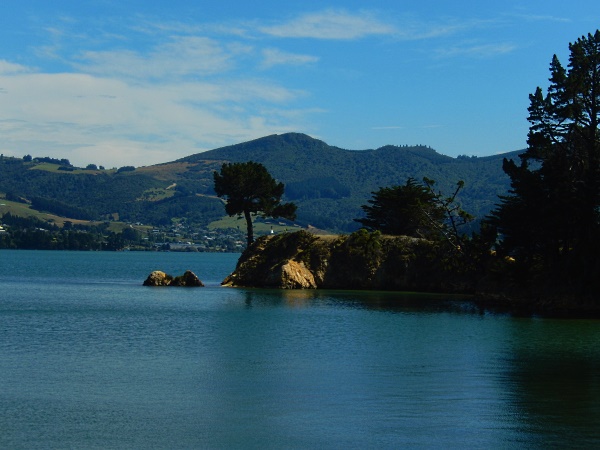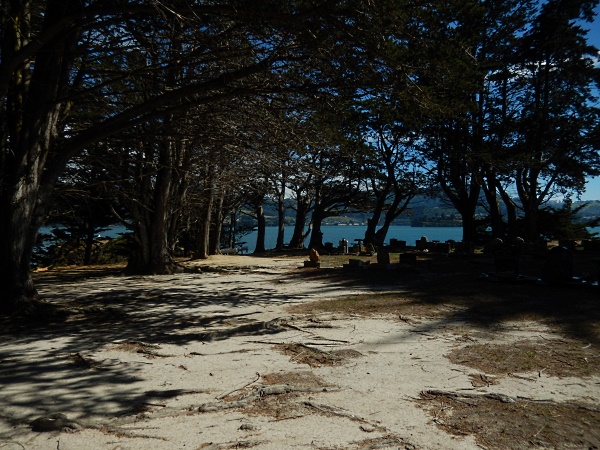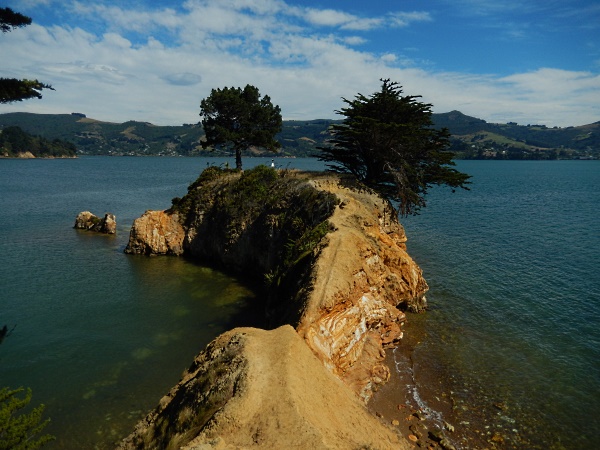 No, we didn't dare to walk on this narrow path to the very land's end…:-)
Here weᅡᅠstopped to see an Edwardian house of historical significance, which looked very ordinary to me: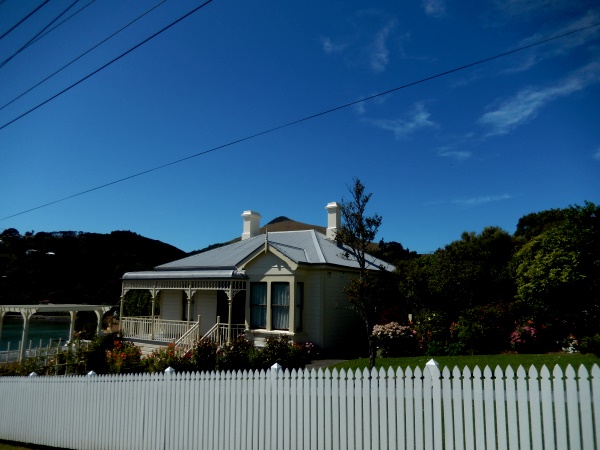 and views and views of the bay, of the peninsula hills, of the land's end where Kiwi's got scared of a Russian war ship an age ago and built some fortifications with a canon or two! :-), yes there is such a funny story here. as if it is true. But no picture of canon, we are not interested in such things.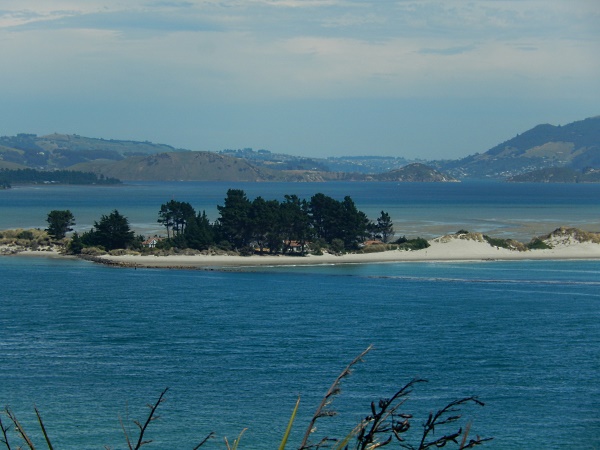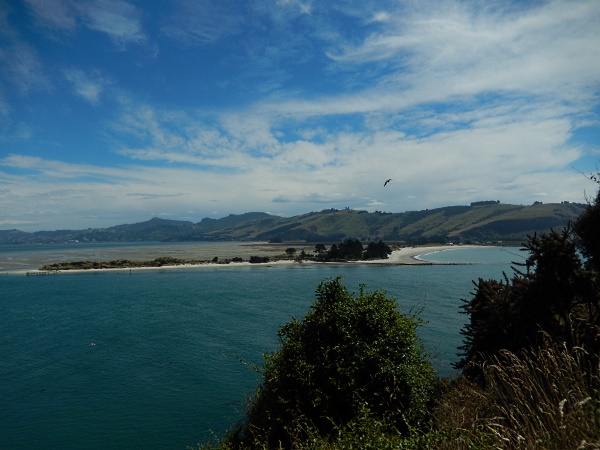 So here at the very end of the peninsula is a preserve for Royal Albatroses, which are very graceful birds and their wing span is the biggest in the bird world – more that 3m…they glide. A very pleasant sport to watch them from there! here is their yearly life schedule: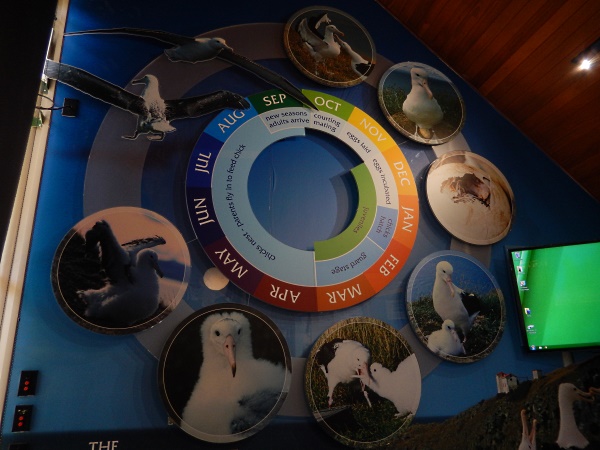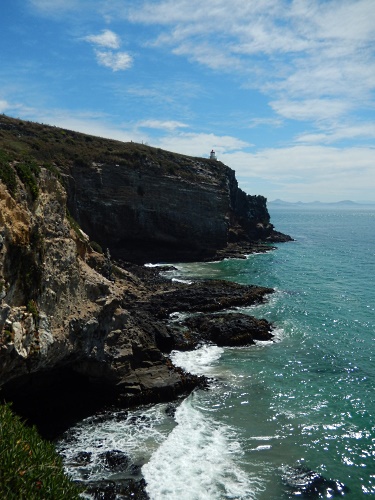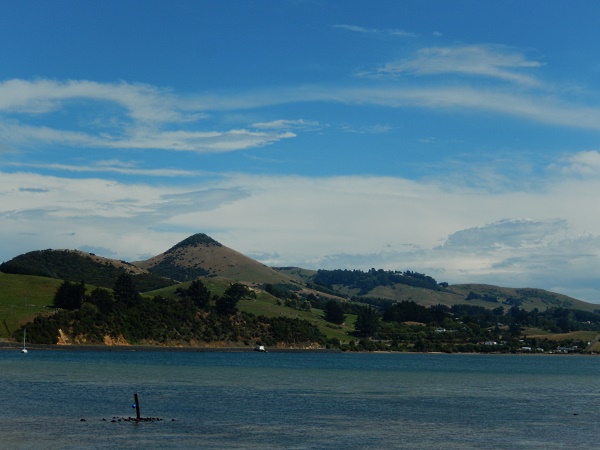 There are some tracks, as they call them here, or walks, as we call them in the US. We did one of them – towards the ocean. The drive is on back-road – unsealed, but not bad. The walk was not short, it took us 2h return, with some time on the shore…At first it goes so straight that i wondered – who put ᅡᅠa liner or what to make it so straight: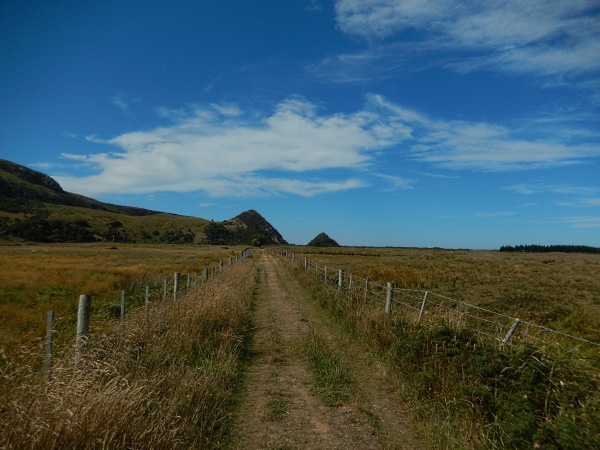 Those two volcanic hills are called pyramids!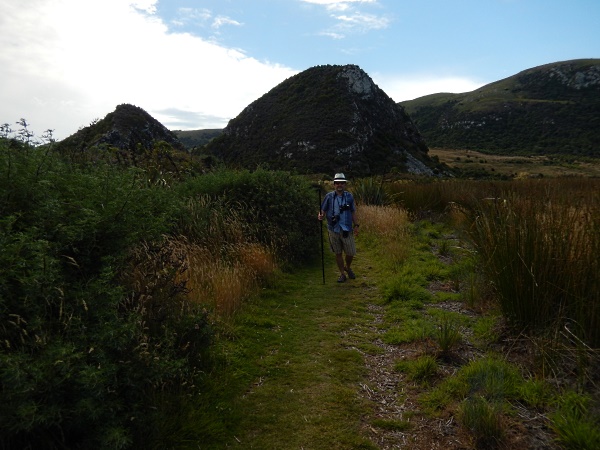 A young investigator 🙂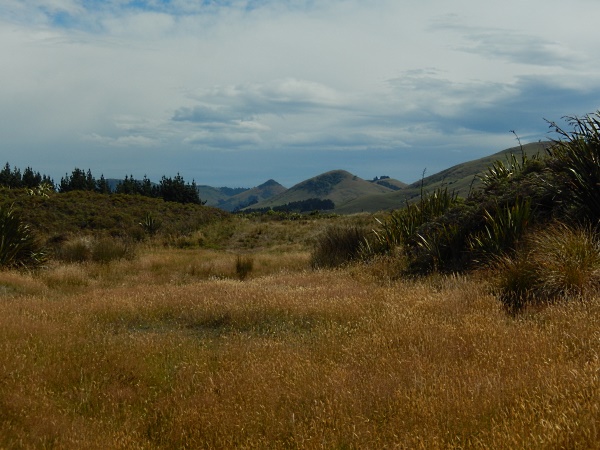 This walk through the dunes was like returning to my childhood, to our walks in Nida's dunes in Lithuania by the Baltic sea…Lots of nature here reminds so much of Lithuania – both countries have such amazing views…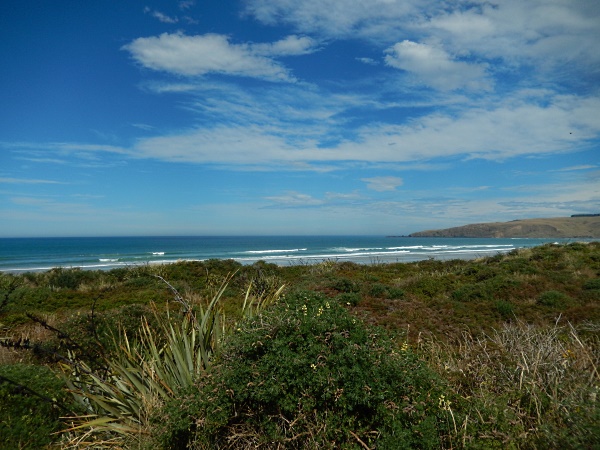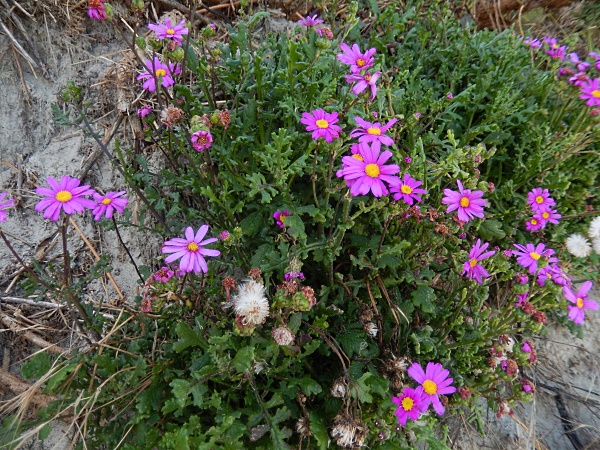 The flowers I never saw growing in the sand by the beach…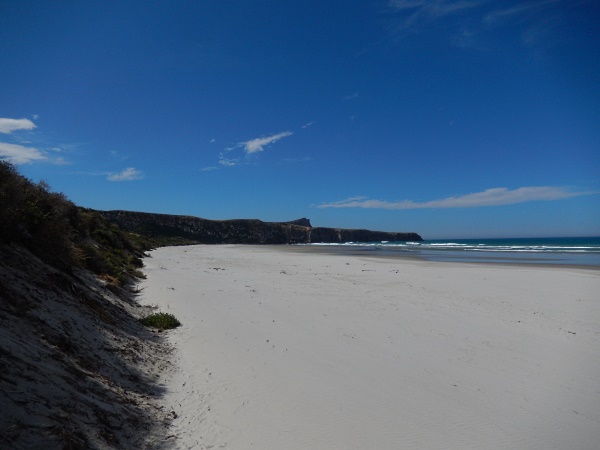 The shore is very strange- ᅡᅠthe sea makes just a very narrow line – I wonder why? Just some waves and a horizon – where is the 'body" of the sea? A lot of space to walk in solitude, the sand fine and white as in Lithuania, and very pleasant for feet. Well, not complete solitude – there was a sea lion sleeping on the beach and another wanted to get out to do the same, but saw us and changed his mind…I guess, we are not attractive to him as he is to us. but i didn't manage to take his picture, instead, took a movie :-).ᅡᅠ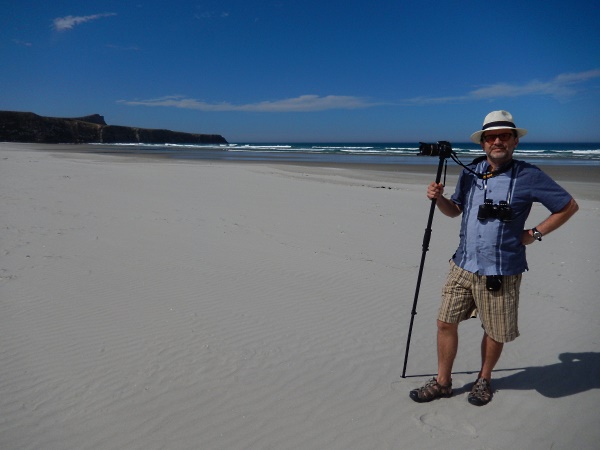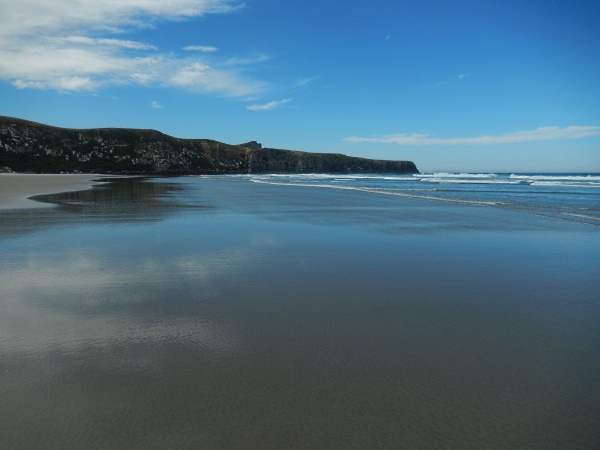 And then it was close to evening and we went home…