To rest our imaginations more from the concentrated art that Florence is, we took a train in the morning andᅡᅠ half hour and 3.4e later got out in Pontassieve, a small town by the river. How did we figure that out – in the internet there is a 100mi ring around Florence for those who want to hike in countryside and be close to Florence. The ring is divided into day hike size segments and each end of the hike has some sort of transportation – a train or a bus. From the station we walked through the town, crossed the bridge and dived into pastoral views with a big working monastery being the first object on our way: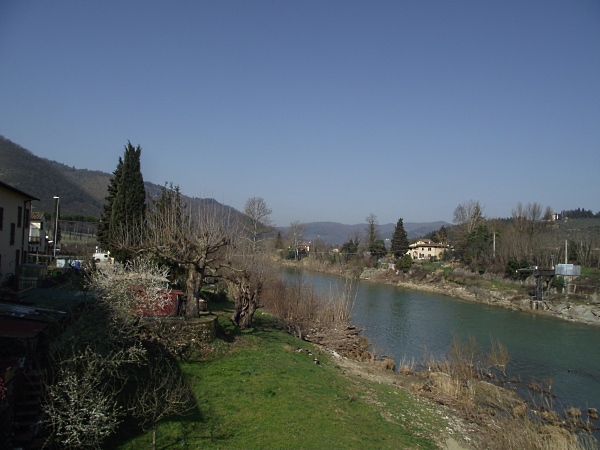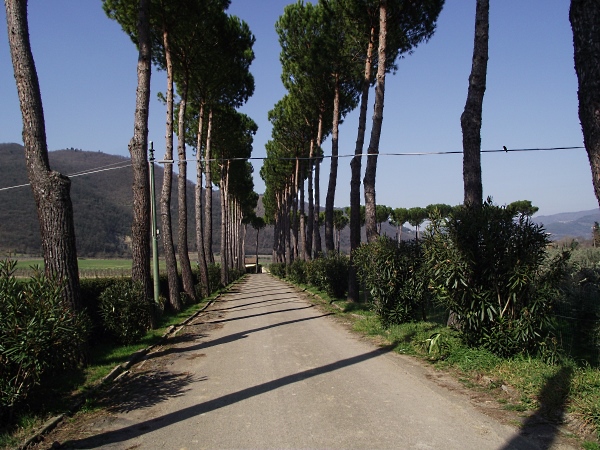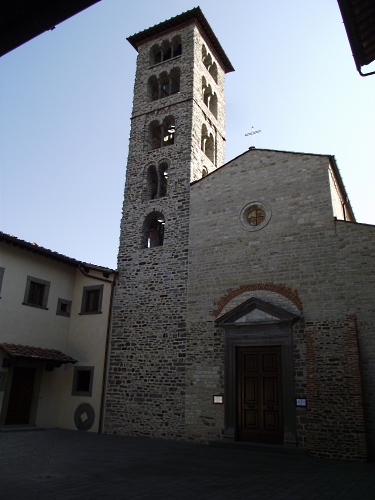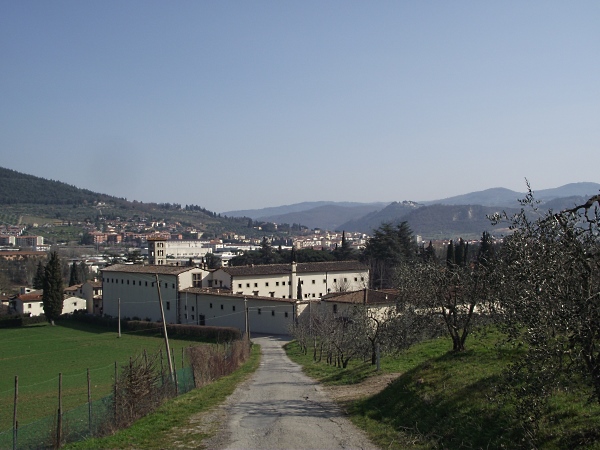 The slopes were mostly olive groves, very pleasant in this sunny weather! Up and up the hills that seemed never to end. We expected to meet more old Gothic churches. based on the description – but saw only one: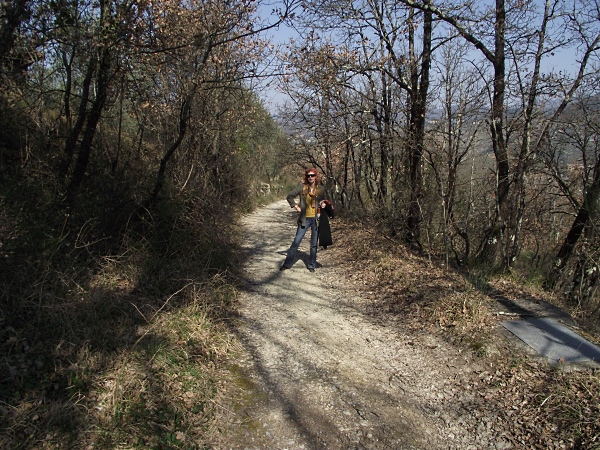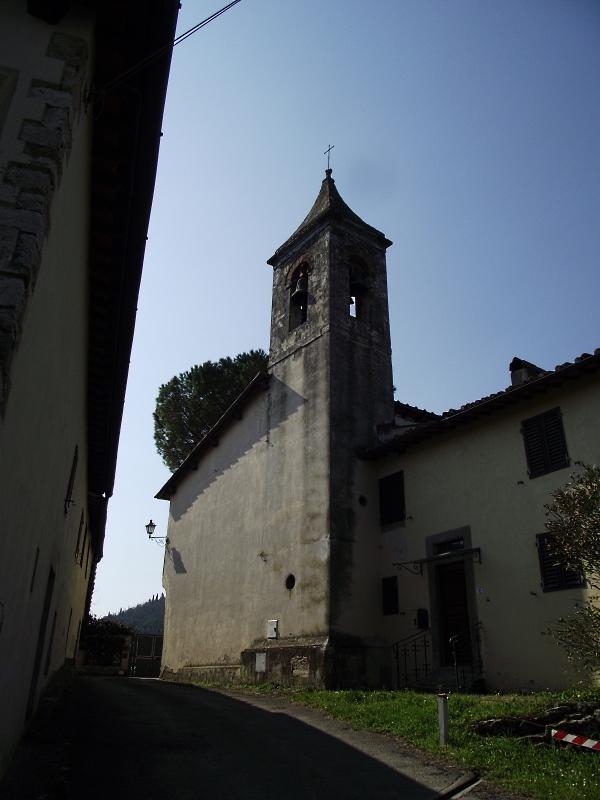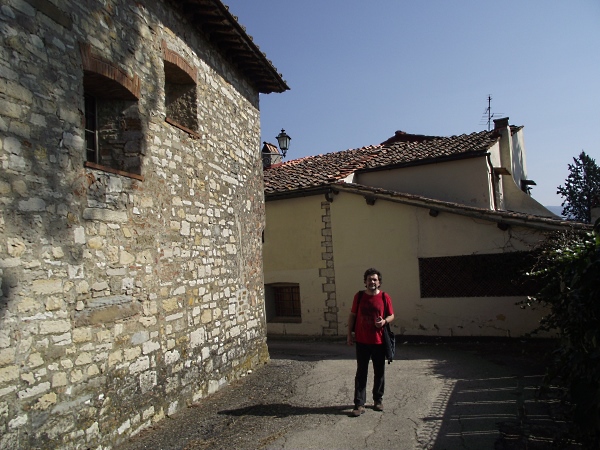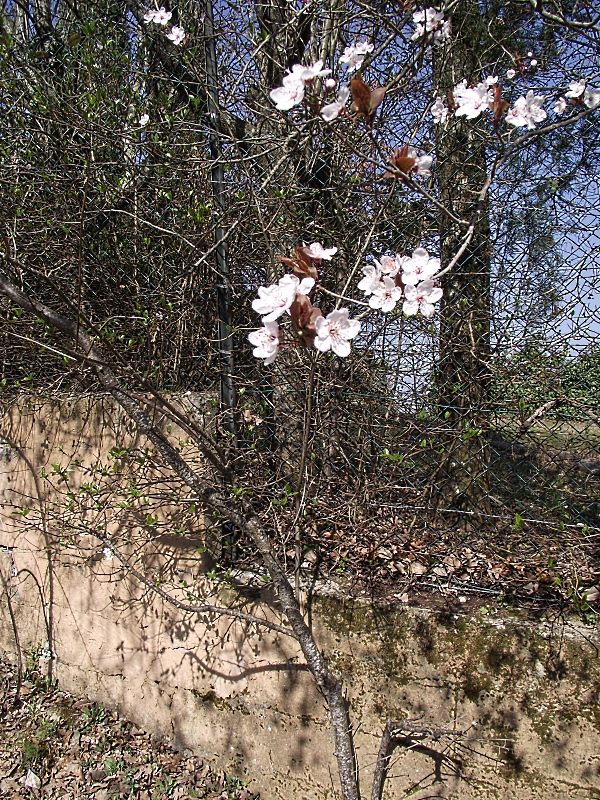 The forests that our path cut through were very pleasant, even exotic. There were even some flowers blooming in this early spring.ᅡᅠ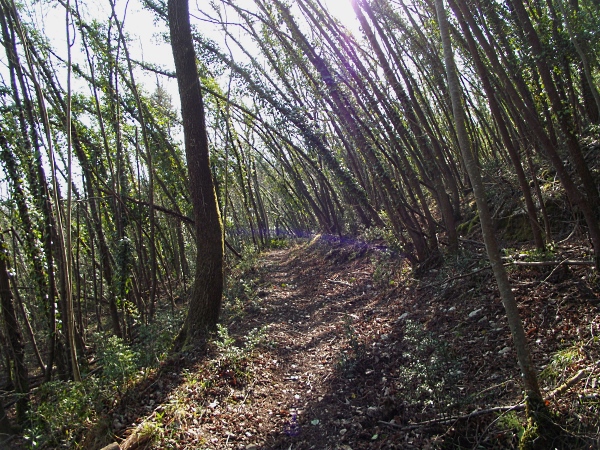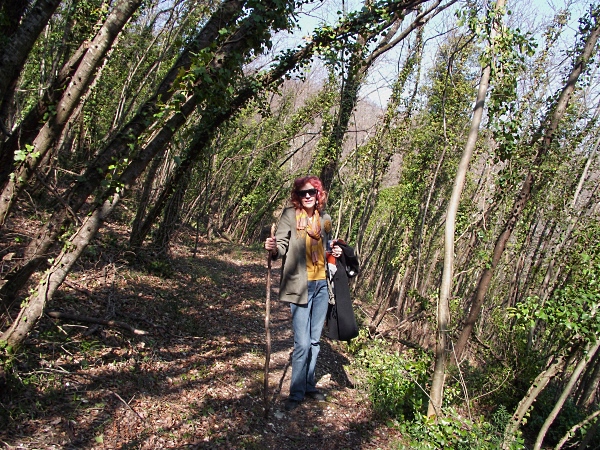 We have a dream some day to walk the Pilgrimage path to Santjago de Compostela. Right now we can't have a vacation in warm seasons, so we did this as a trial. By the way – he path was also marked on trees, not with a shell, but with something like a Polish flag :-):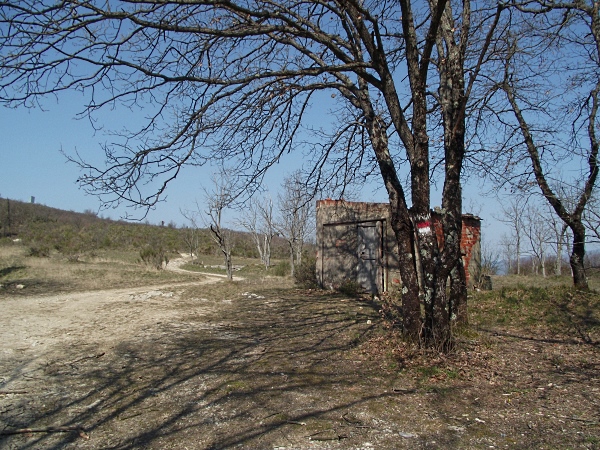 And there was no summit-ᅡᅠ we walked and walked, and as we reached as if one summit-ᅡᅠ there was another in the horizon. Then the path disappeared and if it was not for Andrei's GPS in the phone-ᅡᅠ we could have been lost. There were some houses, more like mansions behind big walls and angry dogs in the yards, so how could we ask anyone about the path? Bet the GPS was our showing star and here we went. The forest floors were very dug up -we wondered why? Soon the mystery was solved – there was a man with two medium dogs digging something in the forest close to the road – guess what? Tartiuffo! Or a truffle! I asked him to show me the valued mushroom, so here it is: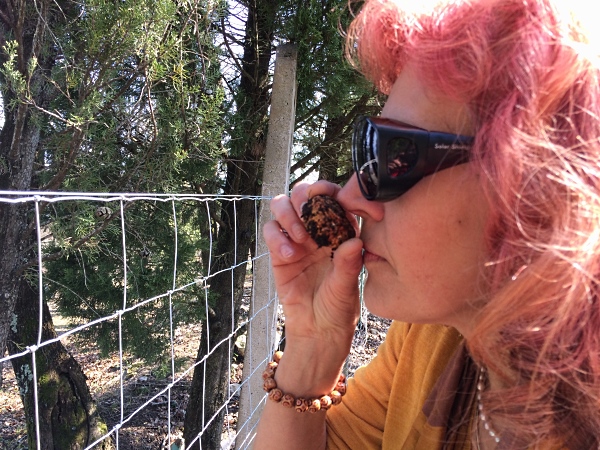 Yes, it had a specific good smell, but nothing out of this world…Our Lithuanian Borelia mushrooms smell stronger and more pleasant to my nose, sorry Italians or the ones who like to pay for truffles :-). To each his own. And so we continued the trip which already started to seem to me endless…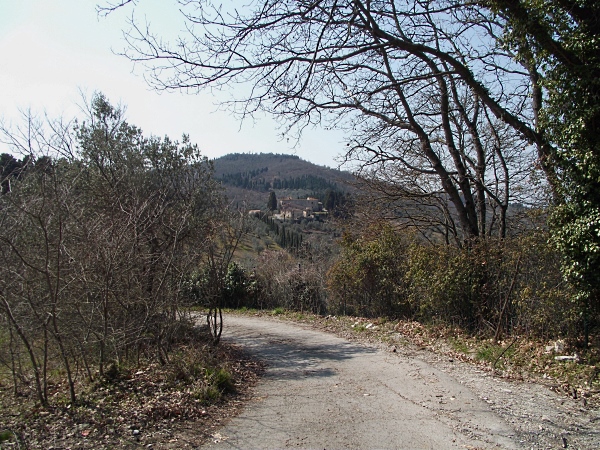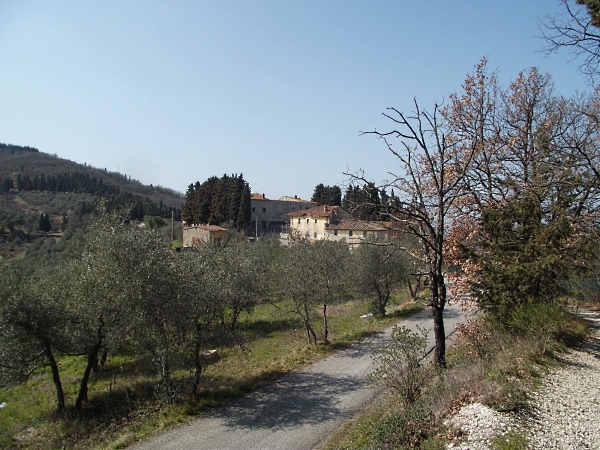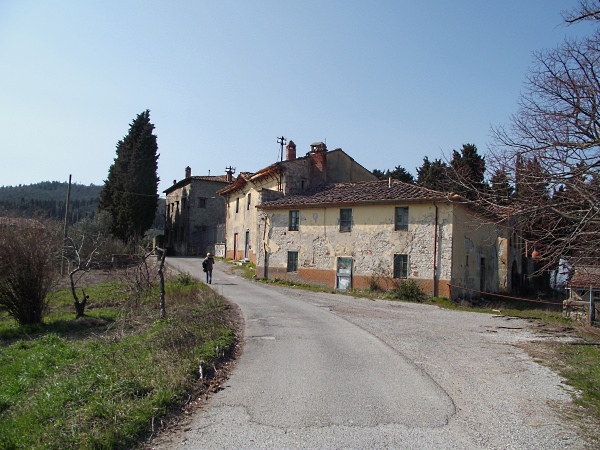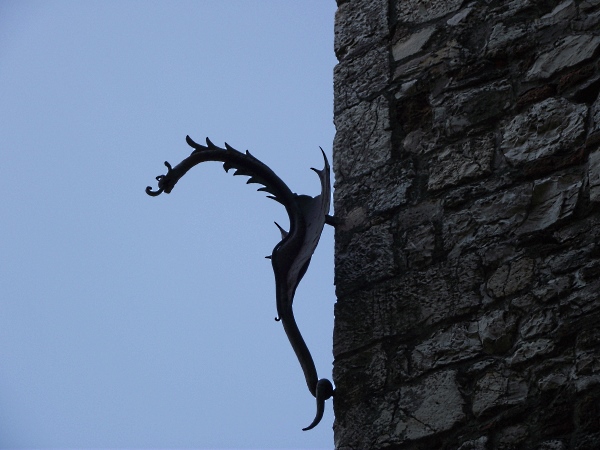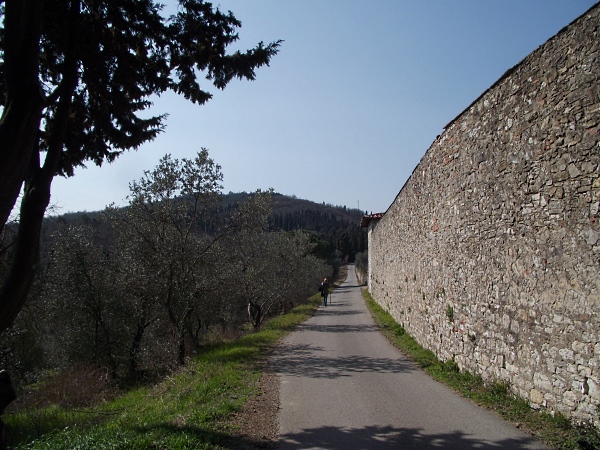 There was somewhere a monastery on the way worth visiting. but we would have had to go to the side and climb another mountain, and that seemed too much even for my enthusiastic nature…So we went down on a rather steep slope and landed directly into a regular road where buses go by a town In Colino San Donato. The stop was conveniently there and we returned to Firenze. While waiting for the bus I noticed peculiar blue flowers, like little bells spotting a meadow below: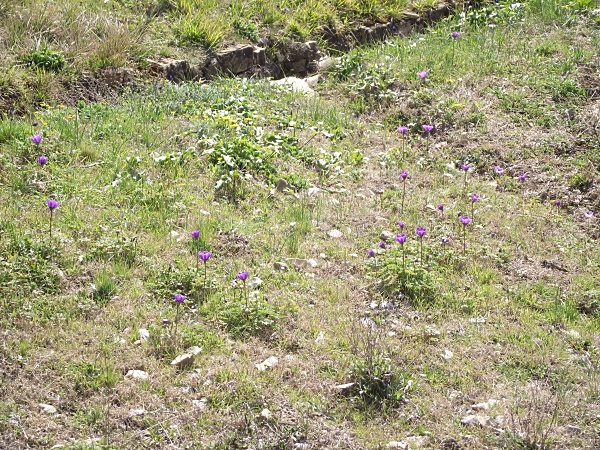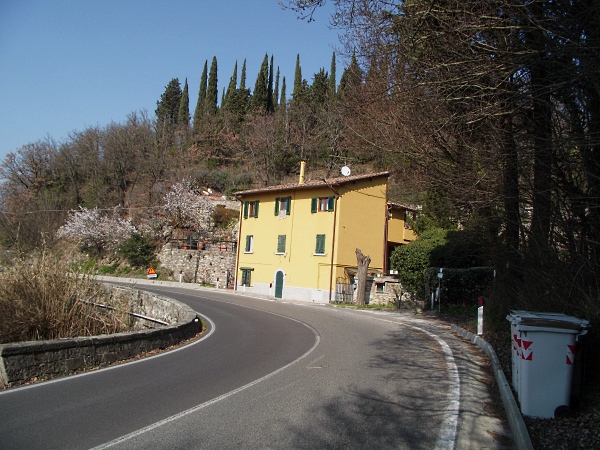 All in all we walked 13.2 km only…in 4h 20 min and felt very tired…But who knows – maybe we walked more, hard to trust those measuring devices or literature :-). So -ᅡᅠ we are still not prepared enough for Camino de Santjago.