I already forgot, who is this town named for…but definitely not for the Chilean president :-). It is an amazing town, the town of long colorful and slightly downhill streets and very impressive doors. I will have to make a separate post only for doors. Everywhere we went in Mexico – we saw nice doors, took pictures. But they were scarce, the one worth picture taking. Whereas in San Miguel – every door was worth taking a picture…they were different and elaborate. So here are some of the long leaning streets: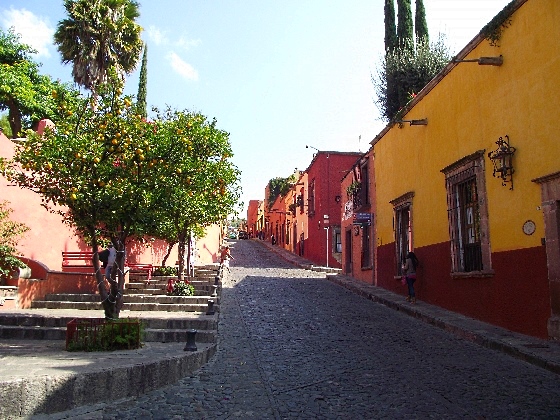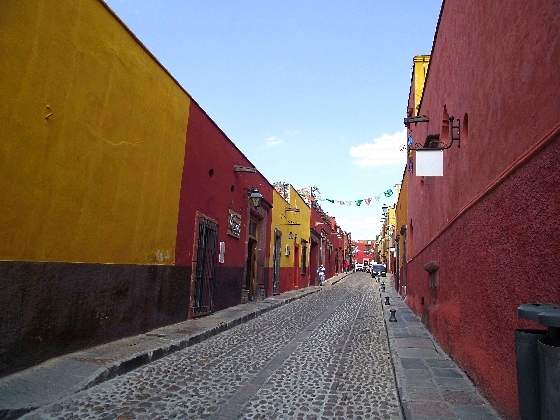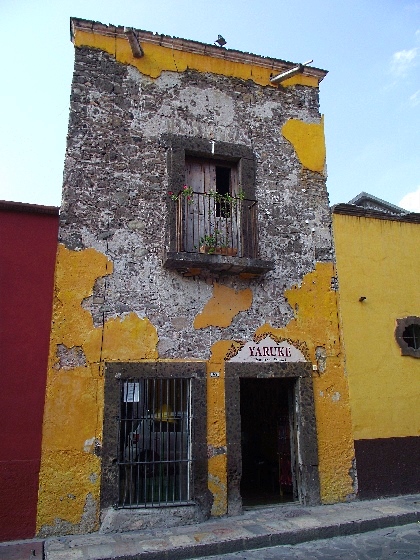 We came and walked and walked in those streets…Not so extremely comfortable for walking. because they are cobbled and not very wide, cars zooming here and there, but for the eyes – it was a paradise. No wonder it is a very populated town by Gringos. And therefore lots of shops catered to them and run by them. Like this designer shoppe: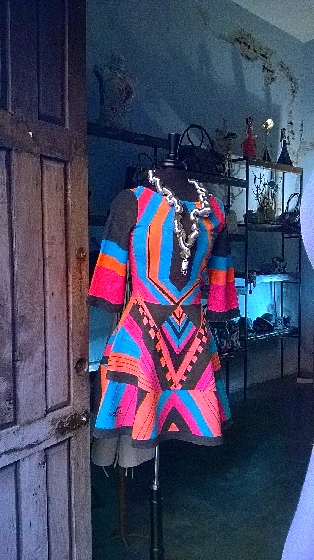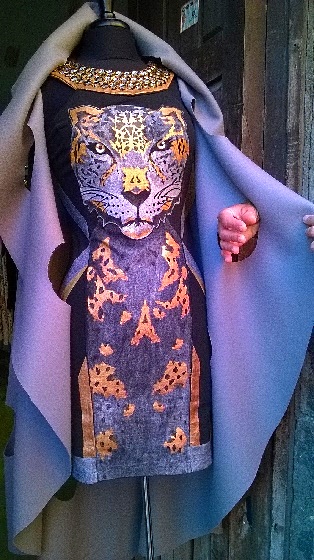 And the prices are also catered for the rich Americans. And the restaurants and hotels – everything there is "high class". So I wonder how do those poor Mexicans feel surrounded and serving all that pompous life…What can they do. They just make and decorate an altar for their beloved Madonna with an abundance of real live flowers every other step in their markets and feel happy: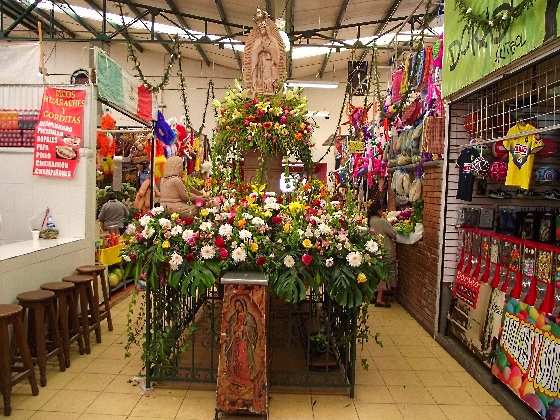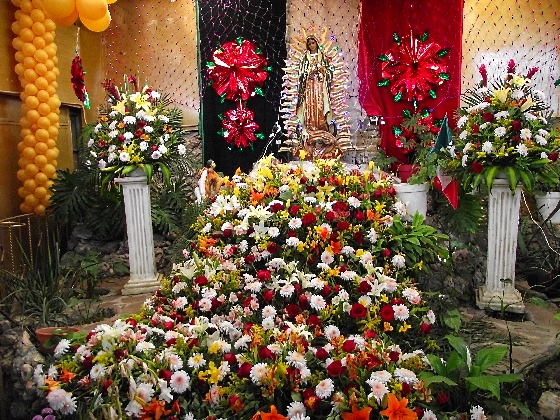 There is an Art Academy established in an old monastery, where Siqueiros was teaching – and here is a fresco he made with his students -the whole monastery hall is given to it. The peculiar thing- it can be visited any time, no ticket, and they have a guard sitting and being so bored, just looking after that fresco…I wish I never have to end up doing such a job.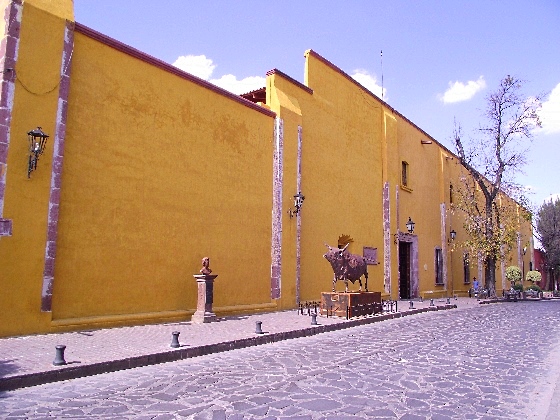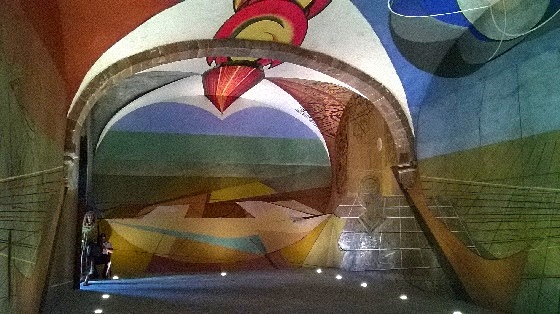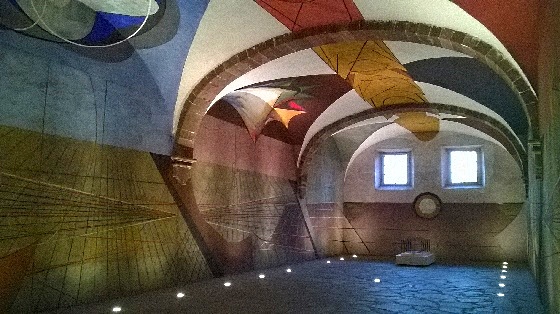 San Miguel is also full of churches and has a few squares. Its churches are very distinct, some have Indian elements included in their exterior, one of them has some similarities to Sagrada Familia in Barcelona: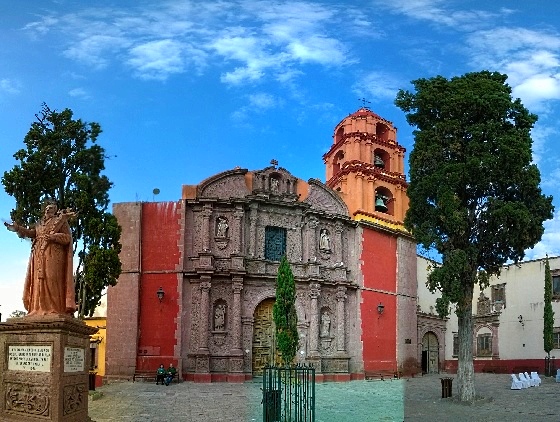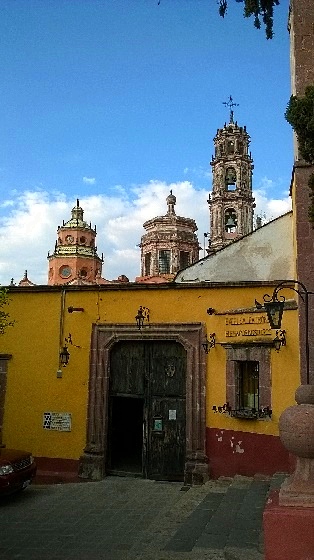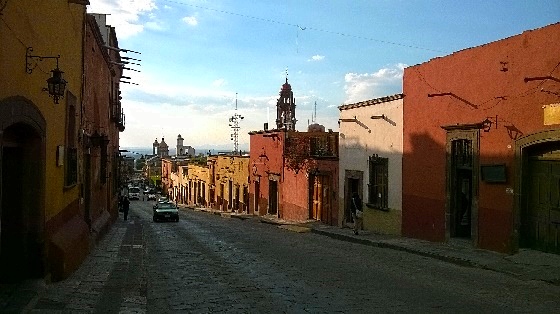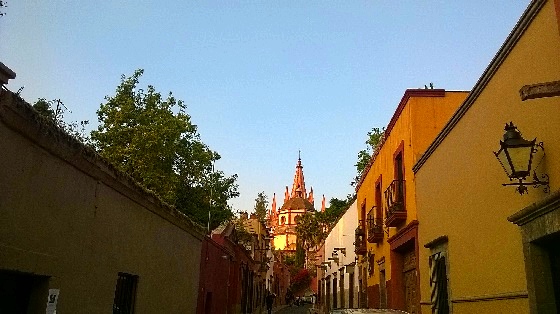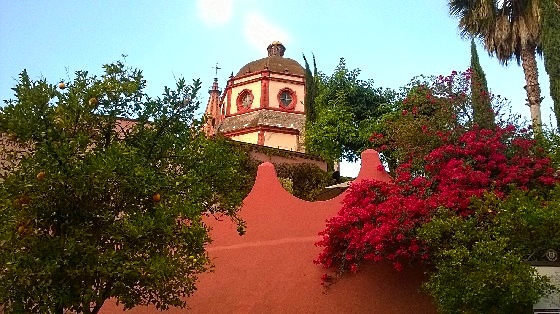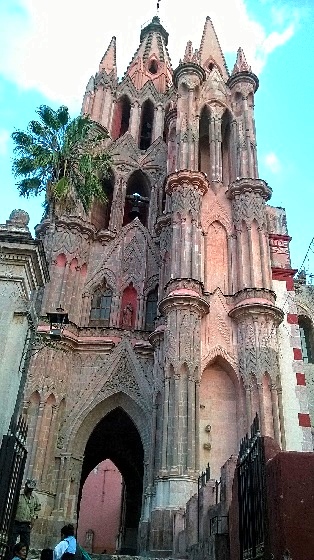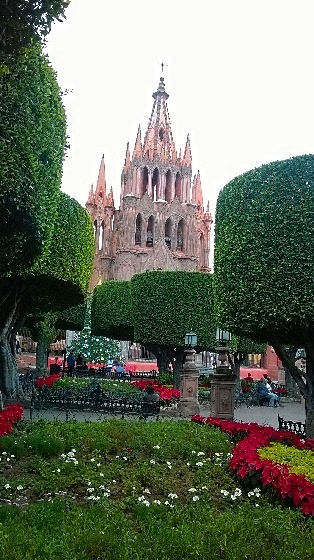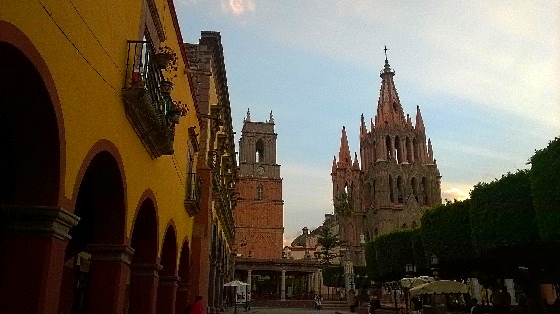 We stayed in Casa de Los Soles, right in the center of town, right by the Crafts Market (the sign is on a half round plack on the roof – hard to notice). Our Casa had several apartments facing a super clean inner yard and lots and lots of Suns – Soles. Is there anywhere in the world that there would be more Suns in one place?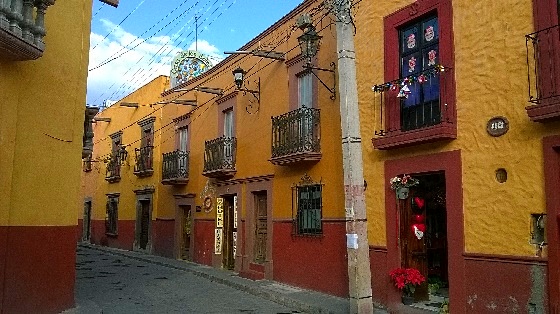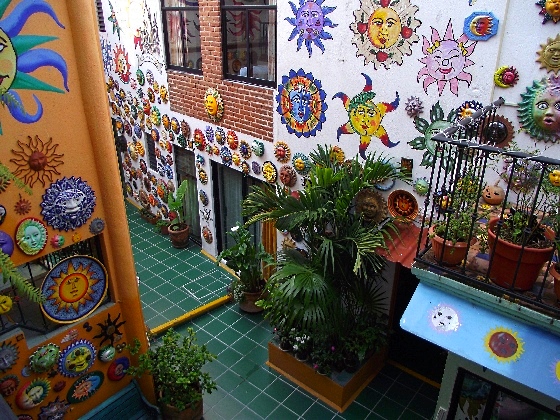 Oh this inner yard…a maid was washing the floor tiles every morning with soap water…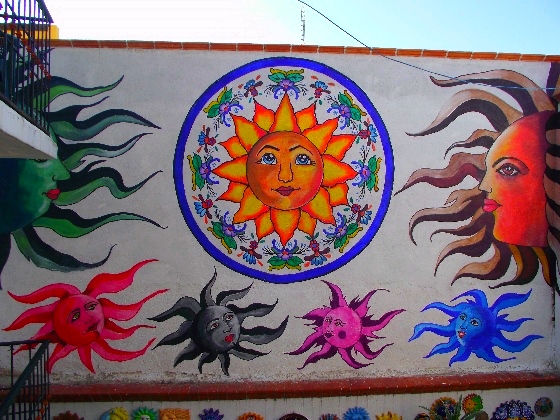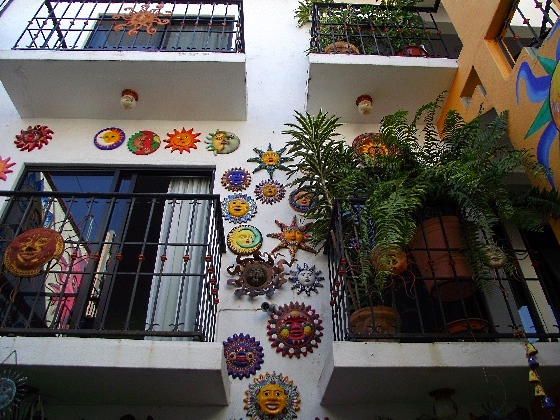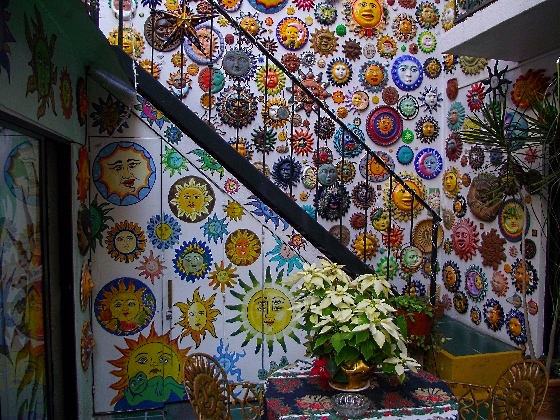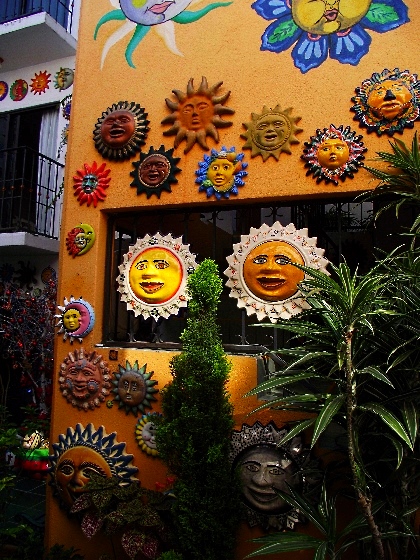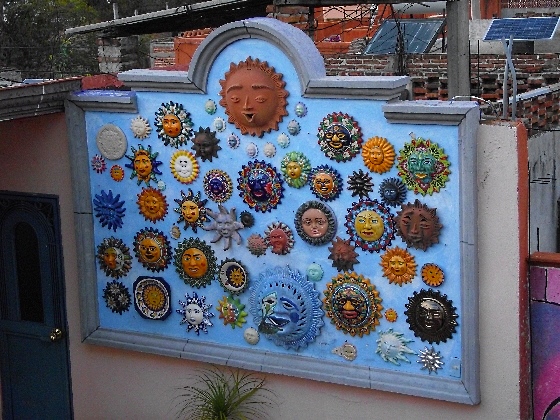 Angry, colorful, happy, indifferent, suns-girls, suns-men, suns -creatures, suns-smiling, suns-crying, suns-flowers, suns-whatever…:-) And also both buildings of the Casa had lounges on the roofs, where guests can sit and enjoy sunsets, church-roofs, can even eat there, have fun and still be surrounded with suns: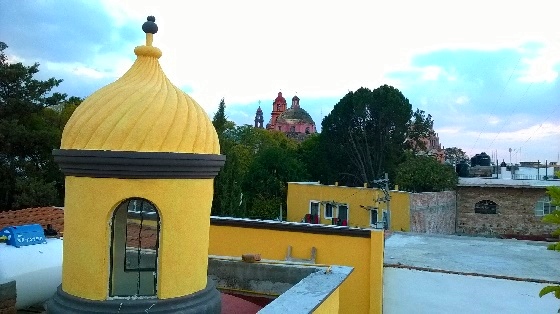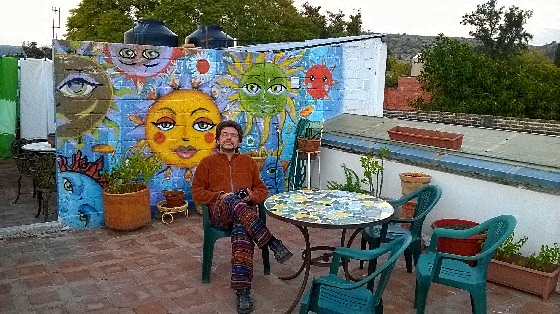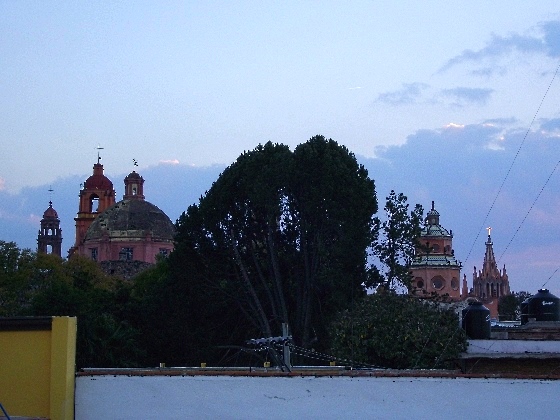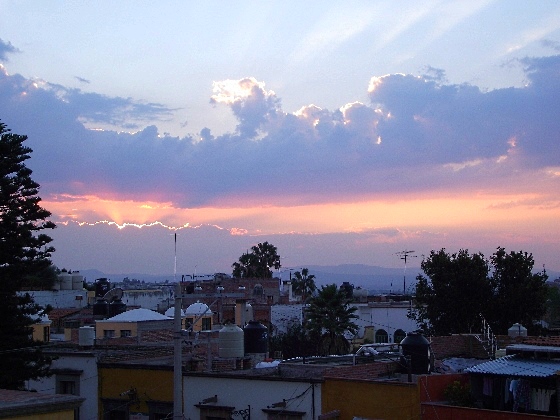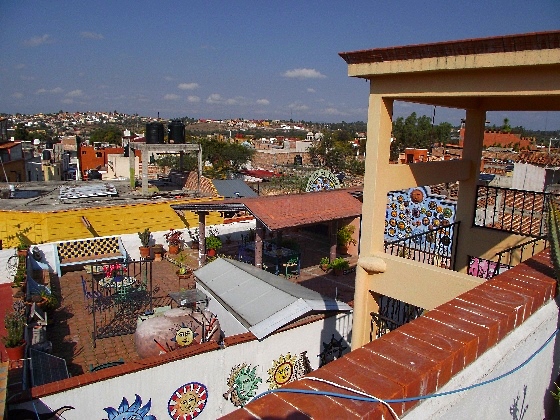 What a sunny place! But they cared about us guests super well! Though nobody spoke English almost at all :-), but we managed to get along. The apartment had a living room area connected with full kitchen, a spacious bedroom with super big bed, a nice bathroom, a lot of places to put our stuff, very comfortable, decorated with real art. I think it was the best place of all our stays in Mexico, and i would highly recommend it. We found it through Air B&B, but you can find it directly, too. They also provide a free parking. And every day left us items for breakfast: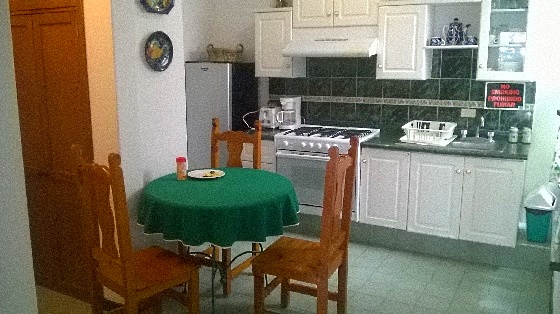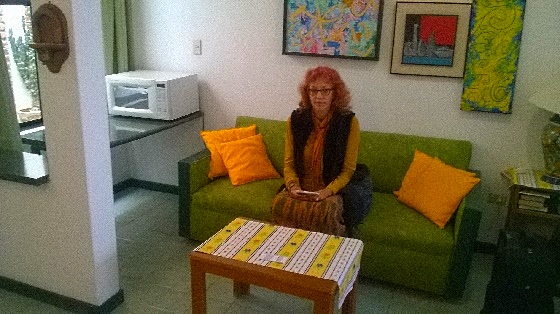 And only because we had that kitchen and because we like going to the market, we cooked some vegetables there: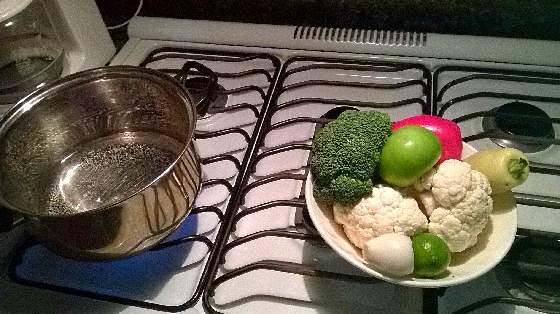 Oh I wish we came there to stay…But for only 2 nights. Well, next time we will stay longer. We met a couple from Seattle -they ran from their rainy weather for 6 weeks and rented a house of which there is plenty – a house with a maid! I don't think I'd like it much but people do :-). As I mentioned- everything there is catered fro rich snowbirds. And therefore it is easier to get around – lots of English language. But our owner managed to say to us that that evening there was a special celebration – it was a week before Christmas and they were celebrating St. Mary sitting on a donkey and St. Joseph by her side – walking to Bethlehem to give birth to Jesus. I am sorry I didn't take the picture of an decor our hosts were making the whole day – at first two of them then another came to advice…it was a board and on it a branch of a fur tree and two figures on it, nothing special to mi mind, just a kitsch composition. They took it to a room somewhere in that street and gathered there for a prayer a I understood – all men. women and especially children. A very family oriented country, good! While we were not patient enough to pray with them. we walked around the illuminated city and listened to mariachi songs, even walked with them in some kind of parade. Maybe it was also for the same occasion…The church closest to us was especially strange- the door was locked, but a boy was watching into the light through it – being curious I peeked, too. Mexicans were walking around and around inside singing some songs. I guess they are so tired of tourists walking in their churches and disturbing their celebrations, that they locked the doors, good!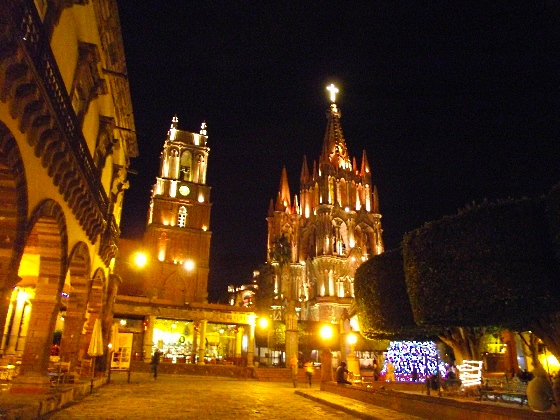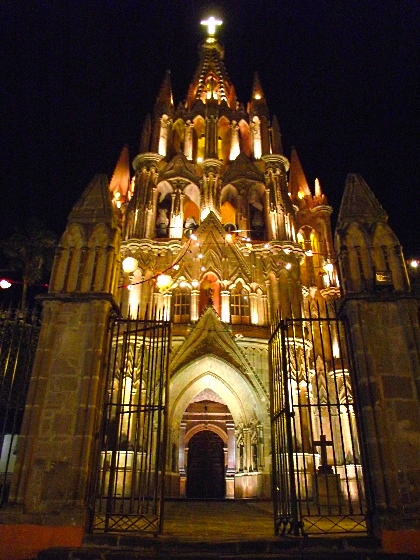 Here are the first churches and plaza once we came from our Casa. There were tent with many many puancetias for sale – I guess it is a big fashion to have theme during Christmas season…While I much prefered the ones that grow there for many years – not the little seedlings with artificially induced red tops. But – a fashion is a fashion and it pushes the economy forward. But it made me think – why do we think it is beautiful what everyone considers beautiful. Is it really we feel that beauty, or understand it with reason -or we do what others is doing without giving it a thought or feel…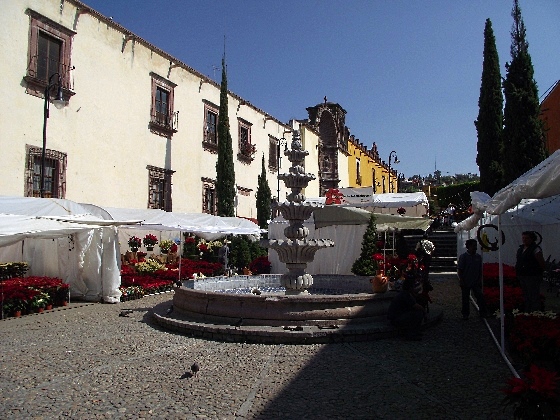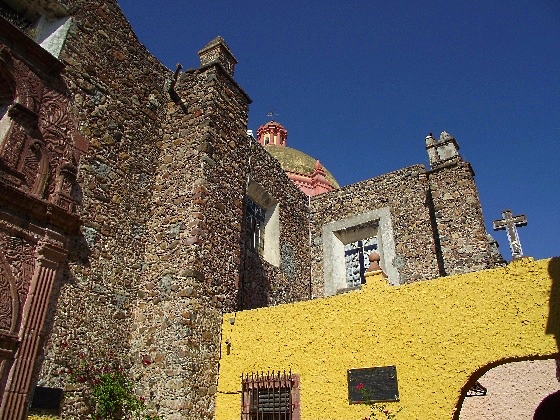 THis kind of art – I gues sthey call it Colonial – I just loved it…It is mostly in churches, but also in the museums. This particulat was in the church: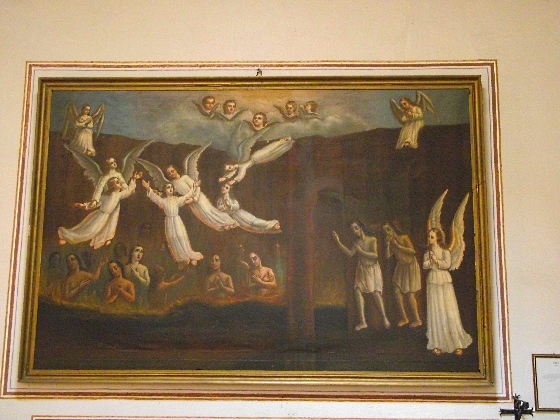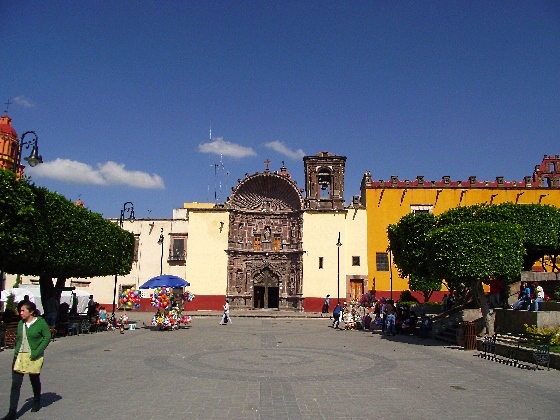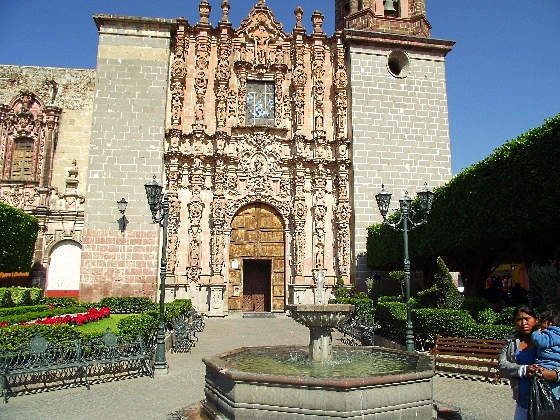 Being located so close to the Craft Market is not good for me… :-)I can't deal with that – I can't stop myself from going there, admiring the crafts they are selling and ending up buying more than I need or have walls to put on. And they are selling all sorts of things, I even found some ex-votos, fake or coppied ones, but still -they looked like real. This time I couldn't pass by this carpet on the right: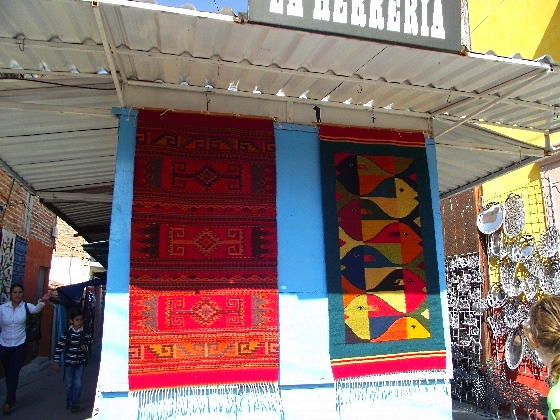 And again -more and more of the beautiful streets: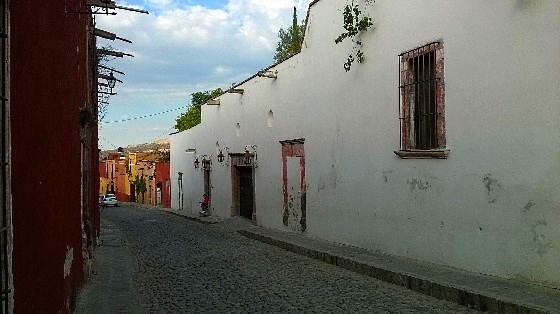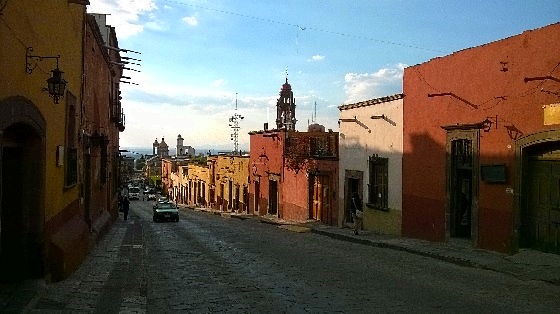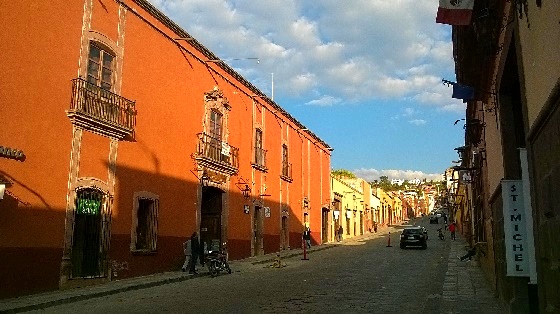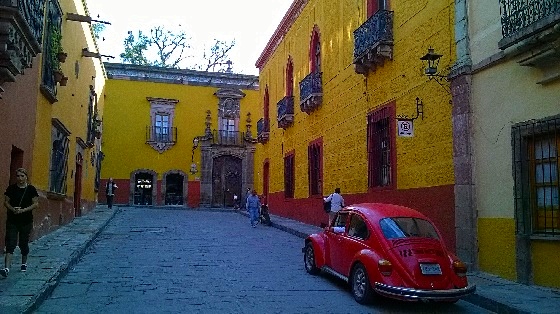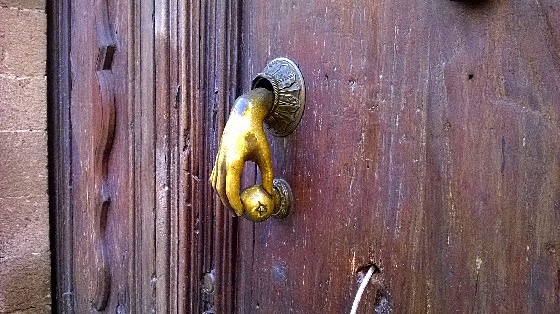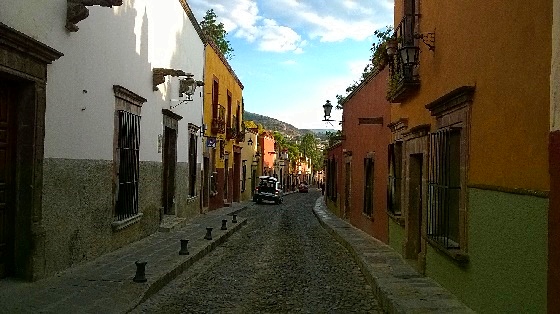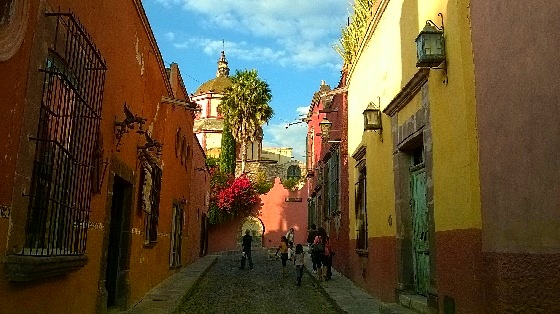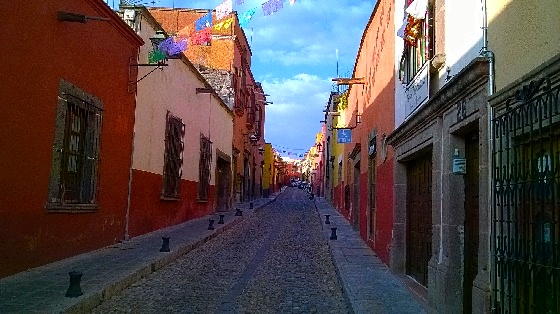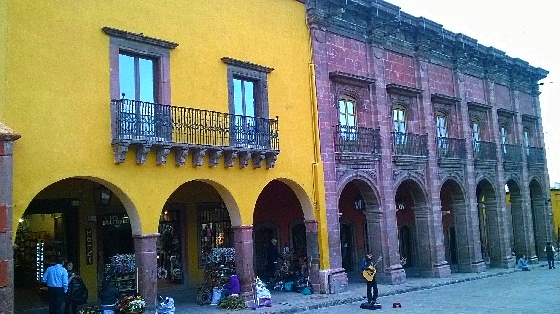 There is a big park on one end of the town, where kids play all kinds of games, and a big Art-factory – Aurora on the other – all withing walking distance. Aurora is an old manufacture plant, all renewed and super clean and neat and modern. But we left it for next time. Just ran around, petted a puppy, saw how many Gringo artists are having their fancy studios-galleries and left. Too much art. So much, that i couldn't notice any piece that would be lovable at all…Maybe next time. This time I was more tuned into Mexican colors and creativity. We left with a curiosity – who is buying all that art? When we were there – not very many tourists…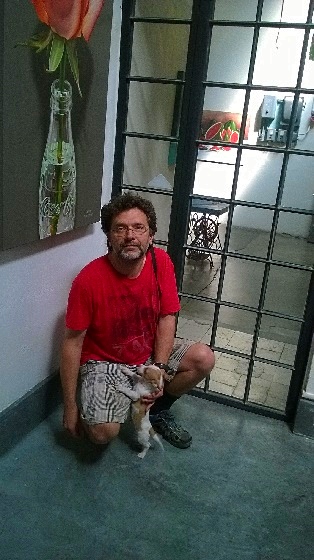 Next day – heading to Queretaro.