Our third day the City was Saturday. Sunny as all days were, so we took the metro several stops south on the same line where we lived -to General Anaya, to the suburb called Coyocan. From there we headed on a quiet street towards the area where prominent people lived and maybe live. The walk was very pleasant, houses were looking better and better, we came across some plazas and churches here and there, like in a small Mexican town. There was a nice museum on our way, evidently it was previously a monastery, but left its visit for next time: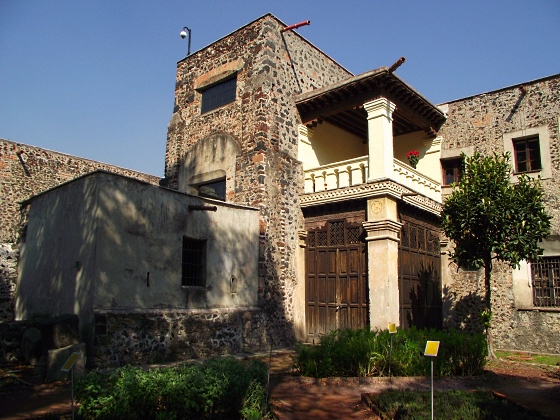 First bigger stop was Trocky's casa – where he lived his last years hiding from Staling and still couldn't manage to escape his plan. Diego Riviera and Frida Kahlo, being devoted Communists, met him in Mexico, hosted him in their "casa" and helped him to find and move to his own: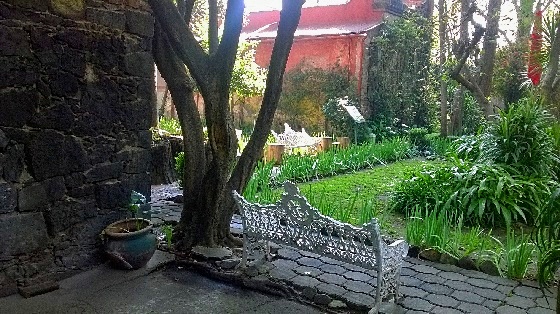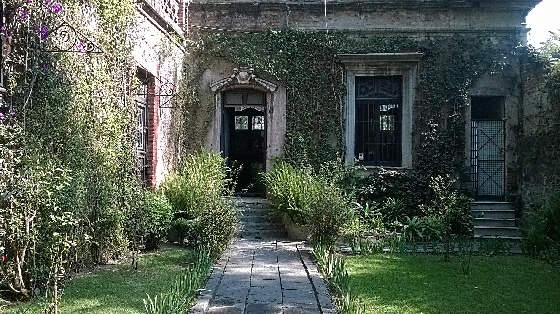 This is the desk behind which he got a fatal smack with an ax from a trusted friend, who was also hired by Stalin. Not so many trusted friends in Communa-land…:
Casa's of Frida Kahlo and Diego Riviera, the two outstanding artists of Mexico, were in our plans next. For the respect of their talents I will not mention peculiar facts about their strange lives…I am sorry for Frida's pains and sufferings she had because of polio and an accident, and admire her for persistence to paint even while bed-bound. Here is her house, Casa Azul, where Frida was born, where both of them lived for a while, both of them created and collected ancient and not so very ancient pieces of art. It is not permitted to take pictures in the house, so I took some in the gardens: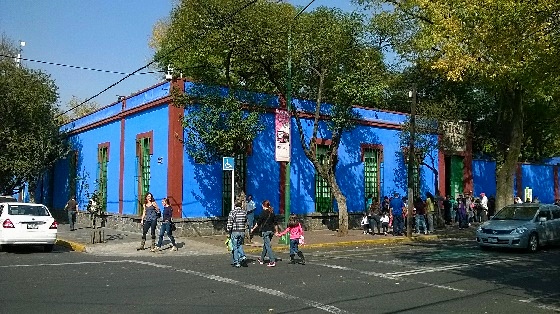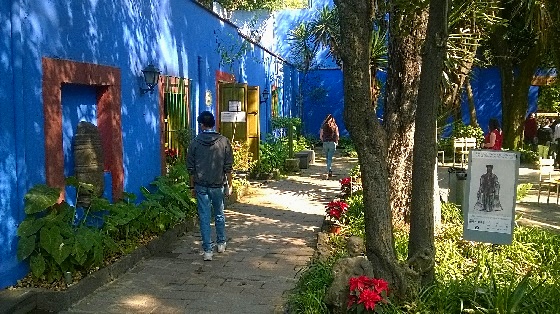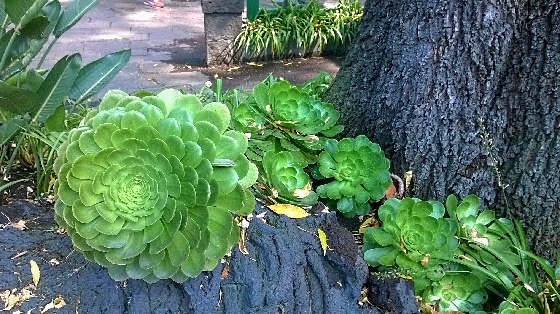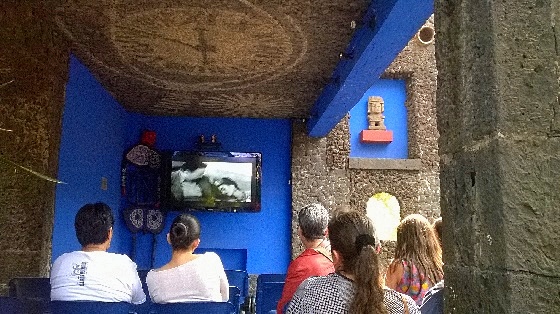 They show a documentary movie non stop with Frida and Diego and Frida singing. He was as he is portrayed, fat and not handsome, and Frida was much more attractive than she painted herself in self portraits. Here are some of Diego's creations – the ones hanging. he made a lot of them. they are now in his studio, where taking pictures is also not permitted. Or maybe permitted fro additional price, i already forgot. The figures on the bottom – are ancient Mexican art pieces: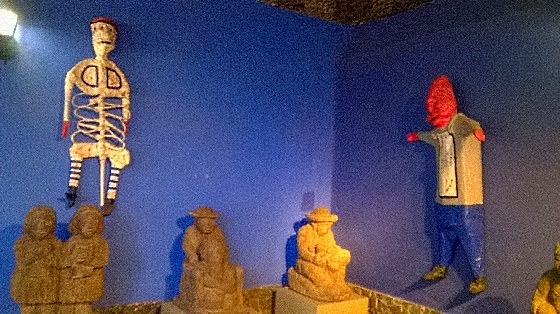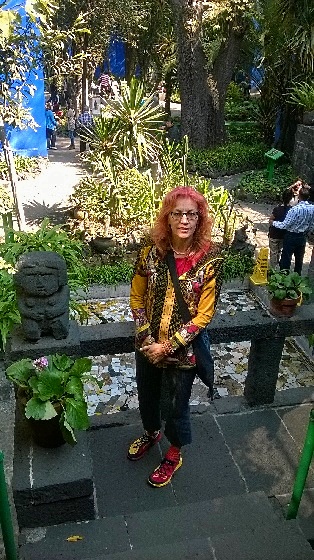 Here Frida's day-bed van be seen through doors upstairs – the mirror is on top of it and they put her death mask draped with a traditional colorful scarf on her bed – it seems she is still there..She really is – hes ashes are in adjacent room in an ancient Indian urn, one from her collection – a useful collection. I should say: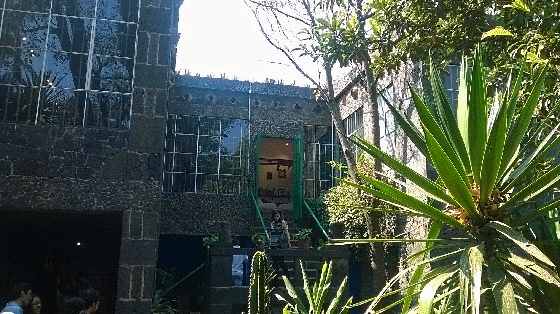 A hint – better go to Frida's house on another day but weekend. Lots and lots of people and tickets are more expensive.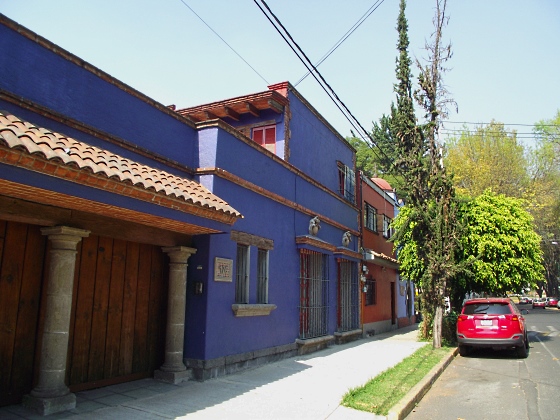 From there through a colorful street, having some rest in an occasional garden: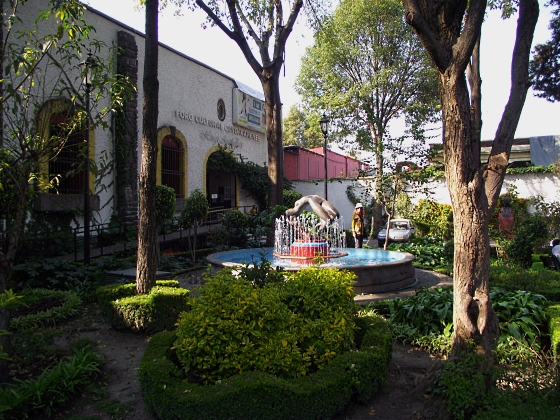 we reached the Hidalgo square – the essence of Coyocan. There there is a church, and a park and performers, mostly clowns, and a girl having her "sweet 15" party and lots and lots of art galleries and restaurants around. This is the place not to go through, but to stay and enjoy: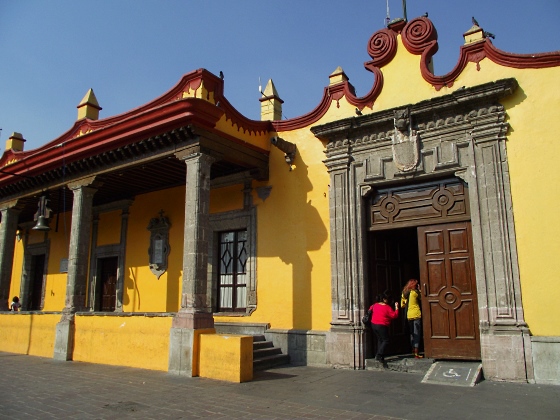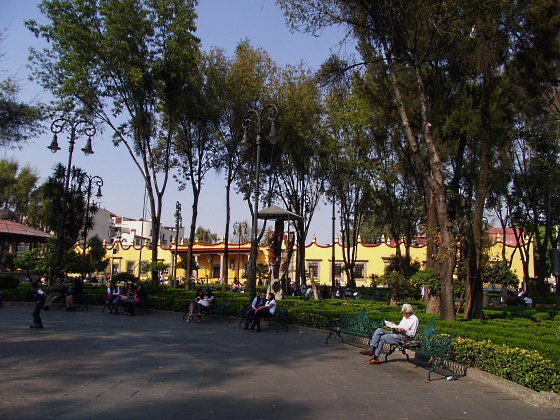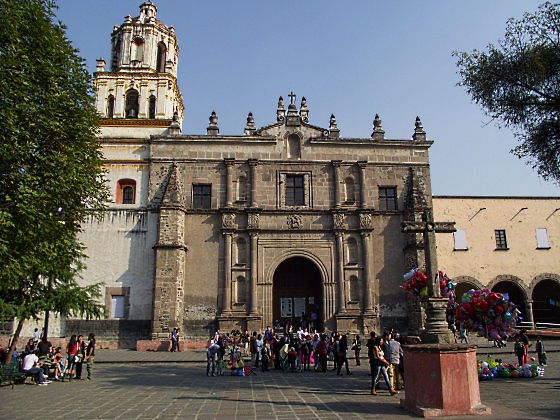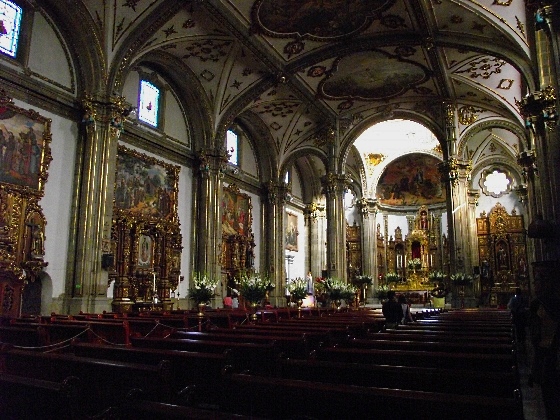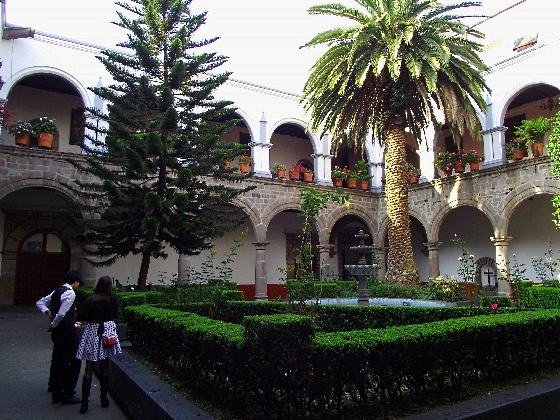 But we went through the gate: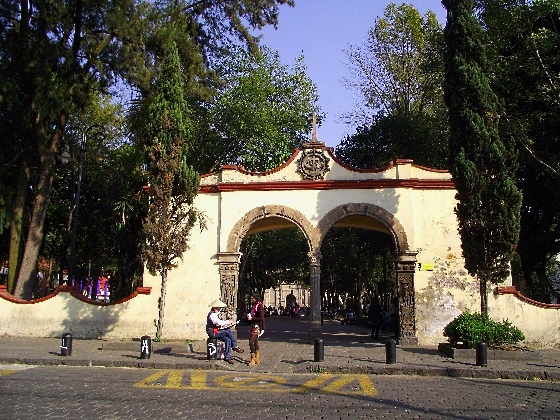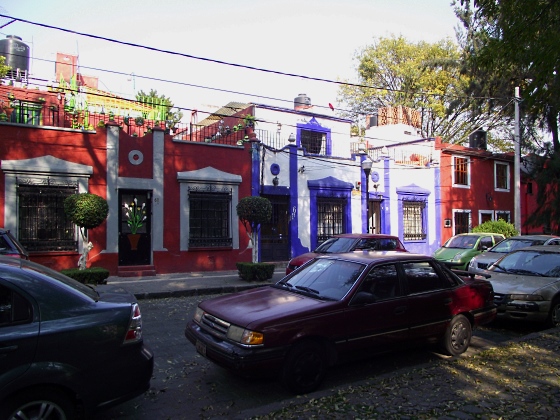 and walked and walked on Avenida Francisco Sosa – so pleasant that we returned there for some more enjoyment in a couple of days: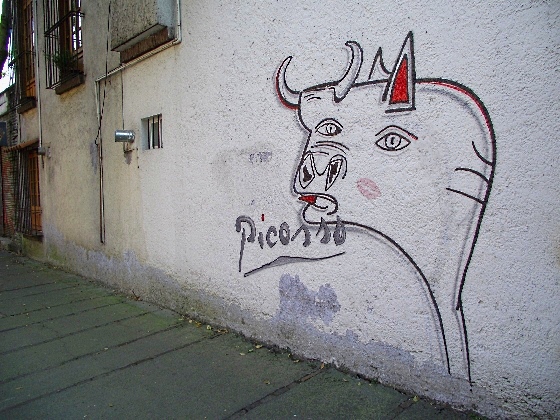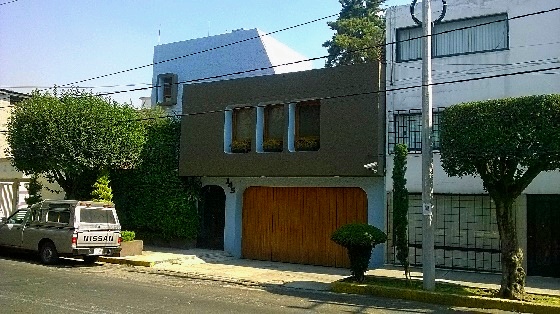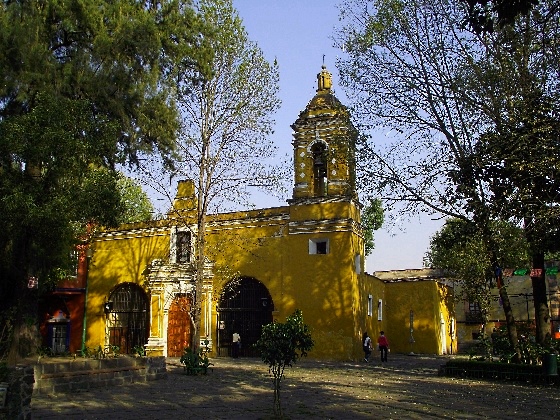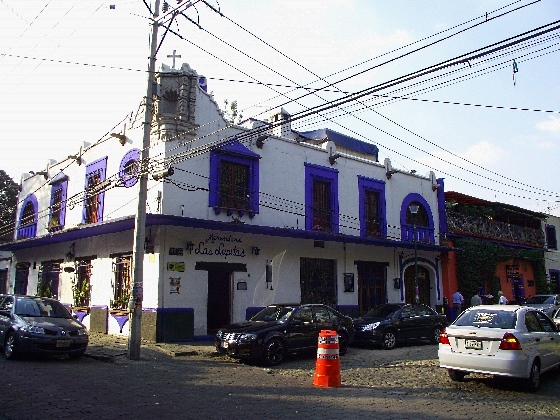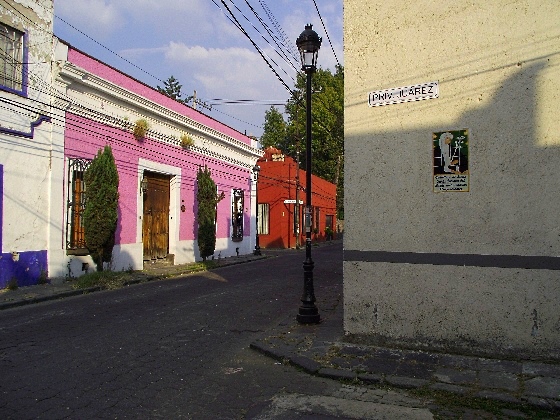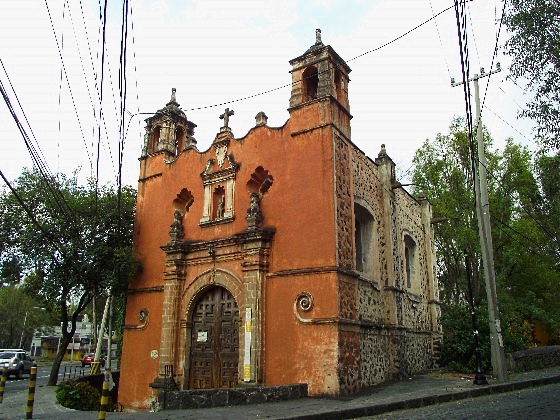 There we found a House with gardens for Culture – where couples were training to dance salsa, others playing music, others playing chess, and us only sitting by Frida and Diego: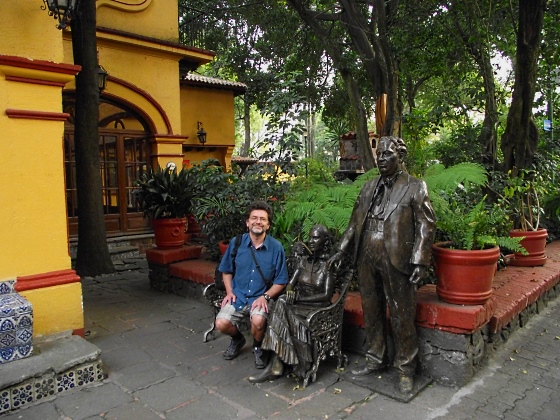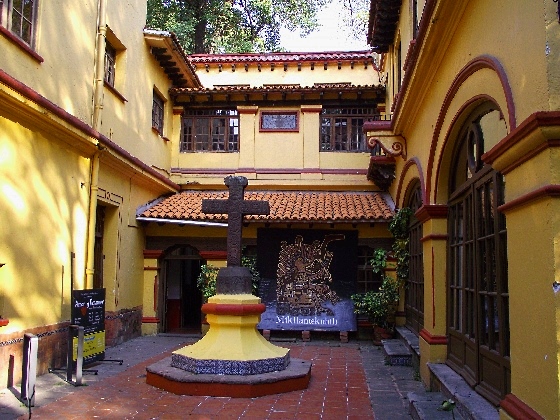 We found a Fonoteca, where wonderful Handel was being played in their gardens and nobody was listening: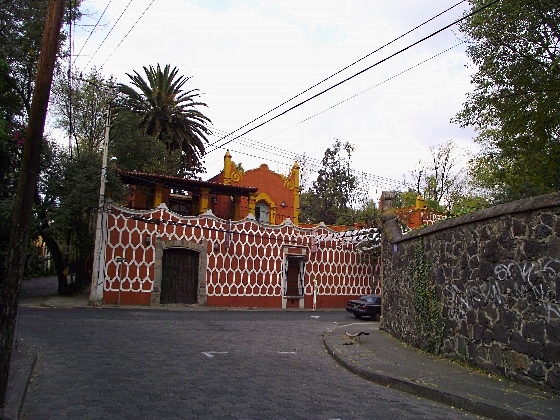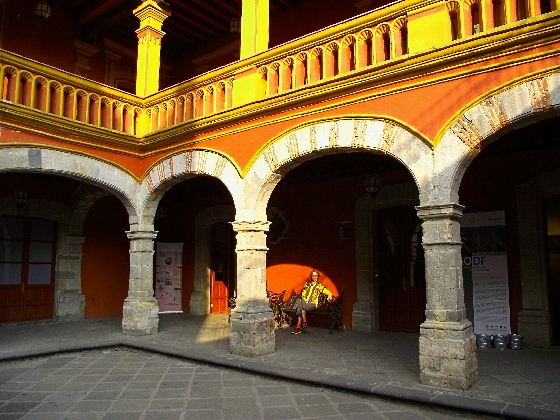 we found a museum of Watercolors – in an fancy mansion: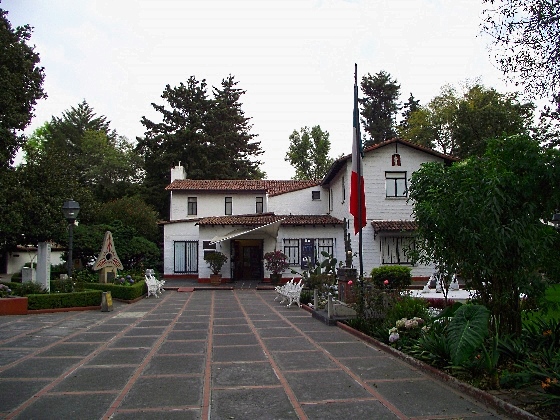 What else can one wish! We did manage to reach an edge of Miguel Angel – another suburb, but left it for another day – it was already enough, and so we ate in Ostioneria Mazatlan on our way to metro station Miguel Angel de Quevedo. It is a chain seafood restaurant, really good, highly recommend! Full of locals, which is a good sign.
I will continue about our adventures the next day, which was Sunday, of which I won't show a lot because taking pictures is restricted in some museums. On Sundays some of the museums are free. Free or not free -the museum tickets are not expensive in Mexico city, so it is not a big deal, you may not stress to visit many of them on Sundays. More important hint is that on Mondays everythign is closed, even the very big Chatapultepec park! But still the Sunday we were on our quest to see as many as possible. We took metro to the stop Revolution and visited Museo Nacional de San Carlos – it was supposed to have older colonial art, which was good, not a big collection at all: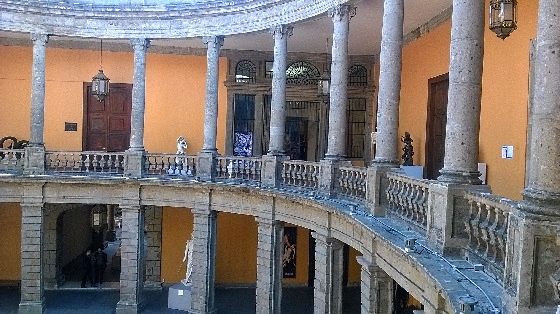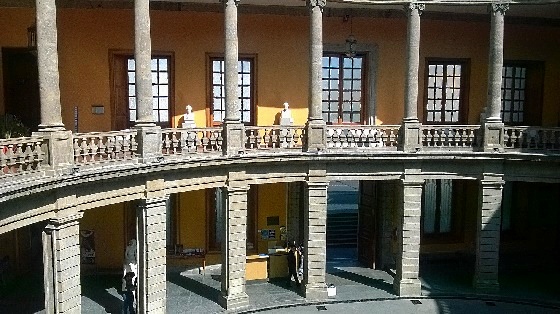 Walking back toward the center we saw a long line of dressed in white kids – they were going towards their First Communion – girl's dresses were way over the top, like little princesses…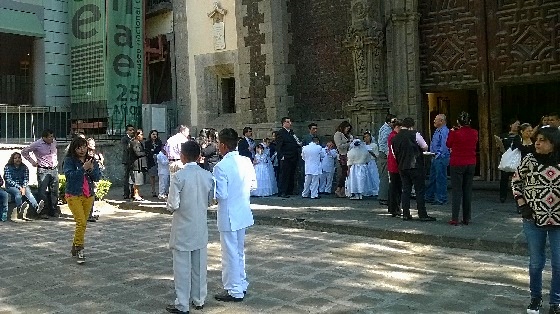 On the other side of that big street by metro station Hidalgo we saw Diego's very big mural and a museum built specially for it. Impressive, lots of his friends and political figures depicted there: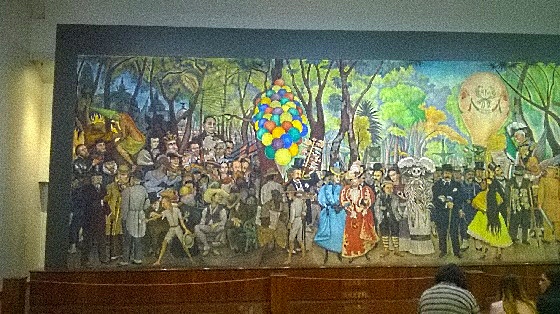 Laboratorio Arte Alameda was just interesting for its walls. The art there was worthless in my eyes, an instalation made by some European, fro those who understand :-). But it has changing exhibits, so you may be luckier. Museo Nacional de la Estampa was closed, bad, for I wanted to see the outstanding drawings of their artist-caricaturist Posada. What was left -Palacio de Bellas Artes – it is in a wonderful location and looks wonderful. I am sure they have wonderful concerts and ballet performances there, too. But we saw only Handel's Messiah, performed on a movie stage by the Palace walls – so many people were enjoying it! Inside the Palace besides their very beautiful interior there are many murals by all those outstanding muralists and exhibition halls of art, so rich, so vivid!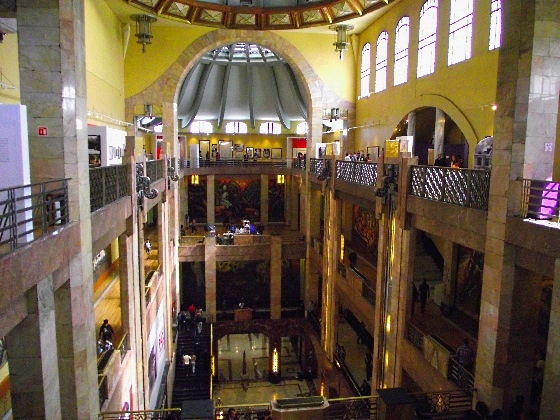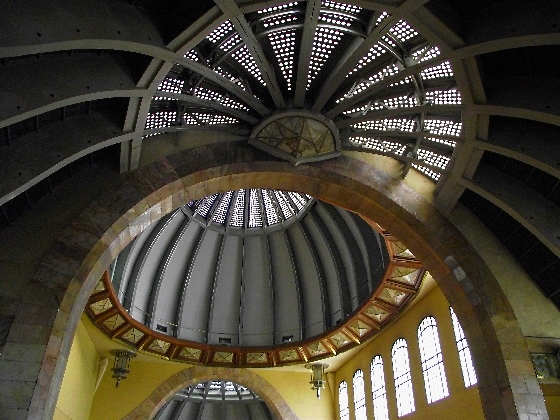 So that was almost enough. After early dinner or lunch we still managed to go through the National Gallery. of which the stairs,doors and ceilings left the biggest impression!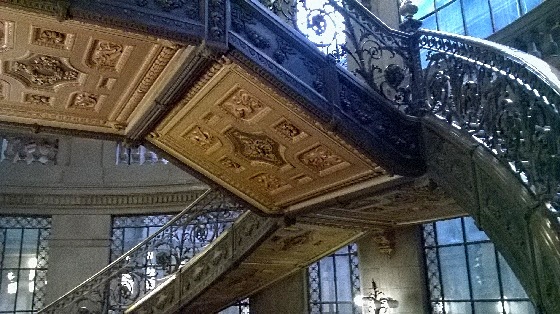 Then home to rest!