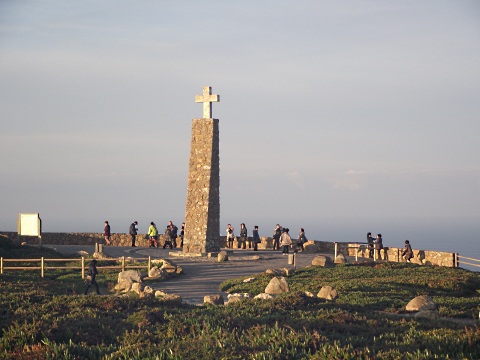 Next morning we drove to get one more glimpse of Cabo da Roca, it was nice to see it with the sun shining from the East, as usual – there were crowds of Oriental tourists already. And then drove towards Sintra again with the idea of driving there on another road, but at some point we lost the main road. found ourselves on a super narrow road through some village, scared to death to drive there – what if a car from the in front appears? but no cars appeared, so we managed to get to the main road, but not on the right spot, had to skip Palacio de Moserrate, and we came back to where we were yesterday and then drove to the side to see one more palace – Quinta da Regaleira – it belonged to a collector and bibliophile and was designed by an italian architect Luigi Maninin in a neo-manueline style: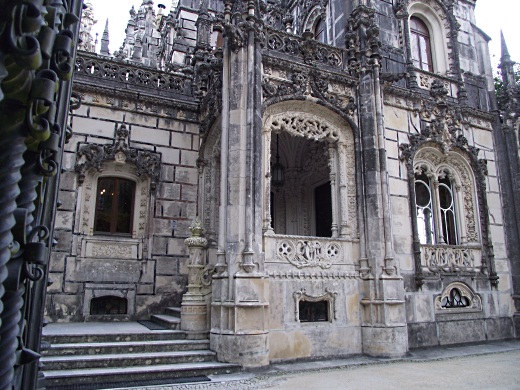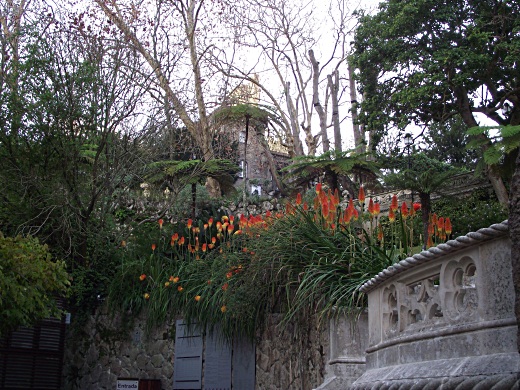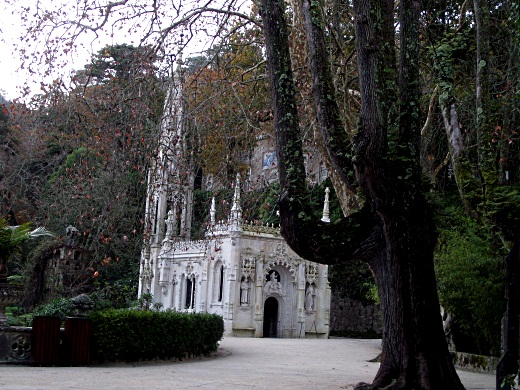 We wanted to visit this palace, for it didn't look too big, it had a very cozy yard with the little church, but…we were too early there, and to wait for an hour was not convenient. In retrospect – one must allocate at least 3 days for Sintra alone. There are so many palaces, castles, chapels, monasteries and other fancy houses of different eras besides huge parks with long walkways, fantastic vistas and viewpoints. I would say – the Sintra Park is a very amazing place to visit and a very good place for those who like active rest with cultural elements.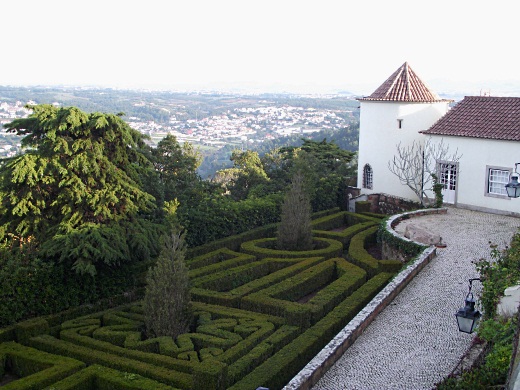 Here is another palace of Seteais. We didn't plan to see it. just wandered around and came to its gardens. The main entrance was very picture perfect in the morning sun: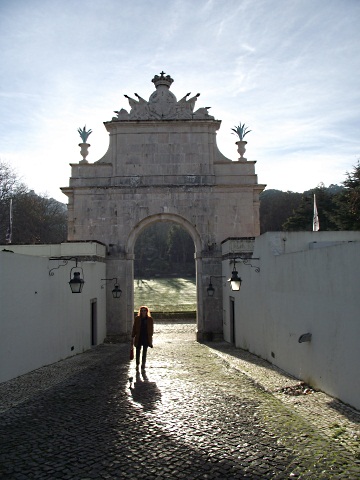 From there we drove North. You don't need to drive far away – no time even to relax in the car – there is another town with a monastery and a palace or castle, then there is another and another…Yes, lots of monasteries. It is even hard to remember their names or distinctions, big ones, huge ones, with impressive front spaces and tall Gothic naves (some a Baroque) in the churches…So you stop in the middle of almost each town, get out, walk towards the castle, enjoy the old streets. the views, get back into the car and 10-20 min to another town. Here is Mafra monastery: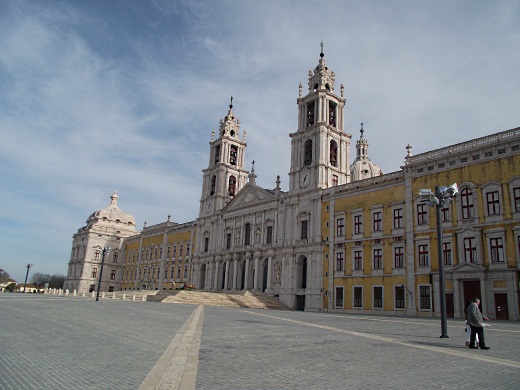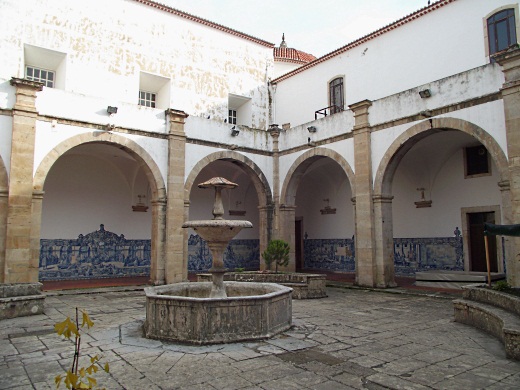 It was Monday, the museum was closed,so we missed the big library on display, but went to wander in the park behind the monastery: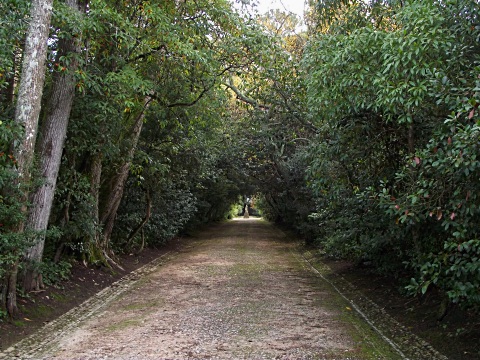 The alleys were like rays of sun – in each intersection there was a statue. And here is Torres Vedras, our next stop: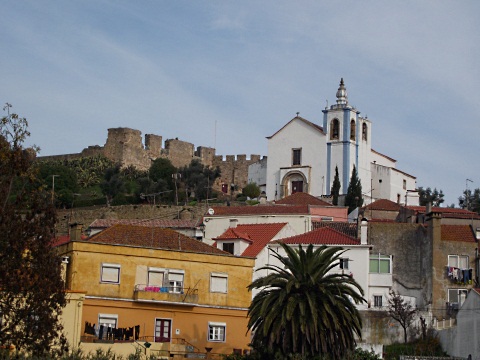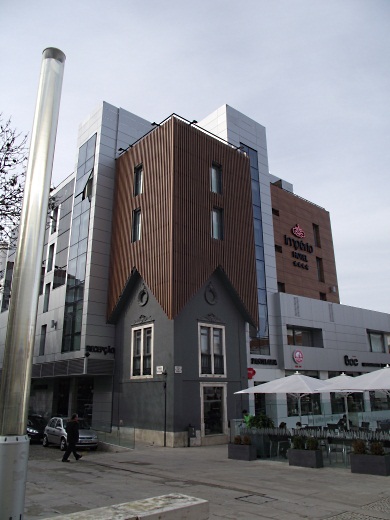 Modern buildings pleased me a lot, their architects are very creative, and I can't say which I liked more – the old or the new?..Then on the way we see those two humongous figures -it is Christmas time, so here is the Nativity scene..: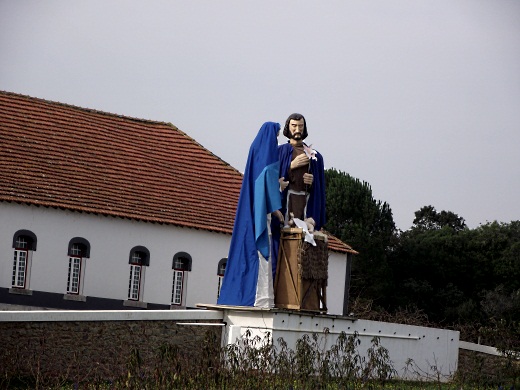 So we had to stop and turn around to document this "humor" or a serious thing, I don't know. Evidently the real monks built those statues, because at least this monastery seemed to be functioning with the gates closed: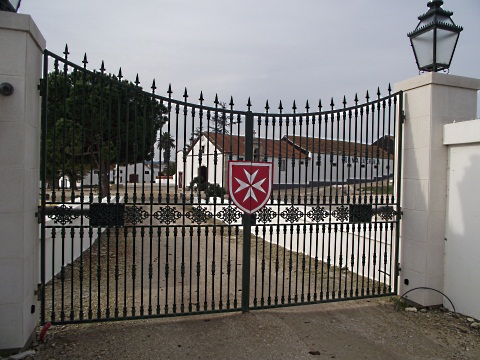 There was a vineyard on the left, seemed that monks were having a good time making wine. There was a point in Portugal's history when monasteries acquired so much land and real estate that one of their kings kicked them out of the country. Seems like they are coming back and settling in much newer buildings.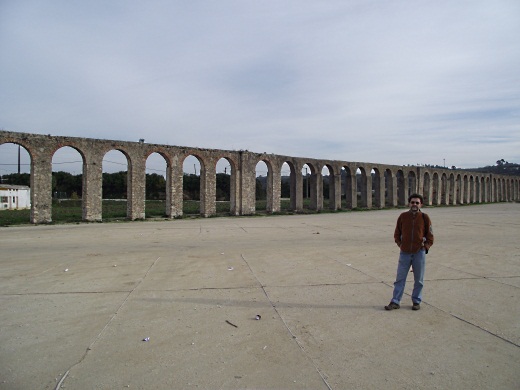 Here we reached Obidos – named after an artist who lived there. the town is all enclosed withing 14th century walls, so you park your car behind the walls by this ancient Roman aqueduct and then go up through the tiled gate: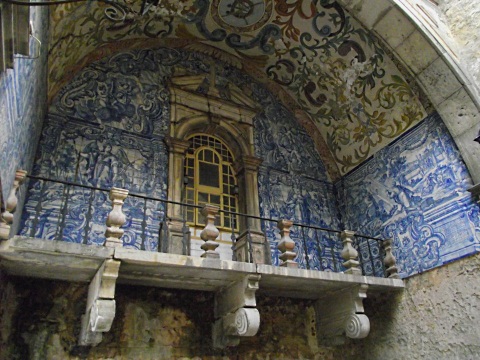 to the main pedestrian street with whitewashed houses: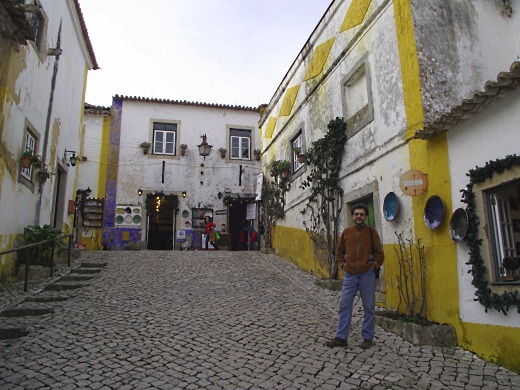 Kids are so important in Portugal that even without understanding their language one can see groups of them organized by kindergarten teachers for certain excursions or sight-seeings: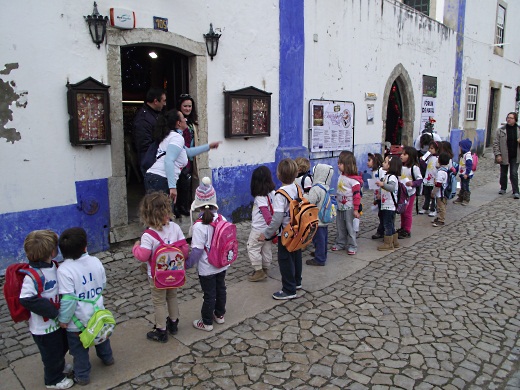 The center of Obidos – to imagine – this town was a wedding present from kind Dinis to Isabel of Aragon in 1282…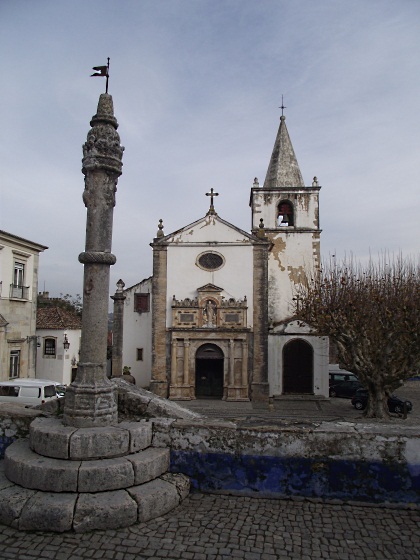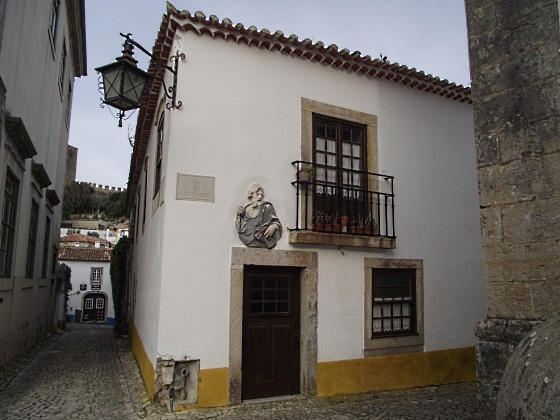 Here I liked the very old and big vine Andrei liked the cats :-)…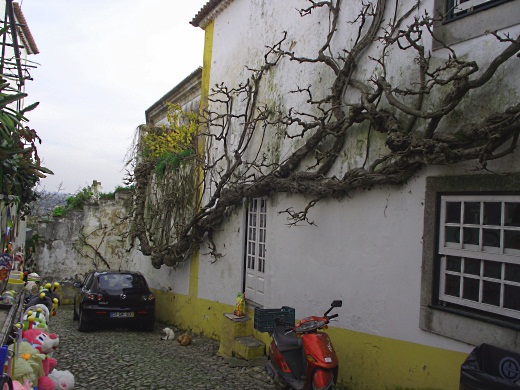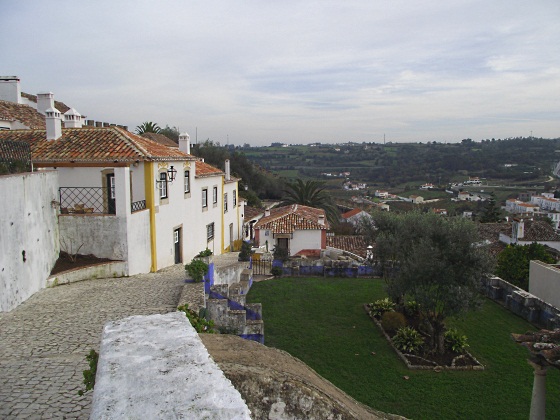 It is an amazing town and I would recommend to stay there at least overnight…maybe in one of the fancy hotels, like this, established in a former castle or fortress: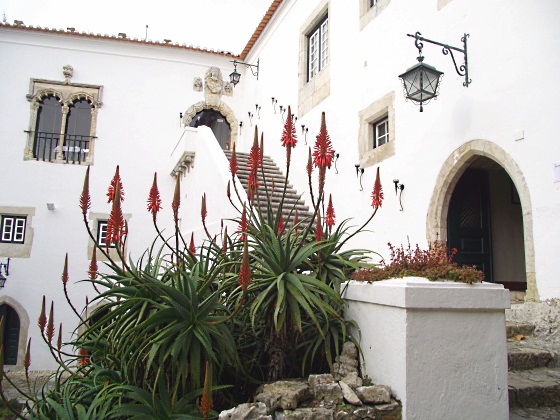 But we rushed. as usual, to see more and more…On the way still stopped at Caldas da Rainha because of its hot springs, but none of them are now available neither for public nor for patients…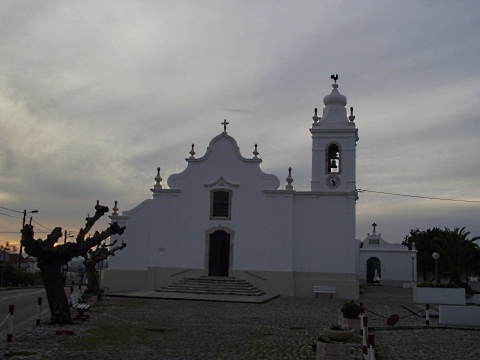 it was getting dark once we reached Nazare -only because we saw it in Rick Steve's Europe on our public TV – otherwise we would have stopped somewhere on the way. But we were curious to see those little women wearing many skirts and looking for renters to their apartments on the beach front of the town. Believe it or not – they were there, even on an empty evening of December…waiting for us with their signs in front of them. And not all of them were little and wearing those national many skirts. The one who lead us to our apartment was a modern looking young woman, who apparently is one of those people who are drowning in debts and dragging the country to the same place, too. Seems that all the buildings on the ocean front street are apartments for rent and all of them except the one we took were empty…all the window shutters were down, no cars…But we didn't suffer because of that. Were happy at least to help them in this way.