I have to make a break in Thailand blogs and describe the events here and now, in Utah. it was almost a historical event – at last we managed to find the right day, the right weather and only light winds and go to Brian Head – to ski. The first and last time in two years. The fact is that either we have to wait for guests when the weather forecast for the ski resort is good, so we can't go, or the weather is really bad, which happened there most often. I can't imagine how they make money, so many bad days they even have to close the lifts, the winds there are usually unbearably high. So here we managed at last to get there on April 14th! Almost no cars…they extended their operation for a week because of the amount of snow we all got in this spring. And the student holidays are now over – maybe that was the reason there were almost no people. Rather strange but I should say -comfortable. Like the mountain belongs only to you and all those guys on both ends of the chair lift are here to help only you: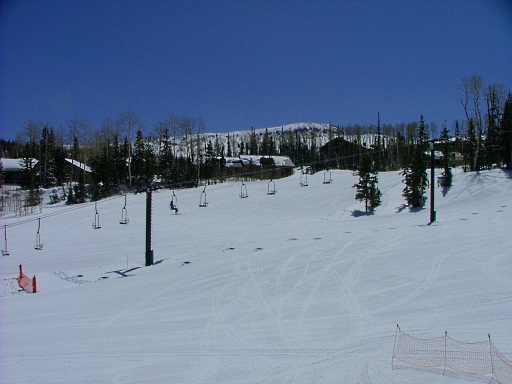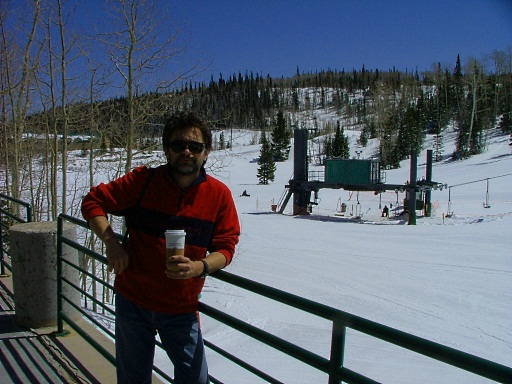 Andrei couldn't ski, his knee is still not very strong after he twisted it in Thailand, but he took me there and took also his PC so that he would not waste his time, in a cafeteria in this building: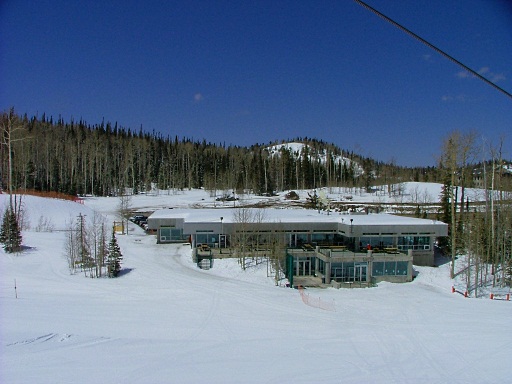 And I also tried not to waste my time, up and down almost non stop. I land from the mountain and just "swish" into the chair again, getting the rest while going up.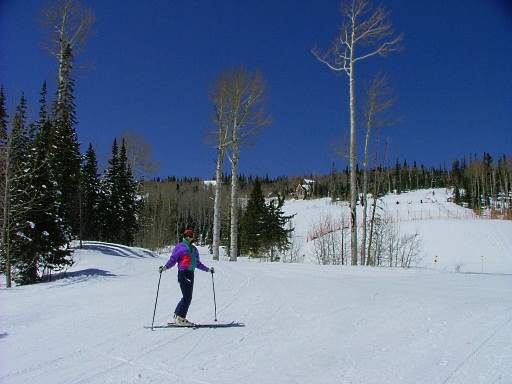 To tell the truth it was funny after two years break to get on skis. I felt as if preparing to go into cosmos. Digging out my ski suit, putting on those heavy boots, gloves, cap glasses – here we are almost in summer clothes and over there it is still winter: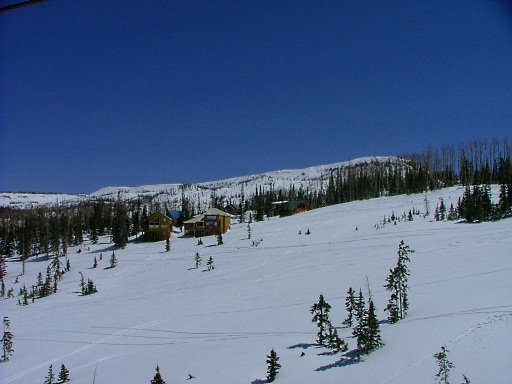 One can see how desolate the slopes are – but how nice! The trails are well prepared with that special car, some of them had still their virginity. So comfortable, I never remember such a good skiing there…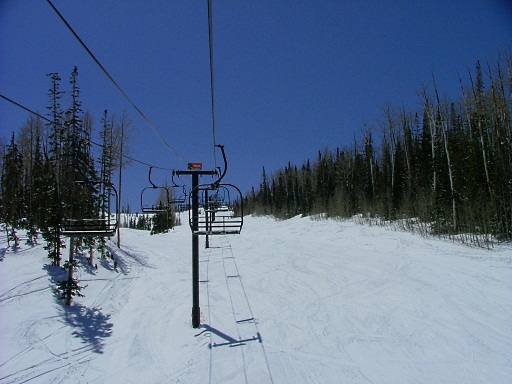 The temperature was around 12C and in the sun some parts of snow were a little wet, but didn't cause problems because there are still frosts at nights over there. And here is the view from the top of the lift – and of that mountain: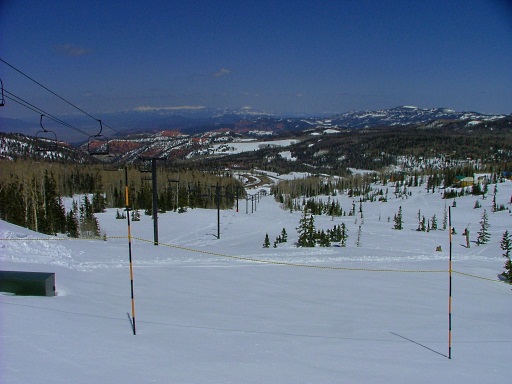 You can't put a price on it!..
And here is the view from Toquerville -the town that we have to pass on our way from Rockville to Rt. 15, toBrian Head: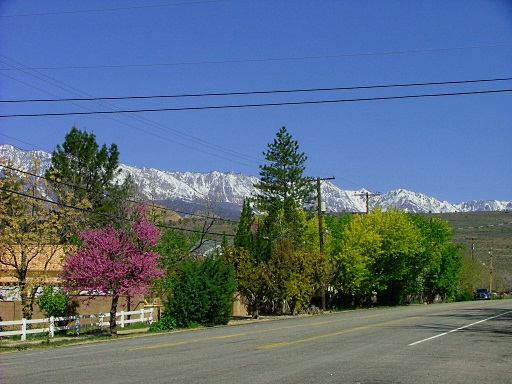 And yesterday, which was April 15th, we went on a trail from the town Virgin. It took us 8 years of living here to figure out such a nice trail only 10 min drive from home…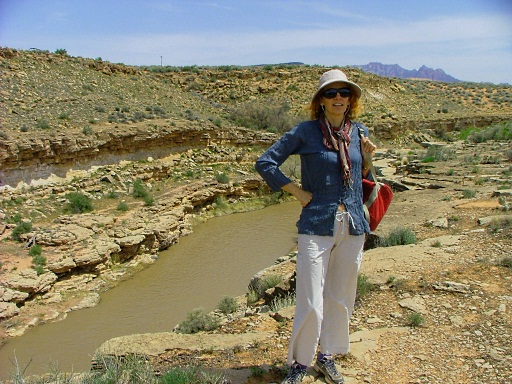 We crossed the river on a bridge there and walked along the rather steep and high edge that Virgin river has created during many years: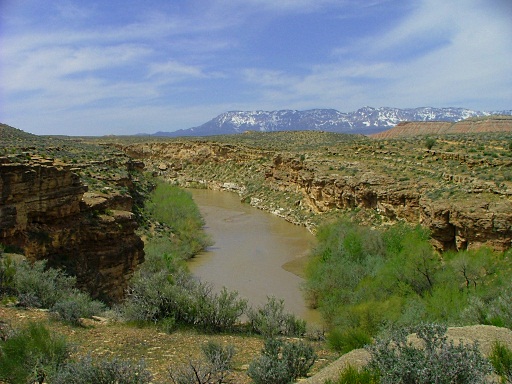 And there are also inlets with scarce water, some slim waterfalls, but you can't cross them, too steep, just follow the mountain bike road: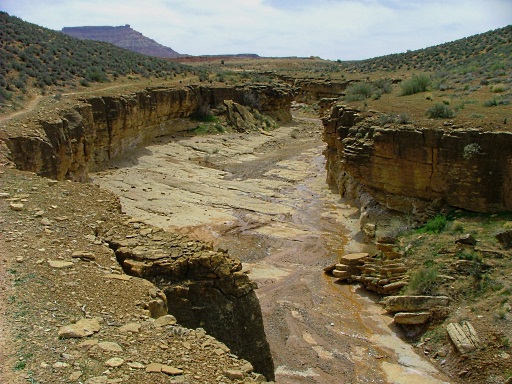 Then we drove to the La Verkin overlook – it has even a sign on highway but we never had a chance to drive those couple of miles and see for ourselves how amazing the view is: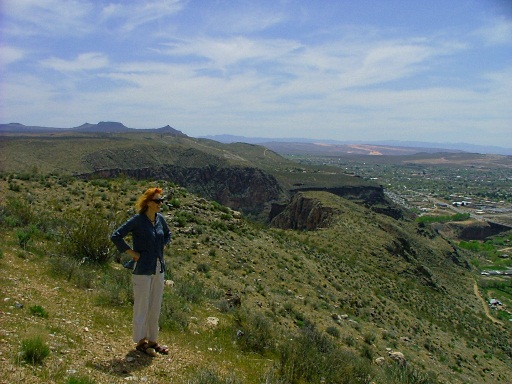 You don't need to hike up or down – you are here on top of a mountain -where can you find such a comfort?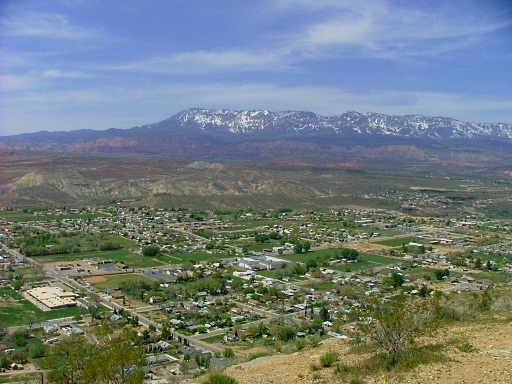 To the right is Toquerville, to the left – Hurricane and St. George.
And here is our pear tree two weeks ago: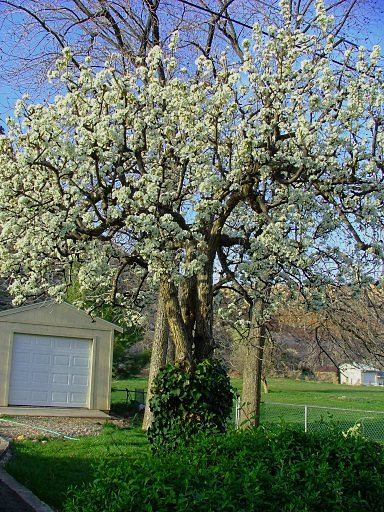 and the peach blossoms…