So here we are – past Tongariro National Park, in Oasis Motel in Tokaanu. I read about Tokaanu as a good place to
see hot pools and hot muds for free, but I never expected to find it by a cute conical shaped mountain close to lake
Taupo as a small group of motels and a hotel – and nothing else. Each motel has several spa pools and hot mineral
pools because they are built on those hot valves, for Gods sake…Here in the evening you can see gas coming out
from the slopes of the mountain, from every crevice in earth. I wish we won't explode to the air in the middle of
the night…A nice room with a kitchen, en-suite, with TV, etc. is from $80-100 NZ, soaking in pools included – can
you wish for more?
But back to our day from the beginning. The clouds started clearing up later in the morning and once we reached
Wanganui – the day was beautiful and fresh. Whanganui is a really nice city, we even drove through it to see again
the parrots that we have seen on our way down to the South island. I bet we liked them a lot. It was two weeks ago
and the ducklings haven't grown much…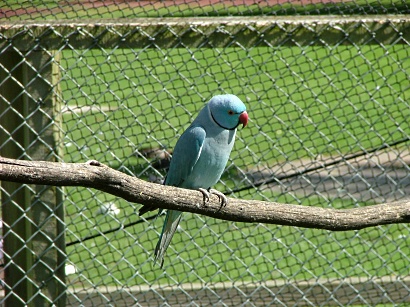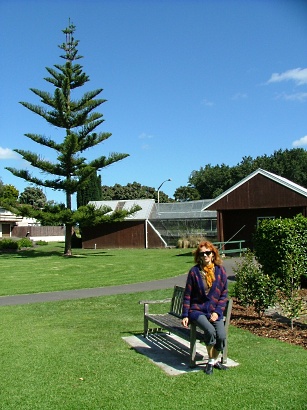 A chicken-acrobat was trying to get into the parrot family cage… the view was very surreal: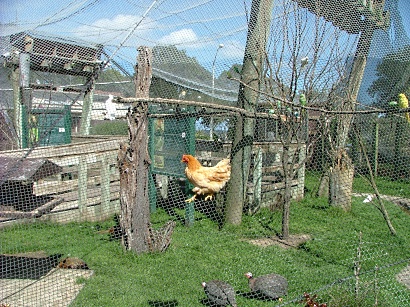 We were not as tired this time and so we saw the winter garden, too. It was beautiful to the extreme. Boy, I
respect those people from Wanganui…I'd like to volunteer in that winter garden, that would be my place to be…But it was so neat, so luscious, so taken care of.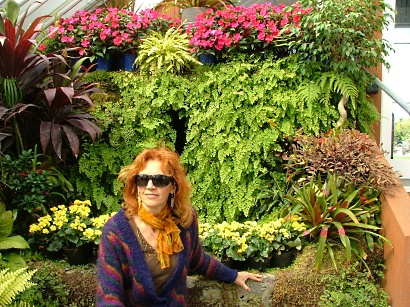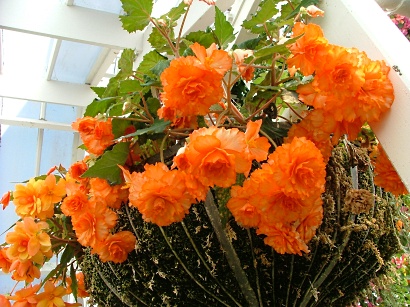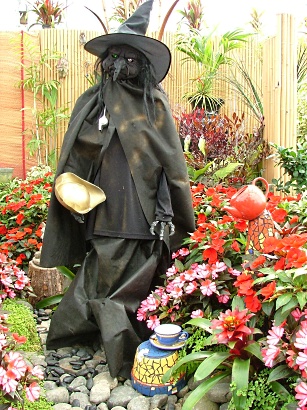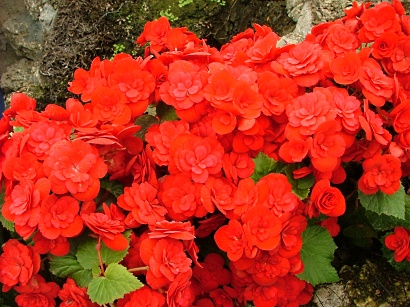 There was an outside flower-sculpture garden where the theme was The Wizard of Oz with the main characters made in a creative way: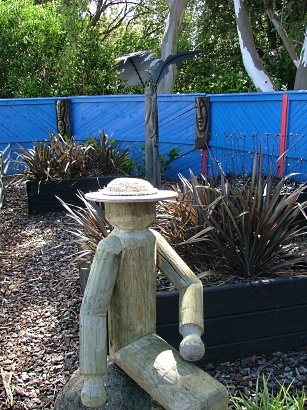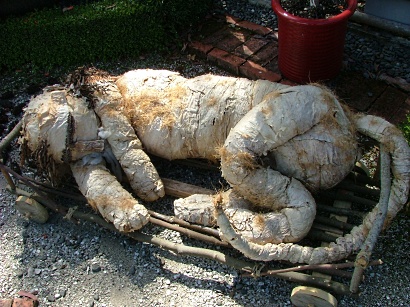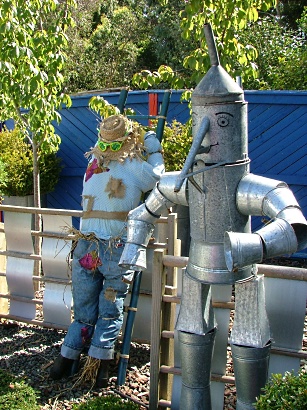 Andrei and his friends: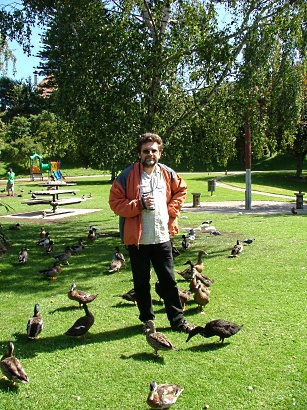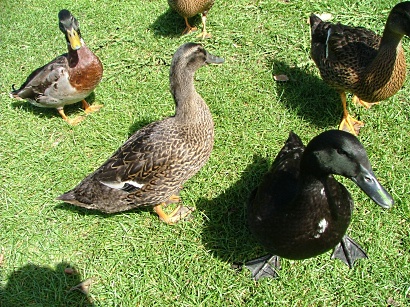 Then there was a drive through the hills and mountains by fast mountain rivers down below: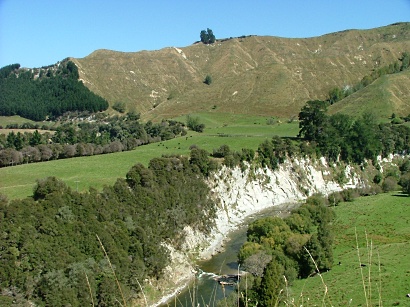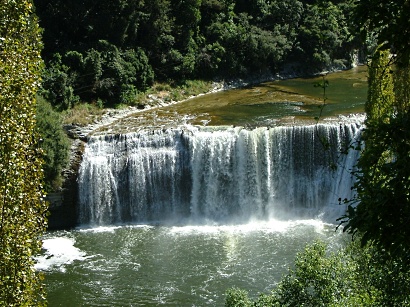 Until we saw the fresh white cap of Mt.Terangu, which is so wide because it explodes every 3-5 years bringing up
spectacular shows as they show on TVs in the visitor's center.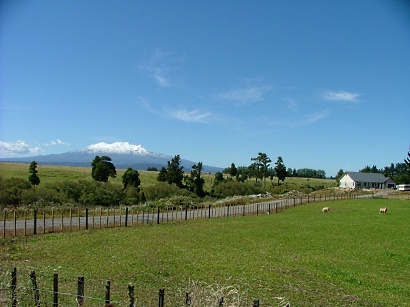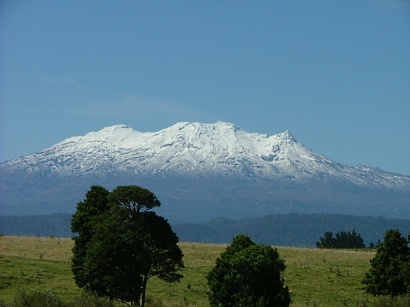 So we drove around it and from the other side it looked differently: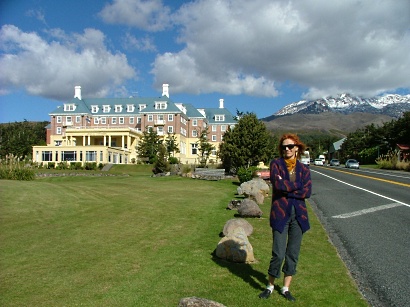 We even did a small walk on one of the tracks to get a feeling of the beech forest that surrounds the mountain: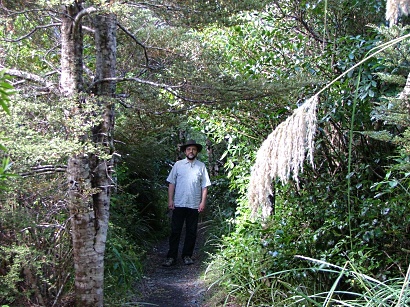 One more bigger volcanoe of the park: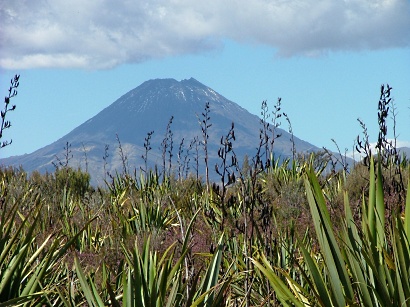 The forest is very humid, lots of moss on trees, luckily today was so sunny.
Then there was a little lake on the way – full of black swans: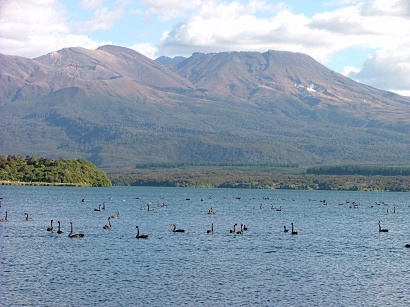 They were making such pleasant sounds that I thought it would be good if breaders created parrots which would make such noises. That would be a big seller :-). I'd be the firts one buying such a pet. Or at least with a duck's kria-kria…
And then we saw a view from high up towards lake Taupo – the view was too good to believe it was a reality…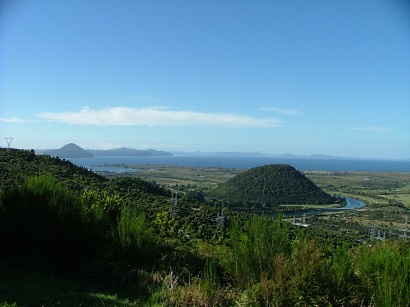 But it was. So we drove down to the basis of that conical shaped mountain and here we are – by the hot springs. Some of them are like bubbling chocolate: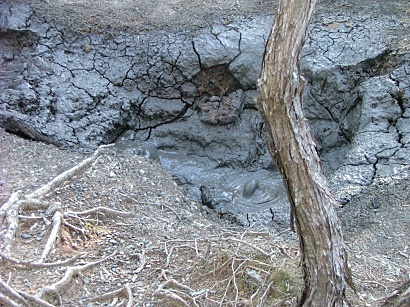 some very transparent and deep, very hot: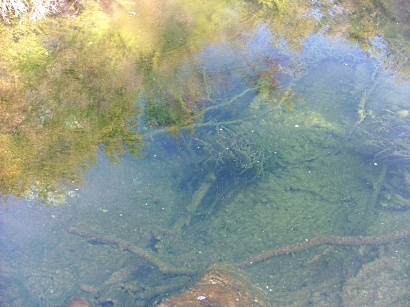 some look like a crevice: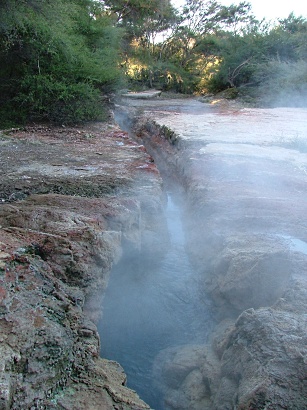 They all are similar to the ones we have seen in Yellowstone NP. I guess- the same undergound activity…
Very pleasant to watch and experience.
It is nice that we will leave soon on this nice note!