It was a very good motel we found to stay at in Whangarei. Needs to be mentioned: Fountain Lodge Motel. I didn't see a fountain there, but we got a suite of two rooms, lot of beds, a kitchen and dining area. And best of all – it had a speedy internet! While traveling it is hard to find enough time to use it, but we did, even talked through Skype with my parents. This is the view we had: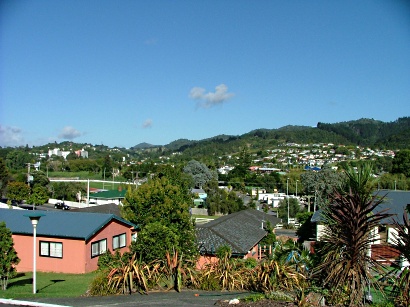 Seeing such a kitchen I couldn't resist to cook a good breakfast. A peculiar thing for us from the US – it is not so common to see a supermarket here, and they open pretty late and close very early. So we have to adjust to that. The other thing I want not to forget to mention – the books wark that NZ has a lot of moskitoes and sand flies. But until now we haven't seen a screen on a window – the windows are open at all times, letting this wonderful air in and out without any flying subjects. Maybe we will see them in the future.
From Whangarei we stopped at Whangarei Falls: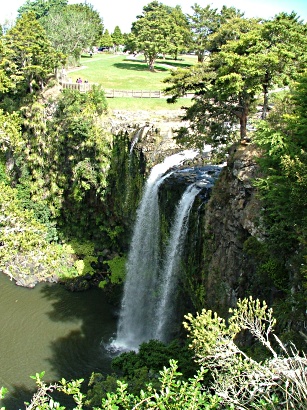 There is a nice trail down to the bottom of them and then by the river to a Kauri tree grove.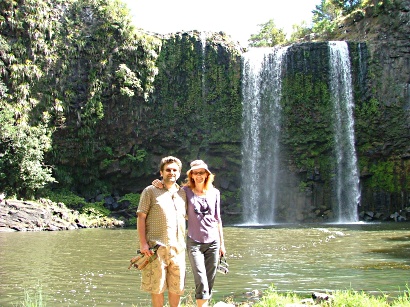 The path is all surrounded by this jungle growth – dominated by big ferns. As is a dinosaur forest as we have seen them in museums: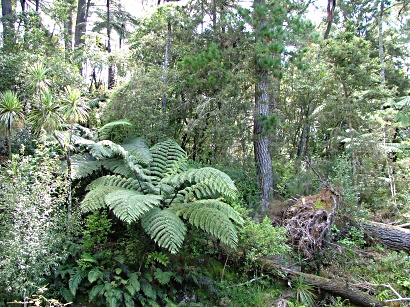 Because of the clean air the NZ sun bites, even under the hair line…Some trampers look like lobsters their lips swollen and cheeks red. So Andrei uses his umbrella and looks like "A lady in waiting" from a French court…: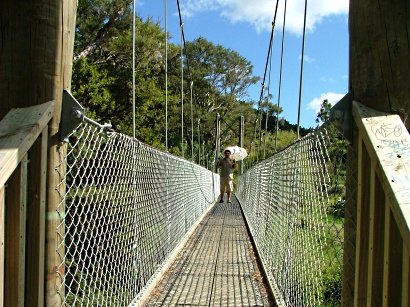 Half an hour of a nice walk through some pastures and a forest- and we find ourselves on a bridge called canopy walk. Lots of trees above us, but lots of them under:'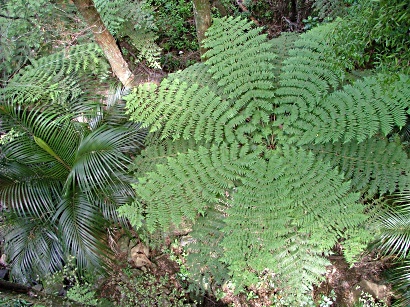 At last – here they are – one Kauri tree and then another, and that is all. They are too good to be in abundance: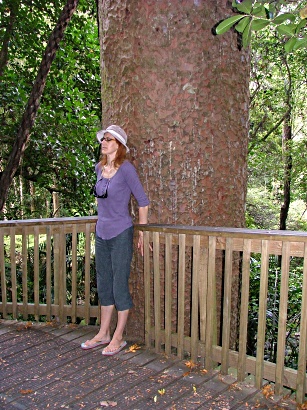 As if those trees are the oldest here, or maybe on planet?.. In any case, they have been here before people came and took care of them ,meaning they used them for their good timber. Also, it is believed that some tsunami downed a lot of them at some point in history and now they find the old preserved trees in swamps and do crafts form them. The sap fossilized into something similar to amber. That bridge was so convenient to walk on that I have to show how it looks like: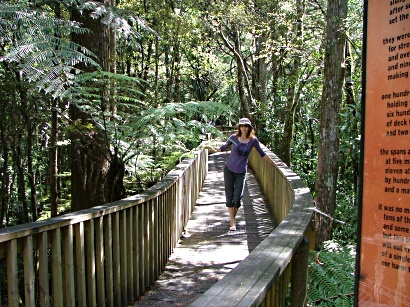 The Whangarei river: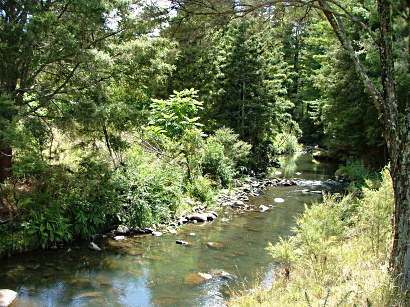 After that we wanted to buy some fruit in the orchards – they were writing on entrances – Fruit market – but we entered, and there was nothing there, no market, just orchard. While passing I took a picture of kiwis – Mark advised me "to pick a kiwi from a branch" – instead I touched several kiwis, but didn't pick, didn't dare…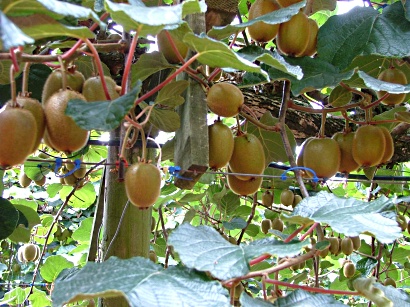 After tramping in the jungle we needed some beach, which was not hard to find. We did a loop towards Tutukaka, stopped and Ngunguru for lunch and seagull feeding, then at Whangaumu Bay for beach combing: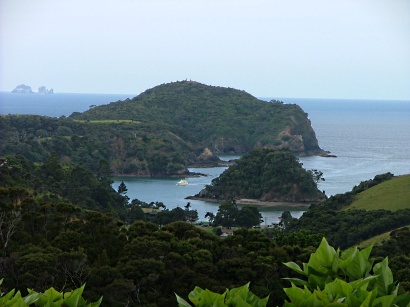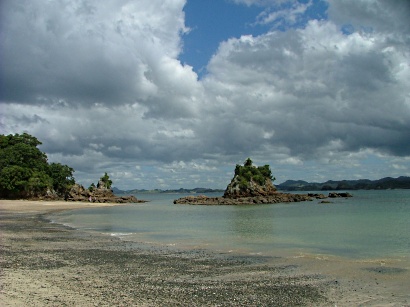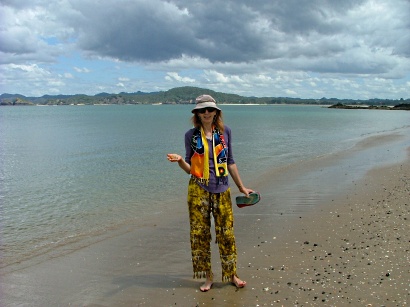 Andrei even snorkeled there – the waters were calm, the process was easy, but nothing under waters just sand… But he enjoyed.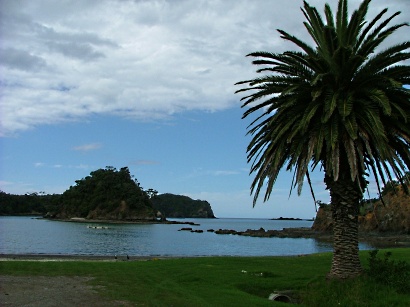 Lots of islands…Also here and there like weeds by the road you cannot ignore those beautiful flowers: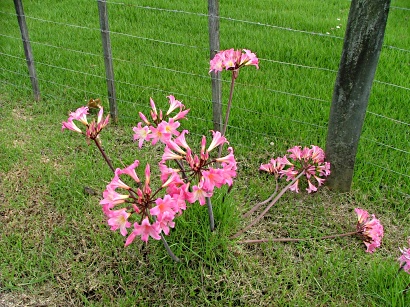 A little town Kawakawa was our next stop. An interesting story, One couple (Ann & Alan) from Rockville has been there last May and showed their pics to their friends upon return. In one of the pics was an impressive toilet, impressive in its design. But that couple didn't stop or enter the toilet, just took the pic from ther car window and that is it. The other couple (us) saw their pics and especially me got very intrigued by those toilets – for god's sake they are created by Hundertwasser and i was lucky to see his toilets in Viena where he was from. To make things a little clearer – he was not only a toilet builder, but a prominent architect. i have seen his exotic houses only in pictures. So a chance to see his work, in this case- "the toilets", was very enticing. Amazing as it is this othert couple form Rockville managed to see them in detail in less than a year! To me – it is a miracle: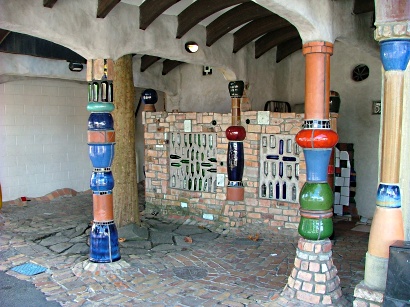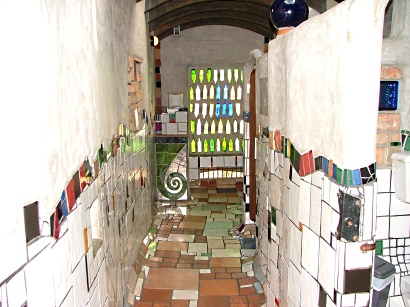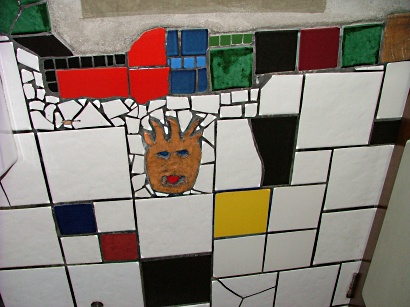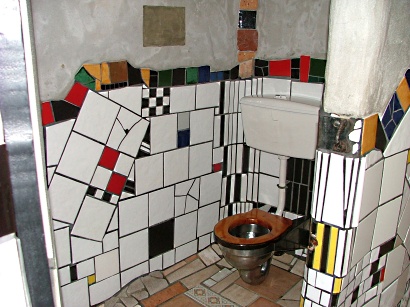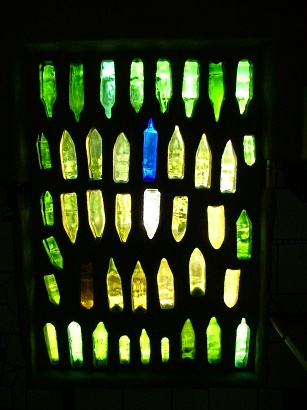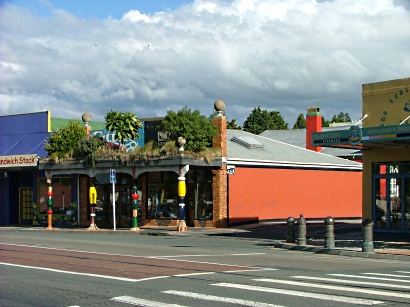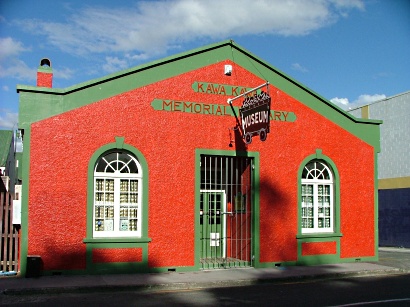 One more view of a Bay: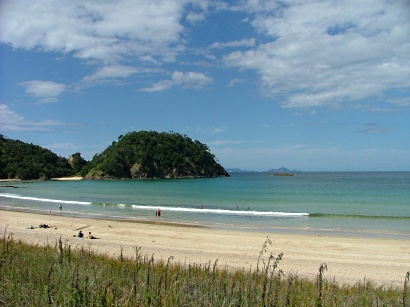 and we reached Paihia, where we had a two night reservation in a Peppertree lodge, which is a very exclusive hostel – very clean, private and non-private rooms, big kitchen with lots of young and older people cooking non stop -it was a pleasant experience to watch how good they are in cutting veggies, cooking, presenting on plates. And how neat they were, cleaning after themselves. Then long evenings sitting and talking -people from all around the world…No, this time I didn't participate in talks, I rested after all those impressions and wrote this Blog.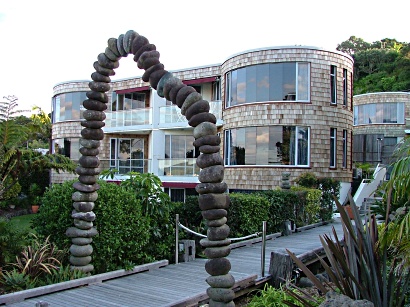 Our day of rest in Paihia was good! We walked on the rocky-sandy beach and then used the hostel's kayaks: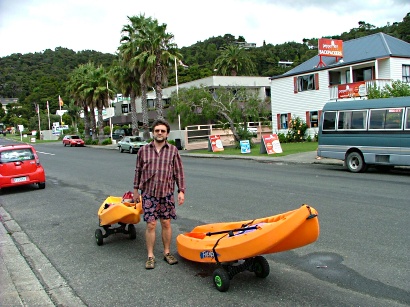 And swam to an island: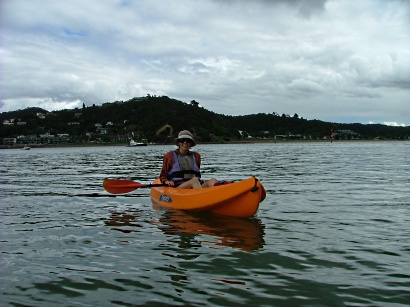 Where again -I picked the shells…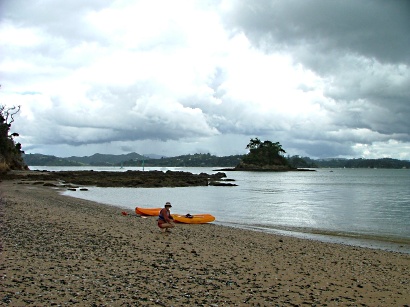 Unluckily – a wonderful calm and sunny day turned into a windy and cloudy, so we didn't do a long trip as i planned…our botoms got cold in the water and it is not very comfy to sit in that cayak.Wheather here changes a lot during the day. When the sun comes out – it is rather warm, when it hides – you don't want to be standing with wet clothes on…
Tomorrow a long drive downwards is waiting for us.