We don't go to Las Vegas very often (it is 2.5h from us). Maybe twice a year. And only once to see some shows and wander around. But either that or on the way to the airport we always visit the Bellagio Floral exposition. I agree, Bellagio has the most beautiful singing fountain show every 15 minutes. But for me – nothing beats the Flower show. I read in their flyer that they change the flowers and themes 7 times a year but never had a chance to check it for myself. We somehow happen to see the fall decorations almost every year and I have to say that they are very different each time. They may have some big pumpkins and mums and watermill, but there are always different creatures covered with natural things like moss or flower petals, and they also have some featured trees, which are usually exotic in one sense or another. This time they were singing and raining trees: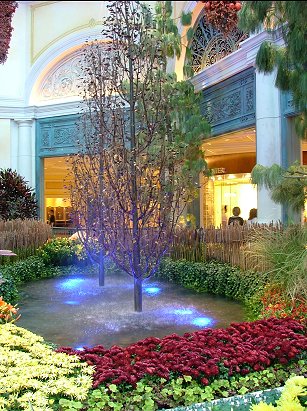 And some trees-faces, as if they were taken from fairy tales. One of them even moved his eyes and opened his mouth to say something. If only have I had an opportunity to see such a live tree when I was a child – that would have been a huge impression…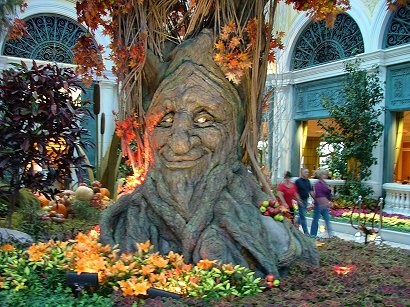 The other tree-face was not moving but still very cute: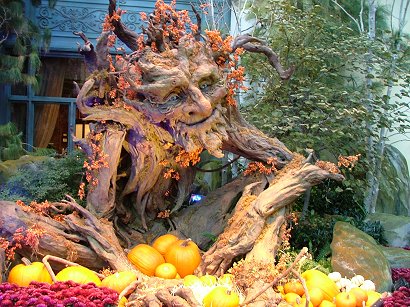 And as usual some humongous pumpkins: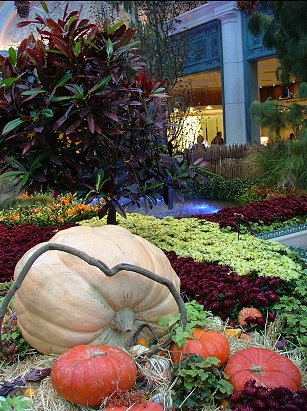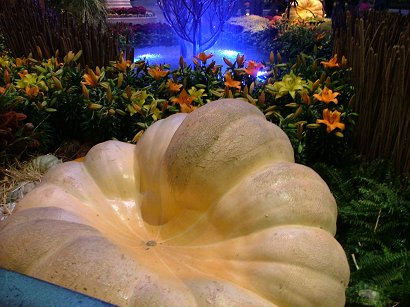 And here are some "creatures" as I call them -maybe some grasshopper or other kind of bugs: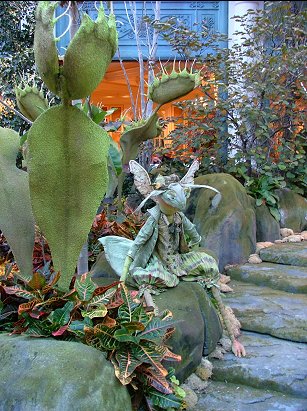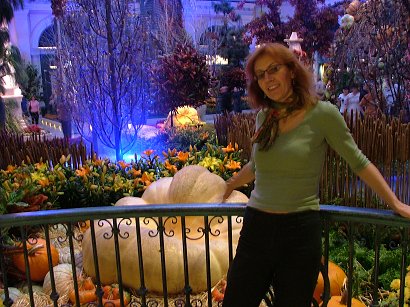 To get to that expo you just follow through the big entrance hall to the very end. The hall has the outstanding Chihulli glass flower ceilings: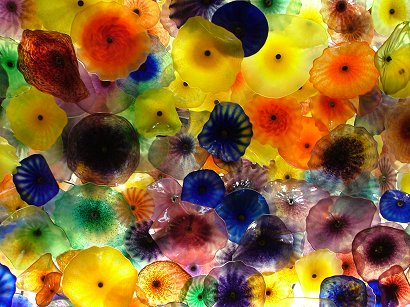 It is a matter of taste, I prefer live flowers…
And then there is Las Vegas, with its Blue Man Group and other decorations: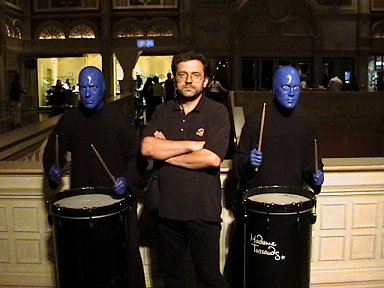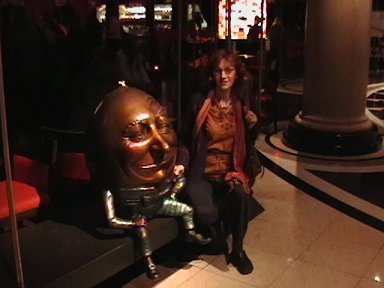 This time we visited Dr. Scott's hypnosis show in Riviera – it was really fun I didn't expect. Those several people (not all of all the volunteers) were so well hypnotized that they talked and behaved rather funny, we laughed out bellies off! The other show was a show I never heard before: Raw Talent Live -Fuego. I liked the word Fuego, but the first part of the name is not enticing therefore not good in my opinion. If it wasn't for pre-shows on the TV screens by ticket offices – I wouldn't have chosen it. It was kind of a musical with some contents about a laptop how it gets into the hands of Evil then Good forces and how they learn about the world cultures and problems from the laptop and realize what happiness truly is. The singers were good, the dancers were especially good, and the clothes were fantastic. Lots of Latino rhythms. The decorations were mainly projected with lights onto transparent screens, very creatively, and on the whole it was quite a show in big speed. I liked it a lot with the exception of the last dance. The last dance was about becoming regular again and dancing the dance of happiness, which didn't feel. The clothes were too simple, the music too loud and noisy… But everything else was really worth seeing and I highly recommend to everyone. They don't let you take pictures on the show, so no illustrations, sorry :-).